11 Best Trout Nets Of 2023 – A Buyers Guide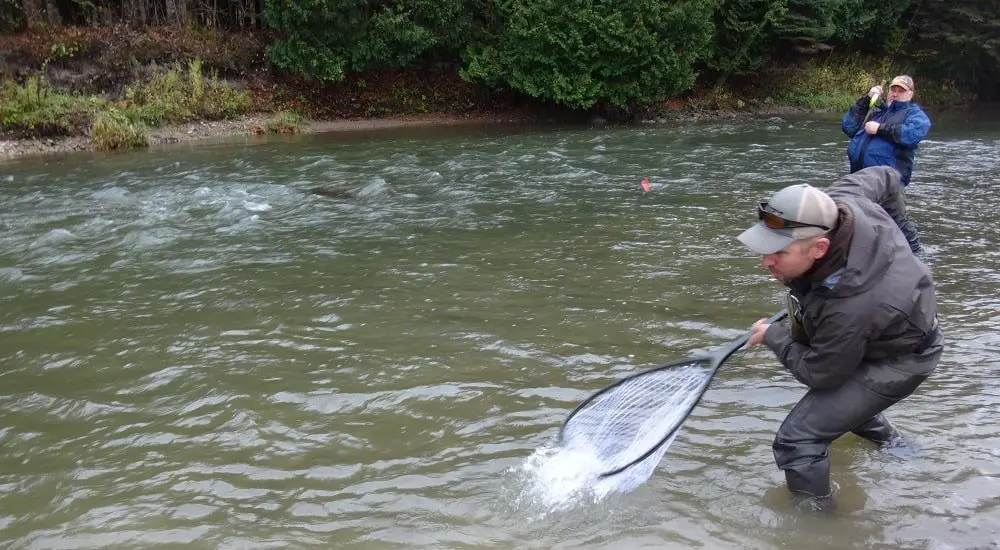 You're likely wondering what the best trout nets are so let me assure you that as a fishing guide for over 20 years, I have put thousands of big trout into trout nets for me and my clients which means I've probably put trout nets under more abuse than 95% of other anglers. I have tested dozens of different trout nets ranging from $10 to over $200.00. Every trout net on here I have used.
The best trout nets will be lightweight, compact, have a good net shape, and have the ability to be stored on your body without getting in the way. The best net for trout will also be durable and the net bag will be made out of material that is easy on the fish and makes hook removal easy. A good trout net also needs to hold the fish well.
This page contains affiliate links. If you buy something through one of these links we may make a small commission which is at no cost to you. Commissions allow us to continue to bring you great content. Thank you for your support. Affiliate Policy
There are a variety of trout nets available from short-handle nets, long-handle nets, cheap nets, very expensive nets, and nets of all different shapes and sizes. I will discuss all of these so you know exactly which trout net is best for you.
Don't be that angler struggling to fit that once-in-a-lifetime giant trout in a tiny trout net and then losing it because he had the wrong net.
Even a cheap net can be a good net if you know which net to buy. My favorite trout and steelhead net sells for only about $25.00

Our Top 3 Best Trout Nets Picks
This is my quick pick list of the best trout nets for fishing rivers and from small boats. See the description of these landing and fly fishing nets below.
Frabill 13″ x 19″ trout net – Best net for walk and wade fishing.
FishUSA Premium Trout & Steelhead Landing Net – Best Big Trout and Steelhead Net
Ranger Catch & Release Flat Bottom Trout Net – Best Economy Trout Net
Catch More Trout With A Trout Net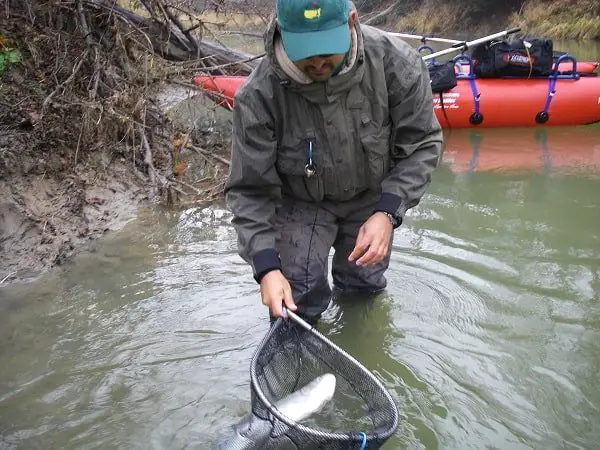 Every Trout Angler Should Have A Net – I highly recommend that all river anglers have a trout net with them for the safety of the fish and so they don't lose that fish of a lifetime.
I've watched many anglers wading into the river and lose a big fish after getting it close multiple times simply because they didn't have a net.
I have seen many fish die after being dragged up onto the rocks instead of being held in a net.
If those anglers all had a good trout net they might have landed their trophy trout, and those trout they wanted to release probably would have survived.
What Makes A Good Trout Net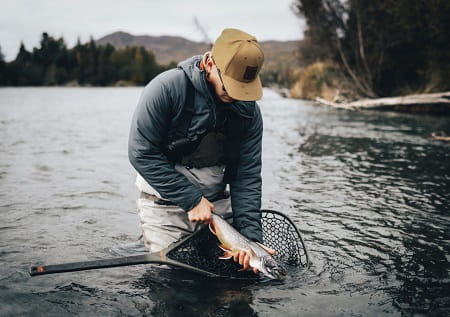 When looking for a good trout net for river fishing you want to consider these things.
Size of the net: Consider the size and weight of the fish you could be catching and the weight and size of the net since you will likely be wade fishing.
The right-sized trout net will be small enough to be easily carried and will be light enough and capable of being attached to your body without weighing you down, but it will still be big enough to handle the largest trout in the river you are fishing.
Hoop Shape: Net or hoop shape is important. A narrow net is harder to land fish compared to a wider rounder net hoop. There is a reason why competition anglers use really wide hoop nets.
Weight: The weight of the net is important since it will likely be hanging off your shoulders or waist all day long.
Portability: Big bulky nets and nets with long handles are not good for river fishing. When trout fishing you DO NOT want a net you need to leave on the bank. Get a wading net designed to be portable.
Durability: Some net materials last long and are much stronger. Consider fiberglass nets, carbon fiber, and wooden nets, and for the net bag, consider rubber nets, or rubber-coated net bags.
Grip: The handle grip can be important especially when your hands are wet from rain or the river. Some net handles will be rubberized or have some sort of coating for better grip.
Functionality: A well-designed net with a proper hoop sizer and shape is just easier to use and transport. Handle length is also important.
Price: There are good nets in just about all price ranges and I will list them all and discuss prices more below.
Get The Right Trout Net For You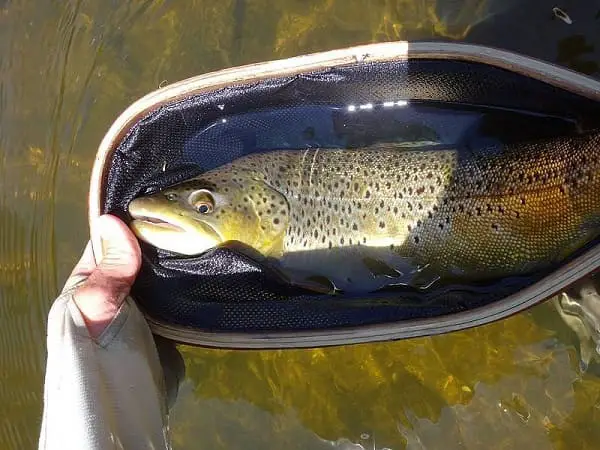 Consider your budget and the size of the fish as well as the weight and size of the trout net before you buy any trout net.
Consider A Trout Nets Price First
Based on my experience, there are good trout nets in all price ranges starting from $20.00 and up.
In fact, all my trout landing nets that I use for guiding and trout fishing are under $60.00. FYI, I can land the same amount of trout on my $25 dollar Frabill trout net that I can on my $250 trout net.
Therefore, just buy one of these best trout nets that are in your budget and you are good to go.
Here's the thing with the price and why I'm not an advocate of expensive nets.
I don't use expensive trout landing nets because they get caught on branches and logs and you can tear the bag easily. Nets also get smashed against rocks when swiping to net a fish in shallow water and then they can break or get dented.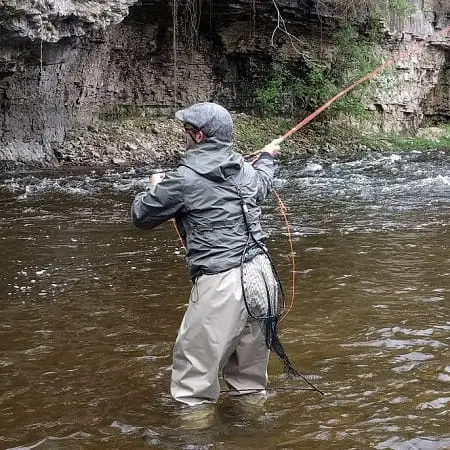 Trout nets get hung up on branches and rip, or fall out of your vest or pack pocket all the time and get lost. I find between 3 and 6 nets on the bank or hanging from branches, or on the river bottom every year.
Nets can also get washed away by the current when you're not paying attention because you're too busy taking a photo or trying to release your fish.
And sometimes I'm using my net to scrape the bottom of the river for my client's keys or a cell phone, or a pair of forceps that are too deep for me to grab by hand. I'd hate to do that with a beautifully finished $225.00 Fishpond Net.
The way I rig up my trout net now is the same way the competition anglers do so I don't lose nets and damage them. See my page: How I Attach A Fly Fishing Net.
What Trout Net Hoop Size And Shape Is Best?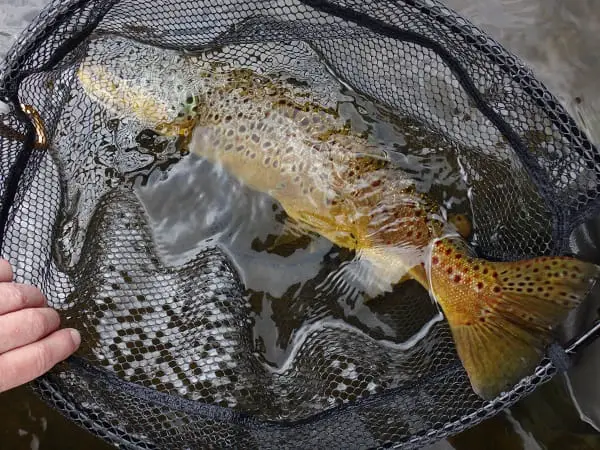 A large round hoop or teardrop-shaped hoop is the best shape for a trout net. Use a hoop size of at least 10″ x 18 inches.
My trout net and the one I recommend the most is the Frabill 13″ x 19″ trout net which will handle trout up to 28 inches.When I fish for large trout or steelhead I use the Frabill 17″ x 25″ Steelhead / Salmon net.
What Is The Best Trout Net Depth?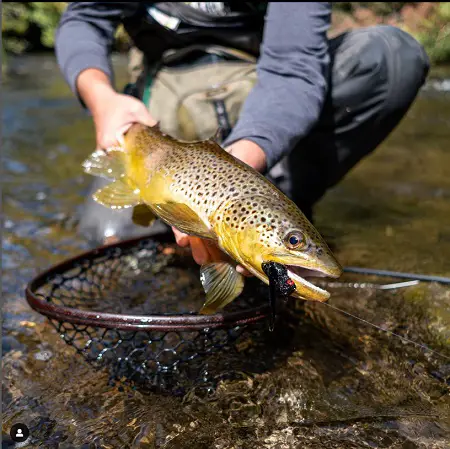 The best trout net depth is around 15 inches, but trout nets with a depth between 13 and 18 inches are good.
15″ is a good mid-depth depth. A mid-depth net bag is also a good idea because, with a deeper net bag even with a smaller hoop, you will still be able to net, hold, and control very larger fish.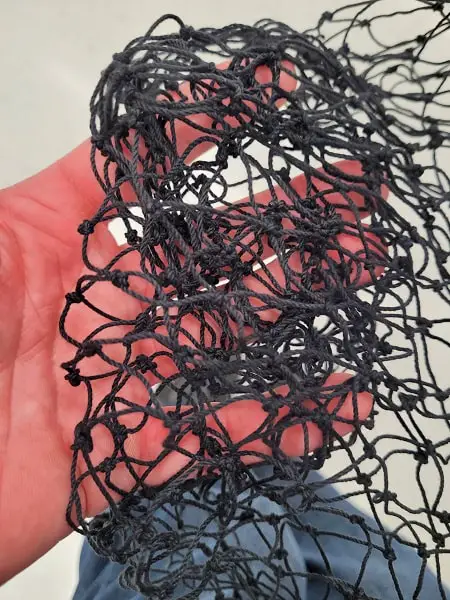 WARNING: Deep trout nets made from cloth-type string can sometimes have the problem of trout twisting in all that excess mesh and causing some nasty net tangles, and that means it takes much longer to release the fish which can kill them.
Most of my trout nets have a net bag of no more than 15″ deep yet I still put 5 to 15-pound steelhead into these nets.
How Long Should The Trout Net Handle Length Be?
The best handle length for the average walk and wade angler is 8 to 10 inches which is considered a short handle net, and the best handle length for added reach, for guides, and for river boats is 14 to 20 inches.
When it comes to short handle nets, just be sure it is combined with a bigger hoop or long hoop for a total net length of around 24 to 30 inches.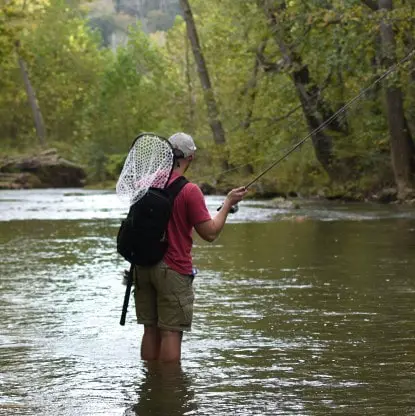 Mid-length net handles like on the Fishpond Nomad Mid-Length Net are good when wading deep, or when you need a little extra reach from a canoe or raft.
You will see guides using these mid-length and longer handled nets but they are usually not required for the average river angler.
Wood Trout Nets Are Good
Wood frame and wood handle nets look really nice, they can have custom engravings, they can be handcrafted, and they can be quite expensive. If a great-looking net is your thing or having a hand-crafted net is what you want, then go for it.
These are quality products from local craftsmen and they are super nice nets, but remember that wood is often heavier than other materials and they can still chip and dent.
There are also some cheap crappy wood handle nets but I don't recommend them.
For some seriously nice custom wood net, check out Sam's Trout Nets
Best Aluminum Trout Nets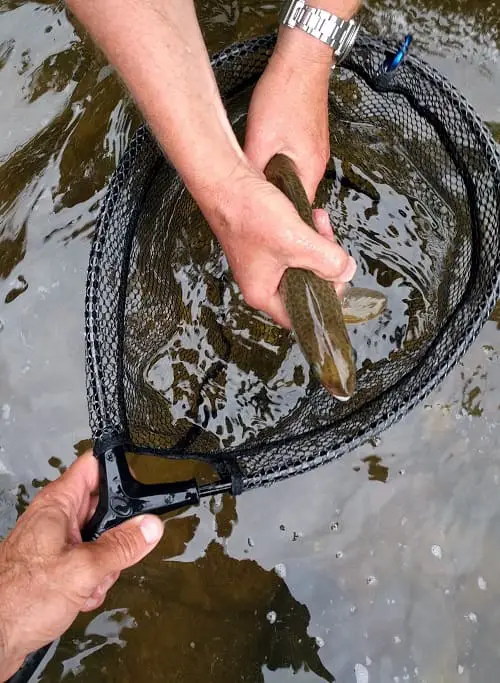 Aluminum hoop and handle fishing nets are light and durable and are my preferred choice for nets. They are also cheap and readily available.
Frabill is a well-known net manufactured in the USA and I have used many of their nets ranging from their giant musky nets, bass fishing nets, and folding nets, down to their small trout nets, and they are always good landing nets.
My favorite net for guiding trout is the 13″ x 19″ Frabill net. Although the handle is too short for most guides, after netting thousands of trout I rarely miss a fish. As a bonus, some of their new trout nets now float and are usually only around $25 dollars.
Best Aluminum Trout Nets:
Composite, Fiberglass, and Carbon Fiber Trout Nets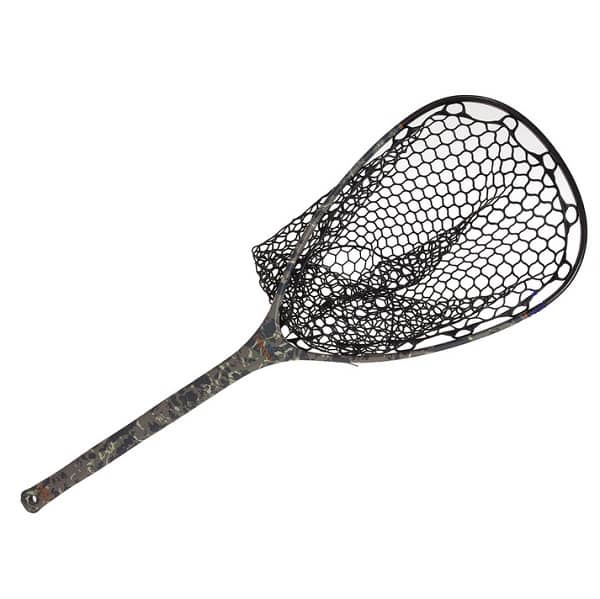 Some trout net frames and handles are made using composite materials like carbon fiber and fiberglass. You will see these on the more expensive nets from brands like Fishpond, FishUSA, and Orvis fly fishing.
The handle and frame on these composite carbon fiber nets are strong, lightweight, and durable. Light nets are also better when using a magnetic net release and the lighter the net the better it is when hanging off the back of a wading jacket all day.
Best Composite Trout Nets:
Check out the FishUSA Trout and Steelhead Net video review.
Best Rubber Net Trout Nets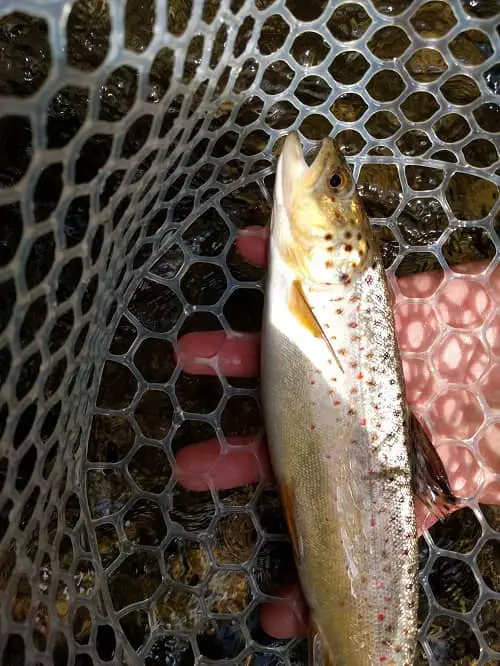 The advantages of a soft rubber bag trout net are that your hooks do not get stuck in the net and the soft rubber net is better for the fish because it causes less damage to the fish's body and will remove less slime compared to other nets.
The soft rubber is also less deep and more compact until a large fish is in it.
The disadvantage of some rubber fishing nets is that they can be thick and heavy. You will see this more on cheap trout nets.
The tighter the rubber mesh the heavier the rubber net bag will be which is why you will see some of the higher-end rubber trout nets like the Fishpond using larger mesh holes on their soft rubber bag.
The higher-end brands use the eco clear rubber trout nets.
A good soft rubber net to consider is the Fishpond Nomad Mid Length Net or the FishPond Nomad Short Handle Net. This net comes with a clear rubber net or a black rubber net bag.
Best Rubber Coated Trout Nets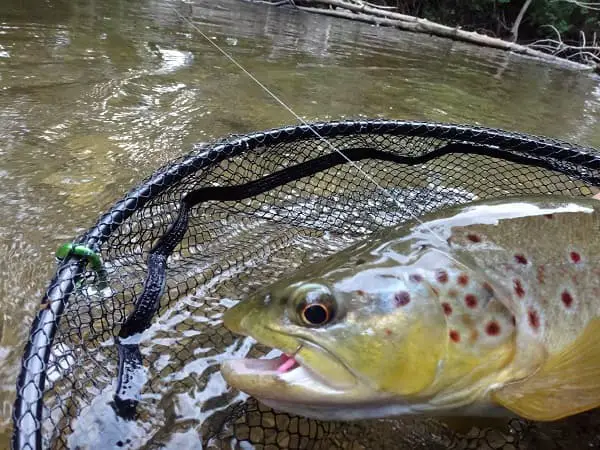 Non-rubber nets are also an option.
A rubber-coated mesh which is also known as rubber-dipped trout net is made with a net mesh that uses some sort of strong string which is then coated with a super-thin layer of rubber coating.
The advantage to this type of mesh is that they are lighter than the solid rubber mesh and the hooks will still come out relatively easily, and they are safer for the fish.
These rubber-coated mesh nets can also have smaller holes and will still be lighter than a full rubber netting. The Frabill nets are rubber dipped.
The best landing nets with a rubberized coating are:
Frabill 13″ x 19″ trout net
Frabill 17″ x 25″ Steelhead / Salmon net
Frabill Kwik-Stow Folding Trout Net
Ranger Catch & Release Flat Bottom Trout Net
Frabill Floating Trout Net
Cloth Mesh Trout Nets Are Not Good
These are the lightest type of mesh trout net you can get and are the ones that your great-grandfather probably used as a fishing net. They are made from a softer cloth-type line.
I do not recommend them since they are the worst fishing nets for having the net material rot or get weak and then fall apart. Hooks also get caught in them easily and are hard to get out.
Long Handle Versus Short Handle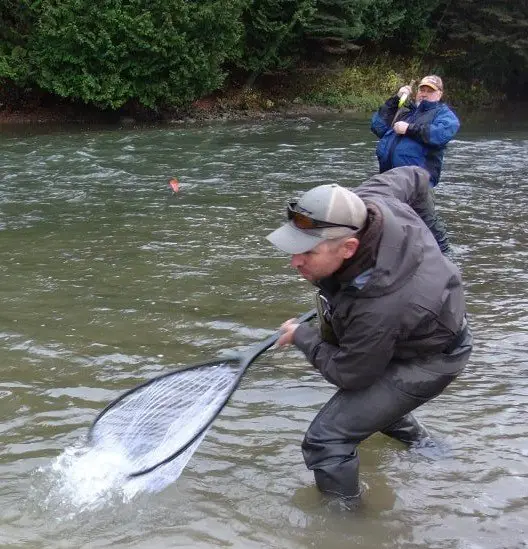 Long-handle nets like the Fishpond Nomad nets are catch and realese nets because they give you a little extra reach to get those bigger fish, especially in situations where the fish may be a little out of reach.
These long-handle nets are popular with a lot of river fishing guides.
The downside to the longer handle net is they are a little bit bulkier and heavier and if you hang it off your back with the net handle up and bag down the net mesh tends to get hung up on branches and stumps and this can rip your net.
I prefer a short handle or mid-length nets because they are more compact and lighter.
If you learn how to properly fight a fish in close to you, the short-handled nets will work just fine.
A good long-handle net is the Fishpond Nomad El Jefe Net which is a lightweight Carbon fiber and fiberglass composite and a length of 41 inches.
Large Holes Versus Small Holes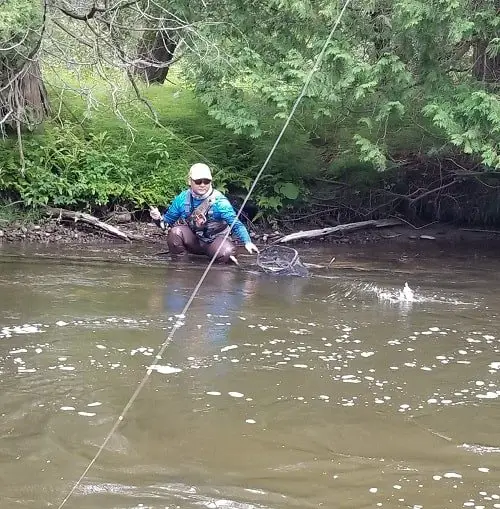 While nets with large holes of up to an inch in diameter will be fine for bass, pike walleye, or carp, they are not great for very small trout.
The best trout nets will have a smaller micro mesh of 1/2 inch or less which will be small enough that a 9-inch trout won't slip through the holes and these work best with bigger fish.
Fold-Up Nets Versus Non-Fold-Up Nets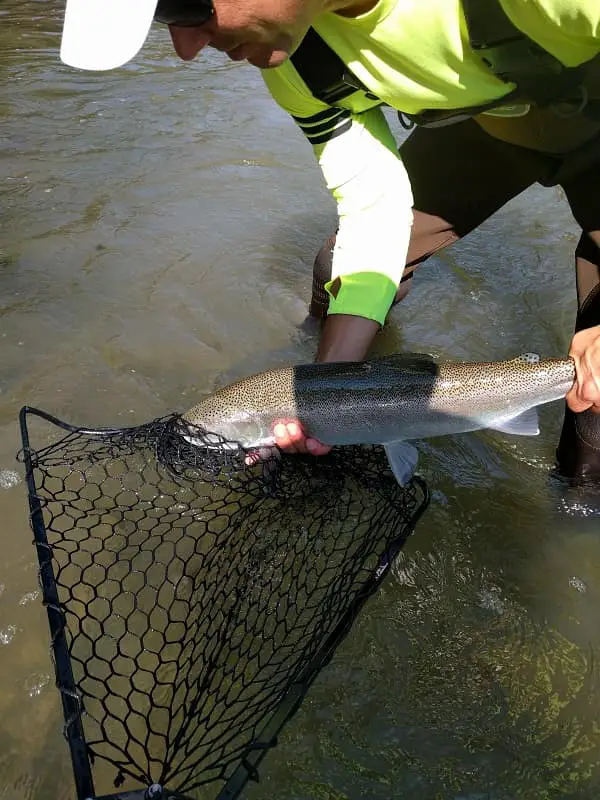 Fold-up nets which are also known as folding trout nets or collapsible nets like the Frabill Kwik-Stow Folding Trout Netare a good option if you want a bigger net with a longer handle that folds up and packs away nicely.
The only problem with these trout nets is that they are difficult to unfold with one hand when you have one hand on your rod fighting a big fish. Otherwise, they are a great mid-length net that can extend to a longer net if needed.
I use the Frabill Kwik-Stow Folding Trout Net when I'm guiding from my boat because it folds away nicely and has a long reach when I need it.
Therefore, if you are by yourself folding nets might not be the best option for a trout landing net.
Competition Nets
Have you ever wondered about those wide hoop catch and release nets that the competition anglers use? Well, I've fished with world-class competition anglers and I actually use a competition net when I'm fishing for fun because a one-hand net these are the best catch and release net for small or big fish.
The reason the competition anglers use a portable net like this is because of how easy they are at landing fish with one hand, and since they are so wide measure the fish in the net is easier, and they allow for easy hook removal and easy release.
They are also aluminum which means they are lightweight and work well with a magnetic release.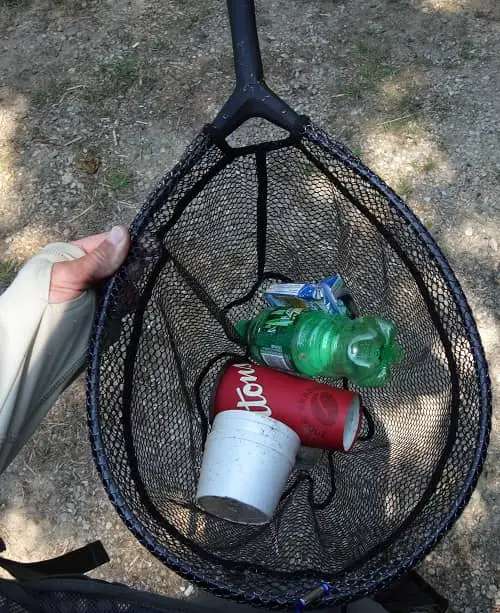 Guide Tip – Your net makes a great garbage collector. I collect as much garbage as I can on my way back to my vehicle.
By doing this, the river doesn't look like a dump for my next clients or for everyone else.
I've also met many landowners that have given me permission to property that other anglers are not permitted to access.
If every person picked up one piece of garbage from the river every time they left the river there would be no garbage and river anglers wouldn't have such a bad reputation with landowners and other anglers.
Got A Question About Trout Landing Nets?
If you have a question or idea or recommendation related to the best trout nets, let's hear it in the comments below.
Tight Lines
Graham