5 Best Trout Nets And A Guides Advice On How To Attach Them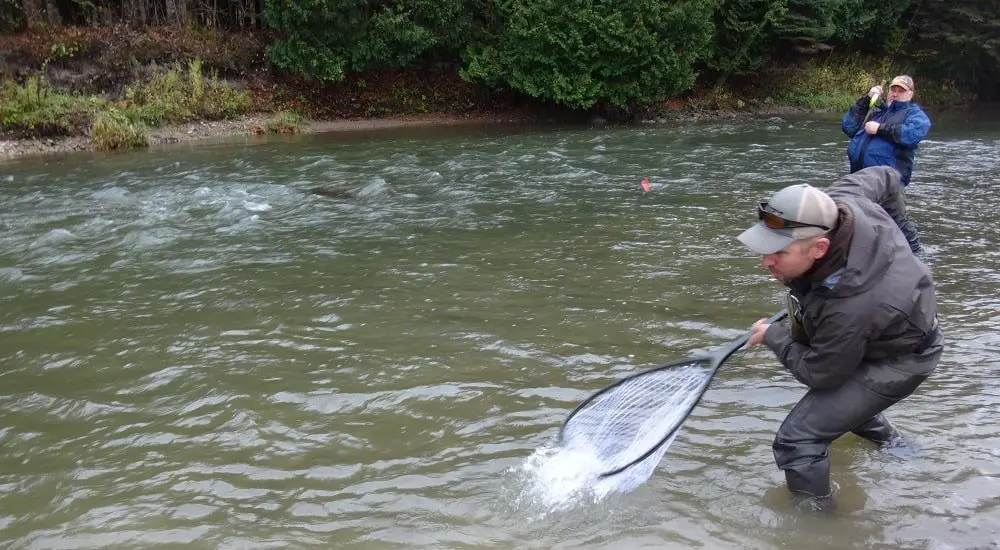 As a fishing guide for over 20 years, I have put thousands of trout, steelhead, and salmon into a trout net. River fishing guides put trout nets under more abuse than 99% of other anglers and I have tested a bunch of different trout nets ranging from $10 to over $200.00.
The best trout nets will be lightweight, compact, and have the ability to be stored on your body without getting in the way. A good trout net will also be durable and made out of a net material that is easy on the fish and makes hook removal easy. A good trout net doesn't have to be expensive.
Every Trout Angler Should Have A Net – I highly recommend that all river anglers have a trout net with them for the safety of the fish and so they don't lose that fish of a lifetime. I've watched many anglers lose a big fish after getting it close multiple times and I have seen many fish die after being dragged up onto the rocks.
If those anglers all had a good trout net they might have landed their trophy trout, and those trout they wanted to release probably would have survived.
I also have some cool tips on how to rig your net and some tips to help prevent you from losing your net so keep reading.

When looking for a good trout net for river fishing you want to consider these things.
Size
Shape
Weight
Portability
Durability
Grip
Functionality
Price
Let me be upfront and honest about trout nets right from the start. Regardless of the price, trout nets will eventually rip or break at one time or another.
I have seen some bad reviews on good nets that I use and recommend but that doesn't necessarily mean it's a bad net.
Just like rods, reels, waders, and other gear, sometimes manufacturing defects can occur and good products will break too, not to mention that user error can also occur. So take the reviews on the trout nets that I recommend with a grain of salt.
I have seen 25-inch trout and steelhead swim right through and break almost new $200 dollar trout nets from a reputable brand. Of course, that rarely happens, but it can happen. I have also seen my favorite $25 dollar trout net land hundreds of steelhead with no problems.
In fact, all my trout landing nets are under $50.00 now and for very good reasons which I will discuss below.
Trout Net Size And Type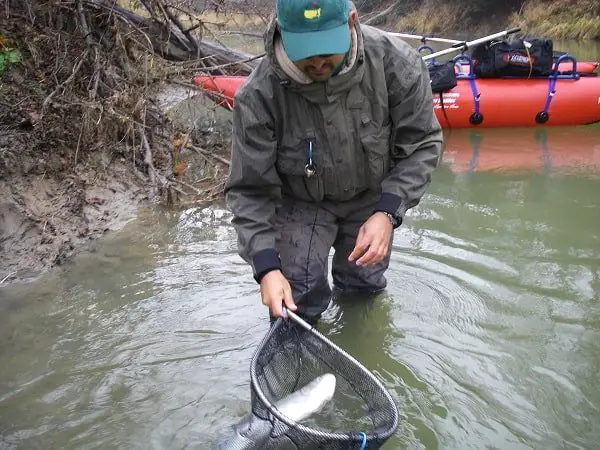 The right size net is important and it's not uncommon for new trout anglers to show up to the river with a trout net that is too small or too big.
The right-sized trout net will be small enough to be easily carried and will be light enough and capable of being attached to your body without weighing you down, but it will still be big enough to handle the largest trout in the river you are fishing.
You don't want or need a net that has a 5-foot long handle with a 30-inch hoop size that weighs 10 pounds for trout fishing. Nets like this are heavy and will need to be left on the bank while you fish.
A net on the bank is useless to you when you hook into a big trout while you are wading 20 feet out into a river. Big nets are also problematic when hiking through the bush.
Sometimes big trout or steelhead will run a long way down the river so if your net is on the bank and not hanging from your back where it should be, that net on the bank 300 feet away is now useless to you.
These big nets might be OK if you are fishing off very steep banks or break walls, or when you need a long handle for extra reach from a boat, but for regular trout fishing on a river where you might be walking and wading into the river a lot, these big nets are a bad idea.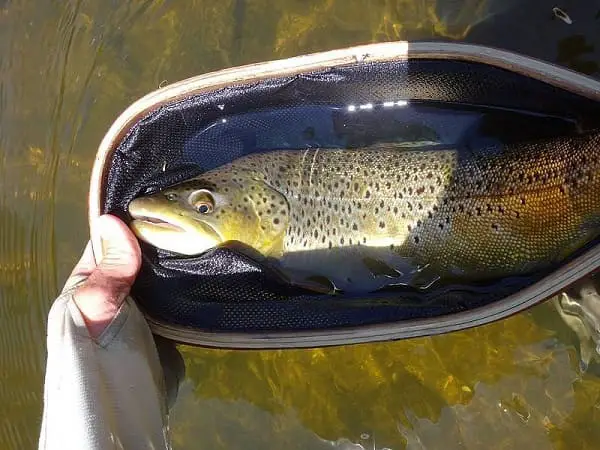 On the flip side, I see anglers show up with these cheap little wood handle trout nets as you see in the picture.
These trout nets are too small if you hook into a big 24 inch trout and you may end up losing the trout of a lifetime because the head of the fish barely fits into the net.
The hoop size on these cheap trout nets is also too narrow which makes it harder to guide big fish into the net easily, which also means you have more of a chance of losing your trout before you net it. A round or teardrop-shaped hoop is the best shape for a trout net.
Unless you are fishing a river that only has trout under 12 inches, you want a good lightweight net with a handle that is less than 20 inches and with a hoop size of at least 10″ x 18 inches.
Your trout net needs to be able to handle the biggest possible fish in that river because you might just get lucky and hook it.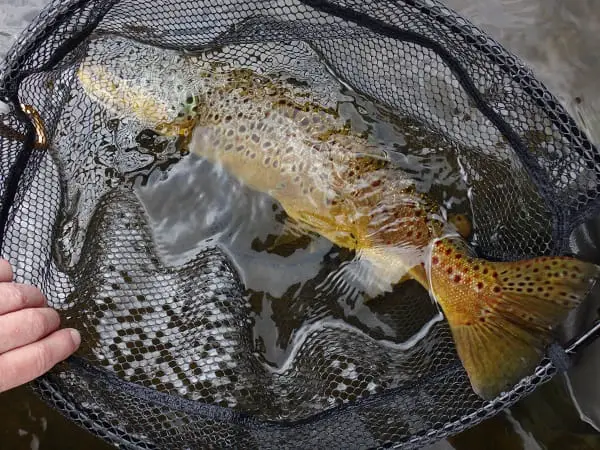 Deep trout nets can sometimes have the problem of trout twisting in all that excess mesh and causing some nasty net tangles, and that means it takes much longer to release the fish which can kill them.
Another problem with a deep trout net is that the fish is harder to get out of the net because it is so deep.
Trout nets that are meant for river wading do not need to have a deep net and most of my best trout nets have a net bag of no more than 15″ deep. I put 5 to 15-pound steelhead into nets with a 15″ deep bag depth all the time.
Trout Net Prices
A $200 trout net like the Fishpond Nomad El Jefe Trout Net is one of the best trout nets that you can buy, but is it much better than a $25 dollar trout net like the Frabill Floating Trout Net?
Trout landing nets get caught on branches and logs and they can tear. They get smashed against rocks when swiping to net a fish in shallow water and then they break or get dented. They get hung up on branches and rip, fall out of your vest and pack pockets, or pull off your net magnets and they get lost. They can even get washed away by the current when you're not paying attention because you're too busy taking a photo or trying to release your fish.
This can happen with a 10 dollar trout landing net or with a $200 dollar trout net and it happens ALL the time.
This is why I won't guide with trout nets over $100 dollars anymore. It's not that $200 trout nets are bad, it's just that the disadvantage to an expensive trout net is that when it breaks or gets lost it really sucks. But if you break a $25 trout net, it's not a big deal.
To be honest the right $25 dollar trout landing net will land just as many trout as a $170 dollar trout net and the chances are pretty good that the $25 dollar trout net will last just as long and can be just as light or even lighter.
So, other than appearance, I don't think that a $200 trout landing net will be much better than a quality $25 dollar trout net from a reputable brand, especially when it comes to landing trout.
Most years I find 3 or 4 trout nets on the side of the river or hung up on branches or floating down the river. I've seen $200 dollar trout nets hanging off branches along the path (I'd hate to be that guy). I will discuss how to secure your trout net properly and provide tips so you never lose your trout net again.
As a guide that uses my trout landing net almost every single day when I'm guiding, (that's hundreds of days a year) I break and tear and sometimes lose trout nets.
Therefore I'd rather look like a cheapskate and have a $25.00 trout net because when it rips or my client drops it and lets it float down the river, or it sinks to the bottom, then I won't care about it so much.
And sometimes I'm using my net to scrape the bottom of the river for my clients keys or a cell phone, or a pair forceps that are too deep for me to grab by hand. I'd hate to do that with a beautifully finished $225.00 Fishpond Net.
Actually, with the way I rig up my trout landing net now, the only thing I ever have a problem with is the net occasionally getting ripped on branches.
Wood Trout Nets Are Good
Wood frame and wood handle nets look really nice, they can have custom engravings, they can be handcrafted, and they can be quite expensive. If a great looking net is your thing or having a hand crafted net is what you want, then go for it.
These are quality products from local craftsman and they are super nice nets, but remember that wood is often heavier than other materials and they can still chip and dent.
There are also some cheap crappy wood handle nets but I don't recommend them.
For some seriously nice custom wood net's check out Sam's Trout Nets
Aluminum Trout Nets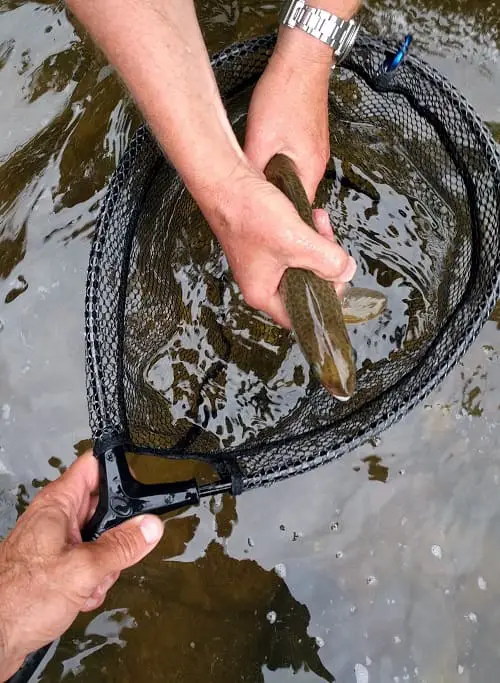 Aluminum nets are light and durable and are my preferred choice for nets.
They are also cheap and readily available so if I break them or lose them I can replace them fast and cheap.
Frabill is a well-known net manufactured from the USA and they have been making quality nets for a long time.
I've used many of their nets from their giant musky nets, their folding nets, down to their small trout nets and they are always good landing nets.
My favorite trout net is the Frabill 13″ x 19″ trout net. The good thing is that the new models now float and they are usually around $25 dollars. You can get this trout net at Bass Pro Shops, FishUSA.com, or on Amazon through these links.
Composite Trout Landing Nets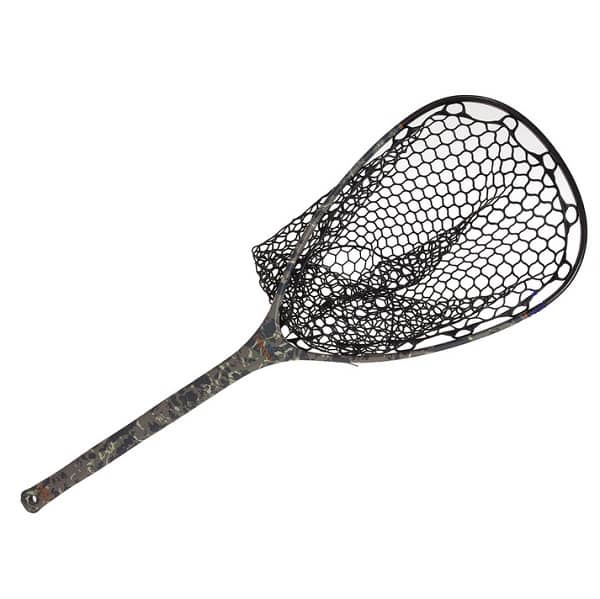 Some trout net frames are being made using composite materials like carbon fiber and fiberglass.
The handle and frame on these composite nets can be strong, lightweight, and durable.
Some of the best composite trout landing nets on the market are made by a company called Fishpond and they very popular nets with river guides and with anglers.
If I didn't guide so much and I wasn't worried about breaking or losing my trout net, you would probably see one of these FishPond trout nets strapped to my back.
If you are the type of angler that likes nice things and wants the best you should check out the Fishpond Nomad El Jefe Net which sells for around $200.00 or the medium-length handle version the Fishpond Nomad Emerger Net, or the short handle version called the FishPond Nomad Hand Net which is in the good 13″ x 18″ size range.
Rubber Mesh Trout Nets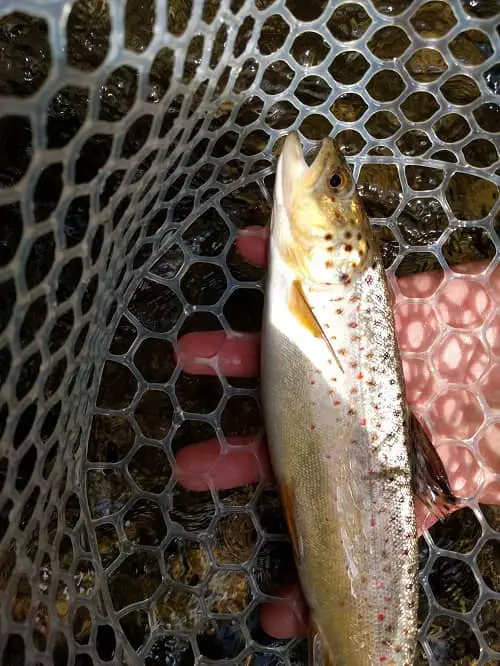 The huge advantage to a rubber trout net is that hooks do not get stuck in the net.
The other advantage to the rubber trout net is that it's better for the fish because it causes less damage to the fish's body and the rubber will remove less slime off the fish than other trout nets do which is better for the fish.
The disadvantage is that some rubber meshed trout nets are thick and heavy and these can get tiresome and hard on the back and shoulders after an all day fishing trip.
The tighter the rubber mesh the heavier they will likely be which is why you will see some of the higher-end rubber trout nets like the fishpond using larger mesh holes. The higher-end brands that make rubber trout nets will be lighter than the cheaper rubber trout nets.
Rubber Coated Trout Nets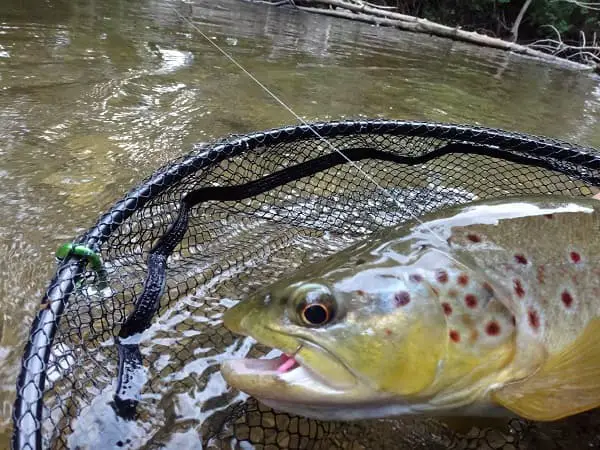 A rubber-coated mesh which is also known as rubber-dipped trout net is made with a net mesh that uses some sort of strong string which is then coated with a super-thin layer of rubber coating.
The advantage to this type of mesh is that they are lighter than sold rubber mesh and that the hooks still come out relatively easy, and they are safer for the fish.
These rubber-coated mesh nets can also have smaller holes and still be lighter than a full rubber netting. The Frabill nets are rubber dipped.
Cloth Mesh Trout Nets
These and are the lightest type of mesh trout net you can get and ones your great grandfather probably used. They are made from a softer cloth type line.
The disadvantage of the cloth type mesh trout nets is that they are the worst nets for having the net material rot or get weak and then fall apart.
They are also the worst nets for having hooks get really badly stuck in them, and they are bad for the fish because the absorbent cloth type material will take off the protective fish slime which is bad for the fish. These trout nets can also get really stinky with all that slime getting into the material.
I do not recommend using a cloth meshed net.
Long Handle Versus Short Handle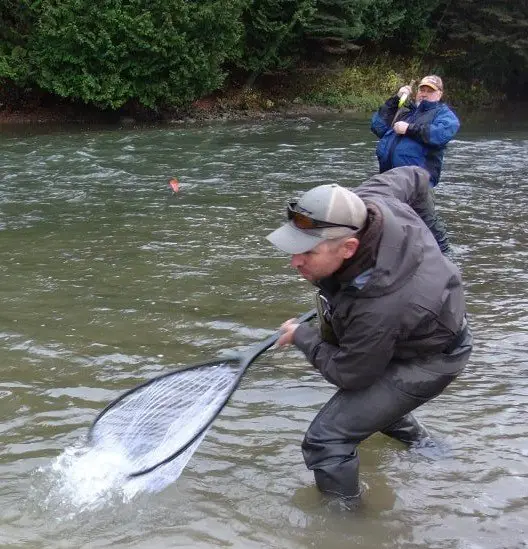 Long handle nets like the Fishpond Nomad nets are great because they give you a little extra reach to get those bigger fish in.
These long handle nets are popular with a lot of river fishing guides.
The downside to the longer handle is that it's a bit bulkier and if you hang it off your back with the net handle up the net mesh tends to get hung up on branches and stumps and this can rip your net.
Longer handled nets may also be a bit heavier.
I prefer a short handle net because it's compact and lighter. The shorter handle means the net will hang higher and won't get caught up as much on low branches, stumps, and bushes.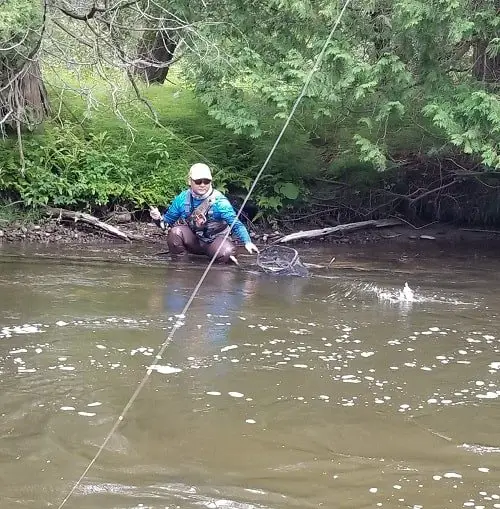 If you learn how to properly fight a fish in-close to you, the short-handled nets will work just fine.
All-in-all the trout net handle is a matter of preference.
Regardless of the handle length, trout nets from reputable brands will have stronger handles with better grips.
Large Holes Versus Small Holes
While nets with large holes of up to an inch in diameter will be fine for bass, pike walleye, or carp, they are not great for trout. The best trout nets will have a smaller micro mesh of 1/4 inches or less which will be small enough that a 9-inch trout won't slip through the holes.
Fold Up Nets Versus Non-Fold Up Nets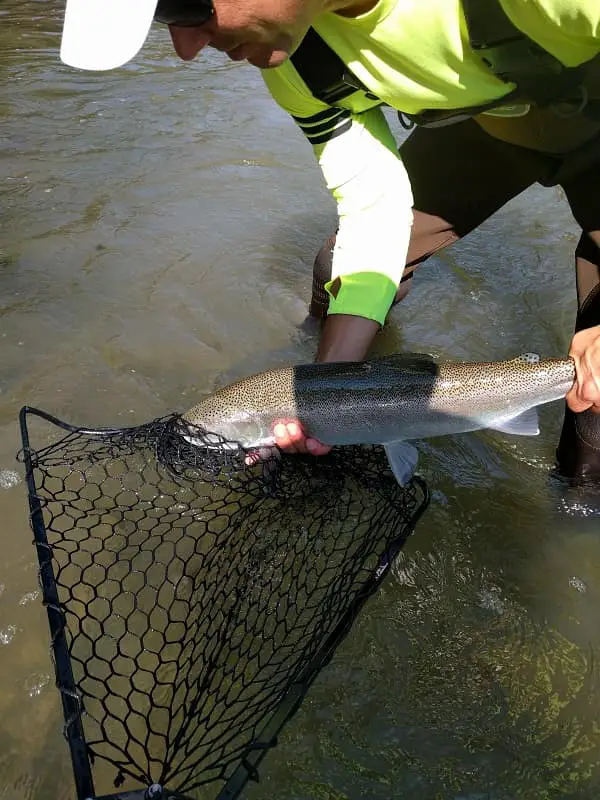 Fold up or folding trout nets like the Frabill Kwik-Stow Folding Trout Net is a good option if you want a bigger net with a longer handle that folds up and packs away nicely.
The only problem with these trout nets is that they are difficult to unfold with one hand when you have one hand on your rod fighting a big fish.
I use the Frabill Kwik-Stow Folding Trout Net when I'm guiding from my boat because it folds away nice but and has a long reach when I need it.
Therefore, if you are by yourself folding nets might not be the best option for a trout landing net.
Best Ways To Attach Your Trout Net
Have you ever seen how a professional tournament fly anglers store their nets?
Hanging the net on your back is a great way to keep it up and out of the way while fishing and you never need to leave it behind when you go running after a big trout. Hanging the net off a magnetic net release like this Orvis Magnetic Net Release is also a good way to make it easy to grab when fighting a fish but . . . .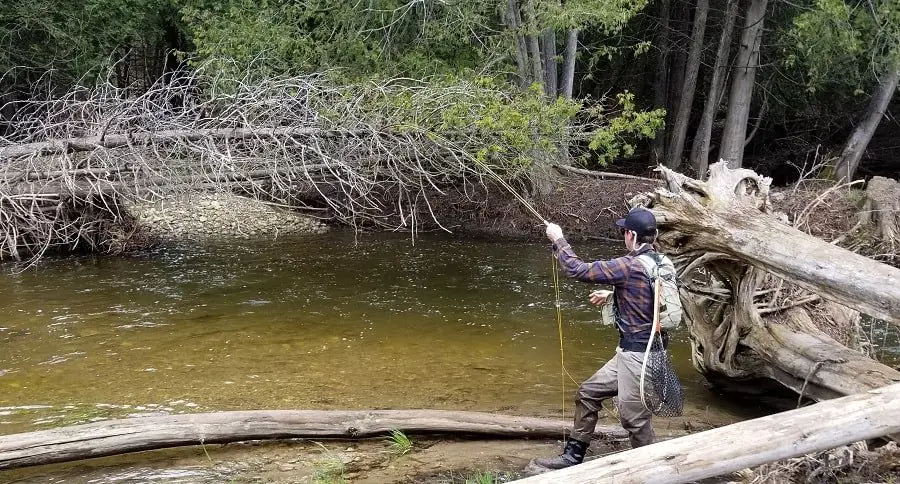 If you watch most trout anglers on the river they will hang their nets from the handle off the back of their vest or off the back of their jacket.
The handle is up near their shoulders and the net mesh is down near their lower back. The majority of river anglers do this because the trout nets that they buy often come with a hole or a lanyard on the end of the handle. This sort of works but there is a better way.
There are two main issues with hanging your net this way and there is a better way.
The first issue is that the mesh hoop hangs low down near your butt and it swings back and forth catching on all the branches and therefore you are more likely to get hung up or rip the net.
This is why I find so many nets on the ground or hanging off a low tree branch. This is also why the net mesh rips. When you hook a stump with that mesh as you are walking and it can easily rip your net.
The second reason to not hook up your net this way is that it's common for the net handle which is hung off the back of the jacket or a vest to sag and hang low putting that handle right between your shoulder blades where you can't reach it easily when you are fighting that big fish.
This means that you may need to reach low down near your butt and grab the hoop part of the net, then you have to juggle it with one hand until the handle part is in your hand properly, all while trying to manage your fish with the other hand. I see guys try to do this and drop the net in the water. It's not good!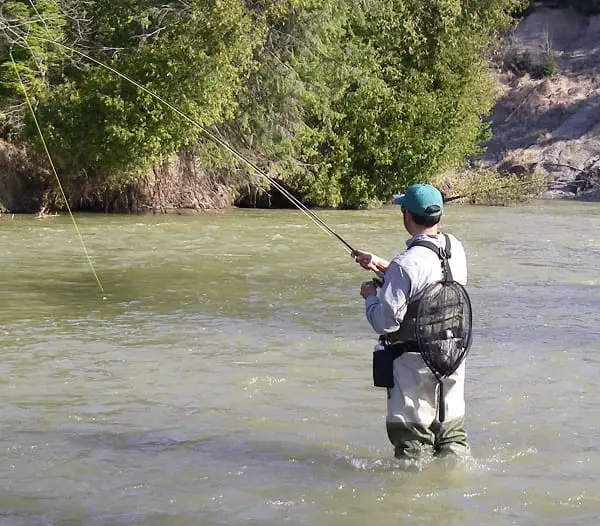 If you watch the competition fly anglers they have their nets hanging from the hoop up near the neck and the handle down near their butt like you can see in the picture here.
The trout net swings less this way which means it hangs up less and is less likely to rip the mesh.
The best part about doing it this way is when they are fighting a fish it's easy to reach around your lower back and grab the handle and have the net in the right-hand position and ready to net the fish fast! This is how the professional tournament anglers do it!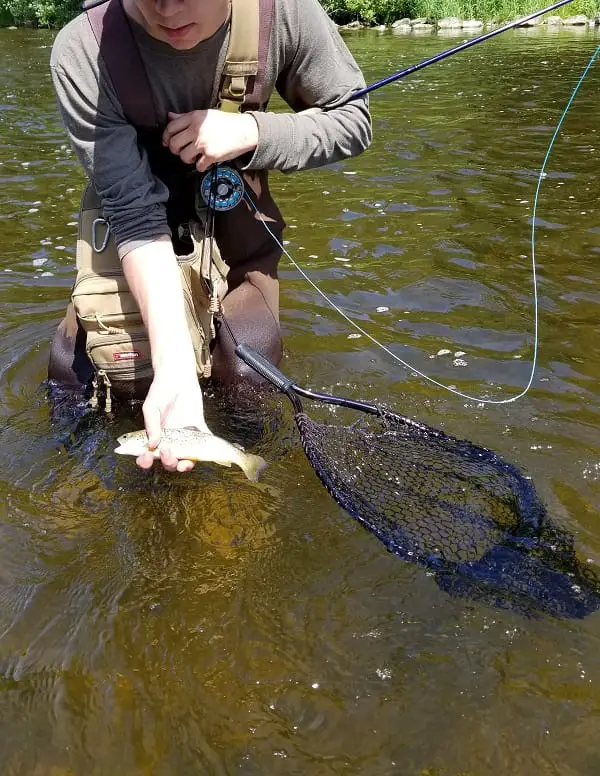 Guide Tip: Keep a long elastic type lanyard on the handle and attach it to your belt. Attach the hoop end to the magnetic release.
If the trout net gets caught on a branch or something else and comes off the long rubber lanyard will eventually stop you in your tracks.
I have probably had my net catch on something and fall off my back without me noticing over 20 times. In the early days, this meant I'd have to walk back a long way to find the net or it meant me losing another net.
Once I started hooking up my net with a safety lanyard off the handle attached to my waist with a 3-inch aluminum Carabiner Clip I stopped losing nets and I know this has saved me a lot of lost nets or backtracking to find a net.
To hook your net up like a pro you want to get yourself a strong trout net release magnet like the Orvis Magnetic Net Release, then you want to secure a 3-inch aluminum Carabiner Clip to the end of the hoop on the net and then attach one end of the magnet there. The other end of the magnet will be attached to the back of your vest or jacket.
Most vests and wading jackets and even the back of your chest waders will have a fabric hook to attach your net.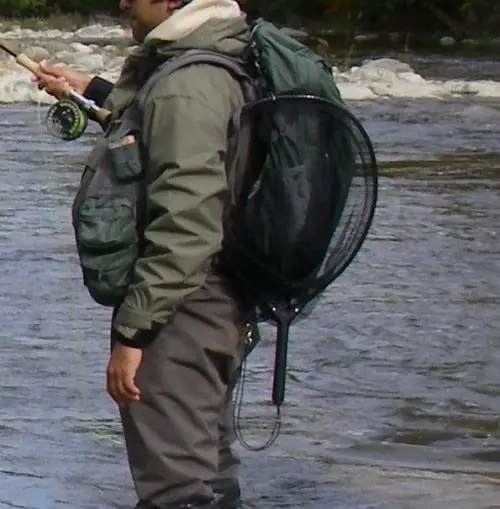 Once secured on your back, I will then attach a stretchable cord or lanyard to the handle and the other end to my wader belt with a Carabiner.
The elastic cord should be long enough that if you need to reach out 6 feet it will stretch that far. The elastic cord should be secured well so that it won't come off unless you unclip it.
If the waist cord is secured properly it will ensure that should my magnet net release let go while walking through the bush it will still be attached by my waist which will then notify me that it came off. Without it, I might keep on walking. I have found plenty of nets along the path or floating down the river with only one end of the magnet attached.
This elastic safety cord also allows me to let go of my net while taking pictures or when releasing my fish and my net won't float away.
If you don't wear a vest or jacket the other option is to hang the hoop part off a magnet and 2 carabiners off your wader belt and have a secondary elastic cord running from your trout net handle to your belt.
This method is not as good as hanging off your back because it hangs lower and gets hung up more often but as long as you have your security cord from the handle to the belt you shouldn't lose it.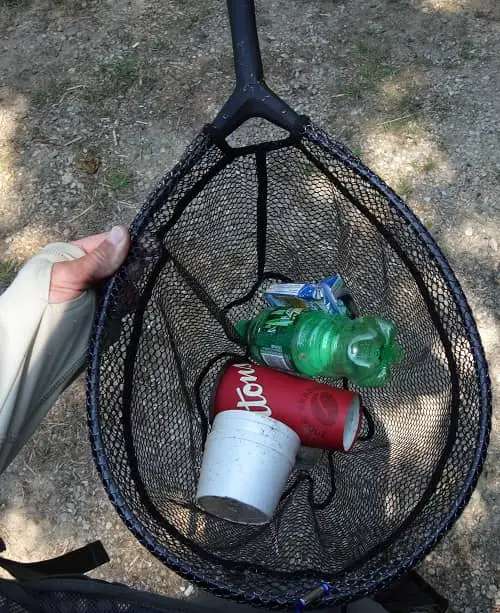 Guide Tip – Your net makes a great garbage collector. I collect as much garbage as I can on my way back to my vehicle.
By doing this, the river doesn't look like a dump for my next clients or for everyone else.
I've also met many landowners that have given me permission to property other angler are not permitted to access.
If every person picked up one piece of garbage from the river every time they left the river there would be no garbage and river anglers wouldn't have such a bad reputation with landowners and other anglers.
Got A Question About Trout Landing Nets?
If you have a question or idea or recommendation lets hear it in the comments below.
Trout Fishing Tips and Advice
So now all you have to do is catch some nice big trout to put into that nice net of yours. It's time you start learning from the experts so don't forget to check out all the great info and tips from myself and other great guides on my Trout Page and for Steelhead on my Steelhead Fishing Page.
Tight Lines
Graham