5 Best Electric Fillet Knives For Fishing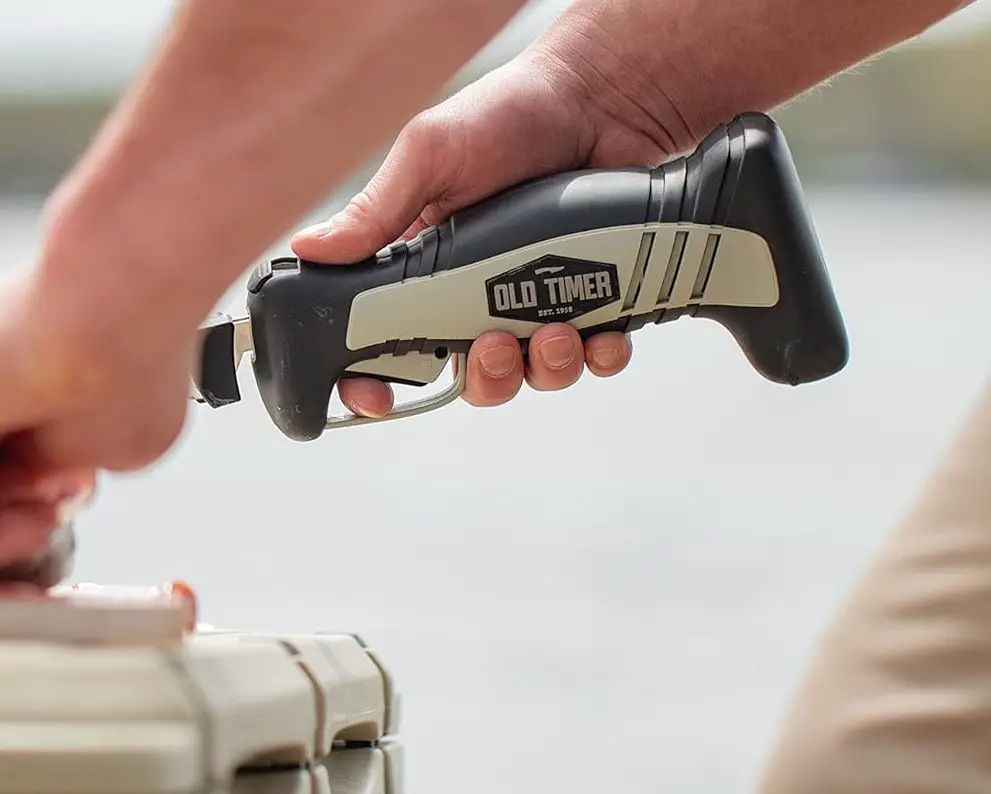 I was skeptical of electric fillet knives until I tried one. I only tried one because one of my charter boat buddies who cleans all the fish for his clients swears by them. Now that I've tried one, I can't go without one. Check out the five best electric fillet knives for fishing and for fishermen.
Quick Pick Electric Fillet Knives
Is an Electric Fillet Knife Better than a Regular Fillet Knife?
I love eating fillets from a fresh catch of trout, walleye, crappie, and many other species. What I don't like is when a large catch turns into work when there are a lot of fish to fillet.
When you have more than a couple of fish to fillet, it's time to consider the benefits of an electric fillet knife that can make quick work of it when you need to fillet multiple fish.
You can get the job done quickly and cleanly, and cordless knives enable you to fillet your catch at the local boat launch. Then, you can leave the carcasses in the water for other fish to feed upon. Here's a closer look at five of the best electric fillet knives that you might consider.
What to Consider When Purchasing an Electric Fillet Knife
You don't want to buy just any electric fish fillet knife. Instead, you should carefully consider what would be a good electric fillet knife for your needs. Here are a few things to consider before choosing an electric fillet knife.
Safety Considerations
Electric fillet knives for fishing can make quick work of hands, fingers, and wrists just as easily as they can fillet fish. It's always important to take proper safety precautions, like never cutting toward any part of your body while you are filleting fish.
Wearing a pair of fillet gloves will protect your hands and wrists against accidental cutting. With corded electric knives, you also need to be sure to keep the power cord away from where you are cutting and never cut toward it.
Lastly, do not submerge your electric fillet knife to avoid shock or damage to the knife.
Corded vs. Cordless
A corded electric knife works fine at home when you have an electrical outlet located behind you and nothing to get in the way of the blade and the fish. The cord does limit your range of motion, though.
For me, the best electric fillet knife for fishing is a cordless knife that holds a good charge that enables me to fillet a lot of fish quickly and efficiently. I can do the filleting in the field or after arriving home.
Handle/Grip
You need an ergonomic handle that will make it easier to hold and manipulate the electric knife while filleting your catch. The handle and grip should give you a good feel for the blade while also enhancing the grip when your hands are wet or have fish slime on them.
You also should be able to turn it on and off and adjust the speed with the same hand that you are using to hold the knife without loosening your grip.
Taking care of your knife
Like any knife in your home, you need to clean your fillet knife and its handle after you are done. You don't want to put it away uncleaned after filleting a bunch of fish because doing so invites bacterial contamination that might cause problems later.
Sharpening the stainless steel blade on your electric knife helps it to cut cleanly and efficiently. I like to sharpen mine every couple of fish by taking a few moments with a sharpening rod to prevent working with a dull fillet knife. Many knives come with such tools for sharpening their stainless steel blades.
The 5 Best Electric Fillet Knives For Fishing
Here's a quick look at some of the best electric fillet knives for fishing for you to consider. If you are looking at other models, you might compare them to these to get a good idea of what the best electric knives should offer for their owners.
1. Bubba Blade Pro Series Cordless Electric Fillet Knife – Best Overall Knife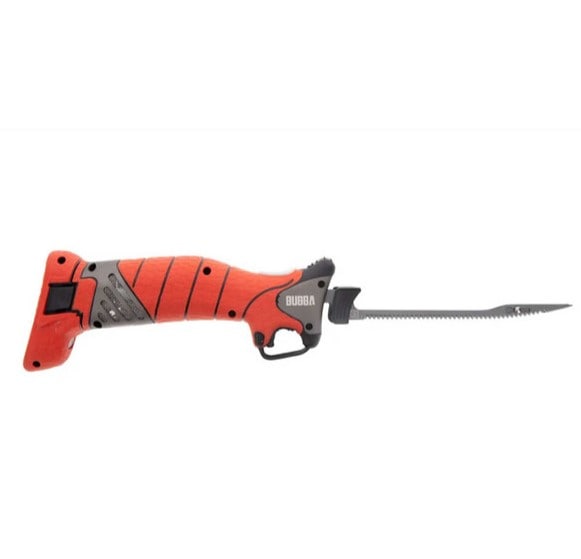 The Pro Series cordless electric filleting knife by Bubba Blade features a specially designed brushless motor that creates significantly more torque and greater efficiency than competing knives.
The Pro Series knife gives you up to double the amount of power that other cordless models offer which makes it the best electric fillet knife for fishing.
The handle is ergonomically designed with an indent for your thumb and a finger trigger to start and stop the blade while maintaining a solid grip. A nonslip grip and guard protect your hand and fingers.
The knife comes with four sharp blades that are serrated and ranging in length from 7 inches to 12 inches. You get two flexible blades and two stiff blades. The interchangeable blades have a titanium-nitride coating to protect them against corrosion.
The knife comes with two rechargeable lithium-ion batteries and a charging cord. A waterproof hard case holds it all together.
Some anglers will even fillet their fish while trolling so they can get the filets in the cooler as soon as possible, and with the long charge this knife has, it is perfect for outdoor use.
2. BUBBA Lithium-Ion Cordless Electric Fillet Knife: Best-Rated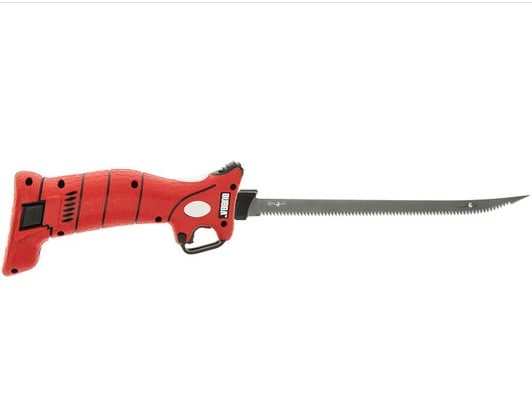 The cordless Bubba knife is very similar to the one above but has one rechargeable battery instead of two which is fine if you only need to clean a few fish or less.
The handle has a very similar ergonomic design and a nonslip grip with a protective guard for your fingers and hand.
A conveniently located power trigger helps you maintain a good grip while turning the blade on and off.
You get four titanium-nitride-coated blades for cleaning fish, including 7- and 9-inch flex blades and 9- and 12-inch stiff blades made from stainless steel. The knife also comes with two lithium-ion batteries and a charger which make it one of the best electric fillet knives for fishing.
You can stow it all away in a molded and durable EVA hard case to keep with your fishing gear. It's one of the best-rated cordless electric knives available.
3. American Angler PRO Titanium Electric Fillet Knife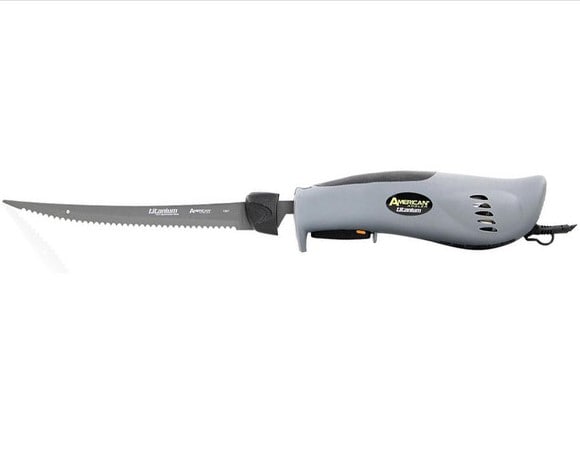 The Pro titanium electric fillet knives can handle filleting freshwater and saltwater fish alike thanks to an electric motor that produces twice the torque of average electric fillet knives.
You can cut through the rib cage with ease and get thick fillets with its 8-inch titanium-coated blade.
An elegantly curved handle gives your palm a comfortable ergonomic fit with the power button located underneath where your forefinger naturally rests. A fanjet cools and ventilates its 40mm electric motor to protect it against heat buildup while filleting lots of fish.
It literally is cooler, more powerful, and cuts better than most electric fillet knives and stows away in a storage bag along with its cord.
4. Rapala Heavy-Duty Electric Fillet Knife – Best Under $100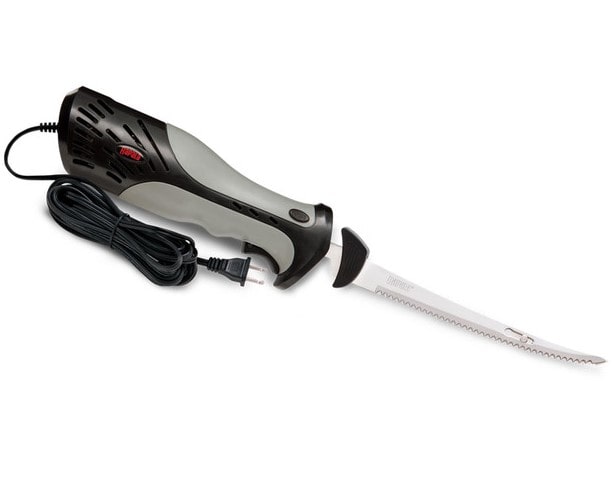 You don't have to spend a lot of money to get a great electric knife when you buy the Rapala Heavy-Duty model.
All-metal gearing and a durable heavy-duty electric motor make the Rapala twice as fast and three times more powerful than standard electrically powered knives.
Vibration damping makes the powerful knife more comfortable to hold and easier to fillet fine cuts. An 8-foot cord length gives you plenty of room to move around.
Knife features include a 7.5-inch reciprocating knife blade and a body that gives you a firm grip to cut through the rib bones of bigger fish. The on-off switch is located on the underside where your forefinger naturally rests, and the handle is ergonomically designed with finger rests.
5. Old Timer Li-Ion Cordless Electric Fillet Knife – Best Under $55.00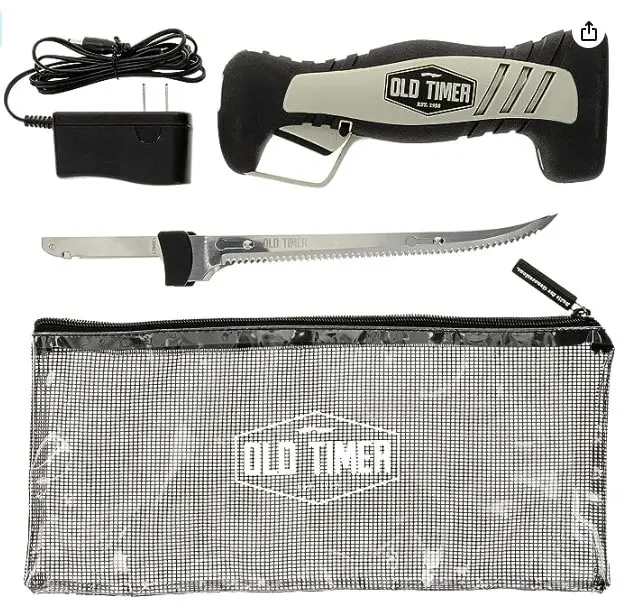 With over 1000 reviews that are almost all 5-star, the Li-Ion cordless by Old Timer is a great value and gives you a great rechargeable knife for filleting for under $55.00 (price may change).
It has a textured handle that is easy and comfortable to grip while filleting. It comes with a single flexible blade that is 8 inches long, and an LED indicator light tells you when it's time for a recharge.
You get one blade, a detachable recharging cord that works with a standard outlet, and a soft bag to store them and the knife. It's a great knife for fishing trips and gives you plenty of battery power to clean a lot of fish.
The Best Electric Fillet Knife For Fishing Q&A
If you have a question or want to provide your tips regarding the best electric fillet knives for fishing, let us know in the comment section below.
Tight Lines
Graham