5 Most Effective Lures For Ohio Steelhead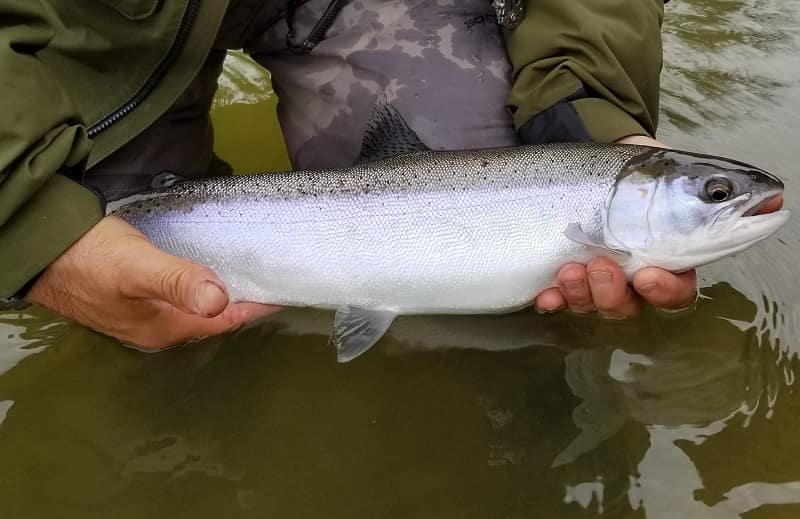 Fishing with lures for Ohio steelhead can be an effective and fun way to catch steelhead once they enter the river. This article about the 5 Most Effective lures for Ohio steelhead fishing is about the best lures and the methods used by river guides and experienced anglers to catch steelhead consistently.
There will be times when some lures will work better than others which is why as a steelhead guide, I will have an assortment of the most effective lures, colors, and sizes. Even the action of the lure can make a difference from one day to the next. Let's discuss why.
Steelhead Lures Ohio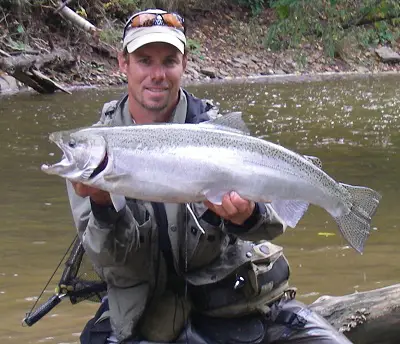 Ohio steelhead fishing does not need to be as complicated as a lot of anglers like to make it, especially when is comes to lure fishing for steelhead.
With a few basic steelhead lures in your tackle box, you can be on your way to a great and memorable steelhead fishing.
River guides and anglers are aware that a very effective way to get the most out of your steelhead fishing trip is to fish with lures, but not all lures, sizes, and colors will be good for steelhead.
How to Fish Ohio Steelhead Lures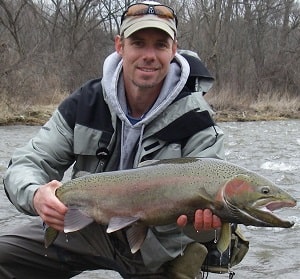 Before we get into the best lures it's important to know that just because you have a great lure on doesn't mean you are going to catch any fish.
Well, you might get one or two, but what if you should have caught 10?
Most anglers think that you can just cast a lure and reel it in, and you are doing it correctly. But good anglers and river guides rarely fish this way.
Before tying on a lure for Ohio steelhead, there are a number of factors you want to consider, such as the depth of the river, the clarity of the water, the time of the year, and the weather and light conditions.
It also makes a huge difference in which direction you cast your lures, how you retrieve them, and even how you cover the water. You can learn to do this well on my page Lure Fishing For Steelhead.
5 Best Lures For Ohio Steelhead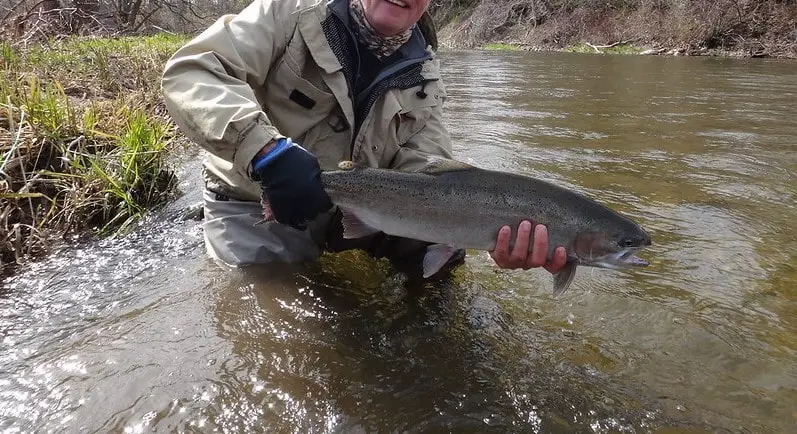 These are the most effective lures for steelhead fishing in Ohio, and I will also discuss the best sizes and colors.
Spinners For Ohio Steelhead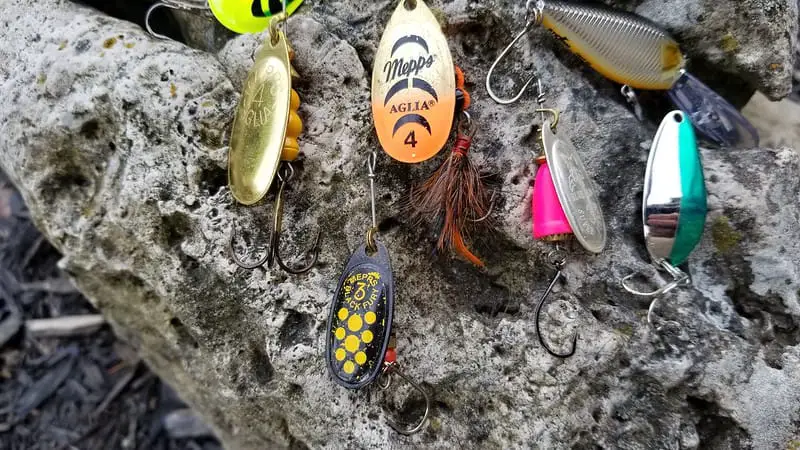 Spinners are one of my favorite Ohio steelhead lures and they are used by most anglers and other river guides.
Spinners are characterized by rotating metal blades, beads, and even feathers around a metal wire with a hook on the end. All of these features are designed to create lots of noise and vibrations, which in turn can attract and tempt Steelhead to strike.
Spinners are a great search-type lure thanks to the ability to be retrieved then fast which allows anglers to cover the water faster.
Spinners are versatile, so regardless of whether the water is dark or clear, stagnant and moving, they can be fished throughout the water column.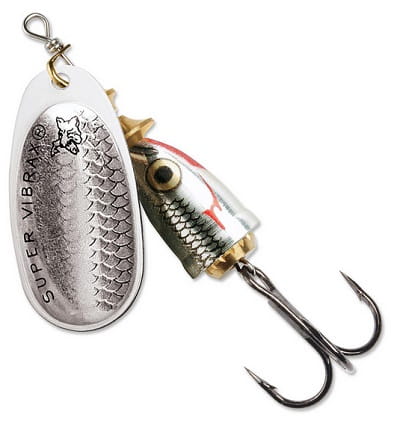 A good steelhead spinner has a number of things such as a blade that spins well, and the right weight for good casting, and is heavy enough to stay in the "strike zone."
All colors are not created equal when it comes to spinners. To enhance their appearance and performance, they can be painted with vibrant colors, UV colors, and even glow colors.
The most effective spinner colors for Ohio lure fishing are silver, chartreuse, black, orange, gold, and pink.
GUIDE TIP: Due to different light conditions and water clarity, I will often fish different lure colors in the same pool and each consecutive pool until I determine which color the steelhead wants.
I call this method of determining what the steelhead wants "rotating colors", and I do this with all lures to figure out what lure will work best.

I will often also rotate the sizes of the lures. Depending on the river conditions, the best size of spinners for steelhead are 3 and 5 inches, with the best blades being a size 2 to 4.
This size will work for most river conditions, but I generally recommend bigger spinners for dirtier water, and smaller spinners for clear water conditions.
I've had great success with these Spinners: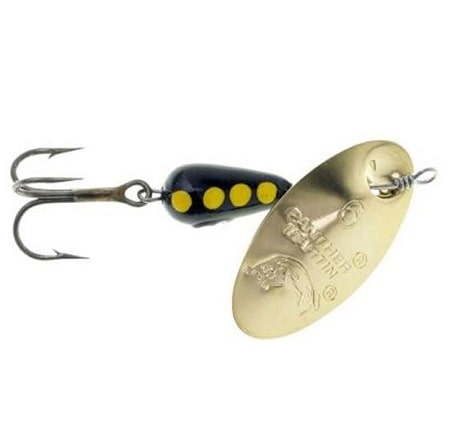 Panther Martins were the top-selling spinners for trout and steelhead in my tackle store, and my customers swore by them.
Personally, I find both the Panther Martin Regular and Hammered series to be effective. Additionally, I highly recommend the Mepps Flashabou spinner in size 3 or 4, particularly in Silver Blue-silver, Silver black-silver, brown trout, and gold brown-orange.
In higher or dirtier water conditions, the Chartreuse blade and Orange blade in size 5 are my go-to choices.
When it comes to steelhead, the Blue Fox Classic Vibrax Spinner or the Super Vibrax Spinner are my most effective and my favorites.
I've been a devoted fan of Vibrax spinners for various species, including steelhead, salmon, trout, bass, pike, and even musky. The key factor is the remarkable vibration these spinners produce underwater, making them highly effective.
Spoons For Ohio Steelhead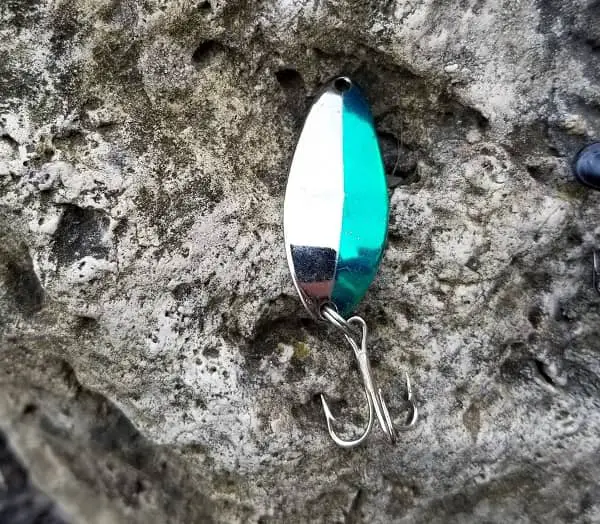 Spoons fished well are undoubtedly one of the best lures for Ohio steelhead in rivers.
Spoons are designed in a variety of color combinations, sizes, and shapes, and I will change them according to conditions and fish activity.
My favorite color combinations are generally more natural ones that resemble baitfish such as silver, gold, or copper, as well as ones that are paired with the likes of blues, oranges, and greens.
I have come to discover that the silver flash and wobble of a spoon tends to have a similar resemblance to the baitfish, and when presented with the correct presentation, it's hard for the steelhead to resist.
I will often allow spoons to sink once they hit the water, lift them a foot or two off the bottom, let them sink again, and then repeat.
A straight retrieve will work as well, especially if you impart and pause and twitch every 5 to 10 feet.
When it comes down to shape, I would go for oblong and teardrop.
Depending on the size of the river and river conditions, I usually prefer spoons within 2 inches to 3 inches long.
For dirty, muddy water and bigger rivers, I fish with large spoons of between 3 and 4 inches. For low, clear water and smaller rivers, smaller spoons seem more natural and work better.
The Best Steelhead Lures Ohio:
Little Cleo: The Little Cleo is a weighty spoon designed for faster and deeper waters. I find the 2/5 oz, 3/4 oz, and 1.25 oz sizes to be preferable.
Krocodile Spoon: The Krocodile Spoon is highly regarded for steelhead and salmon fishing as it flutters effectively during both the lift and the drop. I've had great results with sizes 1/2 oz and 3/4 oz.
Chrome-Silver Prism Lite
Rainbow Trout
Chrome
Hammered Chrome Neon Blue
Green Prism Lite
Chrome Green Mackerel
Eppinger Original Dardevle: The Eppinger Original Dardevle is a versatile spoon suitable for all river conditions. I usually opt for the 2.5 oz / 2 1/4 inch size. It's also an excellent choice for casting from piers or shorelines of lakes when targeting steelhead and salmon.
Best Colors for Eppinger Original Dardevle:
Scale Chartreuse/Black Stripe
Nickel
Gold
Hammered Nickel-Green
Hammered Nickel-Blue
Shad (Alewife)
Crankbaits For Ohio Steelhead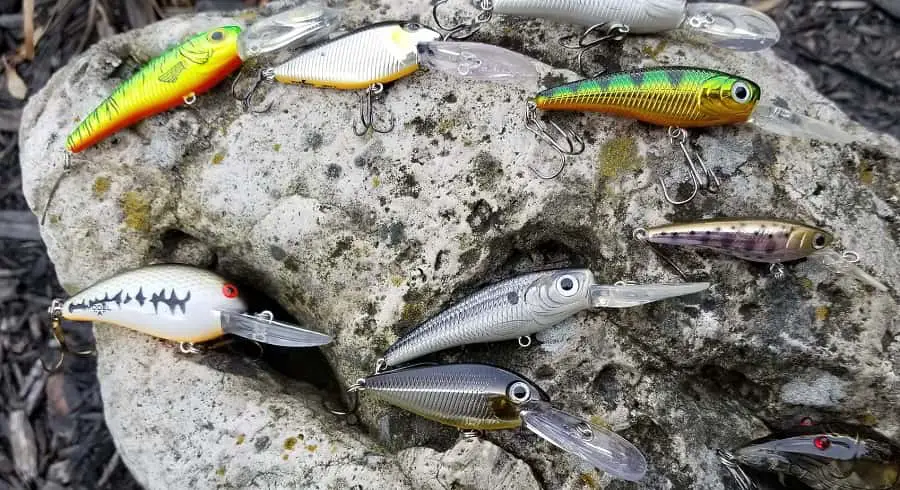 The Crankbait, also known as body bait, hard bait, or a plug, is another great steelhead lure that you should have in your fishing arsenal.
Crankbaits are widely used lures and have been around for quite a long time, but not many anglers realize that they work well in rivers for steelhead.
Crankbaits come in tons of great colors to choose from. Bright colors such as chartreuse and orange are a great choice in dirty or stained water. Other color combinations to consider are silver and blue, silver and green, and silver and black.
My favorite crankbait size for steelhead is between 3 inches to 4 inches.
Crankbaits will always fish well in most Ohio tributaries when used properly and as long as you ensure you have the correct sizes and colors.
I prefer to cast and retrieve crankbaits with a slow swing retrieve, and I add a rip-twitch-rip-pause method about every 5 to 10 feet.
If your crankbaits are hitting the bottom raise your rod tip and try again. Keep raising your rod tip until it stops bumping the bottom. Ideally, you want to always be 1 to 2 feet off the bottom.
Best Crankbaits For Ohio Steelhead
The crankbaits listed below have been some of my favorites for fishing Ohio Steelhead.
Strike King KVD 200 Jerkbait
Best Colors for Strike King KVD 200 Jerkbait:
Carolina Chrome
Clown
Chartreuse Sexy Shad
Blue Digger
Sugar Daddy
Sexy Blue Back Herring
Pro Gold
Yo-Zuri 3DB Deep Crank Floating Diver Lure
Best Colors for Yo-Zuri 3DB Deep Crank Floating Diver Lure:
Natural Blue Gill
Gizzard Shad
Green Shad
Prism Chartreuse Perch
Sexy Shad
Blue Back Chartreuse
And don't forget the old-school proven Rapala Original and Rapala Original Jointed.
Plugs Like Kwikfish For Ohio Steelhead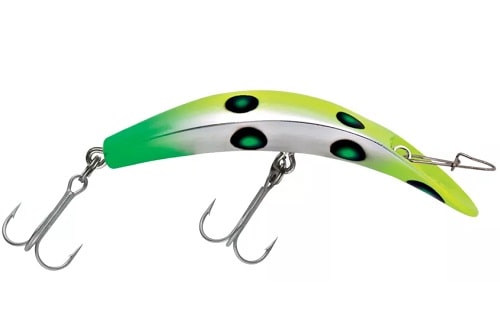 The effectiveness of this lure is due to its crazy wide wobble that drives any steelhead crazy and thereby triggering aggressive strikes. It can also be fished very slowly for those less agressive steelhead.
As for lure size, I usually stick to 2 3/4 inches for medium to large rivers. For dirtier water and when there's a need to get a bit deeper, I would go for 3 3/8 to 4 1/4 inches.
The Kwikish comes in a variety of great colors and combinations. My favorite colors in most water conditions are an all silver color or a combination of silver-green/chartreuse. However, I have also done well with black because I think that the steelhead thinks it's a black leech. Another productive combination for me is Silver-blue.
Jigs For Ohio Steelhead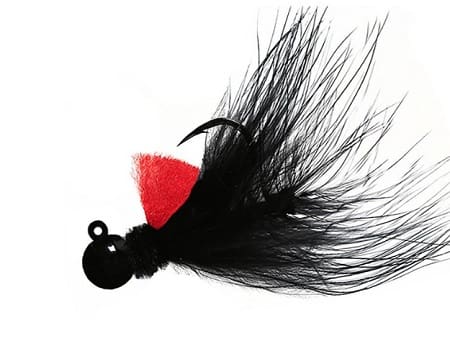 Jig lures may not be popular amongst steelhead anglers, but they are very effective, and this makes them one of the best lures for Ohio steelhead.
Jigs come in a variety of sizes and colors, but my favorites are 2 to 3-inch marabou jigs in black, olive, and white.
Jigs are very effective at any time and in any water condition, but often they are the best type of lure during cold water temperatures when steelhead tend not to be very active.
They will get down deep and move very slowly to trigger bites from less aggressive steelhead. I discuss jig fishing and all the best sizes and colors on my page Jig Fishing For Steelhead.
As you probably already know, my favorite place to get all my steelhead gear is FishUSA.com, located in Pennsylvania.
Best Lures For Ohio Steelhead Fishing Q&A
If you have a question or want to share some of your favorite lures for Ohio steelhead, let us know in the comments section.
Tight Lines
Graham