17 Best Flies For Ohio Steelhead: Proven Guide Flies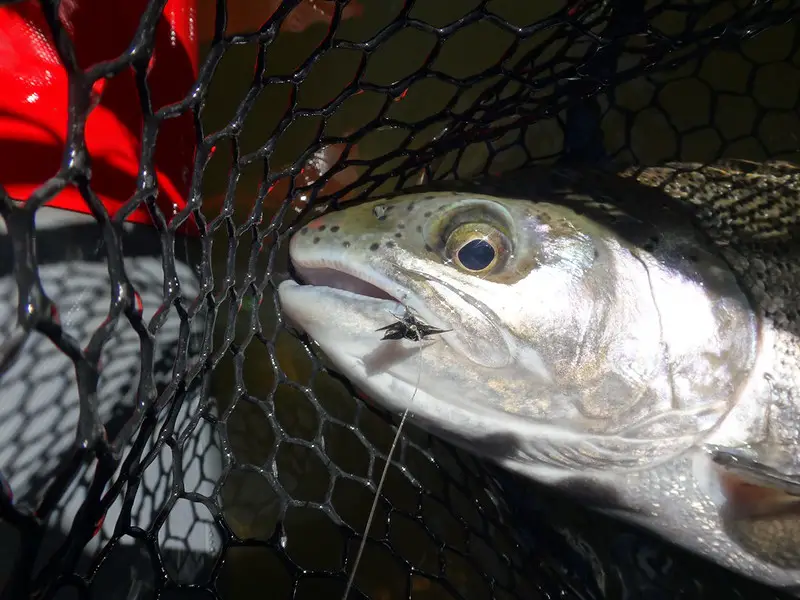 If you're reading this you are curious about the best flies for Ohio steelhead. River guides always know the best steelhead flies because they test many different flies under all kinds of conditions and they eventually figure out which ones are consistent producers and which ones aren't.
I've been a fishing guide for 20 years so like most fishing guides, I have my favorite flies that I use when fishing for steelhead in Ohio.
Keep in mind that the the best flies for Ohio steelhead can be fishing under a float, while bottom bouncing or when fly fishing. Ohio steelhead flies include egg patterns, nymphs, streamers, and spey flies in multiple colors and sizes.
Best Flies for Ohio Steelhead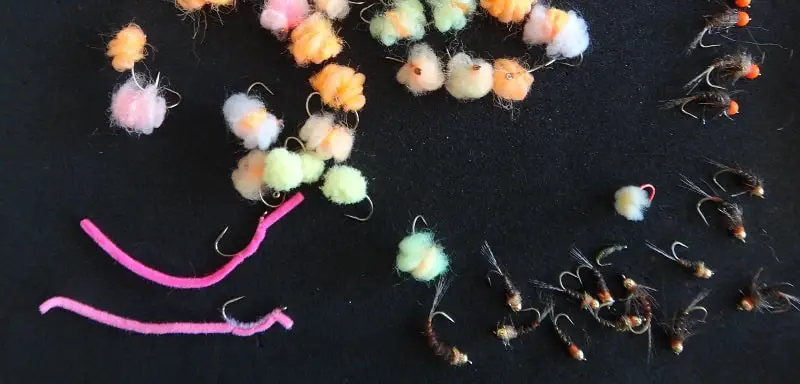 Since not everyone that uses flies for steelhead will fish with the same methods, and in order to cover the best flies for Ohio Steelhead, I have separated them into four categories.
Best Flies for Indicator Nymphing And Float Fishing
When nymphing with an indicator and fly rods, or if you prefer to drift a fly under a float, or if you use methods known as drift fishing or bottom bouncing, these are the flies that are best for these methods
Prince Nymph
The Prince Nymph is generally a stonefly and mayfly imitation. It can be a great attractor pattern and it is one of the best flies for Ohio steelhead. Doug Prince developed it in the 1930s — hence its name.
This is one fly that is designed to drive trout and steelhead crazy thanks to its buggy profile, golden bead, peacock herl, and the white wing contrast.
The prince nymph fishes well, whether in a river or lake, and with just enough flash from the peacock and the white wings it's hard for a steelhead to miss it as it drifts by, and it's hard for a steelhead to pass it up.
The prince nymph is a guide's favorite steelhead fly, especially during the spring runs but it can work anytime the steelhead are in the river.
I use the Prince Nymph in sizes 8 to 12. I tend to use one size the larger when fishing off-colored water or when the steelhead are aggressive. I will downsize to a size 12 in the winter month when the steelhead are less active.
I have even caught Steelhead using size 14 Prince Nymph in mid-winter when nothing else seems to work.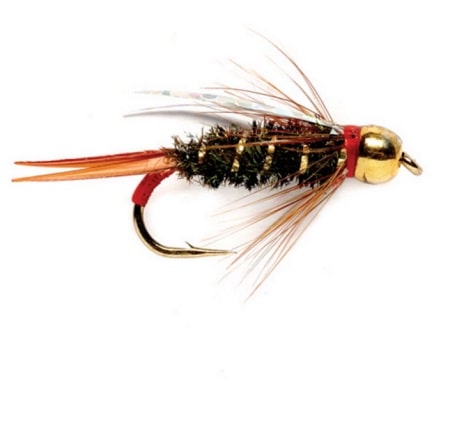 A great variation of the Prince nymph that has been very hot for me is called the "Fly Formerly Known As Prince". This version uses mylar wings for added flash, and under slightly stained or dirty water it can often be better than the Prince Nymph.
Hare's Ear Nymph and Variations
This combination, together with the flash from gold or silver tinsel ribbing, catches any steelhead's attention.
This fly pattern imitates a variety of aquatic life, such as sow, scuds, caddis larvae, light brown Stonefly, and mayfly nymphs.
A great Variation of the traditional Hares Ear Nymph that has been great for Ohio steelhead is the Region Fishing Tungsten Soft Hackle Hares Ear Jig Head Fly.
With the tungsten bead head, this fly is heavy and is great for getting down deep. I use it under a float, an indicator, and when Euro nymphing.
I use it in size 8 and 10 mostly but will occasionally go to a size 12.
Copper John
The Copper John Nymph is a super effective fly for trout but it is also one of the best flies for Ohio steelhead and is very popular amongst fly fishers all around the world.
This fly pattern imitates the likes of Mayflies and Stoneflies.
The Copper John Nymph is named after its creator, John Barr, an American angler and tier, and its copper wire ribbing.
It comes in a flashy look and weighted design which enables it to quickly drop to the bottom of the river without any external aid. This is one fly pattern that is proven to regularly get the attention of steelhead, thanks to the enticing flare of the copper it sends out whenever fished.
I like the Copper John in sizes 10 to 12 for steelhead and I like the natural copper body as well as the black body, and sometimes the red body.
Egg Patterns
Egg fly patterns are always on most river guides top 5 lists of flies for steelhead simply because they are so effective.
One of my favorites is the Jeff Blood "Blood Dot Fly", which was made popular by PA and Ohio steelhead guide jeff blood.
You can watch Jeff and my friends at the New fly fishing using this fly on Ohio steelhead on the show "Steelhead on the DEADLY Blood Dot Fly"
There are a lot of other egg fly patterns but I have found the most consistently effective egg pattern is the simple glo-bug or yarn egg seen in the picture.
I use these steelhead eggs in sizes 8 to 12 and will change sizes and colors based on the conditions. In dirty water, I go bigger and use a lot of Chartreuse and Red. I will use light pinks, light oranges, peach, and yellow in clear water, and I will use size 10 and 12. One of my favorite colors for clear water is known as Oregon cheese.
Steelhead Worm Fly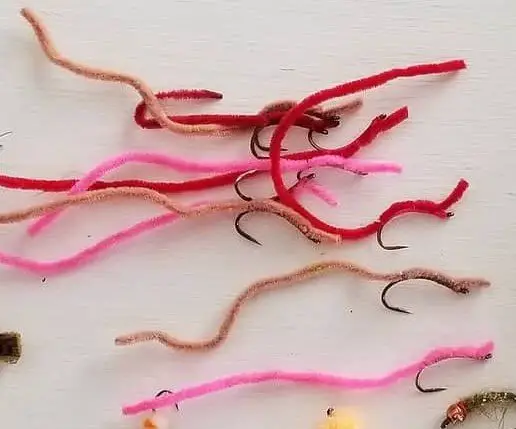 The San Juan Worm is one fly that tends to be incredibly successful amongst all fly fishers, and this has been my go-to fly for many years. It is easily recognized as one of the best flies for Ohio Steelhead.
This fly pattern is designed to imitate a worm, and when presented well, it will work anytime, even in the dead of winter.
I tie my worm patterns in 3 to 4-inch sizes but I will usually have some 2-inch worms for very clear water and pressure steelhead.
My most productive fly in all water clarity is the pink seen in the picture. However, there have been days when the red or brown will be more effective.
Beadhead Pheasant Tail Nymph
If someone said to me I was only permitted to fish with three flies for steelhead in Ohio, I would choose a cheese-colored egg pattern, a pink worm, and a Beadhead Pheasant Tail Nymph in a size 10.
The pheasant tail nymph never lets me down when steelhead are feeding, and it is a great Ohio steelhead fly.
There are variations like the flashback pheasant tail, as seen in the pictures above, the No-bead pheasant tail nymph, The very effective Soft Hackle Pheasant Tail Jig Head Fly, and the Soft Hackle Straight Pheasant Tail.
There is one other variation that I discuss below.
Best Flies for Euro Nymphing
Euro Nymphing for steelhead is a somewhat new fly fishing tactic that is slowly catching on. Euro nymphing is often my most effective method when fishing for steelhead in faster shallower runs, and in pocket water. There are a lot of great Ohio streams that this method would work great on.
If you are new to this method, check out my page Euro Nymphing Steelhead: Everything You Need To Know.
Rainbow Warrior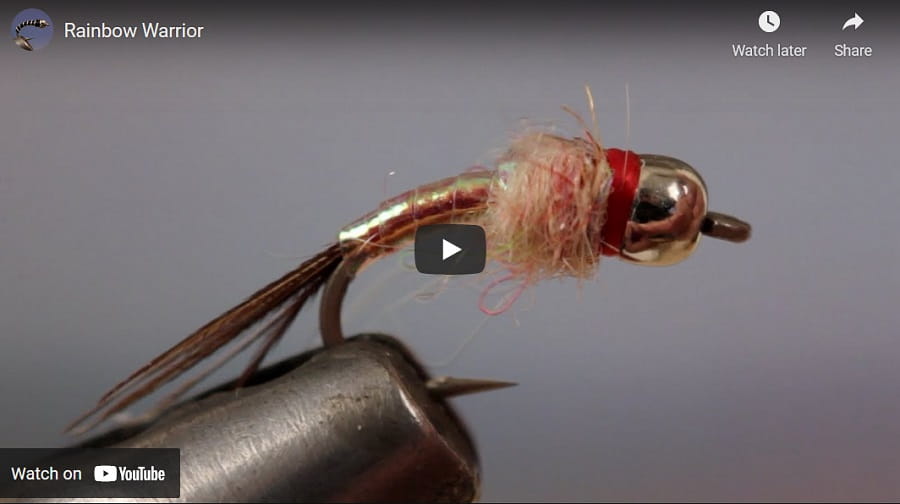 The Rainbow Warrior is a staple amongst professional fly anglers and it is quickly becoming a favorite steelhead fly.
There are days when this attractor pattern will out-perform all other flies, and I always have a bunch in my box from size 8 to size 10.
The Rainbow Warrior comes in a flashy presentation, featuring a pheasant tail in the rear, and a wing and body made from pearl tinsel which makes it truly lethal on any water. It can be fished under an indicator or fished in a Euro-style to get a hungry fish's attention.
I have also seen this fly tied in a light and dark version and I tie and use both and find that often the light version seen in the pictures is the most effective in slightly dirtier water and the darker version is best in very clear water.
Frenchie Fly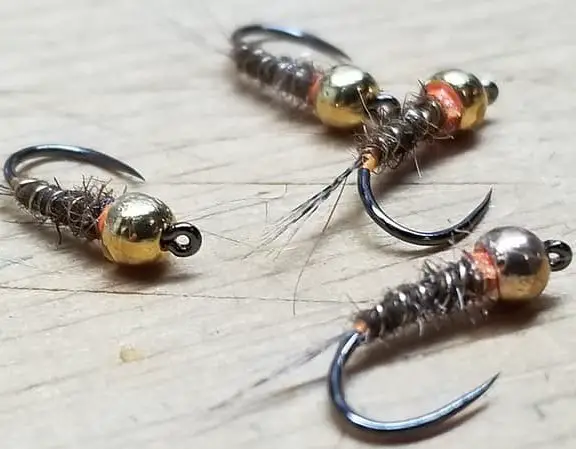 The Frenchie is one of the most popular and effective flies used in Euro-style nymphing and for good reason.
This fly is a variation of the pheasant tail nymph and it very quickly became my top nymph for trout. I started using it for steelhead and quickly found it to be equally effective.
This fly pattern is basically a Bead Head Pheasant Tail with no thorax, no legs, and a bright pink or orange dubbing "hot spot" at the head.
The Frenchie fly is a steelhead magnet, thanks to its pink or fluorescent orange thorax.
This is a proven fly pattern that works well in a range of water conditions and I prefer size 8 and 10 for most of my steelhead fishing.
A great variation is the Tungsten Bead Hot Spot Pheasant Tail Jig Fly which looks identical, but the hook point stays up so you get fewer snags.
Polish Pheasant Tail Nymph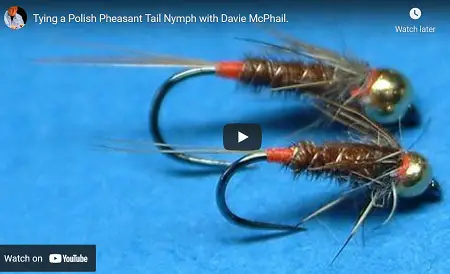 The Pheasant Tail Nymph needs no introduction as it is one of the oldest nymphs, but the Polish Pheasant tail nymph is an exceptional variation that has become one of my favorite trout and steelhead flies, and it's an invaluable addition to any angler's fly box.
It comes in a design that imitates a large variety of nymphs, such as mayflies and stoneflies, and I find that it is effective anytime the steelhead are in the river from fall to late spring.
I love this fly in sizes 12 and 14 during the winter months, but most of the time, I use it in size 8 or 10.
Micro Buggers
Sexy Walts and Regular Walts Worm
Many years later, I found out about a fly called the Walts Worm, and it was identical. Now there is the Sexy Walts Worms which is a flashy version. Both of these patterns have been very effective steelhead patterns on every river that I fish around the great lakes region and are both some of the best flies for Ohio steelhead flies.
Other great Ohio steelhead flies for Euro nymphing include:
Best Flies for Streamer Fishing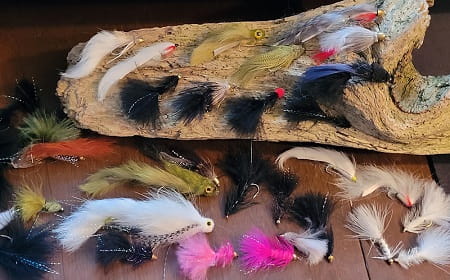 Woolly Bugger
The Woolly Bugger is an excellent all-purpose streamer that has over the years become one of the most versatile and productive steelhead flies. It comes in an irresistible combination of a marabou tail, palmer-styled hackle, and chenille body.
The Woolly Bugger imitates a steelhead's natural food, such as minnows, crayfish, leeches, sculpins, and many others. This streamer comes in a variety of colors, shapes and sizes with great action.
Zonker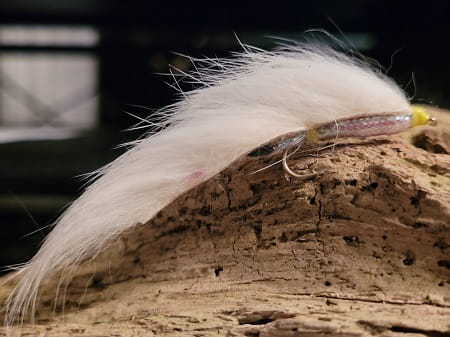 Zonkers are streamer flies characterized by a fur strip and a shiny body with prominent eyes.
Zonkers are designed as baitfish imitations and are proven to be highly productive when seeking large predatory steelhead, especially in still waters.
Drag the zonker flies across the current in front of some steelhead trout and watch them trigger elbow-jarring steelhead strikes. Zonkers are a "go-to" streamer for anglers looking for a highly productive steelhead trout fly
Sculpzilla
The Sculpzilla is a popular streamer pattern that is designed to imitate a sculpin, one of the steelhead trout's favorite baitfish.
Sculpins, in turn, are an abundant forage fish for large predatory trout such as steelhead in tributaries all over the United States. This implies that they are guaranteed to work really well on Ohio Rivers too! Their heavy cone head makes them get into the strike zone quickly.
The Sculpzilla Streamer pattern can be tied in several colors. However, the common variations that exist are black, white, olive, and tan.
Best Flies For Spey Fishing Ohio Steelhead
Here are some effective flies for great lakes steelhead:
Ho bo Spey: A simplified version of the Intruder Spey Fly, recommended by a local guide. It's easy to tie and works well in Olive, Black, White, Yellow, and multicolor.
Intruder Spey Fly: Originally designed for west coast steelhead but effective in great lakes. It's bigger and bulkier, taking longer to tie. Colors include Olive, Black, White, Yellow, and multicolor.
Woolly Bugger Spey Fly: A simple and effective fly that sinks better than bulkier flies. Easy to tie in Olive, Black, White, Yellow, Chartreuse, Orange, and multi-color.
Egg Sucking Leech: Easy to tie, available everywhere, and comes in various colors like black, olive, chartreuse, pink, orange, and red heads.
Bunny Leech Fly: Effective for steelhead with pulsating movement from rabbit fur. Tie it longer with magnum rabbit strips, or keep it shorter. Colors include Olive, Black, White, Yellow, and multicolor.
These flies have proven successful for great lakes steelhead fishing but check out more great flies in my article Best Spey Flies For Great Lakes Steelhead and Salmon.
Best Flies For Ohio Steelhead Q&A
That just about wraps up this article on the best flies for Ohio Steelhead fishing, but before I go, I want to express my gratitude for being a part of the Steelhead fishing community together. It is your unwavering passion for angling that brings us together as a community of devoted anglers.
If you have any questions or personal insights to offer about the best flies for Ohio Steelhead fishing, please feel free to leave a comment below.
Tight Lines,
Graham