Chagrin River Steelhead Fishing: Maps, Methods, and More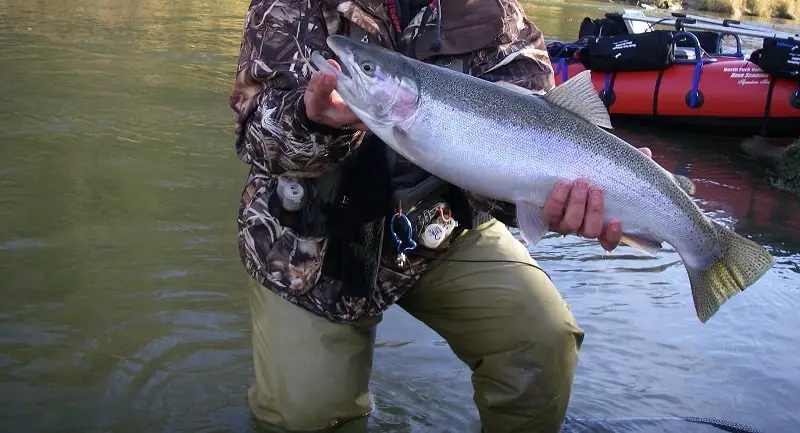 Many anglers and river guides including myself, enjoy Chagrin River steelhead fishing due to the access and the beautiful scenery. You can use these guide tips and advice to catch more Chagrin River steelhead.
Due to the proximity to Lake Erie and large runs of steelhead, Chagrin River steelhead fishing offers an excellent steelhead fishing experience with a high chance of landing some big steelhead or the possibility of having many days with over ten steelhead landed.
Ohio and Pennsylvania river fishing guides find steelhead fishing the Chagrin River to be easy once you figure out the best methods, best baits, best locations, and how to time the steelhead runs.
If you read on, I will share with you all you need to know about Chagrin River steelhead fishing.
Chagrin River Steelhead Fishing, Ohio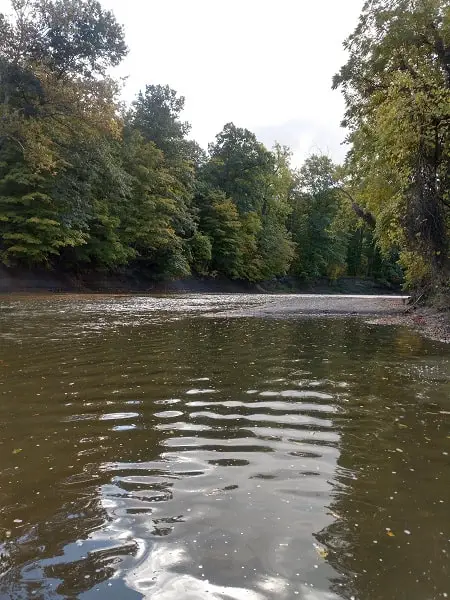 The Chagrin River is designated as a state Scenic and Wild River. The Chagrin River is a medium-sized river which is located in Northeast Ohio.
The Chagrin River flows through an area known as Steelhead Alley and it has a good population of Little Manistee strain Steelhead.
Only five rivers in Ohio enjoy stockings of Manistee strain of steelhead annually by the Ohio Division of Wildlife, and the Chagrin River is one of them. 
The Chagrin River twists and turns through three counties in North East Ohio, which are Geauga County through Lake County, and Portage County, running through Clevelands suburban areas and finally emptying into Lake Erie.
The Chagrin River also consists of two tributaries, the Aurora Branch and the East Branch, and both have runs of steelhead.
The Chargin River is fairly wide and is considered a medium to large-sized river with average widths around 40 to 50 feet. Its bottom is mostly shale with some rocky sections. This river has great steelhead holding water which consists of many gravel runs and riffles and some nice pools, which are all ideal steelhead fishing spots.
Thanks to its moderate gradient, Steelhead fishing the Chagrin River is wadable and anglers will find it easy to walk through and along its banks. It's also easy to read the water and find steelhead holding spots.
Steelhead are able to migrate up the Chagrin River as far as the Chagrin Falls in the town of Chagrin Falls. The falls are around a 10 foot drop, and this stops the steelhead from migrating past this point.
The East Branch Steelhead: Chagrin River
The steelhead do migrate into the east branch of the Chagrin River. The east branch is a cold water tributary that could produce wild steelhead, but there are some dams and obstacles that make migration to the best water difficult. Under extreme flood conditions, the steelhead may be able to get past the dams to good spawning habitat.
There is very little access to fishing on this tributary stream.
The Aurora Branch Steelhead
The Aurora Branch is another tributary that Chargin steelhead will migrate into. There are several small dams that the steelhead might be able to get around under high water.
There is very little access for fishing on this tributary.
Chagrin River Steelhead Fishing Methods

The Chargin River is a typical great lakes steelhead river averaging 3 to 6 feet deep with lots of riffles, runs, and pools. This makes it easy to fish for the steelhead with most river fishing methods such as float fishing, fly fishing, and even casting lures.
Float Fishing For Chagrin River Steelhead
Float fishing with spinning reels or with a Centerpin reel is a very common method of catching steelhead on the Chagrin River and it's often one of the most effective ways to catch steelhead.
Float fishing is hard to beat in the bigger deeper pools but anglers can adjust their set-up to target fish in smaller areas as well.
Using baits like spawn bags, beads, flies, and worms is a good way to get some bites even from reluctant steelhead.
Be sure to check out my page Best Steelhead Baits to see the most productive baits, how to use them, and how to make them even more effective. I also discuss some very effective baits that many anglers don't consider.
Anglers that use the float fishing methods and the leader setups that local river guides and I use will do well. I describe these methods and leaders in more detail on my page Float Fishing For Steelhead.
Float fishing for steelhead on the Chagrin River has provided many anglers with days of over 50 fish landed.
Fly Fishing For Chargin River Steelhead

Another very effective and popular method for fishing Chagrin River Steelhead and for fishing most rivers around the Great Lakes Region is Fly Fishing.
When looking up fishing guides in this area the majority of them prefer fly fishing for steelhead so there is no shortage of fishing guides.
Fly fishing is also my preferred method for targeting steelhead on the Chagrin River.
When fly fishing on the Chagrin River on the bigger pool and deeper spots, I use traditional indicator nymphing which is also the most common method of fly fishing for steelhead.
I also use a method known as Euro Nymphing for steelhead which is often my most effective method for catching steelhead in the shallower riffles, runs, and pocket water.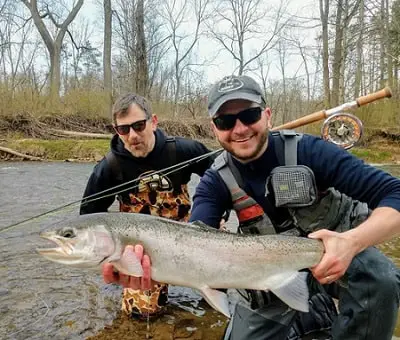 The Chargin River is also an excellent river for a fly fishing method known as Spey fishing.
Head guide and owner Gareth from Alley Grabs Guide Service specializes in Spey fishing for steelhead on the Chagrin River and some of the other larger Ohio Rivers.
Gareth has been perfecting and teaching these Spey fishing methods to his clients with great success and he has had days of multiple hook-ups.
Local guides have some great tested and proven steelhead flies that are very effective on this river and on other great lakes rivers. When nymphing, guide Gareth recommends natural colored egg patterns, white Clouser minnows, and yellow and black stonefly nymphs.
Having some, pheasant tail nymphs, woolly buggers, and some worm patterns is also a good idea.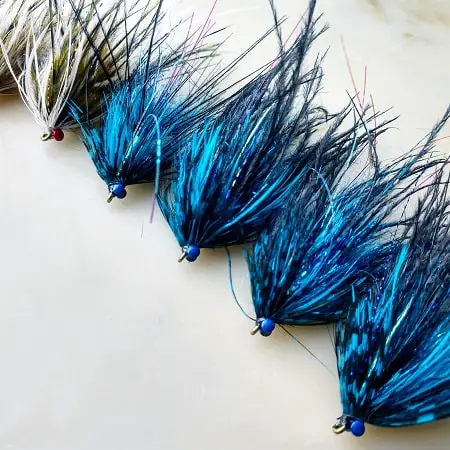 When Spey fishing, flies with lots of natural movement like the Hobo Spey Fly, and Intruders in black, white, and olive can be good options.
You can see my most effective steelhead flies on my page 19 Most Effective Steelhead Flies.
If fly fishing for steelhead is your thing and you want to improve, I discuss all the best guide methods for fly fishing on my page Fly Fishing For Steelhead: Great Lakes Style.
Spin Fishing On The Chagrin River
Spin fishing On the Chargin River is another method that many anglers use and it can be very effective. Spin fishing methods can include casting lures, float fishing, bottom bouncing, or drift fishing.
I like to use the bottom bouncing method in shallow riffles, runs, and pockets, but it can also be used in bigger deeper pools. I discuss some advanced methods for bottom bouncing on my page Bottom Bouncing For Steelhead.
Chagrin River Steelhead Fishing With Lures
The Chagrin River is a great river for anglers that like to cast lures for steelhead. I have done well with spinners, spoons, and crankbaits in various sizes and colors.
I change my colors and sizes depending on the river conditions and I change my presentation methods also depending on conditions. I discuss effective guide methods and a few secret lures that are very effective for steelhead on my page Best Lures For Steelhead.
Best Time for Chagrin River Steelhead Fishing
Like any Steelhead Alley river, the Chagrin River often enjoys runs of steelhead for as much as 8 months of the year.
The steelhead runs on the Chagrin River can start in late September as small sporadic runs and continue to get bigger in October and November and then again in March and April. Some years the steelhead can even be found in the river in early May.
There are certain times within this period when Chagrin River Steelhead Fishing is at its peak. One of the major factors responsible for this is the run-off rates triggered by big rains and snowmelt.
Good anglers and guides know that the rains bring in the steelhead as soon as the river starts to clear the steelhead fishing can be excellent. Using the right baits based on water clarity is also very important to know.
On that note, let us look at the three basic chagrin river steelhead runs in Ohio.
Chagrin Steelhead Fishing in Fall
One of my favorite times for Chagrin River steelhead fishing is the fall season, beginning from September and into December.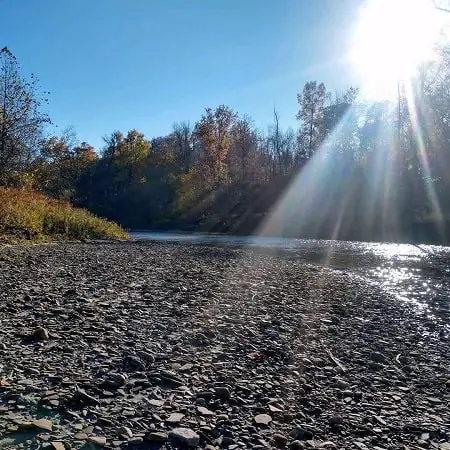 This fall season marks the start of steelhead spawning migration and thanks to their strength and aggression during this season, it makes fishing fast and fun.
If you understand the conditions of the river and adapt appropriately, steelhead fishing the Chagrin River in the fall can be a one-of-a-kind experience.
In fact, many guides prefer the fall steelhead over the spring steelhead.
For more on how to fish for steelhead during the fall season, how the various weather and river conditions affect the steelhead through the fall season, and how to adjust your methods and spots accordingly, check out my page on Fall Fishing for Steelheads.
On this page, I discuss the tactics and the changes in baits and methods I use to keep my clients onto a lot of steelhead as the fall conditions change.
Chagrin Steelhead Fishing In Winter
The winter season also consists of some of the best fishing opportunities for anglers fishing for Chagrin River steelhead.
Winter steelhead fishing on the Chagrin River starts from early December to the end of February and is generally associated with icy and plunging temperatures which can negatively affect both the Chagrin River steelhead and the anglers.
Steelhead are generally inactive and don't bite when the water gets cold however understanding how to catch them in ice-cold water will help improve your odds. I love guiding through the winter and have some of the best days during this time using special winter steelhead fishing methods.
Although this season is characterized by icy water temperatures, there are still times when the river experiences a stable temperature and this allows for anglers to take advantage of some fantastic steelhead fishing.
Whether or not an angler will be successful with Chagrin river steelhead fishing boils down to how much they understand about the relationship between water temperatures and the steelhead, and then how to adapt to these conditions.
I have taken the time to put up a guide on how to be successful when winter steelhead fishing, which includes my tips on how to stay warm when fishing in the winter, what baits and bait sizes will get winter steelhead to bit, and where you should fish during ice-cold conditions, and you can check it out on my page Winter Steelhead Fishing.
Chagrin Steelhead Fishing in Spring
The water eventually warms up as the spring approaches. This warming trend usually begins in early March. This causes the ice and snow that came with the winter to melt. As this happens, the river experiences a rise that brings in generous steelhead runs.
During the spring season, steelhead that were holding in the river and in Lake Erie over the winter begin to charge up this spacious river as the river water levels increase and warm. This makes it another perfect time to land some big aggressive steelhead and many anglers love to fish for spring steelhead on the Chagrin River.
The consequence of this can be very exciting to anglers steelhead fishing the Chagrin River and it can bring some crowds to the river.
I split the spring steelhead run into three stages and understanding each stage is important if you want to maximize your success on the river.
For more on the best spring steelhead methods and tips on steelhead fishing at this time of year, you can check out my page on Spring Fishing For Steelhead.
Stream Flows On The Chagrin Dictate The Runs
The Chagrin River is best fished when the streamflow is between 150-350 cfs (cubic feet per second). It's also best to fish when the river is dropping and clearing. Following a rain event, it will take the Chagrin River an average of 3-4 days to get back to a normal level.
More than just the run-off rates and temperatures associated with the time of the year, the best Chagrin River Steelhead fishing will depend on stream flows. Very low clear water will be difficult and water flows that are too high will spread the steelhead out and make for some tough fishing.
This is why I use the river flow gauges that you can access online. For information on the river conditions and data on real-time streamflow, you'll want to check the USGS Chagrin River flow gauge.
Best Access Points for Chagrin River Steelhead Fishing
Thanks to the networks of parks along the Chagrin River which are controlled by the Cleveland Metroparks system, public access to the Chagrin River is widely available.
The Ohio DNR map is your go-to resource when it comes to designated Chagrin River Steelhead Fishing areas and public access points.
Some of the top spots included in this map are Chagrin River Park, Eastlake Seawall, Gilson Park, Todd Field, Mitchell Field, Daniels Park, Borac's Landing Boat Ramp, and North Chagrin Reservation.
Stocking and Steelhead Runs on The Chagrin River
It has been said that the Chagrin River is one of the beloved natural resources of Northeast Ohio and with the great steelhead fishing it shows.
The Chagrin Rivers enjoys stockings of Manistee strain of steelhead annually which results in moderate high-quality runs of steelhead.
With the right methods, anglers have a very good chance of success when Steelhead fishing the Chagrin River.
With large numbers of steelhead and enough public access points, it's possible for visitors or people living in the area to easily plan a do-it-yourself trip.
If you ever plan on a Chagrin River Steelhead Fishing trip, you may find some fishing reports on the Ohio DNR Reports Page.
Got A Question About Chagrin River Steelhead Fishing?
I hope you liked this article on Chagrin River Steelhead Fishing. If you have any questions to ask or contributions to make, kindly drop them in the comment section below.
Tight Lines
Graham