How Much Does It Cost To Start Fly Fishing: What You Really Need.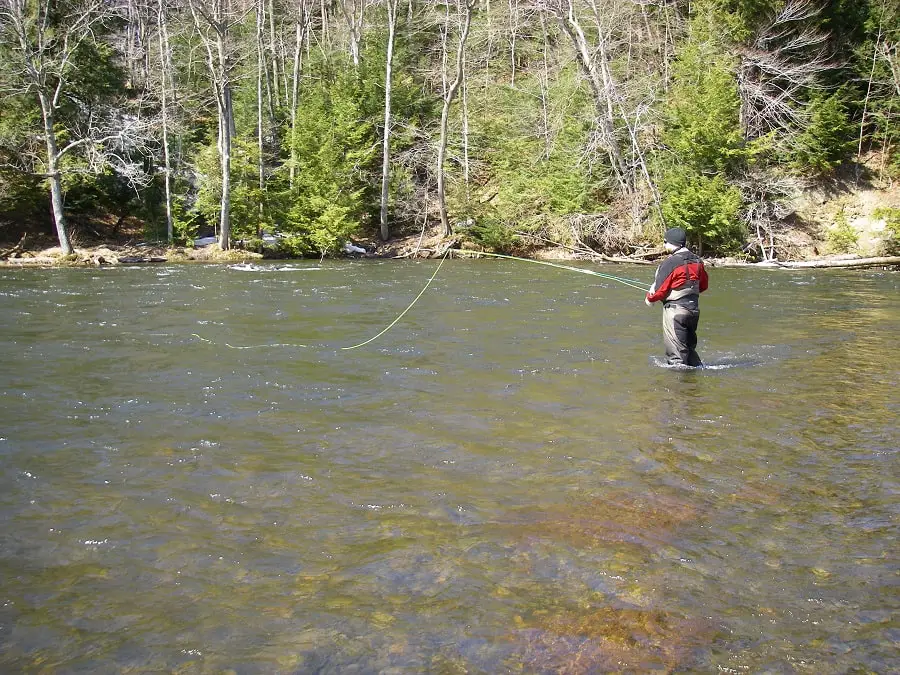 As a guide who runs fly fishing classes, I often get the question, how much does it cost to start fly fishing? Since I'm not selling you anything, this article will answer that question honestly, and I say that because sometimes fly shops and other websites will try to upsell you and recommend more than you actually need or will recommend crap products.
How much does it cost to start fly fishing will depend on a few factors, such as your budget, how often you fish, what type of fish you want to fish for, or the type of fly fishing you want to do, or even how fully equipped you want to be. The quick answer is:
It costs as low as $69 for a basic fly fishing kit which covers the rod, reel, line, some flies, and some basic tools. With gear this cheap, you are likely going to experience problems and will need an upgrade. Spending $150 or more will get you the basics, but at least it could last longer and will improve your fly fishing and learning experience.
If you have a big budget and want good gear that works well and will last ten years or more, or you want all the fly fishing gear a guide would use, you may end up spending over $1000, or even over $3000.00. But spending that much money is not necessary to fly fish.
The answer you get to how much does it cost to start fly fishing might also depend on who you talk to or what you read. I'll give you the NO BS answers the shops and other bloggers don't want you to know.
This page contains affiliate links. If you buy something through one of these links we may make a small commission which is at no cost to you. Commissions allow us to continue to bring you great content. Thank you for your support. Affiliate Policy
Best Price, Where To Buy, Who To Trust: Local Fly Shop Or Online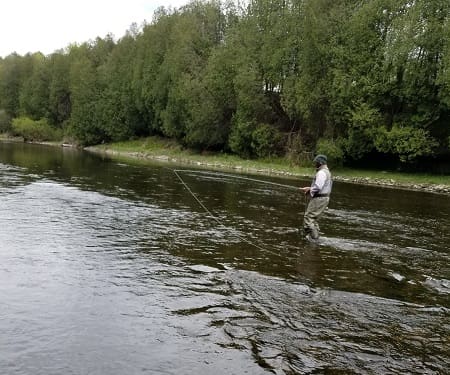 Your local fly shop will have all the gear you need and should have entry-level gear all the way up to top-end gear, and they will also have fly fishing licenses.
Local fly shops are great because they have a wealth of local knowledge and will set you up with what you need for your area and your needs.
Plus, they could be good guys to get to know if you want tips and advice on local fishing.
One of the problems is that local fly shops are sometimes a little bit more expensive, however, the benefits are worth the little extra price.
Another problem I have seen in some local fly shops (not all) is they will always try to up-sell you and you might end up walking out with way more than you actually need.
GUIDE TIP: It's not the rod that catches all the fish, it's the guy using it. A new angler with an $800 rod and reel setup will not catch more fish than a great angler with a $140 fly rod.
Shopping On-Line: Shopping online is a good option because you might find some good deals. But shopping online is only good if you know exactly what you need.
With shopping online you don't have skilled and knowledgeable sales staff to make sure you buy the right stuff and that can be bad for a beginner.
Unfortunately, part of the reason I started this website, was due to all the bad advice I was reading online. Both on forums and on websites.
Too many articles and websites that I have seen reviewing and recommending products are written by guys or gals that barely fish!! I'm serious! And they recommend absolute crap sometimes.
On some websites, the only reason they recommend one product over another is that they make the most commissions on that one product.
A new angler wouldn't know if an article was recommending crap gear or not, but I do!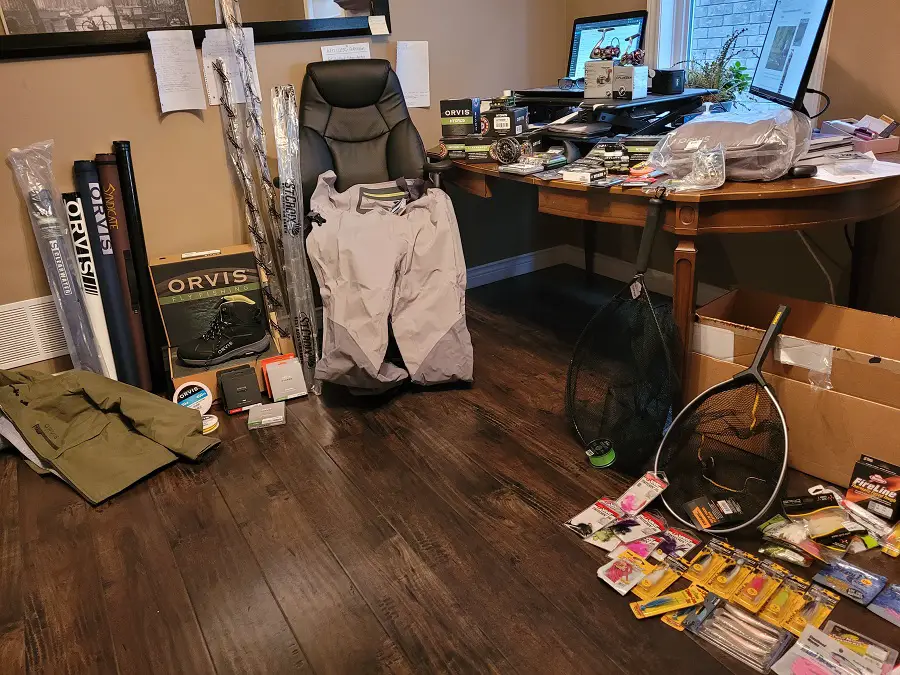 I've used hundreds of different rods, reels, lines, waders, and other gear. That's what happens when you guide and teach for over 20 years. Plus I have also been the owner of a fishing store so a ton of products have gone through my hands.
Yes, I also make commissions from some of the products that I recommend, I don't hide that fact. But I don't recommend products that I haven't used, or products that our guides don't use, or products that I don't have knowledge of.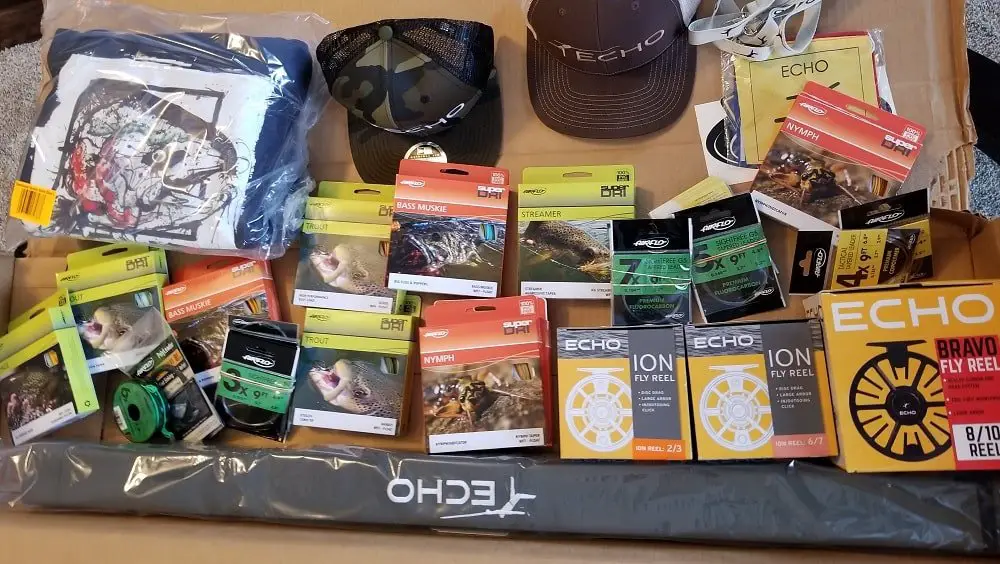 I'd rather make no money and recommend a zero-commission product that is good, than make commissions by recommending crap products and ruining my long-standing reputation.
Before you shop, read my honest advice about what's really needed, or what is not needed.
How Much Does It Cost To Start Fly Fishing? It Depends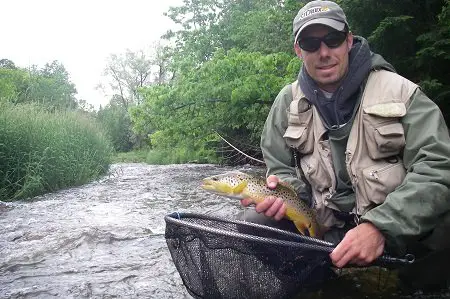 I started fly fishing with a fly rod combo I bought for under $100.00.
I was 13 years old then and I was told by a local fly fisherman to get a rod that was seven to nine feet long and in the six-weight to 7-weight size. That's good advice considering I wanted one rod for steelhead, salmon, and trout.
35 years later and as a guide and fly fishing instructor, I now recommend 8'6 to 9-foot rods and recommend a rod size suitable for the type of fishing you want to do.
In general, fly fishing is quite reasonably priced, and a decent fly fishing setup cost is about $300.00. The fact that you do not need a boat to fly fish makes this hobby even more affordable.
And if you already do conventional fishing in rivers, you may already have a lot of the required gear for a river fishing trip.
A lot depends on you, though. You can always go on a spending spree and buy all top-of-the-fly fishing equipment, which will likely cost you more than $2000.00, but you can also fly fish on a tight budget too, and that means you could keep it under $100.00. 
Let's see what you should consider before you part with your money!
Truth be told, to learn to fly fish, at the bare minimum, you will need a fly rod, fly reel, fly line, a fly leader, and a fly. But, there is a lot more you should have that will improve your fly fishing experience and help you learn easier if you are new.
The Gear You Need To Start Fly Fishing
A typical basic fly fishing kit includes:
Fly rods: Range from $50 to $1500+
Fly reels – I recommend one with a smooth drag system
Flies and a simple fly box – To get started, all you need is a few reliable flies.
Fly lines: Match the fly line to your rod. A floating fly line is best and can range from $20 to over $100.
Leaders: leaders are required for fly fishing success. They aid in casting and are where you tie your fly or tippet.
Weights
Tippet
Indicator 
If you are new to this sport, you should also consider buying additional equipment, such as:
Fly fishing waders
Fly fishing wading boots
Fly fishing wading jacket
Fly fishing net: Fly fishermen should always have a good net.
Fly fishing forceps
Fly fishing nippers
There is other river fishing gear to consider, such as clothing, fly line cleaners and line floatants, fly floatants, gloves, hats, and sun protection. I discuss all of this on my page, Everything You Need To Fly Fishing.
Keep in mind, these are just recommended ad-ons, but you can fly fish without them.
So, how much does it cost to start fly fishing? How much money will you need to gear up?
Rod and Reel Combos Are The Cheapest Way To Get Started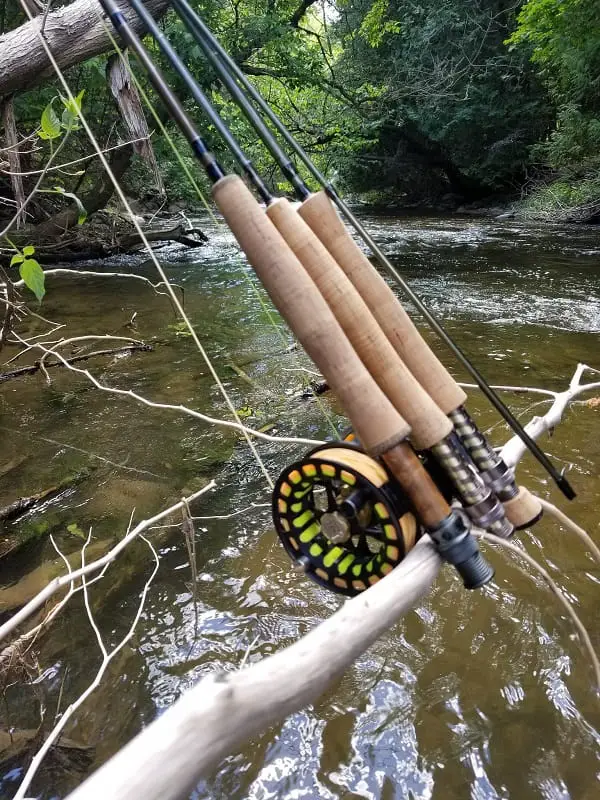 You can buy your gear in pre-made sets or fly rod reel combos, or you can buy each item separately and make your own set.
Before you buy anything, get the right fly rod for the species or type of fishing you want to do. Be sure to get the right rod length and rod weight for what you want to do.
Fighting large fish will require a heavier rod in the six-weight to 8-weight size.
If you plan of fishing smaller rivers with delicate flies for smaller trout, a lighter-weight rod in the 3-weight to 5-weight size is best.
Note: Prices listed may change at any time.
Depending on the price, essential fly fishing gear can be divided into three categories:
Entry-level fly fishing gear ($60 – $160)
If you are just starting fly fishing, you can settle for a beginner kit made from cheaper materials.
It typically includes a rod, reels, leaders, and flies. If you are lucky, you'll get a rod case to store and carry your rod too.
You can probably even get yourself a set of waders in this price range.
Super Cheap Rod Combos
Remember the saying…. "You get what you pay for!" The other saying is "buy cheap, buy twice!"
I have used super cheap rod and reel combos and they usually suck!
I know from experience that trying to teach new anglers on the super cheap fly rod combos that they bought and brought out to their guide lesson with me was very difficult.
Often, these rods are flimsy or heavy, they don't cast well, and the reels are clunky with a bad drag system. Trying to teach someone how to fly cast on these rods was nearly impossible and that takes away from the overall user experience.
Often I would eventually need to give them one of my $150 to $200 fly rods and teach them on that.
For this reason, I do not recommend the super cheap rod listed here. These rods are there only for guys on a tight budget.
Mid-range fly fishing gear ($160 – $500)
I have fished with many outfits in this price range and can honestly say they are pretty damn good for the money. A $200 rod can feel as good and cast as well as any $500 rod.
The gear in this price range is made from sturdier materials that can handle frequent use and some kits might include more accessories than entry-level fly fishing kits.
The rods usually also come with a good-quality rod and reel case, too.
You can get a decent quality rod on its own for $160.00, or the combo for over $200.00
You would also be able to get the essential tools, a dozen flies or more, and fly boxes for just under $400.
You could even get a set of waders and a vest or pack, and even a net in this price range.
I use a lot of Orvis products, and some of our guides and my buddies are Orvis-endorsed guides, as well as hundreds of my clients that use Orvis products so it's easy for me to recommend the Orvis Clearwater Fly & Reel Outfit package as the best rod and reel combo in this range.
Although I do not own this exact outfit, I do own the same rod and same reel and I have used this outfit before.
Other Mid-Priced Outfits include:
Premium Gear (more than $500)
Professional anglers need equipment that can match their abilities, bigger fish, and even specialty methods. You do not need to be a professional to take advantage of gear that improves your ability to fish.
If you can afford it, it makes sense to invest in premium fly fishing gear that can do the job and do it very well.
Great gear can also even improve your ability to learn faster.
The price of a premium fly fishing kit can be sky-high if you build the setup yourself, especially if you choose to buy top-brand gear such as Sage, Orvis, G-Loomis, or Scott. For these brands, you might need to pay as much as $1000 for a single fly rod.
By the time you gear up, you'll probably spend thousands of dollars. 
Is it worth it? If you are a serious angler, maybe. High-end fly fishing gear is made from the best available materials and includes the smoothest reels.
There are very few pre-made fly rod and reel combos in this price range. However, the Sage Foundation Fly Outfit is the best combo I've seen and it comes in at around $650.00
But Do Guides Use The Absolute Best Gear?
The answer is NO, guides do not use top-end gear, not usually anyway.

The truth is unless you are in the top 10 guides in the world and have a massive following and exposure to millions of anglers, you won't get your gear for free and you will still need to pay for your gear.
That's right, river guides rarely get all their gear for free!
Sure, guides of all calibers and even new guides will often get guide discounts but they still need to pay something and since guides need about ten times more rods and reels than the average angler, it can cost a lot of money to get set up.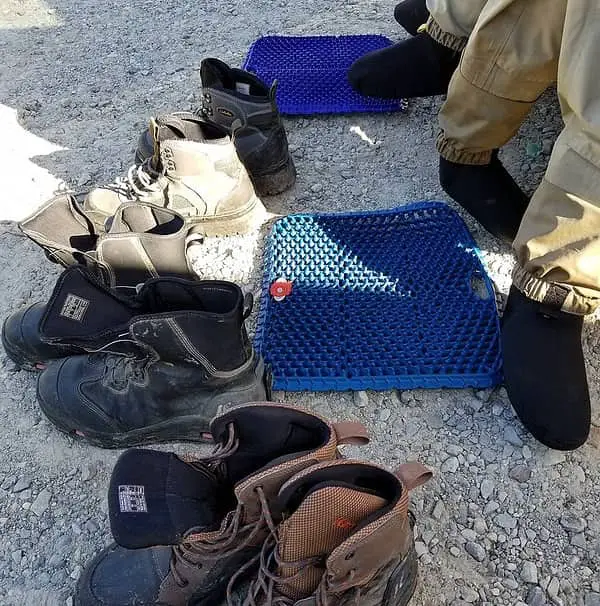 Therefore, in my experience dealing with dozens of river guides myself, I know all of them use mid-range rods that would normally sell in a store for $200 to $400. Same with reels, and most other gear.
In my experience, most anglers could not tell the difference between a $200 rod and a $1000 rod anyways. Same for the reel and the same for the waders. So, expensive fly rods are not required when you guide or fish.
Also, most guides, myself included, do not want to have new fly anglers walking around with our $1000 rods and $500 reels because clients can be rough on our gear, they fall often, are not good walking in the woods with rods, and they tend to break things.
GUIDE TIP: Some guides let their clients carry rods provided by the guide. But, they will instruct the client to walk with the tip facing backward. This ensures the clients do not accidentally stab the tip into a tree or other object and snap the tip off. This happens often!
Honestly, some of the best rods I have guided with were under $150. That's because they cast like a $400 rods and were fantastic for new anglers or any angler for that matter.
And, if a client breaks that $150 rod I have eight more just like it, and since I only paid about $75 dollars for the rod, I don't get upset about it if a client breaks it.
For this reason, unless you are rich or the type of guy that wants the best of the best, I will normally recommend mid-range rods and reels.
How Much Does Additional Fly Fishing Gear Cost?
Most of the additional fly fishing gear is a must-have.
The good news is that you might already have some of the required items at home.
Let's see what you need to start fly fishing!
Fly Fishing Waders ($35 – $800)
The role of waders is to keep you warm and dry, as well as protect you from potentially harmful plants and insects, so balance the quality and price when buying them.
If you opt for the cheapest pair, it might last you only one season, whereas the waders guides wear will be a lot more expensive but might last the average angler ten years.
Fly Fishing Wading Boots ($40 – $250)
It is always a good idea to invest in good quality boots if you wear Stockingfoot waders. They will keep you safer, offer more ankle support, more traction, and be more comfortable, and help you to reach all the best fly fishing spots.
Check out: Best Waders For River Fishing
I recommend and wear boots from Korkers, Orvis, and Simms. 
Fly Fishing Wading Jacket ($50 – $500)
Good fly fishing wading jackets are usually shorter than a typical rain jacket. They are made from breathable, waterproof materials and should protect you from bad weather and water splashes.
Check out these recommended Wading Jackets
Fly Fishing Net ($15 – $150)
You should consider numerous factors when choosing a fly fishing net. If not, you risk losing your fish. I always recommend a net and think every angler should have a good net suitable for river fishing.
You don't even need to spend a lot of money on a net. Some nets are over $200 dollars, but, my net cost's about $25 and I have put thousands of my client's fish in it.
The most important one is the size of the fish you hope to bring home. A trout net might work for freshwater fish but will do you no good when fishing for pike or salmon. Check these recommended River Nets.
Fly Fishing Forceps ($10 – $30)
Forceps are a handy fly fishing tool. You require them to remove hooks from the fish you caught easily and quickly.
Fly Fishing Nippers ($10 – $150)
If you do not want to bite through the leader and risk damaging your teeth, invest in nippers. Opt for strong, sharp, and corrosion-resistant ones. 
How Much Do Fly Fishing Accessories Cost?
As you can see, you can spend a small fortune on accessories. If you are a beginner, it's not a good idea. You can use the stuff you already have at home.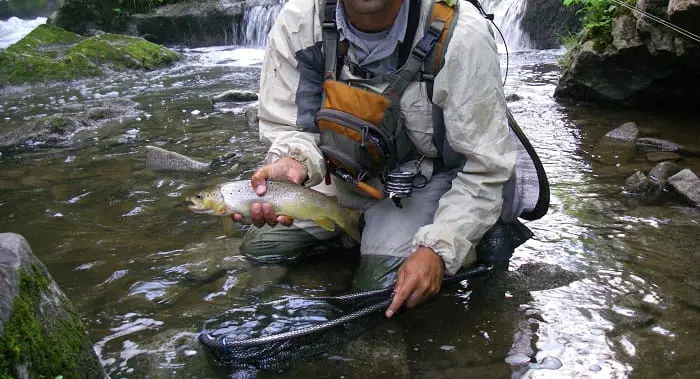 Fly fishing hat ($10 – $80)
Polarized sunglasses ($20 – $300)
Hip pack or sling pack ($40 – $300)
But, with all this gear you will need a place to store it, keep it organized, and to keep it with you on the river.
To do this, anglers will use a fishing vest or a fishing pack. Check out these recommended vests and recommended packs.
You might also want to bring items such as:
Sunscreen
Insect repellent
Binoculars
Flashlight 
Water bottle
Bear Spray: if you are in an area with bears
Small first aid kit to leave in your vehicle.
How Much Would It Cost to Start Fly Fishing For Trout?
I use a lot of gear and often supply much of the gear on guide trips. You will need a tenth of what I use.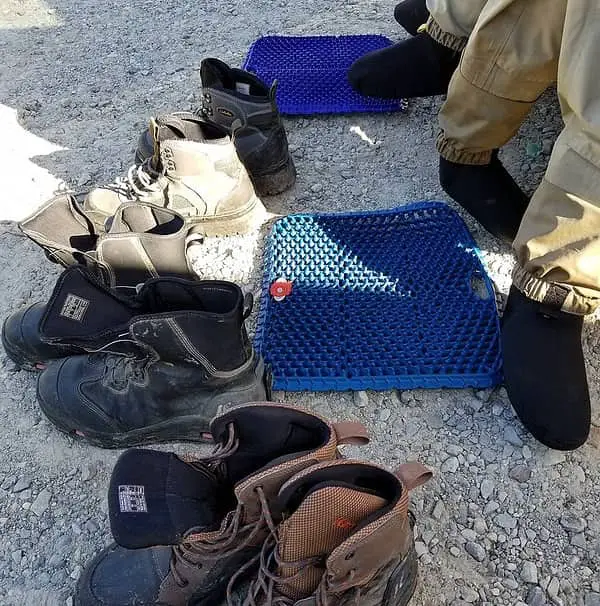 The best fly fishing rods for trout are:
Entry-level (under $200): Redington Classic Trout, Fenwick Aetos, Echo Base
Mid-range ($200 – $500): Douglas DXF Fly Rod Series, Orvis Clearwater Fly Rod, Sage Pulse 
Premium (more than $500): Scott Radian Fly Rod, Sage X Fly Rod, G. Loomis NRX LP 
The top 5 flies you should have in your fly box when fly fishing for trout are:
Copper John Nymph 
Beadhead Prince Nymph Trout Fly
Frenchie Fly 
Beadhead Pheasant Tail Nymph Trout Fly 
Lightning Bug Fly for Trout Pink Squirrel Fly for Trout 
There are so many flies, some are crap, some are decent, and some are just consistently good flies for trout. Click the link to see the 29 best flies I recommend.
How Much Would It Cost to Start Fly Fishing for Steelhead?
The best fly fishing rods for steelhead are:
Entry-level (under $200): Redington VICE, Fenwick Aetos, Moonshine Co. The Drifter Series
Mid-range ($200 – $500): Douglas LRS Fly Rod, St. Croix Imperial USA Fly Rod, Sage Fly Fishing Pulse Rod
Premium (more than $500): Jeff Blood Premium Fly Rod, Orvis Helios 3F Fly Rod, T&T's DNA Spey series
The top 5 flies you should have in your fly box when fly fishing for steelhead are:
These 5 flies catch a lot of steelhead
The Worm Fly
The Yarn Egg Fly
The Stonefly
The Prince Nymph
Woolly Buggers
The set of six flies costs from $15 – $25.
Steelhead fishing requires different flies, colors, and sizes. Click the link to see more flies I recommend for steelhead.
How Much Would It Cost to Start Fly Fishing for Salmon?
The best fly fishing rods for salmon are:
Entry-level (under $200): Moonshine Rod Co. The Drifter Series Fly Fishing Rod, Fenwick Aetos 
Mid-range ($200 – $500): Echo Swing Spey Fly Rod, Orvis Clearwater Fly Rod, Redington Predator
Premium (more than $500): Sage X Fly Rod, Sage Salt HDOrvis Helios 3D Fly Rod, 
The top 5 flies you should have in your fly box when fly fishing for salmon are:
Hex Nymph Fly
Egg Sucking Leech
Glo Bug
Pheasant Tail Nymph
Woolly Bugger Fly
Adams Dry Fly
Royal Coachman Dry Fly
The set of six flies costs from $15 – $25.
Used Gear For Fly Fishing
To save money, another option is to shop online and look for used gear that is in good shape. Be careful when buying a rod, look for scratches or dents, which could mean the rod is weak and ready to break.
Waders could leak and will eventually, so be careful buying used waders.
Fly lines tend to last a long time, especially if you clean them and don't use bug spray near them. But if you are buying used, look for micro-cracks and damage to the fly line. Don't buy dried-out cracked fly lines.
Fly Tying Kit
Tying your own flies can be a lot of fun but tying flies is not a requirement. You can tie flies for just about any fish species.
It is a great feeling to catch fish on a dry fly or another fly that you have created. If you don't tie flies it's really not that hard and doesn't need to cost you a lot of money, especially if you get yourself one of the good Fly Tying Kits that I recommend.
How Much Does It Cost To Start Fly Fishing Q&A?
That just about covers the question, "How much does it cost to start fly fishing"? However, if you have a question, comment, or advice, let us know in the comments section below.
Tight Lines,
Graham