17 Best Fly Fishing Combos Of 2023: Buyers Guide
Fly Fishing combos take the setup and guessing out of the equation for beginners and intermediates, making getting out to fly fish faster and easy. As a fly fishing guide and fly casting instructor, I have had the opportunity to fish with so many different fly fishing combos from all over the world.
In my experience, the best fly fishing combos are the ones that fit your budget, and like always, I recommend buying the most expensive one you can afford and avoiding the really cheap ones which don't last and will make fishing and casting much harder.
I can also tell you from experience that beginner anglers learn better and faster when they are using a better rod and fly line, these are things you don't always get in very cheap fly-fishing combos.
When I ran my fly fishing classes, with up to 8 students per class, I used fly rod and reel combos because they cast well and were already set up for me and my clients.
The best overall fly fishing combo is the Sage Foundation Outfit, and the best mid-range fly fishing combo is the Temple Fork Outfitters NXT Prespooled Fly Outfit, and if you are in search of an economy fly fishing combo, the best budget combo is the Wild Water Standard Fly Fishing Combo.
There is another fantastic kit that might be better suited to you since the best fly fishing combo for you might be the one that suits your fishing needs and the species you fish for.
Therefore, if you are looking for a fly fishing combo to do a specific job, then the Redington Field Kit fly series are pretty awesome. They have fly fishing combos designed for specific species or for specific methods which I will show you below.
This page contains affiliate links. If you buy something through one of these links we may make a small commission which is at no cost to you. Commissions allow us to continue to bring you great content. Thank you for your support. Affiliate Policy
17 Best Fly Fishing Combos Listed
Sage Foundation Outfit – $650
Orvis Clearwater Fly Rod & Reel Outfit – $419 – $565
Redington Field Kit Salmon Fly Outfit – $389.99
Redington Field Kit Bass Fly Outfit -$389.99
Redington Field Kit Trout Fly Outfit -$389.99
Redington Field Kit Coastal Coldwater Fly Outfit – $389.99
Redington Field Kit Trout Spey Fly Outfit – $529.99
Redington Vice Fly Outfit – $329.00
Temple Fork Outfitters NXT Prespooled Fly Outfit – $269.99
Greys Fin Euro Nymph Fly Rod & Reel Combo – $230.00
Redington Path Fly Rod Combo – $229.00
Echo Lift Fly Rod Combo – $189.99
Echo Gecko Youth Outfit – $189.99
Orvis Encounter Fly Outfit – $198.00
Wild Water Standard Fly Fishing Combo: Full Kit – $94.00
M MAXIMUMCATCH Maxcatch Extreme Fly Fishing Combo Kit – $87.99
Maxcatch Premier – $170.00
Before You Buy A Fly Fishing Combo
Fly fishing combos consist of a rod, reel, and line and they are weighted by a weight system which you need to know about before you purchase a combo.
Fly Fishing Combos Rating
1 to 3 weight combos – Best For – Small trout, panfish, tiny streams, dry fly fishing, light nymphing and wet fly fishing
4 and 5 weight combos – Best For – Bigger trout, small bass, larger rivers up to 100 feet wide, dry fly fishing, nymphing, wet fly fishing, light streamer fishing.
6 to 8 weight – Best For – Steelhead (7 and 8 weights), bass, pike, streamer fishing with big streamers, big rivers, and lake fishing
9 to 11 weight – Salmon and saltwater species, musky and large pike, big water, large streamer flies,
What Is A Fly Fishing Combo?
There was a time when the average fly rod combo offered equipment that was "not of the greatest quality." But now things are different. These days, most fly fishing combos include a high-caliber fly rod, reel, and line, except for those found at discount retailers.
Anglers today have a great variety of fly rod combo and fly fishing outfits to pick from, however, "junky" fly rod combos are still available and may work OK for kids chasing panfish at the local pond.
Now, you can get combos for fly fishing for trout, salmon, steelhead, bass, and saltwater fishing.
That is why I want to point you to a fly rod combo that won't break the bank without sacrificing a quality fishing experience, and I'll also show you a couple of inexpensive models just in case you're on a very limited budget.
Pros And Cons Of Buying A Fly Fishing Combos
A fly rod combo set has both benefits and drawbacks, just like any other product. Consider all of your options and pick the one that makes the most sense for you personally. All fly fishing outfits are not made, alike, so take the time to compare. The best fly fishing combo is the one that is right for you.
Pros
Typically, the total cost of fly fishing combos is cheaper than if the items were purchased separately.
All the components of a fly rod and reel combo are carefully calibrated to work together in harmony. Selecting the proper reel to go with your new rod is now a breeze.
When compared to shopping around for the best parts within your budget, making a single purchase is much quicker and easier.
The fly line is usually a weight forward fly line which is good and preferred by more fly fisherman.
Generally a good fly rod for beginner and for novice fishermen.
Most rod and reel combos have a medium action rod or medium fast which I believe is the best fly rod action for new anglers.
Most of the best fly rod combos come with a rod tube.
Cons
It's impossible to personalize fly fishing combos or get inventive.
With many rod and reel combos, the rod is usually pretty good but the fly line and the fly reel are lower quality.
Limited rod weights are available.
The current market for rod and reel sets is somewhat small.
Pro Tip: Some rods have a hook keeper and some don't. Although many fly fisherman uses the hook keeper, many guides don't since there is a better way to hook up your fly rod. Watch this Hook Setup video for the better way.
How To Choose The Right Fly Fishing Combo For You
Avoid any fly rod and reel combo that costs less than $100. Ignore it; it's useless. Sure, the kids may use those super cheap packages to catch panfish in the neighborhood pond, but I want our youngest generation of trout fishermen to know the best trout fishing experience possible.
Remember, there are trade-offs in everything. Don't expect the best fly fishing rod in a combo unless it's one of the more expensive fly rod and reel combos. But these fly rod combos are more than what most will ever need.
Some good packages may be for below $200, but I find the sweet spot for fly fishing combos is between $250 and $400. There are some major price differences in fly fishing gear, but a little research can guide you to one that fits your needs best.
One of these rod and reel combos below can make for a great budget fly fishing combo.
Best Fly Fishing Combos And Full Fly Fishing Kits
As I think of my introduction to the fly fishing community, I would have loved to have had one of these great combos or full fly fishing kits on my first weekend fishing trip.
A fly fishing rod and reel combo usually includes the rod, reel, backing, fly line, and a leader. All you need to do is tie on a fly.
A fly fishing rod and reel combo kit can include flies, tippet, pliers, and more.
If you are looking to get started fly fishing, having an entire fly fishing kit just makes it super easy.
My top choice for a budget fly rod and reel combo is the Orvis Encounter Outfit, and if you want an entire fly fishing kit, check out the Maxcatch Extreme Fly Fishing Rod and Reel kit with or without a fishing vest. I show you this outfit below.
But all of these combos below are worth considering.
After reading this, if you would prefer to buy your fly rod and fly reel separately, check out:
Sage Foundation Outfit – BEST OVERALL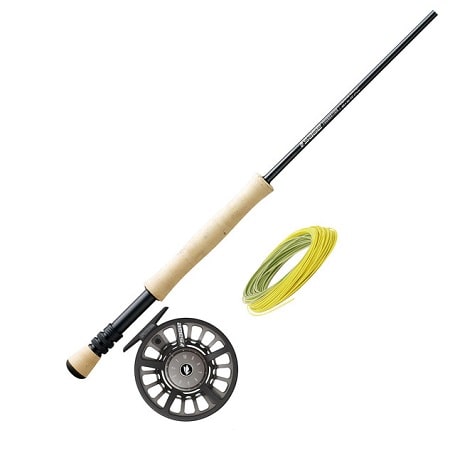 I don't think I've cast a sage rod I didn't like and the Sage Foundation is no exception.
Sage just makes great fly rods!!
Whether you're casting heavy nymphs and indicators or big dry flies with droppers, the Foundation's quick action will help you get the job done. Superior handling means you'll be prepared for anything on the water, from casting large flies to presenting small flies like caddis and mayflies with ease.
The black-anodized aluminum locking reel seat and the ceramic stripper and chrome snake guides give the Foundation Fly Rod a durable construction that allows it to function for extended periods of time. For increased convenience and command, saltwater weights feature a snub-nose cork grip and a fighting butt.
Have confidence in your purchase knowing that your Sage Fly Rod is covered by a lifetime warranty. That just makes a great fly rod combo even better
The included fly box is loaded with good trout fishing flies. The floating line included is a bonus
The Sage Foundation Outfit is an excellent choice for fly fishermen who want a fly rod that can handle a variety of fishing situations and looks good doing it. Among all the combos, the Sage offers the best fly fishing rod.
As for as I am concerned, the Sage Foundation Outfit is about the best fly fishing combo you could have.
Orvis Clearwater Fly Rod & Reel Outfit: Guides Choice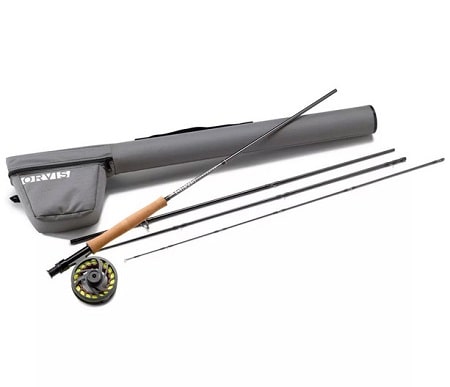 I own, use, and guide with this kit and can honestly say it's my first choice in a fly fishing combo.
It comes in 3 weight to 8 weight which will cover most species from small trout to salmon. It also has a Euro Nymphing setup.
This is a great casting and fishing combo.
What You Get:
Clearwater Rod
Clearwater Reel (large Arbor)
Clearwater Fly Line
Rod Tube
25-year guarantee
Redington Field Kits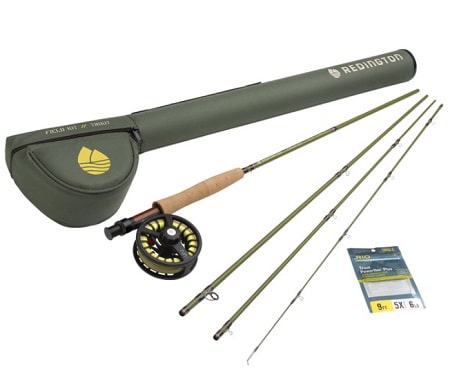 I have to say, Redington has done a great job making multiple fly fishing combos that are purpose specific.
I'll be honest, I have not tried them all but I have tried the Trout, bass, and salmon outfits and they cast well and fish well.
Some of these combos I'll discuss in more detail below but to check the prices and to get more details on the one you prefer, just click the links.
Redington Field Kit Euro Nymphing Outfit
Redington Salmon Steelhead Field Kit
Redington Tropical Saltwater Field Kit Outfit
Redington Field Kit Coastal Saltwater Coldwater Fly Outfit
Your rod and reel combo, depending on the model will come with:
Redington RUN fly reel
Premier RIO Grand Fly Line
Redington VICE Combo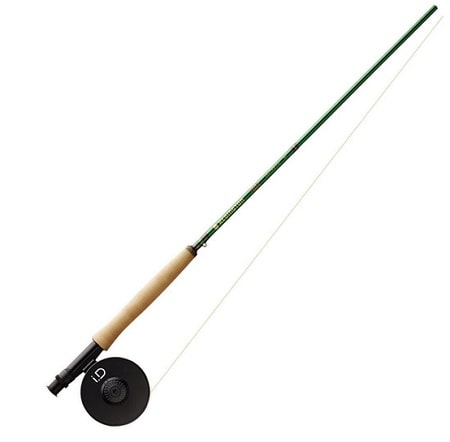 If you're interested in getting into fly fishing but would prefer a higher-quality rod reel outfit with a lifetime warranty, consider the Beginner Premium Fly Fishing Outfit Package.
This is the best fly rod in this price bracket with a superb feel and fishing action. The Redington VICE Fly Rod Outfit is included in the Beginner Premium Package.
Accessories include a ReelFlyRod Double-Sided Fly Box, a RIO Powerflex Tippet, a 3-Pack of RIO Leaders, and a ReelFlyRod Ghost Net made from excellent hardwood.
Redington is known for their high-quality, high-performance fly rods that rival those of more expensive brands without maxing out your credit card. When shopping for fly fishing equipment, Redington is your best bet for getting the most for your money in terms of performance from a fly rod combo.
Temple Fork Outfitters NXT Prespooled Fly Outfit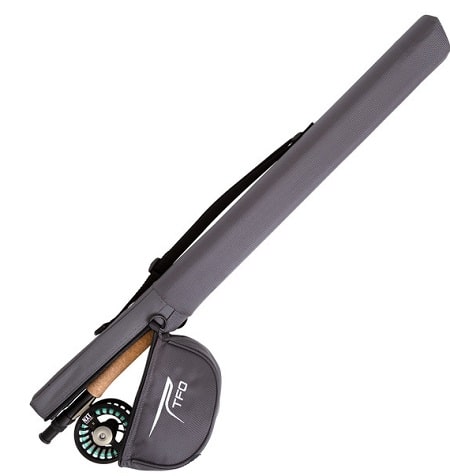 TFO's goal is to make fly fishing accessible to everyone with its NXT Black Label line. TFO's NXT series kits are the industry standard for fly fishing academies and programs in the United States, thus we rank them as our top combo.
These high-quality fly fishing kits reduce the amount of time and effort required to begin this enjoyable pastime. Built around a medium-fast blank, the action is forgiving enough for short casts into the wind and delicate presentations while remaining soft enough for light leads to load rapidly.
The matte black surface is attractive, and the reconstituted cork grips are available in half wells (5-weight) and full wells (8-weight).
The fly fishing reel with a disc drag system comes with 20# Dacron backing, and the fly line is composed of a superior weight-forward floating line with a welded front loop leader. To ensure that the angler feels the rod load fast and can cast a fly rapidly, the 80 ft. fly line is up-lined one line size. In a cordura case for the rod and reel, the NXT Black Label fishing kits come equipped for fishing.
The NXT Black Label boasts the highest performance to price ratio of any fly fishing outfit available and is backed by TFO's renowned no-fault lifetime warranty, making it the perfect present for the aspiring fly angler or an excellent backup for the fisherman who has everything.
Best Fly Fishing Combo For Euro Nymphing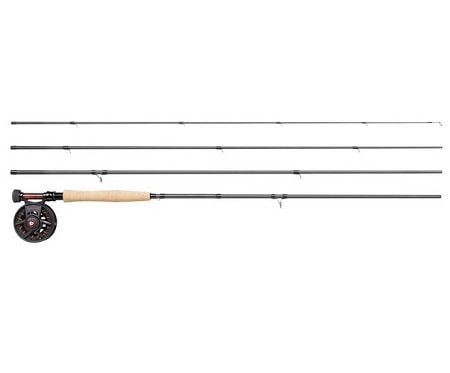 The Greys Fin Euro Nymph Fly Rod & Reel Combo is one of the nicest Euro Nymphing rod and reel combos I have tried.
The Greys Fin Euro Nymph Fly Rod & Reel Combo comes in a 10 foot 3 weight rod which is the one that I have used, or it comes in a 11 foot 3 weight model.
It Comes With:
Fin Euro nymph fly rod
FIN alloy fly reel
Euro Style Line
There are two other Euro Nymphing combos which include Redington Field Kit Euro Nymphing Outfit, and the Orvis 10 foot 3wt Clearwater Euro Nymph Combo. .
Redington Path 2 Fly Rod Outfit
The Path, formerly known as the Pursuit, is a medium-fast action rod suitable for beginner and for novice casters or those who want a more casual approach to casting. This rod comes with a solid reel suitable even for big fish.
Anglers on the go will appreciate the versatility offered by four-piece models, which are also more convenient to stow behind the back seat. This is a fly rod combo most anglers would be proud to own.
Another feature that is rarely seen in a set at this price is a lifetime warranty.
3 Best Saltwater Fly Fishing Combos
There are 3 saltwater fly fishing combos to consider. Becuase the saltwater can damage metal parts your reel need to be made specifically for saltwater otherwise the internal parts can corrode even from just a trip or two.
Consider these three saltwater fly outfits:
Redington Path Complete Saltwater Fly Outfit
Similar to the above Redington Path Outfit, except with a rod, reel, and line that are more suitable for saltwater fishing.
Check it out at: Trident Fly Fishing
Two other rods that I mentioned above are: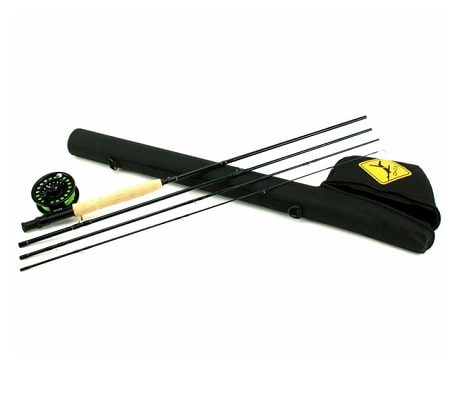 Echo Lift Fly Outfit
The Echo Lift Kits are ideal for novice fishermen and experienced anglers alike who always seem to have a set up stashed in the back of their van. It has everything you need to go fishing, from a high-performance rod and reel to superb line and a mono tapered leader.
This ready-to-go package has everything you need, from a sturdy carrying case to six carefully selected and hand-tied flies. A beginner who purchases this rod reel set will get a lifetime of use out of it.
Best Fly Fishing Outfit for Kids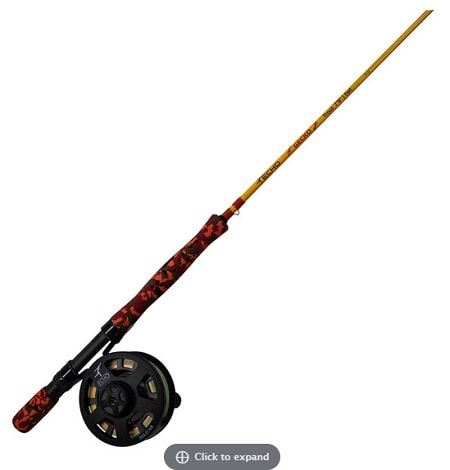 The best way to get kids hooked on fishing is to give them the right fly fishing gear.
Kids don't like a relaxing day of fishing as much as their parents do.
Without any action, even the most dedicated child will lose interest. Start young anglers off right by teaching them how to use a small spinning rod in a stocked pond full of fish that are simple to reel in (bluegill, sunfish, bass).
More fish in the water means more potential catches. While adults may be content to wait all day for that one huge fish, most kids would rather quickly reel in 50 smaller fish. Get them hooked on catching fish then move on to a quality rod reel combo.
For youngsters, I highly recommend the Echo Gecko Fly Fishing Kit. Getting young children interested in fly fishing is a success if and only if they enjoy it. The gecko will be useful in this respect. The green-flecked-camo-looking handle is made for two-handed casts, which can be simpler for smaller hands. The rod is a striking shade of yellow.
Echo fly rods are simply the best fly rod for beginners. This rod has a medium-fast action that is easygoing and forgiving, making it ideal for young anglers.
Orvis Encounter Fly Outfit: Best For The Money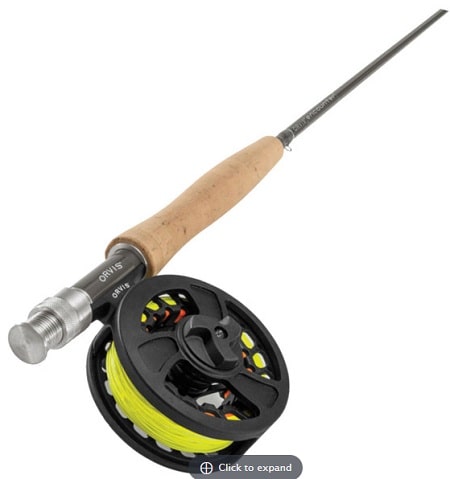 This might be the most popular fly outfit for my clients because I can't think of another fly rod and reel combo that I have seen more.
Instead of calling the Encounter Rod outfits "entry-level," I like to call them "affordable awesomeness."
Part of the attraction of this combo is that in comes in under $200.00.
The revised Encounter series of rods combines cutting-edge rod design with a smooth, crisp performance at a price that makes them accessible to serious anglers of all budgets.
What you get is a weight-forward floating line, backing, and a leader included in addition to the large arbor Encounter reel.
The large arbor reel features a smooth drag system that will help you catch fish and is good for any fly fisher. it will even handle larger fish.
The Encounter rod set is the most reasonably priced option available, making the Orvis Encounter Outfit a must-have.
This Orvis Encounter outfit is certainly one of my top picks for "best fly fishing rod and reel for the money." This is definitely the best fly rod for the money in this lineup
Wild Water Standard Fly Fishing Combo: Full Kit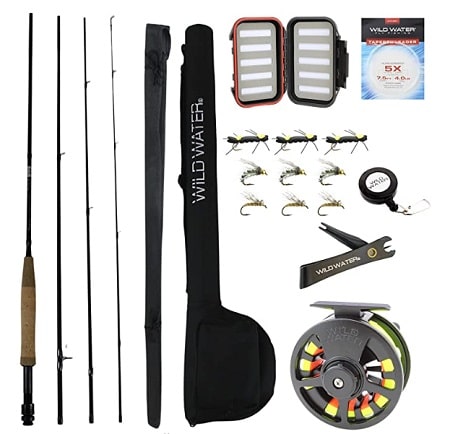 I've already mentioned that I'm not a big fan of discount fly combos because they make it harder to learn with and to fish with.
But this one is actually decent and I know not everyone is going to want to spend $200.00 , Plus this os more than just a combo, it's a whole starter kit.
Therefore, get the Wild Water Fly Combo if you're trying to get an entry level fly fishing combo and need to save money.
Coming in around $100.00, it's an affordable way for newcomers to the sport of fly fishing to get their feet wet. The Wild Water Combo provides unexpected value for the cost. The price is excellent, the functionality is great, and the quality is more than satisfactory.
The carrying case that comes with the Wild Water bundle is rather nice. It fits the rod (which separates into four pieces) and the reel, and there's even a little side pouch for other fly fishing gear. I was rather pleased when I began to cast around and test the waters.
The reel operates with minimal resistance and may be set up for use with either the left or right hand.
The fishing rod can be controlled with ease and has respectable precision. The Wild Water is the best fly rod for close up fishing. Within twenty or thirty feet, you can pinpoint your target and place your fly precisely where fish will eat it.
I consider this best budget fly fishing combo kit that still provides superior quality.
Maxcatch Extreme Fly Rod Combo: Full Kit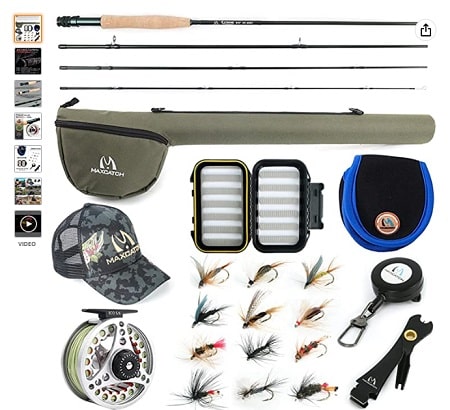 This package has everything a novice angler needs to get started, along with some extras like a line straightener, forceps, and clippers.
With this rod, reel, and line setup, I am able to cast far, reel in plenty of line, and avoid arm fatigue thanks to the equipment's comfortable weight and balance.
The Maxcatch reel combo is a tenth of the price of my high-end rods but casts just as effectively.
The case is second only to the rod itself. Each segment of the rod has its own sleeve within the hollow tube that prevents it from banging against other segments and getting scratched or damaged.
The reel can remain attached to the rod inside the carrying container, protecting it from loss or damage.
The fly box can be stored in either the side or reel pouch. Everything else, like an extra fly box, reel, etc., can be stored in the convenient side bag.
In conclusion, I find that this package offers excellent value for the money. This rod, reel, and line setup casts far and battles fish effectively. I think this is one of the best budget-friendly fly fishing outfits around.
There is also an option for an ultralight trout and panfish combo, see M MAXIMUMCATCH Maxcatch Ultra-Lite Fly Rod for Stream River Panfish/Trout Fishing
Most Complete Fly Fishing Kit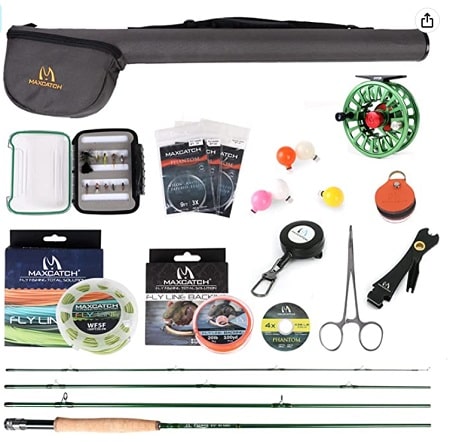 Maxcatch Premier Fly Fishing Rod and Reel Combo
The Maxcatch Premier fly fishing kit is the most complete kit I have seen and is a good choice for new fly fishermen and kids.
Coming in under $175.00 it's hard to beat the value of this fly fishing combo kit.
Best Fly Fishing Combo For Salmon and Steelhead
The Field Kit Salmon Fly Outfit features a 9-foot medium-fast action fly rod, a , and a RIO Grand 8-weight fly line, all manufactured by RIO Products. In both the ocean and their native freshwater rivers, you'll have plenty of stopping power to deal with these powerful fish.
 A 9-foot, 20-pound Salmon/Steelhead tapered leader from RIO Products is included with the Field Kit Salmon Outfit, along with a Cordura case and a lifetime guarantee from the company.
With a Redington Field Kit Salmon Fly Outfit, you'll be ready to fish anywhere in the world, from the Great Lakes Region with nymphs to the Arctic Ocean with heavy streamers.
The Best Fly Fishing Combo Summary
Do yourself a favor and buy the best fly fishing Combo in your budget. This will ensure you get the best casting rod, and the best line for fishing.
Tight Lines,
Graham