7 Best Fly Fishing Reels For Trout In 2023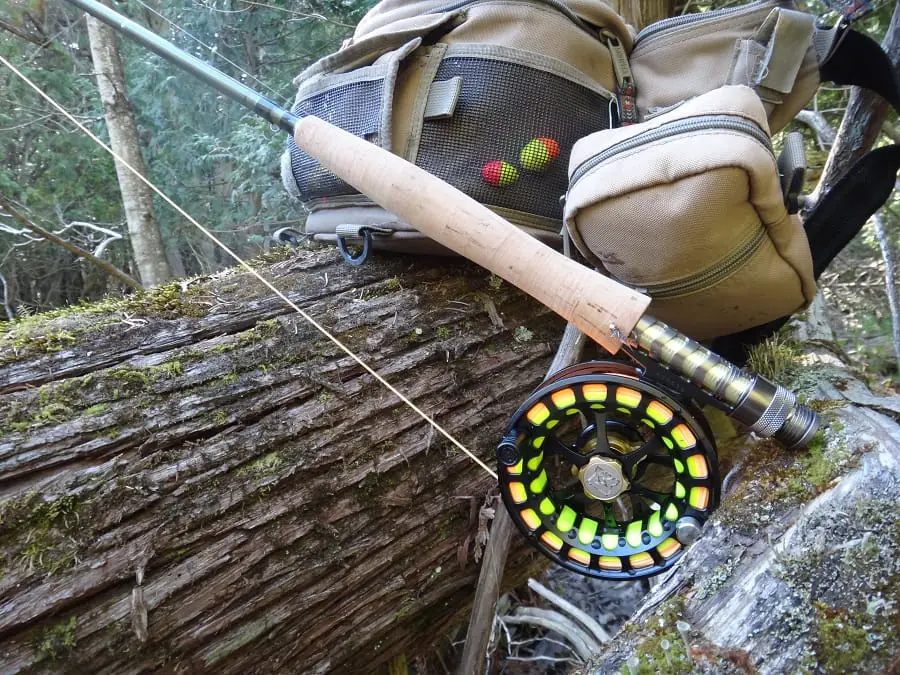 I think I've tested and used over fifty trout fly reels over the years. Most of those are ones I've owned myself, but many belonged to my clients that brought out their fly fishing reels for trout guide trips with me.
There are many options for fly fishing reels with an extensive range of prices, and I know that beginners can get a little confused, especially since there are so many opinions and so-called experts on line.
After guiding thousands of new and experienced anglers, I look for a few things in a good fly reel.
The best fly fishing reels for trout will be within your budget, be the right size for the fly rod you use, suitable for the fly fishing method you use, the trout size you fish for, as well as the size of the river you fish. A great fly reel is also lightweight and has a smooth drag system.
Here's a closer look at what makes a great fly reel for trout and some of my favorite ones to use.
Our Quick List Of The 7 Best Fly Reels For Trout
What Makes a Good Trout Fly Reel?
Fly fishing rods and reels can be expensive, but you don't have to pay a mint for your fly reel.
Price: Some basic research and savvy shopping can help you to save a bundle while still getting an excellent fly reel that works perfectly with your fly rod.
When shopping for a good trout reel, I like to create a realistic budget and search for a good trout reel that falls within my budget. Expensive reels look great and usually work well, but it's always better to find one that more affordably fits your budget.
I also closely examine the materials used to build trout fly reels.
Build Material: Aluminum is generally the best material because it is strong, light, and resistant to corrosion.
An aluminum trout reel also can last for many years when you take the time to clean it following your fishing trips. I like to clean mine as soon as possible after I spend some time in my favorite trout stream so that water, dirt, and other contaminants don't have time to settle in and start the corrosion.
Drag System: The best fly fishing reels also have strong drag systems that are easy to adjust while you have a fish on and will help you to tire it out and bring it to your net. A sealed drag system that prevents water intrusion and that helps you to land an especially large trout will work just fine.
Fly reels that don't have a sealed drag system generally are more affordable than those with a sealed drag system, but they require more cleaning and maintenance to get the best service life from them.
Some anglers and guides might also recommend a dragless reel know as a clicker fly reel or a Click and Pawl reel, however, based on my experience with new flay anglers I strongly advise against it. See the Click And Pawl Reels article.
The final factor in finding the best fly reels for trout is determining which size is best for catching trout. I'll discuss that in the two sections below.
What Size Fly Reel For Trout?
The best trout fly reels generally vary depending on the size of the trout that you are targeting. The smaller the trout, the smaller and lighter the fly reel weight so that you can get a good feel for the action at the end of the line when a trout takes an interest in your fly.
The trout reels should match and balance the fly rods that you are using, so heavier fly rods should be matched with heavier and larger trout reels that hold plenty of backing and fly line.
When I am fishing for smaller trout in smaller rivers and streams, or when dry fly fishing for trout, I like to use a quality fly reel that is about size 2 to 4 with matching fly fishing gear.
When I am going for slightly bigger trout, size 5 fly reels for trout, do a great job and often work well with a 5 or 6-weight fly rod.
When fishing streamers, I'm generally going for larger trout and will even use a 6-weight fly reel with a good drag, especially on very large trout streams.
A good disc drag system can help me to fight any bigger fish that might take my fly while giving me plenty of fun.
Larger Arbor VS Small Arbor Fly Reels For Trout
The arbor size refers to the internal diameter of the spool on fly reels and is either standard, mid-sized, or large.
A large arbor fly reel usually is about 2.75 inches or larger in diameter.
The primary advantage of large arbor reels is that they take up line much faster than small arbor fly reels.
Large arbor fly reels for trout also help prevent line twists and bunching because the larger arbor has more surface area and room to hold the line.
A large arbor fly reel works especially well as a saltwater reel, and when you want to land a big fish that might swim toward you to create slack. All my best steelhead fly reels and my best salmon fly reels are large arbor reels.
A large arbor reel also makes it easier to land a hard-fighting fish without tiring it out, which makes it ideal for catch-and-release fly fishing.
I'm a strong advocate for filling up the reel spool as fully as possible and large arbor reels have the advantage of not requiring as much backing to fill up the reel.
Mid Arbor Fly Reels: A mid-sized arbor is about half the diameter of what you find on large arbor reels and can work well for saltwater fly fishing as well as catching trout.
The mid-size fly reels won't take up the fly line as fast as a large arbor reel, but it is significantly faster than a small arbor reel. A mid-arbor fly reel is a good option for catching trout and will help you to land the fish without tiring it out.
Small Arbor Reels: A small arbor fly fishing reel also is referred to as a standard arbor and is what the first fly reels used for holding backing and fly line. This is what I started fly fishing with over 37 years ago.
The arbor is about half the size of a mid-arbor fly reel and about a third or less that of a large arbor reel. A small arbor fly fishing reel is fine when you are learning how to fly fish and don't want to spend a lot of money on fly fishing equipment until you get the hang of it.
In fact, I caught hundreds of steelhead and salmon on a good quality standard aror fly reel before I bought a large Arbor reel.
When it comes to choosing the best fly fishing reel for trout now, I usually opt for a large arbor reel.
Advantages Of A Large Arbor Reel: Because of its larger size, a large arbor trout reel makes it a lot easier to reel in fish without wearing them out. The large arbor fly reels also help to prevent line tangling and bird nests from forming while casting, and you don't have as much backing to fill up the spool.
The 7 Best Fly Reels
After careful review and testing these are the 7 best fly reels that I recommend to my clients and friends.
1. Galvan Rush Light Fly Reel: Best Overall Trout Fly Reel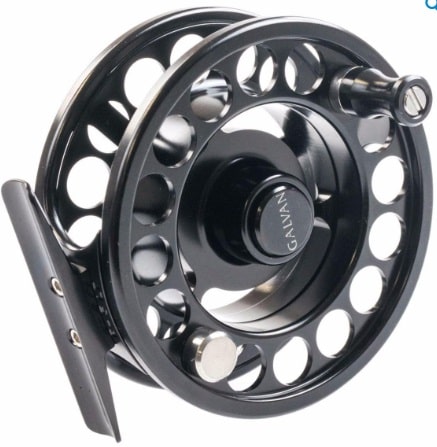 The Galvan Rush Light fly reel is made from 6061 aluminum that is light, strong, and resists corrosion. The Galvan rush is one of the best fly fishing reels for trout.
The reel features three spokes and port holes to reduce its weight without compromising the strength of the fly reel. An anodized finish makes it possible to finish it in a variety of colors so that you can choose your favorite finish.
Galvan's torque disc drag system uses carbon fiber and thermoplastic discs, making it easy to adjust to obtain the ideal drag resistance for the fly reel. A plastic bushing enables the spool to rotate with virtually no friction. A large arbor makes it very easy to quickly retrieve line while trout fishing and net your catch.
I love the Galvan Rush Light fly reel for trout fishing with its durable design, lightweight construction, and exceptional disc drag system. It definitely is one of the best trout reels for fly fishing and is well worth its purchase price.
Orvis Hydros Fly Reel: Most Popular Trout Fly Reel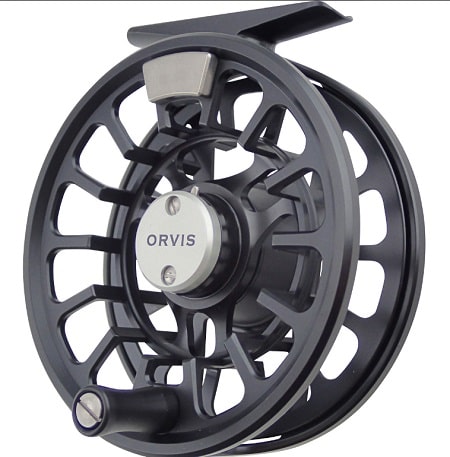 I love the Orvis Hydros Fly Reel for trout fishing because its large arbor gives you an excellent retrieval rate while limiting line coiling.
A narrow spool reduces line stacking, while a radiused reel foot stops the leader from getting kinks in it. The trout reel is made from machined aluminum to give it plenty of strength and features a matte II anodized finish that prevents corrosion.
The Orvis Hydros Fly trout reels have an outstanding disc drag system that uses carbon fiber and stacked stainless steel discs. The sealed disc drag system uses a clutch bearing, and an ergonomically designed drag knob makes it easy to access while you are battling a big trout with the fly reel. Its ergonomic drag system makes the Orvis Hydros possibly the best fly reel for handling big fish.
Ross Evolution LTX: Best Ultralight Trout Fly Reel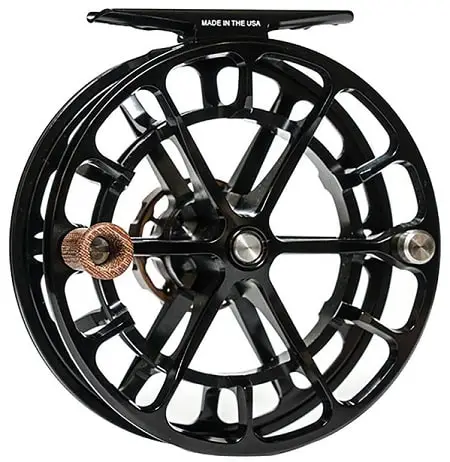 The Ross Evolution LTX trout reel is made from very strong and light 6061 aluminum with an anodized finish that protects against corrosion and helps to make it look great.
Its larger arbor makes it one of the best fly reels for trout and features a sealed drag system that uses carbon fiber and stainless steel discs that make it possible to fight the biggest of trout and other species that you might encounter.
The Ross Evolution LTX is incredibly light and in my book is one of the best trout fly reels for spending long hours in your favorite trout streams and rivers without tiring out your casting arm. A limited lifetime warranty helps you to know you are getting your money's worth if you choose the Ross Evolution LTX for your fly fishing reel.
Orvis Clearwater Fly Reel: Best Economy Fly Reel for Trout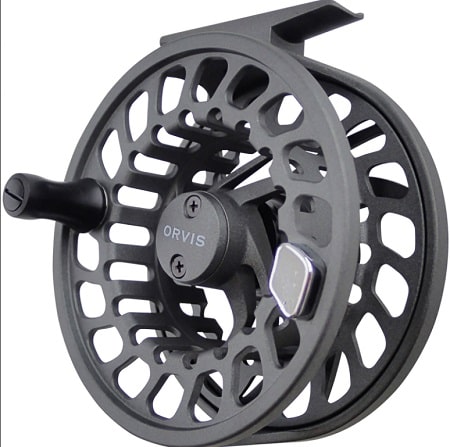 The Orvis Clearwater Fly Reels are ample proof that you don't have to spend a lot to get a lot from your fly reel. The Orvis Clearwater is designed to be a user-friendly, entry-level fly reel with a smooth drag and large arbor.
The die-cast aluminum reel is powdercoated to protect against corrosion, scuffs, and scratches.
The drag systems on the Orvis Clearwater fly reels use stacked discs made from carbon fiber and stainless steel to give you plenty of fighting power when you have a big fish on the other end of the line. Unquestionably, the Orvis Clearwater is one of the best fly reels that you can find that are affordably priced.
Orvis Battenkill Fly Reel: Most Popular Click and Pawl Fly Reel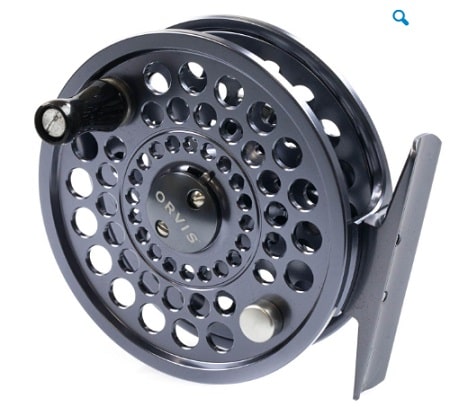 Orvis Battenkill Fly Reels offer classic looks and excellent build quality with click-pawl drag systems that make the reels perfect for catching trout. The click-pawl gives the Battenkill a very smooth drag that works very well with a light fly line weight.
The reel is machined from an aluminum bar stock and has a classically elegant ported jewel finish.
The fly reel comes with a 2.75-inch mid-arbor that is ideal for trout and the occasional big fish that hits your line. It is the best fly reel for those who enjoy classic looks with modern performance without having to spend a lot of money of a quality fly reel.
Lamson Liquid Fly Reel: Best Fly Reel For Trout Under $150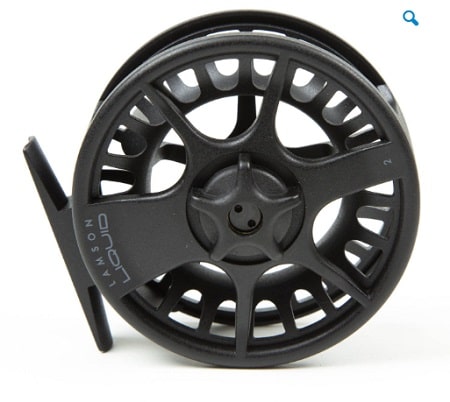 Lamson Liquid Fly Reels use a pressure-cast aluminum frame and large arbor spool that make it one of the best fly reels for catching trout and other popular species. A polyurethane finish protects against corrosion, scratches, and chips that commonly occur when fly fishing.
A sealed conical drag system gives you a smooth drag that is protected against water and sand intrusion and helps to make the Lamson Liquite the best fly reel for under $150.
Lamson Guru S Fly Reel: Best-Reviewed Fly Reel for Trout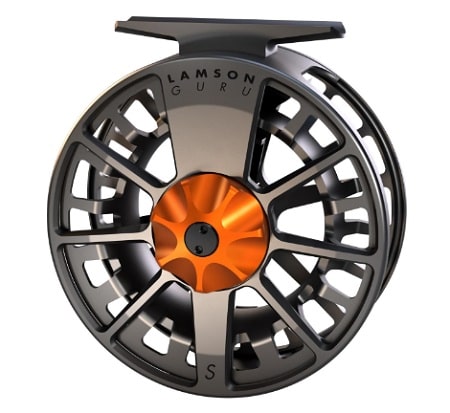 Lamson Guru S Fly Reels feature large arbor spools and a narrow design and open porting that lower its weight without sacrificing strength. Its 6061 aluminum body thwarts corrosion and has an anodized finish that makes it even more durable.
Some parts are stainless steel, which helps to make the Lamson Guru S one of the most durbable and best fly reels for trout.
The reel has a conical drag system that is sealed and generally is regarded as one of the best fly reel drag systems ever made. It uses a combination of teflon and delrin alloy makes the drag incredibly strong and lightweight. Its exceptional build quality and outstanding drag system helps to make the Lamson Guru S the best-reviewed fly reel for trout.
Best Fly Fishing Reels For Trout Q&A
If you have a question or want to share your advice or opinion on the best fly fishing reels for trout, let us know in the comments below.
Tight Lines
Graham