Fly Fishing Gear: Everything You Need To Fly Fish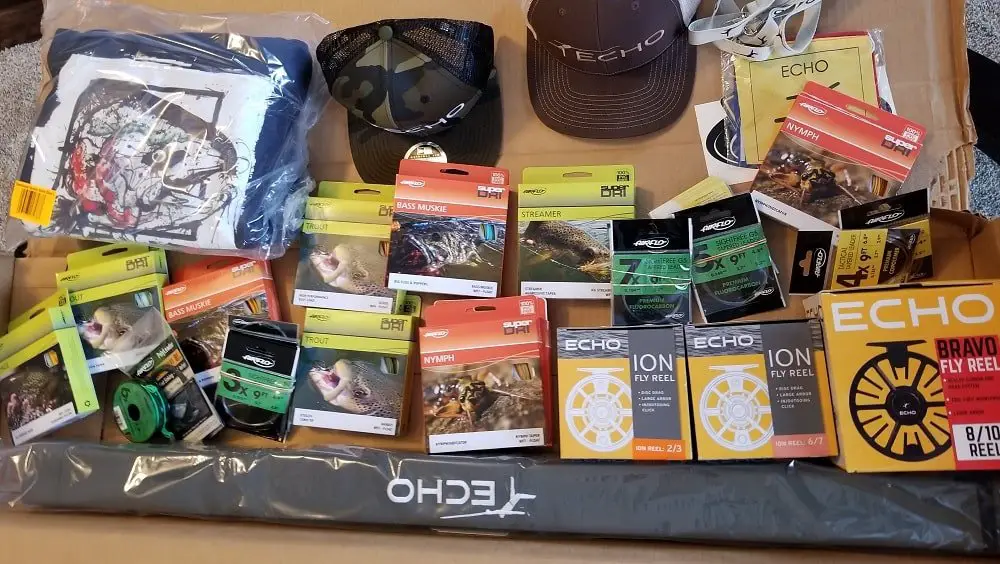 My team of river guides and I have put together this list of all the essential fly fishing gear that you would need for fly fishing on rivers, which includes some not-so-common fly fishing gear that you might not have considered before.
The right fly fishing gear will help you catch more fish and will make your fly fishing experience better. Fly fishing gear includes everything from the rod and reel, the line, the leader, the tippet, and the flies. Fly fishing gear also includes all the release gear and the gear that you wear.
This fly fishing gear checklist can be your guide if you are a beginner or even if you area more advanced fly fishing angler that is looking for ideas on other gear. This list of fly fishing gear also includes some tips and advice from the guides on how to use the gear better.
Fly Rods 101 – Essential Fly Fishing Gear
In fact, new and intermediate fly anglers usually can't tell me which one of my fly rods are worth $200 and which ones are worth $700.00 even if they have been using them both all day long.
I have taught thousands of anglers how to fly fish using fly rods that sell for under $200.00, so if you are new to fly fishing and you are just getting all your fly fishing gear together you will be happy to hear that a $200 rod is plenty.
Rods Between $100 and $600.00 – The simple truth is that other than the finishing touches like the cork, the reel seat, and the guides, and maybe the weight of the rod, some $150 fly rods fish as well as some $600.00 fly rods.
Often only advanced fly anglers will be able to pick up in the subtleties in the performance that a rod over $600 will offer.
As you go up in price the fly rod will get lighter and the finishing touches will get better, but finishing touches won't help you catch more fish!
Rods Over $600.00 – I have said this over and over again, "it's not the fly rod that catches the fish, it's the angler holding the fly rod".
So if you think a $1000 fly rod will help you catch more fish, guess again! $1000 dollar fly rods are for rich guys and professional casters, or for guys that just like nice things and want the best of the best, but they will not help them catch more fish!
Just be careful that you don't go too cheap on your fly rod.
Some really cheap rods under $100 can be soft and heavy and as thick as a pool cue, and that may negatively affect your ability to learn to cast and fish.
These dirt-cheap $60 to $100 rods might be good for kids under 10 years old that are going to be really rough on them, but they are not good for adults that might end up getting into fly fishing seriously.
When considering buying a fly rod, the important thing to know is that fly rods come in different sizes so you need to have the right-sized fly rod for the type of fishing or the type of fish that you want to fish for.
Many fly anglers will have multiple rods for different reasons.
Fly rods will be rated from a 2 weight rod which is a very light rod for made for small trout, panfish, small flies, and small creaks, all the up to a maybe up to an 11 weight which is meant for huge salmon, musky, or saltwater fishing.
Using a 3 weight fly rod is great for 10-inch brook trout but is not good for 30lb salmon or for casting 9-inch flies to pike and musky.
If you want to fish for salmon you need an 8, 9, or 10 weight. If you want to fish for trout you will need a 2 to 6 weight rod. My favorite rod for trout on small to medium-sized rivers is a 4 weight. I may upsize to a 5 or 6 weight if I plan to use a lot of streamers.
Softer fly rods, also known as slow action fly rods may be easier to learn to cast with at first, but you are better off learning to go with a medium, a medium-fast, or even a fast action rod for most of your fly fishing.
If you are still not sure what the best rod is for what you want to do I discuss fly rods in detail on my Best Fly Rods Page Check out this fly rod sizing cart.
My suggestion for all my clients and beginner fly fishing anglers is to find a fly rod that is in your budget and one that fits the type of fish or the type of fishing that you want to do and then buy it.
The fly rod is your first step at getting set up with all the fly fishing gear you need to fly fish.
Fly Reels 101 – Essential Fly Fishing Gear
I have had a bunch of cheap fly reels break within a year or 2 and I have had mid-priced fly reels last 20 years.
With the cheap fly reels, I've had the handles fall off or wear off or become loose, or the drag stops working, or the drag button seizes up so you can't adjust it. On some of my cheap fly reels, I have had the drag nob fall off and get lost.
I'm not saying this will always happen with a cheap fly reel because I've had some fly reel under $60 last a long time and work great. I'm also not saying that it can't happen on higher-end fly reels either.
A higher-end fly reel will offer a better and smoother drag, they weigh less relative to their size, and they usually last much longer than your average cheaper fly reel.
Because of this, I'd rather buy a $120 dollar fly reel that's nicer to use and does a better job and that will last me 20 years than a $60 dollar fly reel that doesn't have a great drag, that might only last 2 to 5 years.
Most fly rods and fly reels are size rated and they should say right the box what they are rated for. You will want to match a 5 weight fly reel with a 5 weight fly rod.
There are a lot of good reels over $100 dollars but these are some tested and proven reels to consider.
Redington Zero Fly Reel – Best Under $100.00 – Get It at FishUSA.com
Waterworks Lamson Liquid Fly Reel – Best Reel Under $130.00 – Get It at FishUSA.com
Orvis Battenkill Disc Drag Fly Reel – Best fly reel around $200.00 – Get It at FishUSA.com or
Keep in mind that you are going to need a different type of fly reel if you want to fish for big steelhead and salmon. I discuss the best reels from under $100 to about $600 on my page Best Fly Reels For Steelhead or see what I recommend for salmon on my page Fly Fishing For Salmon: Expert Tactics For River Fishing.
Fly Lines Are An Important Part Of Fly Fishing Gear
The weight-forward line is probably the best line for most anglers and for most river fishing situations.
Make sure you get the right size and type of line when you are ready to buy. You will need to match the line to the rod and reel. A 5 weight fly line will go on a 5 weight fly reel which goes on your 5 weight rod.
When you are ready to buy your line you will see a number code like WF5F. This means the line is a weight forward line (WF) and that it is a size 5 line, which should be matched up to a size 5 reel and a size 4 or 5 fly rod. It's also a floating fly line as indicated by the last F.
There is also a line called a double taper line which has the bulkier section that is more evenly dispersed from the front of the line to the back of the line (the middle section) with no heavy section at the front.
The double taper line is a good line if you plan to do a lot of roll casting on rivers and ponds with smaller flies and not much weight. I rarely use a double taper line when river fishing. You may see this code when ordering your line DT5F which indicates that the line is a Double Taper, and is a size 5 weight line, and that it floats.
The two above lines are both floating lines but there are also sinking lines or partial sinking lines.
Sinking lines are best used in lakes or ponds or when using streamers on large rivers but I do not recommend sinking lines for 90% of river fishing methods. even nymphing is best done with floating lines. A sinking line code may look like WF5S which indicates this is a weight forward size 5 line that sinks.
Then there are species-specific lines and lines that are made for specific applications, like nymphing, dry fly fishing, streamer fishing, etc. Honestly, I believe that in most cases a good general-purpose line will work just fine for all freshwater species and all freshwater river methods.
I also believe that many of these specialty lines are only marginally better at doing the job they are intended for and are just a good way for the fly line companies to sell you more fly lines. Don't bother with these specialty lines until you are an advanced angler looking for more performance.
Just don't go too cheap on fly lines. Very cheap lines may not float or perform as well and that can cause problems which is why I always recommend getting a medium to a high-end fly line.
I really like the trout fly lines from the Airflo brand and most of my fly reels have Airflo lines on them. They fish well, they float well and unlike many lines, they are made from a material that doesn't break down when using bug spray with DEET.
I also find the Airflo lines to be less sticky in hot weather which allows for longer casts and they really excel when using streamers. I also use them in freezing temperatures with no problems. You can get the Airflo trout lines that I use at Trident Fly Fishing.
Other great fly lines that you that you can't go wrong with are:
GUIDE TIP – DO NOT cut into the tip of the fly line when putting on the leader. If your fly line does not come with a built-in loop to do a loop to loop connection you will need to tie your leader onto the fly line using a nail knot.
To change your leader many anglers will cut the leader off and retie onto the fly line again which is bad if you keep doing this.
The end of a fly line has a 3-foot to 5-foot section that is thinner than the rest of the line. This thin section is there so the line casts better and lands softer on the water. If you keep cutting into the fly line it will get thicker and thicker and your casts and presentation will suffer.
Instead, tie on your leader once using a nail knot and try not to cut more than an inch of the fly line. If you need to change your leader, simply cut the leader ( not the fly line) about 12 to 16 inches down from the fly line and connect the new leader to the old leader using a blood knot.
Once you have a leader attached to the fly line or when you need to add a new leader to the old leader coat the knot with Loon Outdoors UV Knot Sense and form a smooth football shape over the knot. I hope to have a video of this coming soon.
Also, there are different fly lines that I use when fishing bigger water for steelhead and salmon and you can check that out at The Best Fly Lines For Steelhead, or on my page Fly Fishing For Steelhead: Great Lakes Style.
Backing Line First
Always use a backing line and a good choice for most fly reel would be a 20 pound, 50-yard spool of backing like the Rio Dacron Fly-Line Backing. Check the prices or buy it at FishUSA.com, or at Amazon at these links.
Do You Need A Floating Fly Line Or A Sinking Fly Line?

A floating line is preferred for almost all river fishing but if you need the line to temporarily sink for some reason, like maybe when streamer fishing or with wet fly fishing then I would add a polyleader to your fly fishing gear. A polyleader is like an added line tip section that sinks the line.
You attach your tippet to the poly leader. There are polyleaders made for trout and polyleaders for Steelhead.
If you are only fishing in lakes where your primary purpose is to get your fly down, then a sinking line might be best, otherwise, a poly leader allows your line to sink when needed and float when needed.
For all dry fly fishing, nymphing, and most of my streamer fishing on rivers I use a general-purpose floating fly line with split shots or sink tips.
How To Put On Fly Line
There are lots of videos on how to put the fly line on. Just make sure you put it on the right way and for the right hand.
If you are right-handed you should be casting, setting the hook, and then fighting the fish with your right hand so it's best to set your reel up for a left hand retrieve. Watch this YouTube video on how to put the line on.
Fly Line Cleaners and Floatants
Some fly line dressings need to be applied and then left to dry before being wiped off which takes time and is not ideal when you are on the river. This is why I use the Scientific Anglers Fly Line Dressing and application pad which cleans and dresses and floats your line all-in-one shot. Check the prices or buy it at FishUSA.com, or at Amazon at these links.
Fly Line To Leader Connections
Most good quality fly lines come with a built-in loop and most good leaders also come pre-tied with a loop so that you can easily do a loop to loop connection. However, maybe I'm old school, but as much as these fly line companies brag about how good their welded loops are I still hate them.
These loop to loop knot is a bulky knot and a bulky knot can and will get stuck in the guides and if that happens when a big trout decides to take off fast on a light tippet it can result in a broken-off fish. There are better ways … HOW TO CONNECT FLY LINE AND LEADER PAGE
Leaders For Fly Fishing
7.5 foot leaders are also good to use for beginners because a shorter leader casts easier. I mostly use a 9 foot 4x leader and then attach a 5x or 6x tippet for most nymphing and dry fly fishing for trout.
For streamer fishing I will use a 7.5″ foot 1x tapered leader with a 2x tippet.
For steelhead nymphing I will use a 7 foot 1x leader and then I will add about 5 feet of 2 x or 3x tippet.
Be sure to check out my page on Fly Leaders: Everything You Need To Know – Coming Soon
Tippets For Fly Fishing
A full 9-foot leader + tippet should be around 11 feet long. If that is to long just cut off a 1 or 2-foot section of your leader and add your tippet to make the total length around 9 or 10 feet long or by a 7.5-foot leader.
I use fluorocarbon tippet when I fish with nymphs or any subsurface fly. My favorite tippet for light line application is the Rio FluoroFlex + Tippet.
For dry fly fishing I will use a copolymer tippet like the RIO Powerflex Tippet.
GUIDE TIP: Your leader and tippets are only as good as your knots. Are you using good knots? Check Out: 4 Best Knots Used By River Guides
Swivels Or Tippet Rings Versus Knots
A tippet ring is a round enclosed ring that is much lighter than a swivel and can be used for all fly fishing including dry fly fishing.
Using a tippet ring makes for easy removal and changing of an old tippet to a new tippet without cutting into your leader. This can make your leader last for many years.
The picture makes tippet ring look huge but they are only about 1/8″ across which is very small and light.
The other option is to use a Triple Surgeon's Knot, a double uni knot, or a blood knot for all your line-to-line connections (those links will take you to YouTube). I prefer knots over tippet rings and swivels unless I am using heavy leaders and tippets for steelhead or salmon or maybe for streamer fishing.
Indicators And Sighters
Controlling your speed and depth is a critical part of your presentation and will greatly improve your catch rate.
I like the Thill Ice 'n Fly Special Indicator Or the Lightning Strike Indicators the best and are the ones I use to teach proper indicator nymph fishing. I like the 7/8″ for most trout fishing and the 1.5″ for steelhead fishing.
Check for the best prices or buy them at TridentFlyfishing.com, or at Amazon at these links.
I tend to use a sighter more than I use an indicator simply because if you do it right and in the right types of water, a sighter can be much more effective at catching trout and steelhead. I use 2x or 3x for most trout fishing and 2x or 1x for steelhead fishing.
My Favorite sighter is the RIO Two-Tone Indicator Tippet. Check the prices on Rio Indicator Tippets or buy them FishUSA.com, or at Amazon at these links.
For more information on using a sighter check out my article Euro Nymphing: An Expert Euro Guide Explains.
Weights
Not all weights are good for fly fishing or river fishing, some split shots suck, and some tungsten putty that I have tried was not very good which is why I recommend that you check out my page Fly Fishing With Weights for all the best weights and how to rig them properly for more trout and steelhead.
Flies For Fly Fishing
The Best Fly Boxes
A good fly box should be waterproof, have a solid latch, and separate slots for each fly, and should allow you to organize and view your flies easily.
There are two fly boxes that meet my criteria for a good box.
The Orvis Double-Sided Fly Box is a great waterproof box with a solid latch and the best types of fly slots that are good for both nymphs, dry flies, and small steamers.
The FishUSA Dual Sided Fly & Jig Box is just like the Orvis box but is not a see-through box. See-through boxes are great if you have multiple boxes and if you want to see what's in them at a quick glance. But if you only have one box then a see-through is not a requirement.
The Cliff Bugger Box is great for all your streamer flies.
The Cliff Bugger Box is great for all your streamer flies.
Fly Floatants Or Sinkets
First, I apply a good gel type floatant like Loon Outdoors Aquel Floatant Gel to my dry fly right after I tie the fly on. Then I start fishing. This gel will keep my fly floating longer.
Once my fly starts to sink I will use a powder floatant desiccant to dry off my fly completely. The powder will absorb all the water from the fly. Once the fly is dry again I will reapply a very light coating of gel. The combination of the powder and the gel seam to work the best and will keep the fly up the longest.
The Loon Outdoors Aquel Floatant Gel repels water and helps your fly float. This gel has been proven to be one of the best gels in tests, and I have used it for years so I know it works. You can get this at FishUSA.com – HERE or at Amazon – HERE
For a great powder floatant the Tiemco Shimazaki Dry-Shake Fly Fishing Floatant is a great choice. This dry fly powder came out as the best powder floatant in tests and is one that I use regularly. You can get this powder at Bass Pro Shops or at Amazon.
Another great one that I use and it gets great reviews is the Loon Top Ride. Check the prices or buy it at Bass Pro Shop, or FishUSA.com, or at Amazon at these links.
Sinkets or sinking gels are supposed to help your flies or your tippet sink. Occasionally I will add some sink gel like the Loon Outdoors Henry's Sinket to the 6 inches of tippet right by the fly.
The reason I will do this is that a tippet that is floating on the surface creates an indent in the surface which can be seen by weary trout especial on slow moving flies on flat water. If a trout sees your tippet they may refuse your fly.
Where as, a tippet that is below the surface is less visible to the fish which means fish are less likely to refuse your fly.
Fly Fishing Gear From Head To Toe
This is all the fly fishing gear you might need to wear or have in your vest or pack.
Hats – An Important Part Of Fly Fishing Gear
Baseball cap style hats are great but the primary disadvantage to them is that they still expose your ears and neck and therefore you risk sunburn there. I have heard of pro anglers getting severe skin cancer on the tops of their ears from overexposure to the sun over many years of being outside fishing.
Cowboy style or Tilly hats as seen in the picture above are a better choice for full head and neck protection and they also block out more light so you can see into the water better. Check out this Airflo Tilly hat for anglers which you can get at Bass Pro Shops.
Or, If you want to protect yourself from mosquitos, check out the SIMMS BugStopper Hat.
Glasses – An Invaluable Fly Fishing Gear Must-Have Product
Good fishing glasses will also enable me to see structure like logs and rocks that I or my clients might snag on. These same logs and rocks could also be key spots for holding fish so I want to be able to see them and glasses really help.
Polarized fishing glasses help me occasionally spot big fish, fish feeding, and fish that are moving or holding. Fishing glasses also help me see the bugs on and under the surface better as well as improve my ability to see my indicators and my flies on the surface.
I prefer fishing glasses that sit close to my face and block out as much light as possible the like the wrap around type. The more light that stays out the better the fishing glasses will work.
I have used expensive $200 fishing glasses and cheap 20 fishing glasses that worked well. Because I'm on the water over 200 days a year and because I'm so hard on my fishing glasses I prefer fishing glasses that aren't too expensive to replace. Most of my fishing glasses are in the $50 to $100 range.
I buy most of my fishing glasses from Bass Pro Shops.
Hooded Sun Shirt
For the same reason I wear a hat, to protect me from the sun I also wear a hooded fishing sun shirt almost all year long.
These fishing sun shirts are great in the summer months when you want to wear a lightweight long sleeve shirt that still keeps you cool and dry and can protect you from the sun.
I like the Willit Men's UPF 50+ Sun Protection Hoodie Shirt or the Roadbox Men's UPF 50+ Sun Protection Long Sleeve Hoodie because it's green and blends into the background along the river.
The Columbia Terminal Deflector Zero Long-Sleeve Hoodie is designed for summer fishing. You can also get it at Cabelas.
SIMMS also has a really cool Simms Men's BugStopper Hoody that I like when the bugs are out in full force in the springtime.
Gaiters And Buffs
Wading Jacket
I'm currently using the Simms G3 Jacket and it's the best wading jacket I have ever owned.
For all my tips on fishing in the winter and for layering under your wading jacket check out my page Fishing In The Winter – Stay Warm With These 10 Tips
Vests
Fishing vests are still a great way to carry all your gear year-round and keep it organized.
The fishing vest can be lightweight for summer fishing and should be big enough to go over your jacket in the winter.
Fishing vests can range from $20 dollars to over $200.00 dollars.
Fishing vests like the Simms Men's Freestone fishing vest are all you really need. Check out pricing on the Freestone Vest and other fly fishing vests.
Fishing Packs
Essential fly fishing gear either includes a pack or a vest to carry your gear.
I prefer a fishing vest over a fishing pack because the fishing vests allows me spread out and organize everything better but I find that a fishing vest full of stuff can be hard on your shoulders and back after a long day on the river.
This is why I now only use waist packs or sling packs. The sling pack still puts weight on your shoulder but the waist or the hip packs take all the weight off your shoulders and your back.
Some fishing packs like the Fishpond Blue River Chest/Lumbar Pack can be used as a waist pack or as a chest pack.
Some the best fishing packs either come from the FishPond brand or from the SIMMS brand.
Gloves For Warmth and Sun Protection
Not all winter gloves are good when fishing. In fact, most winter gloves make fishing very difficult, but there are some gloves designed for winter fishing that you should consider as part of your fly fishing gear if you fish in cold weather.
If you want to know the best gloves for winter fishing. I discuss the best winter fishing gloves on my page Fishing In The Winter – Stay Warm With These 10 Tips
Layering To Keep You Warm
If you are fishing in cooler weather there is special undershirts and long underpants that can help you stay warmer and dryer. I consider these under layers an essential part of my fly fishing gear when I fish in cold weather. I discuss the best layering systems and gear on my page Fishing In The Winter – Stay Warm With These 10 Tips
Waders – Essential Fly Fishing Gear

I practically live in waders and I consider waders an essential part of your fly fishing gear.
I've been in a pair of waders for 7 to 12 hours a day, for over 5 days straight and sometimes over 250 days a year. That's a lot of time in a pair of waders.
I wear waders in freezing temperatures and in hot beach weather.
I don't just wear waders so I can walk in the water and not get wet. I also wear waders to protect me from poisonous plants, insects, ticks, and sharp objects.
I wear SIMMS G3 Guide Waders but these are expensive and not for everyone. I have used many other bands so even less expensive waders like these Frogg Toggs Hellbender PRO Stockingfoot Chest Waders for under $200.00.
Some waders are better than others. Some waders come with the boots built onto the waders which are known as boot-foot waders and others without the boots are called stocking foot waders. There are also breathable waders which I highly recommend and there are also neoprene waders.
Some waders are great in the winter in very cold water too and some waders are better in the summer. I prefer waders that will work well in both summer and winter which I discuss on my Winter Fishing Page.
Wading Boots 101
These wading boots have interchangeable soles so I can use studs on rivers that have slippery rocks, mud, or ice, or I can switch them to felt or rubber when needed.
The boots that I wear now and have been wearing for about 3 years are the Korkers Devils Canyon Wading Boots which are the black ones in the picture above.
I have all my clients that require boots in the Korkers Buckskin Wading Boots and they have been solid boots for under $100.00
Wading Socks
Not an essential piece of fly fishing gear because just about any sock will do but good wading socks are designed to wick away moisture better than other socks and that's always a good thing on the river especially in cold water.
Wading Staff
A wading staff is another non-essential piece of fly fishing gear but they can be good for the right person. They are a good tool to help keep you safe if you are not sturdy on the rocks and in the faster current.
They are good because a wading staff will improve your balance and stability and might just save your butt from falling in.
They can also be bad because most wading staffs have a metal end and that metal banging against the rock on the bottom just lets those big wise trout know that you're coming which is a bad thing.
The best wading staffs are over $100.00 but they are the best. For the best staff look at the SIMMS wading staff or the Orvis Ripcord Wading Staff.
For a less expensive staff under $50.00 consider the Hairline Collapsible Aluminum Wading Staff.
Wading Nets Are A Must Have Items
I discuss the best wading nets and the ones that I use and recommend on me page 5 Best Trout Nets And A Guides Advice On How To Attach Them.
Release Gear And Terminal Tackle
Terminal tackle is all the little things a river angler might need to make their time on the water easier. The terminal tackle listed below is fly fishing gear that you should consider.
Forceps
Nippers
Most of the nippers that I use are in the $15 to $30 range and they work great. Check out this $15 dollar Montana Fly Company River Steel Wide Body Tungsten Carbide Nippers at Bass Pro Shops.
Retractors and Zingers
Clip-on Magnifiers
Stream Thermometer
If I find that the temperature gets over 68f it lets me know that I'm wasting my time and that I'm better off either going and finding a colder section of the river, going to a colder river, or just going home.
There are all kinds of good stream thermometer and I have tested mine up against many of my client's more expensive ones and mine is always bang-on perfect. The one in the picture is mine and you can get it at Bass Pro Shop HERE.
If you want a higher-end stream thermometer you should check out the Orvis Enclosed Stream Thermometer.
Tippet Holder
Got A Question About Fly Fishing Gear
If you have a question about fly fishing gear or there is something that you like to use that I don't have listed here let me know in the comments section below.
Tight Lines,
Graham and The Guide Team