5 Best Fly Lines For Salmon In 2023: Guide Recommended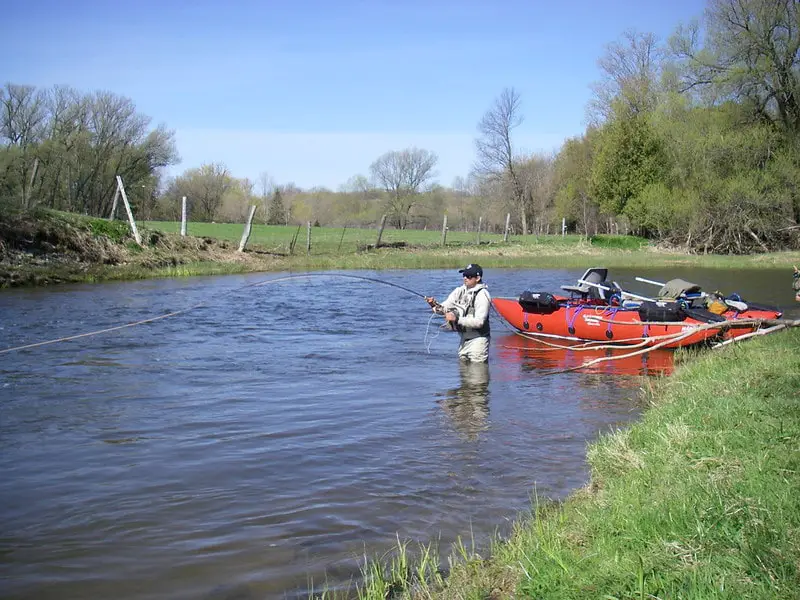 As a seasoned guide with countless hours spent guiding salmon anglers, I've had the opportunity to experiment with many of the best fly lines for salmon under all types of conditions. I've tested salmon fly lines with methods like nymphing, streamer fishing, and Spey fishing.
This article is a compilation of my recommendations on the best fly lines for salmon that are used by me and other expert salmon guides and salmon anglers.
So What Makes A Good Fly Line For Salmon?

The best fly lines for salmon stand out for their exceptional floatation characteristics, ease of casting, and ease of mending. They will also remain flexible and supple in cold water.
Regarding casting, good fly lines for salmon will be smooth casting with or without indicators and have the right taper for salmon streamer fishing.
Some notable examples of the best fly lines that I use are:
The SA Anadro
The Rio RIO InTouch
Orvis Hydros Salmon Steelhead Line
Which Salmon Fly Line Is Ideal For You?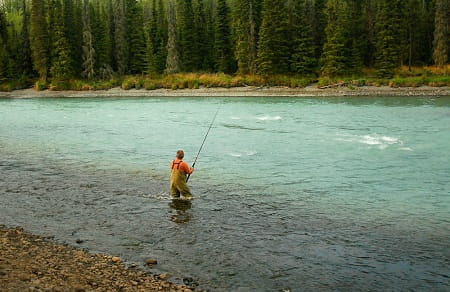 Your choice of the best fly line for salmon will largely hinge on your preferred salmon fly fishing method of choice and the rivers you frequent.
Good salmon anglers will often use a variety of methods, from using indicators and Euro nymphing for salmon, to casting streamers or swinging flies for salmon.
Additionally, there's an abundance of specialty fly lines for each technique and a selection of versatile fly lines.
When I select fly lines for salmon fishing, I look for those that perform optimally in cold water and frosty air temperatures. These conditions are typical when fishing from late autumn to late fall.
I've found that certain fly lines can stiffen in near-freezing temperatures, causing line coiling and potentially resulting in knots or tangles in the fly line.
Fly lines with a long belly are often recommended for salmon fishing. This term refers to the extended, heavier, and thicker head section, which enhances casting.
This elongated head section boosts the casting of larger flies and helps turn over indicators and weights. It also assists in mending and roll casting with indicators, particularly useful when teaching novice anglers.
The added weight in the midsection makes mending at greater distances more manageable.
The salmon fly lines mentioned above are designed by experts who regularly fish for salmon in varying conditions. Their accumulated wisdom and expertise make these lines exceptionally suitable for salmon fishing.
However, numerous other fly lines have proven to be good fly lines for salmon fishing.
Before these companies began manufacturing salmon-specific fly lines, anglers like myself used standard multi-purpose fly lines, which worked fine.
Species-specific fly lines tailored for salmon fishing are advantageous because they have additional mass built into the head and middle sections where they are needed. This design improves casting, mending, and fishing, making it ideal for instructing and guiding beginner salmon anglers.
Can A Multi-Use Fly Line Work For Salmon Fishing?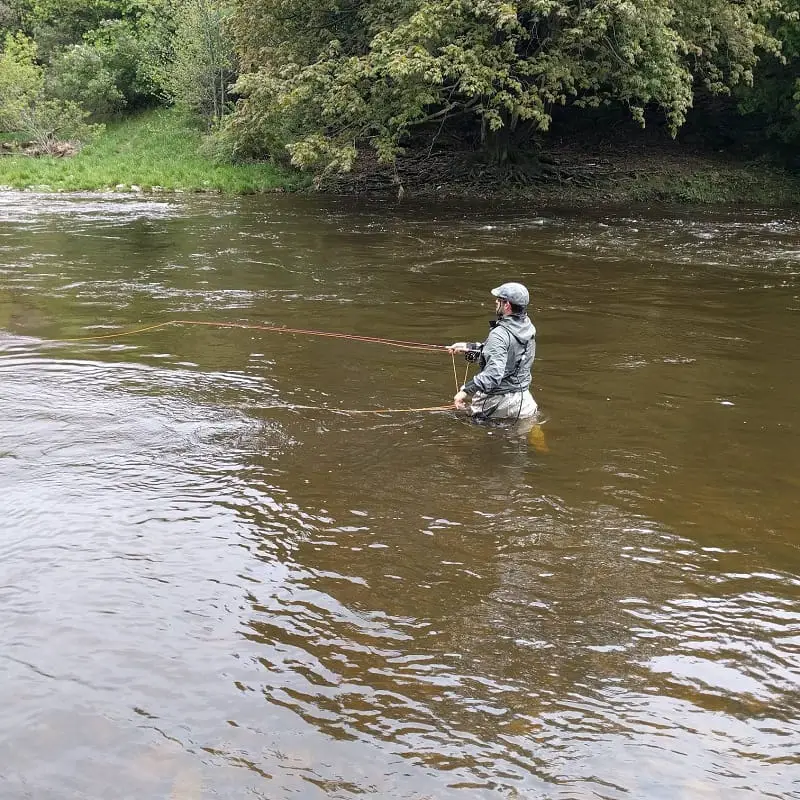 If you're an angler who prefers to use the same line for summer and cold water fishing, a standard fly line will suffice.
Often, I have to work with whatever equipment my clients bring along. Most of the time, standard fly lines are sufficient for salmon fishing. In rare instances, some lines may coil excessively or tangle too much, making them unusable.
The disadvantage of general-purpose fly lines is their inadequate design for casting big indicators and leaders with weight, which could pose challenges for newer fly anglers. I believe the fly rod's type and length have a greater impact on casting than the fly line.
However, pairing the right rod with the best salmon fly line can definitely improve your fishing experience and make learning and fishing significantly easier.
Top Salmon Fly Lines For Various Techniques
Several different techniques are used when river fishing for salmon. Many anglers favor nymphing with indicators, while others prefer to cast streamers and swing flies for salmon.
Different lines may yield better results depending on the method.
The Best Multi-Use Salmon Fly Lines
The RIO Specialty Series InTouch Salmon
The Rio Salmo/steelhead Fly Line is an exceptional all-purpose salmon fly line. It efficiently casts indicators, weights, multiple flies, and streamers. It works well across all salmon rivers and in all conditions. I strongly endorse this line.
Salmon Fly Lines for Nymphing
There are three fly lines for salmon nymph fishing that I will recommend, and these are not in order of best to least, since I feel they are pretty equal.
Scientific Angler Amplitude Andro Nymp Line Size 8 and 9 Weight
The Scientific Anglers Amplitude Anadro Fly Line is another solid option for salmon fishing on small to larger rivers. I've had the pleasure of using the Salmon Steelhead fly line, and I can't recommend it enough.
The long belly taper design has made roll casting and mending a breeze for me and my clients. What sets this line apart is its short front taper and over-weighted head, which have been perfect for effortlessly turning over indicators, streamers, nymph rigs, and bombers.
It's one of the few fly lines designed specifically for steelhead and salmon fishing with indicators and weights.
Features:
AST Plus Slickness for friction-minimizing performance and easy line shooting
Welded loops on both ends for convenient leader/backing attachment
Strong and supple braided multifilament core for versatility and durability
Floating texture on the tip section and shooting texture on the running line for floatation and castability
Uses:
Ideal for long-line nymphing and fishing in big rivers
Designed for heavy nymph rigs, distance casting, and challenging weather conditions
Suitable for steelhead fishing and handling heavier flies/rigs in stillwater settings
Can be used for streamer fishing, poppers, and bass bugs
Temp:
Suitable for cold to moderate climates in freshwater streams, rivers, and lakes
Not recommended for use in tropical climates or high heat
Taper/Weight:
Taper and head dimensions designed for turning over heavy indicator/double nymph rigs
The WF5F version has a 60′ head length and a first 30′ weight of 175 grains (1.5 line sizes heavy)
Long, heavy head allows for pushing bulky rigs through high winds at longer distances
Cortland Salmon Steelhead Fly Line For Nymphing
I have personally used and highly recommend the Cortland Salmon Steelhead fly line.
Its long belly taper design makes roll casting and mending easy for my clients and the short front taper and over-weighted head are absolutely perfect for effortlessly turning over indicators, streamers, nymph rigs, and bombers.
This line has truly enhanced my fishing experience, providing exceptional performance and accuracy.
If you're targeting salmon and steelhead, I can confidently say that the Salmon Steelhead fly line is a game-changer that will take your fishing to the next level.
WATER: Freshwater
LINE: Floating
TAPER: Weight Forward
LENGTH: 100ft
CORE: Braided Nylon Multifilament
• 65ft Head Length
• Aggressive Front Taper
• High Floating
RIO Elite Indicator Fly Line For Nymphing
Designed specifically for those who favor using indicators when nymphing, the Rio Elite Indicator Line comes with a larger front taper for better turnover of indicators, weights, and big nymphs.
The Downside to this line is it's heaviest version is an 8 weight with is suitable for salmon and steelhead on smaller rivers and streams, but might not be suitable for very large rivers.
For a larger size, try the Rio Elite Switch Indicator line. I use the 8 weight fly line on my 9 weight single hand fly rods.
Salmon Line for Euro Nymphing
When Euro nymphing for salmon around the great lakes region, I either use a Mono-Rig attached to any salmon fly line or the 5wt Rio Euro Nymph Shorty fly line.
The Euro Nymph Shorty fly line has a twenty-foot head that is thin and light, which prevents line sag from the rod tip to the water and minimizes sagging in the guides, especially between the reel and the first guide.
I attach the 30-pound Lazar Line directly to my standard salmon fly line using either a loop-to-loop connection or a nail knot connection.
Due to the full reel of fly line, you may only be able to fit 30 or 60 feet of Lazar line on the reel, which is typically sufficient. I typically use only 50 feet. I add my Euro nymphing leader to the other end, as demonstrated in my piece "Euro Nymphing For Salmon."
Another approach is the standard mono-rig setup, preferred by some anglers. This setup uses a 20 or 30-pound mono line that can be 20 to 40 feet long. This setup also prevents sag and allows advanced anglers to cast around 40 feet with just a weighted nymph or two.
For the Mono-Rig, many anglers opt for 20 to 30-pound Maxima Chameleon Monofilament Leader Material.
Be sure you are using the right type and size of fly reel for salmon. See Best Fly Reels For Salmon.
Salmon Line for Streamer Fishing
For years, I fished salmon on general purpose lines made for trout when using streamers on a single-hand fly rods.
Now, I prefer RIO's Premier Streamer Fly Line, Cortland's Streamer series, AIRFLO Kelly Galloup's Streamer Max.
The downside to most of these fly lines is they are only made up to an 8 weight, which for me is not a problems when fishing small to mediums sized great lakes rivers.
Orvis Hydros Salmon Steelhead Line
The Orvis Hydros Salmon Steelhead fly line is designed specifically for salmon and steelhead fishing and I have used it for both. The Hydros fly line Is good for streamers and for nymphing.
Ultra-long head for improved line management, ideal for handling heavy flies and multi rigs
Versatile and precise, allowing for long drifts and precise mends
AST Slickness technology ensures continual line slickness, repelling dirt and algae for a cleaner line
Two-color design with a color change 30 feet from the front tip, aiding in distance estimation and control
Dual welded loops for easy connection to backing and leader
Orvis Line ID for quick line identification
Braided multifilament core suitable for cold to moderate water temperatures
Light olive front and moss rear color scheme for aesthetic appeal
Spey Fishing for Salmon
Spey fishing introduces a completely different type of fly fishing, utilizing distinct types of fly lines. If Spey fishing sparks your interest, check out my article, "Spey Fishing For Salmon: Best Setup And Tactics For Great Lakes."
Conclusion on the Best Fly Lines for Salmon
I hope this article provided useful insights on the best fly lines for salmon, helping you find the ideal one for your needs.
If you have any inquiries, comments, or tips on the best fly lines for salmon, feel free to share them in the comment section below.
Tight Lines,
Graham