9 Best Fishing Hats: For Boat And Bank Anglers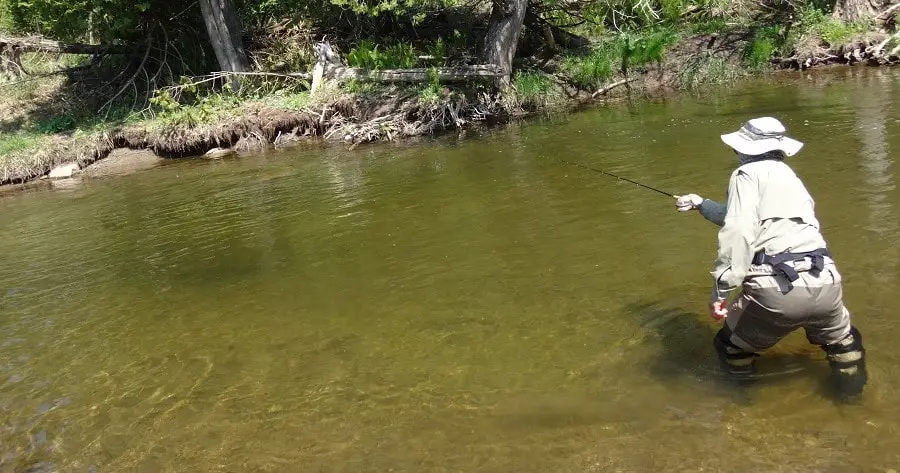 I'm on the water, guiding and fishing over 300 days a year, and you will never see me without a fishing hat. I wear a hat for multiple reasons, including that they actually help me catch more fish. I recommend that my clients wear a hat when they come out to fish, but not all hats are good for fishing, so these are the best fishing hats anglers should use.
A fishing hat will protect your head, neck, and face from the sun's harmful rays, which can prevent skin cancer. A hat made for fishing also shades your eyes, which helps anglers see into the water, see on the water, and see all around you better. Under certain conditions, a hat for fishing will also keep you cool or keep you warm and dry.
I do not wear sunscreen when fishing because it repels fish and makes your rod slippery in your hands. I also think it's bad for fishing lines. And it can even get in your eyes with sweat. Some hats cover your entire head and offer great sun protection.
Depending on the hat I wear, I also wear a fishing sun shirt and/or a good neck gaiter, which, when combined, offer the maximum sun protection.
Our QuickPick List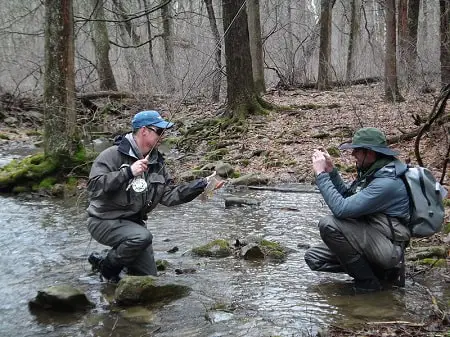 Seven of the top nine fishing hats are made by popular brands that specialize in fishing gear.
I recommend them because I've tested them and because they are made for fishermen and tested by fishermen and guides.
I have multiple hats listed from the fly fishing company Simms; FYI, I am not affiliated with Simms. I and many other fishing guides use and like their products, and I haven't found better options.
Fishpond Eddy River Hat: Best River Fishing Hat
Simms Superlight Solar Sombrero: Best Lightweight Full Brim Hat
Patagonia Quandary Brimmer: Most Comfortable Fit
Simms Bugstopper: Best For Bug Protection
Simms Men's Gore-Tex ExStream Hat: Warmest Fishing Cap
Simms Men's GORE-TEX PacLite Cap: Best Waterproof Cap
Simms Men's Boonie Hat: Best Boonie Hat
Ddyoutdoor Fishing Cap: Best Hat and Face Combo
KOOLSOLY Fishing Hat: Inexpensive Full Coverage Hat
The Best Fishing Hats And Why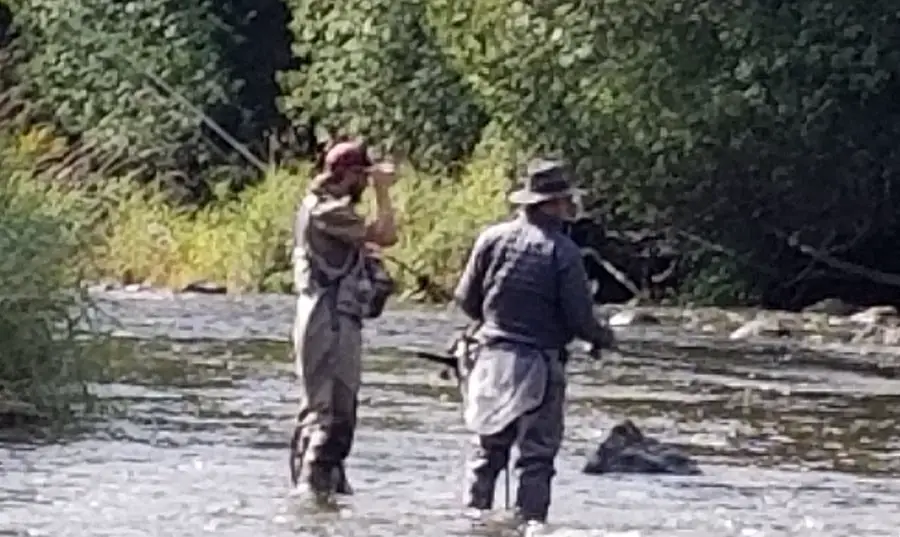 There are many reasons why certain hats are good for fishing. See which ones suit your needs best.
1. Fishpond Eddy River Hat: Best River Fishing Hat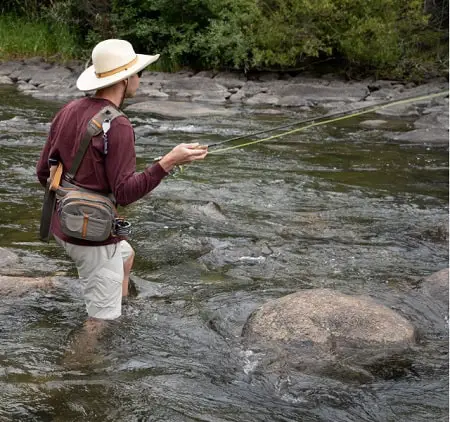 The Fishpond Eddy River hat has the classic looks of a western cowboy hat with a 5-inch oval brim that is upturned at the ends.
This fishing hat keeps the sun off of your face and neck with the equivalent of UPF 50+ sun protection.
Its wide brim is perfect for keeping harmful UV rays off your face and neck and keeping sun glare out of your eyes while fishing.
The Fishpond Eddy River hat is stylish and comfortable with a crease on top and indented sides to give it the classic Western look.
An adjustable leather chin strap keeps it secured in the wind, and a decorative trout webbing gives it a stylish accent. It's the perfect fishing hat for anyone who loves western hats that stop the sun from annoying you while fishing, and it is the best river fishing hat.
2. Simms Superlight Solar Sombrero: Best Lightweight Full Brim Hat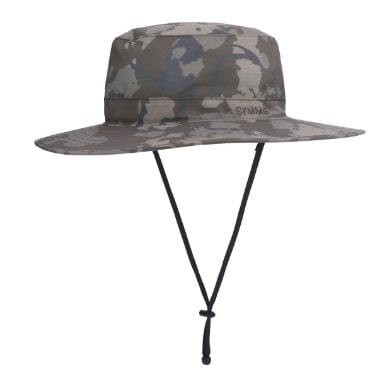 The Simms Superlight Solar Sombrero is a good quality fishing hat that keeps the sun's UV rays off your face and neck.
The Solar Sombrero features a very wide brim running around the entire bucket portion of the hat to give you lots of protection against the sun's rays and rainy downpours.
Its brim includes the added feature of foam filling that makes it float and black underlining that prevents glare.
The Superlight Solar Sombrero is the best lightweight and full-brimmed fishing hat available and has adjustable straps at the chin that keep it in place on windy days. It also has an elastic sweatband to keep sweat out of your eyes.
The sun hat is comfortable, light, and the ideal fishing gear for protecting against UVA and UVB rays.
3. Patagonia Quandary Brimmer: Most Comfortable Fit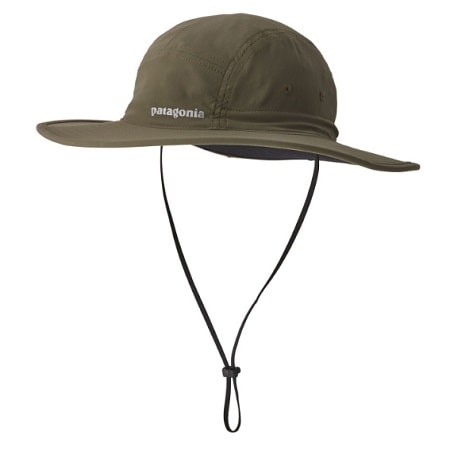 Another great sun hat is the Patagonia Quandary Brimmer, which gives you the most comfortable fit on our list of the best fishing hats.
The light and comfortable Quandary Brimmer has a wide brim that offers exceptional sun protection. An adjustable strap secures it beneath your chin, making it a wind-resistant hat.
The fishing hat blocks wind and the sun's UVA and UVB rays and is water-resistant. The crown and brim are made from a blend of 95 percent nylon and 5 percent spandex. A polyester double-knit headband with a miDori bioSoft interior wicks away moisture while making the Quandary Brimmer exceptionally comfortable.
4. Simms Bugstopper Hat: Best For Bug Protection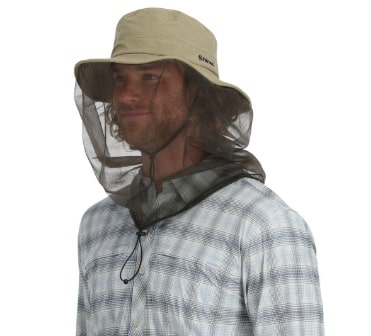 The Simms Bugstopper insect shield net sombrero is one of the best fishing hats for bug protection. It features a wraparound mesh cover with a draw cord at the bottom to ensure the bugs do not get it.
The mesh gives you the best protection against biting flies and mosquitoes without the need for toxic bug spray.
The Bugstopper has a wide brim running all the way around to keep the mesh off your face and offers protection from the sun. It also has a water-resistant finish.
A floating brim makes it easier to retrieve if you drop it in the water, and UPF 50+ fabric makes it a great sun hat.
5. Simms Men's Gore-Tex ExStream Hat: Warmest Fishing Cap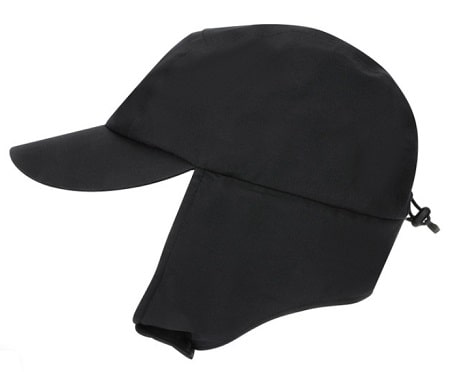 The Simms Men's Gore-Tex ExStream Hat has the best whole-head coverage hat with side and neck flaps that keep the wind, sun, and cold weather off your neck and sides of your face.
A baseball-style cap and brim give you ideal sun protection and shade your eyes, and an adjustable cord in the back helps to adjust the fit.
Its Gore-Tex material repels water and keeps you dry during cold weather.
6. Simms Men's GORE-TEX PacLite Cap: Best Waterproof Cap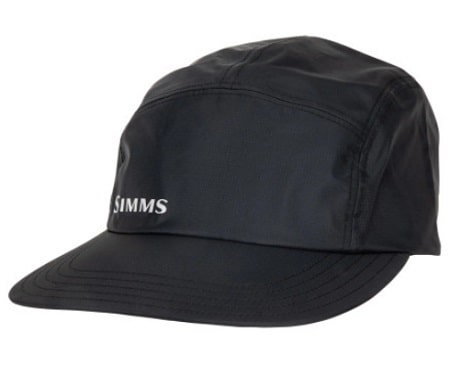 The Simms Men's GORE-TEX PacLite Cap uses Gore-Tex PacLite material to create the best waterproof fishing hat I have tried.
The cap is designed like a baseball hat and has a foam brim you can crush while stuffing into a pocket. It will resume its shape when you pull it out and need the brim for sun protection.
The cap is light, breathable, and incredibly comfortable.
7. Simms Men's Boonie Hat: Best Boonie Hat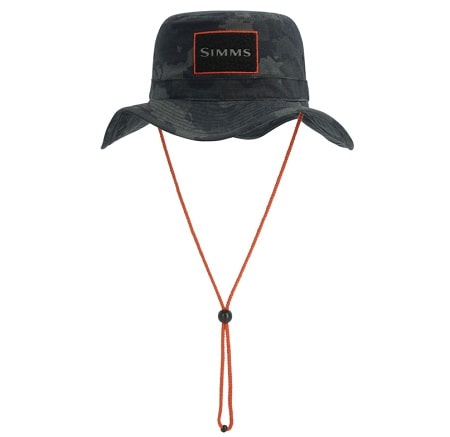 The Simms Men's Boonie Hat is another great sun hat and is modeled after the classic military Booney hat.
The Simms Boonie hat is very durable and offers excellent sun protection. The wide-brim fishing hat is very durable and benefits from a proven fishing and outdoors design that protects against the outdoor elements.
8. Ddyoutdoor Fishing Cap: Best Hat and Face Combo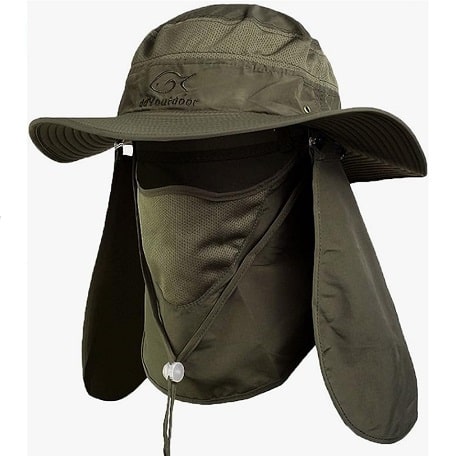 The Ddyoutdoor Fishing Cap is the best hat and face combo due to its very wide brim and long neck flap that fully protects your neck and face.
The fishing hat gives you maximum sun protection while enabling your face, neck, and head to breathe freely so you do not overheat.
The neck and face mask is removable.
9. KOOLSOLY Fishing Hat: Inexpensive Full Coverage Hat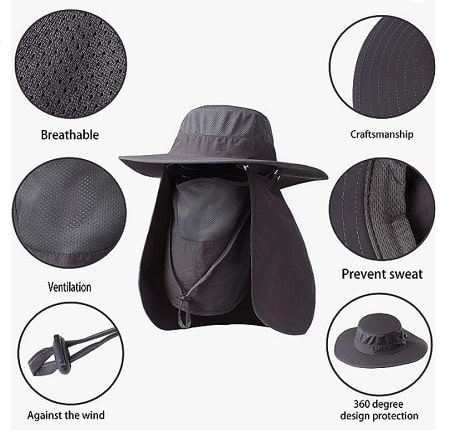 The KOOLSOLY Fishing Sun Cap with UPF 50+ Sun Protection and Neck Flap, is similar, slightly cheaper than the last hat.
This hat has about 5,000 more good reviews.
Unfortunately, I have not personally tried this hat yet. However, it is a hat made for fishing and outdoor activities, so it's worth looking into.
Why You Need a Fishing Hat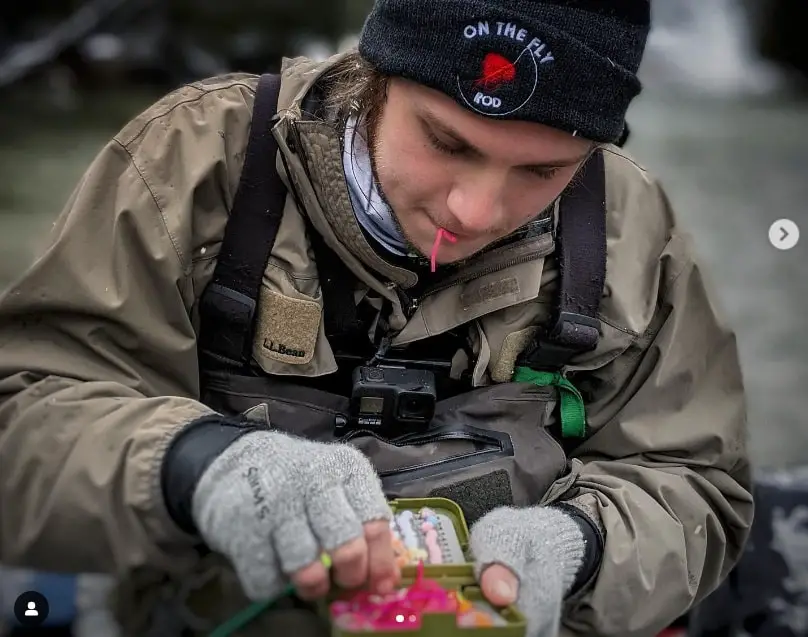 As a guide, I use hats for two main reasons: they protect me from the sun and rain, but they also shade my eyes, which enables me to see into the water better, which improves my ability to catch fish.
The many different fishing hat styles listed are all designed to protect against the elements so you can concentrate on fishing. Some help you stay cool, and some keep you warm or dry.
Regardless, a fishing hat is a must-have item to add to your fishing outfit.
What to Look For in a Fishing Hat
You want a fishing hat made from light, breathable materials that resist the elements. A wide-brim fishing hat is a universally popular one that protects against just about all types of weather. Consider the elements and the conditions of the day as well when choosing which hat to use.
I have and use multiple hats. Some have chin straps for those windy days or when riding in a fast-moving boat, some are waterproof for rainy days, and some offer me better sun protection.
These are all things you could consider when looking for a fishing hat.
Protection
It is best to look for a fishing hat with good sun protection, a wide brim, and a breathable crown.
Many sun hats also have neck flaps that you can raise and lower as needed for rain and sun protection on your fishing trip. UPF 50 sun protection also helps to protect against the sun's rays during outdoor activities. I like wearing baseball-style caps when fishing, so I add a neck gaiter to protect my neck, face, and ears.
I'll also wear a hooded sun shirt which gives the back, neck, and sides of my face extra protection from the sun.
Color
Lightly colored fishing hats can help to reflect the sun's rays, but you can choose just about any color. Many might prefer a fishing hat with a camo pattern to help blend in with the surroundings. I wear and recommend green, black, brown, or drab colors when river fishing.
When I'm fishing out on the lake, my background to the fish looking up at me is blue or grey, so a light-colored hat is best.
Materials
Gore-Tex and blended nylon and spandex or polyester and spandex materials are among the most popular. Moisture-wicking material also helps to make it more comfortable, and a chin strap can help to secure your cap.
Comfort and Size
Hat sizing is important to ensure a comfortable fit. Some are made to fit and require you to order based on size. Many include an adjustable chin strap that secures the fishing hat to your head.
The chin strap prevents your hat from flying off your head in windy conditions. A relatively loose-fitting cap will help to make you comfortable.
Durability
It's important for fishing hats to be durable so that they can withstand the elements encountered while fishing. Only a durable hat will withstand the hot sun, high winds, and rainy days on the water while targeting your favorite fish.
Breathability
It's very important for a fishing hat to help keep you relatively cool during the summertime. A breathable material that does not fit tightly or irritate your forehead helps to stop you from sweating and keeps your head dry when you do. Many fishing hats are made with breathable materials to make them more comfortable and effective.
What Kind of Fishing Hat Should You Wear in the Winter?
The best fishing hat for the winter is one that will help you to keep your head warm. A hat with insulation is best. It's a bonus if it is also water-resistant to prevent freezing if it gets wet.
A good hat will hold the heat in, and a protective neck flap will help to keep you warm during winter fishing.
Types of Fishing Hats
There are a variety of fishing hats that mostly break down into two basic types that provide excellent sun protection.
Fishing hats either have a 360-degree brim around the crown or a brim extending from the front like a baseball hat. Many choose the best fishing hat based on its ability to block UV rays while helping to maintain your general comfort.
Bucket Fishing Hats
Bucket hats are possibly the oldest style of fishing hats that were first used in Ireland in the early 1900s. The first bucket hats were made from raw wool and featured a forward-sloping wide brim all the way around.
The wool and sloping brim make the bucket hat ideal for keeping your head warm and dry in the rain. The hat gets its name due to its resemblance to an inverted bucket placed on top of the head but with the added wide brim and UPF 50 sun protection.
Boonie / Booney Hats
Boonie hats are similar to the bucket hat but with one significant exception. It has a stiffer and wider brim to help keep the rain and sun out of your eyes and off of your neck. Boonie hats are modeled after the military hat of the same name and have a nicely wide brim to protect your head, face, and neck.
It also is called the Booney hat and has a good reputation as one of the best fishing hats available. Many have an adjustable chin strap that helps to keep the fishing hats in place on windy days.
Baseball Caps
Just about everyone knows what a baseball cap looks like and probably uses one or more as a fishing hat to keep the sun out of their eyes with its wide brim. The ball cap won't protect your neck from the hot sun unless you wear it backward so that the wide brim covers the back of your neck.
Mesh panels can help to make the ball cap more breathable and keep your head cool. The ball cap design makes it a good fishing hat that you can use all year.
The Best Fishing Hats Q&A
If you have a question or comment about the best fishing hats, or you have a favorite hat you would like to share, let us know in the comments section below.
Tight lines,
Graham