7 Best Sun Shirts For Fishing: A Complete Guide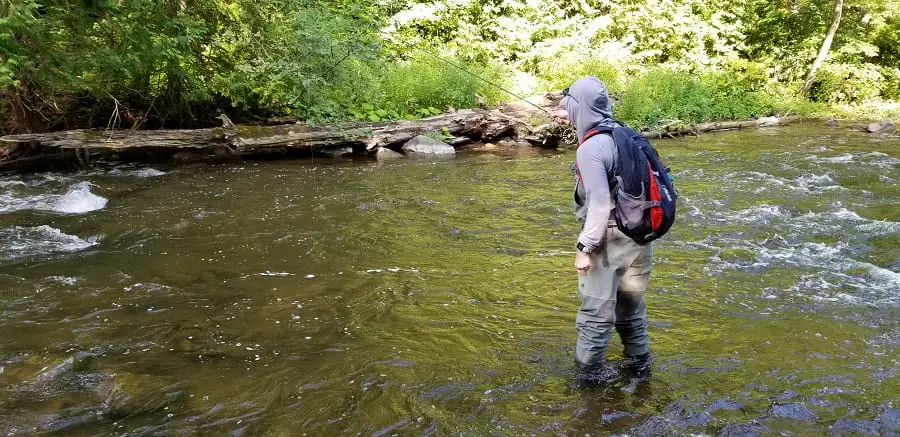 With the hype about skin cancer and hearing stories of fishing guides getting cancer on the ears, nose, and top of the hands, I started wearing sun shirts combined with a good fishing hat while guiding and fishing. It was over ten years ago I bought my first sun shirt, but todays sun shirts have come a long way in regard to the features and the materials they use.
After trying out many sun shirts over the last ten years, I've figured out what I really like or what I need in a sun shirt for fishing. I've also discussed sun shirts with my clients and other guides to see what they like.
This is a quick, no-BS, and to-the-point article on some things you should consider before buying sun shirts for fishing. It also includes 7 of the best sun shirts for fishing that I would use and recommend. Each has different features or fits into a different category.
What To Look For In A Sun Shirt For Fishing
These are some of the things I would consider in a sun shirt for maximum sun protection.
The hoodie should be somewhat loose on the top so it will easily fit over a ball cap.
The hoodie should have a little bit of overhanging material on the forehead so it can extend and cover the brim of the fishing cap, which will cover more forehead and side face near your temples.
Thumb holes on the sleeves are a really great feature. These will provide good top-of-hand coverage. The top of my hands are exposed a lot while holding a rod, and I've heard guides getting skin cancer in that area a lot.
Having a built-in neck gaiter is a bonus. A built-in gaiter should have a breathable mesh in the mouth and nose area or a nose hole for easy breathing. This will prevent your glasses from fogging and make breathing so much easier.
A sun shirt should be a minimum UV SPF 30. You may be wondering why, but I guess some UV rays are able to penetrate some of the thin, lightweight materials used for sun shirts, which is why some sun shirts will say 30 SPF while others will claim 50 SPF.
For hot weather, the ideal sun shirt should be lightweight, quick-drying, moisture-wicking, and breathable.
Side body and underarm mesh ventilation is a bonus for keeping you cool.
A good sun shirt should be a good fit and comfortable.
Lastly, a good sun shirt for fishing should be tested by fishermen and should have great reviews.
My 4 Quick-Pick Sun Shirts For Fishing
These are three of the best sun shirts for fishing but there are four more that might fit your needs better, see them all below.
The 7 Best Sun Shirts For Fishing
These seven sun protection shirts for fishing serve different purposes or have unique features. Look them over and decide which ones suit your fishing needs best.
Simms Men's SolarFlex Crewneck – Best Performance Sun Shirt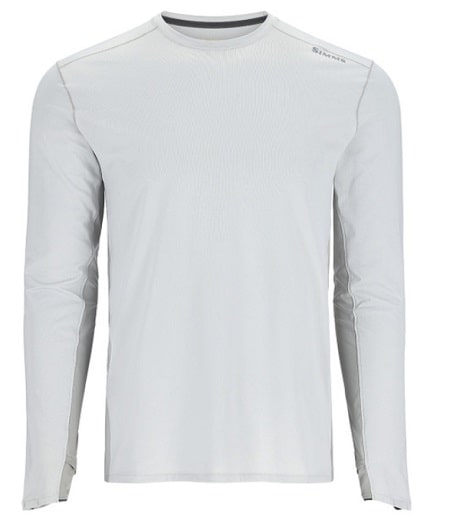 Not everyone wants a sun shirt with a built-in hood, especially in the summer. It could be because you wear a tilly-type hat that the hood won't go over or because the hood is too warm when it's covering your head on very hot days.
Whatever your reason, this performance crew neck sun shirt does not have a built-in hood. It's just the crew neck shirt with some other cool features.
As you will see below on my favorite sun shirt, I like certain features such as thumb holes so you get maximum top-of-the-hand coverage, which this sun shirt has. It also has a middle finger loop to better cover the top of the hand.
This Simms Men's SolarFlex Crewneck shirt is made with Simms' pinnacle solar protective knit fabric, which offers a lightweight sun shield that is UPF 50.
The unique cut of the SolarFlex LS Crewneck extends the sleeves and cuffs, ensuring enhanced coverage.
With advanced fabric treatments like HeiQ Fresh for combating body odor and HeiQ Stain Away technology, this shirt promises a fresh experience combined with swift drying protection for every angler.
Key Features:
Material: Crafted from 92% polyester/8% spandex 143 gsm single jersey knit, complemented with HeiQ Fresh FFL, MM, and Stain Away finishing.
Optimal Protection: Experience Simms' premium solar protective knit fabric that's soft, stretchy, quick-drying, is odor resistant using HeiQ Fresh and HeiQ Stain Away technologies.
Design: Features a clean-finished crewneck opening with cover stitch seam.
Mobility: Single panel design under sleeves and the side body, promoting extended movement and reach.
Additional Coverage: Extended sleeve length complete with envelope thumbholes and a central finger loop, ensuring optimal back-of-hand sun defense.
Comfort: Merged merrow seams and flat-seam construction guarantee unparalleled comfort.
Care: Machine washable and dryable; refer to the garment label for in-depth care instructions.
Combine this with one of my recommended neck gaiters and a good fishing hat, and you are good to go.
FishUSA AFTCO Women's Samurai Hooded LS Sun Shirt – Best Womens Hoody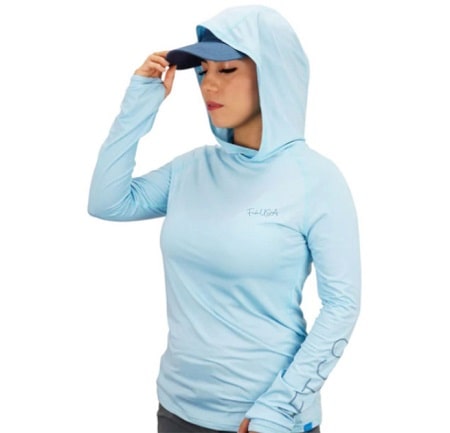 I can't leave the awesome fishing ladies out. So for them, or for you guys looking to get your woman a great gift she can use on or off the water that looks great, get her a women's sun shirt.
The FishUSA AFTCO Women's Samurai Hooded LS Sun Shirt. You know it's good if the guys at FishUSA.com are willing to put their name on it.
This superior women's hoodie has UPF 50 sun defense and is a blend of 92% polyester and 8% elastane, optimized for warm climates.
With its rapid-drying, moisture-management, and stain-resistance features, this Women's Samurai Long Sleeve Hoodie is perfect for river fishing and boat fishing trips.
The Sky Blue shade is specially designed for the discerning female angler, ensuring both protection and day-long comfort.
Key Specifications:
Material: 92% recycled polyester, 8% elastane
Odor Management: Treated with antimicrobial agents for odor control
Design Features: Thumbholes on sleeves for added comfort
Sun Defense: AFBLOCK UPF 50 protection
Functionalities: AFCOOL for quick drying and moisture wicking; AFGUARD for stain resistance
Fit: Active fit that's true to size
Origin: Imported
BASSDASH Long Sleeve Fishing Hoodie with Neck Gaiter: Best Hoodie and Gaiter Combo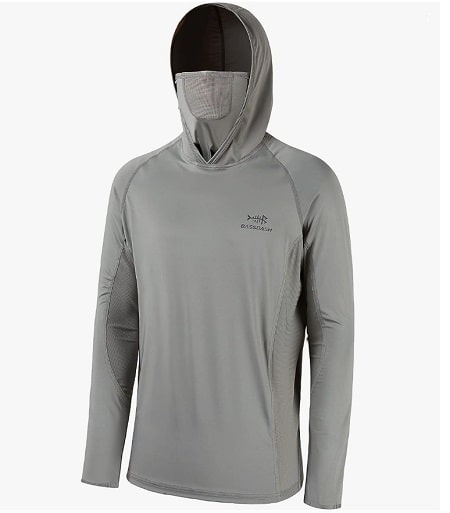 This is the latest edition to my long list of hooded sun shirts and is my current favorite sun shirt. I have separate neck gaiters, and I have hooded sun shirts, but this one combines both, and in a way that is comfortable and convenient.
The built-in gaiter is so well done that even if I want the hoodie off, the gaiter covers my face and ears well and comfortably. And what I like most is the mesh mouth and nose area so I can breathe easily.
It also comes in 4Xl for you big guys. It also gets almost 2000 positive reviews and is one of the lightest hoodies I own.
Composition & Care:
Material: 84% Polyester, 16% Spandex
Origin: Imported
Closure: Easy Pull-On
Care Instructions: Machine Wash
Feature Highlights:
Sun Protection: Long sleeves with UPF 50+ protection, ensuring skin safety for all-day sun exposure.
Mobility: 4-way stretch fabric ensures unhindered movement, perfect for casting or reeling.
Face & Neck Guard: Integrated hood and neck gaiter, which doubles as a breathable mask with mesh breathing holes. This prevents sunglasses from fogging, protects from sun, wind, dust, and bugs, and offers warmth on chilly days.
Efficient Ventilation: Moisture-wicking fabric partnered with mesh panels on the body sides and under the sleeves to ensure you remain dry and cool during heated activities.
Sleeve Stability: Cuff thumb loops to maintain sleeve position, preventing potential skin exposure.
Versatility: Ideal for fishing trips, casual wear, and other outdoor activities like golfing, tennis, gardening, hiking, climbing, and running.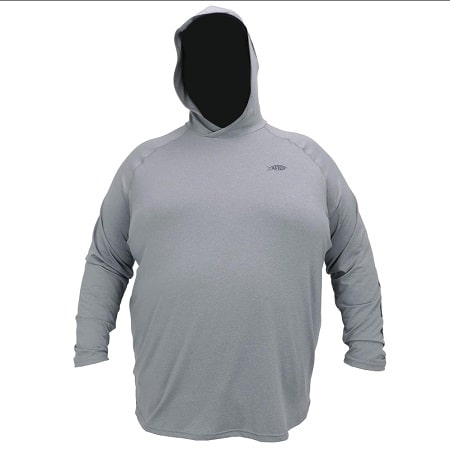 I've owned plenty of Aftco fishing shirts, and they are highly recommended. I know you big guys sometimes have difficulty finding fishing gear like waders, vests, or a sun hoody that will fit you. So I found a sun shirt for big guys that should do the job.
Introducing the AFTCO Men's Big Guy Samurai 2 Performance Hoodie.
This big guy sun shirt is a great shield against the sun with its UPF 50 rating which is said to block 98% of harmful sun rays, ensuring minimal exposure.
Its antimicrobial treatment effectively keeps odor-causing bacteria, mold, and mildew at bay, ensuring you stay fresh throughout.
The Samurai heathered fishing performance hoodie's breathable fabrics design helps to regulate your body temperature thanks to its moisture-wicking capabilities.
Constructed with a blend of 92% recycled polyester and 8% spandex, its fabric stretches even more than its predecessor due to the innovative AFLEX technology.
This is further complemented by a more generous cut for you big guys.
It also comes with AFGUARD stain resistance treatment.
Key Features:
Material: 92% Recycled Polyester, 8% Spandex
Fit: Active
Treatment: Antimicrobial for odor prevention
Protection: AFBLOCK UPF 50 for sun defense
Functionality: AFCOOL for quick drying and moisture management; AFGUARD for stain resistance
Size Guide:
3X: Chest: 53 – 57 inches; Sleeve Length: 35.5 – 36.5 inches
4X: Chest: 58 – 60 inches; Sleeve Length: 36 – 37 inches
5X: Chest: 61 – 65 inches; Sleeve Length: 36.5 – 37.5 inches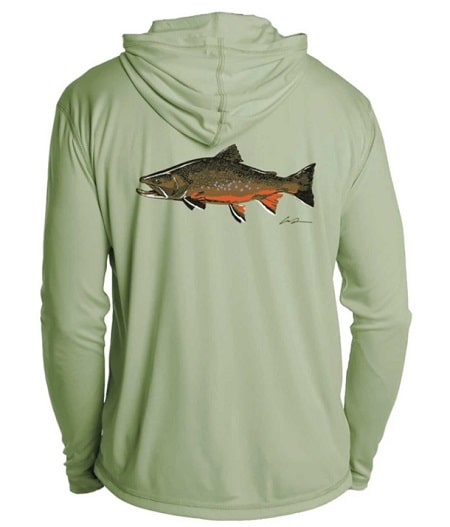 The reason I choose this sun shirt is because I know anglers and guides that wear this one, and they like it.
It is also unique in that it offers anglers different fish images or designs to suit their tastes, fishing style, or favorite fish.
There are plenty of hoodies in this line, making it a great fishing shirt option.
Key Characteristics:
Fabric Type: Ultra Lightweight Performance Material
Shade: Sage
Material: 100% Recycled Polyester
Sun Guard: UPF 50 Protection
Comfort: Soft and Breathable
Performance: Efficient moisture wicking and rapid evaporation
Fit: Slim, elongated design with an athletic cut.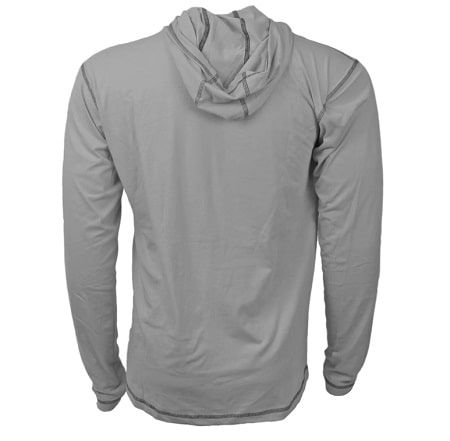 This hooded sun shirt is a little different than most of the extra light extra cool sun shirts sold.
This one is blended with Merino wool for a slightly thicker and warmer shirt which is good for cooler days on the water, or it can be used as a base layer shirt with a sun hoodie.
Most fishing hoodies are thicker sweatshirts or super thin sun shirts, this one is in-between.
It's made of a blend of merino wool and polyester.
Key Attributes:
Composition: 20% Merino, 80% Polyester
Enhanced Hood: Generously sized for comfortable wear over a hat
Protection: UPF 30+
Functionalities: Moisture-wicking and rapid drying capabilities
Natural Benefits: Offers inherent odor reduction and anti-microbial properties
Awards: Winner of IFTD Best of Show.
SIMMS BUGSTOPPER SOLARFLEX HOODY: Best Bug Protection and Sun Protection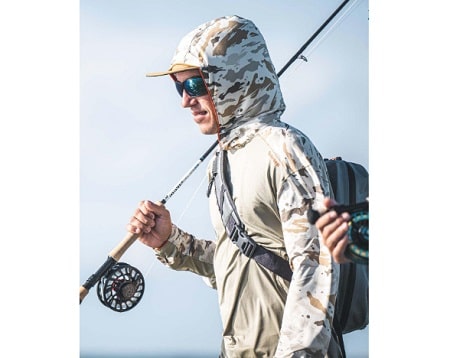 I've been using Simms products for over ten years, and they never let me down. I use the Bugstopper sun shirt combined with the Simms Bugstopper Gaiter for maximum protection when I'm on the river.
I like the comfortable of the SolarFlex fabric, which not only provides flexibility but also offers both Insect Shield and UPF50 protection. The Bugstopper SolarFlex Hoody is good on hot days.
Key Features:
Crafted using Simms' top-tier solar protective knit fabric: It offers a silky touch, stretchy comfort, rapid drying, and advanced odor resistance with HeiQ Fresh and stain resistance via HeiQ Stain Away.
Enhanced with Insect Shield: Provides long-lasting, effective, and convenient protection against insects.
Designed with a knit hood for additional solar protection and features a non-corrosive enamel ring snap at the center front for a snugger fit to keep the bugs out.
The extended sleeve design has thumbholes and a central finger loop, ensuring optimal sun protection for the back of your hand.
For maximum comfort, Simms utilizes a mix of marrow seams and flat-seam construction.
Willit Sun Protection UV Lightweight Hoodie: Best Reviewed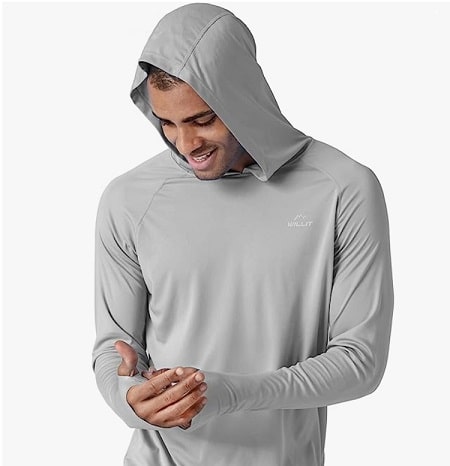 The Willit Men's UPF 50+ Sun Protection Hoodie is probably the best-reviewed hooded sun shirts with hoodie.
It's lightweight and comfortable, and what I really like is that it has high thumb holes for good top-of-the-hand coverage. This is great UV sun protection in hot temps.
Material: 100% Polyester
Quality: Imported
Closure: Easy Pull-On
Wash: Safe for Machine Wash
Comfort: Silky stretchy material, breathable fabric; wicks moisture for quick drying and cooling sensation.
Protection: UPF 50+ for defense against harmful UVA/UVB rays
Design: Flat lock seams and tag-free collar for reduced friction
Style: Hoodie design to prevent neck sunburn; thumb holes for stable sleeves and added sun coverage
Fit: Lightweight and contouring; ideal for fishing, running, golfing, cycling, and more outdoor activities.
The Best Sun Shirts For Fishing Q&A
If you have a question or comment about the best sun shirts for fishing, or you want to share your favorite sunshirt, let us know in the comments section below.
Tight Lines,
Graham