7 Best Neck Gaiters For Fishing: Superior Face And Neck Protection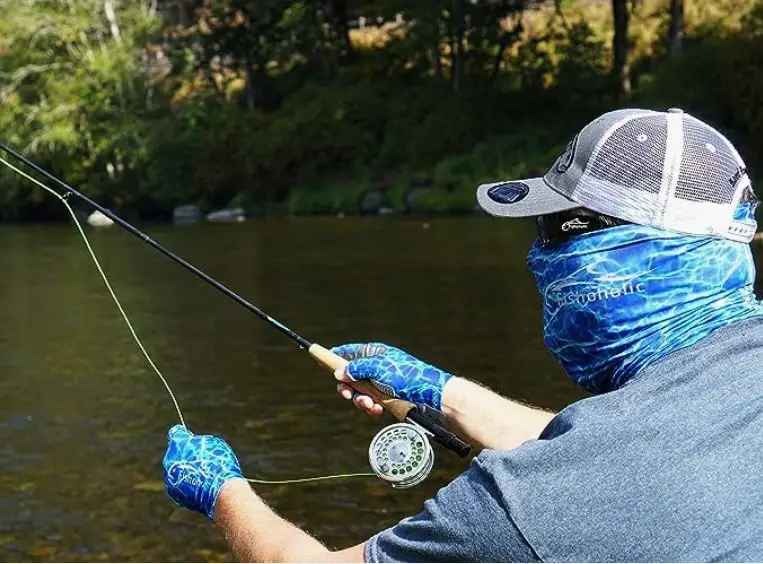 I remember a time when there was no such thing as a neck gaiter. Then came all the hype about sun exposure and skin cancer and the realization that sunblock deters fish and makes your rod slippery in your hand. That is when sun-protective clothing like neck gaiters for face and neck protection started appearing.
Neck Gaiters for fishing protect your face, neck, and ears from the sun's harmful UV rays. They can also keep you warm on colder days, help prevent bug bites, protect your face from branches, and they can even add to your camouflage so you blend into your background better.
Many fishermen wear neck gaiters as part of their fishing apparel, especially when out in the open water and on sunny days. The good thing is that the materials, the fit, and the options have really improved.
But with so many options, which ones are best? Well, I've tried many, researched many, and found out which gaiters fishing guides and anglers are wearing and liking.
Quick List: Our Top Picks
Why do fishermen wear neck gaiters when fishing?
Neck gaiters serve three general functions. One is to protect your face and neck from the sun and biting flies so that you don't get sunburned while fishing or eaten up by mosquitoes and biting flies.
Instead of using sunblock or bug repellent that also might get on your hands and transfer to your fishing tackle, you can raise and lower a neck gaiter as needed for sun protection and to fend off mosquitoes and biting flies.
Pro Tip: FYI, bug spray is a major fish repellant too, which is why I always avoid using it.
Another use for neck gaiters is to keep your neck warm on cool days. The gaiter gives you a protective layer against the cold air, which can be especially important if you are ice fishing or trying to catch salmon or steelhead during early spring or late fall runs.
As a river guide, I also wear camo or green neck gaiters as camouflage or a way of blending into the background so I can be even more stealthy when I'm trout fishing.
Neck gaiters also can help to block your scent, which might transfer to fishing tackle and cause finicky fish to stay away. If you also hunt, a neck gaiter with a scent block can help you keep your scent out of the wind while trying to bag a buck or another type of game.
Whether you are hunting or fishing, the best neck gaiter for fishing can help to improve your odds of a successful outing.
Features To Consider When Shopping for the Best Neck Gaiter
The best fishing gaiter should be light and soft so that it will not irritate sensitive skin. The neck gaiter should give you good UPF 50 sun protection to stop its harmful UV rays from burning your skin and possibly causing skin cancer. The best fishing gaiter should be made from a very light poly spandex material that gives you a comfortable fit.
If you fish in cold weather, a fleece-lined neck gaiter will give your ears, face, and neck ample protection against the cold as well as the sun.
The fishing mask should have moisture-wicking fabric that dries quickly and gives you good wind protection and warmth on cool days while you are out fly fishing. A neck gaiter should also have breathable fabric that makes breathing easier without overheating your face or fogging your fishing glasses.
Laser-cut holes in the mouth area are especially good at letting you exhale without fogging your glasses and inhale without getting a mouthful of fishing face mask.
It certainly helps to have a neck gaiter made from Gore-Tex to help protect against rain, and that dries quickly. A lightweight and form-fitting fishing face mask that is very comfortable really helps to make your fishing more enjoyable. Here's a closer look at what experience has taught me is the best fishing mask for each of six categories.
Best Sun Protection Performance Gaiter
Sun protection is the primary reason angler wear gaiters. I mostly wear them for this reason as well, especially since I'm on the water almost every single day during the summer.
1. Simms SunGaiter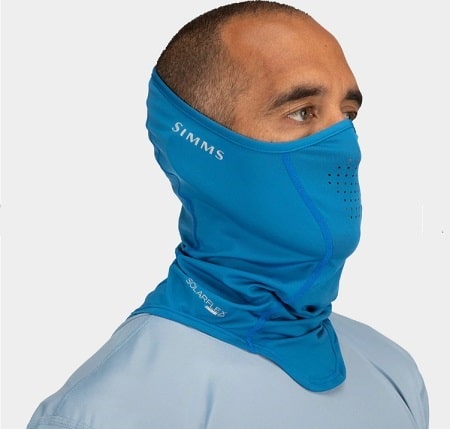 The Simms SunGaiter is terrific for keeping the sun's harmful UV rays off your neck, face, and cheeks. It features UPF 50 sun protection with SolarFlex stretch fabric made from a blend of 92 percent polyester and 8 percent spandex.
The SolarFlex moisture wicking material dries quickly, and laser cut breathing holes make it very easy to breathe without heating up your face. The neck gaiter covers your entire neck and your face from your nose down to protect against the sun's harmful rays.
The fishing neck gaiter also rises up in the back and can cover the back of your head and your favorite fishing hat. The neck gaiter also could fit beneath your that and protect the sides of your face while still enabling you to comfortably wear sunglasses. The lightweight neck gaiters give you the ultimate protection against UV rays that otherwise might burn your skin.
Best Budget Performance Gaiter
There are plenty of inexpensive neck gaiters, but some are crap. if you are in search of a good budget gaiter that works like a higher-end performance gaiter, look no further.
2. Fish Monkey Men's Performance Face Guard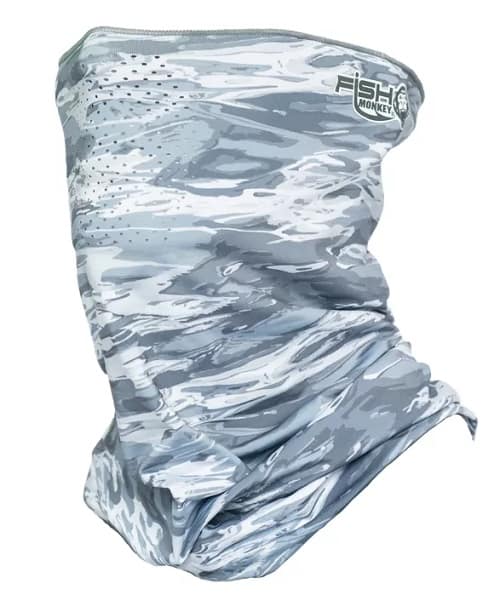 The Performance Face Guard neck gaiter is light, comfortable, and ready to give you optimal sun protection with UPF 50 fabric.
The fishing neck gaiter features quick dry breathable fabric with laser cut holes that make it one of the most comfortable fishing face masks on the market.
This neck gaiter protects your face from your nose to your neck and does not interfere with wearing sunglasses while you are fishing.
The fishing neck gaiter is made from a blend of 90 percent polyester and 10 percent spandex to ensure a snug and comfortable fit. A flared neck bottom helps it to fit comfortably beneath your shirt collar, and the light fabric makes the neck gaiter light and very breathable.
The Fish Monkey Performance Face Guard is one of the best fishing neck gaiters on the market and is terrific for helping you to stay cool and comfortable with optimal sun protection.
Best Cold Weather Gaiter
3. Simms Gore-Tex Infinium Neck Gaiter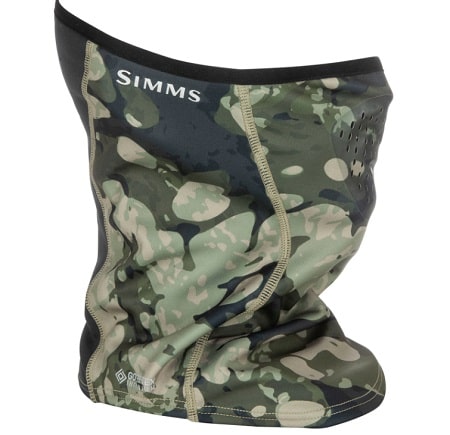 The Gore-Tex Infinium by Simms is one of the best neck gaiters for fishing in cold weather. The fishing masks are windproof and give you lots of sun protection with stretch-fleece fabric that helps to keep you warm on cool and windy days.
If you enjoy ice fishing, this is the neck gaiter to get.
The moisture wicking neck gaiter has a durable water repellant coating and laser cut breathing holes that are TPU-coated. The Gore-Tex Infinium fabric is 92 percent polyester and 8 percent spandex, which ensures the neck gaiter fits comfortably. Even when fishing in the winter, you need protection from the sun's UV rays, and the Simms Gore-Tex Infinium neck gaiter gives you plenty.
Best Budget Gaiter
Looking for a budget gaiter, we did some research and found on that comes highly recommended by other websites and anglers.
4. Fishalolic Face and Neck Gaiters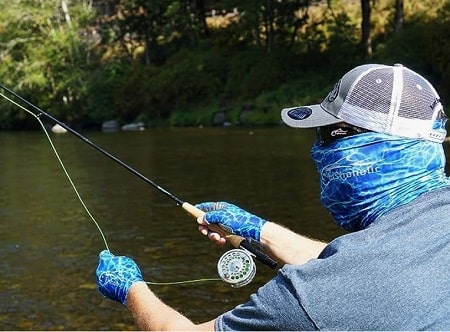 The Fishaholic face and neck gaiter is an incredibly good bargain that gives you a lot of reward for very little financial risk. The Fishaholic fishing masks are made from a very light four-way stretch blend of polyester and spandex that gives you UPF 50+ protection against UV rays.
The affordable fishing masks have a quick-dry fabric that is ideal for moisture wicking to keep you dry and cool.
The Fishaholic clearly is one of the best fishing neck gaiters for protecting your face, nose, and neck from the hot sun while enabling you to breathe easily and not overheat. I love them and consider them to be the best neck gaiter for the money, and they look great.
Best Bug Protection Gaiter
I and many other anglers hate bugs, and I've been known to wear my gaiter in the early morning and evenings when I'm deep in the bush with no sun just to protect myself from bug bites. Some neck gaiters will help prevent mosquito and tick bites.
5. Simms Bugstopper SunGaiter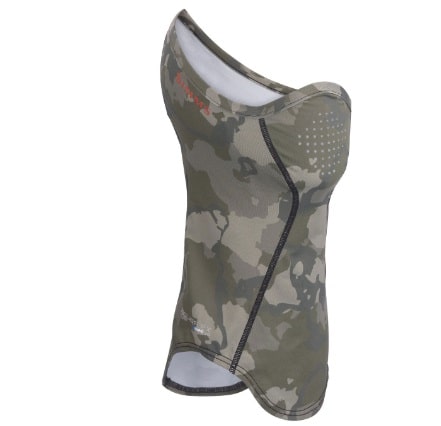 Like other outdoor activities, fishing exposes you to mosquitoes, biting flies, and bees, but the best fishing neck gaiters protects you against them.
The Simms Bugstopper SunGaiter is the best fishing gear that you can use to keep your neck and face protected against flying pests and harmful UV rays with UPF 50+ sun protection.
The neck gaiter is made from the same great SolarFlex stretch fabric that is a blend of 92 percent polyester and 8 percent spandex that Simms uses in its other great fishing masks.
The BugStopper is lightweight and gives you the added advantage of a longer cape to cover your neckline better. A taller fit enables you to wear it over your fishing hat and helps to make the BugStopper the best neck gaiter for stopping bugs from biting or stinging your neck or face.
Best Full Face Mask Gaiter
Next up is a unique gaiter that covers the face, neck, and the whole upper head. Check it out.
6. SUNMECI Breathable Balaclava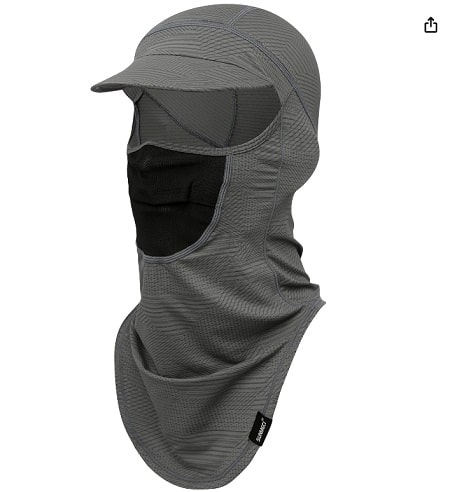 Another great neck gaiter for outdoor activities is the SUNMECI Brim Full Face Mask Balaclava which gives you full protection for your face.
The SUNMECI is one of the more innovative fishing face masks due to its integrated head cover and brim that fits more like a baseball cap.
The one-piece fishing masks completely protect your ears, face, and neck against harmful sun exposure. So does the form-fitting head covering and built-in brim that keeps the sun off off your head and forehead.
If you are balding on top, SUNMECI makes the best neck gaiters for fishing without running the risk of sunburn on the top of your head.
The balaclava-style fishing mask has an open nose and a mesh design that makes breathing much easier. Its silky-smooth fabric is very comfortable and feels good.
7. Kastking Sol Armis Neck Gaiters – Best Seller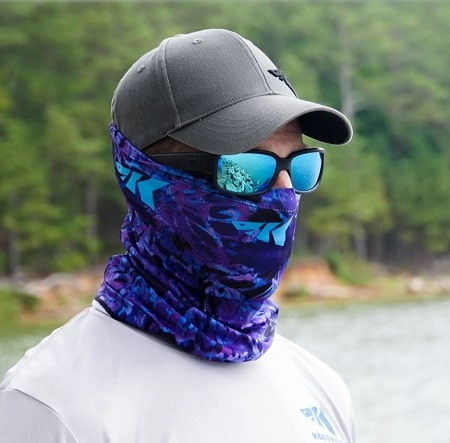 Kastking Sol Armis Neck Gaiters: Kastking gaiters are popular among anglers, and the brand has multiple performance gaiters at all price levels.
They are a top seller on Amazon and other retailers.
Main Features of the KastKing Sol Armis Fishing Sun Gaiter:
UV Protection: Enjoy UPF 50-rated sun protection for your face and neck, shielding you from harmful UV rays.
Breathable Fabric: Crafted from breathable poly-spandex material that dries quickly, ensuring you stay cool and comfortable throughout the day while avoiding sunburn.
Comfortable Fit: The 4-way stretch material provides a snug fit that stays in place, delivering utmost comfort.
Versatile Design: This multipurpose bandana gaiter can be worn in up to 13 different ways, making it suitable for various occasions. From a UV protection face mask to a fishing mask, balaclava, hood, neck gaiter, fishing sun scarf, headband, and more, you're prepared for any outdoor activity.
Prym1 Camo: Collaborating with Prym1 Camo and its founder Stacie Walker, an accomplished wildlife artist, KastKing introduces the "BE THE PREDATOR" philosophy. Prym1 Camo is born from organic predator shapes and textures, ensuring both fashion and functionality. The Sol Armis UV Sun Gaiters are available in a range of Prym1 colors, allowing you to stay stylish while being shielded from the sun.
Stay both protected and fashionable with the KastKing Sol Armis Gaiter, designed for men and women by elite anglers to provide the ultimate sun protection and comfort.
Complete Coverage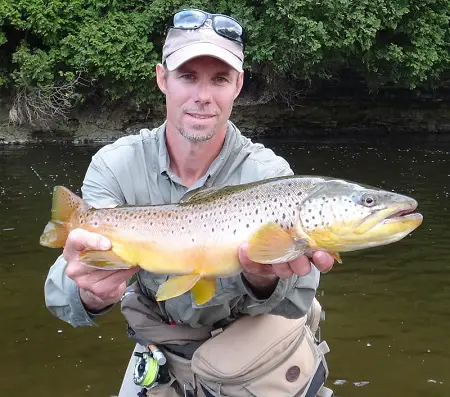 If you are going to enjoy the great outdoors and want complete coverage, combine your neck gaiter with one of the fishing hats that we recommend, combined with a sun shirt with built-in hoodie, and combined with good polarized fishing glasses.
I always wear a hat when fishing in any weather, and I do it for multiple reasons.
A hat and gaiter combination provides superior protection from UVB rays, UV radiation, and other harmful effects from the sun.
Also, don't forget that wearing sunglasses protects your eyes from the suns harmful rays and is a tool to help you read the water and maybe even spot fish.
Best Neck Gaiters For Fishing Q&A
If you have a question about the best neck gaiters for fishing, or want to share your favorite neck gaiter, let us know in the comments section below.
Tight Lines
Graham