Fly Fishing For Salmon: Tactics Used By Guides For More Salmon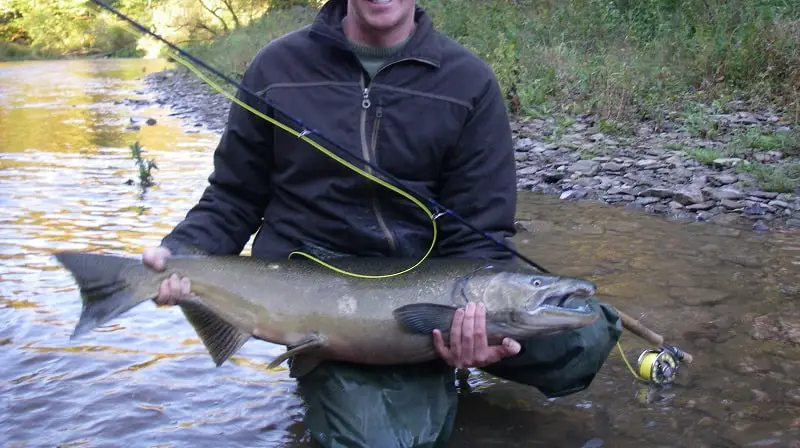 One of my favorite ways to fish for salmon is with a fly rod and I have many clients that prefer fly fishing for salmon over other methods. As a guide, I teach my clients how to fly fish for salmon effectively and that is what I will share with you in this article.
When fly fishing for salmon you can either nymph fish, cast streamer flies, or you can spey fish. Using the right method and the right setup combined with the best flies for salmon fishing will greatly improve your success.
I will go over these 3 methods and how to do them properly so that when you hit the river and you are fly fishing for salmon you will be able to catch as many salmon as possible.
I will also include some of my favorite fly patterns and tips on where and when to go salmon fishing.
Types Of Salmon
I have had the opportunity to fish for many species of salmon, from king salmon, coho salmon, pink salmon, and Atlantic salmon, and I have used many methods to catch them.
In the great lakes region, anglers have the opportunity to fish for all of these species but if you are a west coast or east coast angler you won't be able to fish for all of them.
These salmon will often run up the rivers and different times and under different conditions. If you aren't sure when the salmon run or what triggers the salmon runs I discuss this on my page How To Fish For Salmon In Rivers.
East Coast, West Coast, And Great Lakes Salmon
East coast salmon consists of Atlantic salmon which fly fishing anglers mostly swing flies using Spey fishing methods. In some cases on some rivers, you are only allowed to swing flies for Atlantic salmon but there are other rivers where you can use all methods of fly fishing.
West Coast fly fishing anglers have multiple salmon species and have small to large size rivers where you can use all methods of fly fishing. Spey fishing for salmon is probably the most used method by west coast anglers.
Great lakes fly fishing anglers are able to use all the methods of fly fishing for salmon and I have found that Spey fishing for salmon is the least used method and fly anglers in this area prefer to nymph fish for salmon.
Fly Fishing For Salmon In Rivers
This whole article is about fly fishing for salmon in rivers and the methods that I will describe can be used from small creeks to extra large rivers that are big enough to boat across. I have fished for a caught salmon in small creeks that were 10 feet wide and I have fished for salmon on very large deep wide rivers that are hundreds of feet wide.
It's important to know which methods work best in all types of rivers, or you should at least know how to adapt your method of choice to make it work in different rivers.
Fly Fishing For Salmon In Small Rivers and Creeks: Best Methods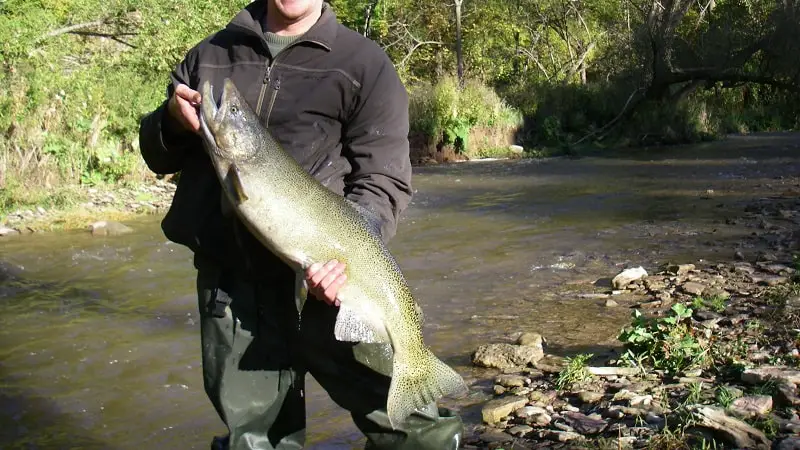 The upside to fly fishing for salmon in these very small rivers that are less than 2o feet wide is that the salmon can concentrate in small pools and pockets and you can often see them. The downside to these small rives is that the salmon can also see you and they can be very nervous fish which can often make them go lockjaw and that can make them almost impossible to catch.
When fly fishing for salmon in small rivers that are 20 feet wide or less I think the best method is always to nymph fish for them. In these types of rivers, the salmon will often shoot through the shallow fast water ignoring any bait or fly that is thrown at them, and then hold for a period of time in the pockets and pools.
It's in the smaller pockets and pools that nymphing works so well in. Since salmon are born in the river and feed and grow eating nymphs, eggs, and even chunks of rotting salmon flesh, the larger adult salmon might instinctively eat these same food sources once they return to the river to spawn.
Streamer fishing is another method that can work very well in smaller rivers. The smaller pools and pockets can be fished using a standard cast and retrieve of a streamer.
Spey fishing on these small streams is often difficult and not recommended, however, it's not impossible.
Fly Fishing For Salmon In Medium Sized Rivers: Best Methods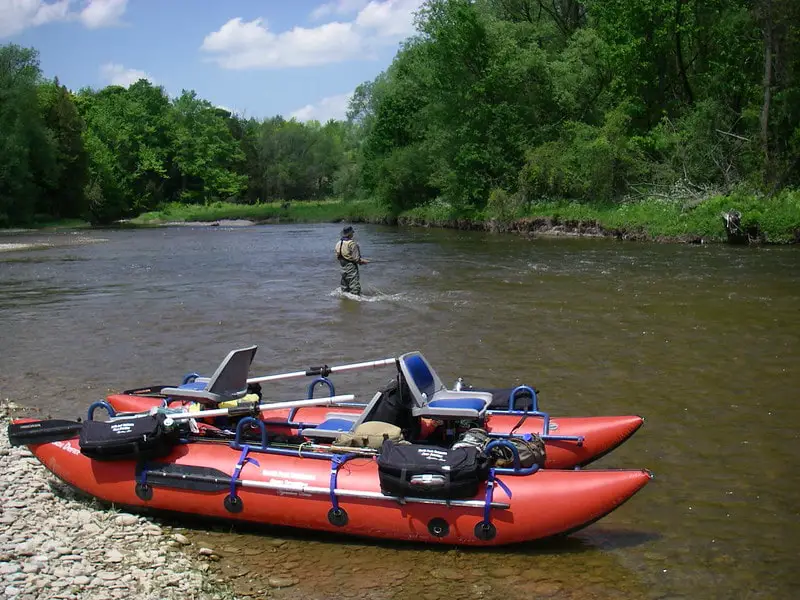 Medium-sized rivers that range from 20 to 60 feet wide are my favorite rivers to fish. The salmon in these rivers will concentrate in predictable spots and this makes it easier to catch them. I have had days of hooking over 50 salmon on these types of rivers and these are the rivers that I recommend new anglers try to fish first.
The salmon in these larger rivers tend to feed more aggressively and are less line shy and less nervous which often makes them easier to catch.
These rivers also tend to have larger runs of salmon compared to small creeks.
All methods of fly fishing can be used in these rivers and you will often find me guiding clients using nymphing and Spey fishing the most.
Fly Fishing For Salmon In Large Rivers: Best Methods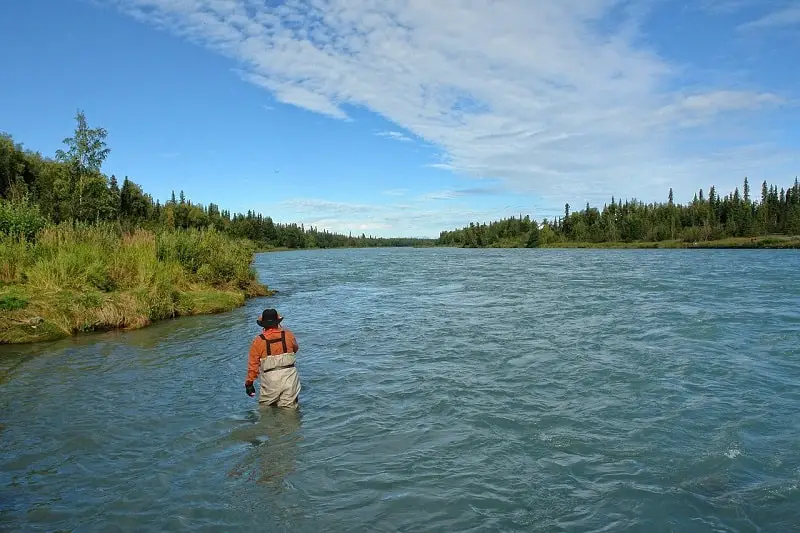 Very large rivers like what you would find on the west coast or rivers like the Niagara river that are hundreds of feet wide, fly fishing for salmon can be more of a challenge because they can spread out and it's harder to read the water.
Finding the areas that are narrow or fishing below shallow areas can be done using all fishing methods described in this article.
When fishing sections of the river like in the above picture that is almost featureless, you can often cover more water when swing flies with Spey rods or when streamer fishing.
Fly Fishing For Salmon Setup
The best fly fishing setup for salmon around the great lakes region is a 10-foot 8-weight fly rod with a fly reel that had a good drags system and a standard floating fly line. You then add a tapered leader, and tippet and fly and you have a salmon setup.
From there you will want to determine if you want to nymph fish for salmon, or streamer fish for salmon, and then set up your line accordingly. I discuss those methods below.
I get asked about which rods and reels are good for salmon which I discuss below.
Salmon Fly Rods
The best salmon fly rods for great lakes salmon are between 9 and 10.5 feet long and are heavy enough to handle large fish up to 40 pounds which means that an 8-weight or 9-weight fly rod is what you need.
Some of the best fly rods for salmon are:
Jeff Blood Premium Fly Rod 10'3, 8 Weight
Designed by famous great lakes river guide Jeff Blood for steelhead fishing, this is a rod that would be perfect for both great lakes salmon and steelhead. This would be the rod that I would buy if I was looking for a new rod specifically for nymphing.
Temple Fork Outfitters LK Legacy Fly Rod – 10 foot, 8 weight
I have guides with Temple fork rods for steelhead and salmon and I have had plenty of clients come out with these rods. This is a 10 foot 8 weight rod that you could use as a salmon or steelhead rod. It sells for around $279.99 – $299.99
Douglas LRS Fly Rod – 10 foot, 8 Weight
Another rod to consider that is meant for big fish, and one for those anglers on a budget is the 10 foot 8 weight LRS. It would make a good salmon and steelhead rod and sells for around $169.00 to $199.00
Switch Fly Rods For Salmon – A Great Choice
Another option for a good great lakes salmon rod, and one that I have owned, fished with, and guided with, is the St. Croix Imperial USA Switch Fly Rod 10 foot 7 weight or 8 weight fly rod. I actually really liked this rod for steelhead and salmon fishing and only sold it because I got pro-staffed with a company.
My rod was the 11 foot 7 weight rod I liked this rod a lot because it was an 11-foot rod that made nymphing very easy, yet was still light enough to fish all day and it handled hundreds of steelhead and salmon with no issues.
I also had a switch fly line on it so that I could also swing flies for salmon and steelhead.
The other great thing about this rod is that is it made in the USA and the warrant and service From St. Croix is excellent.
Salmon Fly Rod Combo
Some anglers are going to want a complete salmon fly rod combo and one of the best salmon fly rod combo kits is the Redington Salmon Field kit or the Temple Fork Outfitters NXT Prespooled Fly Outfit.
The is a ready-to-use fully rigged salmon fly rod and reel combo suitable for big great lakes salmon and it will also work for large steelhead. Just add a fly and you could be fishing.
Redington Salmon Field kit 9, 8 Weight
Redington Salmon Field Kit Outfit is designed for salmon fishing and is one of the best salmon fishing combos available. It sells for around $389.99 for the kit – Check Best Price Now
Temple Fork Outfitters NXT Prespooled Fly Outfit – 9 foot, 8 weight
The Temple Fork Outfitters NXT Prespooled Fly Outfit is the most affordable outfits for salmon fishing.
Fenwick Eagle X Fly Outfit
For anglers on a budget, another rod and reel combo for great lakes salmon that you can find under $170.00 is the 9 foot, 8 weight Fenwick Eagle X Fly Outfit.
The Best Flies For Salmon
Many anglers are looking for the best setup for fly fishing for salmon, and that includes the best flies, but the best fly fishing setup for salmon fishing in rivers and the best flies will depend on the type of river that you fish and the type of fly fishing that you want to do.
There are 3 main methods of fly fishing for salmon that are effective and some will be more effective than others depending on the conditions of the spot you are fishing. The best methods for fly fishing for salmon are Nymph fishing, Spey fishing, and Streamer fishing and all 3 have different setups and different flies.
I will discuss the best fly fishing for salmon set up on the best flies for each method.
Best Salmon Flies
This is often the number 1 question I get from new salmon anglers or guys that I meet on the river, they all want to know what my best salmon flies are. My best salmon flies when nymphing will be different than my best salmon flies when swinging for salmon or when streamer fishing for salmon.
There are also different salmon flies that work well for Atlantic salmon than there are for Pacific Salmon.
I will discuss all the best salmon flies for each methods page, or check out the Best Flies For Salmon page.
Nymph Fishing For Salmon
Nymph fishing for salmon can often be the most productive method of fly fishing for salmon in most small to mid-sized rivers and on most rivers around the great lakes.
When nymph fishing for salmon the angler is simply drifting the nymph fly in a way that it imitates the natural movement and drift of an aquatic insect, an egg, or other known food source of the salmon.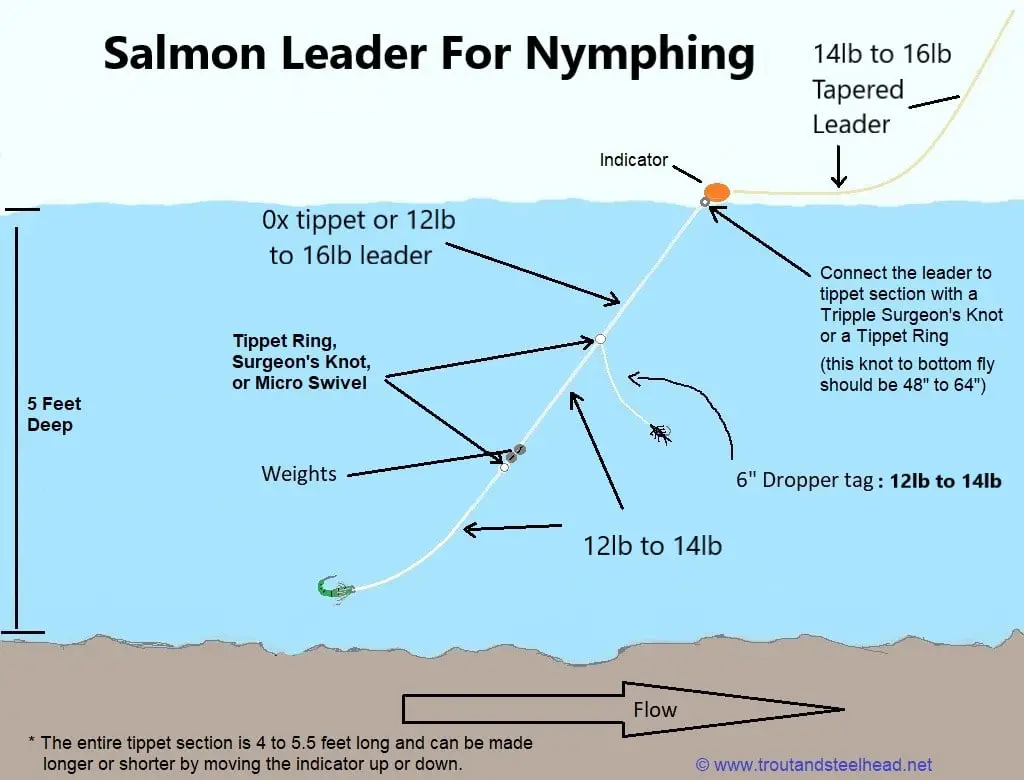 Baby salmon live on small insects and eggs while they are in the river.
When they return as adults to spawn they still recognize these as food and will eat these insects out of hunger, aggression, or instinct.
On small to medium-sized rivers it's hard to beat nymph fishing because all salmon will eat a well-presented nymph.
I nymph fish for salmon the exact same way that I nymph fish for steelhead.
For more details information, check out my page Nymphing For Salmon.
Streamer Fishing For Salmon
Not many anglers use streamers when fishing for salmon in rivers, but they should. I have seen salmon swim 20 feet across a pool to grab a well-presented streamer fly.
There are times when streamers are the only way to get the salmon to bite. At times, the salmon will have no interest in feeding, however, big male salmon can be very aggressive and will chase and bite anything that gets too close to them or in their territory and that includes streamer flies.
I use the same tactics that I use when I streamer fish for steelhead and trout.
I will discuss the best streamer flies and the most effective streamer fishing tactics on my page Streamer Fishing For Salmon.
Spey Fishing For Salmon
Spey fishing is another method that guys use when fly fishing for salmon. Spey fishing is great on mid-sized and larger rivers.
Anglers can cast long distances with Spey rods and they can cover a lot of water when they swing the fly from one side of the river to the other.
I will be covering more on Spey fishing for salmon in the future. To see more on Spey fishing for salmon check out this cool video.
Everything You Need To Salmon Fish Properly
You are going to need some gear to help you fly fish for salmon. Stuff like waders will allow you to get into the water and position you in the best spots for better presentations.
You will also need stuff like vests, packs, nets, and release tools. I discuss all the best gear and everything you need on my page River Fishing Gear: Everything You Need To Succeed.
Using River Boats For More Salmon
Salmon fishing can often mead big crowds and big crowds can make it difficult to catch the salmon.
I use river boats like pontoon boats or fishing Kayaks to get me to sections of rivers that other anglers can't get to. It's not uncommon for my clients to see hundreds of salmon on a boat trip and not see another angler.
I even use boats on salmon creeks that are barely 20 feet wide. River boats have been a great way to get me and my clients into lots of steelhead and trout too.
River boats come in sizes from 30 pounds that you can pack up and walk out with or they can fit 3 or 4 anglers and weigh hundreds of pounds.
To see my tactics and tips on how I use river boats that weigh less than 40 pounds up to large rafts and how to get to untouched water check out my page Best River Boats: Guide Tips and Tactics.
Salmon Anglers Use The Cool Fishing Gadgets
Cool River Fishing Accessories
Simms Taco Bag
It's a wet wader bag for storing your waders after a day on the water and it's a mat to stand on to keep your feet dry when getting your waders on and off.
Duffel Bags and Stream Packs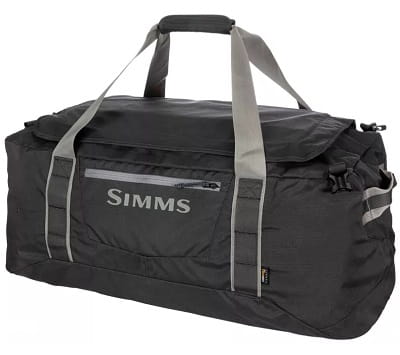 Having a dedicated bag to pack and carry your waders, vests, boots, jackets, and more is a good idea. Waterproof and mesh bags are available.
Waterworks Release Tool
Protects your flies from damage caused by forceps, This tool gets all hooks out easily. Even deep hooks come out with this tool.
Clip-on Magnifiers
When I flip these down to tie knots a lot of guys say " I need to get some of those". These are great for anyone that ties knots. Make sure they are lined up properly for the best view.
Frequently Asked Questions About Fly Fishing For Salmon
If you have a question or tip for me to answer let me know in the comments section below and I or one of my guides will answer your questions here.
Thanks and good luck on the water.
Tight Lines
Graham