6 Best Switch Rods For Steelhead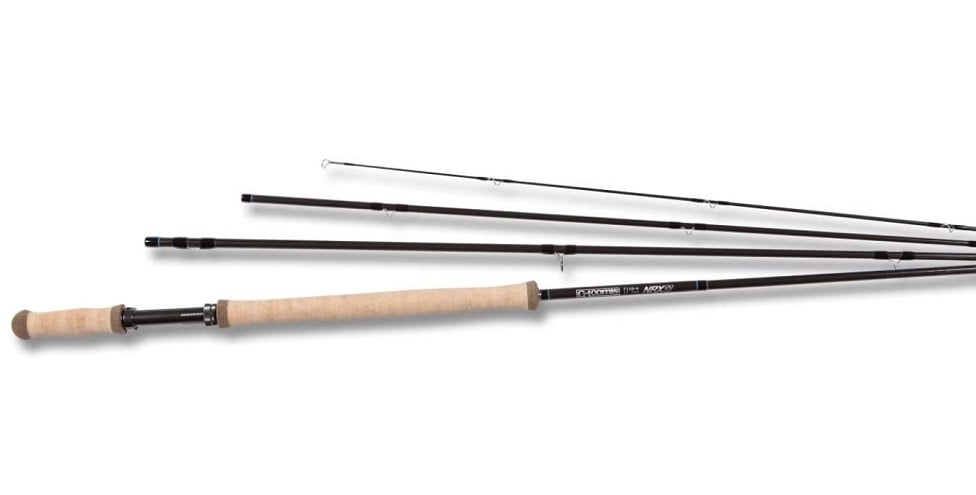 If you like to swing flies and nymph fish, switch rods for steelhead might be right for you. As a guide, I have used many switch rods. In this article, I discuss the best switch rods for steelhead, the pros and cons of switch rods, as well as proper sizing.
Switch rods for steelhead are rods that are made to allow anglers to switch from swinging flies for steelhead to nymphing for steelhead with the same rod. Switch rods are not as big and heavy as a Spey rod, and they are not as light as a nymphing rod, they are in between both.
Switch rods can be used on any steelhead river, but switch rods for steelhead also come in multiple sizes usually from 6 weight to 8 weights. It makes sense to get the right size for the type of rivers that you fish.
The Right Size Switch Rods For Steelhead
West Coast / Large Rivers: For large wide and open rivers, or for large West Coast steelhead, an 8-weight and a longer rod is recommended.
Great Lakes / Smaller Rivers: For most average sized rivers found around the Great Lakes region, a smaller 6-weight to 7-weight switch rod is ideal.
Pros And Cons Of Switch Rods For Steelhead
Many guides and anglers love their switch rods but before you buy a Switch rod, consider these things.
As a guide, I have been able to use many different brands and sizes over the years, and I still believe that having a specific rod for nymphing, and a specific rod for Spey fishing is the better choice.
My reason for this is that although Spey casting a switch rod is fun, the switch rods I have tried don't seem to do the job as well as a true Spey rod. Switch rods are just too light for heavy sink tips and big flies, especially on big rivers. They can be great for small to mid-sized rivers.
I also find that Switch rods are too heavy and bulky for nymphing. Sure they can mend a ton of line, and they cast indicators a mile, and the extra length of the 11+ foot switch rod is nice for line control, but I just find them too heavy for nymphing all day.
However, if you only want one rod to do the job of both Nymphing and Spey fishing, then the Switch rod is the best rod for the job.
With that being said, if you think you might be the kind of angler that wants a different rod for each method, then check out Best Spey Rods For Steelhead and Best Nymphing Rods For Steelhead.
And, If you don't have a suitable fly reel for your switch rod yet or spey rod, be sure you get the right reel by reading our page 5 Best Switch Rod Reels: What Guides Use And Recommend or Best Fly Reels For Steelhead.
Spey, Nymph, or Both?
This is something else you should consider when shopping Switch rods for steelhead.
If you primarily want to Spey fish, I would suggest you go with a heavier rod that will help you cast heavy lines, heavy sink tips, and big flies. And since you are going to be Spey fishing, check out our series on Spey Fishing where multiple river guides share their advice, tips, and tactics on Spey Fishing.
If you primarily want to nymph fish and are using a switch or single-hand fly lines, I prefer lighter 6 and 7-weight Spey rods as they don't feel so heavy and bulky but will still have the power to turn over indicators and lots of weights.
If you are a nymphing angler, check out our series on Nymph Fishing For Steelhead where multiple river guides share their advice, tips, and tactics on Nymph Fishing, including Euro Nymphing for steelhead, which can be done with switch rods.
The 6 Best Switch Rods For Steelhead
There are many switch rods suitable for steelhead fishing, but these are the 5 best steelhead rods that we have experience with and recommend.
Best Switch Rod For The Money
The Redington Dually II Switch Rod is the best switch rod for the money coming in at around $300.00 and being suitable for beginner to advanced anglers. Check it out!
More To Come
As new rods become available, and when I or our contributing guides have a chance to test new rods, we will update this page and let you know.
We will also be updating this page soon to cover these topics.
Best Switch Rod For Beginners
Best Switch Rod For Big Rivers
Best Switch Rod For Small to Mid-Sized Rivers
Best Economy Switch Rod
Best Mid-Range Switch Rod
Best High-End Switch Rod
Best Switch Rods For Steelhead Q&A
I hope you enjoyed this article on the Best Switch Rods For Steelhead. If you have any questions, comments, tips, or a favorite rod that you would like to share, let us know in the comments section below.
Tight Lines
Graham