5 Best Steelhead Fly Rods Recommended By The Top River Guides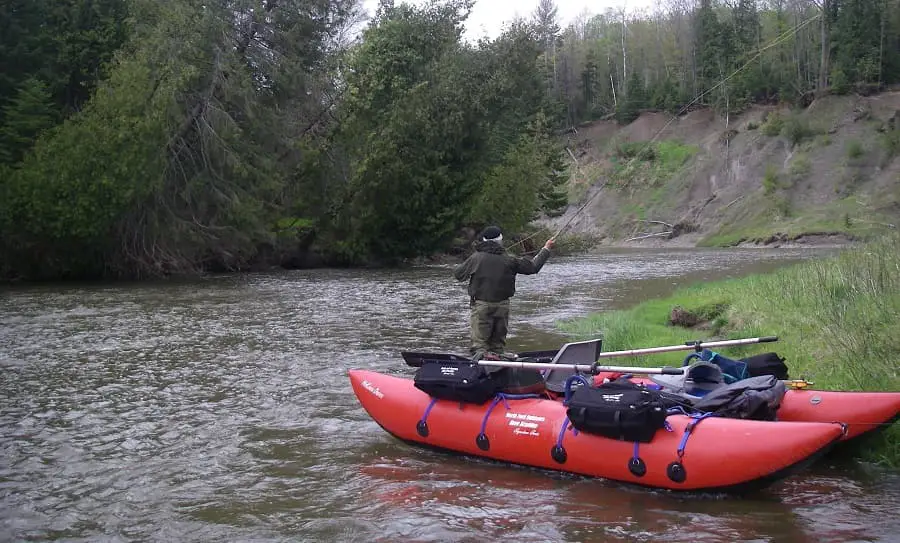 The best steelhead fly rods as recommended by top rivers guides for anglers that want to fly fish for steelhead around the great lakes region and on the west coast rivers. I will go over the best 5 fly rods from economy rods to high-end rods and which sizes are best.
The best steelhead fly rods will be 10 to 11 feet long and in the 8 weight range. The best steelhead fly rod for great lakes steelhead is a 10 foot 7 weight rod and the best rod for west coast steelhead is a 10 foot 8 weight or 9 weight rod. These are the best rods for a few reasons.
There are many reasons that there are different fly rods for great lakes steelhead and different fly rods that are best for West Coast steelhead. The method, the size of the river, and the steelhead itself are all reasons.
See below for the best rod for you.
Best Steelhead Fly Rods For Great Lakes Steelhead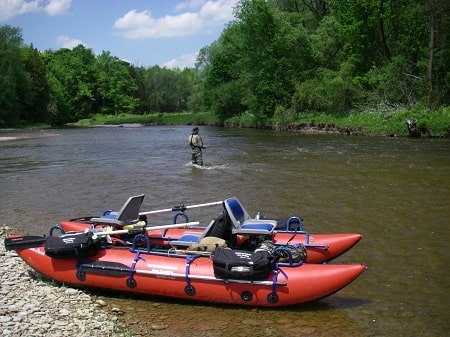 Many great lakes rivers are smaller in comparison to the much bigger west coast rivers.
I think the average great lakes river is around 40 feet wide but the smaller rivers can be 20 feet wide and the bigger ones can be over 100 feet wide.
Regardless, these smaller rivers under 60 feet do not require long casts to get your fly out to the fish, they are not as open and susceptible to heavy winds like the much bigger west coast rivers which means they don't require a heavy rod that can cast far into the wind, and these smaller rivers can often be easily walked along the bank if you need to chase a big steelhead up or down the river.
For these reasons a 10 foot 7 weight or 8 weight rod is ideal. The rod that I recommend to all of my clients and the steelhead fly rod that I use all around the great lakes region is a 10 foot, 7 weight fly rod. I have even used 10 foot and 11 foot 6 weight fly rods for many years and have caught steelhead up to 23 pounds on my 6 weight rod.
You might be thinking, why would I suggest a 6 weight fly rod, isn't that too light for great lakes steelhead? Back when I was in my teens, I wise tackle store owner that sold steelhead fly rods said to me that the heavy bulky rods are not as nice to fish after 8 hours on the water. These heavy rods can tire out your wrists, arms, and shoulders.
So I took his advice and I bought a 10 foot 6 weight fly rod that I used for 20 years and must have landed over 1000 steelhead on, and I haven't met a steelhead on a river less than 80 feet wide that I could not handle with that rod.
But there is another very important thing about steelhead fly rods that I learned from 20 years of guiding.
I have heard my clients tell me that this fly shop owner or that fly shop owner recommends an 8 weight fly rod for steelhead, but I often tell my clients that an 8 weight is too heavy for great lakes steelhead.
The reason why many anglers, including the shop owners, believe that an 8 weight fly rod is what your need for steelhead is because they are thinking "BIG FISH, BIG ROD". This is wrong!
What they are not understanding is that sure, I could horse a big steelhead in with 16-pound tippet, but when I'm nymphing, the steelhead are line shy around the great lakes and they are not going to bite my nymph if it's tied to 14, or 16-pound tippet.
To catch steelhead when nymphing, I need to use 8 or 10-pound tippet and if I do, I can't apply all the pressure and the power of that 8 weight fly rod or I'll just break the fish off. At best I'm probable only using 70% of the power and backbone of that 8 weight fly rod. So why not just downsize to a lighter 6 weight or 7 weight and make it easier on my arms and shoulders.
The other thing with an 8 weight rod, aside from the fact you are likely not going to have many fish bite your 14 or 16-pound tippet, is that if I do hook a big steelhead on 14 or 16-pound tippet and I apply too much pressure I'm risking bending out my fly hook, or ripping it out of their mouth.
That is why I prefer a lighter 10 foot 7 weight fly rod that I can use a lighter tippet and then take my time playing the steelhead more gently.
And trust me when I say that my clients, my guides, and I have proven that this size fly rod is the perfect size for great lakes steelhead.
The days when I'm standing in a pool and pulling out 50 steelhead beside other anglers that are struggling to catch a few, it's a combination of the right rod and reel, the right line and leader setup, good flies, and the skills to get a great presentation.
I discuss all of this and more on my page Fly Fishing For Steelhead: Great Lakes Style, so if you are not catching as many steelhead as you think you should be, check that page out.
Now if you are the type of fly angler that likes to nymph fish, streamer fish, and swing flies with the same rod then an 8 weight rod might be a better rod. 8 weight steelhead fly rods are better flor casting further distances, and are better in wide open areas with stronger winds.
When I fish massive rivers like the Niagara River or the St.Mary's River I prefer an 8 weight rod.
The Best Length For Great Lakes Steelhead Fly Rod
You could use an 8 foot or a 9-foot fly rod for steelhead but I find them short and a longer fly rod will help you catch more fish.
The best length for a great lakes steelhead fly rod is 10 feet long because the longer rod allows you to cast further and easier, mend easier, and the added length helps to protect lighter tippets that are often needed when steelhead fishing.
If you want a steelhead fly rod for primarily casting streamers then a 9 weight rod is a good option.
5 Best Steelhead Fly Rods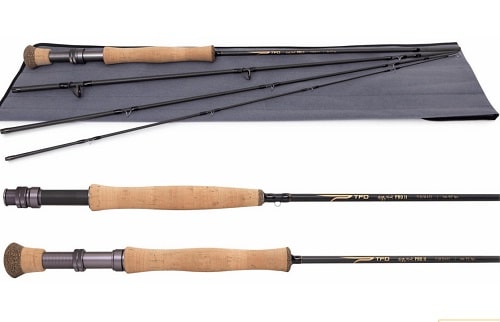 TFO Professional II Fly Rod
I have been using TFO rods for about 12 years and I have spent years guiding with them. For the price, these are the best economy steelhead fly rods.
A great rod for under $200 in some stores, and a rod that I have no problems using as a guide rod or fishing with for fun. I have always said for the price you can't beat some TFO fly rods. They often fish and feel as good as rods that would cost you $200 more.
The other great thing is I used to be a dealer of TFO rods when I owned my tackle store and their customer service was excellent.
For steelhead fishing around the great lakes, I recommend the 10 foot 7 weight TFO Professional 2 fly rod, model number TF 07 10 4 P2.
For steelhead fishing on bigger rivers or on west coast rivers, I recommend a different rod. See below.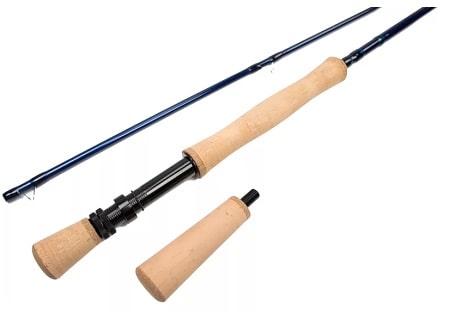 Douglas LRS Fly Rod
This is another great rod for under $200 for Great Lakes steelhead and West Coast steelhead.
This is the only rod I would recommend for both great lakes steelhead and west coast steelhead to anglers that are looking for a steelhead fly rod under $200.00. This rod is meant for bigger fish and has been a pleasure to use when fishing for steelhead.
This rod comes in sizes for big and small rivers. The sizes of this fly rod range from 10 foot 7 weight, 10 foot 8 weight, and 10 foot 9 weight.
Guides Choice Steelhead Fly Rods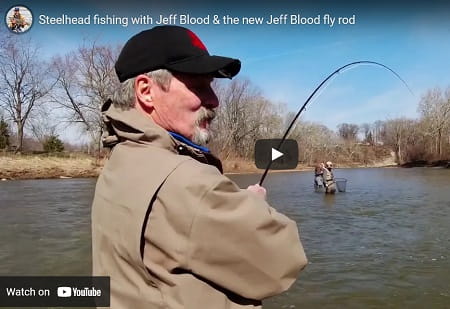 Jeff Blood Premium Fly Rod
Designed by a long-time Great lakes Steelhead guide for the purpose of steelhead fishing.
The Jeff Blood Fly Rod was built for fly fishing for Great Lakes Steelhead. Designed by a long-time steelhead river guide Jeff Blood, this rod was made to be balancing flawlessly in your hand and handle all kinds of steelhead fishing which makes this one of my top choices for a great lakes steelhead fly rod.
This premium steelhead fly rod is great for casting and presenting the fly with or without an indicator. It has just the right flex and power for good hook sets and for fighting and landing steelhead of all sizes.
I like the extra 10'3 length in the 7 weight model, but the 8 weight is pretty nice for those anglers that might want to use it for some salmon fishing in the fall or when steelhead fishing out west.
This steelhead fly rod is made of all high-quality components and is a pleasure to fish with.
St. Croix Imperial Fly Rod
I used to sell this rod in my tackle store and I used to guide with one. 10 foot 7 weight Fly Rod
The 10 foot 7 weight St Croix Imperial fly rod is a good mid-priced fly rod for fishing for great lakes steelhead. The 10 foot 8 weight should handle west coast salmon and is a good choice of rod in this price range.
I found this rod to be a bit softer than some other rods which protects light tippets and can help when flipping over indicator rigs. The 7 weight fly rod that I guided with for a couple of years handled every one of the hundreds of steelhead that me and my clients hooked.
This is one of the best steelhead fly rods in this price range.
St Croix Imperial Switch Rod
Another great steelhead rod in the St Croix Imperial rod lineup and one that I guided with a really enjoyed fishing is the St. Croix Imperial USA Switch Fly Rod. This is what i would consider a light switch rod that was fun to nymph with and to swing flies with.
The 11 foot 7 weight was a great rod on all the great lakes rivers that I guide and fish on. The added length and power in this rod made casting big indicator rigs easy and it made mending super easy.
This is a great choice for anglers that like the extra length and size for the bigger rivers and bigger fish.
The only downside to this rod is the extra weight on the arms and shoulders at the end of the day which is to be expected from a switch rod.
Orvis Helios 3F Fly Rod
A great high-end steelhead fly rod for great lakes and west coast steelhead.
Another great rod from the well known fly fishing company Orvis. I have had a dozen clients or more come out and fish with this rod and it is an excellent high-end rod for anglers that want one of the best steelhead fly rods available.
This rod in the 10 foot 7 weight or 8 weight would be great on any great lakes steelhead river.
It comes with all high-end components and is a pleasure to fish with. It makes indicator fish, mending, and fighting big steelhead so much better.
Other great steelhead fly rods are:
Got A Question About The Best Steelhead Fly Rods
There you have it, 6 great options to get you fly fishing for great lakes and west coast steelhead. If you have any questions, comments, or suggestions for steelhead fly rods let me know in the comments section below.
Tight Lines
Graham
Cool River Fishing Accessories And Sales
Simms Taco Bag
It's a wet wader bag for storing your waders after a day on the water and it's a mat to stand on to keep your feet dry when getting your waders on and off.
Duffel Bags and Stream Packs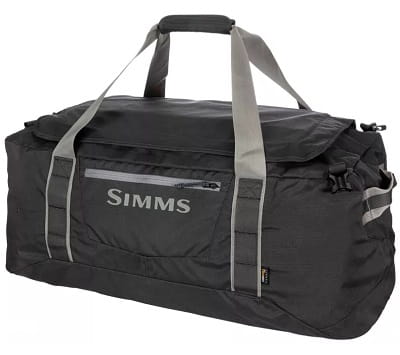 Having a dedicated bag to pack and carry your waders, vests, boots, jackets, and more is a good idea. Waterproof and mesh bags are available.
Waterworks Release Tool
Protects your flies from damage caused by forceps, This tool gets all hooks out easily. Even deep hooks come out with this tool.
Clip-on Magnifiers
When I flip these down to tie knots a lot of guys say " I need to get some of those". These are great for anyone that ties knots. Make sure they are lined up properly for the best view.