5 Best Switch Rod Reels: What Guides Use And Recommend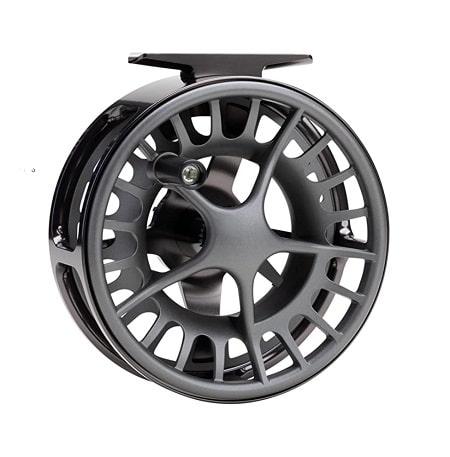 Not all fly reels make good Switch rod reels so when asked what the best switch rod reels are, I tell my clients that due to the extra length and weight of a switch rod, it's always a good idea to go two sizes bigger to balance out the setup, and they should have the right type of drag system.
I will discuss the 5 best Switch rod reels, but you should consider a few of these things before you purchase a Switch rod reel.
Switch rod reels should be sized right, they should also be large arbor to hold Scandi or thick Skagit lines and the sink tips that are used with them. Switch rod reels should also have a good smooth enclosed drag system.
Switch rods are very similar to Spey rods, and for the same reasons that I recommend these reels for switch rods, they are all good reels for Spey fishing too.
This page contains affiliate links. If you buy something through one of these links we may make a small commission which is at no cost to you. Commissions allow us to continue to bring you great content. Thank you for your support. Affiliate Policy
Before You Buy A Switch Rod Reel
The Switch rod reel you need will depend on the Switch rod you are going to put it on. Click the link for my recommended Switch Rods.
A few things you should consider before you buy a Switch rod reel are:
Size: Two Things To Consider
Switch rods are longer than a single-hand rod, and that means they can be tip heavy when paired with the same weight reel. What I mean is that normally anglers pair a 7-weight rod with a 7-weight reel, but this will not balance out a switch rod well and it can cause other issues.
It does help to have the right size reel to balance out the rod, which makes the fishing experience better because the rod just feels nicer in your hands and easier to use. But how do you balance out a switch rod?
The general rule I follow is to purchase switch rod reels that are two sizes larger than the rod's rating. So for a 7-weight switch rod, I and many river guides will choose a 9-weight reel.
The reason for this is twofold. First, Switch rods generally use lines that are about 3 times bigger than single-hand fly rods. This normally means you would pair up a 7-weight rod with a 7-weight fly line, but with a switch rod, a 10-weight fly line will make the rod load properly and cast much better.
Or, you will be using Spey or Switch lines which will be 2 to 3 sizes heavier than a single-hand fly line. These lines will be much thicker and have more volume.
Therefore, you want to be sure that the Switch Rod reel is large enough to hold short and long-head Scandi fly lines, or very thick Skagit heads, or a switch line designed for switch rods.
If you are not sure what line to use, see Switch Rod Fly Lines.
The switch rod reel also needs to be able to hold a decent amount of backing, a running line, and heavy sink tips.
Lastly, weight helps! Going up a couple of sizes means the reel will be bigger and heavier. The extra weight of heavier reels can help balance out the rod and make it less tip-heavy.
Drag System: Three Things About Drag
I will tell you this from my experience of guiding thousands of new fly anglers. For a newer fly angler, the drag is VERY IMPORTANT!
You may hear some expert Spey guys tell you to get click and pawl (no drag) reels, but, unless you are an expert at fighting big steelhead don't do it! Trust me on this!
I've seen far too many guys lose fish even with good drag systems, so with no drag system, it's even worse.
Therefore, you want to get yourself a reel with a good smooth drag system. I prefer disc-type drags.
You also want to get yourself a reel with an enclosed drag system or sealed drag. This will prevent water and ice build-up if you happen to dunk your reel. Iced-up drags are not good!
Not all fly reels are created equal! You want a reel with a strong enough drag to handle big steelhead.
I would only recommend reels with drag systems with a maximum drag of 14 pounds or drag or more.
Spey Or Nymphing, Or Both
Something else I would consider before buying a reel is whether you primarily want to Spey cast and swing flies, or do you want to mostly nymph for steelhead and like the longer Switch rods of line control and for chucking indicators and heavy weights, or do you want to do both equally.
If you primarily want to Spey fish, go with a much larger reel to hold all that thick Spey line. Click the link to see multiple river guides advice, tips, and tactics on Spey Fishing.
If you primarily want to nymph fish and are using a switch or single-hand fly lines a really big reel is not a necessity. Check out our series on Nymph Fishing For Steelhead where multiple river guides share their advice, tips, and tactics on Nymph Fishing, including Euro Nymphing for steelhead, which can be done with switch rods.
5 Best Switch Rod Reels
Redington Behemoth Fly Reel
Guides Choice Reel
This reel is said to have one of the strongest drags, and a large arbor spool suitable for big lines, which makes the Redington Behemoth Fly Reel one of the best Switch rod reels available.
The strong, smooth, and reliable drag is due to the heavy-duty carbon fiber drag.
It also comes in larger sizes to fit those larger Switch rods.
What's even better is its very affordable price at most locations which makes it one of the least expensive Switch rod reels.
Waterworks Lamson Liquid Fly Reel
Great Priced Reel
I have used this reel as a Switch rod reel, a Spey rod reel, a trout reel, and as a streamer reel, and I think it is a great reel for a reel under $200.
It comes from a reputable reel-maker that is known for some of the best fly reels on the market.
It's lightweight yet still durable, and it's a great-looking reel. I've used this reel on big steelhead and big chinook salmon.
With its large arbor spool, it can hold a lot of line, and it's built with a similar sealed conical drag system found on the Lamson high-end reels.
I found the drag startup was perfect and not sticky which is good for protecting light tippets when nymphing.
Redington Grande Fly Reel
The Redington Grande Fly reel is a big reel made for big strong fish like steelhead, and this makes it one of the best switch rod reels available.
It's durable and has a smooth but strong fully-sealed carbon fiber drag system.
The V-shaped large arbor spool design reduces line stacking and holds a lot of backing or hold think Skagit and switch lines.
Its oversized palming rim gives you more line control. This is a high-end reel with a reasonable price tag.
Orvis Hydros Fly Reel
The new and improved Orvis Hydros has one of the strongest enclosed drag systems on the market, with a large arbor spool, and a durable build which makes this one of the best Switch rod reels available.
The smooth drag has zero start-up inertia to protect light tippets when nymphing or when a steelhead grabs your swinging fly.
I have used this reel and have had many clients catch big steelhead with it so I know it's perfect as a Switch rod reel.
Waterworks Lamson Remix HD Fly Reel
Best For The Money
If you want a slightly better, more heavy-duty alternative to the Lamson Liquid reel, and a reel that is used by a lot of Switch and Spey rod anglers and guides, check out the Lamson Remix HD Fly Reel
This is a heavy-duty version of the Remix with a full cage design and a strong, smooth, sealed conical drag system.
This reel will balance out Switch rods better than many of the Ultra lightweight reels on the market.
It also has a harder, brighter finish for more durability.
Switch Rod Reels Q&A
That concludes our article on the best Switch rod reels, but we will update this annually, or as we get to try out new switch reels.
If you have a question, or comment, or would like to share your favorite Switch rod reel, let us know in the comments sections below.
Tight Lines,
Graham