12 Best Fly Boxes Of 2023: Guide Tested and Approved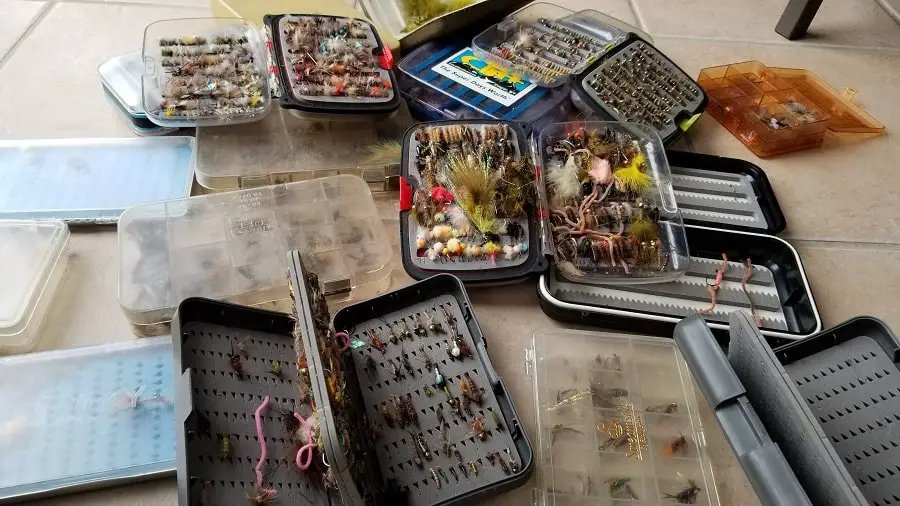 The Best Fly Boxes on the Market (2023 Buyer's Guide) – Into Fly Fishing
As a guide and fly angler of 37 years, I have determined what features the best fly boxes must have to make them genuinely great boxes for holding, protecting, and organizing flies. I'll share my experiences and ideas with you here.
Good fly boxes help you organize your nymphs, streamers, dry flies, and other flies in a compact and organized way so they are portable and accessible while fly fishing. Features like individual slots that securely hold your flies, a secure seal that keeps out water, good hinges and closures, and the right size box are important.
What To Consider When Buying The Right Fly Box
I've seen clients drop boxes that popped open and seen their flies all over the ground, I've also seen boxes with hundreds of flies in them full of water after they were dropped in the river or submerged because the fisherman fell in or waded too deep.
I've seen boxes full of rusted and useless flies because water got in and the flies got wet and were then left in the box instead of removed and dried properly.
All of these things can be eliminated with the right type and size of fly box.
Out Top 3 Pick Fly Boxes
The Flies:
Some fly boxes hold hundreds of small flies or a combination of large and small ones, like streamers, nymphs, and midges, while others will be smaller and hold fewer.
Since some fly boxes are not very good for dry flies or streamers, I find it best to have several boxes to organize the different flies, especially if you have many flies.
Also, dry flies require a special kind of box which I'll discuss below.
Hinges and Latch Clips
Often, the first thing to go wrong on a fly box is the hinges break, or the latch clip to lock the box closed breaks. This happens much faster and more frequently on cheap boxes.
You want a closure that won't pop open should you drop your box. Hinges are often where the box will leak from first. You want a good box with good hinges.
Hook Slots And Fly Storage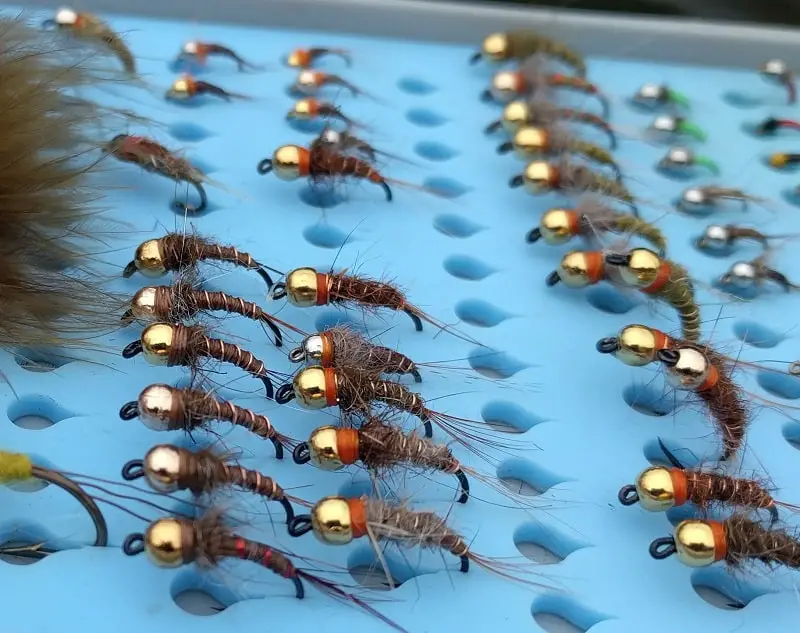 Most fly boxes made today hold flies securely in individual slots, or what some call slits, without damaging the fly. Some boxes hold flies better and more securely than others.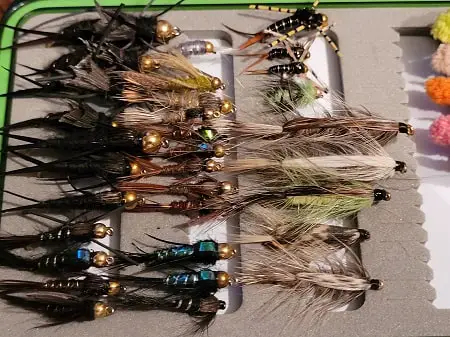 On some of the fly boxes I've tested, if I drop my vest or pack onto the ground or throw it into the back of my truck, that banging around causes some flies to dislodge inside the fly box, you don't want this.
You want boxes with slits that hold flies securely and are spaced well.
Durability
A great fly box will prevent your flies from getting crushed or lost in a vest or fly fishing pack. Soft-cover fly boxes can get crushed and damage your flies, and some cheaper fly boxes made of plastic have been known to break or crack, so stick with more durable boxes.
Accessibility and Organization
The best fly boxes for flies will keep your flies protected and organized while in storage and make them easily accessible in a vest or pack. Good fly fishing boxes are small and compact so that they can be tucked into a vest pocket easily. Unless you have a ton of flies, go with smaller boxes.
I have also found 2 or 3 smaller boxes to be better than one big box.
Essential Features of a Good Fly Box
No matter what type of fly fishing you do, some common box features will help you know what to look for when shopping for the best fly boxes.
Weight and Size:
Some fly boxes are huge, while some are very small. Fly boxes should be light, durable, and easily fit inside a vest pocket. The correct fly box for you will have enough space for the number of flies you own or are going to eventually own.
As a guide with many flies, some of my boxes hold over 400 flies, but I have thousands of flies because of my career as a guide. You may only have a hundred flies, so a box half the size would be more than enough.
Secure and Organize Your Flies.
Magnetic: Magnetic closure boxes can close easily but in my experience, magnetic closures can pop open on impact if dropped, therefore I don't recommend them.
Foam Or Silicon: Most fly boxes use foam or silicone inserts with slits in them for anchoring your flies. The slits keep the flies organized and in place.
See-Through Lid: A see-through lid on the fly fishing box will help you to see your flies before you open the box. This is great if you have multiple boxes of the exact shape and size.
Why Waterproof Fly Boxes Are The Best
I highly recommend a waterproof fly box, and I pretty much exclusively use waterproof boxes now. The reason is simple.
A waterproof fly box keeps your flies and streamers dry if you fall into the river, drop your box, or wade too deep. In the past, I and others have submerged a non-waterproof fly box which quickly fills with water, and even if you open it a let it dry, if you do not take all your flies out, the hooks can rust in the slots and ruin all your flies.
Taking out 300 or 400 flies is a pain in the butt, especially since you have to put them all back in. But having 300 to 400 flies rust and become useless is far worse because then you need to tie a crap-load of flies, or you need to spend a lot of money to replace them.
Even getting caught out in heavy rains, water can seep into a non-waterproof box.
2 Best Fly Boxes On The Market
After years of experimenting with many boxes, I have a favorite. Now this may not be everyone's favorite, but these two boxes have all the things I need to organize and protect my flies.
I also have flies for steelhead, flies for salmon, and flies for trout and I keep then in separate boxes or one on one side and one on the other.
1. Orvis Double-Sided Fly Box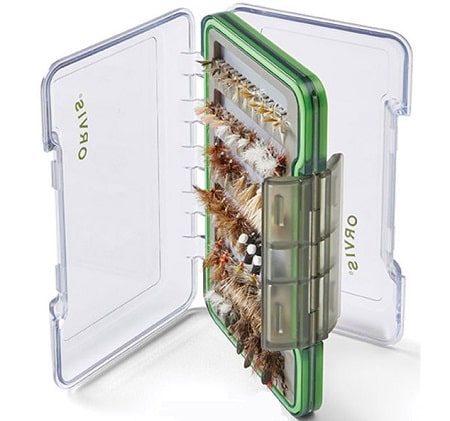 The Orvis Double-Sided Fly Box is one of my favorite fly boxes and although it doesn't officially say it's waterproof I've put it under water for a prolonged period of time and it is waterproof.
The Orvis box features micro-slit foam that securely holds your flies in place.
The clear shell allows you to easily view the contents without the need to open it.
With a strong closure, this box ensures a tight seal to keep moisture out and prevent any accidental openings during travel.
The convenience of its two-sided design allows easy access from both sides.
It comes in 3 sizes holding 160 in the small box, 204 in the medium-size box, and 378 in the large box.
Small Box – 5 inches long x 3 3/4 inch wide and 1.5 inches deep.
Medium Box – 6.25 inches long x 3 .25 inches wide and 1.5 inches deep.
Large Box 7 3/4 inches long x 4.5 inches wide, and 1 and 5/8 in deep
2. FishUSA Dual-Sided Fly Box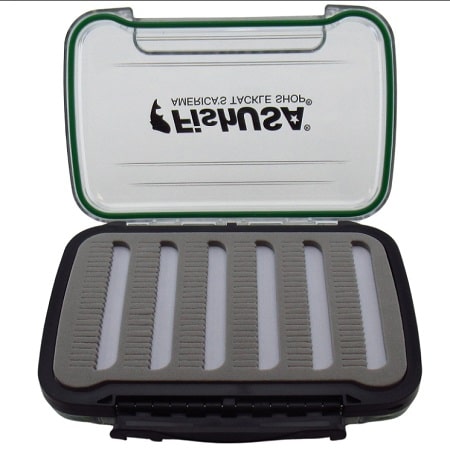 The FishUSA Dual Sided Fly Box is fully waterproof, holds 160 to 288 flies, and is almost half the price of other similar boxes.
This waterproof sealed box comes in two sizes and features clear-as-glass plastic lids for easy viewing.
The FishUSA Dual-Sided Fly box boasts rounded corners, and it comes with a high-density slit foam so your flies stay right where you placed them.
Available in two sizes, the small size measures 4 1/4 inches in length, 3 inches in width, and 1 1/2 inches in depth, holding up to 160 flies. The large size measures 6 3/4 inches in length, 4 1/4 inches in width, and 1 7/8 inches in depth, accommodating up to 288 flies.
The deep trench between roes also makes this a good box for dry flies.
Most Reviewed and Recommended Fly Boxes
These are the boxes most reviewed by other websites and recommended by websites and anglers.
3. Tacky Original Fly Box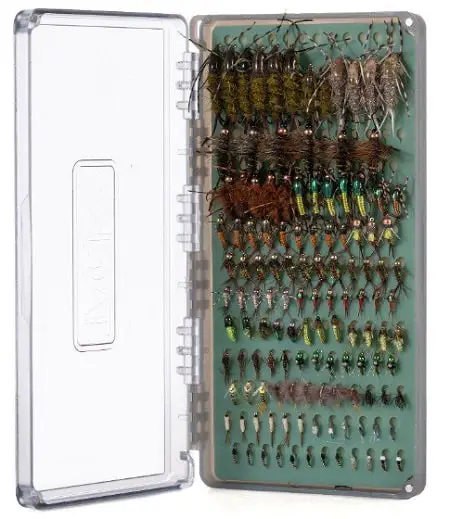 Another guide gave me a free Tacky Original fly box, and immediately, I really liked this unique fly box because of the look, how thin it is, and how well the flies hold in their patented slit system.
The Original Tacky is considered the best box by many, it's a do-everything box for flies, streamers, and just about any other presentation you might want to toss around with your favorite fly rod.
The single sided box measures 8 inches tall by 4 inches wide and is a slim box at an inch thick, and holds up to 168 flies.
What makes this box unique from other boxes is the silicon anchoring system which doesn't hold water like other foam insert boxes. It also holds flies of all sizes exceptionally well.
I really like the clear top, which allows you to see what's in the box without opening it.
Downsides To The Tacky Orginal Fly Box:
This box is not good for dry flies since it doesn't have deep slots between each row.
It's only weatherproof and maybe water resistant at best, but it is NOT waterproof.
The clear lid got scratched up against other boxes and gear in my pack easily.
It uses magnets to close the see-through lid, which can open under high impact.
Best Fly Boxes For Streamers
4. Plan D Pack MAX boxes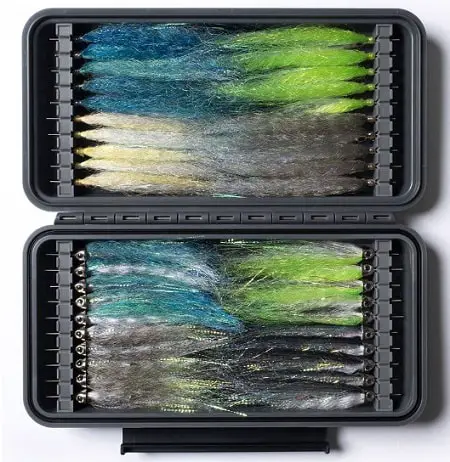 The Plan D Pack MAX boxes is designed to support large flies and articulated streamers and hold up to 40 flies with hook sizes up to 2/0.
It uses a patent-pending design to securely hold your articulated streamer flies, which is something anglers have struggled with in the past.
5. Cliff Bugger Barn Fly Box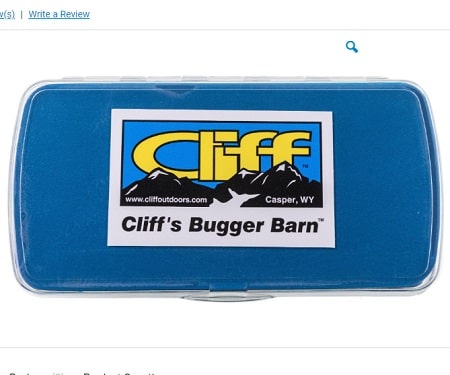 The Bugger Barn fly box is not one of those slim boxes, but it's ideal for holding streamers, saltwater patterns, and poppers in its slotted foam inserts.
The slit foam insert secures large streamers and other flies, and a transparent lid helps you to see inside so you know you have the right box. The internal dimensions are 8.75 inches tall, about 4.5 inches wide, and nearly 1.5 inches thick. That's enough space for larger streamers and other large flies.
Best Waterproof Fly Box
Aside from the FishUSA box, there are two other great fly boxes you should consider if you want a waterproof fly box.
6. Tacky Pescador MagPad Fly Box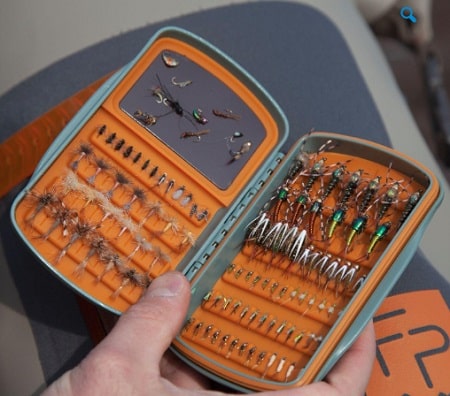 The Tacky Pescador MagPad fly box is a versatile and waterproof tacky fly box system that accommodates a wide range of flies and the reason I love this box is the patented silicon slit system with the magnetic pad to dry out or separate the flies you have already tried.
It is one of the best all-around fly boxes that will hold all types of flies, including dry flies. It is ultra-durable with a strong latch and is capable of holding up to 165 flies. It's also waterproof with a silicone anchoring technology that keeps your flies in place.
The only downside to this box is it doesn't have a see-through cover.
3 Best Dry Fly Boxes
7. Aventik Aluminum Fly Box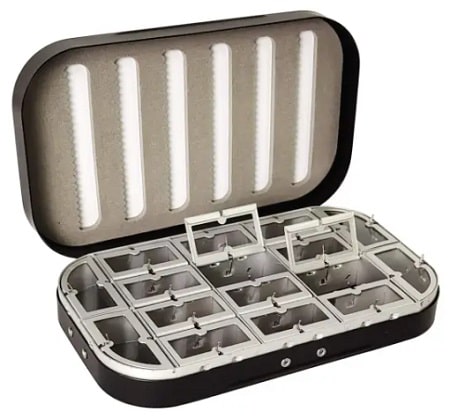 There is one main reason I would choose this as a dry fly box is simply that you can place dry flies with wide wings such as spinner, smaller flies, and odd-shaped dry flies like Griffith Knats inside the ten individual compartments with individual transparent covers that help to protect them against damage or from falling out.
The compartments are situated on one side, while the other side is more of a traditional fly box with many slots that enable you to place your flies in designated slots.
The fly box measures about 6 inches tall, 1 inch thick, and 3.5 inches wide, so it fits inside the pockets of traditional fly vests. A smaller box size also is available.
Orvis DS Fly Box: Best Dry Fly Box
The same Orvis Double Sided box (see above) is also the best fly box for dry flies for one main reason. It has deep trenches between each row, and these trenches help protect the dry fly hackle from getting bent.
FishUSA Fly Box: Best Dry Fly Box
The Fish USA Fly box (see above) also doubles as one of the best dry fly boxes also due to the deep trench between rows that protect and keep your dry fly hackle straight and intact.
2 Best Nymph Boxes
8. Tacky Original 2X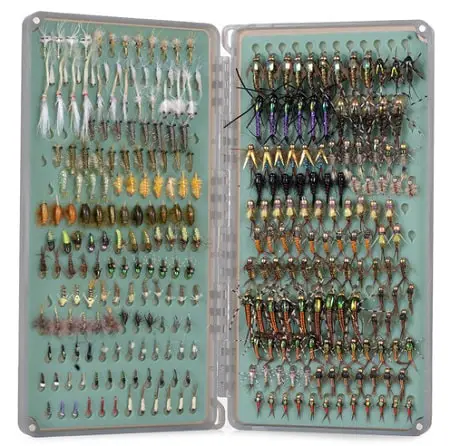 The double-sided Tacky Slit Silicone fly box is perfect for holding up to 336 nymphs and small midges.
It is one of the best-designed fly boxes with a silicone base that has a unique circular design that narrows into a small slit for each nymph and other small flies.
A magnetic closure gives you easy access to the waterproof box that fits nicely in fly fishing vest pockets while measuring 8 inches tall by 4 inches wide by 1 inch thick.
9. Umpqua UPG Sili Waterproof Essential Fly Box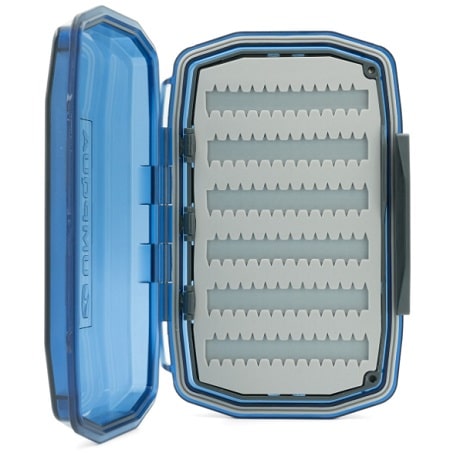 The slim single-sided and double-sided waterproof fly boxes are similar to the Tack X2 with silicone slits, but this box also has a secure waterproof seal and closure. IPX 6.5 waterproof rating.
Three sizes to choose from
Magnetic swing leaf
best for flies from size 8 to 22
Deep gutters to also protect dry flies
Best Saltwater Fly Boxes
These are three saltwater fly-carrying systems to consider.
10. Tacky Pescador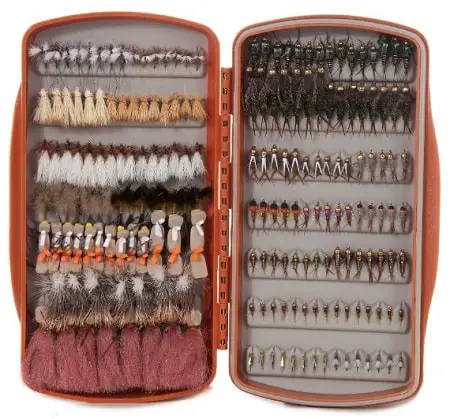 The Pescador is the best fly fishing box for saltwater and can carry a variety of saltwater flies and streamers.
The fly box is waterproof, extremely durable, and will keep up to 210 flies dry while you are fishing. The fly box is made with a durable plastic outer shell and uses a specially designed gasket to prevent water intrusion.
A non-latching closure makes it easier to access your flies, and the fly box is available in a variety of sizes to suit your needs.
11. C & F Design Grand Slam Large Waterproof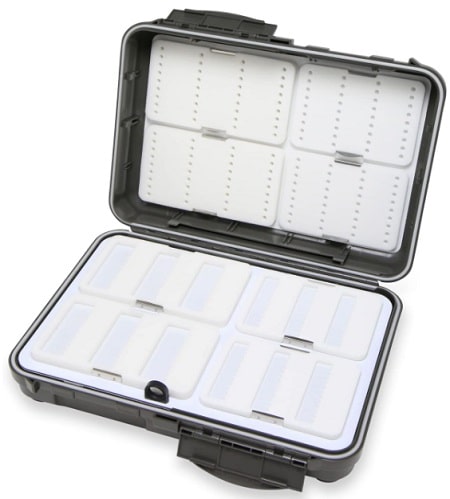 The CFGS-3555 Grand Slam Large Waterproof large box has enough room for the larger flies that anglers use to target bonefish, tarpon, and other popular saltwater species.
It holds up to 120 flies on five slit-foam strips on each side and comes in three sizes so that you always have the best box when fishing for saltwater species.
It will hold a very large fly that you might use to target bigger saltwater species. The largest Grand Slam fly box measures 7.75 inches high by 4.5 inches wide by 1.65 inches thick.
12. Umpqua Boat Box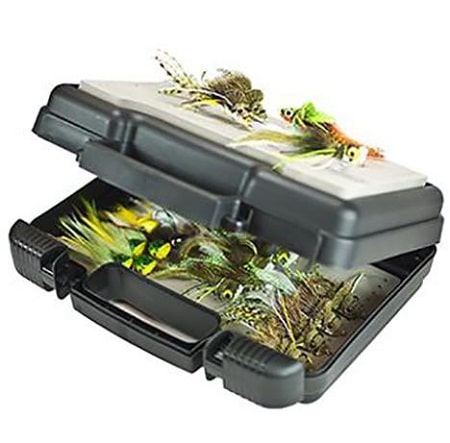 A huge box that is suitable for those extra-large saltwater flies and streamers. This is the right fly box for fishing from a boat and when you have a lot of flies.
It comes in three sizes from Baby, Untilame, to Magnum, which is a 16.5 x 12-inch box.
What Is A Fly Box and Why Do You Need One?
You need a fly box to store your files in an organized manner, protect them from damage, and prevent them from getting lost or wet.
Guide Tip: I have found quite a few fly boxes along the rivers. Only taking flies you will use that day can limit any potential loss if you drop your fly box and cannot retrieve it. Only bringing the flies you need also keeps your vest or pack lighter.
Types Of Flies Your Fly Box Can Hold
A good fly box can hold a variety of flies, but some boxes are specifically designed for holding larger ones, while others might be a better fit for dry flies, nymphs, and tiny midges. If you are a beginner, an all-purpose fly box should be plenty.
Streamer Flies and Large Flies: A larger box can hold big flies, like some of my favorite four inch streamers, worm flies, and even wet flies, for saltwater fishing. These are often called streamer boxes.
Dry Flies: Dry flies should always be stored in boxes with a deep trench between flies. This deep trench prevents the hackle from getting bent or crushed. The hackle keeps the flies floating high, and you want the hackles pointy, not bent.
Best Fly Boxes Q&A
There are a lot of so-called best fly boxes, and these are the ones I have used and like. If you have a question or want to share your favorite box, let us know in the comments section below.
Tight Lines
Graham