13 Best New York Steelhead Rivers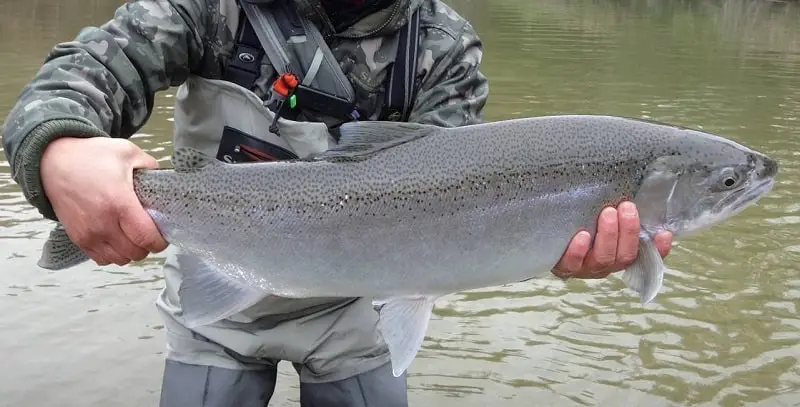 New York Steelhead Rivers are some of the most sought-after locations for fishing steelhead and this article will help you learn all about the best New York steelhead rivers and how to fish them more effectively. The information and tips for fishing these New York steelhead rivers are provided by river local river guides and guides that fish the area.
Some of the best New York steelhead rivers include the Salmon River located in eastern upstate NY, the Oswego River, the Niagara River which some say is the best steelhead river in the great lakes region, and the Cattaraugus Creek which is the best western NY steelhead river.
Updated: 2 new bonus rivers added
New York Steelhead Rivers
New York is home to the best Steelhead runs because many New York steelhead rivers are heavily stocked and also have natural reproduction.
Since Steelhead are a migratory species, they can be found in any of the twelve New York Steelhead Rivers discussed on this page. 
After spending their adult lives in Lake Ontario where they grow big and strong very quickly and the large adult steelhead will make their way into New York Steelhead Rivers in the fall, and they can stay in the rivers until May.
After they spawn and the river becomes too warm, the Steelhead prefer to move back to freshwater and the forage of Lake Ontario.
Pulaski New York is the most preferred location for Steelhead fishing if the number of public access it has for anglers is anything to go by.
New York Steelhead Rivers provide anglers with the rare opportunity to test their steelhead fishing skills on some New York steelhead rivers that receive tens of thousands of steelhead. New York isn't short of trophy steelhead. 
A fishing expedition to any NY Steelhead Rivers can be a challenging and exciting experience at all levels. Perhaps this explains why these New York water bodies attract so many anglers and beginners.
Indeed, the New York Steelhead Rivers provide refuge to possibly millions of Steelhead, an aspect that helps to create a fantastic fishing experience. 
Even though New York has plenty of Steelhead Rivers, some are more productive than others and those are the ones we will discuss in this article.
Best Times To Fish New York Steelhead Rivers
New York has the potential to have steelhead in the rivers 12 months of the year. While most steelhead rivers start seeing runs of steelhead showing up in September, some rivers like the Salmon river might have some summer run steelhead known as a Skamania which can start to run the river in June.
When most rivers start to get too warm and most steelhead have left the river by Mid-May, the Niagara River anglers and guides can still be catching steelhead in June.
There are times when the steelhead are thick in most New York Streelhead rivers and other times when there are not many around. knowing when the peak runs occur and what triggers them to come into the river is important to know.
I discuss that and more on my page Great Lakes Steelhead Fishing. I also discuss the best methods for river fishing steelhead and the best baits on that page.
Steelhead fishing often occurs during the cold months between October and April and the best fishing can be late fall to early spring.
As anglers begin to frequent New York's Great Lakes tributaries, I advised them to put on clothing that will keep them warm and dry. You can find good information on cold weather fishing tips on my page Fishing In The Winter – Stay Warm With These 10 Tips
12 Best New York Steelhead Rivers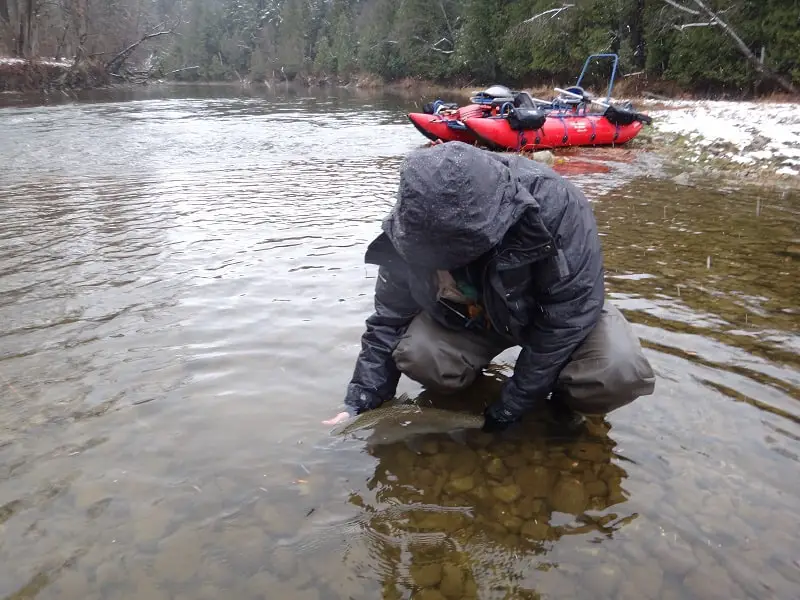 New York is home to some of the most beautiful steelhead rivers, and they include: 
Salmon River
Without a doubt, the Salmon River is the most popular tributary in upstate New York. This river empties into Lake Ontario. While it is not the longest waterway, it stretches 44 miles long and holds a ton of Steelhead in the lower half below the dam. Often, the steelhead are 5 to 8 pounds but some can be as big as 20lb. 
If you want to experience the best steelhead action with fewer crowds it is recommended to wait until the salmon runs are over which occurs around early November. Late November to late February sees the least crowds with some fantastic steelhead fishing available.
FYI, the salmon fishing on the salmon river in September and October can be some of the best anywhere in the great lakes region and if catching over 20 salmon over 20 pounds in one day sounds like something you would like to try, check out my page Salmon Fishing On The Salmon River Coming Soon – Spring 2023.
Even though the colder months are excellent steelhead fishing, you can still expect a decent steelhead fishing expedition throughout the entire season which is September to May, but this is all dependent on whether the fish turn on as well as river conditions.
Some of the most popular hot spots along the Salmon River include Altmar, the Schoolhouse Pool, and the Douglaston Salmon. If you've never fished on this river, you should consider trying out some of these popular hot spots. 
To ensure that the river does not run out of Steelhead, Salmon River veterans spearheaded a move to cut the daily limit on Steelhead from three to just one. This limit appears to have improved fishing slightly because every angler has a chance of getting hold of a steelhead.
For more information on fishing the Salmon River Check out our page Salmon River Steelhead Fishing
South Sandy and North Sandy Creeks
Just east of the Salmon River is South Sandy Creek and North Sandy Creek. Both creeks get good runs of steelhead and salmon and I enjoy fishing these creeks when the Salmon River is flowing too high or is very busy.
South Sandy creek is my favorite and is great with a fly rod or float rods. It has lots of pockets, pools and fast runs. If you are looking for a backup river with less fishing pressure, be sure to check out my page South Sandy Creek Fishing.
See my article on North Sandy Creek Steelhead Fishing
Niagara River 
Niagara River is another Lake Ontario Tributary and the biggest of the New York steelhead rivers. This river is famed for its huge steelhead runs combined with incidental catches of Salmon, brown trout, lake trout, and even bass, walleye, pike, and musky.
Even a sturgeon over 5 feet long or a giant carp is not out of the question while steelhead fishing on the Niagara River.
The steelhead start entering the river in September and can be caught sometimes as late as June. Peak season is November and December, and March and April.
The average steelhead on the Niagara river will be 5 to 7 pounds but 20 pound steelhead are possible. The abundance of steelhead in the Niagara River makes this river stand out from the rest and it is arguable the best steelhead river in the Great Lakes Region.
Due to the large numbers of steelhead, the Niagara River is often a perfect pick for experienced anglers or beginners. 
Assuming that the steelhead are feeding, you're likely to catch 5 to 10 fish or more while wading the banks of the Niagara River or from a boat.
If you're a beginner, you should know that the Niagara River is a very large deep river with swift currents and it can be deadly if you fall in. I recommend having a good professional river guide by your side to show you the best methods for fishing the Niagara River. With a competent guide, you're likely to experience some of Niagara River's best steelhead action. 
The best steelhead fishing experience occurs at Niagara River's lower stretch below the falls. Most fish gather at the lower stretch during winter, from Devil's Hole to Niagara Bar.
The most productive and well-known spots on the Niagara River include Fort Niagara State Park, Artpark, and Lewiston Landing Waterfront Park. 
Oswego River 
Oswego is top among the New York Steelhead Rivers that will give you the best fishing experience. Unlike most other rivers, the Oswego River has the longest steelhead season which runs from early October to Mid-May.
Like many NY Steelhead Rivers, the Oswego River empties on the southern shoreline of Lake Ontario. 
It is said to get around 20,000 steelhead running the river each year which provides anglers with the most unique and unforgettable fishing experience.
In addition, Oswego's steelhead can only make it up to the first dam in the town of Oswego which is less them a mile of river, so even though the Oswego River is a couple of hundred feet wide, imagine 20,000 steelhead concentrated in such a small area.
The only downside of the Oswego River is that its strong currents and varying water levels can at times make fishing a somewhat tricky experience but the good news is there are other smaller rivers close by that should be fishable if the Oswego River is too high. 
Genesee River 
When sampling New York Steelhead Rivers, you can't afford to miss trying the Genesee River. Besides being a Lake Ontario tributary, the Genesee River is also known for its steelhead runs and large salmon runs.  
You will not find the same amount of fish in the Genesee River compared to other NY steelhead rivers but it still offers plenty of fishing opportunities for steelhead anglers. 
Despite its 157 mile stretch, all steelhead fishing can only be done on the Lower river, up to Rochester. But, contrary to perception, the lower stretch provides anglers with plenty of good spots for wading and shoreline fishing. 
Chautauqua Creek
Considered a special tributary flowing into Lake Erie, the Chautauqua Creek is one of the best steelhead tributaries of Lake Erie. Even though it stretches only 15 miles long, the creek is a favorite steelhead destination for many anglers. 
It's a smaller river compared to the ones mentioned already and that concentrates large numbers of steelhead which makes it easy for anglers to catch them.
The other reason anglers love this river stems from the Chautauqua Creek topping the New York Steelhead Rivers with the best catch rate. The Chautauqua Creek boasts an incredible 1.3 to 1.4 steelhead caught per hour rate. It's not uncommon to catch 20 plus steelhead after the big runs in the fall and spring.
Located in the southwestern parts of New York, the Chautauqua creek runs through the town of Westfield before it empties into Lake Erie.
The majority of the fish in the Chautauqua creek are caught on flies and spawn bags but there are many other baits and even lures anglers can try. The Chautauqua Creek Steelhead often weighs 5 and 8 pounds.  
Since Chautauqua Creek is known to ice over fairly early, fall and spring are the most appropriate times to target steelhead. 
Cattaraugus Creek
A popular spot for fly fishers and like the best New York steelhead river flowing into Lake Erie, the Cattaraugus Creek provides anglers with many miles of public access and fantastic fishing.
This steelhead river gets active starting in October and can fish well into late spring. One of the downsides to fishing steelhead on Cattaraugus Creek is that it tends to get dirty fast and stay dirty for much longer than all other New York steelhead rivers. the good thing is that there are smaller tributaries to Cattaraugus Creek that clear fast and can be fished for steelhead and trout.
As a beginner, you may find it easy fishing in the smaller streams, such as Coon Brook, Clear Creek, Derby Brook, and Waterman Brook.
Furthermore, this tributary is the ideal place for trolling and boat fishing near the moth, especially at the height of August until September and again in March and April.
Other Great New York Steelhead Rivers 
Some of the other New York Steelhead Rivers include: 
South Sandy Creek,
North Sandy Creek,
Eighteen Mile Creek 
Canadaway Creek 
Skinner Creek
South Sandy Creek
Black River
Oak Orchard Creek