Oak Orchard Steelhead Fishing: A Complete Guide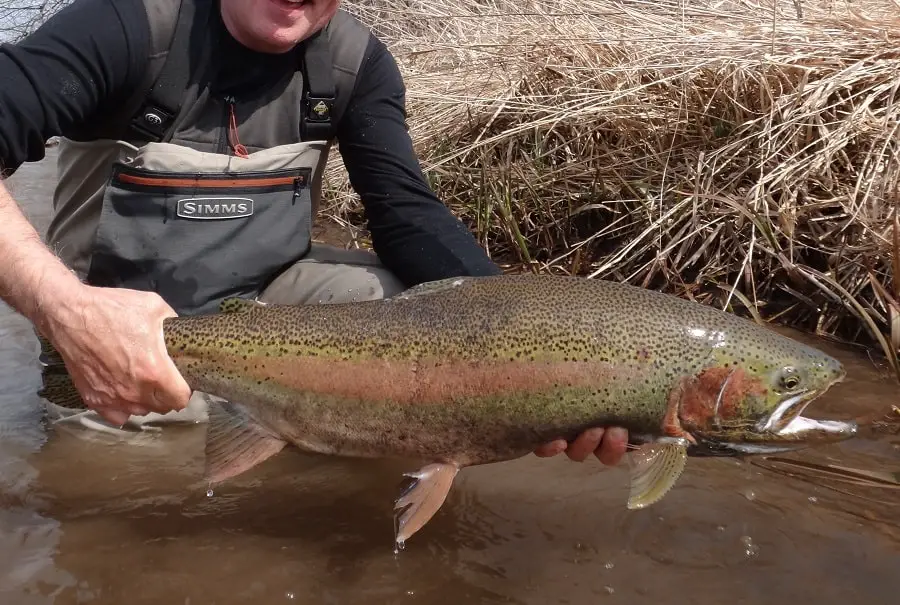 Oak Orchard steelhead fishing can be excellent if you know when to fish, where to fish, and how to fish the river.
Oak Orchard Creek's proximity to Lake Ontario and its large steelhead runs allow anglers an excellent fishing experience. The river receives more than 21,000 yearling steelhead every year so returning adult runs offer high chances of catching big steelhead, and the run can go for days. 
Read on to learn more about what you may need to know about Oak Orchard Steelhead fishing.
About Oak Orchard River
Oak Orchard Creek is a medium-sized stream originating in Genesee County, Oak Orchard Creek starts at the Oak Orchard swamps and flows down, passing through Orleans County into Lake Ontario.    
The river is one of the most famous of all the New York tributaries and enters the lake at Point Breeze in Orleans County.
Migratory fish, such as steelhead, multiple salmon species, and large lake-run brown trout, access about four miles on the lower part of the river before the Waterport dam. The dam halts their migration.
About one mile below the Waterport dam, the river contains a gravel bottom coupled with a sufficient current that offers great fishing conditions. The current slows remarkably in the lower three miles of the river, so stillwater fishing methods, casting lures, or fishing from a canoe or small boat is best.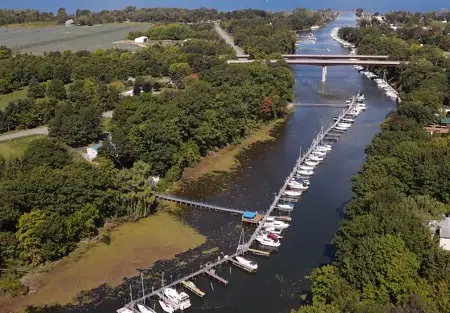 River fishing guides and anglers find Oak Orchard steelhead fishing is at its best later in the fall and in spring, but winter fishing can also be good.
Big fish can be caught anywhere below the dam but more guys fish close to the dam than the lower and mid sections.
Oak Orchard River Steelhead Fishing Methods
The Oak Orchard is a typical Great Lakes steelhead stream with numerous runs, pools, and riffles. It can support great fishing experiences with various fishing techniques like fly fishing, casting lures, and float fishing.  
A combination of the best methods, baits, finding the right locations, and timing the runs of steelhead all lead to more fish.
Oak Orchard River has various types of big fish such as Coho Salmon, steelhead trout, brown trout, Atlantic salmon, and chinook salmon and all of these fish can be in the same pools at the same time, and they can all be caught using the same methods, same baits, and same lures.
Oak Orchard River is popular for its attractive greenish water and manageable water flows, offering ideal conditions for steelhead when other river are higher and muddy.
Anglers should consider sticking with low and slow fishing methods, especially during winter, for best outcomes. 
If you read on, I'll discuss these fishing methods below: 
Fly Fishing for Oak Orchard River Steelhead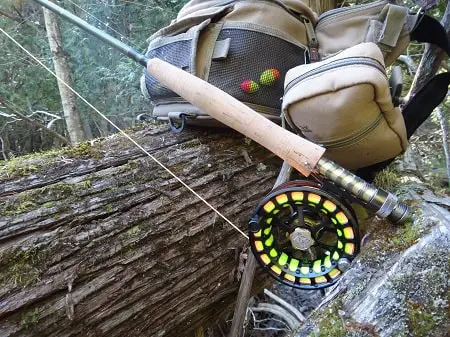 Fly fishing is one of the most effective and popular river fishing methods, especially among river guides and instructors. 
Personally, I prefer the fly fishing method when targeting steelhead on Oak Orchard River.
I use a typical nymphing indicator methods because of its effectiveness in catching steelhead in deeper and slower water.
Anglers can also use Spey fishing methods and swing flies for steelhead trout.
There are various great steelhead flies effective on Oak Orchard River fishing. Flies such as stonefly nymphs, egg patterns, pheasant tail nymphs, and worm patterns can make excellent fly choices for anglers.
Other great flies for steelhead fishing include the Prince Nymph, the Woolly Bugger, Egg Sucking Leech, and the San Juan worm.
For steelhead and browns, choose a fly rod from 8 to 10 feet. Most guys say 10 feet is best for nymph fishing. And a 7-weight to 8-weight rod is best.
Match it with a large arbor fly reel and a floating line.
Float Fishing for Oak Orchard River Steelhead
Float fishing using a Centerpin reel or spinning reel is another popular and effective fishing method on Oak Orchard steelhead fishing. Float fishing allows the angler to drift a bait in the strike zone down river, covering lots of water in one drift.
Great baits for Oak Orchard are beads, worms, flies, and spawn bags.
Oak Orchard Creek Steelhead Fishing with Lures
If you like casting lures to catch steelhead, then Oak Orchard River is a great destination for you. Lures such as spoons, crankbaits, and spinners in different colors and sizes can work well in catching steelhead on Oak Orchard River. 
Find open water sections away from other anglers or fish the slower lower river that receive less fishing pressure.
Anglers should learn the art of changing the sizes and colors of their lures depending on the conditions of the River. You should also vary your presentation methods depending on the water conditions, , meaning fish slower with dirty or higher water and fish faster with clear water.
Oak Orchard Fishing Access
You can access this 4-mile stretch below the dam if you park at various points along the main road and follow the Niagara Mohawk Road leading you to Oak Orchard Creek. See the MAP HERE.
Orleans Co. and Oak Orchard Marine Parks provide enough parking points and public access areas.
Oak Orchard has various fishing points. The river's meeting point with Marsh Creek is one of the best fishing spots, commonly known as "the Bridges." Notably, the Lake Ontario tributary guidelines govern the operations along the Oak Orchard River.
Note: Access points and fishing regulations may change.
When fishing in Oak Orchard River, the steelhead can be spread out. To maximize your chances of running into more steelhead, stick to areas closer to Lake Ontario at dawn and dusk for fresh run steelhead and if those locations are not producing fish, try further up the river. 
However, it would be best to prepare yourself for crowds at marinas and state parks which can get a lot of fishing pressure especially when the runs are strong.
The river has limited access at its mouth, where it meets Lake Ontario. Anglers can choose between fishing on Oak Orchard River or trying to fish Marsh Creek since both have plenty of shoreline access. Marsh Creek has less fishing pressure but still gets runs of steelhead, salmon, and brown trout. 
Access Map
If you are looking for a good fishing access map, the DEC has 3 maps sections on their website HERE.
Best Times to Fish at Oak Orchard River
Fall fishing can be fantastic, but you are more likely to find more steelhead runs during the fall after the salmon fishing is over. Some steelhead will be caught when the salmon are spawning, and this is when salmon eggs are the hot bait. It's not uncommon to be hooked into a salmon on one cast and hooked into a steelhead on the next.
Keep in mind that the river is heavily fished and when the main areas are packed with anglers when the salmon are running and spawning.
The months of late October, November, and early December are the best times for anglers to catch the most steelhead. Also, you can catch plenty of steelhead during winter when there are fewer salmon and brown trout in the river and fewer anglers. Use my winter steelhead fishing tactics for more winter steelhead.
Anglers will also catch more steelhead during spring when waters are warming and water flows increase noticeably to offer better steelhead runs. Oak Orchard Steelhead prefer to enter and move up the river under high water but the fishing is best when the river starts to drop and clear.
Big browns will move into the river with the salmon with the larger runs coming with the steelhead later in October and November. Browns can be caught all winter and in the spring in the lower river.
Stream Flow and Current Conditions
The water conditions in Oak Orchard can vary by season, with higher water in the spring and lower water in the summer and winter.
The flow can also be regulated by the dam and hydro-power generation. Generally, water flows in the hydro-power generation area are moderate to low and clear during fall, cold and low during winter, and high flows and off-color during spring.
If The Oak is too dirty, you could always try other nearby Lake Ontario tributaries like 18 Mile Creek or Sandy Creek.
Always check the conditions of the river before kicking off the trip to fish in Oak Orchard River. You can use the USGS stream gauge located near Kenyonvile in New York for an excellent indication of the river's current conditions.
Trip Planning Suggestions
Since Oak Orchard is situated just outside Albion, New York. The nearest major cities are Niagara and Rochester, with the latter boasting an airport for travelers arriving from distant locations. While Buffalo-Niagara airport is an option, it is farther away and typically entails higher costs.
For accommodations and dining options, you'll discover convenient choices in the nearby towns of Albion and Medina. Additionally, Oak Orchard offers straightforward accessibility via NY104, Route 31, and Route 98, which run both north and south.
If you prefer to stay closer to the lake or are interested in camping, consider exploring Lakeside Beach State Park.
You can also get accommodations and information on fishing conditions and get your tackle and bait at Oak Orchard Tackle and Lodge. The store and lodge is in a central location that provides easy access to the prime tributaries of Western New York. Rivers such as the Oak, Johnson Creek, Sandy Creek, Eighteen Mile Creek (Burt), Marsh Creek, Niagara River, and Genesee River.
Oak Orchard Steelhead Fishing Q&A
If you have a question or want to share some tips about Oak Orchard Steelhead Fishing, let us know in the comments section below.
Tight Lines
Graham