Trout Fishing Alaska: A Complete Guide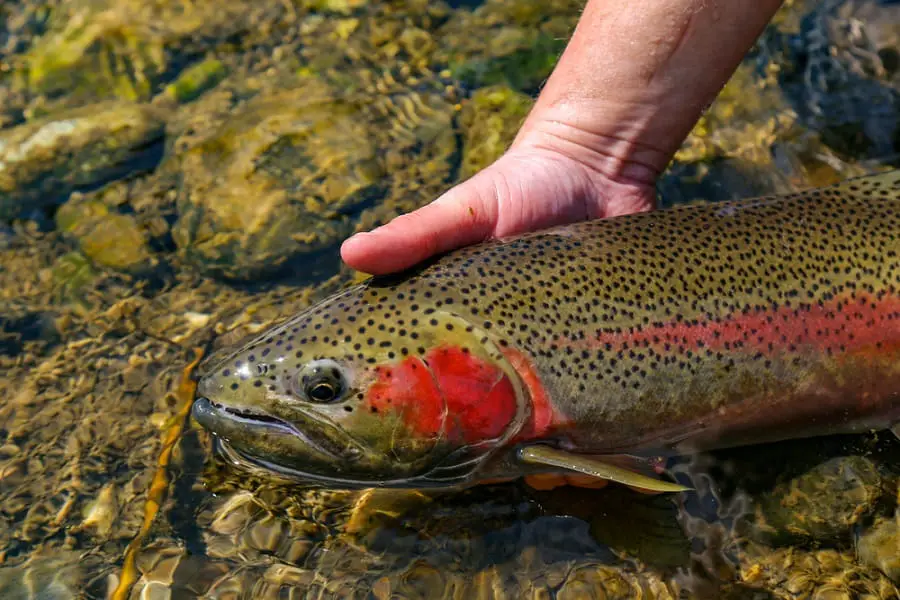 Trout fishing Alaska can be fantastic if you know where, when, and how. We provide the best tips and advice from multiple trout guides in the area and these guides reveal the areas with the best fishing, the most trout over 30 inches, where go for the really big trout that are over 20 pounds.
Trout fishing Alaska starts in early June and extends into late fall. Anglers can fish for native rainbow trout, Cutthroat Trout, and lake trout. While trout fishing, it's not uncommon to also catch Dolly Varden, Char, and salmon. Anglers can fish for trout in rivers and lakes.
Trout Fishing Alaska
Rainbow Trout are the predominant trout in Alaska. Rainbow trout fishing in Alaska is right up there with the steelhead and salmon fishing that Alaska is well known for.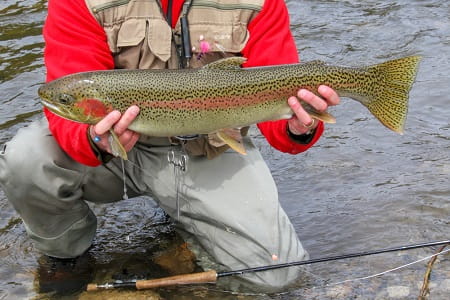 The reason rainbow trout fishing is so popular with visiting anglers and residents of Alaska is that the rainbows are big, plentiful, and can be very aggressive since they feed heavily during the shortened season.
Alaska trout have access to thousands of salmon and salmon eggs as part of their diet so they tend to grow to be large in size. For this reason, egg baits and egg patterns are good options.
Trout are located throughout Alaska's southern and central regions and the Bristol Bay rivers. The number and size of fish in this region are almost like nowhere else with rainbow trout exceeding 30 inches. The primary area is the Kenia River system.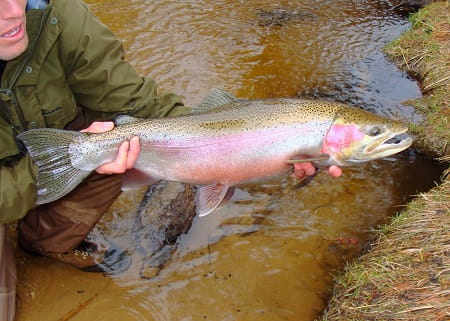 During spring, you can spot trout at the river mouth waiting for baby salmon to migrate out of the rivers.
A trout will go for a baby salmon by trapping it against the water surface, similar to how fish feed on bait balls.
This is why fly fishing is the popular method of trout fishing in this region and why streamer flies can be very productive. A good guide will know the best areas and the best baits and flies.
Alaska provides the opportunity for DIY and guided wade fishing in the smaller rivers for anyone looking for a more challenging but exciting experience.
What Types Of Trout Are In Alaska?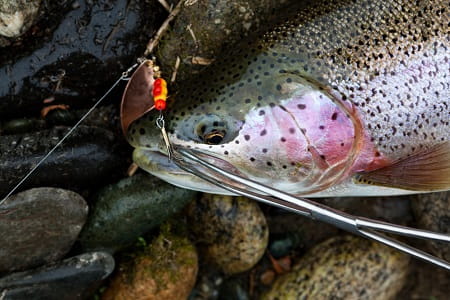 Alaska has many lakes, rivers, and streams with huge trout.
However, fishermen are yet to tap into what Alaska has to offer since it is so vast and so remote.
Most people are familiar with the Alaskan rainbow trout but not the other types of trout or cousins of the trout which can all be caught in the same areas.
Take a look at some of the different types of trout in Alaska.
Resident Rainbow Trout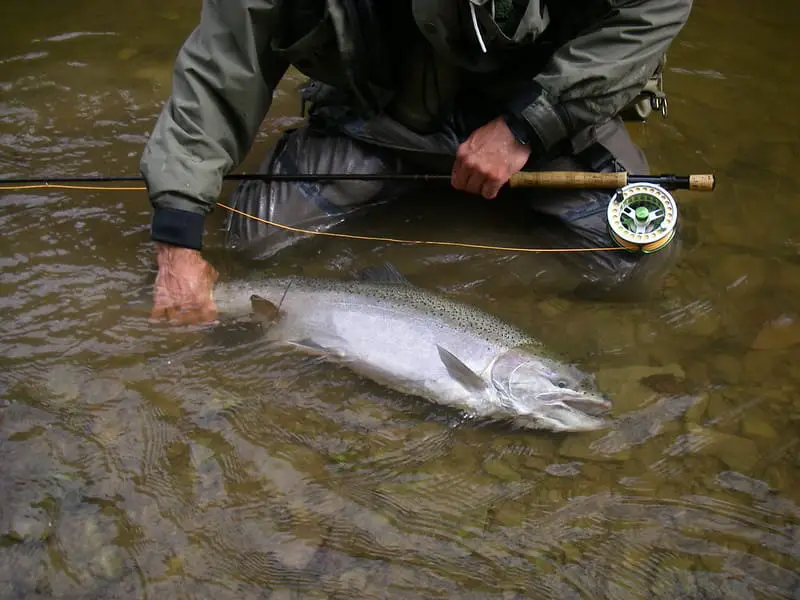 Alaska has two types of rainbow trout.
The migratory rainbow trout are known as steelhead and they are born in the river, migrate to the ocean, and then return to the river to spawn.
However, a stream rainbow trout also known as a resident rainbow trout stays in the river and remains there its entire life.
When we discuss trout we are referring to resident rainbow trout.
Rainbow trout almost resemble salmon in that they both have streamlined body shapes. However, rainbows are more vibrant, with pink and red colors on the side.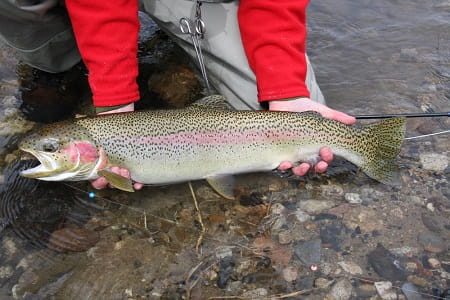 The wild rainbow trout has a dark discoloration along its back that can be olive or blue-green.
Like other species, the spectacular rainbow trout is speckled with tiny black spots on the lateral line, tail, and upper fins.
The overall shape and color of rainbow trout in Alaska are determined by sex, age, and habitat. The Alaska rainbow trout are native to the Kenai River, Lake Creek, and the Copper River. They can also be found in the river systems of the Kvichak, Togiak, and Anchor Rivers.
Steelhead Trout
Steelhead trout are also known to many as just huge rainbows that spend part of their lives in the ocean. While in the ocean they feed heavily on baitfish and they can get very big very fast.
Many anglers will do steelhead fishing in the ocean but the steelhead can often be found in rivers for 3 to 9 months of the year. Adult steelheads prefer fast running waters to reproduce.
For more on the steelhead, check out our page Steelhead Fishing Alaska.
Cutthroat Trout
Just like the name suggests, these species are more aggressive. You can find them in the Southeast or Southcentral of Alaska. Landlocked coastal cutthroats can exceed 24 inches, while sea-run fish can reach 18 inches. These species of trout are very aggressive and can hit any spinner, lure or fly.
Because they reside alongside of a large population of rainbow trout occasional hybrids known as Cutbows are possible.
Lake Trout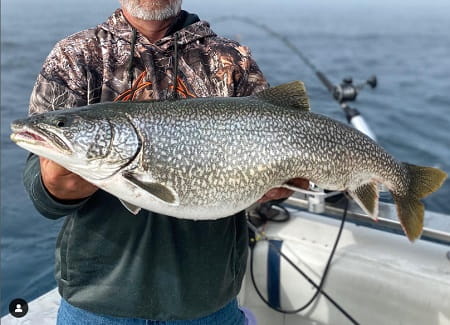 These are found in freshwater lakes from Southeast Alaska and Yukon-Kuskokwim Lowlands.
The best habitat for these species is mountainous lakes that have crystal clear waters. They are also popular in glacial lakes.
The adults feed mostly on other fish such as whitefish, salmon chub, grayling, sculpins, and stickleback. However, they can also eat zooplankton, small crustaceans, insect larvae, snails, leeches, and clams.
Alaska lake trout average 8 to 10 pounds with many 10 to 20 pounds. The record Alaska Lake Trout is 47 pounds.
Brook Trout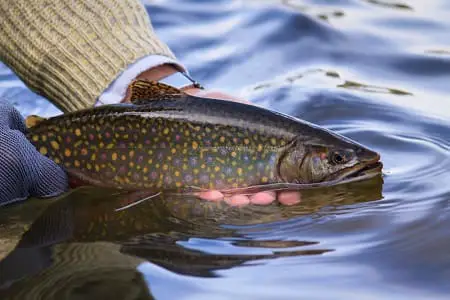 Also called brook char, they are easily distinguishable because they don't have black spots.
Instead, they have a dark green marbling on their dorsal fins and back and bluish halos along their sides. Besides that, they look like Dolly Varden.
Alaska brook trout average around 10″ to 12″ with some getting up to 14″ with the state record coming from Greem lake at 20″.
Brook trout are not native to Alaska but were introduced into rivers and streams in the southern portions of Alaska. Stocking of brook trout stopped and due to poor natural reproduction most died out.
There are some lakes where brook trout have survived and reproduced and still have fishable populations.
The lakes include:
Dorothy Lake
Perseverance Lake
Shelokum Lake
Ketchikan Lake
Crystal Lake
Grace Lake
Salmon Creek Reservoir
Emerald Lake
Deep lake
Rustabach Lake
Thimbleberry Lake
Heart Lake
Green Lake
Long Lale
Dewy Lake
Alaska Salmon
If you are fishing the coastal rivers flowing into the ocean there's a good chance you will encounter one or more of the many species of salmon that also use these rivers. Check out Alaska Salmon Fishing: A Complete Guide.
When Is Alaska Trout Fishing Best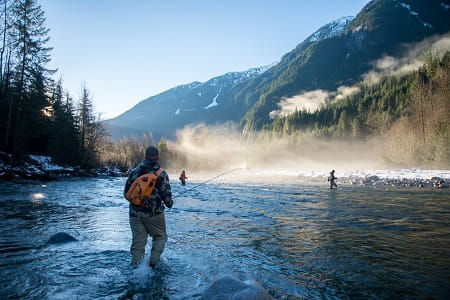 River guides and lodges start trout fishing in early June when the season starts.
Check the fishing regulations as this might change.
The best trout fishing in Alaska is usually in August and September. This is when many rivers will also have Sockey salmon, Silver salmon, char, and dolly Varden.
Is There Lake Fishing For Trout In Alaska?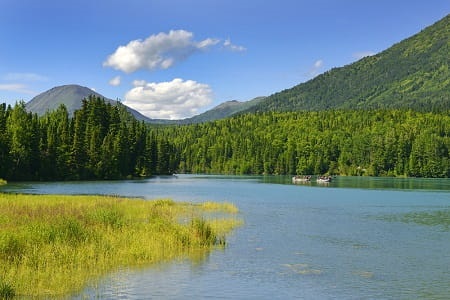 Lake fishing is very common in Alaska, considering that there are many lake systems, such as the Iliamna and Naknek lakes, with plenty of rainbow trout and other fish species like the arctic grayling and salmon.
Skilak Lake is part of the Kenai River and is popular among fly fishers. Lake Coville, or Trout Lake, is often stocked with rainbow trout and is located in a secluded area for those who don't want to run into many fishers.
Lastly, we have Kenai Lake, which is popular for rainbow trout fishing. The lake is populated with Dolly Varden and sockeye as well. Dollies and rainbows migrate from this lake to the Kenai River for summer habitat, spawning, and feeding.
Top Trout Rivers In Alaska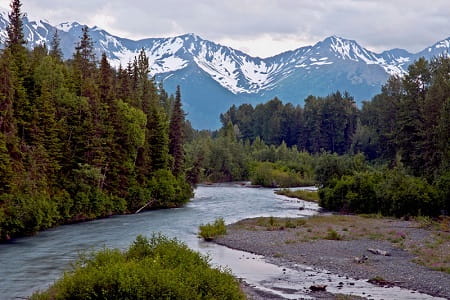 Considering that the Alaskan wilderness is covered with so much water, it's no surprise fly fishing is a common activity.
However, your fishing trip is likely to go well when you choose the top trout rivers in Alaska. Some of the famous rivers include:
Kenai River: Trout and steelhead fishing are common in this river. For the longest time, fishermen have been practicing strict catch and release here. Aside from the wild rainbow trout, you'll also find sea-run Dolly Varden in this river.
Kasilof River: The river is populated with big rainbows, Dolly Varden, king salmon, and steelhead. For the best fishing adventure, you'll need to use drift boats. People love this river as the fishery doesn't get much pressure compared to other large rivers.
Russian River: While the Russian River has plenty of trout, you'll also come across brown bears. Be aware of your surrounding as you fish and carry a bear spray.
Naknek River: This river is known for trophy-sized rainbows and Dolly Varden. The river is also popular for salmon fishing in June and July.
Yukon River: This river holds some huge northern pike, but you can also find sheefish here.
Kvichak River: It has some of the largest rainbow trout in Alaska. If you want a trophy fish, this is the best to go.
Situk River: Like the Kenai River, this river is great for steelhead fishing.
Quartz Creek: It's a popular location to fish Dolly Varden as you enjoy great views of salmon spawn.
American Creek: It's located at the Katmai national park and is filled with arctic char and rainbow trout. The creek is perfect for dry fly fishing because of its low and clear water.
The Kulik River: It's the shortest river with a consistent flow of trout food. That's why you can easily find Rainbow trout and Dolly Varden here. Getting to this location is tricky, but once you arrive, it will feel like you're in wade fishing heaven.
Fishing Regulations
In certain waters, such Kvichak River and Yukon, rainbow trout harvest is prohibited, and it's possible that any river fishing regulations can change from year to year, so be sure to check the Alaska fishing regulations.
With the Kvichak River and Yukon, that means there's a strict catch-and-release policy.
Some rivers also have a maximum size limit to promote an incredible fishing experience and an abundance of large fish.
You can also consult with your guide or lodge to ensure you aren't breaking the law.
Best Methods For Trout Fishing In Alaska
There are several methods you can use for rainbow trout fishing in Alaska. Let's take a look at some of them.
Fly Fishing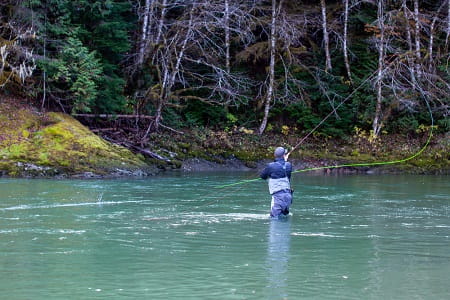 This technique involves catching trout using a bait that resembles a fly, only that it's artificial.
Fly fishing for trout in Alaska is similar to fly fishing for rainbow trout and steelhead elsewhere in North America.
You can fish flies on the surface, or fish nymphs or egg patterns below the surface. Egg patterns are generally good at all times of the year.
Streamer fishing for trout using baitfish or trout and salmon imitations is also a good option. Aggressive rainbows and bull trout will smash a streamer being stripped in erratically.
Spey fishing on the larger river can also be effective. For the Alaska rainbow trout, the bait will look like an invertebrate or bug has landed on the water's surface.
Fly fishing for Alaska trout is the preferred method of many guides and local anglers. For more on fly fishing check out Fly Fishing For Trout.
Float Fishing
Float fishing is another popular and effective method to catch trout in Alaska. Float fishing is when you suspend your bait below a float or bobber and drift it down the river.
Anglers will float fish with spinning reels, baitcasting reels, and Centerpin reels. My personal preference when guiding is the Centerpin reel because I believe it gives you the most controlled presentation.
For more on float fishing see my page Float Fishing For Trout: A Complete Guide. For more on Centerpin fishing, check out Centerpin Fishing For Beginners, or Expert Tips and Tactics For Centerpin Fishin For Trout.
Spin Fishing
Spin fishing refers to the spinning reel used, but spin fishing can be used with many methods including float fishing mentioned above.
Spin fishing works well with lures and jigs.
Anglers will also do well using these methods:
Lure Fishing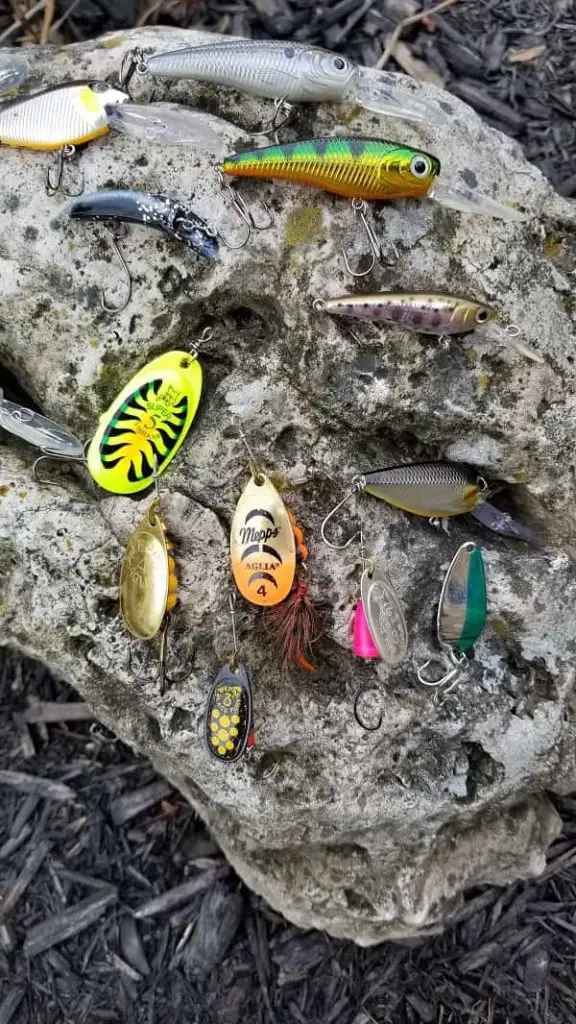 In lure fishing, you use angling baits resembling prey to capture a rainbow trout.
There are different types of lures you can use to catch trout with the most common ones being spinners, spoons, crankbaits, and jigs.
These lures come in dark colors, ones that look just like baitfish, or flashy colors with bright reflections that are likely to trigger the predation instinct of a trout.
If this is the method you are interested in and you want to see the most effective methods and most effective lures that guides use, be sure to check out our articles, Lure Fishing For Trout and 31 Best Lures For Trout
Jigs are another type of lure that many anglers forget about or think they are just for bass and walleye, but they are also very good for trout.
Jigs can be drifted with or without a float, or they can be twitched the same way anglers twitch jigs for steelhead and salmon.
Best Baits For Alaska Trout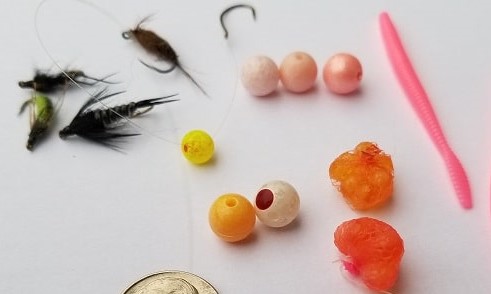 The best trout fishing baits include fish eggs, worms, artificial baits, live baits, and minnows.
Fish eggs make great bait because all Alaska trout feed heavily on salmon and trout eggs that drift down the river.
There are also egg imitations like soft and hard trout beads and plastic eggs. Beads have been a favorite among Alaska fishing guides but you need to know how to rig them properly for them to work and for them to be legal in Alaska.
I discuss this on my page Bead Fishing: A Complete Guide. I also discuss the pros and cons of soft beads, hard plastic beads, and glass beads.
Ensure you pick the right egg size and color to match the river conditions.
Worms are also great because trout recognize them as a great food source that's easy to grab. I use a lot of plastic worms known as steelhead worms or trout worms. For more on rigging and the best ones, check out Fishing With Worms: Trout, Steelhead, and Salmon.
Also, live baits include wax worms, mealworms, and maggots. But if you can't find them, use artificial bait.
Best Flies For Alaska Trout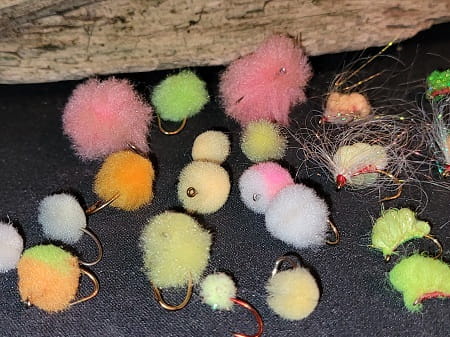 Dry flies do a good job when fishing rainbow trout and Dolly Varden, especially at Willow Creek or upper sections of rivers later in the summer.
Flies can also help you catch arctic grayling, steelhead, and salmon.
Best Dry Flies Include:
Stimulator
Madam X
Elk Hair Caddis
Adams
Royal Coachman
Deer Hair Mouse
Best Nymphs Include:
Glo Bug Egg, or Blood Dot Egg
Bead Head Prince Nymph
Hairs Ear Nymph
Pheasant Tail Nymph
Wooly Bugger
Woolly Worm
Egg Sucking Leach
Flesh Fly
Best Streamers Include:
Bunny Leech
Zonker
Muddler Minnow
Zoo Cougar
Circus Peanut
For a lot more effective flies check out: 29 Best Flies For Trout.
Guide Tips For Trout Fishing In Alaska Rivers
Dry fly fishing is best done later in the summer. Using technical nymphing like Euro Nymphing and Indicator Nymphing in the spring or when the trout are not feeding on the surface.
Streamer fishing is also a great method, using erratic stripping retrieves will entice more trout to bite.
Rainbow trout can be shy but smart fish. It will probably see you before you see it first so try to move slowly and stay behind the trout.
If there are salmon in the river, focus your efforts on the riffles and pools below the salmon.
During early spring, it's advisable to target lake outlets as the trout wait there to attack out-migrating smolt.
In later spring months and summer, you can find trout in salmon spawning areas.
In high sun conditions, you'll want to target cut banks, log jams, pocket water, and seams which is where trout hide.
During cold water months, look for trout in slower water. As they are eating less at this time, they want to conserve energy, which means moving away from heavier currents.
Alaska Trout Guides
If you are not familiar with Alaska Trout Fishing, the best way to have a successful and incredible trout fishing experience is by using Alaskan trout guides.
There are different types with different offerings. These guides will share tips on navigating the Russian or Kenai Rivers and the Crescent and Quartz Creek.
They can also take you to the smaller streams, which are less populated. With guides, you get comfortable lodging, fishing equipment, drift boats, and different fishing options, including salmon fishing.
Some guides also have access to private river sections and know which lakes are best.
Guides also offer protection from accidents, from getting lost, and from wild animals like bears and moose.
Trout Fishing Near Anchorage And Other Cities
Trout fishing rivers near anchorage are plentiful. Most are about a three-hour drive away from Anchorage on Kenai Peninsula.
These rivers are the Kenai River, Moose River, Russian River, Kasilof River, and Ninilchik River. These river systems are popular for Alaska trout fishing.
However, you can also find Dolly Varden and different Pacific salmon species, such as king salmon, and pink salmon.
Kenia River System Trout Fishing.
Many guides claim the best trout fishing in Alaska is in the Kenia River system, with the middle and upper Kenia River being the best areas.
Cooper Landing in the Kenia Valley is a must-fish area for trout. Some great light tackle fishing is available for rainbow trout and char.
Near Cooper Landing is the Russian River which is known for its sockeye salmon fishing but it has great trout fishing too.
Lodges and Clubs
Visiting anglers also have the option to book into a lodge where they will set you up with guides and put you on the best waters.
Deep Creek Fishing Club as an example will do it all for you and offer you all the species of trout, salmon, and even pike.
Trout Fishing Alaska Q&A
If you have a question, comment, or advice on trout fishing Alaska let us know in the comments section below. As we get questions, we will do our best to update this article and provide answers.
Tight Lines,
Graham