7 Best Trout Lures Used By Top Trout Guides: Best Of 2023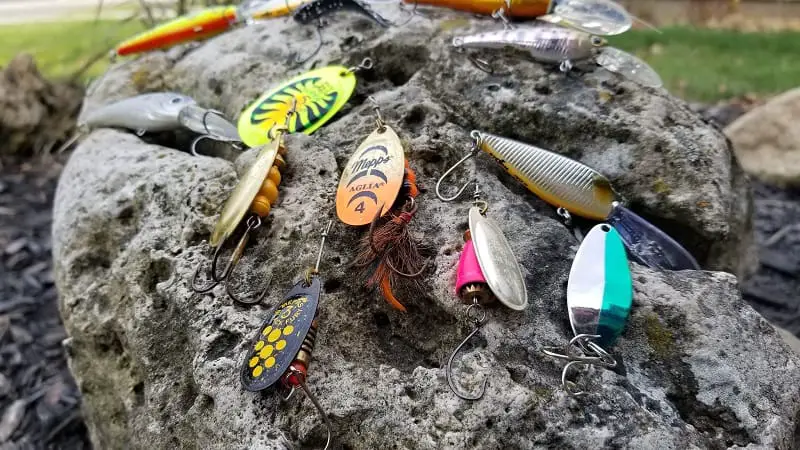 As a trout guide with a team of guides, we have over 20 years of experience putting trout lures to the test in real trout fishing situations and under almost every condition and type of water imaginable. We think we figured out the best trout lures and we'll tell you what they are.
The best lures for trout come in five types which unclude in-line spinners, spoons, crankbaits, plugs, and jigs or plastics. These lure types can cover all the different water types and conditions. Sizing and colors are also important factors when choosing the best trout lures.
Along with my list of the 31 best lures for trout, I will tell you the best colors, and the best sizes, and even give you some guide tips on how and when to use these lures so they are even more effective for you.
How To Choose The Best Trout Lures
This is because as we have determined, some lures will work better under different circumstances.
I decide on what lure I put on my client's line based on:
Water type: Will you be fishing in a lake or river? If it's a lake, do you need a shallow running lure or a deep running lure? I will choose a trout lure for lake fishing based on how deep I think the fish are. The trout will likely be deeper on brighter days but higher in the water column at dawn or dusk so I'll use the lure type that best suits these variables. If I'm fishing a river that has a fast strong current, I know some of my best trout lures won't run properly so they are practically useless, but if it's a slow current or I'm fishing smaller streams, another trout lure might be best.
Water conditions: Is the water clear or dirty? While most of my best trout lures will work in clear water, I know that some colors, sizes, and types of lures will be much more effective when I am fishing in dirtier water. Here's my guide tip for you, I have found that trout lures with some vibration or a rattle built into them will work 10 times better in low visibility water because the trout will key in on the vibration.
Water temps: In warmer water, the fish will be more active, and therefore bigger and faster-moving lures and lures with more action will work better, but in very cold water, a slower retrieve or a steady retrieve is best and some of my best trout lures work well with a slow retrieve while some others don't.
Fish Activity Levels: I always have a good trout lure selection on hand to be sure I have what the trout want. When the trout are aggressive most trout strikes are hard, fast, and, maybe often. When they are aggressive a steady retrieve or a fast retrieve will work. But when the trout are inactive, a lure that I can twitch and pause and make it look like a dying baitfish will be my best option since even neutral fish have a hard time passing up on a wounded fish that is an easy target. For wary trout, a finesse presentation with smaller sizes will often get more strikes.
Fishing methods (trolling or casting): The fishing method you choose to use can also dictate the best trout lures to use. Trolling and casting are good options but not all lures troll well or troll the deeper water column well, so you will need to pick the lure based on the depth. Some lures also cast much further because they are heavier and the extra distance can pay off.
There are ways I and other expert guides and anglers use a lure to make it more effective. We consider and change based on depth, speed of lure or speed of current, action of the lure, and what lure is best for covering the water effectively or thoroughly. I discuss all of this in my article Lure Fishing For Trout: A Complete Guide
Our Best Trout Lure Quick Picks
The Best Trout Lures Used And Recommended By Guides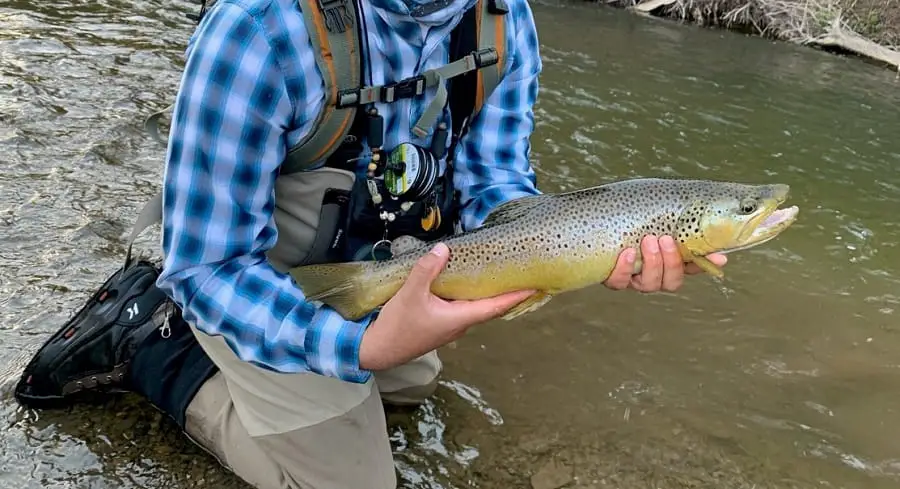 These are the five categories of trout lures and I've listed each lure in order of most effective to least effective, but they are all great trout lures.
Jigs and Tube Jigs
Jigs are some of the best trout lures that I use and they are the right lures when I require a subtle presentation to attract trout. They are also a good trout lure when I need to fish in deep water or when I need to fish slower.
Quick Pick Jig List
Hawken Marabou Series AeroJigs
VMC Twitchin' Jig
Berkley PowerBait The Champ Swimmer Soft Bait
Storm 360GT Searchbait Jig Heads
Tube and Tube Jigs
My favorite Jigs are:
1. Hawken Marabou Series AeroJigs
Best Colors: Black and black and red combos, White, Yellow/Chartreuse. Size: 1/4 oz
2. VMC Twitchin' Jig
For big trout this is my #1 jig. Best Colors: Black, Black/Purple, Black/Blue, White, Yellow, Chartreuse, and Orange. Size: 3/8oz and 1/2oz
3. Twister Tails and Paddle Tails
For my killer trout combo paddle tail rig try the Berkley PowerBait The Champ Swimmer Soft Bait and combine it with the Storm 360GT Searchbait Jig Heads.
4. Leland's Lures Trout Magnet
However, I personally think this is an over rated lure and I don't use it for wild larger trout simply because there are more effective lures.
5. Tube and Tube Jigs
GUIDE TIP: I use a very light line or I will use a fluorocarbon leader to prevent line-shy trout from seeing the line when using slow-moving jigs or lures. I will also add scent to slower lures like jigs and tube jigs. Try a scent like Pro-Cure Super Gel or Pro-Cure Bait Oil.
In-Line Spinners For Trout
When it comes to favorite lures of trout anglers, in-line spinners are likely the most popular lure for trout, and for good reason, they work. The spinning blade creates a flash and vibration that attracts all trout.
My List Of The Best Spinners For Trout
Spinners:
Blue Fox Flash Spinners
Panther Martin Classic Regular Series Spinners
Panther Martin Hammered Spinners
Mepp's Aglia Spinner
Joe's Flies Short Striker Classic Spinner
1. Blue Fox Vibrax Spinner
Best Spinner Sizes: 1 and 2 for small fish, and sizes 3 to 5 for big trout.
Best Spinner Colors: Silver, Gold, Copper, Black, Chartreuse, and Orange.
Shallow and/or Slower: I use the Classic Spinner with the wider blade for a slower presentation or when I want the spinner to ride higher in the water column.
Deeper and Faster: The thinner blade and extra weight of the Blue Fox Flash Spinners are great for faster retrieves and for getting more depth.
2. Panther Martin
A similar blade to the Panther Martin but with more vibration is the Blue Fox Vibrax Bullet Fly Spinner.
3. Mepps Aglia
4. Joe's Flies Short Striker Classic Spinner and Joe's Flies Super Striker Spinner
Check out my in-depth tactics and tips for Spinner fishing for trout.
Spoons For Trout
Best Spoon Sizes: 1″ and 2″ spoons are great for smaller trout, and sizes 3″ to 5″ are what I use for big trout.
Best Spoon Colors: Silver, Gold, Copper, Black, Chartreuse, and Orange are my go-to colors.
Best Spoons For Trout List
Luhr Jensen Krocodile Spoons
ACME Tackle Little Cleo
Thomas Colorado Spoon
Thomas Buoyant Spoons
Dreamweaver DW Spoon
Mepps Little Wolf Spoon
1. Luhr Jensen Krocodile Spoons
2. Acme Tackle Little Cleo Spoon
3. Thomas Colorado Spoon
A very popular and highly rated close second is the Thomas Buoyant Spoons which I suggest you have a few in your box.
4. Dreamweaver DW Spoon
Similar lures and a close second choice is the Michigan Stinger Stingray Spoon. Bright colors with metallic flash are my most effective colors.
5. Mepps Little Wolf Spoon
For details on how to fish spoons effectively. See my article Spoon Fishing For Trout.
Crankbaits, Jerk Baits, Stickbaits
Crankbaits, or whatever you call them are my favorite type of lure when I want to catch big trout in a river or lake. To take advantage of trout feeding behavior, I will use my crankbait with a jerking twitching motion most of the time, however, a straight retrieve can get you some strikes.
With two or three treble hooks, the hooking percentage is high.
A crankbait imitates natural bait like a small minnow, sculpin, and other baitfish very well which is why large trout prefer crankbaits over other lures.
An effective method with the crawfish-colored deep lip crankbaits is to purposely bump the deep lip crankbaits off the rocks and then let them rise a foot or two and then repeat. This is an easy meal and works great for big browns, especially on larger rivers.
Best Colors: Color patterns will vary depending on light conditions and water clarity.
Crankbaits/Stickbaits/Jerkbaits List
Rapala Original Floating Minnow
Rapala Shad Rap
Rapala Husky Jerk
Rapala X-Rap
Rebel Minnow
Smithwick Suspending Rattling Rogue
Rebel Wee Crawfish
Brads Wiggler
Luhr Jensen Kwikfish X-Treme
Strike King KVD – Bonus Lure
1. Rapala Original Floater
2. Rapala Shad Rap: Best Deep Water and Fast Current
3. Rapala Husky Jerk
Although the Tennessee shad color is my favorite for pike and bass it has been good for trout too. Silver, Olive Ghost, Juicy Lucy, Glass Minnow, Clown, and Helsinki Shad are good colors for me.
4. Rebel Minnow: Best Small Crankbait
5. Smithwick Suspending Rattlin Rogue: Suspending Lures
6. Rapala X-Rap
7. Rebel Teeny Wee-Crawfish VS, Brads Wiggler
8. Luhr Jensen Kwikfish X-Treme and FlatFish
Check out Crankbait Fishing For Trout page for in-depth information on how to effectively cover the water, get the right depth, and my most effective presentation methods for crankbaits.
Common Questions About Trout Lures
Final Thoughts
If you have any questions or comments or have a great lure you would like to recommend, let us know in the comments section below.
Tight Lines,
Graham