Alaska Steelhead Fishing: A Complete Guide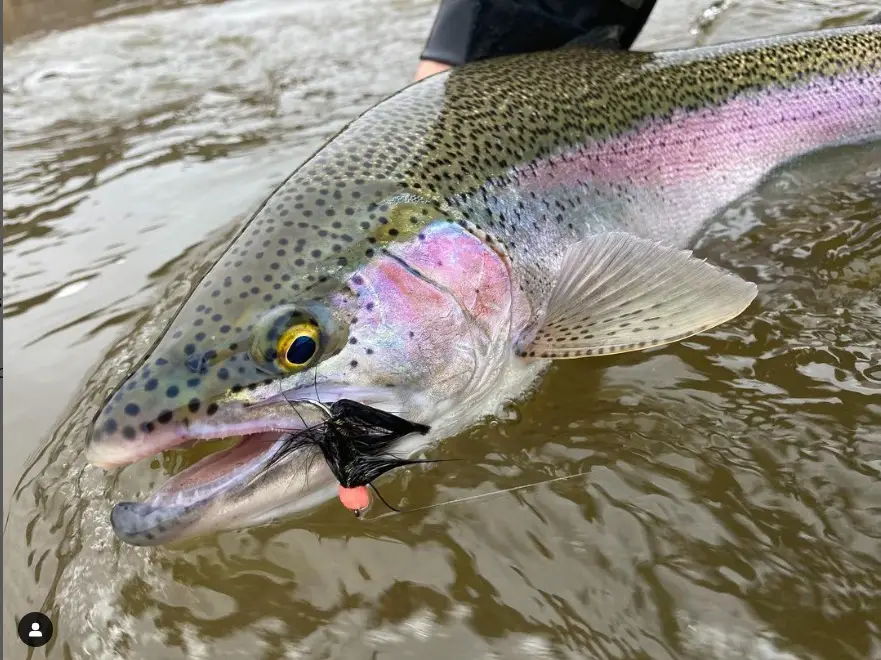 Alaska Steelhead fishing is absolutely addictive and there are plenty of options to fish for steelhead is Alaska.
If you're planning a fishing trip to The Land of the Midnight Sun, then you already know you're headed for some of the best fishing territories in the world.
The state is rich in rivers and mountain streams, thriving ecosystems, and exploding fish populations. With its thousands of miles of clean and untrammeled waters, charters, and guides to help you find and explore the best spots, anyone with a little tenacity can have a marvelous steelhead fishing experience in Alaska.
Alaska Steelhead
 The Steelhead species (Oncorhynchus irideus) found in Alaska is a staple for professional and recreational fishers. The steelhead is a variation of the rainbow trout that often achieves trophy sizes, particularly along the coast of Alaska, and is often described by experienced steelhead fishermen as "rainbow trout on steroids."
Steelhead fishing is outstanding most often from the southeastern panhandle to the southwestern corner of the state. But this is far from the only part of Alaska where steelhead fishing is good.
Many rivers are good steelhead spots all over the state. Here, we will discuss the best spots per season and cover a number of key tips to help you get the most out of your steelhead fishing adventure.
Best Time For Alaska Steelhead Fishing
Alaska Steelhead Seasons
Winter: The winter months in Alaska are probably not a great time to fish for steelhead. But if you can make it to the lakes around Anchorage you might try Campbell, Jewel, DeLong, or Sand Lakes. There, you might have some luck fishing for Rainbow Trout, landlocked Salmon, Arctic Char, or Grayling.
Spring: Once the ice has begun to vanish, the steelhead will start to become more accessible. March to early June are going to be the best parts of the spring as they begin to work their way upstream.
Summer: Summer is generally not considered a good time for steelhead since it is between their two running seasons, Spring and Fall. During this period, you're likely to have more luck with Rainbow Trout on the Kenai.
Fall: The fall runs for steelhead usually start in mid-August and will continue through October, maybe even November in some years.
Regulations For Fishing For Alaska Steelhead
Regardless of what type of fish you're aiming to catch, fishing in Alaska falls into four categories: Sport, Subsistence, Commercial, and Personal Use. Each of the four categories is subject to specific sets of regulations depending on which of the four zones you will be fishing in. Each region is then further divided into sub-regions, and the rules are different in all of them.
1. First, select the fishing category you will be fishing under; Here.
2. Then select the region where you will be fishing.
3. Then select a subregion.
All residents of Alaska aged 18 and older, and non-residents 16 and older are required to obtain a fishing license to fish in Alaska. Licenses will be valid from the date of purchase through the 31st of December of that same year.
Licenses are available for residents, non-residents, military, disabled veterans, and seniors aged 60 and up. Most licenses can be obtained by filling out an online application.
Keep in mind that the rules and regulations covering all locations and fishing types can change at any time and the state government monitors Alaskan fisheries closely. So, don't buy your license weeks early and go assuming the laws are the same as when you first checked them. Check the regulations when you begin your fishing trip.
Obeying the rules is the best way to help ensure the Alaskan fisheries stay healthy, and it can save you fines and fees. The rules are complex and many. However, if you use a professional charter, they will make sure the rules are adhered to. If you're new to fishing in Alaska, this is probably the best route.
Best Steelhead Rivers In Alaska
Once you've decided whether you want to chase steelhead in the Spring or Fall and obtained the requisite licensing, it's time to choose your destination. While there are a practically unlimited number of rivers to choose from, there are six that are known to be the best for steelhead. They are the Kenai Peninsula, the Kenai River, Kodiak Island, the Karluk River, Kachemak Bay, and Cook Inlet.
Kenai Peninsula
Possibly the world's finest location for steelhead fishing, the Kenai Peninsula is a few hours' drive from Anchorage. There are plenty of lodging opportunities catering to a range of budgets and party sizes. The Kenai Peninsula is the most famous steelhead fishery, for good reason. It is wise to book your lodgings well in advance to get ahead of the crowds and obtain optimal pricing.
Kenai River
Favored by many anglers, the Kenai River is a great spot for steelhead, king, and sockeye. There are abundant rainbow trout runs in addition to steelhead. It is not uncommon for fishers to catch steelhead over 20 lbs on the Kenai River.
Karluk River
A more remote location with stunning landscapes as well as fantastic steelhead runs. This clearwater river is also a great spot for rainbow trout, Pacific salmon, and Dolly Varden. This is a good spot for getting away from the crowds you can expect at the more well-known locations like the Kenai River and Peninsula.
Kodiak Island
This location is known for its enormous game, trophy-sized moose, giant brown bear, and huge steelhead fish. Just about any cove you can find here is great for fly, float, and spin fishing. This location is also known for a range of salmon as well as steelhead.
Cook Inlet
Named after Captain Cook, this is yet another excellent location to fish from a boat or the shore. Here the steelhead will be returning from their favorite feeding spots out at sea. So they will be especially energetic and well-fed. This is a good opportunity to try your hand at trolling. Either way, it's a stunning environment that's sure to bring you some healthy catches.
Kachemak Bay
You'll have to take a short plane ride out of Anchorage to get to Kachemak Bay. It's an excellent location for steelhead fishing from a boat. The steelhead are known to put up a good fight at this location. They are also known to show bright chrome colors during the spring and fall months. If you're looking for a real adventure, this is the location for you.
Alaska Steelhead Fishing Methods
Steelhead fishing can be done in many ways but the most effective methods are:
Float fishing: a river fishing method using a long rod with spinning, Centerpin, or baitcasting reels
Fly fishing: river fishing with a lightweight lure known as an artificial fly
Bottom bouncing: a technique in which the line is cast a short distance and allows the weight and bait to sink and drift
Lure fishing: using artificial bait or a lure
River guides might use different methods in different rivers and different conditions, and at different times of the year. Other good techniques to try include:
Nymphing: a method using flies to mimic sub-aquatic insects
Spey fishing: a fishing style using longer casts with a two-handed rod
Streamer fishing: a form of fly fishing using a sub-surface streamer
Dry fly fishing: a technique done in the morning and evening, where you allow the lure to rest on the surface of the water
Spin fishing: a method where you cast behind a boat and allow a spinner to settle on the bottom of the river
Tips & FAQs
Best Baits For Alaska Steelhead
Spawn / Roe: This is the most commonly used steelhead bait
Worms: Plastic and real worms can work better than roe under certain conditions
Beads: A small bead that mimics a steelhead egg may sometimes be the best steelhead bait
Flies: Some flies work great and can be the best steelhead bait at certain times
Alternative Baits: Alternative baits include variations of the above or minnows, leeches, and grubs
Check out all my best steelhead baits.
Best Flies For Alaska Steelhead
Gear For Alaska Steelhead Fishing
Clothing
Light to heavy layers (No Cotton)
A good rain jacket
Waders and Boots (no felt soles)
Boots for lodge/cabins
Billed Hat for sun protection
A stocking cap and gloves
Comfortable pants under your waders
Medium or thick socks
Polarized Sunglasses
Self Care, Etc.
Medications, Toiletries, Camera, battery charger, computer and SD card, Cell phone, Headlamp or flashlight, Sunscreen, Cash
Gear
Small Backpack
Water Bottle
Basic Fishing Tools
Fluorocarbon line
9ft 0x, 1x and 2x Salmon Steelhead leaders
Large and XL Thingamabobbers
Standard Spey flies
Size 10, 12, and 14 mil Trout Beads
Owner hooks in sizes 4 and 6
An assortment of sinking tips
Do It Yourself Alaska Steelhead Trips
Only recommended for Alaska residents and experienced fishers.
Can You Catch Steelhead At Night In Alaska?
Alaska is the Land of the Midnight Sun, so yes, you can. Can you catch steelhead after dark is the question though? Again, the answer to this is that it is only recommended for experienced fishers and those using professional guides.
4 Best Steelhead Fishing Lodges
There are many great lodging options in Alaska, especially near the Kenai River and Peninsula locations. But these are our favorites:
Soldotna Fishing Lodges with Dock on Kenai River!
Kenai Riverfront Fishing Lodges
Kodiak Island Resort
No See Um Lodge
Akaska Steelhead Fishing Q&A
That concludes the article on Alaska Steelhead Fishing but if you have a question or advice, let us know in the comments section below.
Tight Line
Graham