Float Fishing For Salmon – Great Lakes Tactics From A Top Guide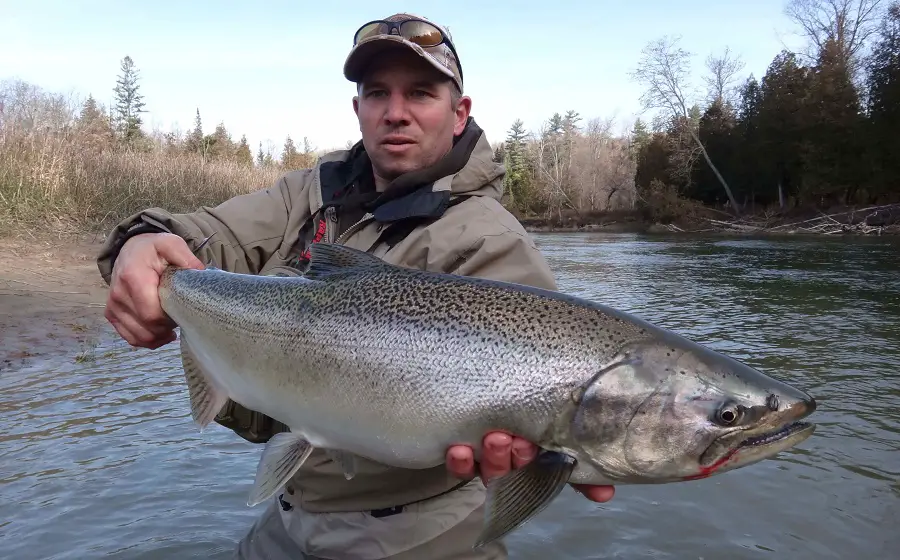 Float fishing is one of the most effective ways of catching salmon once they enter the rivers. Float fishing for salmon on great lakes rivers is something that I have been doing for about 37 years and I also guide and teach anglers how to float fish for salmon effectively.
Float fishing for salmon means that you are presenting your bait under a specially designed float that is made for river fishing and then drifting it down the river. Float fishing for salmon can be done using spinning reels or Centerpin reels combined with long rods and a good leader.
In this article, I will discuss my best tactics, my best leader setup, my best baits, and the required gear that I use when float fishing for great lakes salmon. Remember, that I have had the opportunity to learn from many other great guides over the years so when I say "mybest tactics", I'm also referring to methods that are used by others before me and are methods that are proven to be effective.
Float Fishing For Salmon
If it's done right, float fishing is the most effective way to catch salmon once they enter the river, but unfortunately, I watch many anglers float fishing for salmon poorly, making all kinds of little mistakes, and using the wrong gear or wrong baits. This almost always means they don't catch many or they catch none.
The honest truth is that it's not that hard to do it the right way.
Many anglers think float fishing is simply a matter of putting bait on a hook, then casting it out, and then watching your float drift down the river but they are very wrong.
That's kind of like saying golf is simply hitting smacking a ball with a club until it goes in a hole. The reality is that if you want to golf well and put the ball in the hole faster there is a whole lot more to it, and it's not any different when float fishing for salmon if you want to do it well and catch more salmon.
If you follow these steps that I give to my clients when I'm on the water teaching and guiding them, you will start catching more salmon.
The 5 Fundamentals Of Float Fishing For Salmon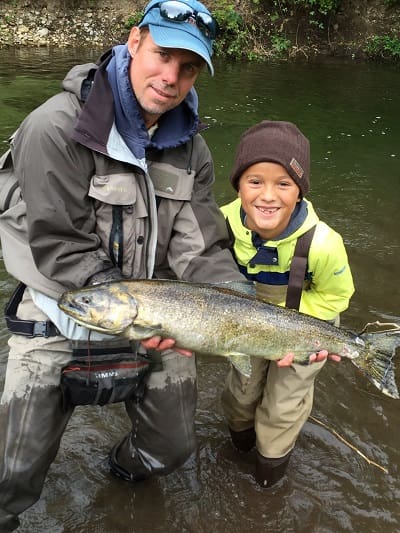 I know for a fact that just throwing a float out with a bait and just watching it go will result in few or no salmon.
That's why I teach my clients about the 5 fundamentals of float fishing and it's why I stress that it is very important to do them all and to make sure that they all work together.
The 5 fundamentals of float fishing for salmon and steelhead are, speed control, depth control, covering the water effectively, your setup which includes your leader setup, and lastly your bait.
I know most guys don't catch salmon and they think they need a better bait, but the reality is that the bait is almost always not their problem.
I will discuss all of that in this article and it's very important to read all of them and especially my number 1 guide tip for good float fishing.
My Most Important Guide Tip For Float Fishing For Salmon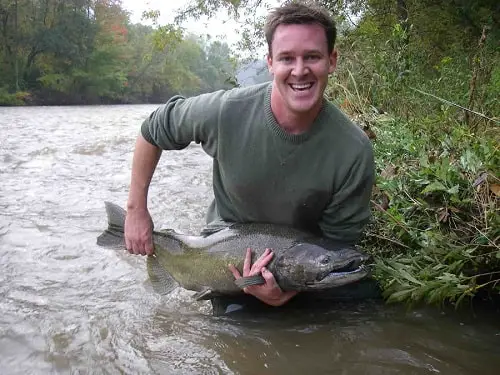 Hundreds if not thousands of anglers will hit the rivers of the great lakes on any given day to fish for salmon and 90% of them won't catch much fish while the other 10% might catch 20 or more. There is a simple reason for it.
I mentioned my 5 fundamentals of good float fishing but what I haven't told you is that all it takes to be one of the unlucky 90% that rarely catch any salmon is to just get one of those fundamentals wrong. That's all it takes!
If you get two of those fundamentals wrong it's even worse, and if you get three wrong and you might as well just go home, because honestly, unless you snag the salmon or steelhead you are not going to catch any.
The sad thing is that anglers often struggle to catch any salmon because they don't know how to fish for them so they end up resorting to snagging the salmon instead, This os often is both illegal and unnecessary.
My most important guide tip is to make sure you do everything right. You need the right rods and reels, you need the right lines and leaders, you need the right leader setup and the right bait, but most importantly, you need the right presentation.
I have seen guys show up to the river and fish for weeks or months and not catch a fish while my clients and friends are catching lots every day.
You could have the right rod, reel, bait, and float, but if your float is dragging too fast, or your float is not set deep enough or it's set too deep, or your leader is too thick, you won't get any bites. One wrong thing and you aren't going to catch any fish, but I will show you how to do it right.
It's critical to do it right.
I have done hundreds of guide trips with two anglers. Both anglers have the same rods and reels, the same leader setup, and even the same bait, yet one angler catches 10 fish while the other angler catches none. Some would call that just luck, but it's not luck, it's a simple matter of the one angler not doing one of the fundamentals correctly and the other angler doing them all well.
Trust me, I have been experimenting and perfecting these methods with thousands of anglers over 20 years of guiding and I have seen the results.
Some other things you need to consider are when the salmon run and spawn, what triggers the salmon to run, which rivers are best around the great lakes, and other methods for catching salmon around the great lakes which are all covered on my page Fishing For Great Lakes Salmon.
Best Gear For Salmon Fishing – Fundamental #1
Going out and trying to float fish for salmon with your 7-foot lake casting rod will limit your ability to catch salmon so don't do it, and don't use floats and lines that don't work well in rivers.
Float Fishing Rods For Salmon
Float fishing for salmon requires longer rods in the 9 to 14-foot length. Longer rods will help keep your line off the water, and they will help you control the angle and the speed of your float and your leader which is critical, and the longer rod will also act as a big shock absorber that will protect your leader so that you can use lighter leaders.
The Best Float Fishing Rod For Salmon
My Favorite rod and one I recommend above all others for float fishing for salmon and steelhead is the 13-foot medium-light Lamiglas "The Closer" Centerpin Rod.
This rod is a favorite of many steelhead anglers, but on small to mid-sized rivers where you can walk the banks and follow the running salmon, this rod has enough backbone to handle big salmon too.
The extra length of this 13-foot rod will allow you to keep the line up off the water which will give you a better presentation. The extra length will also help protect lighter leaders. Using Lighter leaders will increase the amount of salmon that will bite your bait!
This is a great rod for both Centerpin and spinning reels. It retails for about $599.00
The next best rod which is heavier for bigger rivers is the Lamiglas Redline HS CenterSpin Float Rod which can be used with a spinning reel or a Centerpin reel. For Salmon fishing, you want to get the 12-foot Medium, model number HS12CS – This rod sells for about $199.00
Other great float rods for salmon fishing are:
Fenwick HMX Salmon & Steelhead Spinning Rod – A popular rod used by many great lakes salmon and steelhead anglers that like to use spinning reel for float fishing. Get the Medium 10'6″ long 8-15lbs model # HMX106M-MFS-2 – Approx. $99.00
Lamiglas X-11 Salmon and Steelhead Spinning Rod – The 9 foot 6 inch medium or the 10'6 Medium fast rod – Model LX 106 MLS are good options for float fishing with a spinning reel for salmon fishing around the great lakes. Approx. $109.00
Okuma Celilo Salmon & Steelhead Spinning Rod – A good inexpensive salmon rod for anglers that don't want an expensive rod. You can use this for float fishing with spinning reels or cast lures for salmon. I suggest the 9-foot Med-heavy for larger fast rivers or I use the 9'6 medium-light for small to mid-sized rivers. Approx. $59.00
For more of the best salmon rods check out my page Best Salmon Rods For River Fishing.
Best Reels For Salmon Fishing
If you are using a spinning reel for salmon fishing, it's best to use one that has a great drag and solid gears. I recommend spinning reels that anglers have been using for salmon for years and are proven to stand up to the abuse big salmon have on reels.
You also want the type of spinning reel that allows the line to come off the reel smoothly so you get a nice clean drift and presentation which is critical to good float fishing.
The Shimano Stradic reels have been a top reel for salmon and steelhead for many years. It is a very smooth reel with a great drag system and now the FL model is built for bigger hard-pulling fish like salmon and steelhead. A spinning reel like this will help you land more salmon. Check out the Shimano Stradic FL Spinning Reel model number STC3000XGFL or for bigger rivers go with the ST4000XGFL.
The only downside to the Shimano Stradic reels is the price which can be around $220.00, but this reel is built to last, so it can be worth the money, especially when fishing for big salmon that are known to destroy reels.
Another reel that I have used that works well for float fishing for salmon is the Pflueger Supreme XT Spinning Reel which also sells for about $89.00.
The Abu Garcia Revo SX Spinning Reel is another great reel that is good for Salmon fishing around the great lakes. It sells for $159.00
The best economy reel for salmon fishing would be the Pflueger President Spinning Reel which sells for about $60.00. Pair this up with the Lamiglas X-11 Salmon and Steelhead Spinning Rod and you will have a great rod reel combo for salmon fishing for under $160.00.
Best Centerpin Reels For Salmon Fishing
When It comes to Centerpin fishing for salmon just about any of the Centrpin reels on my Best Centerpin Reels Page will do a great job. I discuss the pros and cons of these reels on that page.
Best Float Fishing Lines For Salmon Fishing
You will need a heavier line for salmon fishing and you want one that comes off the reel easily, one that is buoyant, and one that has been proven by other anglers.
For salmon fishing with Centerpin reels, I always use 10-pound Raven high viz yellow mainline. Even though it is only 10 pounds on the label, it actually breaks closer to 16 pounds which is perfectly fine for salmon since your leader will break before the line does.
The other reason I like the Raven mainline is that it is lightweight, it sags less, and it's buoyant which is very important when float fishing. you can also use the Raven mainline on spinning reels and I have had no problems doing this.
For spinning reels, I like the 8-pound Sufix Elite Premium Mono in hi viz-yellow. This line is used and liked by many top rivers anglers around the great lakes region. The 8-pound is about the equivalent breaking strength of the raven 10-pound line so the 8-pound Sufix Elite should be fine on all small to medium-sized great lakes rivers.
When using colored lines or clear lines it's best to use a proper leader setup that the salmon won't see and one that provides a great presentation.
The Best Floats For Float Fishing
Having the right float is very important and it will greatly help improve your presentation.
A good float will not just help you detect a biting fish, the experts and serious anglers use their floats to help them get a natural speed and will help them find the bottom better. Two things that are critical elements for catching more salmon. I will discuss these below.
My Favorite floats are the 6-gram Raven FM Balsa Floats for most rivers under 12 feet deep. For bigger rivers that require longer-distance drifts or more weight, you might want to upsize to the 8-gram float.
I do use other floats because some floats are better in clear water while other floats are better in different rivers.
I discuss the best floats for float fishing under all types of river conditions and in all sizes of rivers on my page 5 Best Floats For Float Fishing.
Salmon Leader Setup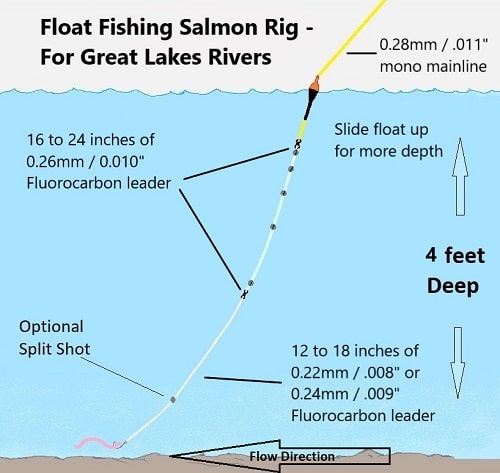 An important part of float fishing for salmon is the leader setup that you use and it's something that many new anglers get wrong.
What is very important is that your leader is strong enough not to break when fighting a large salmon but thin enough that the salmon don't see the leader and then refuse to eat the bait.
The mainlines that I recommended above both have a thickness or diameter of about 0.28mm which should mean that they will both break around the same pounds of pressure. The thickest part of the leader setup should be slightly less at about 0.26mm in diameter.
Ten and 12-pound leaders are usually perfect for great lakes salmon and there is not much need to go heavier.
As an example of strength, out of 500 steelhead hooked on guide trips each year almost all are caught on leaders of about 0.20mm in diameter (8-pound) with less than 5 percent break-offs.
Most of those break-offs are due to angler error or damage to the line. I also have very skilled clients that hook hundreds of steelhead on 6lb (0.18mm) diameter with almost no break-offs. If we can manage hundreds of steelhead on 8-pound line you should be able to manage salmon on 10 and 12-pound lines. There is a reason why the lighter line is better.
The advantage to using such light leaders is that more fish will bite the bait because they can't see the leader.
The leader that I use is made up of two parts and includes:
2 different leader strengths – For the bottom leader I use 0.22 to 0.24mm and for the shot line I use 0.26mm
Swivels – Spro or Raven Micro swivels are good options
Split shots – Good round black ones like the Sure Shot Brand hold the line well and don't damage the leader. I use the AA and AB sizes the most.
Hooks – Gamakatsu Octopus Straight Eye Hook size 8 or the Raven Specimen Hook in sizes 10, 8, and 6. I switch hook sizes to match my bait size.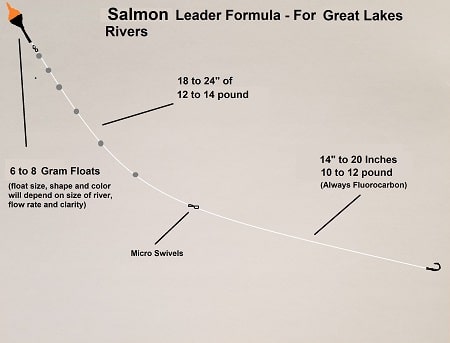 I use what is called a shot line which is made with a fluorocarbon leader and it goes between the mainline from my reel and the leader that my hook is tied to.
This shot line is where all my weights (also known as split shots) go and it allows me to put the weight on fluorocarbon and not on the mono mainline.
Pinching the split shots onto the fluorocarbon line is less likely to damage and weaken the line because fluorocarbon is more abrasion resistant than the monoline on your reel.
Also, putting your weight here allows a longer total fluorocarbon length which is more stealthy.
The fluorocarbon leader that I use for the shot line is either:
I also use a different size fluorocarbon leader for the lower section of the leader.
I will go one or 2 sizes down from the above lines. So if I am using 7-pound Drennan for the shot line, I will use 5-pound Drennan for the lowest part of the leader where my bait goes. I do this so the fish do not see the leader which usually means more bites.
I will go down to 0.24mm which should be good for large salmon on large to medium-large rivers with fast flows. On small to medium-sized rivers that are very clear, I will drop down to 0.22mm in diameter and chase the fish if they run up or down the river.
GUIDE TIP: Until you understand diameters sizes and true breaking strengths of lines stick with quality brand-name leaders and always ignore the pound rating on the label because they are often inaccurate. Only buy your leaders based on the diameter size and the millimeter sizing is more accurate than the inches size.
One brand's leader (e.g. Drennan Leader) might say 10 pounds on the label and be 0.30mm which is thick and will likely break at closer to 18 pounds and the salmon will likely see it because it is too thick. While another brand's 10-pound leader ( e.g. Rio Fluoroflex) is only 0.25mm and is much thinner.
Because the brands don't always rate their line properly if I said to just use a 10-pound line for your leader you might end up using one that is wrong and it will prevent you from catching fish.
The 10 Best Baits For Float Fishing For Salmon Fishing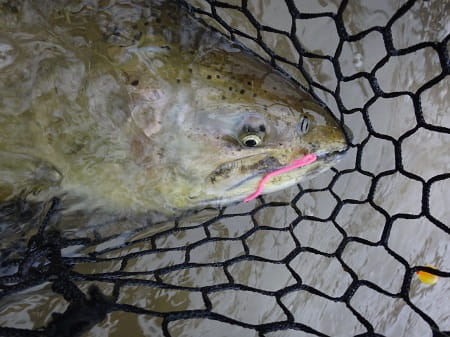 There are a number of good baits that you can use when float fishing for salmon but there are only a few that consistently catch fish.
The four best baits for great lakes salmon once they enter the rivers are, the spawn bag, the plastic worm, trout beads, and the fly. But, there are more!
There are days when one bait will produce more salmon for my clients than others so I usually have six or more options with me on salmon fishing trips.
Somedays, the salmon will be all over one bait for some reason, and other days they might want a different bait, a different color, or a different size.
Many anglers will stick with what worked yesterday, last week, or even last year, and they will use nothing but that bait, which can be a big mistake.
As a top river guide, it's my job to get my clients onto as many fish as possible so I need to be sure each and every day that I'm using the right bait for that day. I discuss my secrets to determining which bait is the best for any given day or under different conditions on my page Best Baits For River Fishing.
The number one bait for salmon fishing is spawn bags and many anglers will use nothing more. Just because I say it's the number one bait for salmon fishing doesn't mean it's actually the best bait to use, it's simply used more than any other bait which means it's going to catch the most fish.
Spawn bags definitely are a great bait in most water conditions and they excel in dirty or off-colored water. Having the right size and color of the spawn bag that matches the water conditions is also very important. Also, using the right type of spawn is also important and I discuss that on my page about tips and tactics for using spawn when float fishing.
Another bait that has been of fire for many salmon anglers over the last few seasons has been trout beads. Just because they are known as trout beads doesn't mean they aren't fantastic for salmon too.
In recent studies, salmon have been proven to eat loose salmon eggs once they enter the river. As anglers are finding out, using 8mm and 10mm beads is a great way to imitate these eggs.
Check out my other page for all my tips and advice on salmon fishing with beads, which includes the best colors, best sizes, how to rig them, and even the best hooks for beads.
Since 8 out of 10 anglers only use spawn or egg imitations, the salmon can actually become wise and stop eating anything that looks like an egg, and this is where artificial flies can be much better.
Think about it, 20 salmon sitting in a pool surrounded by 4 or 5 guys drifting roe bag after roe bag for hours past them and nobody is catching any. Salmon, like, trout and steelhead in a river have fantastic eyesight and trust me when I say this, they see these spawn bags drifting past them over and over again, and often drifted past them poorly, the simple truth is they become smart enough to know not to eat them.
This is why when I walk into a pool and see 4 guys throwing egg-type baits at the fish and rarely catching anything I will always use baits like flies instead. I don't know how many times I've been in a pool for 30 minutes and hooked multiple fish when the other guys aren't catching any and then notice all those guys switching out their baits to flies or whatever it is that I'm hooking all the fish on. It happens all the time.
Flies like woolly buggers, prince nymphs, Zug bugs, pheasant tail nymphs, and stoneflies can often catch more fish than eggs, and I have proven that over and over again.
You can drift these flies under a float the same way you would with any other bait and I discuss that on my page Float Fishing With Flies. I also find that the same flies that work best for steelhead also work great for salmon and I discuss this on my page Best Flies For Salmon Fishing In Rivers– COMING SOON. SPRING 2023.
Another bait that has been very good when fishing for salmon is the plastic worm. I have done very well on the pink, red and white 3 to 4-inch worms. My Favorite is the Berkley PowerBait Floating Steelhead Worm or the 4 inch Mad River Steelhead Worms, and although I favor the bubblegum pink color most of the time the red worm is better some days.
Other baits that work for some anglers under the right conditions are:
For more on all the baits for salmon fishing in rivers, check out Best Baits For Salmon Fishing.
Other Important Salmon Fishing Tools To Consider
Net – You will need a net that is big enough and strong enough to handle big salmon but small enough to carry with you on the river. See my other page for the best nets for salmon fishing – COMING SOON, SPRING 2023.
Waders and Boots
Vests and Packs
Glasses
Release Tools
I cover all the best river fishing gear for all budgets on my page River Fishing Gear: Everything You Need.
Presentation Is The Key To Salmon Fishing
Presentation is a very important part of float fishing for salmon, provided that you already have all the right gear and your leader is set up properly.
There are three key things to a good presentation which are speed control, depth and finding the strike zone, and covering the water effectively.
Better Speed Control: Trotting Your Float
I didn't realize how important speed was until I watched two clients fish with the same gear, the same setup, and the same bait and saw the one guy catch ten fish while the other guy catches none.
I have actually seen this happen hundreds of times during my guiding career but when I was a new river guide, I thought that if everything was the same that the one guy catching all the fish was just lucky.
After seeing this multiple times, I finally realized that one angler's float was moving slightly slower than the other angler's float which is why he caught more fish. This was an ah-ha lesson for me and one that changed everything.
I now tell my clients that the most important thing they can do when float fishing and with all methods used to free drift baits is to control the speed of their bait. In fact, if you learn nothing else from me, just mastering this skill will make you a far better angler.
To control your speed, anglers do this by slightly tilting the tip of the float upriver and allowing the surface current and the bubbles to go faster than the float. This is called "trotting" or some might call it "checking the float". Doing this throughout the entire drift is the difference between catching 10 or catching none. I have an entire page on how to control your speed when float fishing for more fish.
Finding The Bottom – Depth Control
Like many other species that inhabit the river, salmon often hold close to the bottom and that means you need to get your bait down close enough to them that it's in their strike zone. The problem is that many anglers do not know how to do this very well.
To effectively get your bait to the bottom and in the strike zone, you need to keep sliding your float up the line making the leader longer until you start dragging the bottom. Once you determine that you are on the bottom you simply make it 1 foot shallower.
The reason you make it one foot shallower is that fish feed up and sideways and they rarely feed downwards, therefore, dragging your bait across the bottom too much will often result in less fish.
Finding the bottom can be done more effectively using the right floats and the right baits, and my specialized custom leader setup which I discuss in more detail on my page How To Know How Deep To Set Your Float – 2 Easy Ways.
On that page, I also explain how to find the bottom when the bottom is not the same depth throughout the entire spot, as well as how to find holes that could concentrate the salmon.
Covering The Water For More Salmon
Covering the water well is one of the key fundamentals of good float fishing and one that many new anglers do not do well. This includes where you position yourself for the best presentation, and where you drift the bait.
Salmon don't always sit where you think they should be so I have a systematic approach to covering the water so that I don't miss any fish. This systematic approach has helped me find hot spots that concentrate fish that other anglers miss.
One of the first things I do is try to be at the top of the spot and only fish down towards the fish. This allows me to get a better line, float, and speed control, all of which are important if you want to catch more salmon.
I discuss all my tactics on how to cover the water better on my page Effectively Covering The Water When Float Fishing.
Step By Step Float Fishing For Salmon
There you have it, all the things you need to work on if you are float fishing for salmon and want to catch more salmon, now let's put them all together.
You will need to be sure you have a rod, reel, and line that will improve your ability to get a great presentation and then fight and manage the fish well. Even having a good pair of waders so you can position yourself in the right spots helps a lot.
Once you have that you will need to set up your leader properly and I recommend you can use my leader setup since it is proven to work.
Make sure you have a few proven baits and that you know how to rig them up, how to rotate them to figure out what bait will get their attention, and even how to properly put them on the hook.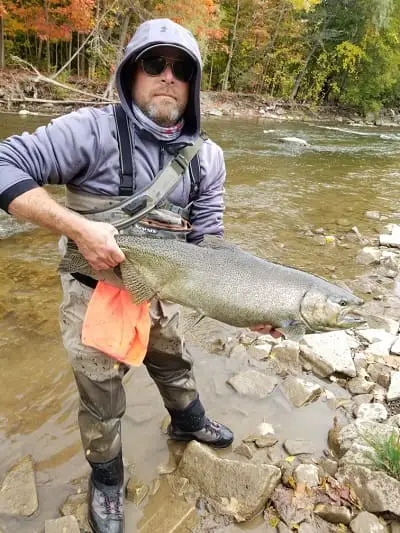 Next, you need to figure out what rivers in your area are the best to fish for salmon. I recommend smaller to medium-sized rivers of 20 to 60 feet wide because they are easier to read, they concentrate and funnel the fish better, and you can chase the fish up or down the river if you need to.
Now you need to adjust your float depth until you start finding the bottom using my custom leader and advice on how to do that properly, and then start practicing controlling your speed by controlling your float and leader angles.
Add my covering the water techniques and you are well on your way to catching more salmon.
Got A Question About Float Fishing For Salmon
If you have any questions, tips, or some advice on what works for you when float fishing for salmon, let me and other readers know in the comments section below.
Tight Lines
Graham
Cool River Fishing Accessories
Simms Taco Bag
It's a wet wader bag for storing your waders after a day on the water and it's a mat to stand on to keep your feet dry when getting your waders on and off.
Duffel Bags and Stream Packs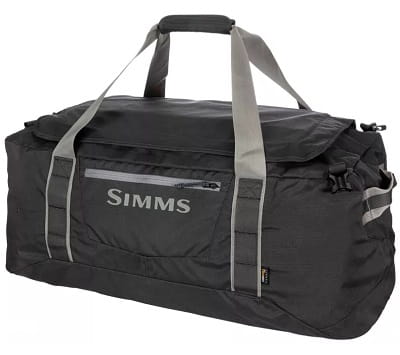 Having a dedicated bag to pack and carry your waders, vests, boots, jackets, and more is a good idea. Waterproof and mesh bags are available.
Waterworks Release Tool
Protects your flies from damage caused by forceps, This tool gets all hooks out easily. Even deep hooks come out with this tool.
Clip-on Magnifiers
When I flip these down to tie knots a lot of guys say " I need to get some of those". These are great for anyone that ties knots. Make sure they are lined up properly for the best view.