Salmon Fishing In Michigan: A Complete Guide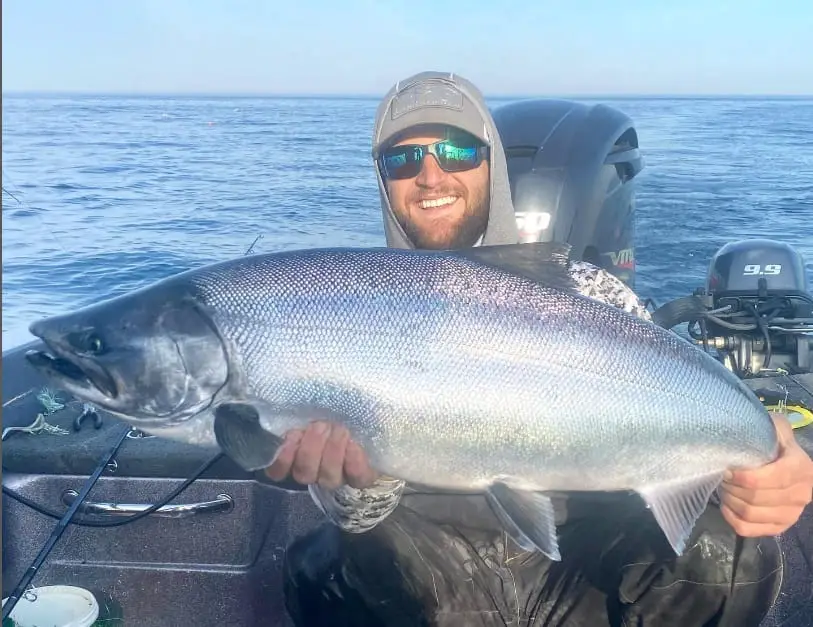 With the help of our river guides, this is the most complete guide on salmon fishing in Michigan. Our guides give you their tactics, advice, and tips to help you have a better experience fishing for salmon in Michigan rivers and lakes.
Salmon fishing in Michigan rivers starts in September and ends in November but anglers can catch salmon 12 months of the year. Anglers have many great rivers and streams to try as well as two great lakes that have 4 types of salmon. Michigan salmon fishing is a great opportunity to catch multiple salmon over 20 pounds.
As with all our articles, the information on Michigan salmon fishing is provided by fishing guides that know all the ins and outs to catch more salmon. This article discusses both lake and river salmon fishing in Michigan.
Types Of Salmon Fishing In Michigan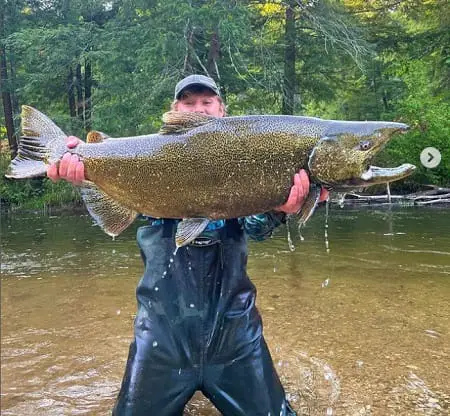 There are three types of salmon fishing in Michigan.
There is open lake fishing where anglers troll from boats.
Then there is near-shore lake fishing where anglers will target salmon from piers and shorelines.
The most popular type of salmon fishing in Michigan is river fishing once the salmon enter rivers to spawn.
With all of these types of fishing, anglers can target these salmon species:
Chinook salmon
Coho salmon
Pink salmon
Atlantic salmon
All these options for salmon fishing in Michigan are accessible to DIY anglers, with salmon fishing charters, or with river guides.
Before you fish, check out the salmon fishing regulations which will also give you information from the Department of Natural Resources about access to rivers and lakes.
Michigan Salmon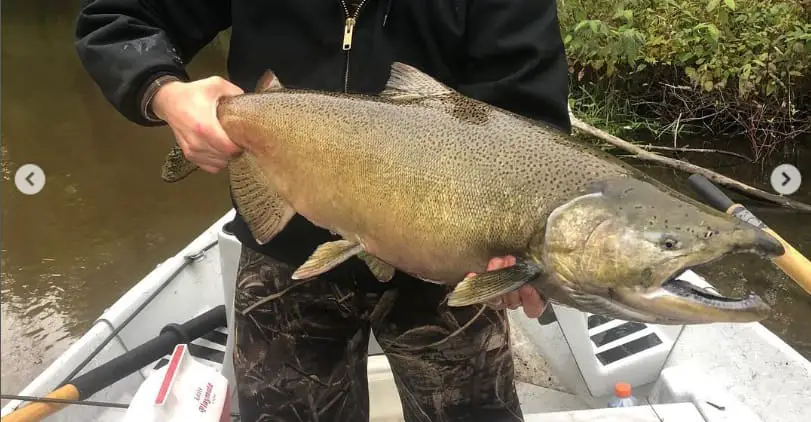 Chinook Salmon – also known as kings or king salmon due to their size, they are often the earliest of the salmon to enter the rivers. They are sometimes followed by rainbow trout and great lakes brown trout making them a double target.
September and October are prime months on most rivers, but on some rivers and under the right conditions, some chinook salmon will run up the rivers in July and August. Most rivers and streams in Michigan will get runs of Chinook salmon with some getting bigger runs. See below for some of the best rivers.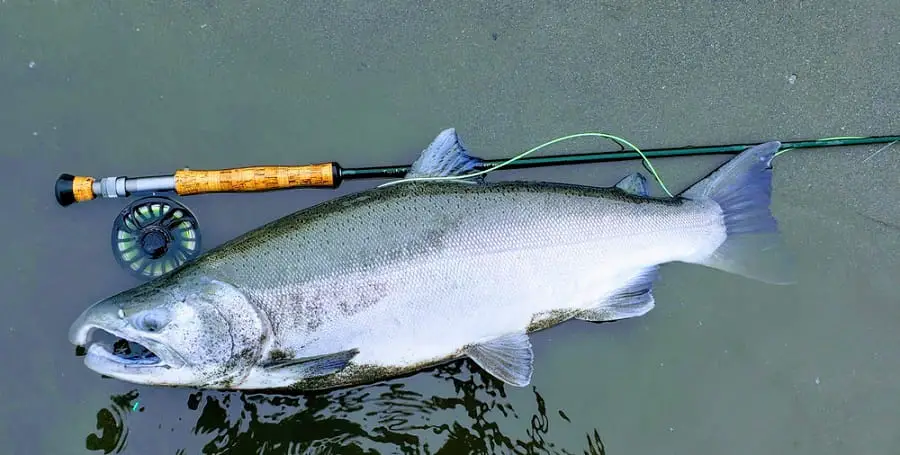 Coho Salmon – also known as silver salmon, or silvers, are well-known for fighting and bone-jarring strikes.
Once you hook them, it is battle-on so have good great suitable for these salmon.
Coho is the second species of salmon to enter the rivers, making October a prime silver salmon month. Coho salmon will make their way up most big rivers and small streams with some rivers getting significant runs, while others just get a few strays.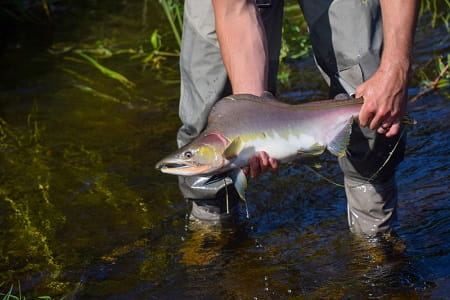 Pink Salmon – The pink salmon is the smallest of the salmon species with an average size between 3 and 5 pounds. The best times for pink salmon fishing are June and July.
They do not swim far upstream to spawn but they do prefer fast flowing cold and clean streams.
A top river for pink salmon is the St Marys River which some anglers call the best pink salmon fishing in the east. Pink salmon are more prevalent in Northern Michigan.
The number of Pink salmon are much lower than king salmon and coho salmon.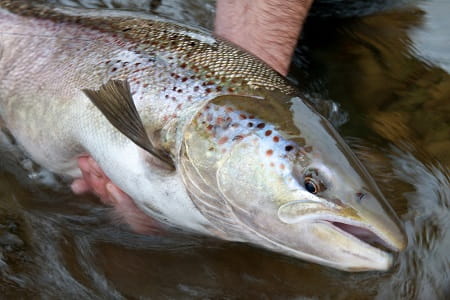 Atlantic Salmon – Michigan Atlantic Salmon start to enter some rivers as early as July and will spawn in October and November.
They are found from the St Clair River to the St Marys River with some of the best fishing On the St Mary's River, Thunder Bay River, and the AuSable River.
These rivers have good numbers of Atlantic salmon by October.
There is also a good fishery in Torch Lake. They are the second largest of the salmon species in Michigan.
Anglers might also catch them while trolling out in Lake Huron.
Like the other salmon above, all methods, and all baits and lure work on Michigan Atlantic Salmon.
How Big Do Salmon Get in Michigan?
They can come in by the thousands and anglers have the opportunity to hook dozens of salmon a day over 20 pounds, but how big do salmon get in Michigan?
Chinook – 40.4 pounds
Coho – 30.56 pounds
Pink – 8.56 pounds
Atlantic – 32.62
The biggest salmon are the king salmon followed by the Atlantic salmon and then the silver salmon.
The smallest salmon are the pinks which are often under five pounds.
Lake Fishing For Salmon: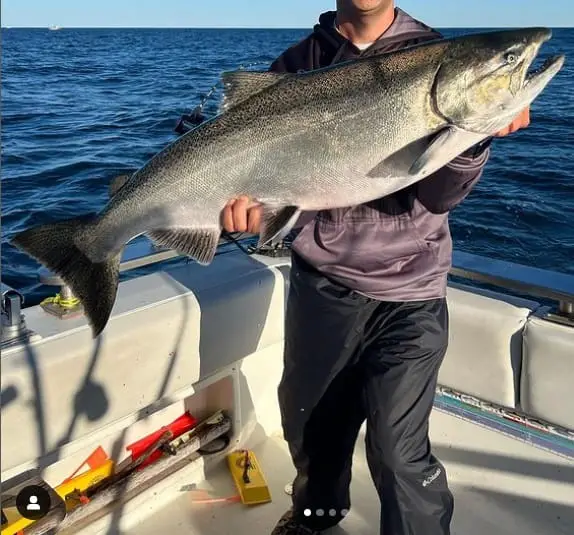 Salmon fishing charters are one of the best ways to experience salmon fishing on Michigan lakes but anglers with suitable boats and the right gear for the big lake can do very well on their own.
The state of Michigan has Lake Huron on its east, lake Michigan on its west, and Lake Huron to the north, and all areas have good salmon fishing.
For most anglers, it's the Lake Huron and Lake Michigan tributaries that flow into them that get the most attention, and this is where most of our guides fish and guide.
These two lakes have unique structures and the salmon use different parts of the lake at different times so anglers have the opportunity to fish with spinning rods, bait casters, or fly rods.
For open lake fishing, the most common method for fishing for salmon is trolling.
Shore fishing can also be very good for salmon. Shore fishing for Michigan salmon is usually done with plunking techniques or casting lures, both can work well when lake fishing for salmon.
Fishing Guides and Charter boats will not only help you fish more successfully on the lakes, but some guides will also guide you on the rivers. they might even clean and wrap up your catch for you and your guests.
Experienced guides will have larger boats that can handle the bigger open water of the great lakes which makes your trip safer and more comfortable, but some also have smaller boats that are easier to maneuver in the shallow rivers.
Trolling For Michigan Salmon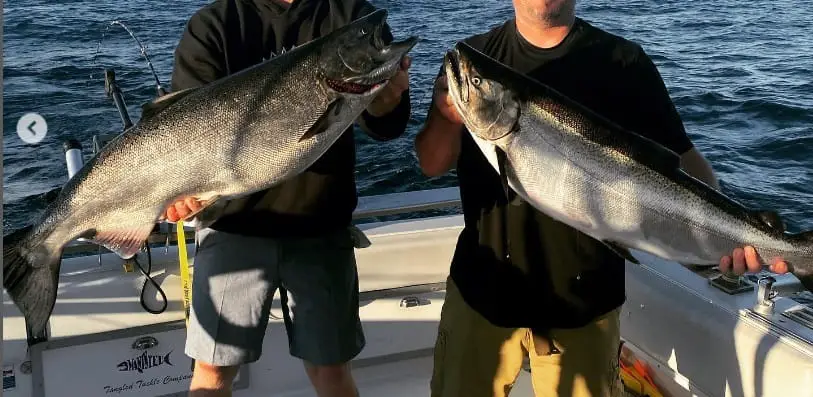 When Salmon fishing in Michigan on one of the lakes, most often you troll for salmon using shiny spoons or cut baits. When the salmon are staging around the river mouths in spring and late summer, plugs, and crankbaits can be the hottest lures.
Trolling is the best way to target a large section of the lake and it can help draw salmon into the area where you are fishing.
Generally, May, June, and July are when the salmon will be out in the open water and will often be deeper than 60 feet down. This is when trolling with downriggers is about the only way you will have any success.
Good charter services know how to find these fish so days of 10 or more large bright silver and hard-fighting salmon can be caught.
Shore Fishing For Michigan Salmon
Many anglers will try shore fishing if they don't have access to a boat and at times, this is a great way to fish for Michigan salmon.
If you know where the salmon are and how to follow their seasonal migrations, you can fish from shore with some success, especially during the spring and fall months when the salmon are higher in the water column and will often congregate near river mouths, bays, or warm water discharges.
Local anglers and guides will know where these areas are and will cast lures or plunk baits out in the lake. Some will also use baits under a slip float. Pier fishing and river mouths are often the hot spots.
Starting in late August through September and even in October, many salmon will stage close to the river mouths and some will even move in and out of the lower sections of the rivers in the dark or low light conditions waiting for ideal river conditions.
These ideal river conditions that get them to move into the rivers are usually cooler high water from fall rains and cool nights. Big rains in September and October, can see significant numbers of salmon entering the rivers.
Upwelling is the process of the water being pushed by the winds towards the opposite shore of the lake. It generally occurs when the wind is blowing away from the Michigan shorelines where the guys fish and this upwelling lifts up cold water from the bottom.
Since the salmon prefer cold water and you might find them closer to shore and more accessible to anglers at these times. As the colder water moves towards the surface, both the bait fish and the salmon can also move closer to the surface, therefore you don't need to get your lures as deep.
Late summer and spring can be good months to look for these strong offshore winds.
If you are fishing for Coho salmon, shore anglers will focus on April through July. If you target king salmon, late July until the end of September is prime for this. Even bigger rainbow trout known as steelhead can be good at this time.
As a bonus, Some very big lake-run brown trout over 20 pounds will also move closer to shore at the same times as the salmon so there's always a possibility to hook one or two. See Lake Run Brown Trout: A Complete Guide.
For more detailed info on Lake Michigan fishing for all species including salmon check out: Lake Michigan Fishing: 3 Top Guides Tell You How And Where.
Lure Fishing For Michigan Slamon
Lure fishing for Michigan Salmon is common on the lake, also at river mouths, and when the salmon are in the river. Salmon will hit lures at any time and anywhere.
Out in the lake and when the salmon first enter the river they are hitting lures because they are feeding.
Once the salmon are in the river for 24 hours or more and their focus turns to just getting up the river and spawning.
When this happens, the salmon will hit lures out of aggression, or out of habit, or instinct, and some will also hit a lure because it's in their spawning territory and they don't want other baitfish to interfere with the spawning process or take the eggs the females drop into the spawning beds.
There are many salmon guides in the rivers that will use lures due to their effectiveness and because of the hard hits and the excitement it provides their clients.
Lures also work best for trolling in the lake, for back trolling in the rivers, and also from the shore, whether that shore is the bank of the river, or the beaches and shoreline of the lakes.
Best Types Of Lures For Salmon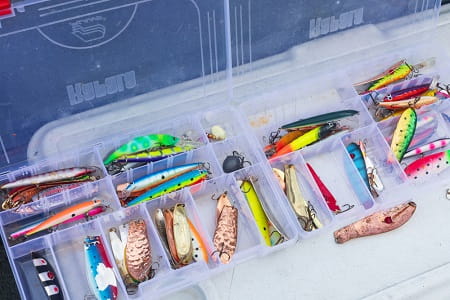 There are four types of lures that are most effective for salmon fishing in Michigan.
There are a variety of sizes, colors and types of lures that work for salmon including spoons, crankbaits, plugs, and spinners.
Spoons
There are two types of spoons that anglers use to fish for Michigan salmon. Flutter or trolling spoons are lightweight and have good action and are the preferred choice for boat anglers.
These spoons are 4 to 6 inches on average and are usually silver with other colors like chartreuse, orange, blue, and green to imitate the natural baitfish that the salmon feed on daily.
Many anglers use these spoons during the summer when the salmon are deeper and they will use them off downriggers or Dipsy Divers. These lightweight spoons are slender and designed for trolling but they do not work very well for casting off piers or in river currents.
Casting spoons such as Little Cleos and Krocodiles are heavier spoons that can be cast long distances out into the lake. They are also good for river fishing because they stay down even in faster currents, which I discuss on my page Lure Fishing For Salmon.
Plugs and Crankbaits For Michigan Salmon
Salmon plugs are big lures that may make noises or dive.
These can be cast or trolled and anglers will often use these early in the spring or late summer and fall when the salmon are stagging near the mouths of rivers.
These plugs have enticing wobbles that trigger salmon to bite and they work well on the late summer aggressive salmon that are ready to run the rivers.
You can choose the type of plug and color to fit your fishing needs. They are designed for diving in different ways and to different depths.
Colors can be similar to summer spoon colors but chartreuse, greens and silver are general go-to colors.
A good tip is to choose casting spoons in brighter colors, silver, medium blue, greens, pinks, and grays. 
Spinners For Michigan Salmon
 Spinners such as Mepps, Blue Fox, and Panther Martins are very good for salmon at the river mouths and up in the rivers. Bright colors and a single-line spinner is a top options for many guys that like casting lures for salmon.
Wobbling plugs such as Kwikfish and Flat Fish are another option in bright colors.
I discuss all of these lures and the best colors on my page Best Lures For Salmon.
Jigging For Salmon
A lesser known but very effective method is jig fishing for salmon. Jigs can be used near shore at the pier and river mouths or in the river.
Anglers can cast jigs using a method known as twitching jigs. Jigs can also be drifted under a float or with drift fishing methods.
For the best salmon jigs and for more information on this method, check out my page Jig Fishing For Salmon.
River Fishing For Salmon In Michigan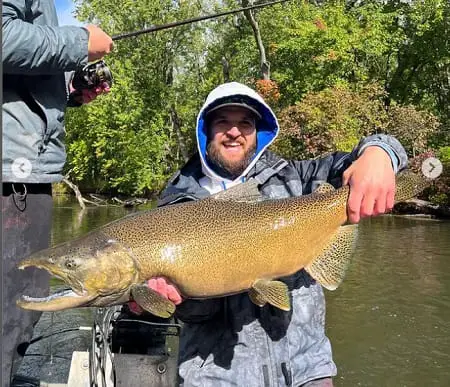 River fishing for salmon in Michigan is a fall event. The salmon enter the rivers in September and October with scattered small runs even occurring in late July and August primarily after big rains.
The run times will differ based on the river and the salmon species. Here are a few examples:
Grand River – September – mid-November – guided fishing is a good option since many salmon anglers will target the Sixth Street dam in Grand Rapids.
Pere Marquette River – August – late September – You can also target brown trout and steelhead here.
Lake Huron Tributaries – Mid-September and into October – Sometimes later. You can target trout, walleye, and steelhead here too.
Anglers have the option to fish miles of each river and in some cases that is from the mouth of the river to the headwaters minus any private property:
Big Manistee River
Muskegon River
Pere Marquette River
Grand River
St. Joseph River
Two-Hearted River
Clinton River
Options For River Fishing Salmon
Walk and Wade is one method used by most anglers especially if you don't have a boat. There are many public access areas along most rivers and we discuss this more on our Michigan Rivers Page – Coming soon.
A better option is to drift the rivers by boat which can get you away from crowds and into a lot more salmon that are not bothered by other anglers. River boats can also get you through miles of private property that anglers on foot can't access.
I know that not all anglers have access to a riverboat, but a single or two-man pontoon boat or river raft is not that expensive, is easy to get to and from the river, and a lot of fun. These small single-man to 3-man boats are stable and easy to row, some can even have a motor mounted on them, and they are lightweight so they are easy to transport.
I know all of this because I have guided for 14 years out of pontoon boats and rafts and so do many guides.
If a riverboat is something you are interested in check out my page on River Fishing Boats.
A guided drift boat or walk trip is money well spent, especially if you do not know the river or the methods. A good river guide will take care of the drop-off and pick-up options and all you have to do is focus on the fishing and learning how the guides do it.
Be sure to check local run times as they vary from year to year and river to river and be sure to contact your guide for a trip far in advance and they will let you know when the best times to book a trip are.
What Month Do Salmon Run In Michigan?
If you are a do-it-yourself kind of angler, knowing when to hit the river is a big part of catching salmon in Michigan.
Generally, the salmon season in Michigan begins in May for boat anglers and for many pier fishermen, and it ends in late October or sometimes into November for the river anglers.
Salmon fishing crosses with steelhead fishing at times but the steelhead are prime targets in winter when salmon fishing takes the back burner.
Fall Salmon Fishing In Michigan
The colder water is one of the reasons why salmon runs only occur in the fall.
Some biologists and guides believe that as the water temperature drops, aquatic insect populations are at their lowest and that gives salmon roe better odds for surviving. Others believe the winter cold water is ideal for the small cold water-loving salmon hatchlings than the summer river water temps.
The salmon lay their eggs in gravel nests in the fall and they hatch in late winter and early spring.
The ideal water temperature for spawning is 40-55 °F making fall the perfect time for salmon runs and spawning.
If you are planning to fish salmon, in some rivers you will also have the opportunity to catch brown trout, rainbow trout, walleye, muskie, bass, and steelhead.
Best Salmon Rivers For Fishing
Manistee River – Early season begins the first week of September and stretches through mid-October. Early kings are common with sight fishing opportunities. Tippy Dam is a good place for trout fishing and especially for Lake Trout during salmon run times.
Grand River – September-mid November are the run times for salmon with early kings and lots of trout. The Sixth Street Bridge is a hot spot but overcrowding is easy.
White River – September and October are run times for salmon. Rainbow and brown trout are always an option and steelhead fishing from November. Great for short floats or wading.
Saint Marys River – late June for early Atlantic salmon. Late September for Coho and king salmon and plenty of opportunity for steelhead in early October and musky in early October.
St. Joseph River – A bigger river with good runs of summer, fall, and spring steelhead combined with fall salmon.
Best Methods For Salmon Fishing In Michigan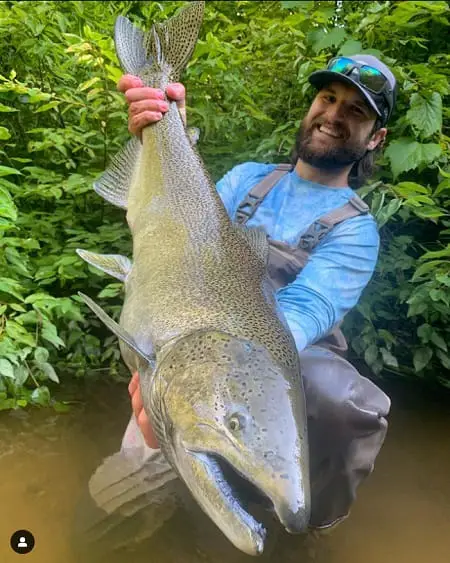 Float Fishing: A very effective method. float fishing with spinning reels or baitcasting reels is a method where you suspend your bait below a float (also known as a bobber) and drift long stretches of the river.
This is very popular and often the most effective method in rivers.
For more info on this method check out my page Float Fishing For Salmon.
Centerpin fishing – is a natural presentation for bait or flies under a float using a reel known as a Centerpin reel or a Float reel. There is no drag on this unique reel so you have to wear the fish out with hand or finger pressure on the reel.
Centerpin fishing is often the most effective method for salmon and steelhead. See my page Centerpin Fishing For Salmon for more information on this method.
Fly fishing – Fly fishing using Nymphs or Streamers is very popular and very effective on Michigan salmon, especially in rivers. Some anglers will fly fish from piers and the shores. Many of the Michigan rivers are also large and well suited for a fly fishing method known as Spey Fishing. Check out my Page Fly Fishing For Salmon and Nymphing For Salmon.
Casting lures – spinning rods and reels are easy to use for most beginners and many experienced anglers. You can fish from shore or a boat.
Drift Fishing And Bottom Bouncing – These are similar methods where you simply cast your bait out and allow it to sink and drift along the river bottom with the current.
The Drift Fishing method is better suited to larger and deeper sections of the river, as well as longer drifts, and the Bottom Bouncing method is great for smaller pocket water, shallower water, and smaller sections where shorter drifts are required.
These methods use an assortment of baits.
Plunking – Plunkig is another method used for salmon, steelhead and trout for both river and lake fishing.
Plunking allows you to cast your bait out and have it hold in a specific zone where salmon are likely to swim by and grab your bait. This is an easy method for new anglers and is very relaxing. Anglers will mostly use organic bait such as spawn bags, shrimp, worms, or minnows. For more on this method Check Out Plunking For Salmon.
Bobber Doggin – Bobber Doggin is a somewhat new and lessor known method that's becoming more popular. It's similar to float fishing with the difference in the setup and how you let your bobber drift. With this method you normally use baits. For more on this method check out Bobber Doggin.
Float Fishing For Michigan Salmon
It's hard not to expand on this method since it is the most popular method and it's also likely the most effective method for salmon fishing in Michigan.
This is primarily a river fishing tactic when you suspend your bait below a float. I will discuss the best bait below.
With this method, you get a controlled drift with good speed and you can suspend your bait in the strike zone for long stretches. All of these equal more fish in the net.
Using a Centerpin reel for this method will greatly improve your success but both anglers and guides will also use spinning reels and baitcasting reels for this method.
Baitcasting reels are often only used on larger rivers with swifter currents.
Best Baits For Salmon Fishing In Michigan
The top option for many anglers fishing for Michigan salmon are salmon eggs – all salmon and trout species will eat salmon eggs tied in colored mesh which is known as a spawn bag, or roe bag, or eggs sack.
Learn guide tricks and methods they use to make their spawn bags more effective on my page Spawn Bags: Guide Tips
If you have one option for bait for Michigan salmon it will be salmon roe bags. However, there are many other great baits and some that are often more effective than the common roe bag. Check these out on my page Best Salmon Baits.
Fly Fishing And Best Flies For Michigan Salmon
You can opt to fly fish the lakes in early summer for salmon when they are high in the water column and near shore, or you can fish in the fall months for salmon that are staging at river mouths or are headed upstream to spawn.
It's important to note that most river guides chose fly fishing as their method for catching steelhead and salmon in rivers which is a good indication of its effectiveness.
Most fly-fishing anglers use a method called Indicator fishing which is when you fish your flies below and small indicator (bobber).
Streamer fishing can also be very effective. Streamers look like baitfish.
Spey fly fishing is another good option, especially on the bigger salmon rivers. If fly fishing for salmon is your choice, whether you are new or more advanced, check out my page Salmon Fly Fishing Tactics Used by Guides.
A guide or charter is a good bet, especially if you are new to salmon fishing in Michigan.
Best Flies For Salmon Fishing In Michigan
Wooly bugger in Black
Egg Sucking Leech
Glo Bug – Egg pattern
General egg pattern flies – often in a range of colors from yellow to vivid green
Streamers in bright, hot colors – pinks, yellows, oranges, and cooler tones, blue to black.
These are the top flies for salmon anglers. Streamers and egg pattern flies both are very versatile for lakes and rivers. See over 40 of the most effective salmon flies.
How Many Salmon Can You Keep In Michigan?
Generally, and at the time of this publication, up to five salmon per day and no more than three Atlantic salmon, however, these rules change each year so be sure to read up on the local rules for each fishery.
Fishing Regulations And Fishing Licence
All fishing regulations are available online. Fishing licenses you can also order online or pick them up in person. Michigan also has an app for hunting and fishing that allows you to check the regulations, access maps, and more.
Michigan Salmon Fishing Lodges
Batche's Manistee River Lodge – A fly fishing lodge with guided adventures for trout and salmon. Fish the Manistee River, Pere Marquette River, Bear Creek, and the Pine River.
North Rivers Lodge – fly fishing on the Little Manistee River. Restored log cabins are full of rustic charm and set amid the beauty of the Manistee National Forest.
The Homestead – on the shores of Lake Michigan – Is a family resort with a focus on fishing and local fun.
Michigan Salmon Guided Trips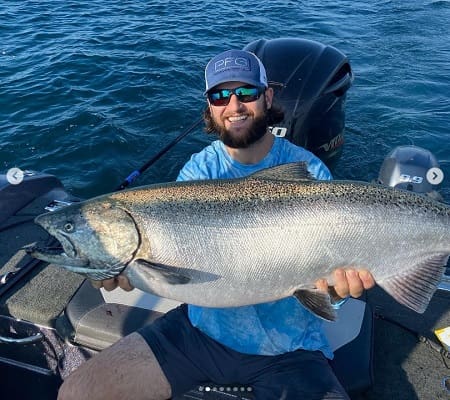 One of the best reasons to go with a guide or to book a charter is that these professionals know where in the lake the salmon are at different times of the season.
The salmon enter the lakes and stage at river entrances. Finding them takes time if you don't have access to the fishing reports.
Depth is another issue with a fishing trip on Michigan lakes.
The guide or charter captain will know how deep to set the line to target chinook, coho, pink, or Atlantic salmon. You might also be able to book species-specific fishing, such as chinook and coho salmon trips.
Michigan Salmon Fishing Guides
Get Bent Guide Service – a well-reviewed and professional guide for salmon, steelhead, and trout on Southern Lake Michigan rivers.
Fire Plug Charters – Manistee River, Muskegon River, and Lake Michigan- Salmon, trout, steelhead, and bass. Well-reviewed, award-winning, and very professional
Lake Michigan's Best Salmon Charters
Fire Plug Charters – West Michigan salmon and trout fishing – Fish Salmon on Lake Michigan. Very experienced and knowledgeable about current fishing data.
Michigan Fishing Reports
An excellent resource for anglers is the Weekly Fishing Report by the State of Michigan. It helps you know what's running and where.
These are some common questions about Michigan Salmon Fishing.
Do you need a special license to fish for salmon in Michigan?
Yes and No, You need a Salmon and Trout Stamp, along with the normal fishing license which is required when targeting most fish including salmon in Michigan. Michigan's annual fishing license is valid from March 1 of a given year through March 31 of the following year. This may change so be sure to check the official fishing regulations.
How Much Is A Michigan Salmon Fishing Licence?
It depends if you are a resident which is $26, A non-resident which is $76, or a Senior resident which is $11. However, these prices may change every year so check the official fishing regulations or at your local tackle dealer.
How Much Is A Salmon Stamp In Michigan?
As of now, a salmon stamp is $6.50, this may change so check the official regulations.
Salmon Fishing In Michigan Q&A
If you have a question or some tips regarding salmon fishing in Michigan let us know in the comments section below.
Tight Lines,
Graham