Best Salmon Rods To Use When Fishing In Rivers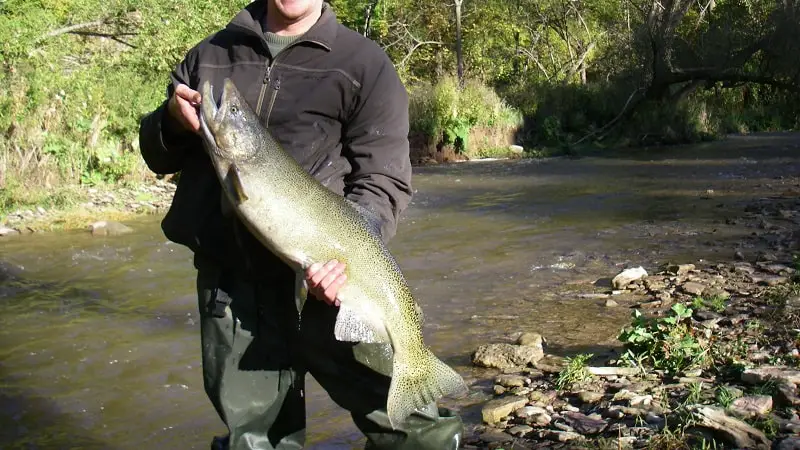 It's been a busy summer and the guide season is in full swing now, but one of my clients just asked me about the best salmon rods for the upcoming salmon runs so I decided to do this article about the best rods for salmon fishing in rivers for him and for you.
The Best Rods For Salmon Fishing In Rivers
Using the right rod when salmon fishing is important because a good rod will help you present your lure or bait better, it will help you cast farther, and it will also help you control and land more big salmon.
In this article, I will discuss the best salmon rods that myself, my guides, and what other salmon river guides are using.
The best salmon rod for casting lures is the 9'2 Lamiglas Infinity and for the best economy rod for salmon fishing, it's 9'6 Lamiglas X-11 Salmon rod or the 10'6 Fenwick HMX Salmon & Steelhead Spinning Rod. The best float rod for salmon fishing is the Lamiglas "The Closer" Centerpin Rod.
These are longer than your traditional 7-foot rods that many guys think are good for salmon. The longer rods protect lighter lines from breaking, they allow you to get longer casts, and they allow you to keep the line higher and off the rocks when the big salmon are running up or down the river through shallow sections of the river.
These are things some anglers don't consider but as a river guide I've seen it all and I use rods that help my clients land more salmon.
Some of the rods I recommend are not the best, however, they are the best in their price range. I list them here because I know many guys can't afford or don't want to spend $500.00+ on a rod for salmon fishing that lasts 2 months of the year.
This article will list rods for different methods and for different budgets. I hope you enjoy it.
Best Salmon Rods For Casting Lures
The last two rods I mentioned as the best rods that will fit into most anglers budgets because they come in at around $100, which is why I rated them as the best in this price range.
The other rods will cost you more but you get what you pay for and when it comes to big strong salmon, you are less likely to break a more expensive rod. Sometimes buying cheap means you buy twice, so keep this in mind when buying a good salmon rod.
Lamiglas Infinity Salmon & Steelhead Spinning Rod
The Lamiglas Infinity salmon and steelhead rods are one of the best rods for salmon fishing for anglers that want to cast lures to salmon on great lakes rivers.
This rod comes in sizes from 7'9 to 10'6, but for casting lures I recommend the 9'2 rod model number ISS92MHS.
Features:
Graphite handles with grip panels
Lightweight technique-specific blanks
High-quality stainless steel guides with Zirconia inserts
Manufacturer's limited lifetime warranty
If you want to float fish more than casting a lure, consider the 10'6 rod.
This rod is a quality rod that sells for about $359.00.
Lamiglas SI Salmon & Steelhead Spinning Rod
The 9'4 Lamiglas SI Salmon & Steelhead Spinning Rod might be the best rod on the planet for casting lures to salmon
Fuji K titanium guides
Handmade precision-graphite blanks
Carbon fiber handle with custom grip panels
Manufacturer's limited lifetime warranty
Made in the USA
The downside to this rod is the price which is around $425.00 but if you want the best, then you'll have to pay for it.
St. Croix Triumph Salmon & Steelhead Spinning Rod
The St. Croix Triumph Salmon & Steelhead Spinning Rod is a great rod for angler looking for a salmon rod from a great rod brand for under $150.00. I have used a lot of Triumph rods in the past and this one is one that I can feel comfortable recommending for salmon fishing around the great lakes.
For casting, lures check out the 8'6 medium or medium-heavy model number TRSS86MF2
Lamiglas X-11 Salmon rod
If you are looking for a rod that won't break the bank and that will fit into most anglers budgets, the 9 foot 6 inch or the 10'6 Lamiglas X-11 Salmon rod is one of the best salmon river rods that you can use for casting lures that will cost you less than $120.00.
The LX96MSGH model is a Drift/Float/lure rod. but the LX 106 MLS is good if you intend to float fish more than throw lures.
They also have a great 8'6 rod model number LX86MHS that is excellent for the lure guys.
You also have the choice of a cork handle or a graphite handle.
The Lamiglas X11 spinning rod sells for around $99.00 depending on which model you get.
Fenwick HMX Salmon & Steelhead Spinning Rod
Fenwick HMX Salmon & Steelhead Spinning Rod – This is a very popular rod for great lakes salmon and steelhead and is one that some of my buddies use. For casting lures I recommend the medium action 10'6″ long 8-15lbs model # HMX106M-MFS-2.
This rod will run you about $99.00
Best Float Fishing Rods For Salmon
I float fish a lot and I do a lot of guiding with float rods that are used with both spinning reels and with Centerpin reels. Most float rods can be used with either type of reel.
I cover all the best float rods for salmon on my page Float Fishing For Salmon but the 3 best rods for float fishing for salmon are:
Raven RPX Float Rod – The 14-foot model is great for float fishing larger rivers for steelhead and salmon
TO BE CONTINUED
As I said, I'm super busy right now with 5 guides and a very busy guide season so I will be updating and adding more to this page soon, or as soon as the guide season slows down so check back soon.
Got A Question About The Best Rods For Salmon Fishing In Rivers
I'd love to hear what rods are working for you when salmon fishing or if you have any questions about the best rods for salmon fishing just let me know in the comments section below.
Tight Lines
Graham
Cool River Fishing Accessories
Simms Taco Bag
It's a wet wader bag for storing your waders after a day on the water and it's a mat to stand on to keep your feet dry when getting your waders on and off.
Duffel Bags and Stream Packs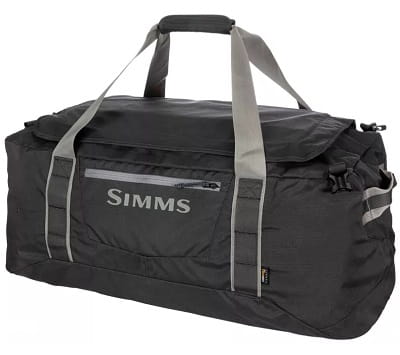 Having a dedicated bag to pack and carry your waders, vests, boots, jackets, and more is a good idea. Waterproof and mesh bags are available.
Waterworks Release Tool
Protects your flies from damage caused by forceps, This tool gets all hooks out easily. Even deep hooks come out with this tool.
Clip-on Magnifiers
When I flip these down to tie knots a lot of guys say " I need to get some of those". These are great for anyone that ties knots. Make sure they are lined up properly for the best view.