Wet Wading And Wet Wading Gear: A Complete Guide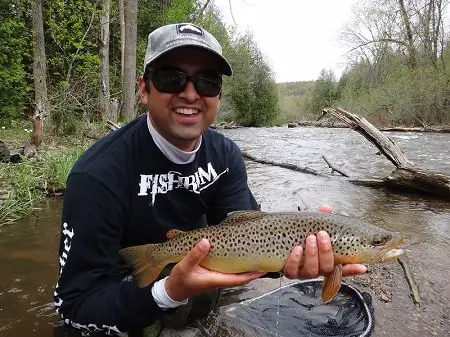 Some anglers prefer wet wading during the warmer months because it's cooler and a lightweight way to fish. I will share the wet wading gear and tactics that can make wet wading even more enjoyable.
What Is Wet Wading And Why Do It?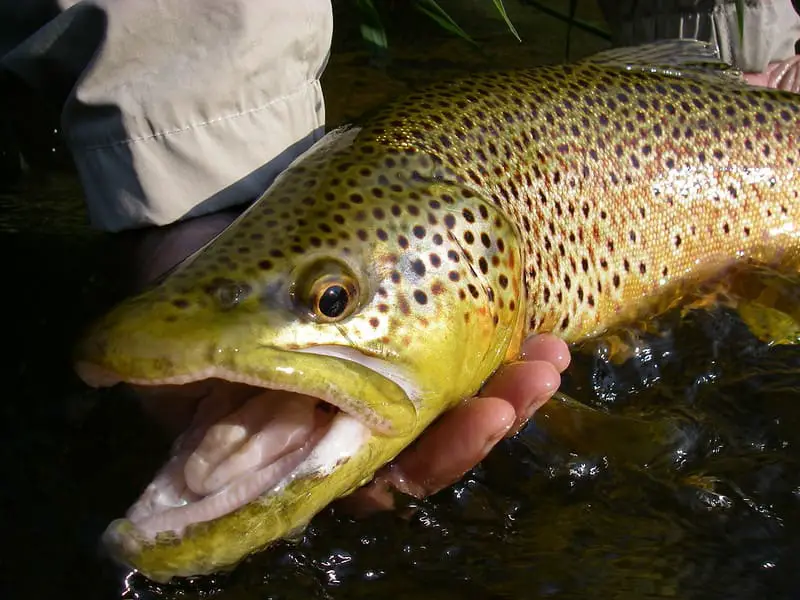 Wet wading is a very fun way to enjoy trout fishing on hot summer days without overheating your body. Wet wading is also popular in tropical destinations when saltwater fishing.
It is the same as any other type of wading that you would do while fly fishing, spin fishing, and targeting annual summer salmon or steelhead runs in rivers, but you don't need costly waders or even hip boots to do it.
You just need some good wet wading gear and your favorite fishing equipment.
When the weather and water temperature enable it, wet wading is a terrific way to spend some time fishing for trout or any other fish that you like to catch.
When To Wet Wade?
Wet wading definitely is a warm-weather activity. You want to do it during the summer when the water temperature is warm, and when you won't have to worry about cold weather or hypothermia.
It's a great way to keep your body's lower half cooled by the water while the upper half benefits from the ceiling effect on your cardiovascular system.
You also get a bit of a low-impact workout by moving against the resistance created by the water. If you are in a river, stream, or creek, the flowing water helps to make it an even better aerobic exercise while wading in search of fishing success.
I like the outdoor temperature to be above 75 degrees and the water temperature above 65 degrees. If the water is on the cool side, I like to use wool socks or neoprene booties that help to insulate my feet and calves when the wading socks are wet.
Even when the water temperature is warmer, neoprene wading socks will help cushion my feet and make the wet wade more comfortable. You can buy neoprene socks for wet wading in a variety of thicknesses and lengths to match the water and fishing conditions.
If the water is colder than 65 degrees, I always wear waders.
Wet Wading vs. Dry Wading
Wet wading implies you get wet because that is what you do. You wade into the water while wearing wet wading boots and wading socks, and a pair of shorts with maybe an undergarment beneath that to protect against the sun. Your feet and legs get wet.
Anyone who enjoys wading or swimming in lakes, rivers, and streams is likely to enjoy wet wading. Some anglers just like the lightweight feeling of not being on boots and chest waders.
By contrast, dry wading requires you to buy waders and wading boots if your waders do not have an integrated pair of boots at the bottom.
You could save some money and buy hip waders if you are going to fish shallow waters that mostly don't rise above your knees, however, most anglers choose to wear chest waders.
Dry wading always will be more expensive than wet wading because when wet wading, all you need is water shoes. Wearing socks is not even a requirement.
Dry wading does make it easier to fish in cold water as needed to take advantage of spring and fall runs of salmon, steelhead, and other popular species.
Do I Need To Wade?
Whether or not you need to wade depends on the water you are fishing and the species you are targeting.
A lot of fish are easy to catch from shore or the bank, but you might need to go into the water and search for promising spots at other times.
I like to wet wade when I am searching for fish that are suspended over a particular spot and want to float a fly or bait down to its location.
Wading also makes it easier to access locations that aren't as easy to get from shore, especially if private property lines either side of the shoreline or there are thick woods that make casting and movement more difficult.
Crossing the river is another reason to get into the water, and whether you wet wade or dry wade, traction is important, so many anglers want proper footwear with hiking boot-like treads and a rubber sole or a felt sole.
The Gear Needed For Safe Wet Wading
The beauty of wet wading is that you don't really need a lot of special gear. Wet-wading boots or other suitable footwear certainly are a necessity that can protect your ankles and improve your traction while insulating your feet in the water.
Toe protection is also important, so a closed toe shoe or boot is recommended.
You also should consider buying a pair of gravel guards to keep gravel and other things from getting into your wet-wading boots.
If gravel works its way in, you might have a hard time getting it out without going back to shore to remove your footwear. Trust me, walking with little rocks in your shoes sucks.
You also might consider a fishing hat, face and neck mask, and a net for helping to land fish while you are wet-wading. A fishing shirt that offers sun protection also can help you to stay comfortable while wading.
Check out, Best Neck Gaiters For Fishing.
Most wet wade anglers will also have a fishing pack or fishing vest to carry their gear. I prefer a lumber pack.
Lightweight Wet Wading Shoes and Wading Sandals
You don't have to wear wading boots while wet wading, but you definitely need protection for your feet.
You don't want to step on sharp rocks, sticks, hooks, or broken glass that could injure your foot.
Lightweight wet wading shoes are a great option, and you don't have to buy specially-made wading shoes. You might have an old pair of running shoes or hiking shoes at home that give you good traction in mud and fit comfortably.
The best wet wading shoes give you good arch and ankle support and will dry out quickly when out of the water. They will also have better traction than old sneakers.
You also might consider wearing an old pair of sandals that you can adjust to fit. Sandals are going to be prone to gravel and sand betting between the sole and your foot, so you should carefully consider when you might wear them.
If you are beach fishing, sandals will work. But when jagged river rocks, rough terrain, and long hikes to the river are involved, you will find sandals are not ideal.
You might not normally wear socks with your sandals, but you should consider doing so if you are going to use sandals for wet wading. If you wear socks while you wet wade with sandals, you give your feet some added protection against sand or gravel.
Wet Wading Boots
Wet wading boots are definitely the best option for wading rivers and streams in search of your favorite fish.
A good pair of wet-wading boots will improve your traction and protect the soles of your feet against injury. They also will protect your ankles against twists and sprains if you step on uneven surfaces. The wading boots also can benefit from gravel guards to keep the gravel out.
Wet Wading Socks
A good pair of neoprene wading socks helps ensure good comfort and warmth while preventing your ankles from chafing while you wet wade.
Neoprene wet-wading socks also help to keep leeches, water bugs, and other undesirable things off of your lower legs.
You can buy neoprene socks in a variety of thicknesses and lengths, and you can wear them with wading shoes, sandals, or boots while fly fishing. A good pair of socks is an essential part of the best wet wading gear.
Wet Wading Pants VS Wet Wading Shorts
Most people realize the understandable benefits of wearing shorts while wading. Wet wading shorts are similar to swimming trunks that are made from light and durable materials that dry out quickly.
In fact, I often wear swim shorts instead of wet wading shorts. Shorts do not get as wet and heavy as pants.
Wet wading pants are similarly lightweight and durable but give you the added protection of blocking the sun's harmful UV rays, and they protect you from insects, snake and animal bites, poisonous plants, and even cuts and scraps.
Good wet wading pants dry out quickly and help to cool your lower body as the water evaporates while you are fly fishing. The downside is the wrong pants get wet and heavy.
Summer Wet Wading Shirts
A wet wading shirt is a good complement to wading boots, socks, and shorts or pants. You can wear just about any fishing shirt while wet wading and get the desired results.
Those results are sun protection while wearing a shirt with breathable material. I like a long-sleeve sun shirt with a hood that has at least UPF 40 sun protection and a couple of chest pockets for holding some personal items, and a little fishing gear.
Clipping a pair of fishing forceps to the shirt helps to keep them handy if a hook is especially hard to remove from a caught fish.
Wet Wading Safety Gear
Wet wading is a relatively safe way to fly fish, but there are some types of wading gear that you could buy to make it a little safer.
Wet wading boots or a pair of wet wading specific shoes are the most important pieces of safety gear, but combining them with a wading staff is a great idea.
You can make your footwear even better with neoprene wading socks and gravel guards to protect against loose gravel and other debris.
Wading Staff
Another consideration is a wading staff that can help you maintain your balance while moving from one fishing hole to another. A durable wading staff can help you test the bottom to avoid stepping into a deep muck or an unseen hole.
It also might stop you from tripping over a submerged log or a large rock. You'll need a clip to help secure it to your pants or shorts while you are using your fishing gear.
Hat
A good fishing hat is very important to protect against the sun and falling rain. I like a fishing hat with a wide brim that goes all the way around and has a built-in sweatband. The hat should be made from light and breathable material that resists water and wicks away sweat and moisture.
Sunglasses
You likely have at least one pair of fishing sunglasses that you can put on before you start wet wading. The sunglasses should be polarized to help reduce sun glare and make it easier to see fish and various objects in the water. I like a good pair of aviator-style sunglasses because they help to keep the wind out of my eyes without fogging up.
Waterproof Gear Storage
I like to wear a fishing fanny pack to hold a small amount of fishing gear while I am wet wading. You might prefer a small backpack that fits over one or both shoulders, but I don't like to have one on my back while I am fishing on a warm day.
It helps for your gear storage to be waterproof and float, if possible. That will help to protect your fishing gear and keep it handy while you are in the water.
Care and maintenance of wet wading shoes for fly fishing
It's important to properly care for your wet wading boots, shoes, or sandals after you have finished a day on the water.
The bottoms of rivers, streams, and creeks often contain bacteria from decaying matter. You don't want that to stay on your boots and possibly spread inside your home.
You should wash your boots, shoes, or sandals in hot water after you have wet waded. A simple 3-minute soak in water that is at least 140 degrees should help to kill bacteria and keep your wading boots, shoes, or sandals from causing a stink.
Can I use wet wading shoes in saltwater environments?
You can use wet wading shoes or wading sandals while fly fishing in saltwater environments, but you should rinse them off well when you are done. The saltwater can accelerate corrosion and general material degradation, so you should rinse the salt out of the shoes or ultralight wading boots to help preserve them.
Do I need special socks or booties with wet wading shoes?
Wool or neoprene socks are perfect for wet wading while fly fishing. You might add some booties that include gravel guards, but that generally is the extent of equipment needed for a good wet wading system. It's important to maintain your footing while you are wet wading and fly fishing,
Can wet wading shoes be used for other water activities?
Wet wading shoes are made to be durable and protect against underwater conditions, but you could wear them for other purposes. They generally look like a good pair of hiking shoes and are perfectly fine for wearing while you run errands, such as going to the store.
Still, it's generally best to use them for their intended purpose so that you can get the best benefit from them while wet wading. You don't want to wear out your wet wading shoes while grocery shopping or going about your normal daily routine. After all, that's why we have walking shoes, running shoes, and hiking boots.
Wet Wading And Wet Wading Gear Q&A
If you have a question or want to share your tips and advice for wet wading and wet wading gear, let us know in the comments section below.
Tight Lines,
Graham