Early Summer Trout Fishing In Rivers: Tips and Tactics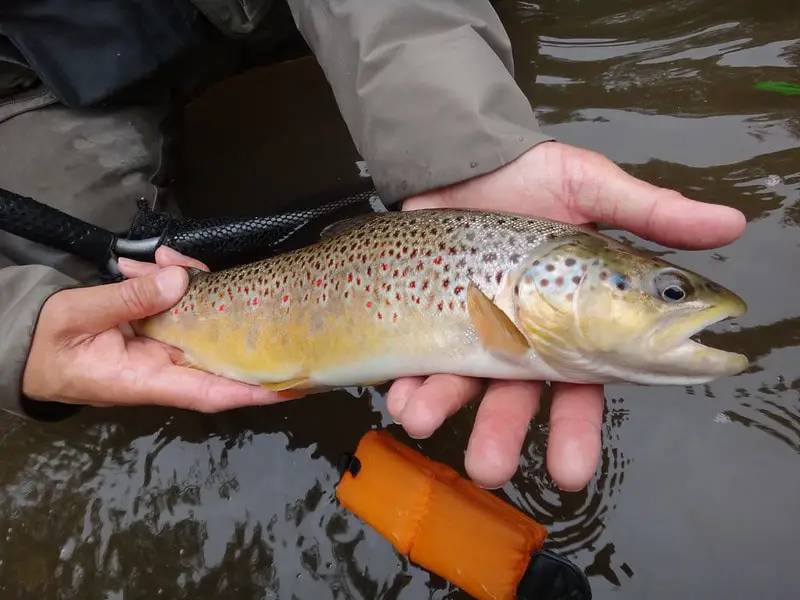 Early Summer Trout Fishing
Trout are active throughout the year and in many places, the hot spring fish is winding down and it's time for early summer trout fishing. However, depending on where you live, the best season for trout fishing can be quite different.
In the south, people have the best chances to catch trout during winter (December and February) and things start getting to warm by early summer.
If you fish streams and rivers in the east part of the USA, you should start in early spring (March) and continue until the end of June and this is a great area for early summer fishing.
So, let's see what you need to know about trout fishing in early summer!
Benefits of Early Summer Trout Fishing in Rivers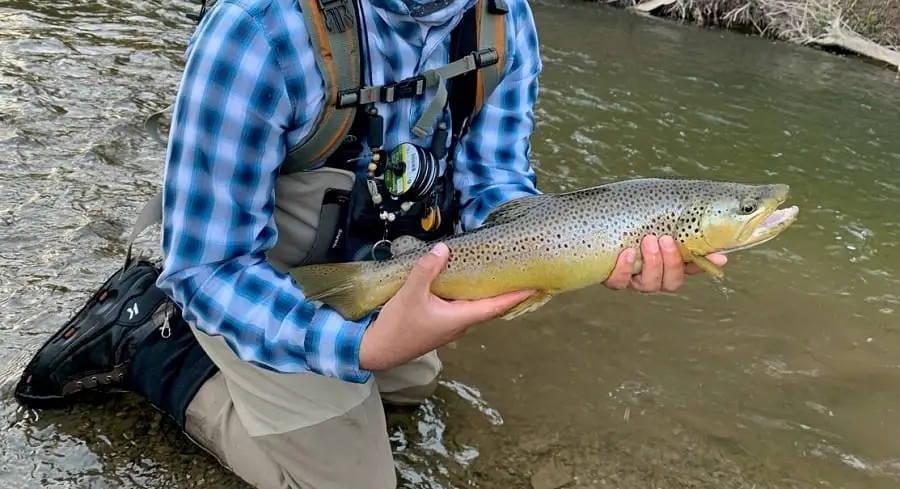 The weather in May and June is well-suited for both humans and fish. You won't be too hot or too cold while targeting trout nor need the bulky wet wading gear.
In late spring or early summer, the water is still rather cool and boasts consistent moderate flows. The temperature is stable, and there are plenty of insects. All this combined makes an ideal environment for trout to feed actively. 
Late spring and early summer are the spawning season for rainbow trout species, however, most are finished spawning and on the feed. It means they will strike at anything that moves – including your lure. 
In some parts of the country, during early May, all the snow from the high mountains melts down and drains into creeks and streams that feed the rivers increasing the water levels and making them too murky to fish. By late May and June, the water clears up, and anglers get to enjoy some of the best fishing days of the year. 
Trout have been struggling to find food the whole winter. Hence, they are not very picky or careful when feeding in spring and early summer. Why wait for them to become educated at avoiding lures?
The month of June yields some of the largest trout of the season. You can catch specimens up to 25 inches long in some rivers.
Salamon flies hatch in mid-June on some rivers. Trout love to eat these big, black & orange bugs, and you can use their appetite to your advantage.
Best Tips for Early Summer Trout Fishing in Rivers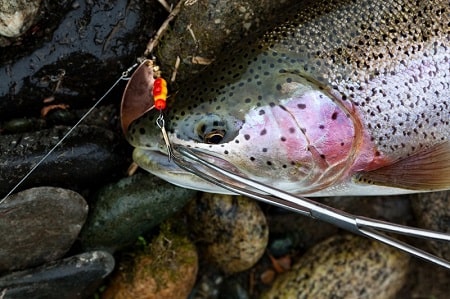 Take advantage of the best time of the day.
When trout fishing in early June and July, the best time of day for trout fishing is either mid-to-late morning or mid-to-late afternoon. The higher the temperatures are, the earlier you need to start.
Daytime temperatures become significantly warmer in July, and you should get out as early as possible. Try to get to your spot before dawn to start fishing with the first sunlight. If you are not an early bird, go fishing in the late afternoon.
Take advantage of the aggressive feeding behavior.
As we have already established, trout are very defensive during the spawning season, but when they are finished, they attack almost anything in their range.
Use bright or flashing spoons and spinners to trigger their aggression. You can also utilize baits that look like trout eggs or small fish since trout are known to eat each other's eggs and offspring.
Use the right size tippet/leader and hooks.
A 4X tippet tied to a large fly is a good start for early summer trout fishing in rivers. It is an excellent setup for fighting fish in strong currents.
Water Clarity: keep things as natural-looking as possible.
This is when some rivers start to get really low and clear. Keep the trout happy by using natural baits. 
Once trout focus on feeding, you can carefully wade close to them but stay behind the fish so they don't see you. Use an easy cast method and make sure your bait lands softly without disturbing the fish. 
Avoid sudden moves, aggressive techniques, and anything unnatural. Keep the basic pattern even if you are not successful at once – size down and give it another go.
Use adequate fishing gear.
If you have to pick only one rod for fly fishing in early summer, it should be 8 ½ foot, four weight. In general, any 9 feet long, 4 to 6-weight fly rod fitted with a floating line will do the job in most environments and situations.
If the water is muddy from early summer rains and the visibility is low, one of my most effective methods is to tie on a streamer like a big olive sculpin imitation. Use a 9-foot, 5-weight, or 6-weight rod that can throw a heavy fly. You won't necessarily need a longer leader, 5 to 7 feet will suffice for streamers. 
5 to 7 foot spinning rods and size 15 to 20 spinning reels are great for small stream fishing with lures or baits. I prefer longer 8 to 12 foot rods for float fishing or bottom bouncing on bigger rivers.
Find a good fishing spot.
In early summer, rivers are packed with trout, so you won't have to look long and hard. Try the following areas:
Along the river banks
Log jams and boulders
Mouths of creek tributaries
Water Temps For Summer Trout Fishing
Keep it simple, have a stream thermometer on hand, and if the water temps get up to 68F/19C, it's time to find colder water or go home for the day.
Trout fishing in July and Trout fishing in August have their challenges, but there are things you can do then to improve your catch.
Best Flies for Early Summer Trout Fishing in Rivers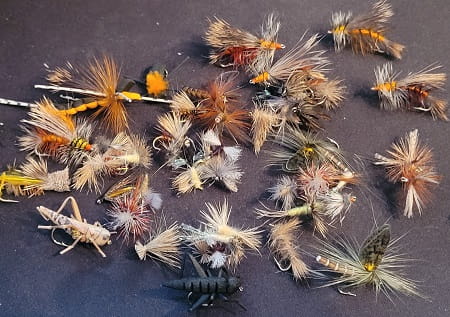 Every season calls for a different setup. May and June are between the spring and summer seasons, so you must be cautious when choosing your flies.
Here is what experienced anglers recommend:
Prince Nymph
Flashback Pheasant Tail
Wooly Bugger
Lighting Bug Pearl
Copper John Hot Wire
Parachute Adams
PMD
Caddis Larva
Hot Wing Caddis
Early summer trout fishing is also a time for dry fly fishing. You will find the usual mayfly, caddis, and stonefly hatches, combined with terrestrials like beetles and crickets.
Streamers are also great at this time of year, two of my favorites are the Circus Peanut and Zoo Cougar.
Best Lures for Early Summer Trout Fishing in Rivers
If you hope for a successful late summer trout fishing adventure, you must have a set of good lures in your tackle box.
If you take my advice and fish early in the morning or late in the afternoon, you should try casting a small size 1 spinner from the shoreline or a boat.
The best spinners for early summer trout fishing are Panther Martins and Mepps in gold, silver, or bronze color. Check out spinner fishing for trout.
You can also try casting lures that flutter and dart like spoons, and crankbaits.
Best Baits For Early Summer Trout Fishing
Worms: often best in the mornings, on cloudy days, or after a rain.
Grubs and insects: Many types of grubs as well as crickets are good for trout.
Salmon or Trout Eggs: While most anglers consider salmon eggs for spring fishing, they can work very well for early summer trout fishing.
Artificial Baits: Check out trout fishing with Berkley Powerbait.
Early Summer Trout Fishing Q&A
If you have a question or some advice about early summer trout fishing let us know in the comments section below.
Tight Lines,
Graham