Trout Fishing Tips: Guide Tips And Tactics For More Trout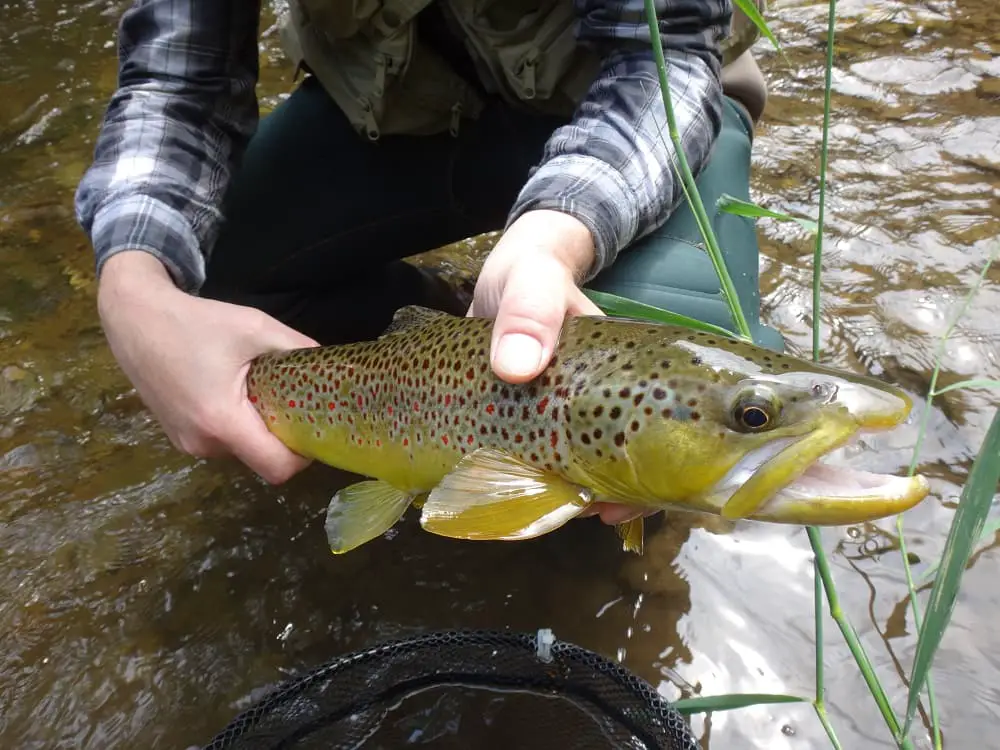 This website was built so anglers like you can get their trout fishing tips, tactics, and information from guides like me and from the trout fishing guides that contribute to this website. This ensures you are getting the very best information that will help you catch more trout on your next fishing trip.
If you want to get started in trout fishing or you just want to catch more trout you need to know where to go, how to find the trout in the river, what methods and baits to use, and how to use them well. Knowing this will make trout fishing much more effective.
Like all articles on our site, it has the information, tips, and tactics that are proven effective and used by top guides, and unlike other websites, the information only comes from actual river guides, some with over 20 years of experience.
So if you aren't learning from guides, you are probably not catching as many trout as you should be.
Trout Fishing Tips: The Species
Trout fishing in rivers with spinning reels is one of the most popular ways of fishing in North America but there are other methods that work too. There are lots of trout rivers and lots of opportunities for anglers to go trout fishing and most methods will work if you know how to do them well.
The most common trout are rainbow trout, brown trout, brook trout, and Cutthroat Trout. In some areas of North America, you might also find Bull trout, Tiger trout, or Palimono trout. For the most part, you can catch all these trout species using the same methods described here.
How To Get Started Fishing For Trout
Trout feed on insects, fish eggs, worms, other fish, leaches, and even on mice and frogs. When trout fishing you will want to use lures or baits that imitate the trout's natural food source and you want to use methods that allow you to present your bait as naturally as possible.
To get started in trout fishing and to be sure you have what you need to be successful, you will need a few things.
The 6 things you need to get started trout fishing are:
A valid Fishing License for your state or province and maybe a trout tag.
A trout rod, reel, and suitable line.
The terminal tackle, which includes weights, hooks, floats, leader, net, and release pliers and the knowledge of how to put that all together.
Bait or lures that work well for trout
A trout river, lake, or pond near you.
The knowledge of how to catch trout.
I cover all that and more on this page.
Do You Need A Fishing License Or A Trout Tag For Trout Fishing?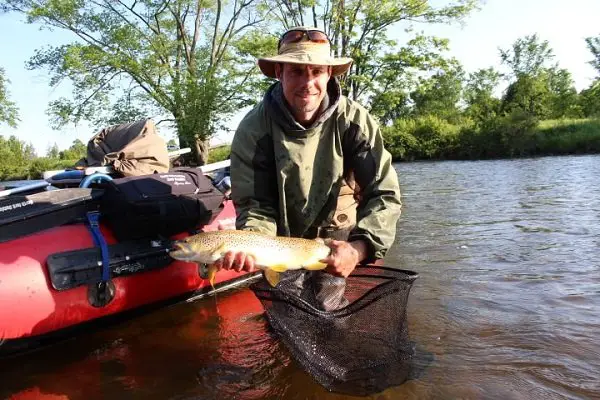 As far as I know, every state or province requires you to have a fishing license and maybe a trout tag to go with that fishing license.
To find out about fishing licenses or trout tags in your area you simply do a search for "your state fishing license" and your state's government fishing website should show up.
The government website should have all the accurate information on how and where to get a fishing license. Don't rely on other people's advice when it comes to fishing licenses and fishing laws.
Some states and provinces may also require a special trout tag which is an additional tag to your fishing license and you will need this to fish for trout in those areas. To find out if your area needs a tag you should be able to find that on your state's website.
You could also contact a local tackle store and ask them what you require and if they sell it there. Whenever I travel to a new state I always find a local tackle store or fly shop to get some good advice and to get the right licenses and tags.
Know The Trout Fishing Regulations For Your Area
Some states and provinces have trout seasons which is a set time of year that you are permitted to fish for trout.
There may also be special regulations such as delayed harvest, harvest amounts, size limits, special regulation zones that may be for catch and release only or fly fishing only, or single hook only, or no bait, or no fishing after sunset, etc.
It is your responsibility to know the laws and rules for the body of water you are going to fish.
It's best to check your local regulations before you go fish any river to see if there are times or regulations for the river or lake that you want to fish for trout.
What Are The Best Trout Fishing Rods?
Most trout are on the smaller side averaging from 6 inches to 14 inches and weighing under 2 pounds and they can be found in streams from 3 feet wide to over 100 feet wide.
That means most standard 7-foot medium-action spinning rods will do the job, but there are rods more suitable for trout fishing and different rods may be required in different types of waters.
The best all-around trout rod for most trout rivers between 10 and 40 feet wide would be a 7-foot light action spinning rod.
| | | | | |
| --- | --- | --- | --- | --- |
| | | | | |
| 5 to 6 foot - UltraLight Action | Small creeks - 3 to 12 feet wide | | Small 1 to 2 inch spinners, spoons and crankbaits | Very small floats, Small baits, Little to know weight |
| | Small creeks and rivers- 12 to 25 feet wide | | Small 1 to 4 inch spinners, spoons and crankbaits | Small to medium floats, Most baits, Some weights |
| 7 to 8 foot light action or Med - Light Action | Larger creeks and rivers- 16 to 50 feet wide | | Small to large spinners, spoons and crankbaits | Medium To large floats, All baits, Fair amount of  weight |
| 9 to 11 foot Med-Light Action | Best for medium to large  rivers- 16 to 50+ feet wide | 14" and up to 10 pound trout - Good for great lakes steelhead | Medium to large spinners, spoons and crankbaits | Medium To large floats, All baits, Fair amount of  weight |
| 10 to 13 foot - Med-Light Action | Best rod for bigger rivers of 25 to 80+ feet wide | Best for bigger trout and steelhead over 16" | Medium to large spinners, spoons and crankbaits | Best rods for float fishing with floats |
Some bigger rivers have much larger trout and require a larger rod. I prefer a longer rod for bigger trout in rivers of 15 to 50 feet wide. The best rod for larger rivers and larger trout that I want to fish with lures and with floats would be a 9-foot light or medium-light action rod.
For larger rivers with big trout or for great lakes steelhead, a good rod would be an 11-foot medium-light rod, or if you plan to only float fish go up to a 12 or 13-foot rod. Check out my page on the Best Rods For Float Fishing.
For more details on the best trout rods and my recommendations on the best trout rods at all price ranges, check out my page Best River Fishing Rods Of 2021: Trout And Steelhead Rods
You could also fly fish for trout in which case you will need an appropriately sized rod for that.
What Are The Best Trout Reels For Trout Fishing?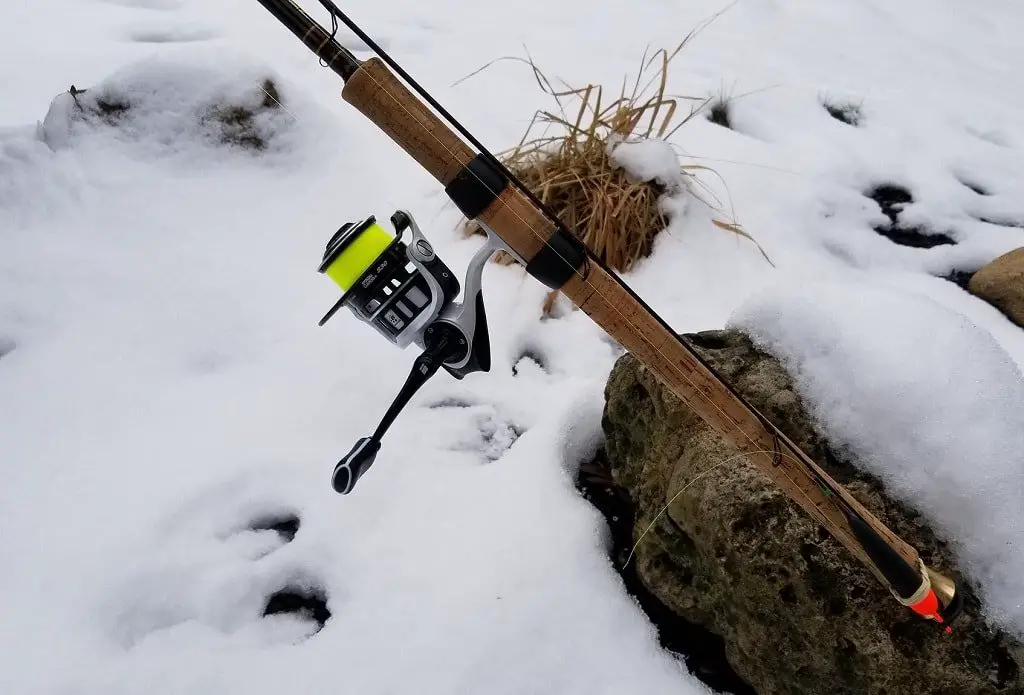 Depending on the size of the river and the size of the trout you may require a different reel size.
You are not going to want to put a tiny size 1000 spinning reel on a big 13-foot float rod for steelhead. You also don't want to put a big size 4000 reel on a 5-foot ultralight rod for 6-inch brook trout.
The best trout reel for most trout rivers would be a size 2000, but you may need to go down to a smaller size 1500 or even size 1000 for very small creeks and small trout, or you may need to go up to a size 3000 for large rivers and larger trout.
Spinning reel companies rate their reels using two different size classifications. Some reel brands classify their spinning reel sizes starting with 10, 15, 20, 25, 30, and up to 60 or more. Other reel brands classify them as size 1000, 1500, 2000, 2500, 3000, and up to 6000 or more.
A size 10 reel would be the equivalent of a size 1000 reel, and a size 30 reel would be the same as a 3000 reel.
The size of the reel will also determine the amount of drag and the amount of line you can put on it.
As an example, a very small size 1000 reel may only have a maximum drag of 12 pounds whereas a size 4000 may have a maximum drag of 35 pounds. That means if you tighten your drag as much as it will go on a size 1000, you will only have 12 pounds of drag which may not be enough should you hook into a 15-pound trout or steelhead.
The amount of line on your reel is going to matter as well. A size 1000 reel with only 80 feet of 4-pound line would be fine on a small river that is only 6 feet wide, but 80 feet of line could be a big problem on a fast flowing 100-foot wide river when you hook into a 10-pound rainbow trout.
Use my Reel Sizing Chart as a guide when purchasing your next reel.
If you are not sure what a good trout reel is, check out my page on the Best Spinning Reels where I show you the reels that I and other guides use. We use these because they have great drag systems, hold plenty of line, and have been tested and proven to be great for trout and steelhead.
| | | | | |
| --- | --- | --- | --- | --- |
| | | | | |
| | Best for very small creeks 3 to 12 feet wide - To small for lakes | Best for small trout under 12 inches - or panfish and ice fishing | Best for small 1" to 2" light lures or jigs. | Good for very small floats and small baits with little or no weights |
| | Good for small creeks and rivers from 3 to 20 feet wide - To small for lakes | Good for small trout under 16 inches - or panfish and ice fishing | Good for small 1" to 3" light lures or jigs. | Good for small floats and small baits with some weights |
| | Best for small to meduim creeks and rivers from 10 to 40 feet wide - A bit small for lakes | Good for trout from 10 to under 25 inches - or panfish and ice fishing | Good for small 1" to 4" lures or jigs. | Good for most floats and small baits with some weights |
| | Best for meduim to larger rivers from 16 to 80 feet wide - Good for lakes | Best for bigger trout up to 30" and great lakes steelhead in smaller rivers | Good for medium to large lures 2" to 7" lures or jigs. | Good for most floats and all baits with plenty of weights |
| | Best reel for meduim to large rivers  from 30 to 100+ feet wide - Good for lakes | Best for larger trout and great lakes steelhead | Good for medium to large lures 2" to 7" lures or jigs. | Good for most floats and all baits with plenty of weights |
| | Best reel for meduim to large rivers  from 30 to 100+ feet wide and lakes | Good for large fish like salmon, steelhead, Pike and Musy | Good for medium to large lures 2" to 7" lures or jigs. | Good for most floats and all baits with plenty of weights |
| | To Big - Not recommended for rivers - Good for trolling, and ocean fishing and surf casting | Best for salt water fish, salmon, and large musky | Good for very large lures 7" to 12"  lures or heavy jigs or weighted rigs | Good for most giant floats and big baits where lots of weights is required |
Trout Lines – What Are The Best Trout Fishing Lines?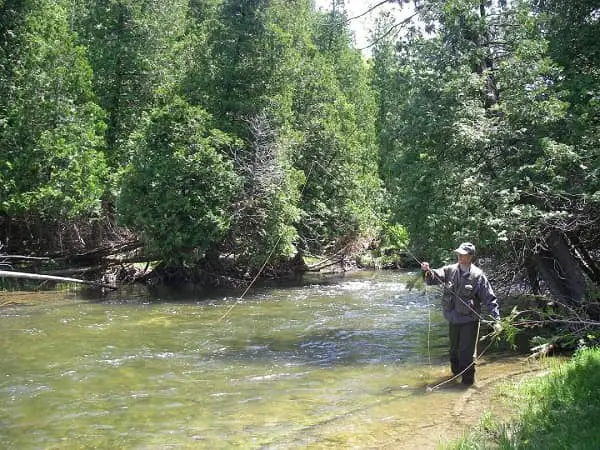 A good trout line will be strong, thin, and smooth and be good for both casting lures, jigs, and for float fishing with bait. For most trout rivers and trout sizes, a 6lb to 8lb line should be perfect.
The best trout lines for all sizes of trout are from reputable brands and one's that guides and other anglers have put to the test, like these line below:
Best For Casting and Float Fishing – Sufix Elite Line
Best For Float Fishing – Raven Mainline
For more details on these and other lines and to see which ones I use check out my page on The Best Lines For Trout and Steelhead
For a line that is only for float fishing for trout and steelhead, I use a bright-colored line with a clear fluorocarbon leader, but for a line that is good for casting lures too, I use a clear line.
For my 1 and 2 bait float fishing leader setups and for the best leader brands that I recommend, check out my page on The Best Leaders and Setup
What Do You Need For Trout Fishing?
For trout fishing, you will need a few more things to help you catch some fish. The terminal tackle that every trout angler should have is:
Hooks – If you plan on using bait you will need the right hooks. See my page on the best trout and steelhead hooks for bait fishing.
Weights – also known as split shots, which go on the line to get the bait down to the fish faster. See Best Weights For River and Fly Fishing.
Floats- also known as bobbers – If you plan to use floats for trout make sure you use the right ones. Check out my page on the Best Bobbers For Trout And Steelhead.
Nippers are a good idea for cutting the line
Leader material – Get a good quality leader material and make sure you know how to set it up properly – See my page on the best leaders and setup for trout and steelhead
Trout Net – I highly recommend a good trout net meant for river fishing like this Frabill Trout Net – See 5 Best Trout Nets page
Forceps – A set of forceps or needle-nose pliers will be needed to safely remove hooks.
All The Gear You Need For Trout Fishing
There is a lot of gear that you don't necessarily need but could really help you out when trout fishing. You could walk the bank without waders and you could carry around a big tackle box but there are better ways and there is other river gear that can help you fish better.
The best gear for trout fishing are waders, vests, jackets, gear packs, polarized glasses, nets, forceps, etc. Check out my page River Fishing Gear In 2021- Everything You Need To Succeed.
Best Bait For Trout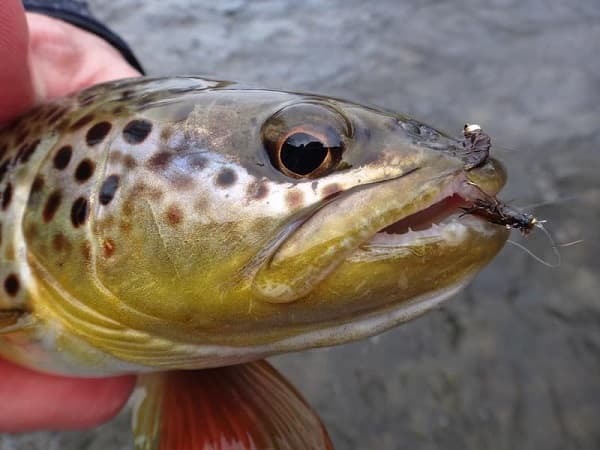 There are many baits that you can use for trout in rivers but under certain river conditions, some trout baits will be better than others.
The best baits for trout are live garden worms, plastic worms, egg sacks, single eggs, beads, live or plastic grubs, live or plastic maggots, plastic egg imitations, plastic minnows, and one of my favorite flies.
I have an entire page dedicated to using and fishing with egg sacks, also known as spawn sacks or roe bags.
I also have a full page on my Best Trout Bait – The Only 5 Baits You Will Ever Need, how I use them and how you can make these baits more effective.
I have a page for the Best Trout Flies
Just because you know what the best baits are doesn't mean you know how to fish it well enough to catch trout. Big trout can be really picky. Sure you might catch the odd big trout but if you learn how to fish baits better you will catch a lot more. What do I mean?
I see these guys on the river with a worm on the hook but when I see the worm hooked 10 times and it's all in a tight big ball on a giant hook so that it doesn't come off when they cast I know these guys don't have a clue (sorry guys but it's true) and I know they aren't going to catch many BIG trout because of it.
First, think about how the bait would look to the fish if it was drifting in the river with no hooks or a line attached to it, then try to replicate that.
That means for a worm it would be best to only run the hook (see the right hooks for bait) through the fattest part of the worm only once.
You may lose more worms on the cast but you should catch more fish because it will move and look more natural to the trout, and that always means more trout in the net.
In fact, I catch just as many trout on plastic worms and they don't fall off so consider plastic worms instead of real worms. Check out my page Fishing With Worms For Trout and Steelhead: 10 Guide Tips
Second, present your bait in a way that looks the most natural to the trout. Have you ever seen a worm swimming across the river sideways? Me neither and the trout have never seen that either, so the guys that cast worms across the pool and then start reeling it in to attract the fish don't catch much big fish. Sure, the dumb little trout might try to eat it but you won't likely fool the big ones this way.
You need to drift from the top of the pool or run to the bottom of the pool or run in a way that looks most natural to the fish, the same way the worm would drift if it didn't have a hook in it or a line attached to it. Do this with all your baits and you will catch more big trout.
If you want to catch the biggest trout with any bait, you will either want to get good at drifting the bait below a float or bottom bouncing. Check out my page Float Fishing: Tips From A Pro River Guide For More Trout and see bottom bouncing below.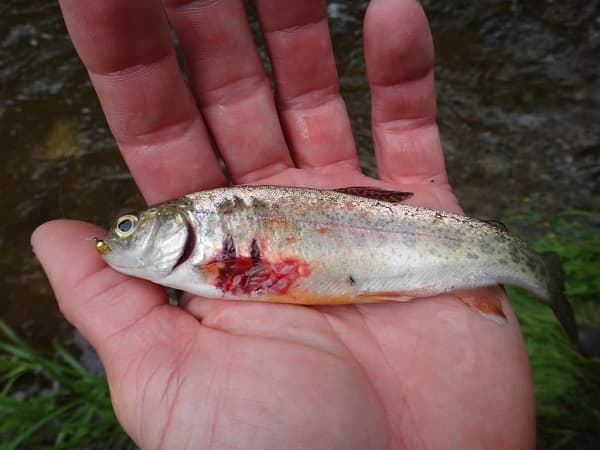 Trout also eat other fish, frogs, mice, and leeches, which means that lures are a great option for catching trout in rivers and lakes.
We use lures to imitate these types of bait.
The best lures for trout include spoons, spinners, jigs, and crankbaits. Shiny lures tend to work best most of the time but not always. I will discuss fishing with lures more below.
Where To Fish For Trout In Your Area?
Trout need consistent cold waters below 69F to survive so not all rivers or lakes will have trout in them. I have found all kinds of great rivers in other states just by using my computer and these simple tips below. These are some great ways to find out where the good trout rivers in your area are.
Government Website
Your government DNR website (fisheries website) will sometimes have information on what rivers have trout and what rivers or lakes they have stocked trout. This can be a great way to find good rivers to fish. They may even have data on the temperatures of rivers which may indicate that there is or isn't trout in them.
Local Tackle Shops
You can't beat the local tackle stores or fly shops for information on which rivers or lakes to fish. They want you to fish and they want you to catch fish so they are a great place to get information on where to fish and what to use.
The smaller stores are often better for advice than the bigger stores like BPS or Walmart because the smaller stores usually hire hardcore anglers that really know their stuff.
Guide Services Near You
If you search for local trout guides you may find that they will mention which rivers they guide on. If they guide a river the chances are good that the river has plenty of trout for them and their clients so it's worth a shot.
Once you figure out which rivers they guide you can then do some research on that specific river to find out if there are any public access points, parks, or hiking areas along the river that you can access.
Guide Tip: Some rivers might be nice and cold in the headwaters but much too warm for trout in the lower sections. Just because you hear of a river that has trout in it may not mean there are trout in that whole river.
My tip is to get yourself a good stream thermometer and check the temperatures to see if the area you are fishing is cold enough for trout, if the temps are above 69F go further up the river until you find colder water. I use the Orvis Stream Thermometer.
I find that even in areas with lots of trout they will stop feeding if the water gets temporarily too warm above 69F during the hot days of the summer, but they will start feeding again as the sun sets just before dark and early in the mornings can be great again.
I always take water temps after 11 am on very hot days to be sure I'm in that safe zone which is below 68F.
Local Discussion Forums And Facebook Groups
You can sometimes find some good information on local talk boards or Facebook groups for your area. My area has about 10 Facebook groups with guys talking about trout fishing in this area.
Where To Fish For Trout In The River?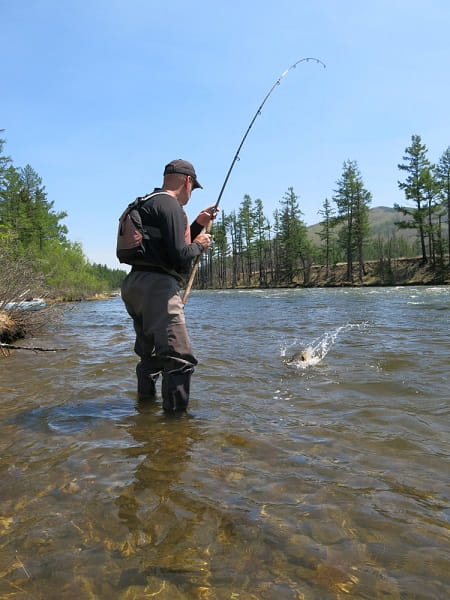 You want to find spots in the river where trout feed and not where they rest.
We call these spots feeding lies and feeding zones and they are the best spots for catching trout.
We call finding spots " reading the water" and when you get good at it, reading the water and finding fish becomes easy.
Reading the water means that on many rivers you can eliminate 80% of the river and focus on the 20% where most of the fish are.
Trout love current! The current brings them food and oxygen and breaks the surface with ripples and waves which can give them a sense of security. It's not uncommon for me to catch big trout in 16 inches of water in the middle of the river where other anglers walk past.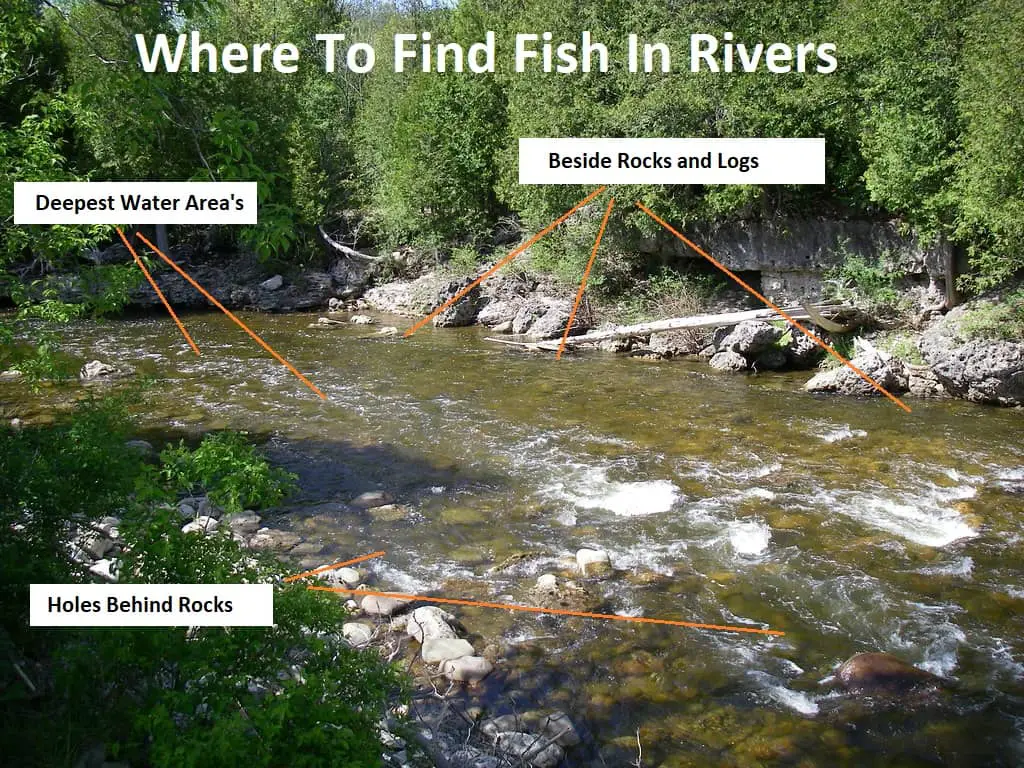 Sometimes trout will hold and rest during non-feeding times in the deepest parts of a river but when it's time to feed they will move (sometimes a long distance) to an area where they can easily feed on the most food.
Sometimes the largest trout will move to the head of the pool and chase all the little trout out of the area so they can feed in the prime spot. If these big fish don't do this, all those little fish at the top of the pool will eat all the food before it gets to the big fish resting at the back of the pool. This is why I catch huge fish in 2 feet of water all the time.
A pool is the most common area for anglers to fish. A pool is a deeper and bigger spot with often slower and flatter water. A run or a riffle would be smaller, shallower, and faster moving water as seen in the picture above.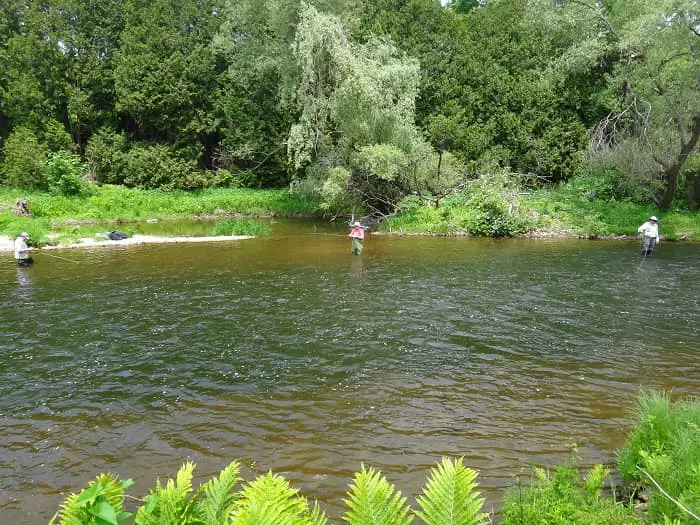 Trout often prefer deeper water that has current. Deep slow or non-moving water is often less productive.
If a large amount of the river is 1 foot deep but there is a 3-foot wide by 3-foot long spot that is 2 or 3 feet deep the trout will hold there simply because it's slightly deeper than the rest of the river. Look for these deeper depressions in the river bottom and you will find trout.
Trout also like to hold around rocks, the bigger the rock the better. They hold in front of rocks, behind rocks, and beside them, so look for rocks in current areas with some extra depth and you will find trout.
Trout also like logs, stumps and other structures like weed clumps so look for these in current areas with a little extra depth.
When trout fishing I will also look for undercut banks and shaded areas where trout can hide and feel safe.
Guide Tip: one of my most useful tools when trout fishing is a good set of polarized glasses. I use them more for reading the water, seeing those deeper holes and all that structure as well as seeing snags that I don't want to hit. Occasionally my glasses will even help me spot large trout feeding or holding.
How To Fish For Trout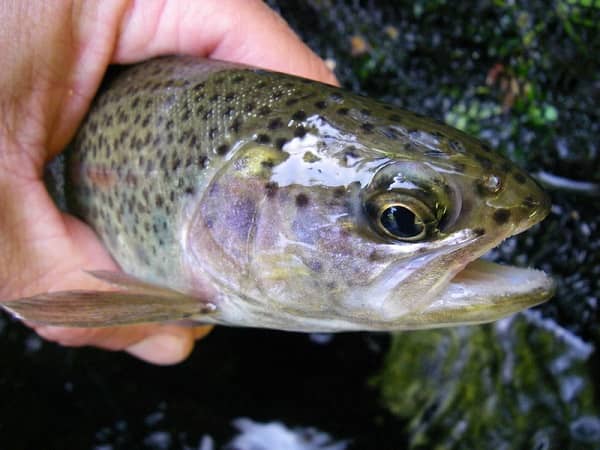 Now that you know what to use and where to find fish, now it's time to learn some important tips on how to catch more trout.
Lure Fishing For Trout
Lure fishing for trout can be very effective and lots of fun but if you are going to cast lures for trout you need to know a few things first.
Casting upriver and retrieving it directly at them is not the best option and casting down the river and retrieving it straight up the river is also not a great method for trout fishing.
Casting at the right angle will catch you more trout. It's best to stand upriver at the top of the pool and cast straight across the river and then slowly retrieve to let the lure swing across in front of the fish. It works best using a slow to medium-speed retrieve. Once the lure reaches the closest bank to you or gets into the really shallow water reel it in, step down a few feet, and then do it again.
When trout fishing with lures, covering the water is very important, so once you get to the end of your first cast, step down 3 feet and cast across, and retrieve again. Repeat this until you are at the end of the spot you are fishing and then move to the next spot or go back to the top of the pool and try another lure.
With this method, you are covering the water every three feet and you will be getting your lure in from of the most fish. This is something I teach all my clients and is one of the things that can greatly increase the amount of trout they catch.
You need to make sure you retrieve it at a slow to medium speed so that the trout have a chance to see it and hit it. Retrieving too fast may mean missed fish or it may make the lure pop out of the water or run too high over their heads.
Guide Tip: Adding some twitching or doing a stop-and-go retrieve of the lure can trigger more strikes.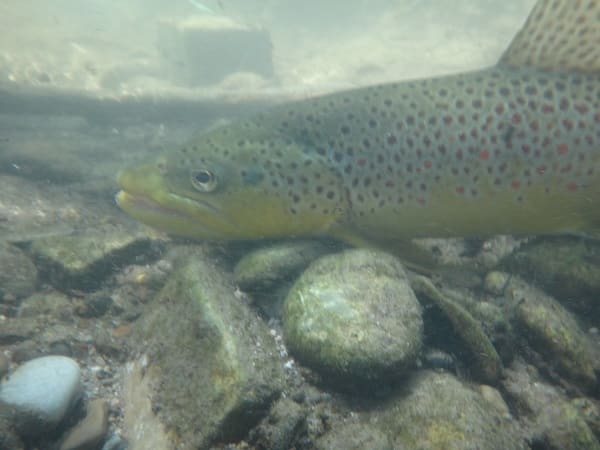 Getting deep enough or down close to the fish as possible will greatly increase your hookups. A lure 6 feet over a trout's head may get ignored by the trout but a lure 1 foot over their head is an easy meal.
Let your lure sink a bit before you retrieve to get the bait down, or lower your rod tip to get more depth. Once you start hitting the bottom, lift your rod tip a few feet and you should be just off the bottom and close to the fish.
Try different lures and colors. If you only use one lure and one color you may be missing out on fish. Some days they will want a nice colorful pink spinner and another day they will be all over the black spinner. You may also find that a well-presented spoon or crankbait may get hit more than the spinner does so mix it up to see what they want.
Knowing how to use lures is important so check out my page Lure Fishing For Trout: Tactics From A Pro River Guide
Float Fishing For Trout
Float fishing for trout can be one of the best methods for lots of big trout and is a way that I guide the most.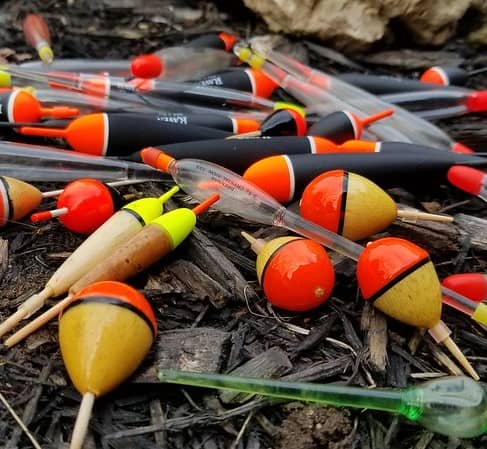 Use floats that are suitable for the river and not those cheap red and white bobbers that we grew up using at the end of the docks. The right float will spook fewer fish, present your bait in moving water better, and allow you to detect a strike better.
Check out my Best Centerpin Floats Page, even though the post is about Centerpin floats, they work perfectly for trout too, and it's what I use when guiding with floats with any type of rod and reel.
When float fishing you want to use a leader set-up so you don't spook the fish. You also want to use the right size of leader and the right weights which can all be found on my Best Leaders and setup page.
Making sure you have enough depth to get your bait down to 6 to 16 inches off the bottom is very important.
When trout fishing you need to make sure you cover the water well and get your bait in front of all the trout.
You want to position yourself at the top of the pool and you want to cast your float in close to you first, and then let it drift down with the current.
Any pull or dragging of your float will give an unnatural presentation and that will prevent some of the less aggressive trout from biting and it will prevent the bigger and smarter trout from biting. On your next cast, you want to cast 1 or 2 feet further out than your last cast and repeat this until you are all the way across the pool and have covered the entire pool well.
When trout fishing you want to try different baits and colors throughout the day. Some days I catch them on pink plastic worms or pink egg patterns and other days the red worm works best or they only want peach colored eggs.
You may also find that in very clear water they will ignore a big intrusive bait like a quarter sized spawn bag but they will eat a small fly or single egg instead, so mix up your sizes until you figure out what is working best under the conditions and time of year.
I discuss how to use flies with spinning reels on my page How To Fish Flies With Spinning Gear: 2 Best Methods.
Guide Tip: Trout in rivers can be very nervous and are susceptible to sounds and movement which means it's best to sneak up on them and be as quiet as possible.
I often tell my clients that it's better to take 5 minutes to quietly tiptoe 10 feet into the river and catch big trout right away than it is to stomp in like a heard of cattle and have to wait 30 minutes for the big trout to settle down and start feeding again.
It's also important to approach trout in small shallow clear water streams out of their line of sight and dress appropriately. If you are wearing a bright yellow or orange raincoat and a yellow hat you stand out like a sore thumb.
Fly Fishing For Trout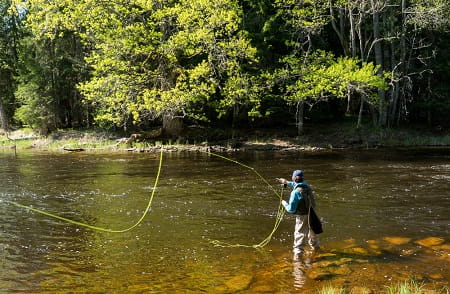 Fly Fishing for trout is another method that can be very effective in rivers simply because fly fishing allows the angler to effectively imitate the main food source for the trout which is insects.
Fly fishing for trout allows the angler to imitate the bigs that are on the surface and below the surface.
You can even imitate other food sources such as leeches, baitfish, and crayfish.
Trout fishing for trout is my favorite method and in rivers that are 1 to 4 feet deep, it's almost always the most effective method for me.
If this is something you are interested in check out my page Fly Fishing For Trout and my page Fly Fishing Gear: Everything You Need To Fly Fish.
Bottom Bouncing For Trout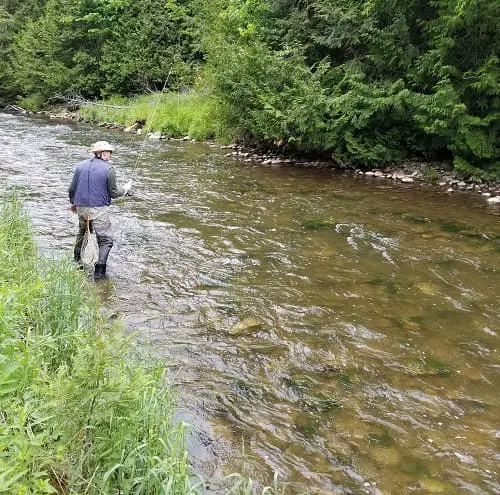 Bottom bouncing is a very effective method especially in lower clear water or pocket after, or rapids.
With bottom bouncing, you simply cast your weight and bait out (without a boober, float, or other suspension devices), and you allow your bait to drift freely with the current.
This is an effective method for trout, steelhead, and salmon.
I discuss traditional bottom bouncing and advanced modern bottom bouncing and show you the setups that work best on my page Bottom Bouncing: 5 Proven Methods and Setups.
What To Wear When Trout Fishing?
Dress to match the background, dress in greens and browns, and greys so that you blend into the background and are less likely to be seen by a big trout. A big trout that sees you will stop feeding!
Fishing Around Other Anglers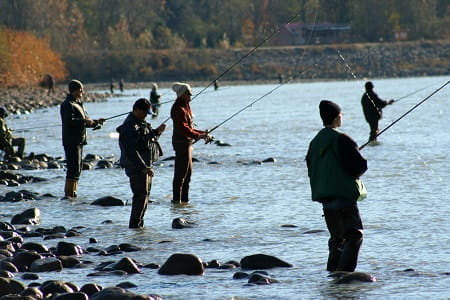 Trout fishing on rivers often means there will be other anglers around.
Stomping into a pool where another angler is being quiet so he doesn't spook the big fish he sees means you will spook it for him.
Don't be that dumb-ass that spooks other guys' fish or casts across their lines or cast at the same fish the other guy has been fishing for the last 30 minutes.
Walk quietly and as far away and around other anglers so you don't disturb them or their fish, and if there are other spots to fish with nobody in them go find your own spot to fish and hope the next guy stomping up the river shows you the same courtesy.
Other Tips And Advice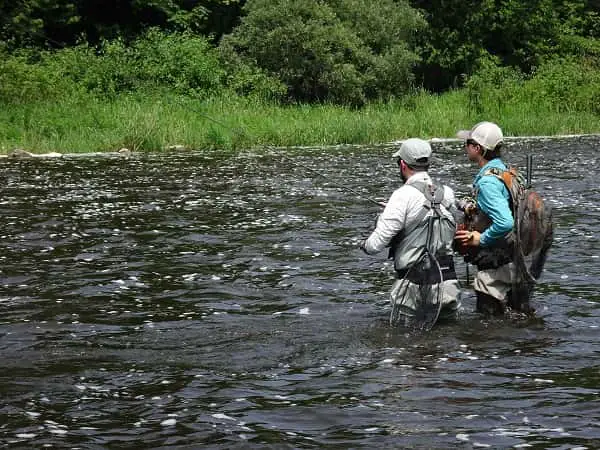 In part two of this article which you can see on my page Fishing For Trout – 40 Common Questions – Part 2, I check in with other guides to get their opinions and extra trips to help you catch more trout.
I also went through 20 other website pages to make sure I covered every single aspect of trout fishing for you so you never have to search through multiple websites to get your information.
I answer over 40 of the most common questions and provide some never before seen information on trout fishing and more . . . . .
Got A Question – Ask Us About Trout Fishing.
I hope you enjoyed and learned something from this post. All the information and pictures in this post are from my fishing and guiding experiences.
If you have a question or a comment about trout fishing just ask in the comments below and I will give you an honest and no BS answer.
Tight Lines,
Graham