5 Best Float Fishing Lines For 2021

I have been float fishing with spinning reels and Centerpin reels for over 30 years and as one of the top river guide around the great lakes region, I know from experience that some float lines work better than others.
What Is The Best Float Fishing Line?
The best float fishing line is a monofilament line of 8 pounds or 10 pound test. The best float fishing line should be buoyant, lightweight, thin, strong, have low memory, and cast easily. Float fishing lines can be colored so you can see them easily or they can also be clear.
The best float fishing line that I like and use on all my Centerpin rods is 8lb Raven Mainline in the high-viz yellow color but there are a few other good options that some anglers prefer. Using a great float fishing line like the Raven Mainline will improve your drifts and prevent problems that can occur when using the wrong line.
Using a float fishing line that has been tested and proven by thousands of anglers just makes more sense. Many of my clients come out with the wrong lines and they struggle with getting a good presentation or they have lots of problems.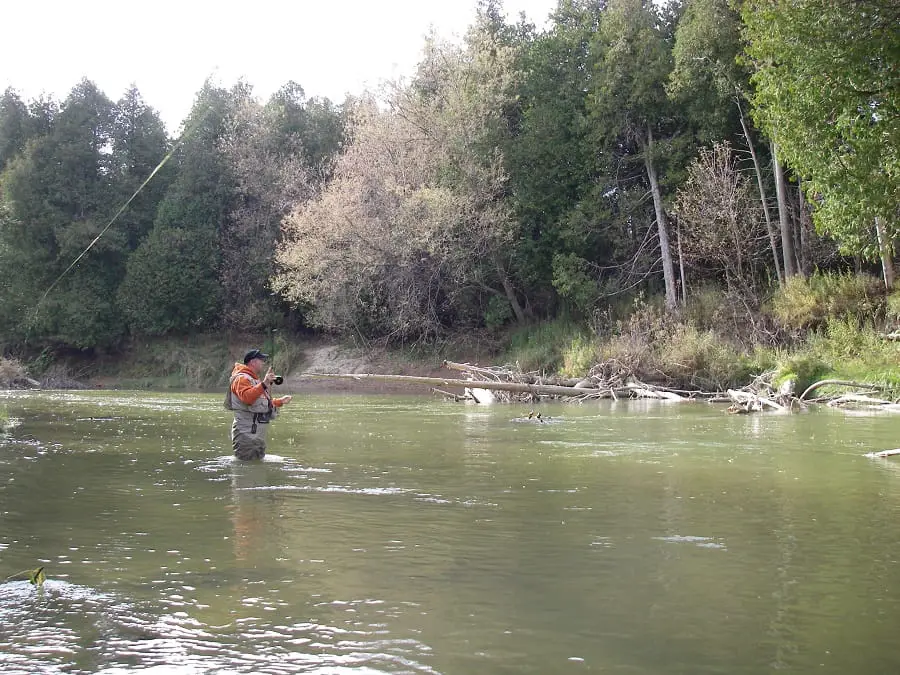 If you ask enough anglers you will get lots of different opinions on which line is the best simply because most anglers haven't tried enough lines to know there is a difference.
I've has my hands on probably over 1000 float reels and I have used just about all the different lines that anglers use when float fishing, and trust me, there is a difference.
The Best Line For Centerpin Fishing

The best line for Centerpin fishing will need to have low memory, be thin but still strong, and will float. The best line for Centerpin fishing is the Raven 10 pound Mono Mainline. Another great line that anglers line is Sufix Elite in 8-pound test.
A line that is too thick and a line that sinks can cause a lot of problems and affect your presentation and your hooksets. I will get into that more below.
A thin line and a floating line can improve your presentation and give you a better and longer drift and can also improve your hook sets.
There are a few other good lines and some not so good lines.
The float fishing line is also known as the mainline to differentiate between the line on the reel and the leader line. You may see that some companies call their line the mainline especially if they are companies that specialized in Centerpin fishing.
The Best Line For Float Fishing With A Spinning Reel
I have used a few good lines for float fishing with a spinning reel but I have narrowed it down to only 2 lines. The best line for float fishing with a spinning reel is Sufix Elite Premium Monofilament Line in 8-pound test. Another great line is the Raven 8 Pound mainline.
These two lines are also popular with other float fishing anglers around the great lakes region.
Float Fishing Line Color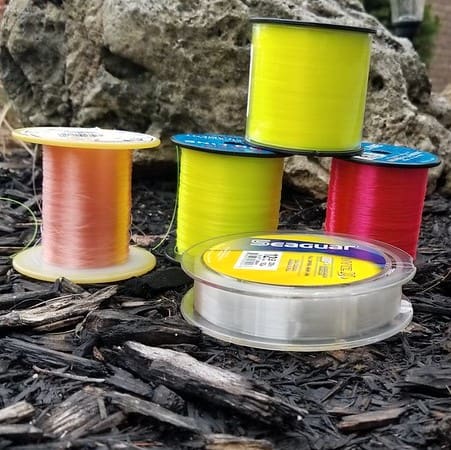 Float fishing lines come in many different colors and many anglers will have a different opinion on which color they prefer. There are advantages to a brightly colored line and I prefer bright colors like yellow and orange and I will explain why.
Clear or green lines are popular with a lot of anglers and they use them because they believe that colored lines can spook the fish. But do they?
If you do not set up the leader properly then yes, bright-colored lines probably spook more fish. If you make the mistake of putting your weights on the colored mainline with a short fluorocarbon leader then the colored line is close enough to the fish that it will likely spook them.
If you use what I call a shot line you can use bright colored lines without spooking the fish because it keeps the colored line far enough away from the fish but you still get all the benefits of the colored line. You can see the shot line that I use on my Centerpin Fishing For Beginners page
I believe that bright colored lines have more advantages than clear or darker lines, especially as a beginner.
Bright lines are all that I use on my Centerpin reels and I use them with a shot line and since I often catch more fish than most anglers on the river I know they do not spook fish if you set it up properly.
The advantage of a bright-colored float fishing line is that it makes it easy for you to see the line so you can manage and adjust it better when needed.
Bright lines are also much easier for other anglers around you to see so they are less likely to cast near or over your line and they can follow your line down to find your float easier just like you can.
I also use bright colored line to help teach anglers about line position and mending.
Therefore I highly recommend going with a bright-colored line especially if you are new to Centerpin fishing.
Float Fishing Lines That Float Are Better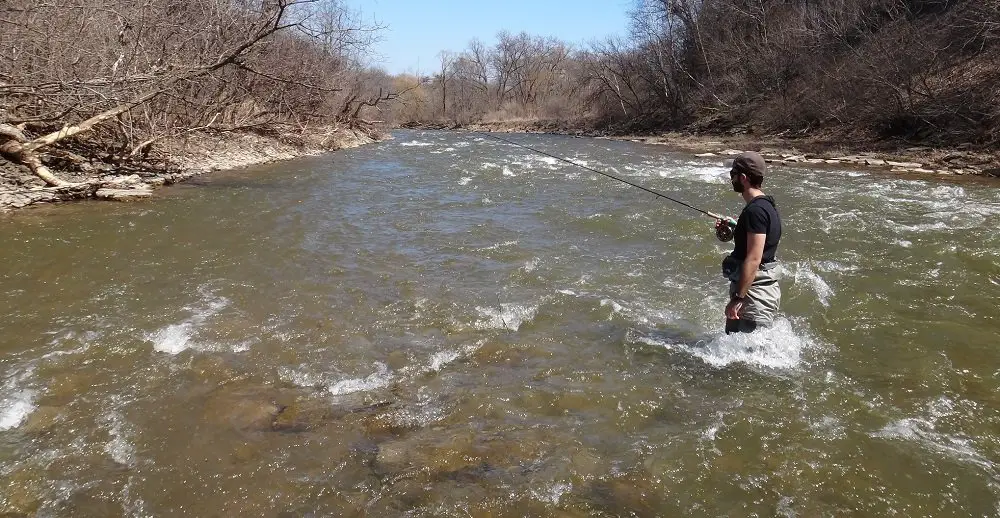 Some float fishing lines are heavier than others. Fluorocarbon as an example is known to be a denser line and it sinks, as does some copolymer line and even some heavier monofilament lines.
The best float fishing lines should be strong but also as thin as possible and they should float or be neutral buoyancy. Thicker, heavier lines sink!
When the line floats it can easily be mended if needed, it doesn't get dragged around by the current which can pull the float in an unwanted direction and your hook sets are easier because your line lifts up off the water better with a floating line.
What Pound Test Mainline Should You Use For Centerpin Fishing?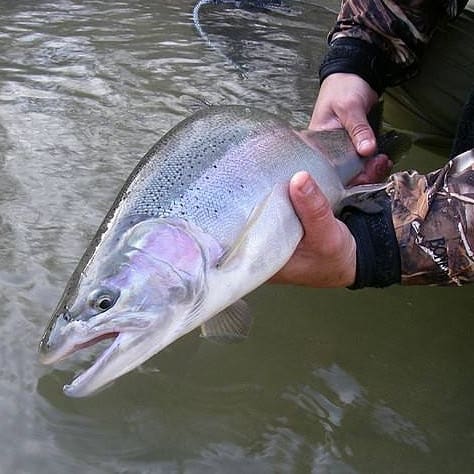 I always recommend going with as light a pound test mainline as possible for a couple of reasons but the line strength depends on a few different things.
If I had to sum up the Centerpin mainline size in one sentence I would just say the pound test mainline that you should use will depend on your leader size and not the size of the fish.
I would suggest that you determine the maximum leader size that will catch you the most steelhead without constantly breaking off and go 2 pounds heavier for your mainline.
Too heavy a line will cause problems which I talk about below so lighter lines are best.
Leaders are a very important part of your set-up and one that many anglers get wrong so check out my Steelhead LeadersFor Float Fishing page.
Why does the leader matter? Some anglers believe they are fishing for big steelhead so they need a 10lb or 12lb or even 14lb test to be able to handle those big fish. But if you need to use a 0.20mm (6lb test) leader to catch the line shy steelhead, then having a 0.28mm (12lb test) line is useless because you can't use all that strength of the mainline anyways or you will just keep breaking off at your leader.
What is the problem with heavier lines? First, the heavier lines tend to sag and cause a belly in the line between the rod tip and the float which can cause unwanted tilting of the float. A thinner and lighter line won't do this and will give you a better line angle and a better float angle.
I find that thinner lines also don't sink as much as heavier lines and higher floating lines are always best.
I also find that thinner lines cast better and farther than thicker heavier lines and are more manageable than thicker lines.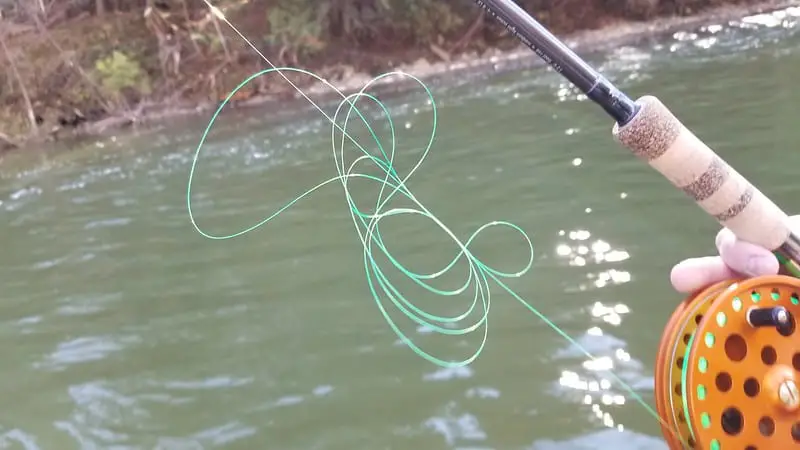 Many of my hardcore steelhead buddies will use a float fishing mainline of 6lb test because it casts better and tangles less. See the chart below for a guide of what pound test line you should buy.
The float fishing line strength can also depend on the type of water you want to fish and the type of fish you will be targeting.
As an example, on rivers that are large and deep or rivers that you can not walk along the bank easily to chase a fighting fish, you may need to go with a heavier line so you can pull them back.
On smaller rivers where you can easily chase a fish up or down the bank, you should use a lighter line that casts and fishes better. See my size recommendations below.
Float Fishing Line Sizing Table
How Much Line To Put On A Centerpin Reel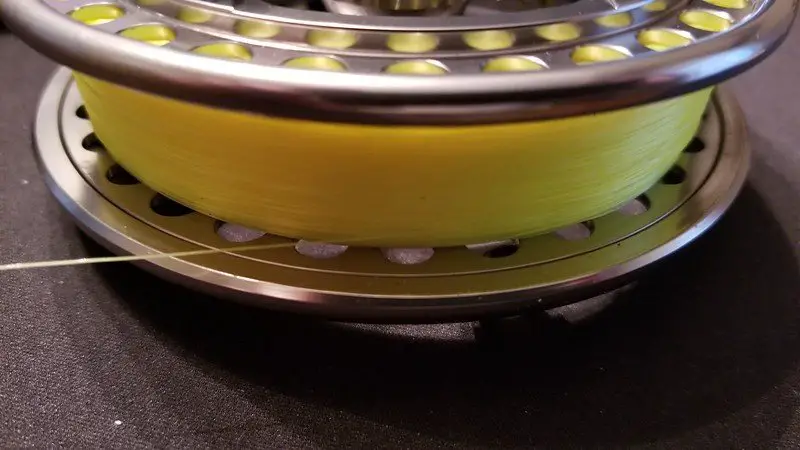 How much line goes on a Centerpin reel depends on the reel. Some reels have different size diameters and hold more or less line.
This picture shows one of my guide reels that is just slightly below the full amount. You can see the gap between the spool and the base is a little over an 1/8 of an inch to the line.
The first thing you want to do is fill the Centerpin reel about halfway with a fly line backing. Then add the mainline to about 1/8 inch from the inside gap of the spool and the base of the reel.
Depending on your reel this will be about 200 yards of backing and about 200 yards of mainline. See the backing that I prefer to use below.
The backing I use is the Cortland backing from FishUSA.com
Best Float Fishing Lines
Guides Top Choice
Raven Main Line
The Raven Main Line is made by a company that specializes in Centerpin fishing and this line is made for float fishing. This has been my preferred line for the last 14 years or so and I by far my favorite float fishing line.
It floats well, has a thin diameter, and comes off the reel easily with minimal line twist. The line cast casts great which makes it a good line for people learning to Centerpin fish and for more advanced anglers.
The Raven Main Line is also much cheaper than most other similar lines considering the spool size is 985 yards for less than $13.00 at some stores. Most other brands are less than 350 yards for almost the same price or more.
I have tested this line in all weather conditions, even in weather as low as 7f / -14c degrees and it held up very well. I have also had the same line on my reels for 4 years before I needed to change the line and that says something considering that my Centerpin reels get a lot more use than the average anglers Centerpin reel would.
I have also used this on spinning reels when float fishing and it worked great for me with no issues.
Long Time Favorite
Sunline Line Fine Float ll
Sunline has been a favorite of many float fishing anglers for a long time. This upgraded version uses a special technology that really helps it float which is a big draw for many good Centerpin anglers.
P-Ion technology gives the floating line slickness, water repellency, color, and hydrophilic properties.
It has good strength, good handling, and durability. It also has three good colors to choose from.
Good Choice
Blood Run Main Line
This is another company that specializes in making Centerpin and float fishing products and they have a mainline that works great on Centerpin Reels.
Some of my clients have had good success using this line on a Centerpin reel. It floats well and casts nice and is a good choice for Centerpin fishing.
Backing For Centerpin Reels
If you're setting up your Centerpin reel for the first time you will need backing to fill the bottom of the spool. Generally, about 200 yards of backing and about 200 yards of mono around 8lb should fill up your Centerpin reel nicely.
More On Centerpin Fishing
Check out our other recommendations like the best rods, best reels, and best gear on my Centerpin Fishing page