Trout Fishing In The Rain – Is It Better?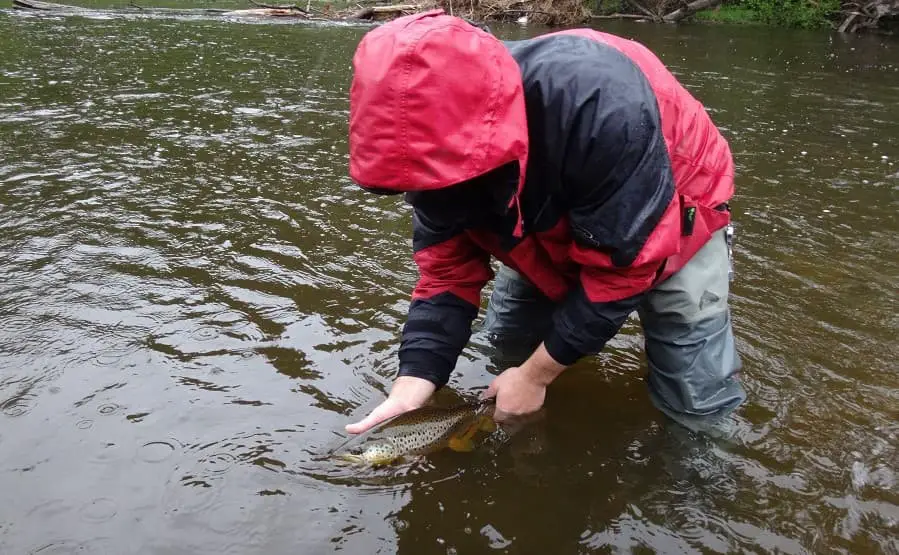 River guides that are out with clients can't just pack up and go home when it starts to rain, and often they don't want to leave because trout fishing in the rain can be a great time to fish. Fishing for trout in the rain can be like someone ringing the dinner bell for the trout and the trout can almost instantly go on the feed when it rains.
Trout fishing in the rain can be uncomfortable and difficult but the trout will often feed more during the rain. For anglers that know how to fish for trout in the rain, it can be the best time to catch the biggest trout and even the most trout. Fishing for trout in the rain requires some new tactics.
It's important to understand why trout fishing in the rain can be so good and why trout often feed more when it rains. Knowing this will help you pick the right tactics and the right baits or flies for more fish.
Do Trout Bite In The Rain?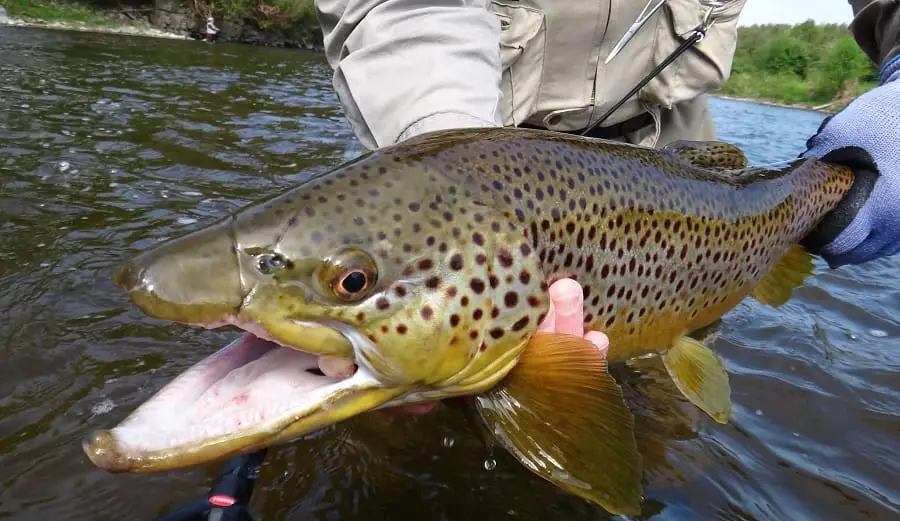 Do trout bite in the rain? The answer is yes, but my funny answer that I tell my clients is that the trout are already wet, so why do they care if it's raining.
There are reasons why trout will actually feed more in the rain than at other times.
I was guiding five anglers one day and I had my buddy come out and help. We had five anglers out for 7 hours and almost no trout were hooked. It was a bright sunny calm day and the trout were not feeding and they were very inactive.
After the guided trip was over, my buddy and I went up the river about 10 km and fished for about an hour in one of my favorite spots. With two very skilled trout anglers in a pool full of trout, you would think we would catch some trout, but after an hour we only landed one 8-inch trout. The fishing just sucked!
Then a short rain shower started with some thunder in the distance and within minutes we started hooking trout as fast as we could get our flies in the water.
The same flies that the trout were ignoring all day were now hot and within an hour we had landed 23 trout with a couple of big ones that were over 20 inches.
The fishing went from horrible to fantastic as soon as the rains started. But Why? I have experienced this many times and there are a few reasons that I will discuss below.
Let me just say now, that with the thunder that day, we should have actually stopped fishing and taken cover, and I would highly recommend you never fish in thunderstorms.
Why Is Trout Fishing In The Rain Good?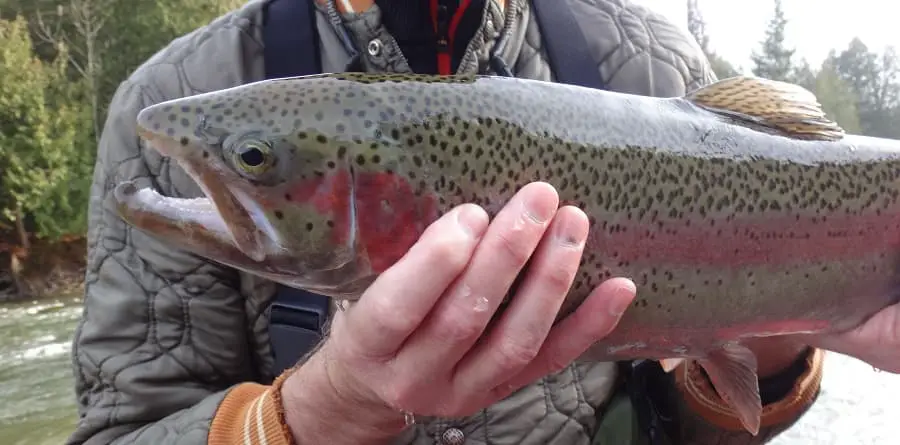 There are 5 reasons why trout fishing in the rain can be very good.
Raindrops can knock insects out of the air and into the water. The rain can also knock the insects off the vegetation, off the leaves and grasses along the riverbank, and into the river. This influx of food can trigger a trout feeding frenzy.
The rain washes in nutrients and small particles, including small insects on the ground, and all kinds of debris that the small baitfish will start to feed on. This triggers a chain reaction, since the baitfish are feeding and losing some of their cautiousness to feed on all the new food, the bigger predator trout will start to get active and start feeding on the baitfish and anything else that drifts past them.
The water becomes less clear and that allows the trout to become less cautious and they feed more which makes it easier to catch them. Big trout may move out from their hiding spots around log jams and into the open when the water becomes less clear.
Low light is one of the best times to fish for trout, and when it rains it often becomes darker with the cloud cover and this can get the trout feeding.
Another possible reason that trout fishing in the rain is better is that the trout may feed more with less pressure on them since most anglers will head for their vehicles before or when the rain starts.
Knowing how to fish for the trout in the rain is important and some baits and tactics will work better than others.
Best Tactics For Trout Fishing In The Rain
If it's a light rain most trout fishing tactics will probably still work but as the rain gets heavier and the river clarity starts to drop some tactics might work better than others.
I use all kinds of methods to help my clients hook more trout and I discuss them in my article Trout Fishing 101: Learn Guide Tips And Tactics For More Trout.
Fly Fishing In Rain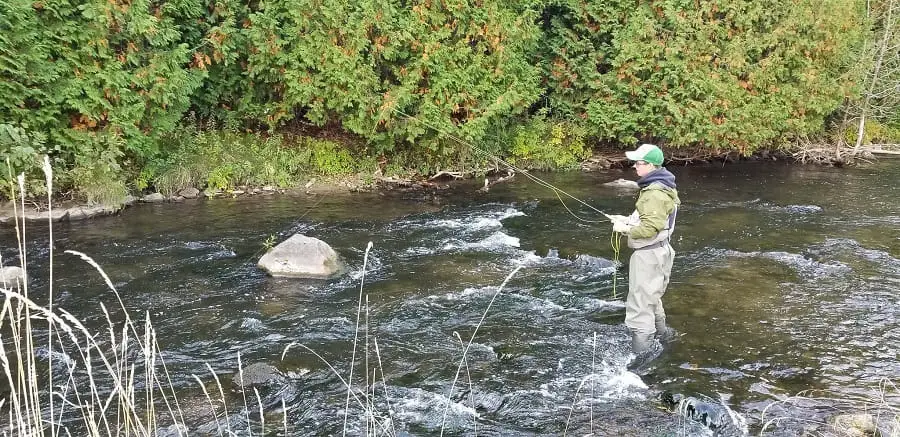 My buddies and I try our best to hit the river on rainy days and just after the rain simply because we know that the big trout come out to hunt under these conditions.
When it's raining and the rain knocks in a lot of insects fly anglers can start catching a lot of trout. The rain will wash in beetles, ants, mayflies, moths, and a whole lot of other insects, and that means that almost any fly could work.
When there is a huge variety of bugs in the water, I like to nymph fish and I like to go with bigger and often brighter flies. The rain will often sink flies on the surface so fishing below the surface is often best.
When nymphing in the rain, I like attractor patterns that will stand out amongst all that food and debris being washed down the river.
---
Fishing Flies With Spinning Rods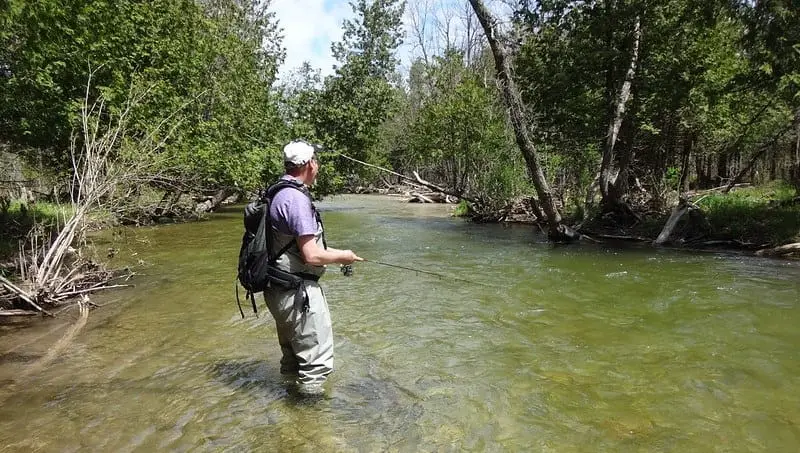 Even if you don't fly fish, you can still take advantage of flies and you can fish flies with spinning reels. I drift flies below a float or use my advanced bottom bouncing methods which can be extremely effective when fishing for trout.
Check out my page How To Fish Flies With Spinning Gear: 2 Best Methods.
Dry Fly Fishing Can Be Good In The Rain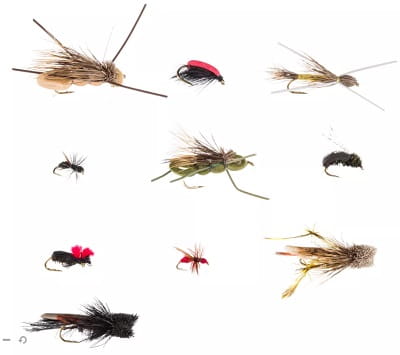 It can be tough to dry fly fish in the rain because the small flies will get pushed under by the raindrops, but big bulky dry flies patterns like grasshoppers, crickets, and beetle patterns can be a great choice.
You can get this dry fly terrestrial assortment at Bass Pro Shops -HERE
Streamer Fishing In The Rain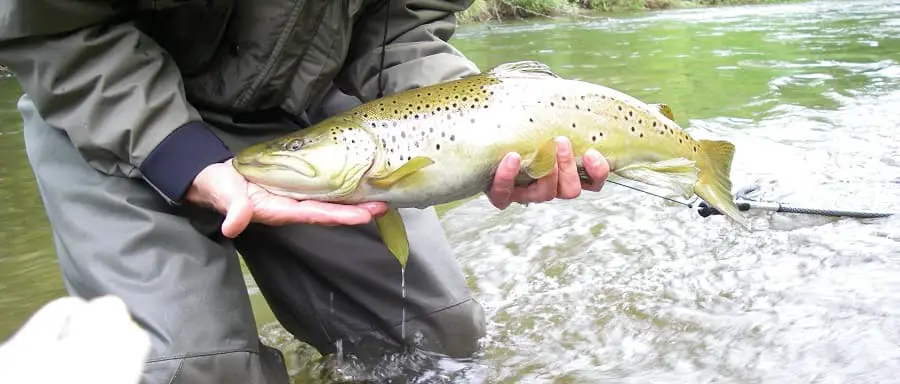 Big trout feed on baitfish and big trout can feed more in the rain and after the rain so using streamers can be very effective. I love throwing big streamers in rain for big trout like the one in the picture.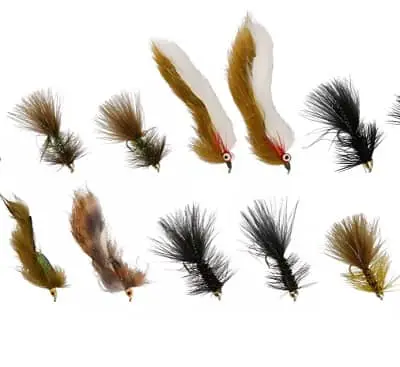 Some of my favorite streamer flies are woolly buggers, bunny leeches, zoo cougars, zonkers, and muddler minnows.
I have caught big trout on streamers from one inch to 6 inches so it's a good idea to have an assortment in your box.
Bigger streamer flies like the Articulated Monkey Fly, or the Granato's Sasquatch Fly, the CF Chuck-N-Duck Fly, and the CF Whistler are all good choices.
You can get this streamer fly assortment pack at Bass Pro Shops – HERE
Spin Fishing For Trout In The Rain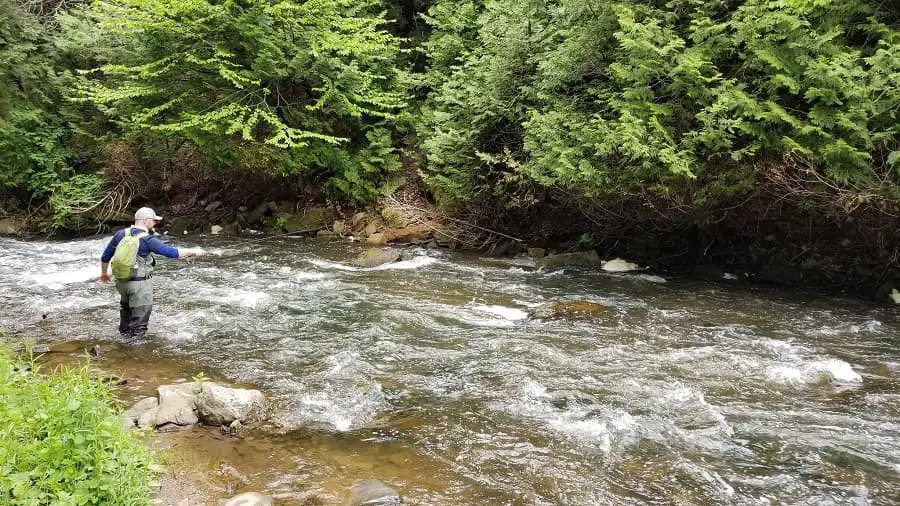 Spin fishing can be excellent at any time but when it rains anglers can spin fish for trout using lures or by drifting baits under a float, or by bottom bouncing their flies and baits.
If it's done right, bottom bouncing can be very effective, especially in pocket water or shallow rivers that are not great for float fishing or for lure fishing. If you aren't sure what bottom bouncing is, check out my page Bottom Bouncing – 5 Proven Guide Tips For More Fish
Float fishing is an excellent way to present baits in bigger deeper rivers. You could drift flies under a float and you can also use worms, spawn bags, and beads.
One of my best baits when fishing for trout in the rain and after the rain is the pink worm from Berkley and the Mad river worms. The red worm color has been one of my most productive colors when the river starts to get murky.
Lure Fishing For Trout In The Rain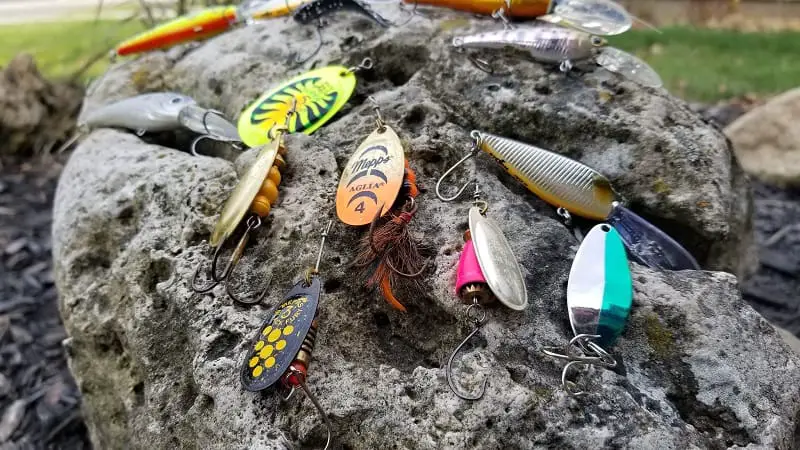 Trout get active in the rain and lures can be a great choice. If the water is still clear lures like spoons, jigs, spinners, and crankbaits are all good choices when trout fishing in the rain.
If lure fishing for trout is new to you or you want my tips for more trout when lure fishing check out my page Lure Fishing For Trout: Tactics From A Pro River Guide
Fishing Dirty Water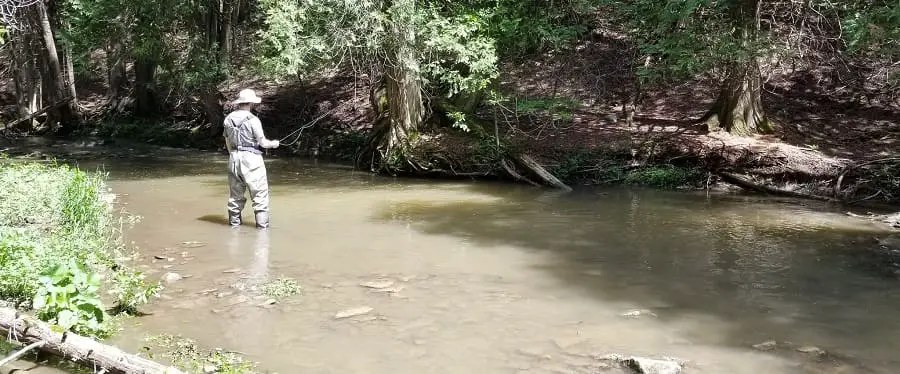 It sometimes doesn't take long for some rivers to start getting dirty especially if it's a hard downpour. If the water clarity gets too bad you may need to pack it up and go home, but, there are some things that you could try to up your chances.
I use lures that are brightly colored and make a lot of noise like the Blue Fox Vibrax spinner or a crankbait with a rattle. Lures like a spoon just won't do so well in dirty water. The noisy lures will get the trout's attention and they can home-in on the lure with just their lateral line.
Bigger lures are also a good choice since it gives them a bigger target and bigger lures make more noise.
If I am bait fishing, I will use larger and brighter baits like big spawn bags or even big flies like a chartreuse woolly bugger. If you only have small spawn bags on you just thread two or three of them on the hook at the same time.
Bait fishing can also be a good choice because it's slow moving and allows the fish to find the bait.
Guide Tip: When the water is really muddy the trout will still feed but the problem is that the trout can't see your bait so you literally have to bump them in the face with it.
I will often seek out smaller clear water creeks that enter the main river and I will fish where they enter. These creeks will often stay clear or will clear up faster and the water just below where the creek enters will often hold some fish and be clear enough to catch them. You could also try fishing up into the clear creeks.
Gear Up For The Rain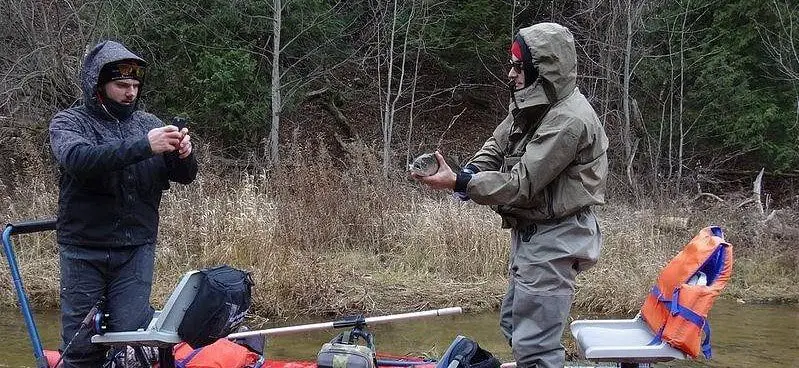 If you are wearing waders you won't need to worry about your legs getting wet. However if you don't have a rain jacket or wading jacket to keep your upper body from getting wet, you can't prevent the rain from dribbling down your body and into your waders.
I'll often have a lightweight packable rain jacket in my vest during the summer and I will use my wading jacket in the spring, fall, and winter.
I use the Frogg Toggs Xtreme Lite Jacket as my packable jacket for summer fishing. It's not the most durable or the best rain jacket but it's a great emergency rain jacket that has saved my butt on many occasions. You can check the Frogg Toggs Jacket out at Bass Pro Shops.
It's important that you stay dry and comfortable with the right gear. Check out my page River Fishing Gear: Everything You Need To Succeed In 2021
About Trout Fishing In The Rain
I hope you enjoyed this article about fishing for trout in the rain. If you have a question or tip for me and other readers about trout fishing in the rain, please let me know in the comments section below.
Tight Lines
Graham