Salmon Fishing In New York: The Ultimate Fishing Guide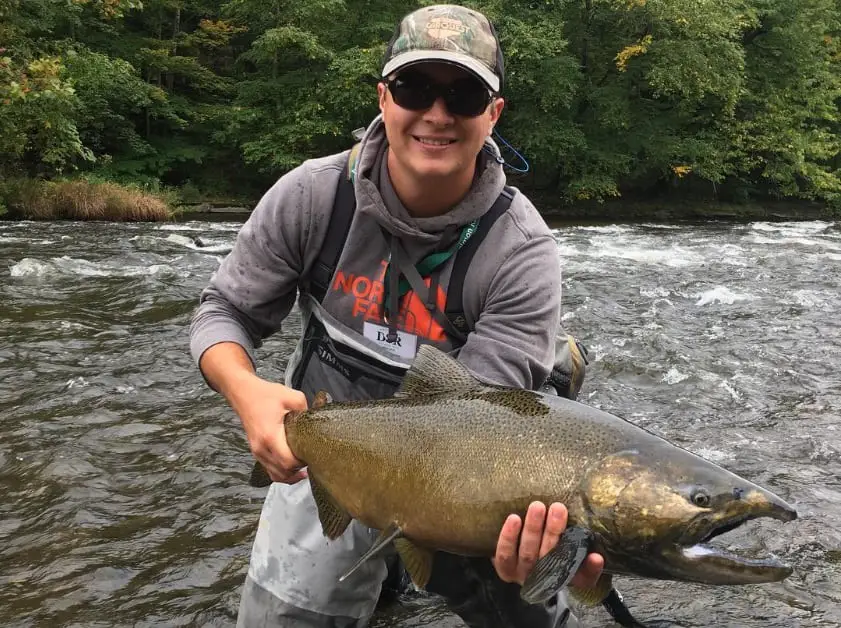 I've spent over 37 years fishing for salmon around the Great Lakes, and I can tell you for certain that salmon fishing in New York is some of the best fishing in the Great Lakes Region.
Anglers have the opportunity to fish for salmon for 12 months of the year, with about six months being very good and consistent. Anglers can fish for salmon in New York from a baot out on Lake Ontario, from the shorelines, river mouths, and in the rivers starting in July and Ending in November.
I've also spent the last 22 years guiding for salmon and teaching anglers how to fish for salmon once they enter the rivers. In this guide, I'll share the strategies I've developed over the years to help newcomers and intermediate anglers make the most of their New York salmon fishing experience.
New York's Salmon Species
Anglers in New York have access to four distinct salmon species. The two primary species are the Chinook salmon and the Coho salmon. The fishing is so good on some NY rivers that they are listed in the article Best Salmon Fishing Destinations in The USA.
Chinook Salmon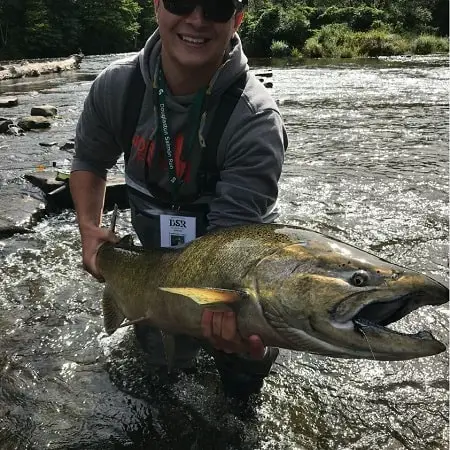 Chinook salmon, which are often called king salmon, hold the distinction of being the largest and most prevalent salmon species and are the most sought after salmon species.
It's not unusual for boat anglers to reach their salmon limits within just a few hours if they know the when, where, and how-to's of salmon fishing.
Salmon fishing in New York also consists of river fishing, which can yield impressive results, with some anglers reeling in over 20 large chinook salmon in a single day during the fall peak runs. On average, mature king salmon weigh around 25 pounds, and many even exceed 40 pounds.
Coho Salmon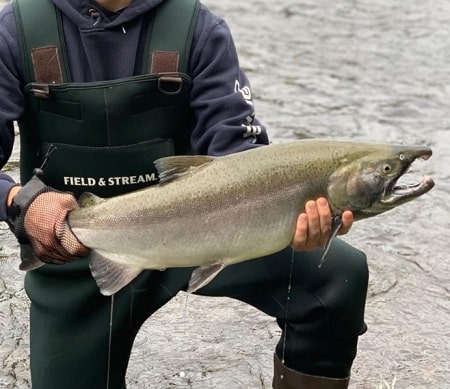 Coho salmon are slightly smaller than other species, but in some upstate New York Rivers, they return in good numbers, and they're renowned for their strength and hard-fighting ability.
Despite averaging around 10 pounds, Coho salmon put up a fight that can rival that of a 20-pound fish.
Atlantic Salmon
The Atlantic salmon was native to Lake Ontario and Upstate New York rivers until they vanished in the 1900's. Over the last twenty years, Atlantics salmon have been reintroduced to Lake Ontario waters by the joint efforts of New York and Ontario fisheries departments.
Today, boat and river anglers are catching Atlantic salmon. Some New York Lakes like Lake George and Skaneateles Lake also have stocked landlocked salmon. Skaneateles Lake and Lake George salmon are in the lake year-round, but check fishing regulations for the salmon season before your fishing trip.
Other New York Atlantic Salmon lakes include:
Keuka Lake
Cayuga Lake
Seneca Lake
Lake Champlain
Schroon Lake
Piseco Lake
Otsego Lake
The Salmon River is a hotspot for Atlantic salmon thanks to heavy stocking.
Pink Salmon
Pink salmon are rare in New York and might result from either natural reproduction due to past stocking or the migration of fish from other Great Lakes. Lake Erie is said to have some small populations of Pinks, which is where the current New York State Pink salmon record is from.
Best Places to Catch Salmon in New York
The northern regions of New York along the Lake Ontario shoreline have some of the finest salmon rivers in the Great Lakes region, and this is where anglers should concentrate their efforts.
Anglers in New York can catch salmon either out in the open waters of Lake Ontario, or they can catch salmon in the rivers during the fall spawning runs.
New York also has an extensive shoreline for anglers interested in fishing salmon from shore, piers, river mouths, and inlets.
Where To Go For New York Salmon
Some of the most popular salmon fishing in New York occurs in these tributaries:
Salmon River – See my article, Salmon Fishing On The Salmon River
Eighteen Mile Creek
Sterling CreekThere are some other smaller creeks that will get sporadic and small runs of salmon.
Best Time To Fish For Salmon: Salmon Runs in New York
The best time to fish for New York salmon depends on whether you have a boat or not.
Boat Fishing Best Times For Salmon In New York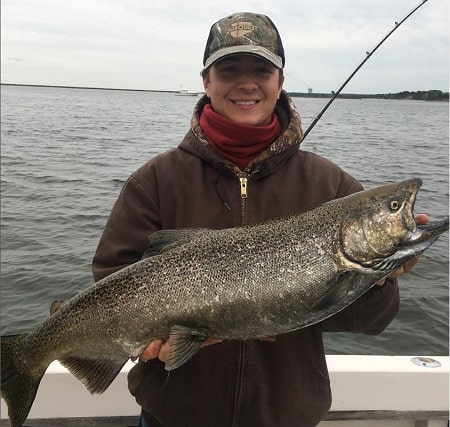 Boat fishing for salmon starts in April, gets better into June, peaks in July and August, and tapers off once most of the mature salmon are in the rivers in October.
June through early September are great times to hire a charter boat service or get out in your own boat.
Shore and River Fishing: Best Times For Salmon Fishing In New York
The fall Salmon runs typically start after cool rains on select rivers in August, however, the numbers are low at this time. Atlantic salmon are known to wander into larger rivers like the Salmon River starting in July.
The larger salmon runs begin following the first substantial rains in September, repeating with subsequent rainfalls or high water floes until early November.
On larger rivers like the Niagara River, cool nights in September can trigger large runs of salmon.
The Feeding Habits of New York Salmon
Growing up with salmon fishing, I was always told that once the salmon entered rivers, they ceased eating. However, this couldn't be further from the truth.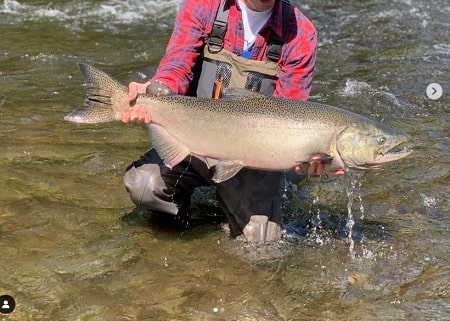 I've witnessed salmon in rivers actively pursuing lures, flies, and even bait. Often, migrating and spawning salmon will grab a well-presented bait, lure, or fly, but usually, the best is when they stop to rest. So, pick your spots carefully if you want to catch more salmon.
Best Baits For New York Salmon
When salmon fishing in New York rivers, the best baits are usually smaller than a quarter and are brightly colored. Pink, orange, yellow, and red are good colors for baits.
The most effective salmon baits are spawn bags with salmon eggs, skien, plastic pink and red worms, beads, and shrimp.
Best Flies For New York Salmon
Fly fishing is popular for salmon fishing. Once the salmon enter the river, they will also eat artificial flies that resemble salmon eggs, aquatic nymphs, and baitfish. See Best Flies For Salmon Fishing.
Best Lures For New York Salmon
Artificial lures should be 3 to 6 inches for salmon, and bright colors are generally hot. Coho's prefer orange, chartreuse, and silver lures. Chinook Salmon love chartreuse lures but will also grab silver, silver/green, and pink.
Lures such as in-line spinners, spoons, plugs, and crankbaits are best. See my selection of the most effective salmon lures to use in rivers.
Effective Ways To Fish Salmon In New York
Anglers have three primary approaches to catching salmon, whether on the lake or in the river.
Shore Fishing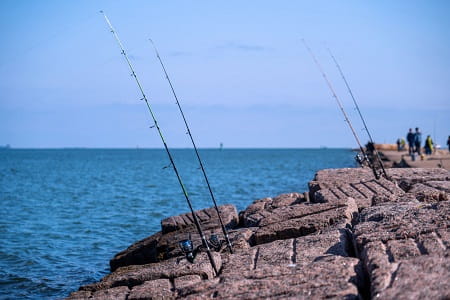 Shore fishing for salmon can be very good at times.
There are times when salmon venture closer to the shoreline, and this usually occurs in April and May and again in September and October.
Casting lures like crankbaits or spoons is usually the most effective method, or casting a bait from shore offers productive New York salmon fishing.
Hotspots for shore fishing include river mouths, breakwalls, piers, points, harbors, and warm water outflows in winter.
Boat Fishing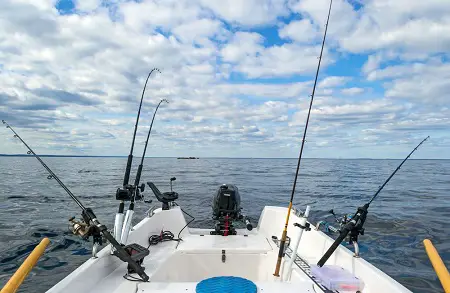 A significant portion of New York's salmon fishing takes place on Lake Ontario miles south into the open water.
During the spring, salmon will often be closer to shore feeding on spawning baitfish.
Boat fishing peaks during July and August, but by then, most salmon are out in over 100 feet of water and charter boats and anglers will fish miles from shore.
The salmon will start moving in closer to shore in late August and September.
Trolling for Great Lakes salmon with lures, plugs, cut-baits, and flasher fly combinations form the core of boat fishing tactics. Using lead core lines Dipsy Divers, and downriggers are often used to reach the optimal depth where salmon are feeding. This can sometimes be over 100 feet deep.
River Fishing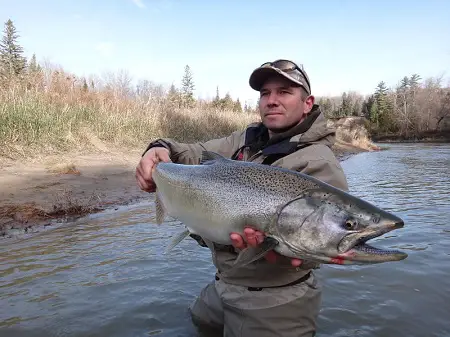 River fishing for salmon is the highlight of New York's salmon fishing.
During the fall, some rivers will get tens of thousands of salmon entering the rivers, providing exceptional fishing opportunities from late September to late October.
While most anglers prefer well-known rivers, I've even witnessed salmon in tiny creeks and these creeks can offer solitude.
During the salmon runs, it's not uncommon to catch all salmon species, as well as steelhead and large migratory lake-run brown trout that can exceed 20 pounds. As the salmon runs taper off in November, steelhead fishing picks up.
Hiring a good river guide is a great way to learn the most effective methods, baits, and locations, and learn about salmon fishing in New York. Check out Healy Outdoors if you are looking for a multi-method river guide.
Fishing Methods For River Fishing New York Salmon
Once salmon enter Lake Ontario tributaries, numerous techniques can yield successful catches:
Spin Fishing
Spin fishing for salmon in New York is very popular. Spin fishing with a spinning reel and heavy salmon rods usually means casting lures. However, spin fishing can also mean dead drifting baits or flies down the river with or without a bobber.
Float Fishing
Float fishing involves drifting a bait under a float with the river's current. A suitable float designed for river fishing is essential. Float fishing is one of the most popular methods for catching New York salmon, but it is best used in sections of the river with a depth of at least 3 feet.
Lure Fishing
Casting lures at river mouths or further upstream is a fantastic way to attract salmon. Spinners, spoons, and crankbaits are all effective options. For more insight, check out my article on Lure Fishing for Salmon.
Centerpin Fishing
Centerpin fishing is growing, and for good reason, it is a very effective way to catch more fish. Centerpin fishing involves drifting a float and bait down the river using a specialized reel called a Centerpin reel. This method offers the most efficient way to present bait under a float, often leading to a higher catch rate.
Fly Fishing
I find fly fishing to be the most rewarding approach in New York's salmon rivers, and many fly fishermen will agree. Casting streamers, drifting nymphs under an indicator, or engaging in spey fishing are all effective fly fishing techniques used to catch salmon. Bright-colored flies, especially egg patterns, tend to perform well.
Drift Fishing and Bottom Bouncing
Drift fishing is suitable for larger, deeper rivers, allowing a bait presentation without using a float. It's ideal for casting far or when fishing deep. You simply cast your bait and weight out and let it drift freely with the current.
Bottom bouncing is very similar to Drift Fishing but is much more effective in smaller river sections and pocket water, generally in waters under 3 feet deep.
Plunking for Salmon
The Plunking method involves stationary fishing in the rivers or shorelines. Anglers cast a weight that anchors the bait close to the riverbed, and then they wait for a passing salmon to grab it. This technique works well for catching deep-swimming salmon and is a very relaxing way to catch salmon.
Top Baits for New York Salmon
For New York salmon fishing, I rely on the same baits I use throughout the Great Lakes. Options like spawn sacs, skein, live and artificial worms, minnows, and artificial flies all prove effective.
Several other baits also work; for a comprehensive list, take a look at my article on the 11 Best Baits for Salmon Fishing.
Recommended Equipment
To catch salmon, you need some good heavier gear. Several salmon species can be caught on the same rods and reels, but you want to be sure your rod can handle a potential 40 pound king.
Rod Weight, Rod Lenght, Rod Action
On the river and from the bank, most anglers will use a fast-action, medium-heavy rod in the 7 to 8-foot range for casting lures.
For float fishing along the river bank, anglers use medium rods that are 12 to 14 feet long. See Best Rods For Salmon.
Reel
A spinning reel in the size 30 to 40 (3000 to 4000) is ideal for salmon. The key thing is to have a reel with enough line capacity for long runs and a reel with a great drag system. See Best Reels For Salmon.
Line
Usually, a 12 to 14-pound mainline is sufficient for catching salmon on most small to mid-sized rivers. On larger rivers and when using lures, some anglers will upsize to 15 to 20 pound.
Mono, fluorocarbon, and braid all have their place, with some being better than others for certain fishing methods. See Best Line For Salmon Fishing.
Fighting and Landing Salmon
Once hooked, these large salmon can take hundreds of feet of line. I tell my clients, if possible, to walk with the salmon and try to maintain side pressure. Never pull them upriver if you can help it.
Having a good suitable salmon net is highly recommended. I have a different net that I use for boat, shore, and pier fishing, and another net that I use for wade fishing in the rivers.
Safety First
Some New York salmon rivers have swift currents, fast drop-offs, and have many rocky sections. Anglers must use caution when wading into any river, especially when crossing the river.
Some tips to aid in your safety are:
Wear studded footwear with good treads to ensure firm footing.
A wading staff is something that I recommend to most guys. It's great for stability crossing rivers.
Polarized sunglasses are one of my most valuable and recommend fishing gear. They help to detect wading hazards and maybe even spot fish.
Wear a wader belt and keep it tight. This prevents water from rushing into your waders should you fall in.
Inflatable flotation vests are something some of my clients wear.
Crossing the river is how and when most anglers fall in. Obesrve the river, look for wide sections that are shallow, and don't cross the river if you are unsure of the depth or speed of the current.
Guide Tip: Always try to cross a river in an upward direction. If it starts to get too deep it's much easier to back up downriver than to back up upriver.
Fishing Regulations and Fishing Licence
The New York State Department has fishing regulations and fishing license requirements that you should check to be sure you are fishing legally. See – NY Great Lakes and Tributaries Fishing Regulations
Wild vs. Stocked Fish
There is both wild salmon and stocked salmon in New York, and for most anglers they can't tell the difference. Some natural reproduction does occur on some rivers, but there is a significant stocking program that contributes to the salmon fishery.
The Salmon River in Oswego County, New York, has a fish hatchery that is responsible for a lot of the salmon stocking in the local rivers.
The Salmon River is a renowned spot for Pacific salmon fishing and is heavily stocked to ensure adequate returns for spawning.
The salmon river also has a significant population of wild Chinook salmon, making up approximately 70% of angler-caught Chinooks, based on one study's findings.
Question & Answer Session: New York Salmon Fishing
If you have questions or would like to share your own insights on New York salmon fishing, please feel free to leave a comment below.
Tight Lines,
Graham