Best Salmon Fishing In The US: 19 Best Spots By State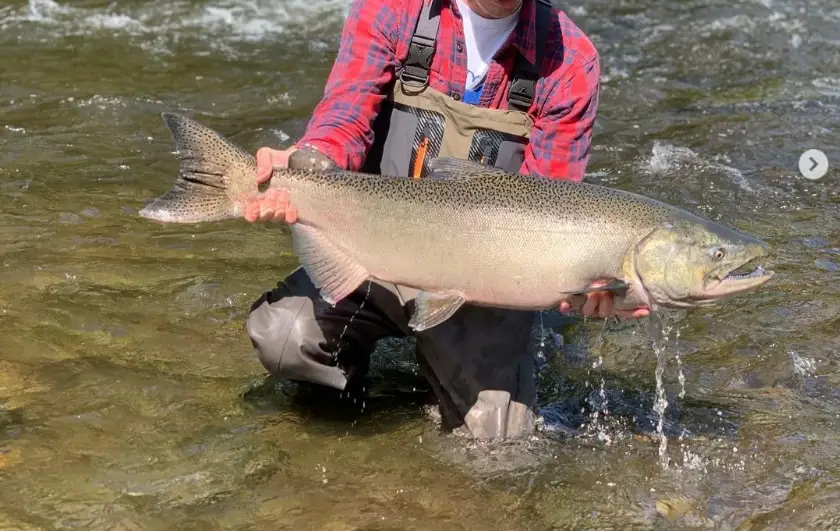 There are plenty of places to fish for salmon, from the eastern USA for Atlantic salmon to the North Western Pacific inlets and rivers to the Eastern Great Lakes Region.
Our criteria for the best salmon fishing spots are a good population of salmon that are accessible to anglers. A great river is not great for salmon fishing if very few anglers have access to fish it.
Some of the best salmon fishing in the USA is found in the states of Alaska, Washington, Oregon, New York, and Michigan. These states have multiple salmon species with large populations and good angler access.
This is your best guide for the best salmon fishing in the USA, state by state.
Alaska's Best Salmon Fishing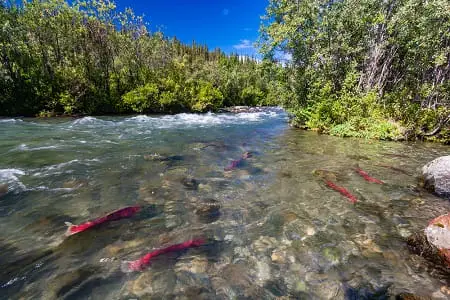 Alaska is well known for its world-class salmon fishing. Some areas stand out, so let's find out more.
 1. Kenai River, Alaska
Kenai River salmon fishing is considered the best in the world by many anglers.
King Salmon, also known as Chinook Salmon, will make early and late runs into the Kenai River, and the best fishing is from mid-May until July 31.
SOCKEYE Salmon or Red Salmon are the most abundant, and runs can be so thick you can practically walk across them. Kenai River and tributaries see a late run starting in late July through August.
Coho Salmon, also known as silver salmon run later in early August into early November. Peak run times are mid-August through late September.
The agressive and plentiful Pink Salmon will only run on every even-numbered years. Although the smallest salmon, the Pinks flood the river in huge numbers, making for some very exciting fishing.
Kenai River, Alaska, is a rugged place, and you may encounter dangers like brown bears that you may not be prepared for. Do your research or go with an experienced guide that will put you onto more fish and will keep you safe. See Safety Tips For Fishing Near Bears.
2. Bristol Bay, Alaska
Bristol Bay is tucked between the Alaska Peninsula and the eastern part of the Bering Sea. The bay has the world's largest commercial sockeye salmon fishery and holds 46% of the world's sockeye salmon population.
The ocean and river sport fishery here is world-class, with massive populations of sockeye reaching 35.1 million per year, large chinook over 50 pounds, coho's, pink's, and chum salmon. Both the open-water fishery and local rivers, such as the Nushagak River and Kvichak River, provide anglers with fantastic salmon fishing. In the rivers, you may also hook into rainbow trout, arctic char, grayling, and Dolly Varden.
Salmon Run Times:
King Salmon – Mid-June to Mid-July
Coho Salmon – July to October
Sockeye – Early June through July
Chum Salmon – Early June through July
Pink Salmon – Early June through July
3. Kvichak River
The Kvichak River is considered one of the best sockeye salmon rivers in the world, with over one million salmon running the river each year. Reports of 30,000 salmon an hour entering the river at peak times ensure it is not hard to find salmon in this river. Silver salmon, chum, and pink salmon follow the runs of Sockeye salmon.
4. Katmai, Alaska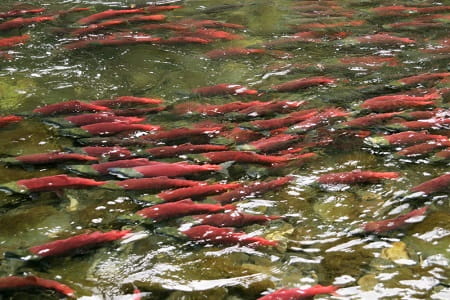 The Katmai National Park area has fantastic salmon fishing, with runs of all salmon species going up the Alagnak River. Salmon runs start in June and continue to October.
Kings over 50 pounds are caught most years. Two million sockeyes are said to spawn in the area, and the hard-fighting chum salmon can average 12 pounds, with some over 20 pounds.
5. Seward, Alaska
Set on the inlet of the Kenai Peninsula in Southern Alaska is the port city known as Seward.
The primary sports fish in the area is the Pacific salmon. In this area, salmon species such as King salmon over 50 pounds, and plentiful silver salmon, also known as Coho (Silver) Salmon. Chum, Pink, and Sockeye Salmon are also abundant.  
The coastline provides excellent king salmon fishing. Silver salmon are more abundant in the outer areas of Resurrection Bay, Pony, Cheval Island, Agnes, Porcupine, and Bulldog Coves in June and July.
The salmon fishing season runs from May through September, with most mature salmon up the rivers by October. The open-water salmon fisheries peak during the summer months.
Salmon anglers use methods such as fly fishing and drift fishing since the salmon enter the rivers, but ocean fishing is done by trolling or mooching. Heavy tackle is required for the bigger salmon, while pink salmon can be caught on lighter gear.
For more details on methods, runs, and areas to fish, check out Alaska Salmon Fishing.
Washington State Salmon Fishing
Washington has runs of wild salmon and stocked salmon with select areas that are considered great salmon fishing.
6. Puget Sound
Puget Sound is one of the best salmon fishing spots on the West Coast with the potential of catching all five Pacific salmon species.
Boat and shore angles do well fishing the shoreline and mouths of local rivers near the Seattle area. The best fall Chinook runs are the Nisqually River, Puyallup River, The Green River (Duwamish), and the Samish River.
Boat anglers will do well in saltwater fishing for returning fall Chinook on their way to these rivers.
Deception Pass located in the Northern Puget Sound region has great scenery and good salmon fishing for shore and boat anglers.
7. Columbia River
The massive Columbia River is said to be one of the greatest salmon fisheries in the world, with claims of having the largest runs of salmon in the lower 48 states. The salmon season is almost year-round.
The lower river is a boat fisherman's paradise, while shore fishermen and river fishermen still have plenty of opportunities to catch wild and stocked salmon.
The Lower Columbia River borders Washington and Oregon. The river has a great run of fall Chinook salmon starting in August in the estuary and lower river and later in September and October in the primary tributaries.
The Buoy 10 fishery, which is where the Columbia River meets the Pacific Ocean, is said to be one of the hottest spots in the world for catching Salmon!
Spring Salmon enter the Columbia River in March and run through May, and the best rivers for spring salmon are Cowlitz River, which gets runs of thousands of salmon, and the Wind River in Columbia River Gorge, which also gets spring salmon and spring steelhead.
These are large salmon, so be sure you are using the right salmon fishing gear.
Oregon Salmon Fishing
Oregon has salmon fishing year-round, from the coastline to some fantastic rivers, such as:
Umpqua River Fishing
Trask River (fall and spring Chinook)
Wilson River (fall and spring Chinook)
Nestucca River and Bay (fall and spring Chinook)
Rogue River Fishing
Tillamook Rivers
8. Tillamook Bay and Tillamook River
The Tillamook Bay and Tillamook River have outstanding runs of salmon. What makes Tillamook Bay so attractive to the salmon is the five rivers flowing in Tillamook Bay. These rivers include the Wilson River, Trask River, Kilchis River, Miami River, and the Tillamook River)
New York's Best Salmon Fishing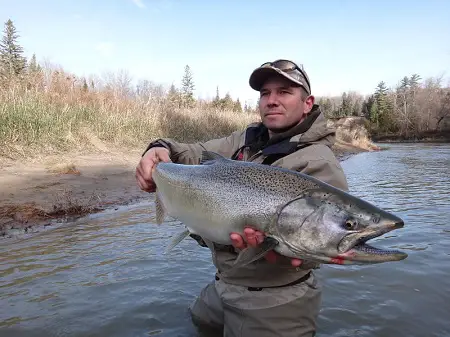 Lake Ontario in New York and the Lake Ontario tributaries offer anglers excellent salmon fishing by boat or from shore.
9. Lake Ontario
Lake Ontario has large Chinook salmon, Coho salmon, and Atlantic salmon.
Lake fishing from Spring to fall can be excellent, with double-digit salmon caught while trolling or casting lures. Summer fishing out in the lake produces some of the largest salmon yearly.
10. Salmon River NY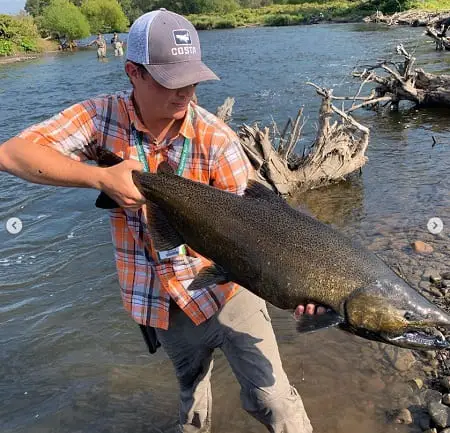 New York's Salmon River is famous for its huge runs of chinook salmon and coho salmon. The Salmon River also holds the world record for Coho salmon.
What makes this salmon fishery so good is the huge salmon runs consisting of tens of thousands of salmon that get concentrated in the pools, runs, and riffles, making the salmon fairly easy to catch.
This draws in anglers from all over the USA. These big runs start in September and end in Early November.
At times, anglers can hook into more than twenty big salmon in a day. See Salmon Fishing the Salmon River.
11. Niagara River NY:
The Niagara River is New York's largest salmon river, which separates the USA and Canada's mainland.
Most of the salmon fishing is done by boat, but shore anglers can do well in select areas. Excellent salmon fishing occurs from September to early November. The Niagara also gets huge runs of steelhead and large migratory brown trout.
Because the river is so large, the salmon can be spread out, but once you find them, you could be into big numbers of salmon.
Also see Salmon Fishing In New York
Michigan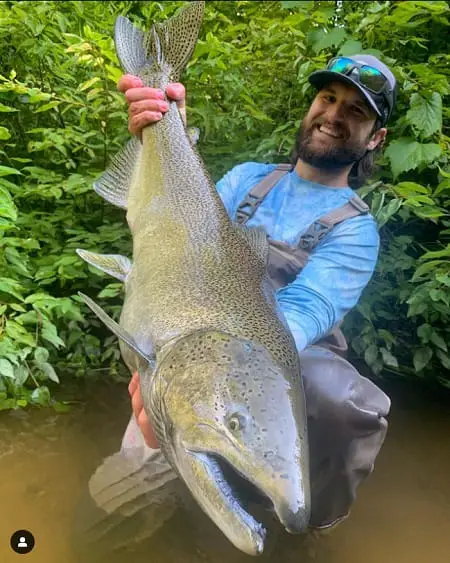 The Western Great Lakes area of Michigan has some of the best salmon fishing in the us. Many rivers flowing into Lake Michigan have large runs of Chinook and Coho Salmon, some rivaling popular West Coast rivers.
12. Manistee and Muskegon Rivers:
The two best rivers are the Manistee River and the Muskegon River.
Tens of thousands of adult salmon make their way up big and small rivers, which provides an almost easy target for anglers.
Some of the best king salmon fishing occurs out in the open water on Lake Michigan, where anglers will troll for salmon. Mixed in with the King salmon are Coho, steelhead, Lake trout, and large migratory brown trout.
Check out more info in my article on Salmon Fishing in Michigan.
13. Wisconsin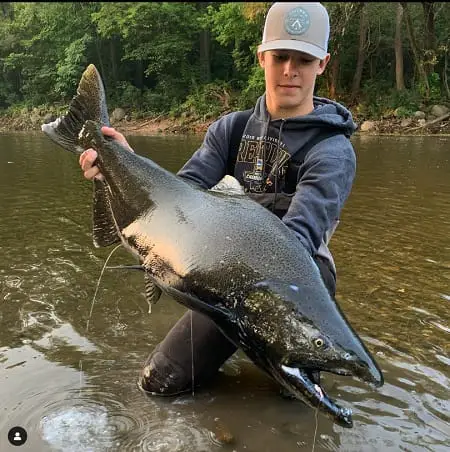 A salmon fishing destination not as popular occurs in the rivers of Wisconsin. Anglers can also catch salmon out in Lake Michigan by boat.
These chinook salmon run up smaller rivers where they concentrate, making catching salmon easy. Both coho and chinook salmon enter the rivers in September and October.
Some of the best salmon rivers in Wisconsin are:
Milwaukee River
Menominee River
The Brule River
Kewaunee River
Lake Florence – Stocked with Kokanee salmon
Check out more article on Salmon Fishing in Wisconsin.
California
Yes, central and northern California have salmon fishing, and this is what you need to know.
14. Sacramento River
The Sacramento River is one of the best salmon rivers in the state, and it has some of the best tributaries, such as the Feather River and the American River. The Sacramento River empties into San Francisco Bay, which is a great open-water salmon fishery.
The local government claims that due to droughts, 2023 might see the first salmon season closure in over 13 years, so check the fishing regulations and updates before you fish for salmon in California.
15. Klamath River
The Klamath River is the second largest river in California and has some of the strongest runs of salmon in the state, with fall Chinook starting to show up at the mouth in August.
Maine's Best Salmon Fishing
Maine is one of the few states that offer Atlantic salmon fishing, so these two rivers are for anglers who are looking for Atlantic Salmon fishing in the USA.
16. West Branch Of The Penobscot River
The West Branch of the Penobscot downstream of Seboomook Lake has good populations of wild brook trout and landlocked salmon. The river is accessible by gravel road from either Greenville or Millinocket.
Northwest of Millinocket and the 12 miles of river immediately downstream from Ripogenus Dam at the outlet of Chesuncook Lake have some of the best-landlocked Atlantic salmon fishing in the USA.
The terrain makes it tough to fish with heavy rapids, steep gorges, deep runs, large pools, and slower-moving water. While the salmon fishing access can be difficult, the scenery is exceptional.
17. Rapid River, Maine
The Rapid River is a smaller river in Maine and is considered one of the best spots for salmon in northern New England. There are fishing restrictions, which consist of fly-fishing only water, with a limit of one salmon per day.
The best time to fish Rapid River is from May through the end of summer, with peak fishing in June and July. The Rapid River stays high enough and cold enough to fish throughout the summer since it is fed by Umbagog Lake. 
New Hampshire's Best Salmon Fishing
18. Merrymeeting River
This is a slow-moving river with a decent spring fishing for Atlantic salmon. It lacks the riffles and ruins of most salmon rivers. However, some anglers claim this is the best New England landlocked Atlantic salmon fishing spot. It also has plentiful large rainbow trout mixed in.
This river can get very busy in some sections during the spawning run, especially below the old mill. There is a mile of good public access below Alton Dam downstream from Route 140 to about the second footbridge at Jones Field.
The river gets a smelt run in May, which makes May the best month for fishing, and small streamers are a good option.
The river has a fly-fishing-only restriction.
South Dakota
19. Lake Oahe
Lake Oahe in South Dakota is a prominent reservoir for Chinook Salmon, thanks to its cold, deep waters.
These salmon mainly feed on rainbow smelt and lake herring. While not indigenous to Lake Oahe, salmon were introduced by local authorities as an added game fish.
Anglers typically fish between 50 to 100 feet deep during the summer season using downriggers or side planers.
The prime fishing area stretches from the Oahe Dam face to the Cheyenne River.
By fall, salmon gravitate to the shallows to spawn. They can be found in various creeks from the dam face up to the North Dakota border. The Whitlock Bay region near Gettysburg is particularly good in the fall as salmon return to the nearby spawning station.
Lake Shasta, California, also has salmon.
Best Salmon Fishing In the US
If you have a question or comment about the best salmon fishing in the US, let us know in the comments section below.
Tight Lines
Graham