A Complete Guide To Salmon Fishing Deception Pass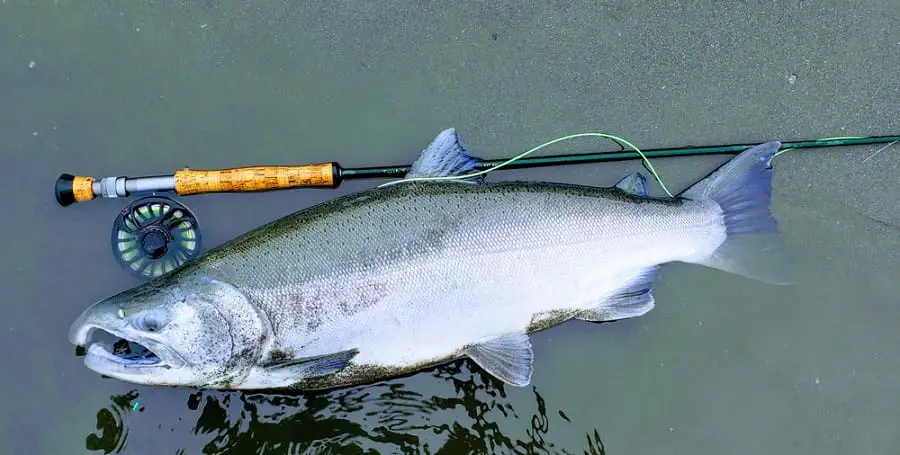 Salmon fishing Deception Pass can be excellent, with four Pacific Salmon species available and plenty of areas to fish from shore or boat. We discuss the best gear, tactics, baits, lures, times, and even tips on fishing the tides for more salmon.
---
Key Takeaway Table:
| Topic | Summary |
| --- | --- |
| Best Fishing Spots | Explore North Beach and West Beach |
| Peak Fishing Seasons | Mid-summer through early-autumn for Coho; odd-numbered years for Pink salmon |
| Recommended Gear | Heavy rods, metal lures, and understanding of tidal impacts |
| Local Regulations | Compliance with area fishing regulations and licensing |
---
About Salmon Fishing Deception Pass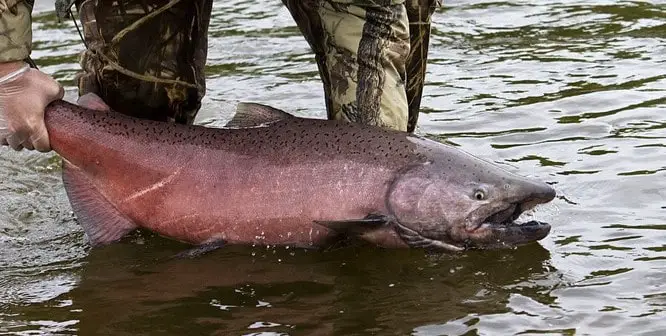 Deception Pass, known for its narrow waterway connecting the Strait of Juan de Fuca with Skagit Bay, is a haven for salmon anglers, especially during the summer when thousands of salmon traverse through this passage.
Coho Salmon and Pick salmon are the most abundant salmon, but this area also sees catches of chinook and chum salmon.
The breathtaking views, coupled with the promise of a rewarding catch, make Deception Pass a must-visit destination for every angler.
Unveiling The Best Spots At Deception Pass
North Beach and West Beach are the prime spots for anglers salmon fishing Deception Pass. While West Beach provides easy access with a parking lot nearby, North Beach, facing the pass itself, offers a more serene fishing experience albeit with a short hike from the parking area.
Each spot has its unique charm and fishing advantages, ensuring that every angler finds their perfect casting spot.
For a broader perspective on prime fishing spots across the US, check out Best Salmon Fishing In The US: 19 Best Spots By State.
Gear Up for Fishing Success At Deception Pass
Equipping yourself with the right gear is a stepping stone to a successful salmon fishing excursion at Deception Pass. Essential gear includes a heavy fishing rod capable of casting lures up to two ounces, metal lures like Buzz Bombs, and P-Line Lazer Minnows.
Additionally, understanding the tidal flows and their impact on salmon movement is crucial as fishing is usually best within an hour or two from peak high and peak low tide.
For a comprehensive list of essential gear, explore Gear For Salmon Fishing: A List Of Everything You Need.
Techniques for Catching Salmon
Effective techniques, understanding the behavior of salmon, and adapting to tidal flows are imperative for a successful day on the water at the Pass.
Fly fishing is popular, especially at West Beach and North Beach, where salmon run extremely close to shore.
Casting from the shore or beaches are great methods and anglers will cast lures or bait to catch salmon anywhere in Deception Pass. Some anglers will also use baits under a float, or use still fishing methods like plunking.
Trolling for salmon is also popular in some spots and Mooching for salmon is also a good method for salmon fishing at Deception Pass.
Trolling with special trolling spoons, hoochies, flies, and plugs can be very effective.
Mastering the Tides: A Crucial Aspect of Salmon Fishing
Understanding the tidal movements at Deception Pass is paramount for a successful salmon fishing expedition. The area experiences significant tidal swings, creating strong currents beneath the Deception Pass Bridge. These currents, in turn, influence the movement and behavior of salmon.
Check out the Tidal Charts for Deception Pass to plan your fishing trip around the most favorable tidal conditions.
How Tides Affect Salmon Fishing
Fish Activity: Salmon tend to be more active during specific tidal phases. They are usually on the move during the change of tides, making the period around high tide and low tide optimal for fishing.
Accessibility of Fishing Spots: Some fishing spots at Deception Pass become more accessible or provide better casting positions during certain tidal phases.
Bait Movement: Tides influence the movement of baitfish, which in turn affects the feeding behavior of salmon. Anglers who understand how baitfish move with the tides can often find more success in locating and catching salmon.
Water Clarity: The tidal movement can affect water clarity, which might influence the visibility of lures and, consequently, the success of your fishing endeavor.
Tips for Tidal Mastery
Tidal Charts: Utilize tidal charts to plan your fishing expedition around favorable tidal movements.
Observation: Spend time observing how the tides affect fish behavior and adjust your strategies accordingly.
Local Knowledge: Engage with local anglers and guides to gather insights on how to navigate the tides for a successful fishing experience.
Coho Salmon Fishing at Deception Pass
Coho (Silver) Salmon are a major attraction at Deception Pass, especially during their migration back to the Skagit River. The highest catches of Coho salmon at Deception Pass occur in August and September, making these months particularly good for anglers.
The aggressive feeding nature and wild line-screaming runs of Coho Salmon, along with their rich flavor, make them a prized catch.
For more tips on targeting Coho, check out our guide on Coho Salmon Fishing: Techniques, Tips, and Gear.
Pink Salmon Fishing at Deception Pass
Discover the allure of Salmon Fishing at Deception Pass, a captivating destination where every cast offers a promise of an exciting catch amidst nature's stunning backdrop. Gear up for an unforgettable adventure as we delve into the secrets of making the most out of your fishing expedition in these pristine waters.
The Pink Salmon, although only returning on odd-numbered years, bring a unique excitement to Salmon fishing Deception Pass.
The sheer numbers make them an easy catch, providing a fun and rewarding experience for both seasoned and novice anglers.
The beaches of Deception Pass become a hub of activity, especially during the Pink Salmon run which is August and September, creating a lively atmosphere full of camaraderie and the shared joy of fishing.
Learn more about maximizing your catch during the Pink run in our Pink Salmon Fishing Guide.
Shore Fishing for Salmon
Shore fishing offers a different yet equally rewarding experience for salmon anglers. The proximity to the shoreline at West Beach and North Beach makes these spots ideal for casting from the shore. Understanding the tide and having the right gear can significantly enhance your shore fishing success.
Explore more about shore fishing techniques and tips on our page Shore Fishing for Salmon.
Best Lures and Tackle for Shore Fishing
| Item | Description |
| --- | --- |
| Fishing Rod | At least 9 feet long with a rating of at least 8lb to 14lb test |
| Reel | Spinning or baitcasting reels with a spool capacity of at least 150 yards |
| Fishing Lines | Braided lines are popular as they are both thin and strong, allowing for better casting distances. 8lb monofilament line for pinks, 12 to 14 pound for coho and chum, 20 pounds for kings. |
| Landing Net | A landing net with a long handle, a wide hoop, and a deep net |
| Lures | Spoons, spinners, and crankbaits; specific lures include Little Cleos, Buzz bombs, Zingers, and other saltwater jigging lures |
Beach Fishing at Deception Pass
Beach fishing is a popular choice among anglers at Deception Pass, with the beaches providing a serene backdrop to a promising fishing adventure. The accessibility of the beaches, coupled with the thrilling anticipation of a catch with each cast, makes beach fishing an appealing option.
Utilizing heavy rods and metal lures capable of casting great distances are key to overcoming the challenges posed by the ripping currents of the pass.
For an in-depth look into beach fishing, visit our page on Beach Fishing for Salmon.
Best Lures and Tackle for Beach Fishing
| Item | Description |
| --- | --- |
| Lures | Buzz Bombs, Rotators, and Hoochies |
| Tackle | Heavy action rod and a high-quality spinning reel; 10-15lb test monofilament or braided line |
Salmon fishing at Deception Pass peaks from mid-summer through early-autumn, with Coho Salmon being the primary draw. Odd-numbered years witness a surge of Pink Salmon, with the beaches becoming a hub of activity during the Pink run.
Conclusion: Unveiling the Secrets of Salmon Fishing at Deception Pass
Deception Pass offers a unique salmon fishing adventure amid stunning scenery. With the right gear, knowledge of salmon behavior, and mastery over tides, your chances of a successful catch soar.
Whether from North Beach's shores, a boat, or West Beach's rocky terrains, the thrill of landing a prized salmon here is unmatched. The success of your expedition hinges on tide understanding, proper equipment, and choosing the right season for your favored salmon species.
As you explore Deception Pass's tranquil yet wild waters, may every cast edge you closer to a thrilling, lifetime catch.
We're eager to hear about your experiences, tips, or any questions you may have about salmon fishing at Deception Pass. Please feel free to share your thoughts in the comments section below.
Your insights and inquiries not only enrich our community but also help fellow anglers in mastering the art of salmon fishing in this remarkable location.
Tight Lines
Graham