British Columbia Steelhead Fishing: A Complete Guide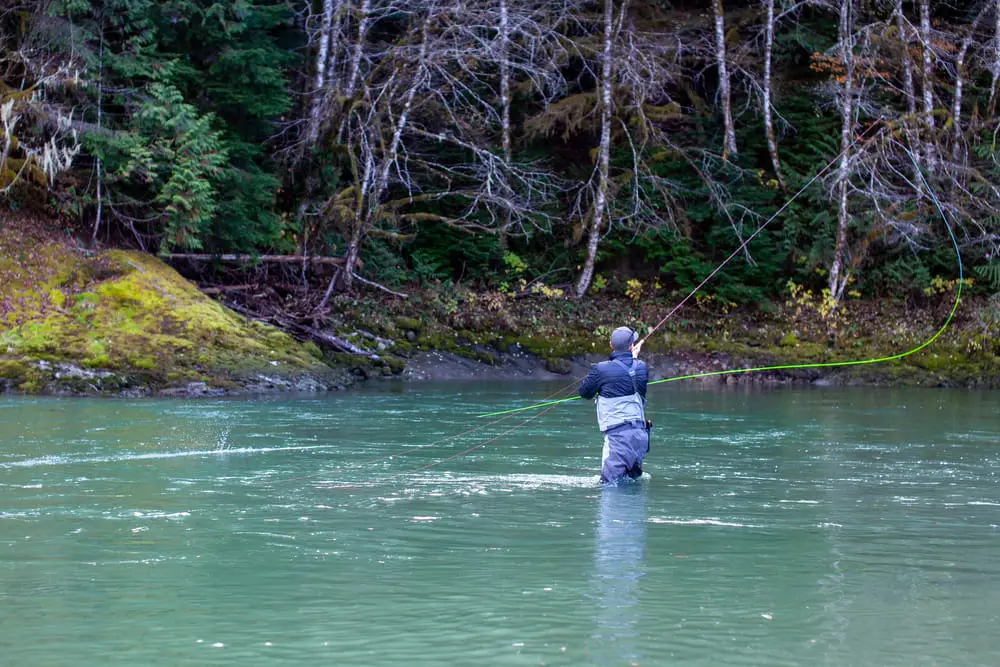 British Columbia steelhead fishing is 12 months of the year, and anglers can target them in the rivers, along the shorelines of the coast, and out in the ocean on a boat. We have gathered information from guides and local lodges to bring you the best and most accurate and complete information on British Columbia Steelhead fishing.
British Columbia Steelhead fishing consists of annual summer and winter runs of steelhead that fill the rivers flowing into the Pacific from the mainland as well as Vancouver Island. The beautiful scenery makes it a world-class steelhead fishery.
About British Columbia Steelhead
British Columbia, which is also known as just BC, is arguably the best freshwater steelhead fishery on earth. The mountainous coastline is threaded with hundreds of streams and rivers which provide anglers with spectacular scenery.
I've been lucky to have fished many of these rivers and done guided trips there.
Rivers such as the Copper, Kalum, Kitimat, Skeena, and their tributaries are great angling areas for steelhead in March and April, and later in the summer from June to September for summer run steelhead.
BC Steelhead Fishing Rules, License, Permits, Tags
 There are three sets of pricing for freshwater fishing licenses in British Columbia. Resident, non-resident, and non-resident aliens all have separate prices for day permits, 8-day permits, and annual permits.
Non-BC Canadians are considered non-resident, and foreign anglers, who are primarily Americans, are categorized as non-resident aliens.
Requirements for all three are 16 years of age, and proof of whatever residency you come from. Steelhead are covered in the standard license for all non-tidal fishing, but sturgeon and salmon require additional permits.
Best Time To Fish Steelhead In British Columbia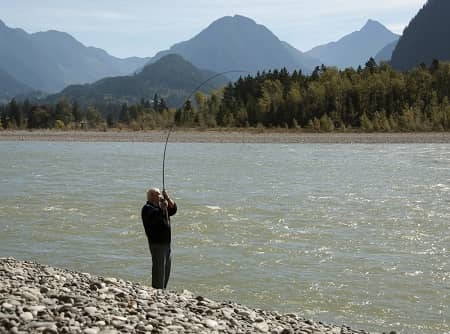 The short answer is when the sun is shining, fishing is excellent throughout most of the year for steelhead, but the weather is unpredictable in British Columbia with its proximity to the Pacific and higher latitude.
Often, an approaching low-pressure front bringing either rain or snow can produce the best fishing since steelhead responds well to the advancing weather and often feed heavier in front of an approaching storm.
In general, the winter run, after the spawn has the best luck, and the summer run at any time before the water drops in the hotter days of late July and August are prime as well.
Spring Steelhead Fishing In BC
 Spring steelhead fishing can be an exciting chance to use a variety of techniques as many fish begin their return journey to the ocean after spawning. In late spring they'll hit on flies matching an early hatch, and throughout the spring run, they'll hit on eggs.
A stray egg is always prime bait for steelhead, whether it is from other steelhead, or from the many salmon that share the same waters.
Throughout the time from late March to May, you can get strikes on crankbait, minnows, spinners, and gold and silver spoons sparkling in the early season sunlight.
For more on spring steelhead fishing methods, baits, and runs, check out, Spring Steelhead Fishing: Methods and Tactics.
Summer Steelhead Fishing In British Columbia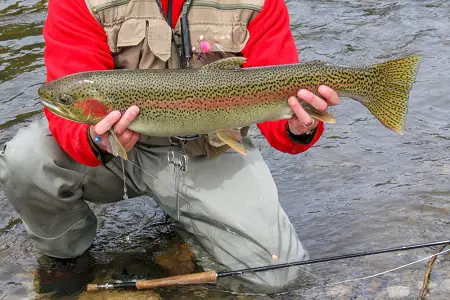 Summer steelhead are the same as their winter cousins genetically, but they feed a bit differently since there are no eggs in the water.
These fish will hit flies and streamers since the hatch is on above the water and nymphs are abundant below.
They'll also strike on large silver and gold blade spinners as well as larger Rapala-style crankbaits.
These fish are in general smaller and more streamlined than the football-shaped steelhead of the winter run, but they'll still hit and fight better than any fish you've ever experienced in freshwater.
There is summer fishing through the summer month on select rivers that get these summer run steelhead. See the best river below.
To better understand these awesome summer run steelhead, check out my article Summer Steelhead: A Complete Guide
Fall Steelhead Fishing In BC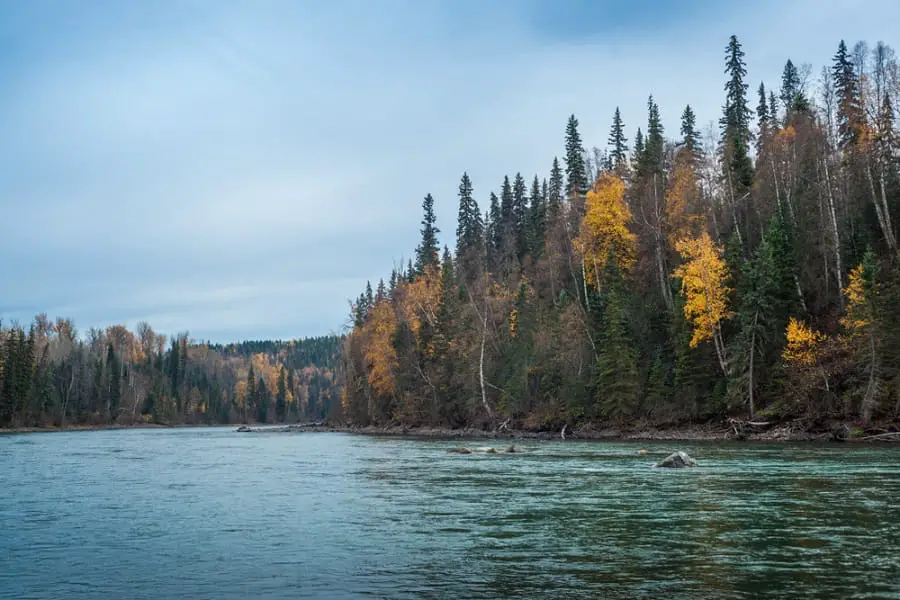 Fall fishing for steelhead is more challenging than the spring or summer months since the water is generally lower after the runoff has commenced. But this is when the summer steelhead are in the river and the fishing on some select rivers can still be very good.
Fish will still hit on live bait, and crankbait but flyfishing with traditional dry flies and even nymphs is much slower.
Steelhead are wary fish, and the often crystal clear waters of British Columbian streams and rivers in the autumn discourage them from striking as hard as they do at other times of the year.
Check out Fall Steelhead Fishing: Methods and Tactics Used By Guides
Winter Steelhead Fishing in British Columbia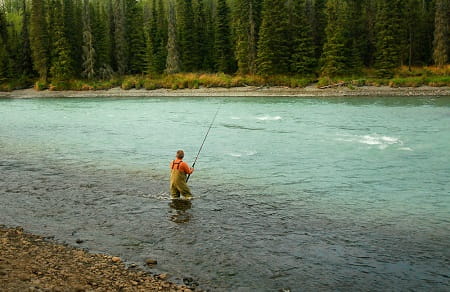 Winter steelhead, especially in early winter, and then after the spawn in late winter can be the best time to fish for steelhead.
Experienced steelhead anglers will tell you that the water color is the key to good or bad steelhead fishing.
When the water is clear, or extremely cloudy, it's not a good time to fish, but if the water is slightly murky, with a greenish tint, get your rod, reel, and gear ready to go and put a line in the water.
The green and greening blue tint seen on some rivers comes from melting mountain snow.
Steelhead are more active in fast moving, cold water that creates deep channels and back eddies in rivers and larger streams. It's a fisherman's paradise but dress for the occasion.
It can get very cold in BC, especially northern BC, and this can mean sluggish and tough fish. Anglers that know how to change methods, baits, and locations like the river guide do will continue to catch steelhead even on the coldest days. It also really helps to know ow to stay warm.
For more on how to do all of this, check out Winter Steelhead Fishing.
Vancouver Island Steelhead Fishing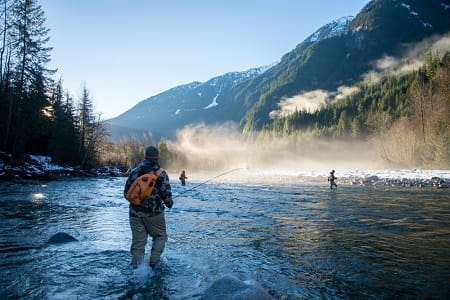 Where else on earth can you pack almost two dozen rivers into an area just over 250 miles long and 60 miles wide?
The answer is nowhere. The steelhead fishing on Vancouver Island is best described as epic, some would say the stuff of dreams.
In combination with salmon, brown, cutthroats, and rainbow trout, the island offers tremendous year round angling opportunities. The steelhead run in both summer and winter on Vancouver Island, and the fishing is often best as the salmon spawn hits its peak in the spring. Steelhead love to devour salmon eggs.
Fly fishing is good here as well, often much later in the year than in the mainland to the east.
The steelhead are abundant and can reach inland from all four directions since the island is bordered by the open Pacific Ocean to the west and the Johnstown Strait and Strait of Georgia to the east, and the Salish Sea to the south. All directions have freshwater flowing into saltwater.
Best Steelhead Rivers on Vancouver Island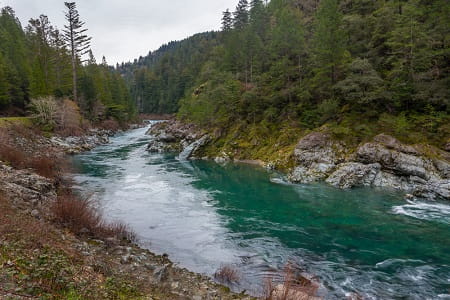 The Cowichan, San Juan, Stamp, Somass, Sproat, Gold, and Nimpkish Rivers represent the best steelhead fishing on Vancouver Island but anglers should take note that these are all different rivers, representing vast differences in depth, flow, and width.
The wider, slower rivers are generally better for fly fishing, but steep, rocky channels like those found in the San Juan River with its narrow width that can be as tight as 15 feet, and deep channels aren't great for dry or wet flies but offer tremendous fishing with live bait, jigs or jerk baits.
Anglers should also be aware that regulations vary with each river and it's best to check out the rules carefully before you hit the water.
The Stamp River
One of the bigger steelhead rivers is the stamp river. Larger runs and great scenery make this a popular destination.
Gold River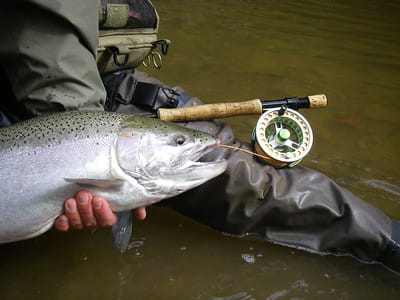 Another popular island river is the Gold River. It gets runs of summer run steelhead and winter steelhead.
Average fish are 8 to 10 pounds with many more large fish caught and they are strong fighting fish. Be sure to use the right sized gear that will handle the large fish found on all Vancouver Island rivers.
This is a good river for a Skagit spey rod setup.
Cowichan River
Better known for its large runs of Coho's, the Cowichan River also gets a decent run of steelhead.
It is a unique river due to it having one of the best Brown Trout Fisheries in BC. It also has a wild population of Cutthroats.
I have fished this river with the target species being the big brown trout and at the same time hooked into a lot of steelhead in late April. It's a short river with a dam not too far from the Pacific Ocean.
Mainland Steelhead Fishing: West Coast

If steelhead fishing gets any better on the planet, be sure to let someone know. Filled with rivers and streams flowing down from the Coastal Range and all the way east to the Canadian Rockies, there is a lot of water for steelhead to return to each summer and winter.
Fishing for steelhead in British Columbia is more of a choice than a challenge. There are seemingly endless streams that these magnificent fish return to each year to spawn.
Steelhead, combined with salmon runs, and heavy populations of Rainbow trout, Char, Dolly Varden, and Bull trout make this an anglers paradise.
21 Best Steelhead Rivers On BC's Mainland
The guides and lodges have provided information on the best steelhead river in British Columbia's mainland. Many of these rivers will also have trout, and salmon species available.
Frazer River Steelhead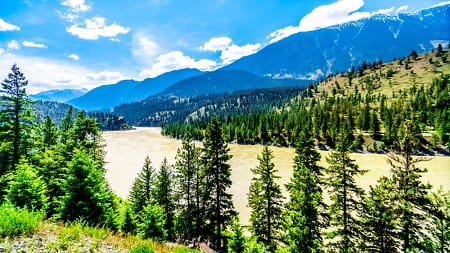 The Frazer River is a massive river that gets runs of steelhead that usually disperse into its tributaries.
Most fishing is from jet boats or motor boats.
Summer and winter run steelhead will enter the river and some will leave the upper tributaries late meaning you could catch steelhead in the Fraser River 12 months of the year.
Peak times are early fall and spring, and it's not uncommon to hook into big fresh steelhead with sea lice on them.
The Vedder River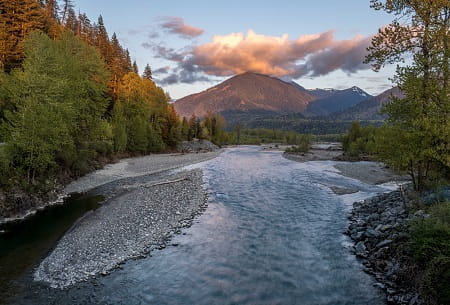 The Fraser River tributaries like the Vedder River in the south, will get good runs of steelhead and salmon with good access for anglers.
The Vedder is likely the best steelhead river in southern BC with plenty of wild fish.
The runs are primarily winter fish with a mix of wild steelhead and hatchery steelhead, providing anglers with winter steelhead fishing opportunities.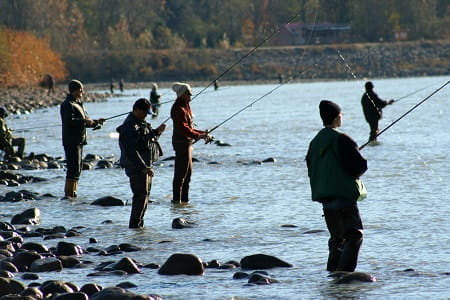 A steelhead trip to the Vedder is about a 1.5 hours drive from Vancouver and worth the trip.
Its close proximity to the city of Vancouver means it does get some more angling pressure than other rivers, but it's often the best bet for local anglers. The winter months can be very good in the Vedder.
The Vedder is as close to a world class steelhead destination as you will get close to Vancouver and the best option for most anglers on the lower mainland.
Spin fishing and fly fishing with floating line and nymphing methods are good options on this river, just make sure you have a good drag that can handle the big steelhead found in the Vedder.
Chilliwack River
The Chilliwack and the Vedder Rivers are basically the same river. At one point along the river, the Chilliwack turns into the Vedder.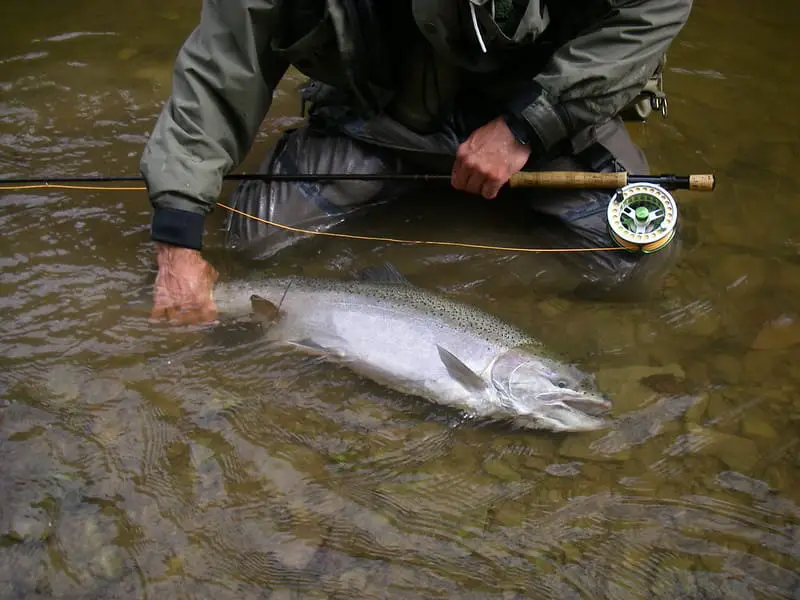 Thompson River
A tributary of the Fraser River, the Thompson River is known for its very large steelhead that enter the river in the fall and work their way to the upper river through the winter and spring.
Fishing is good from November to May. These are said to be summer-run steelhead that get big and often over 25 pounds.
They are a very strong and aggressive fish and will travel over 186 miles to get to the upper river.
Fly anglers should use 7 to 9-weight fly single-hand fly rods and Spey rods.
Squamish River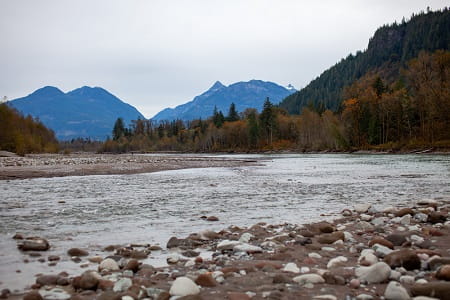 The rocky-bottomed Squamish River gets a modest run of steelhead, with fish showing up in small amounts and peaking in March and April.
Spring run fish are usually in and out of this river quickly. This is a great river for all types of fishing and fly fishing.
Dean River
For summer run steelhead you can't beat the Dean River, regarded as miraculous by serious steelhead anglers. Arguably the best summer steelhead fishing on the West Coast.
The Dean River flows directly into the Ocean, and the steelhead are aggressive and strong right up to the spawning grounds.
The Dean is located mid-way up the coast and is about an 11-hour drive from Vancouver.
The Kitimat River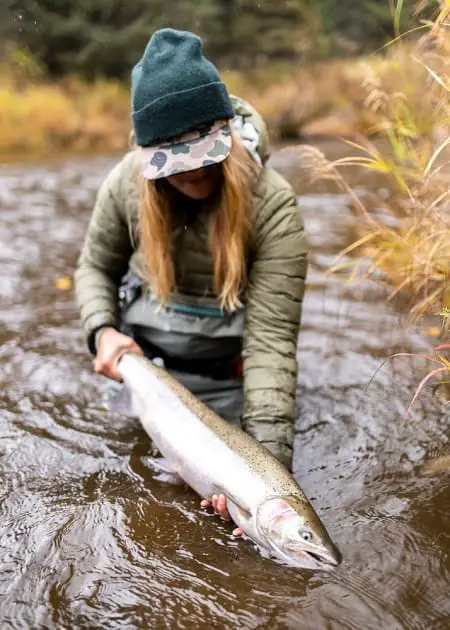 The Kitimat is a mid-sized river with spring-run steelhead that enter the river from February to May.
Being a smaller-sized river, it is a great river to fish with a fly rod, however, all methods of fishing will work here.
The Kitimat flows straight into the ocean and provides anglers with about 20 Kilometers of good steelhead water before the steelhead reaches the best spawning grounds.
Returning steelhead are large with many being 15 to 25 pounds.
Although there is a short spring season, the Kitimat gets good runs of multiple salmon species with the prime targets being big Coho and Chinook.
Northern BC Steelhead Fishing
 Many think of the Skeena River when they think of steelhead fishing in Northern BC.
Skeena River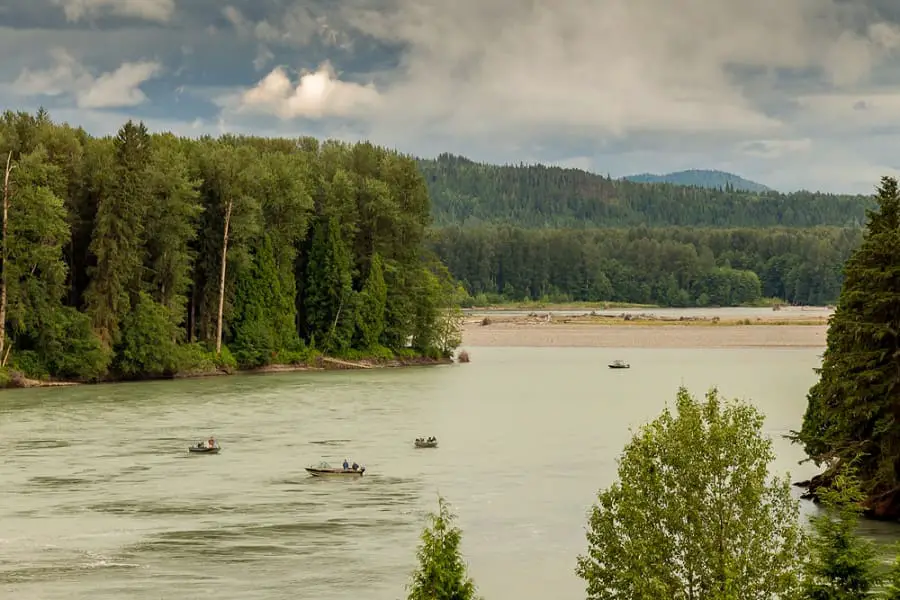 The World Famous Skeena River is a massive river best fished by boat in the lower sections of the river. It is the closest thing you'll find to a year-round river steelhead fishery, and there are plenty of other species of salmon mixed in.
This river is wide, with dozens of small and large tributaries, and is considered by many to be not just the best steelhead river in British Columbia, but arguably the best in the world.
Steelhead in the 20-pound or larger range are common in this river, and just about every style of angling will bring in the big ones. The best time to fish the area is August to November for the summer run steelhead and again in February and March. Some of the tributaries will fish well all winter as some stay relatively ice-free.
Steelhead will enter the rivers in the summer, fall, winter, and spring months.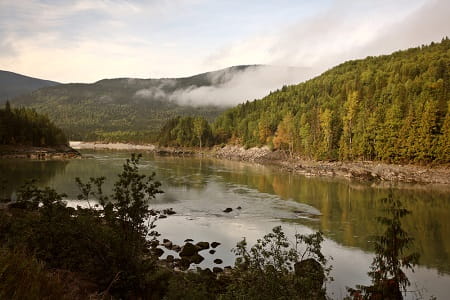 The Skeena River is also known for record-breaking Chinook salmon with 3o to 50-pounders not uncommon.
Chinooks over 100 pounds entering this river have been reported.
Massive cohos over 30 pounds are also caught on the Skeena River, and giant Chum salmon are also available.
Tributaries of the Skeena River include Babine, Kalum, Kispiox, Bulkley, and Copper River. All great steelhead rivers themselves and some are classified waters with special regulations designed to maintain the great fishery. Some are large enough for drift boat trips.
Most rivers will get excellent runs of summer run steelhead, the Bulkley River for example, is rated as excellent for dry flies in early fall. Winter-run fish are also available.
All methods of fishing work in this area and there are a few lodges on the Skeena watershed and tributaries.
Access to this area is relatively easy with direct flights to the cities of Terrace and Smithers that take about 90 minutes from Vancouver airport, or about a 16.5 -hour drive from Vancouver City.
Accessing the river to fish is easy as there are many public access routes.
Kispiox River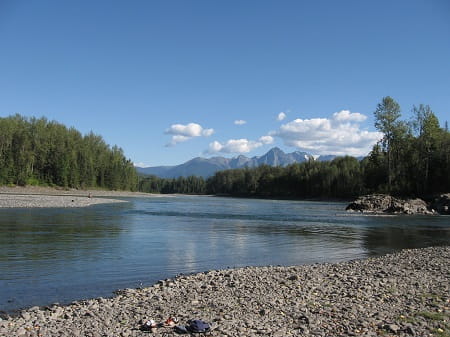 The Kispiox River is a tributary to the upper Skeena River.
It is known for its big aggressive summer run steelhead that show up in late summer and early fall.
It also gets a good run of wild fall run steelhead, and it is a classified river to maintain the great world-class fishing.
Bulkley River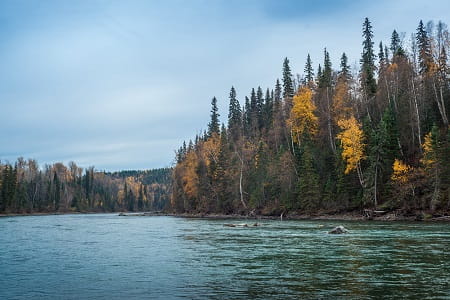 The Bulkley River is an upper Skeena River tributary that starts at the base of Morice Lake which provides nutrients to the river and which creates a large aquatic insect population.
Because of this, both the young steelhead and adult steelhead have the tendency to key in on insects making it one of the best rivers to fly fish both on the surface and below the surface.
There is a good population of wild summer-run fish and wild winter-run fish ranging from 5 to over 25 pounds, and they can be aggressive and strong.
Copper River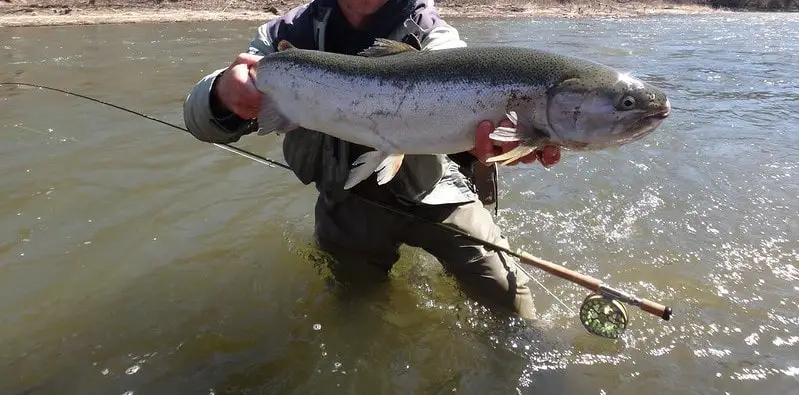 A large run of summer run steelhead make their way up this tributary to the Skeena River.
Few rivers can compare to the great summer dry fly steelhead fishing found on the Copper River.
The copper river is classified waters and is heavily regulated to protect the river and the great summer steelhead.
If you've ever wanted to target 8-pound plus steelhead on dry flies, this is the go-to place.
Kalum River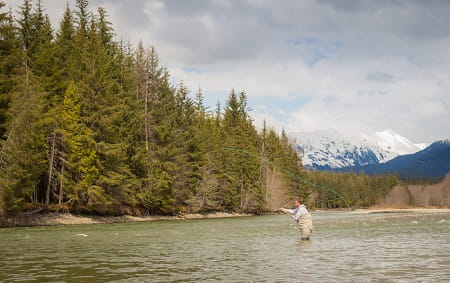 The Kalum River is a tributary to the Skeena River and has good action from the fall to the spring with winter-run steelhead.
The best attribute of this waterway is the size of the steelhead. Five pounds steelhead is routine, and 20 pounds is not out of the ordinary.
This is big fish water so be prepared with a heavy power rod, high test braided line, strong leaders, and an angler ready to hear the whine of a drag getting a strong workout.
Nass River
The Nass River is known for its dirty flow and it's remoteness being north of Terrence BC. The steelhead in the Nass River or big and strong.
Bell Irving River
Bell Irving River, is a tributary to the Nass River which is noted for its plentiful wild, aggressive steelhead, but also is a haven for bears with difficult access.
Yakoun River
Known for its winter run steelhead and its tea colors water combined with its amazing scenery. The Yakoun makes for a good steelhead trip.
Methods For BC Steelhead Fishing
There are eight methods of fishing used for British Columbia Steelhead Fishing. Some are better than others, and I'm not including any Ocean boat fishing.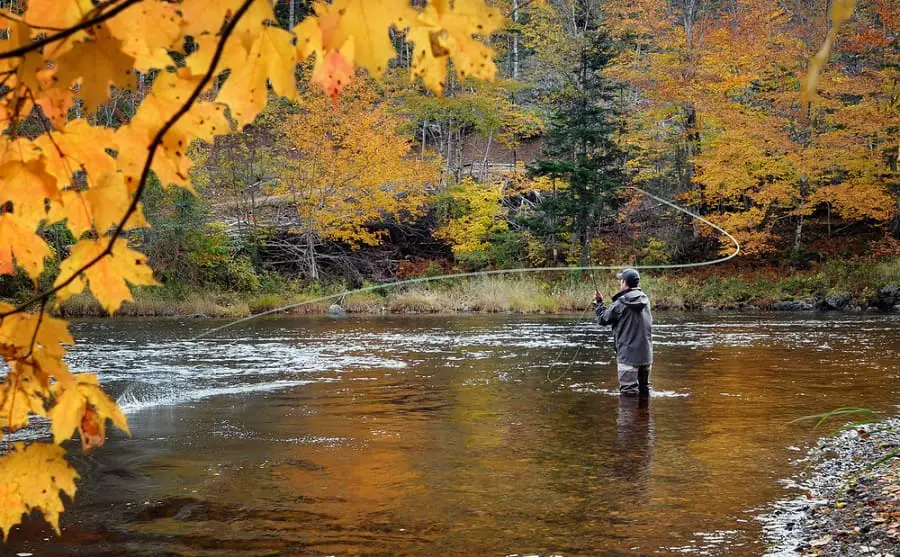 Fly Fishing BC Steelhead
Fly Fishing – Some of the greatest excitement in freshwater fishing comes when you tag into a big steelhead on a fly rod. The techniques for fly fishing change with the summer and winter runs, with dry flies the best offering in the summer months, along with a few wet flies.
The idea is to match the hatch with the dry fly and to do the same with wet flies resembling nymphs.
In winter, egg sacks and streamers do the trick since steelhead are huge feeders on stray salmon eggs.
Use single-hand fly rods in 7 to 8-weight sizes for most mid-sized rivers and 8 to 9 weights for the larger faster flowing river. Combine this with floating fly lines and 1 to 14-pound tippets, and you are good to go.
To see all the methods used for steelhead, the best setups, and the best flies, check out Fly Fishing For Steelhead.
Float Fishing Steelhead In BC
Float Fishing – This is a technique that traces its history directly to steelhead. Unlike their closely related cousin the rainbow, steelhead sometimes will not strike unless bait is right in front of their nose at the same depth the steelhead is suspended.
A float is adjustable, with the ability to offer live bait at the surface or even 10 to 12 feet under the surface in deeper channels.
The angler needs to have the skill to read the river, estimate the accurate depth and then present the bait to get strikes. As with fly fishing, it is part art, and part angling skill to get strikes this way.
 Long rods from 12 to 15 feet in the 6 to 14-pound size are best. Combine them with spinning reels, baitcasting reels, or Centerpin reels with 12 to 14-pound lines.
Check Out Float Fishing For Steelhead.
Spin Fishing: Lures and More
Spin Fishing – Spin fishing is a blast, there is no other way to describe it. Tie a Blue Fox Vibrx on a swivel attached to a 10-pound monofilament line and let the fun begin. Panther Martin and Mepps Aglia are great choices in spinners as well.
Find bright gold or silver blades and fish these in full sunlight to generate the most reflective action. Spinners like the Bluefox Vibrax and Panther Martins that generate sonic vibrations in the water are good as well.
Cast across or across and downstream and get the spinner into action with the current to resemble the action of live baitfish swimming downstream.
Other lures such as plugs like the Kwikfish and Flatfish can be very effective.
Crankbaits are also popular and effective. For more on the best lures and how to fish them check out: Lure Fishing For Steelhead.
Other effective methods for steelhead include:
 Best Baits For BC Steelhead
The best live bait for steelhead are minnows, nightcrawlers on worm rigs, and bottom bounced cut baits or shrimp.
Steelhead are apex predators and will hit anything with a pulse. They prey on motion, but have a good sense of smell as well and are attracted to spinners with worms or minnows attached in tandem rig arrangements.
Check out: Best Baits For Steelhead.
3 Best BC Steelhead Guides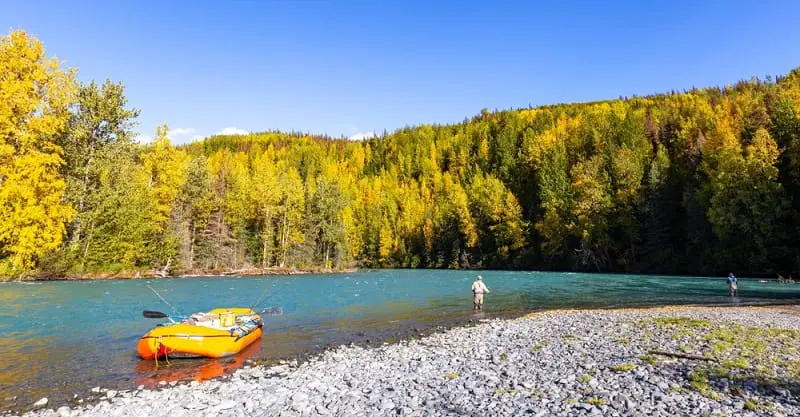 British Columbia steelhead fishing is often best done with the help of experienced river guides that not only know the best areas, they know where the fish will be and how to best catch the.
Choosing the best guides is an arbitrary decision, but based on client reports, overall success rate, and ratings these are the top three in British Columbia.
Valley Fishing Guides, LTD – Brackendale, BC
Chromer Sport Fishing, North Vancouver, BC
Good Time Dave's Fishing Charter, Victoria BC
 3 Best BC Steelhead Lodges
British Columbia steelhead fishing lodges will be found on many of the top steelhead rivers.
A roaring fire, maybe a cold one or two at arm's reach in a comfy, overstuffed chair, these are the images steelhead anglers look for in a lodge for after hours relaxation. The top three in consumer ratings by actual customers are:
Skeena Spey Riverside Wilderness Lodge, Terrace BC
Wild Rivers Lodge, Terrace BC
Frontier Farwest, Teikwa BC
Where Is The Best Steelhead Fishing In British Columbia To DYI?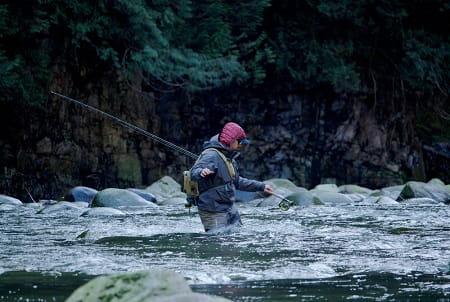 British Columbia steelhead fishing can be done on your own without the aid of a guide or without staying at a lodge.
Many of the rivers have sections where the roads run along the river and that gives you plenty of access.
If you're the do-it-yourself type who enjoys exploring new fisheries, British Columbia will be a paradise for you but you will still need to proceed with caution as the swift currents can be deadly and there is the possibility of running into bears and mountain lions.
Find a river (and there are dozens) listed as part of the British Columbia Heritage Rivers Program and you'll find public water open to anyone. The coast from Prince Rupert south to Nanaimo Island is filled with public access drainages filled with steelhead.
 Can You Keep Wild BC Steelhead?
The answer is yes, and no, some waters are classified so a special permit is required to keep any steelhead. Others require anglers who catch tagged, hatchery steelhead to be marked on their license, in a similar fashion to how you would tag a deer or elk.
Many areas allow you specific daily creel limits on steelhead, but some also have size regulations.
Rather than making a blanket statement on legal sizes and creel limits, it is always best to check the regulations on the river system you're fishing in since they vary widely.
Do You Need A Steelhead Permit In British Columbia?
Not a permit, but a surcharge stamp attached to your regular freshwater fishing license is a requirement in British Columbia.
This two-step process guarantees game and fish officials the ability to keep track of anglers targeting steelhead specifically, and it also generates additional income for the department in the form of additional fees from sportsmen fishing for steelhead.
British Columbia Steelhead Fishing Q&A
That concludes our guide on British Columbia Steelhead Fishing. If you have questions or some advice let us know in the comments section below.
Tight Lines,
Graham