Best Fishing Lodges For Steelhead in British Columbia

British Columbia (BC) is renowned for its pristine rivers and world-class steelhead fishing, and it's the big wild steelhead that attracts me and other anglers to fish the rivers and to stay in some of the best fishing lodges for steelhead in British Columbia.
For those looking to embark on a memorable steelhead fishing adventure, choosing the right lodge can make all the difference. I have curated a list of the best steelhead lodges in BC and provided some tips to help you have the ultimate fishing experience.
Whether you're a seasoned angler or a newbie, these lodges offer unparalleled access to BC's most prolific steelhead rivers. Also, be sure to check out our article British Columbia Steelhead Fishing: A Complete Guide.
Before You Book Your BC Steelhead Lodge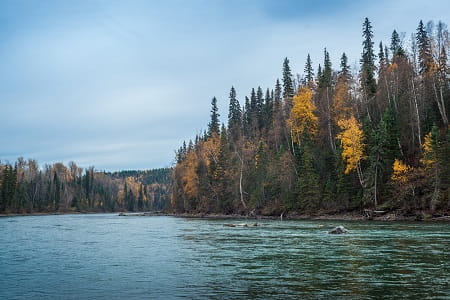 I've done BC fishing trips to some pretty amazing rivers and lodges. There are certain things I prefer and look for when steelhead fishing and when booking a suitable steelhead lodge.
To ensure you are getting the steelhead trip of a lifetime, and are not left disappointed, consider these things before you book your trip.
Most lodges will have this information on their website or they will tell you by email or by phone call.
Best time: When are the steelhead running at their peak, or are you interested in summer run steelhead or winter steelhead, and if so, when is it best?
DIY or Guide Trips: Do you want to be able to walk the rivers and explore, or do you want to be guided daily? Does the lodge offer these options and are there issues with bears in the area? See Safety Tips When Fishing With Bears.
Price: Ensure that the cost of your trip is within your budget.
Commute: Some of these lodges are very remote, or very far from the local airport or major city. Some lodges also require a boat trip. While this can all be a fun part of the adventure, spending a whole day getting to the lodge and a full day getting back might not be what you want.
Distance To The River: Some steelhead lodges are on the coast and may require a short or long trip to an ideal spot up river. Ask about rover access.
Gear and Boats: It might be worth enquiring if the lodge offers fishing gear in the case you or your guest is not properly rigged to the size of the river and steelhead, or in the case you break a rod or reel.
Food: Find out what their meal plans are like, especially if you are on a restricted diet.
Number Of Guests: Some lodges will accommodate 20 plus anglers, while others are smaller and may have ten or fewer. Consider what works best for you.
Lodging, Rooms or Cabins?: Some lodges have a main lodge with rooms, like a motel, while others have small cabins. What works for you?
Method Of Fishing: Some lodges and guides are very fly fishing oriented and some are all about swinging flies with a spey rod, but not all anglers like to fly fish, and not all fly fishermen like to spey fish. So, before you book, ensure the lodge and the guides are okay with your preferred method of fishing.
River Fishing and Steelhead: Some lodges are more geared towards ocean fishing, or they are more about the salmon then the steelhead. If you want to river fish for steelhead, make sure they offer that.
Alternative River Options: My last trip to BC was good, but the day before I arrived heavy rains raised river levels by 4 feet and the river was high and fast, and in some spots, the river's edge was 50 feet into the forest which made fishing most of the river by foot impossible and dangerous. Thankfully, there were multiple smaller rivers nearby that were fishable. Ask your lodge if there are options in case of high water and unfisable conditions.
Skeena River Lodge – Possibly The Best Steelhead Lodge In BC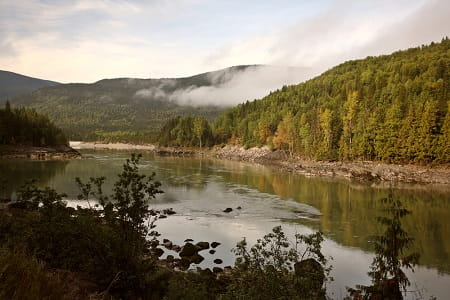 The Skeena River Lodge is located on the banks of the famous Skeena River, this lodge is a haven for steelhead fisherman. With experienced guides, top-notch amenities, and direct access to some of the best steelhead fishing spots, Skeena River Lodge is a top choice for those seeking the best steelhead lodges in BC.
Bulkely BaseCamp – Remote Cabins On The River
Bulkley BaseCamp is nestled in the heart of the Bulkley Valley, this lodge offers a unique blend of comfort and wilderness adventure.
With its prime location on the Bulkley River, anglers can expect thrilling steelhead catches amidst breathtaking landscapes.
Click the image to see the video on the Bulkley Base Camp.
Nicholas Dean Outdoors: Popular With Lots Of Options
Nicholas Dean Outdoors is situated in Terrace, BC, Nicholas Dean Outdoors provides anglers with access to multiple steelhead rivers, including the Skeena, Kalum, and Kitimat.
With a focus on conservation and sustainable fishing practices, it's a top pick for eco-conscious anglers.
Z-Boat River Lodges
Z-Boat River Lodges is located on the banks of the Zymoetz Copper River, this lodge is renowned for its world-class steelhead fishing. With luxurious accommodations and expert guides, it's a favorite among those searching for the best river lodges in BC.
Steelhead Valhalla and Suskeena Lodge
Steelhead Valhalla Lodge is situated in the Sustut Basin, this lodge offers a remote and serene fishing experience for wild steelhead.
With its pristine waters and abundant steelhead, it's a dream destination for avid anglers.
Kispiox River Lodge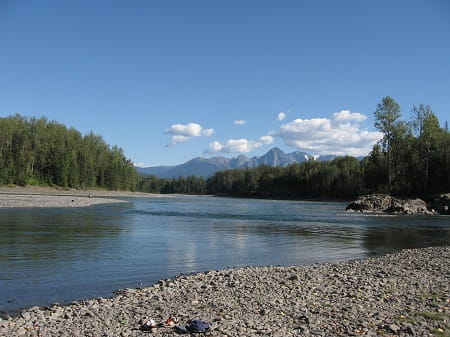 Kispiox River Lodge is located in the heart of the Kispiox Valley, this lodge boasts some of the largest steelhead catches in BC.
With its cozy accommodations and expert guides, it's a top choice for those seeking a genuine BC fishing experience.
Bear Claw Lodge
Bear Claw Lodge is nestled on the banks of the Kispiox River, Bear Claw Lodge offers a blend of luxury and adventure. With its rich history and unparalleled access to prime steelhead spots, it's a must-visit for every steelhead angler.
Pitt River Lodge
Pitt River Lodge is located just outside of Vancouver. One of my good clients swears by this river and it's on my to-do list. The Pitt River Lodge offers a remote fishing experience near Vancouver but is boat access only so you wont have crowds.
Known for its abundant steelhead, the Pitt River is a top destination for anglers. The lodge provides a cozy, rustic experience with expert guides to help you land that trophy steelhead.
Suskeena Lodge
Suskeena Lodge is situated on the Sustut River, a tributary of the renowned Skeena River, the Suskeena Lodge is a gem in the heart of BC's steelhead territory. The Sustut is a jewel that offers anglers a chance at some of the most impressive steelhead in the province.
The Best Fishing Lodges For BC Steelhead Fishing Q&A
Let us and other readers know if you have any experience or tips on BC steelhead fishing lodges.
Tight Lines
Graham