4 Best Places To Buy River Fishing Gear Online?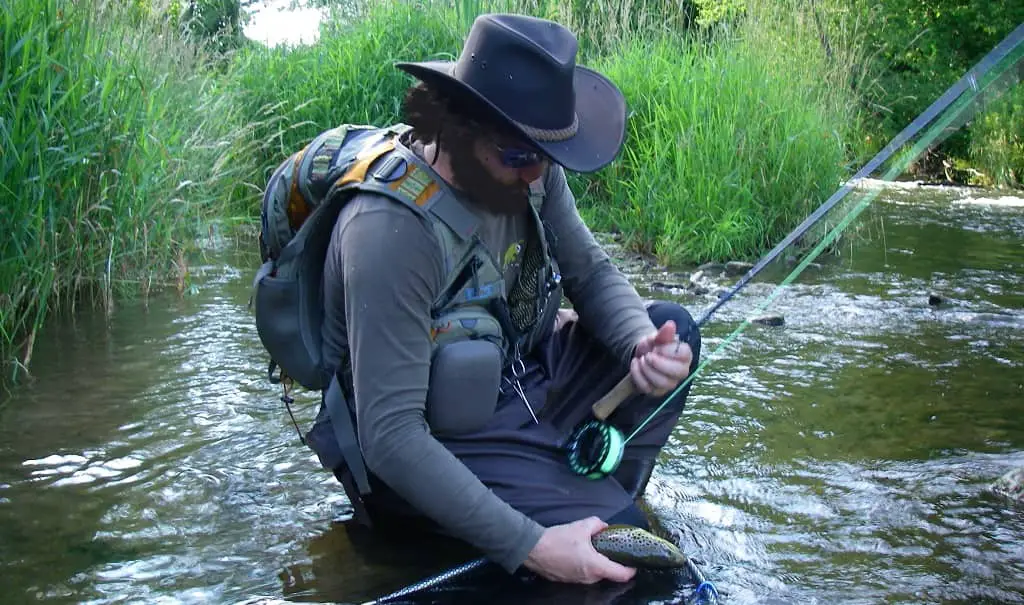 These Are The Best Places To Buy River Fishing Gear
These are the four best places to buy river fishing gear online. The stores I recommend are places that have all the river fishing gear you will need at reasonable prices and with fast shipping and good customer service.
The four best places to buy river fishing gear are FishUSA.com, Bass Pro Shops, Cabela's, and Amazon. There are a few other great online fishing stores that have a good selection of fly fishing gear, float fishing gear, and spin fishing gear.
There are a few other places that I will recommend as well because some of these places will have the unique gear you can't get at other retailers.
FishUSA.com – The Best Places To Buy River Fishing Gear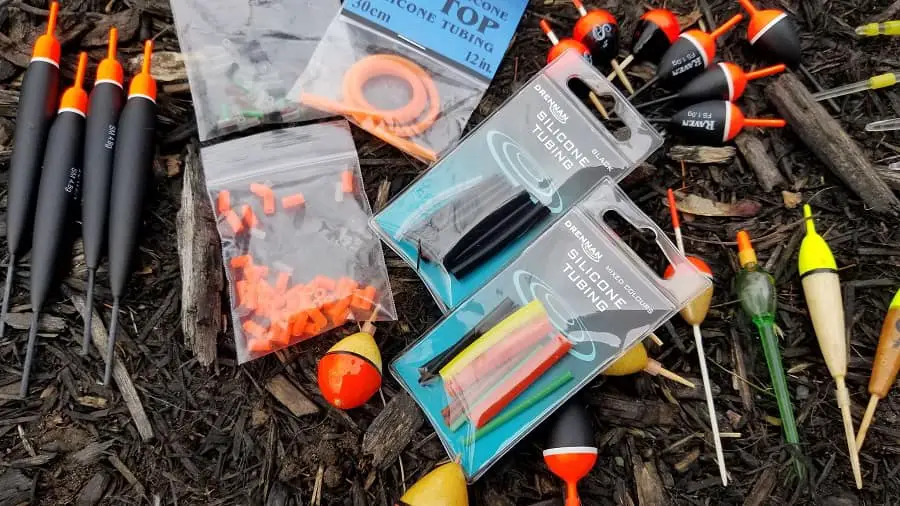 The best place to buy all your river fishing gear is FishUSA.com. The reason I recommend getting all your river fishing gear at FishUSA.com is that they are the best website that I found that actually sells great river fishing gear that works, gear that river guides would actually use, and gear that the hardcore river anglers would use.
FishUSA.com has always been a website for river anglers and they seem to have a lot of the good stuff that you can't get at other retailers.
Some of the big retailers just sell the big brands and the generic gear that appeals to the masses, but there are a lot of small companies making some fantastic specialized river fishing gear that will up your game, and FishUSA.com sells a lot of it.

I also find that some retailers excel at fly fishing gear but then have little to no float fishing gear, or the spinning gear is all for bass and walleye and they have a crappy selection for river fishing. FishUSA has it all.
FishUSA.com also has great pricing, a good reputation, fast shipping, and good customer service. If you are looking for the best place to buy river fishing gear you should check out FishUSA.com.
---
Trident Fly Fishing
Trident fly fishing is an online retailer specializing in fly fishing products. They are one of my favorite places to get fly fishing gear, wading gear, and unique products that many other retailers don't sell.
Check them out at www.tridentflyfishing.com.
Avidmax
Avidmax is another online fly fishing store that I like because it has a lot of unique items, all the high end and lower end fly fishing gear, then best brands, and their prices are good.
Check them out at www.avidmax.com
Bass Pro Shops – One Of The Best Stores To Buy River Fishing Gear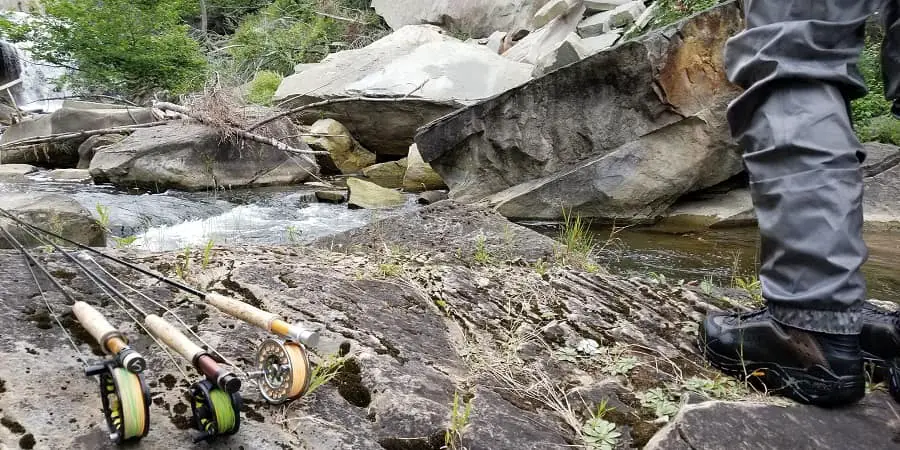 Bass Pro Shops are among the best stores to buy river fishing gear. They have a lot of great stuff and a good selection of river fishing gear.
Bass Pro Shops is a great choice for spinning reels, fly fishing products, lines, waders, jackets, vests, base layers, and other clothing, and all your spinning gear, but I find them lacking in useful and functional float fishing and Centerpin river fishing products.
Unless it's a brand like Shimano or Okuma or Loomis which they already sell a lot of their other products, Bass Pro Shops probably won't have that float rod that you wanted or that leader line that you heard about. You're probably not going to find brands that are specialized in river fishing products like Raven, Kingpin, or blood run.
I also find that Bass Pro Shops sells a lot of the big brand's river products that appeal to the masses, those 90% guys that don't catch much fish.
Bass Pro Shop usually has good pricing, fast shipping, good customer service, and a great reputation.
---
Not sure what gear to even buy once you get to one of these great stores check out these great pages for some guide advice:
Cabelas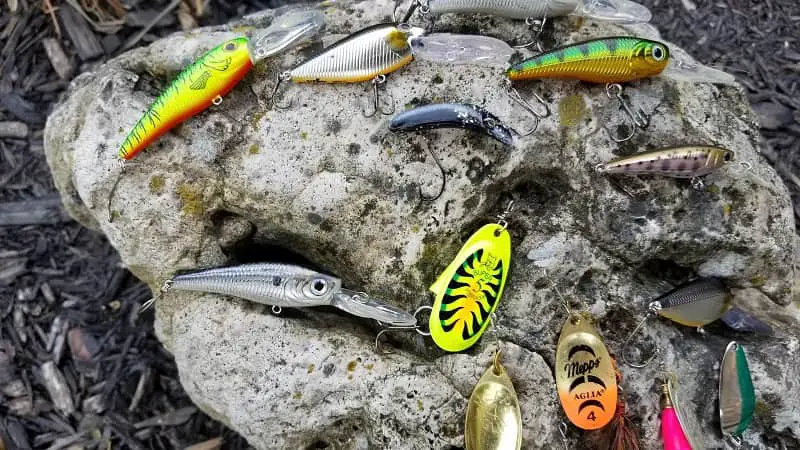 Cabelas was bought by Bass Pro Shops a couple of years ago but I still find that they will have different products on their website. They are still one of the best places to buy river fishing gear.
Cabela's is similar to Bass Pro Shops and is great for the gear you were and big brands name products. I wear a lot of the Cabela's Guide Wear and have been impressed with the quality.
I also find their fly fishing products a bit lacking. You won't likely find much in the way of specialty river fishing brands but you will find fast shipping, good prices,.
---
Amazon
Amazon has more river fishing gear than any other online retailer which makes them one of the best stores to buy river fishing gear.
They can also have some great deals and fast shipping but. . . . . Unfortunately, new anglers and some more experienced anglers get swayed by the cheap prices and reviews and end up buying knock-off gear that just doesn't last. Along with a lot of good river fishing gear is a lot of crap fishing gear, and Amazon doesn't weed out the crap like Bass Pro Shops and FishUSA.com would.
I have compared a lot of prices from Amazon and the other 3 retailers on this page and I find that in most cases the pricing is about the same.
I also found that although there are some fishing products on Amazon that will have the best price, sometimes other fishing gear will have ridiculously high prices. Again, Amazon doesn't set the pricing on most of the products and there are shady sellers trying to sell hard to find items for 5 times more than they are worth and I have noticed this more on fishing products than other products.
I have seen leader spools selling for over $50 on Amazon when the same spools are selling for $15 bucks or less at the other stores. I see this mostly on unique and less popular fishing products or hard to find fishing gear. All I'm saying is double-check the price with the other stores before you buy from Amazon.
If you buy from Amazon my tip for you is to stick to buying only the brand name products that anglers use and trust.
---
FishHeads Canada.net
If you are a resident of Canada, I highly recommend looking into the FishHeads Canada Store for your river fishing gear. This store is run by a hardcore river angler that knows his stuff and the store specializes in the best and most effective float fishing gear. That makes this store one of the best places to buy river fishing gear in Canada.
The great selection of river fishing products on this site is the stuff that actually works.
One of the best products on this site is their loose spawn and all their spawn tying materials. They get fresh spawn in regularly and it works! Check them out at www.fishheadscanada.net
---
Summary – Where Would I Shop?
These are the four best places to buy river fishing gear and to get fully outfitted, you will probably have to buy from at least a couple of them.
If I sold or lost every single bit of river fishing gear that I own now and I wanted to get outfitted properly with gear that really works I would likely buy all my float fishing gear from the rods and reels to the floats to the hooks and baits all from FishUSA.com.
To get outfitted from head to toe from only one place I would buy all my river fishing gear from Bass Pro Shops.
If I was getting fully outfitted, I might even check Amazon and Cabela's if I wanted to shop around for the best pricing in the case that something might be on special there.
Tight Lines
Graham