Winter Fly Fishing: Guide Tactics And 20 Tips For More Fish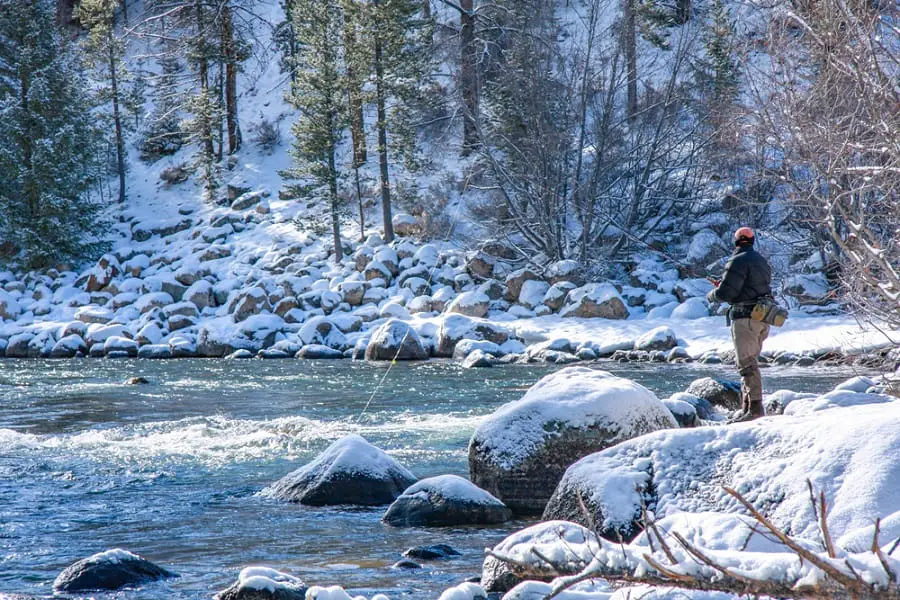 Using these winter fly fishing tactics and tips that myself and my guides use that will guarantee you more fish during the winter. You see, we fish and guide for trout and steelhead all winter so we've figured out what to do and what not to do. I'm also including some tips you won't see anywhere.
Winter fly fishing starts when the water temperature gets around 40F or when the ice starts to form on the edges of the river. This is when trout and steelhead have moved to winter locations and will start feeding differently.
Anglers that don't adapt and continue to use warmer water methods and warmer water flies will struggle to catch fish. Even fishing in the same summer and fall spots can be a big mistake.
Is Winter Fly Fishing Good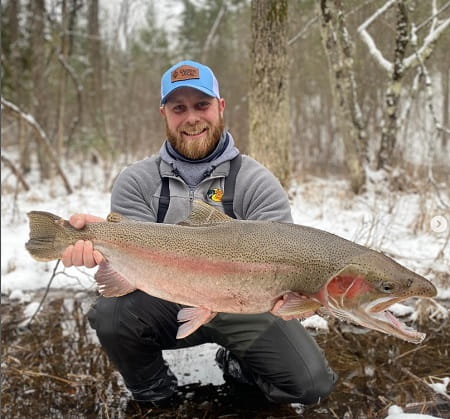 As a northern fishing guide, I love winter fly fishing, and it's many benefits.
Some anglers struggle in the winter and hate it, but if you follow these winter fishing tips you too can do well in the winter months.
Benefits And Challenges Of Winter Fly Fishing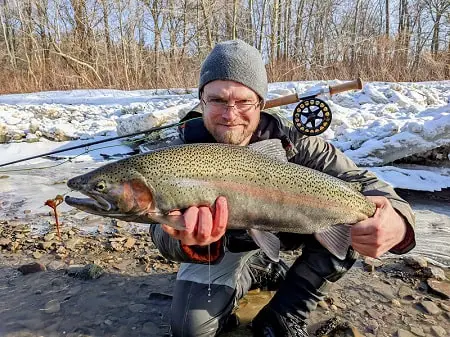 Winter fishing can be very good for a few reasons:
There are no crowds, lots of solitude, and plenty of hungry fish.
The fish are not pressured or spooked so they can be easy to catch
Fish tend to concentrate in specific areas and are less spread out.
Some of the biggest trout and steelhead are caught in the winter
Winter fishing Challenges:
The fridged air temperatures and water temps are hard on anglers that don't know how to dress for the cold.
The fish's feeding windows are shorter
Not every day is a good day to fish
Fewer bugs and icy water can cause fish to stop eating.
Slush can be impossible to fish
Dry fly fishing is almost non existent.
Handling fly line can make your hands wet and extra cold
Don't worry, I'll provide plenty of guide tips to help you fish better in the winter months.
Winter Fly Fishing Basics
These are the 5 things you will need to consider or do if you want to do winter fly fishing and you want to keep catching trout or steelhead once the winter sets in.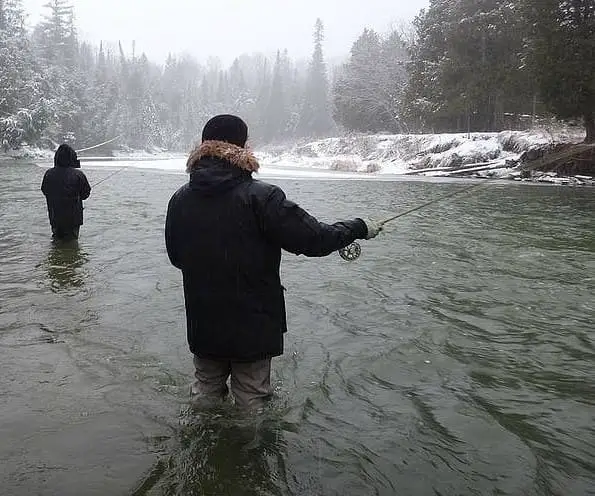 Slow down and fish deeper
Fish smaller flies and more natural patterns
Focus on deeper pools and slower sections of the river
Understand water temperature and how it affects the fish
Fish at different times of the day
Stay warm and dry with the right gear
Stay safe
Understanding and doing each of these things are what guides will do to keep their clients catching fish and having a good day on the water.
Must Have Gear for Winter Fly Fishing
Fishing gear is important at any time of the year but due to the harsh winter conditions, some gear is a must-have if you want your winter fly fishing trip to be successful.
The Right Rod And Reel for Winter Fly Fishing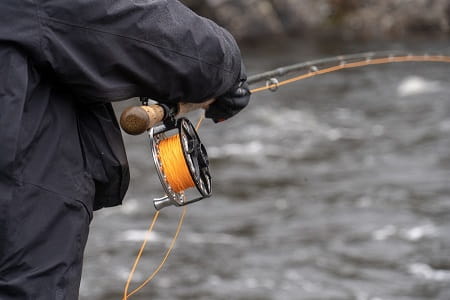 Any fly rod will work during the winter as long as the rod is suitable for the size of fish you are targeting and for the method you are using.
But there are two things you should consider.
Extreme cold makes things more brittle and therefore I don't want my fly rod bent too much when fighting big fish or when trying to break out a snag since it is more likely to break in extreme cold. A softer bend is generally all you need anyways.
One of the biggest issues when it comes to fly rods when you are fly fishing in the winter is ice accumulation in the rod guides. If it's well below freezing this can be a major problem, especially since the fly line is thick and tends to stay wet into the rod guides.
Fish a short line and don't pull the wet fly line into the guides.
Dip your frozen rod guides into the water on your line retrieve to let the water melt the ice off. This works when the air temperature is below freezing but the water is not that cold.
The Fly Reel
But when it comes to the fly reel, ice can really cause problems, this happens if you accidentally get the reel wet or after a while the wet line starts to soak the reel and get into the internal components and freezes.
For this reason, all my winter reels have a good strong, and smooth enclosed disc drag system. The enclosed drag prevents water and ice build up on the drag.
Ice build-up can make your drag choppy, lock up, or not work at all.
Lines, Leaders, Tippets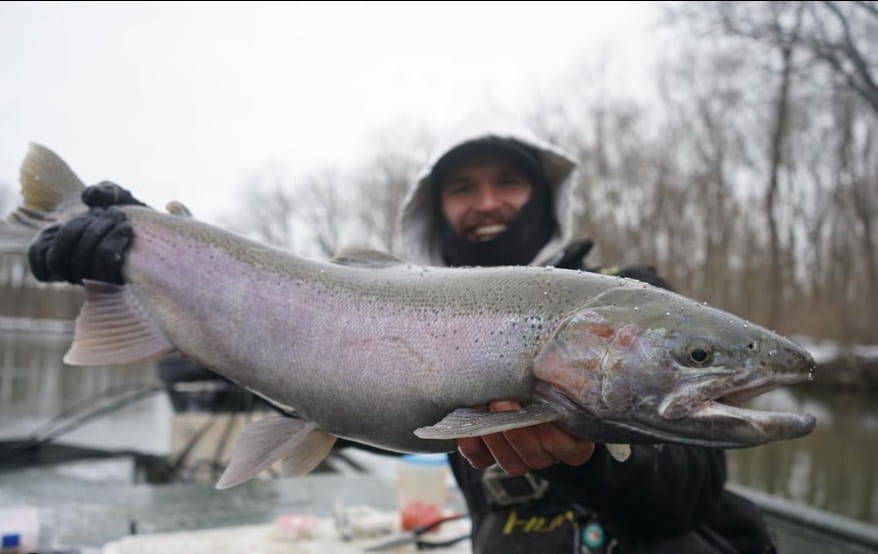 There are specialty fly lines for cold water and winter fishing and these can be a good idea since these lines will stay soft and supple and which makes them easy to use.
On occasion, my clients have come out with fly lines that get extremely stiff in below-freezing temps and they were unusable due to coiling and tangling, but I think these were low-quality cheap fly lines because most of my mid-range general-purpose fly lines have worked just fine in the winter.
Choose lighter tippet sizes such as 4X to 6X instead of 3X to better match the conditions of cold water temperatures.
There are three reasons to use a lighter tippet in the winter.
Trout and steelhead will hold in slower and deeper water when it's very cold and when the water is slow the fish have more time to inspect your fly and they have more chance to see your tippet and refuse your fly, so a lighter tippet is a better option.
The other reason is that a lighter and thinner tippet allows the fly to sink faster and deeper and the thinner tippet will get pushed by the current much less which slows your fly down. Deep and slow is the name of the game.
You can get away with a lighter tippet because during the winter, the trout and steelhead can be sluggish in the ice-cold water and won't fight as hard so it's possible to use a lighter tippet,
Winter Waders
One of the most common questions I get from many anglers is how to keep their feet from freezing in their waders.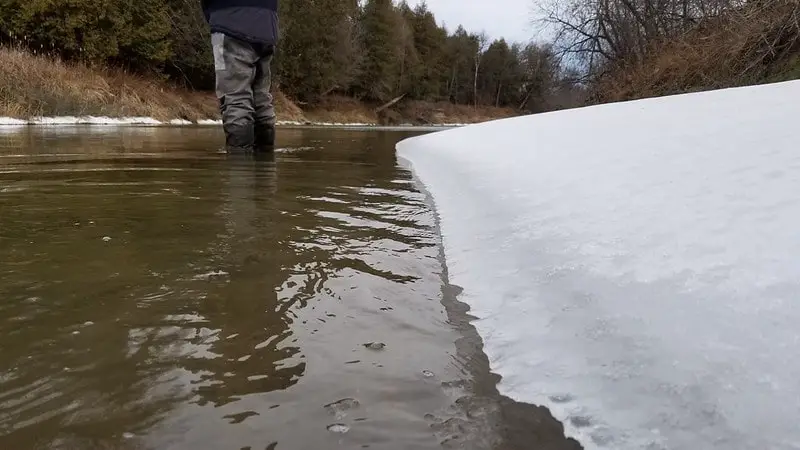 Any waders will do when winter fishing, but take it from me and other guides that have stood waist-deep in ice-cold water every day for weeks straight, some waders are just warmer in the winter time.
We know that one of the hardest things to do is keep your feet warm in icy water, but there are waders that are warmer or things you can do to keep your feet warmer.
When choosing waders for cold weather conditions Consider these things:
A bigger boot will allow for thicker socks and more blood flow which keeps your feet warm.
Boot foot waders are better at keeping your feet warm and stocking foot waders are always cold.
Neoprene stocking foot waders in 5mm to 7mm thickness will keep your feet a bit warmer.
I discuss the best waders for fly fishing in the winter in my article Best Waders For Winter Fishing.
Dress For The Weather When Winter Fly Fishing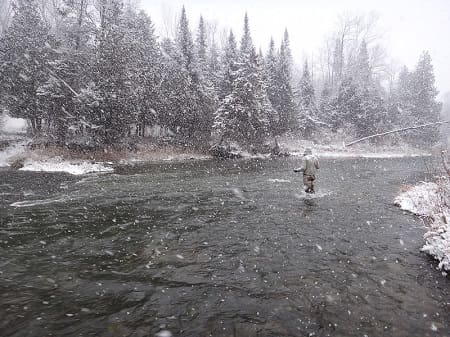 Winter trout fishing can be tough on many anglers that are not prepared and properly dressed.
Staying warm while on the river or lake when you are fly fishing in the winter is easier if you dress as guides do.
Anglers need to contend with icy water and very frigid air temperatures when winter trout fishing and the last thing you want to do is need to leave because you're freezing just as the winter trout start feeding.
These tips will help:
Wear layers: Wear two sets of baselayer and 1 set of outer-layer combined with a good wading jacket.
Have two sets of gloves with you in case one set gets wet. Many anglers like half-finger gloves and I prefer them too but only if they are flip-mitt gloves that go over the finger when I'm moving from spot to spot.
Thick Merino wool socks are a great idea
Wear a wool-type hat
Use hand and foot warmers
Use the many guide tips for staying warm, dry, and comfortable that I show you on my winter fishing page.
Guide Tip: Never let yourself sweat. Once you sweat from doing something like a long walk to the river, once you stop the wetness can lead to you becoming very cold.
Winter Fly Fishing Methods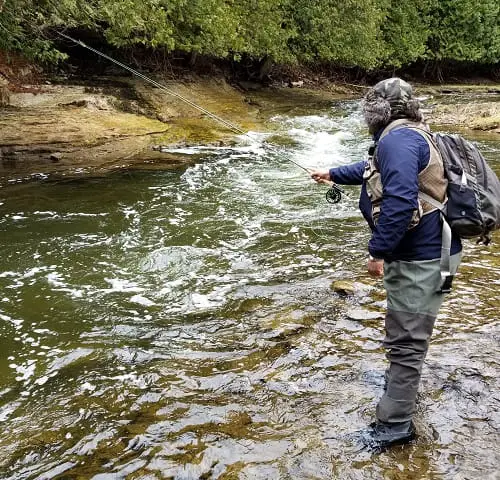 Choose your winter fly fishing strategies carefully. Usually, the trout are slow and deep during the coldest days so you won't see much action on the surface.
However, use polarized glasses to cut the surface glare which will enable you to see holding water, feeding fish, or the subtle takes of trout sipping midges or dry flies on the surface.
Normally fly fishing in the winter involves a lot of nymph fishing and some streamer fishing.
Depending on the type of water, when winter trout fishing I will use indicator Nymph fishing or tight line nymphing methods, also known as Euro Nymphing. I even do a lot of Euro Nymphing For Steelhead.
And for many fly anglers, most of the fishing is Winter Steelhead Fishing.
Winter Spey Fishing
Spey fishing is another method that is becoming more popular. The slow enticing swing of a spey streamer fly in front of trout and steelhead is hard for them to resist.
For more on this method check out our Spey Fishing In Winter article from our spey expert and guide Gareth from Alley Grabs Guide Service.
Choosing the Right Flies for Winter Trout Fishing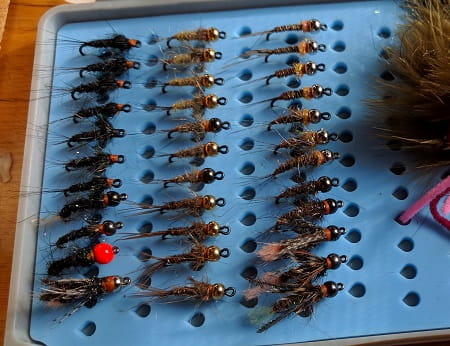 Most trout will be feeding below the surface during the winter months so try small and large streamers and nymphs that imitate the natural insects that are still active during winter months.
Prolific insect hatches are not normal in the winter so a trout's diet consists of random insects and whatever drifts past them.
Use weighted nymphs to help you get down deeper into the water column faster and more effectively cover the water.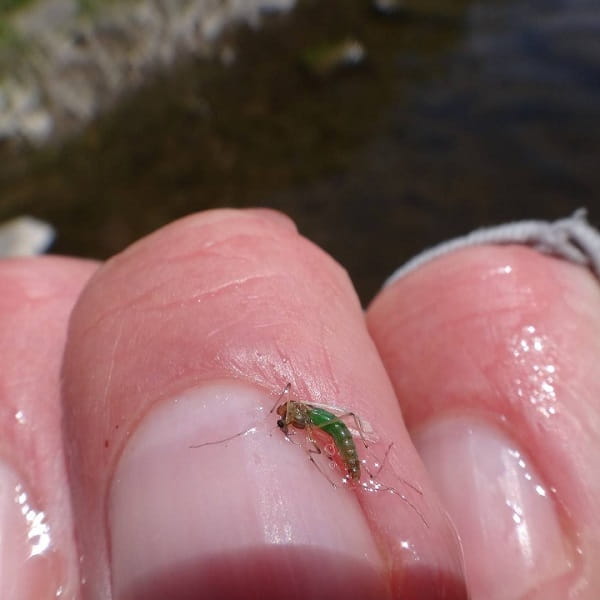 Often winter water is very clear so rotate through flies and try the natural patterns in small sizes first and larger sizes if the smaller flies are not working.
If the natural flies are not working, use brighter colors especially if you are fishing trout in dirtier winter waters.
Normally, if there are any winter hatches they will be small flies like a midge hatch. tiny winter black stoneflies, or BWO mayflies.
Good flies for winter include:
Tiny Pheasant Tail Nymph: Whether bead head or non-bead head, the pheasant tail nymph imitates nymphs of many species. Have this nymph in multiple sizes and in light brown, dark brown, and black. I use a solid black version in size 16 and 18 during the winter.
Frenchie Nymph: A variation of the pheasant tail nymph used in competitions but super effective anywhere.
Polish Pheasant Tail Nymph: Another deadly good variation of the Pheasant tail nymph is usually used with tight line nymphing.
Hares Ear Nymph: A great nymph pattern that looks buggy and imitates nymphs well. Also, variations like the Hare's Ear Tag Nymph are excellent
Zebra Midges
Copper John
Walts Worm and Sext Walts Worm: This is a unique fly that could imitate nymphs or cased caddis. Either way, trout love this fly pattern.
Caddis Larvae: Many streams will have caddis so a good caddis pattern will catch fish. The Euro nymphing version and one of my favorites are the green and tan Czech Nymph.
Micro Bugger: Just like the Woolly Bugger but this one is half an inch to 1.5 inches long. tied in black, olive, white, tan, and brown.
San Juan Worm: every angler should have a good worm pattern in brown, red, and pink in their box.
Prince Nymph
Egg Fly: Eggs can be very good nymph patterns especially if there are spawning fish in the area.
There are more great nymph fly patterns that you can check out on page 29 Best Flies For Trout.
Understanding Water Temperature in Cold Weather Conditions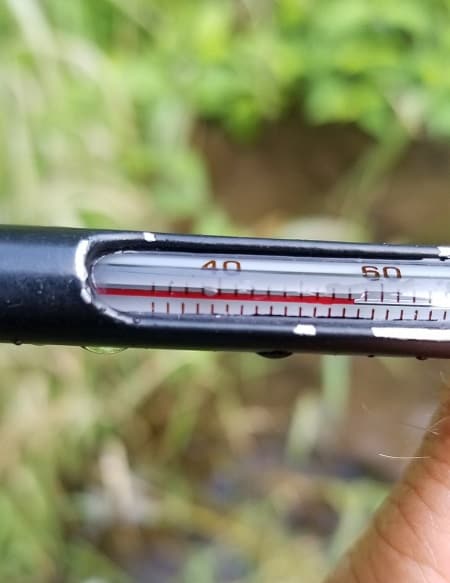 When fly fishing in winter for trout or steelhead, it is important to remember that fish become more lethargic and less active during cold weather, therefore you need to slow down your presentation.
Based on my experience fish can be completely inactive at a very cold water temp of say 38F or they can be very aggressive at the same temperature.
This can be confusing but I will try to keep it simple. At any temperature below 45F keep this in mind:
Dropping temps will shut fish down and they won't bite.
Water temps that are stable for hours can be either good or bad for fish activity
Rising water temps, even one or two degrees can activate the fish and the bugs.
Choosing the Best Time of Day for Winter Fly Fishing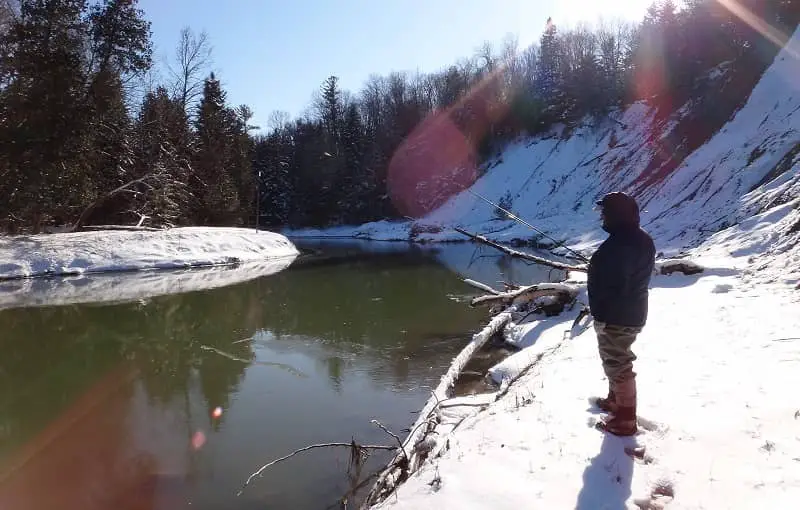 In winter, the air temps and water temps drop overnight and the coldest water is first thing in the morning.
Remember, dropping temps are bad, stable temps are ok, and often as the daytime temps stabilize or start warming the water temps will stabilize.
Later in the morning and early afternoon, the water temps might even get warmer by a degree or two and this is when you want to be on the water.
Take advantage of sunny days during the winter season because these are the days when the water will warm the most and when fish-feeding activity is at its highest.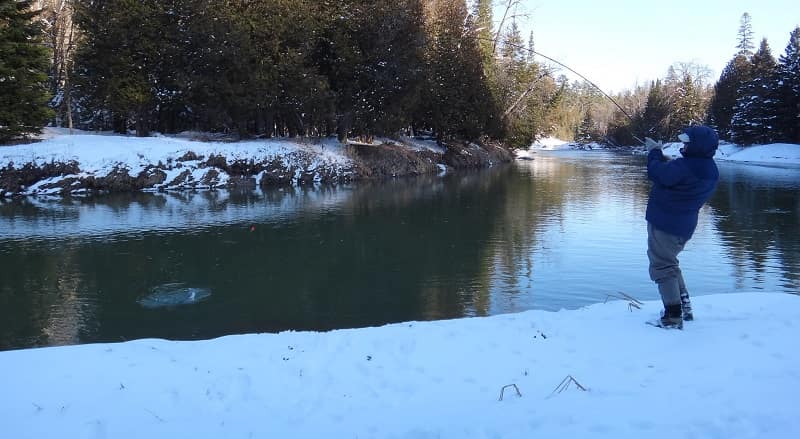 Monitor water temperatures and choose locations where trout will likely be most active because sometimes as the water warms the fish will move from deeper pools or slow pools into a better and shallower feeding lane.
GUIDE TIP: My best fishing in the winter is between 11 am and 2 pm on sunny days, so sleep in a start late.
Best Winter Fly Fishing Locations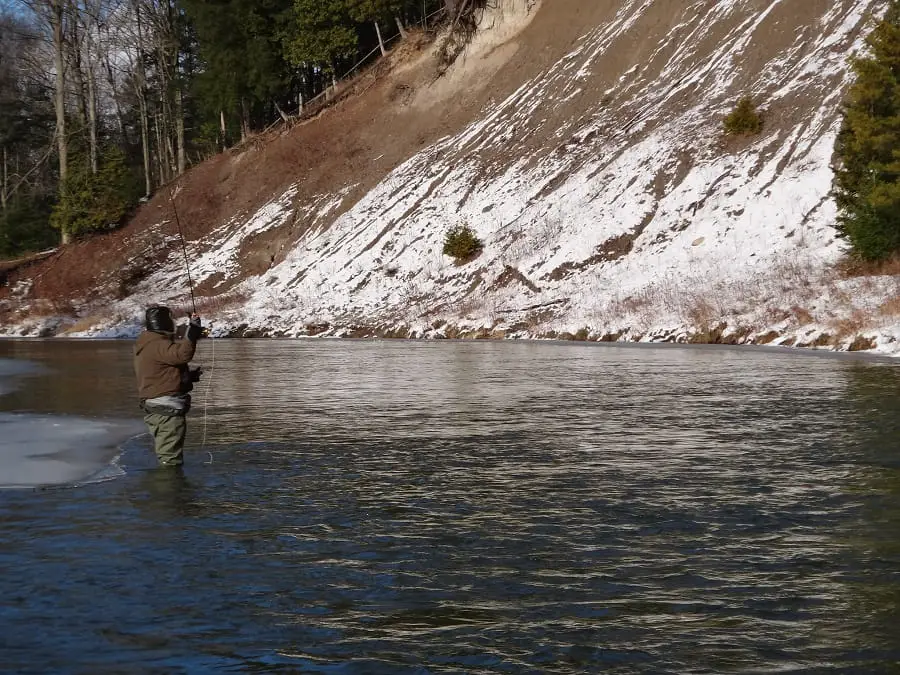 Finding fish during the cold months can be tough because they are rarely in the same spots you caught them in spring, summer, and fall.
Focus on deeper runs and pools where trout tend to school up during colder months.
Often large sections of rivers will be void of fish and the large deep pools will be full.
Trout on many rivers will also migrate from the shallow headwaters down river sometimes over 20 miles to winter over in larger pools.
Also, fish near structures like sunken logs or boulders that offer shelter from strong currents which can make fishing difficult in colder temperatures
Guide Tips and Techniques for Winter Fly Fishing
Here are some winter fly fishing tips from our guides that will help you catch more brown trout and rainbow trout.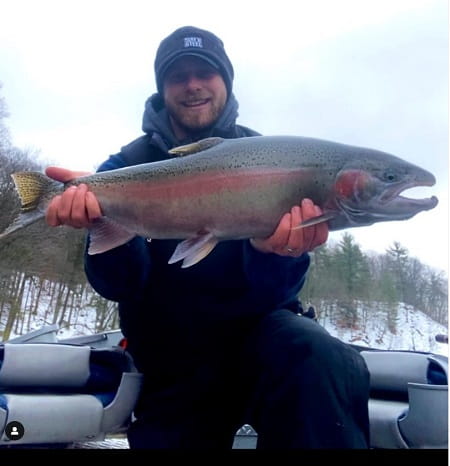 Experiment with different retrieves to test which speeds work best for triggering strikes from the fish in cold weather conditions.
Take advantage of hatches during colder months, as this is when you can find larger concentrations of trout feeding on emerging insects near the surface of the water. Hatches will often occur on sunny days when the water warms the most
Fish the spring creeks, or spring water upwelling sections where the groundwater actually warms the river a few degrees.
Tailwater fisheries are often the best places for fly fishers to catch more trout due to more constant temperature. Tailwater trout feed more here than on the coldest trout streams.
Tailwater Rivers are also the best chance for dry fly fishing.
Try lower sections of freestone streams as trout and baitfish will concentrate in these areas.
A good dead drift is almost always required to entice winter rainbow trout and weary brown trout.
Because we are handling fly lines, half-finger gloves made of Merino wool are good options
Trout will feed heavily on midge larvae, aquatic worms, and stonefly nymphs throughout the winter but in early spring try egg patterns.
If you fly fish in a slow pool or on slow water use a small strike indicator and a small split shot or two but go as small as possible.
In shallower water with medium speeds do not use a strike indicator as it could spook the fish, instead use Euro nymphing with a Sighter a weighted fly.
Try adding scent to your flies when ice is present.
Winter Fly Fishing Safety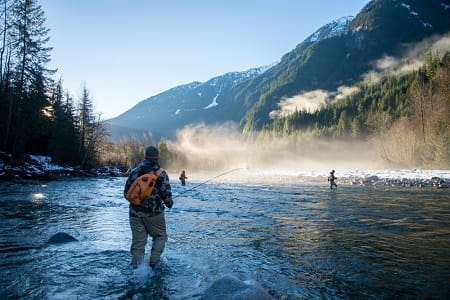 Falling into the river or breaking through thin ice can be a deadly mistake.
Even slipping on ice and breaking a leg in the winter when nobody is around can be a major issue.
Don't put yourself at risk by going beyond your limits when crossing rivers.
Be extra cautious on shelf ice or ice-covered river and avoid it entirely if possible.
You can buy slip-on cleats on Amazon or your local sports store and these can be great for traction on the ice, on slippery rocks, and on the trails.
Know the forecast before you go out to remote rivers.
Fish with a buddy.
Winter Fishing Regulations
In many areas, winter fishing for trout is not permitted or there are special catch and release, or harvest regulations so before you ish check the local fishing regulations.
Pre-Rig Your Leaders Before Heading Out For A Day Of Winter Fly Fishing
A winter fly fishing tip that you should consider is to pre-rig some of your leader and tippet sections so you don't need to spend 1o to 20 minutes retying with frozen fingers.
I will pre-tie 2 or 3 rigs and wrap them around a baitholder rig, or even a toilet paper roll.
How Cold Is Too Cold For Fly Fishing?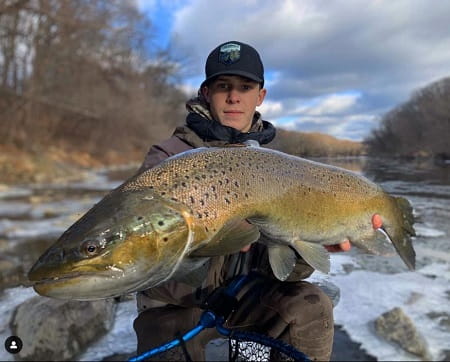 I have fly fished and caught a lot of big steelhead in the snow at 14F or -10C, and I have guided clients at 8.6F or -13 C and it is still one of their best days on the water with over 13 large steelhead landed.
For me, that is freakin cold, but the steelhead and trout on those days didn't seem to care. So, how cold is too cold for fly fishing might depend on how much you can tolerate.
Once you get below freezing you will start to experience more complications, but if the fish are still biting, I say go for it.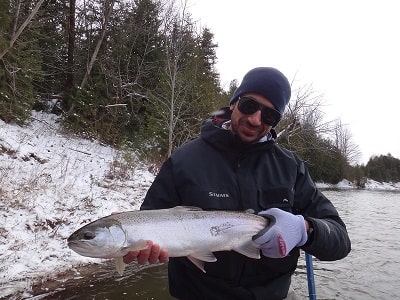 When guiding, I will usually try to deter my clients from going when the air temps are 3 to 4 degrees below freezing because this is when your rod guides freeze constantly and it's when slush can start to form, and both of those things make fishing tough.
Winter Fly Fishing Q&A
If you have a question, comment, or some tips you would like to share about winter fly fishing let us know in the comments section below.
Tight Lines,
Graham