Summer Steelhead Fishing Ohio: 3 Tips For How and Where?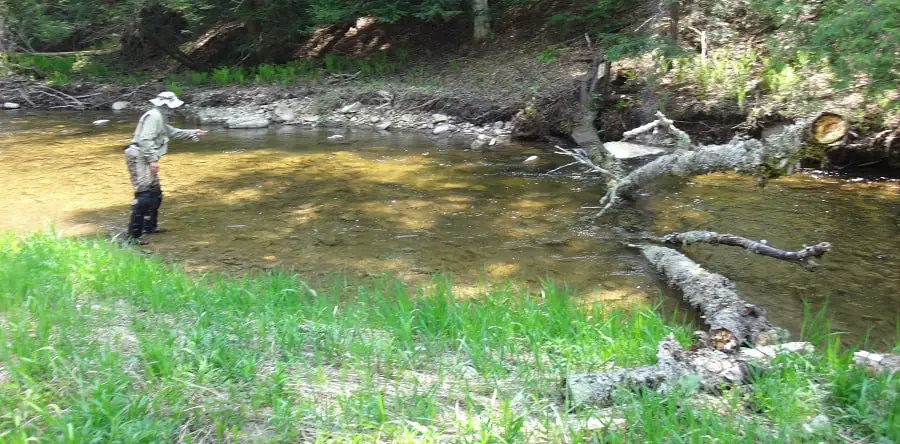 Summer Steelhead Fishing, Ohio
There is a chance for summer steelhead fishing Ohio if you know where to look and what to use. Anglers might find late spring run, summer run, and early fall steelhead in the rivers but most steelhead fishing takes place in Lake Erie and river mouths.
In this article, I will discuss both river and lake steelhead fishing opportunities in Ohio
River Summer Steelhead Fishing Ohio – Hold-Overs
As spring winds down, interest in steelhead fishing gradually fades for most anglers as most steelhead will have moved out of the rivers and creeks and into Lake Erie. By early May the steelhead fishing in the upper rivers becomes almost non-existent.
Summer steelhead fishing opportunities in Lake Erie tributaries dwindle but die-hard anglers willing to explore might find what is known as hold-over steelhead, plenty of juvenile steelhead, stocked steelhead, and even some resident trout.
Hold-over steelhead are what I like to look for during the summer and these are steelhead that have moved up the river or creek in late spring and then become trapped in the river as the water levels drop very low, too love for them to work their way back to the lake after they spawn.
These steelhead will hold up in the deepest pools and in log jams and can sometimes be found all summer or until a large enough flood pushes them back out to the lake.
These hold-over steelhead are rare but they can be found on occasion in some rivers and creeks. These summer steelhead will often behave and feed just like an ordinary river trout and can even be spotted feeding on surface insects.
Rare Skamania Steelhead
Ultimately, a lot of anglers avoid the summer season steelhead because it is usually likened to searching for a needle in a big haystack.
Although very rare, some creeks like Conneaut Creek occasionally is reported to have some summer runs of steelhead. 
The summer run steelhead are a unique strain of steelhead known as Skamania, and are not popular because there are not a lot of them. However, there is a possibility of a stray or two that have come down from Michigan and will enter Ohio Rivers. Usually the bigger Ohio rivers and creeks.
This Skamania strain of steelhead is among the hardest fighting fish in the rivers. They are very acrobatic and very crazy when they are hooked. Their upriver migration which is from June to September tends to be very swift, which is why fishing for Skamania is usually referred to as "hit or miss".
Skamania steelhead, although the same bright silver, differs slightly from the common steelhead breed. Generally, they are long and slender, compared to their more football shaped, shorter, and fatter counterparts/cousins.
And even if the steelhead are not there, it is common to catch many good-sized smallmouth bass, juvenile steelhead, and trout while trying for steelhead.
The downside to summer fishing in rivers is that many steelhead will die after the fight due to the warmer river water. Therefore, if you do not wish to keep your steelhead it's best to not fish for summer steelhead in the river.
Check out Fishing Tactics For Skamania: A Complete Guide
Summer Steelhead Fishing In Ohio Through The Summer Months
Generally, the summer steelhead fishing season kicks off from May through August in the lake and along the shoreline of Lake Erie. Summer is generally characterized by hot temperatures which present significant problems and possible death for cold-water species such as steelhead.
There are various options and opportunities for anglers looking to fish these great fighters during summer. Instead of heading up the tributaries, summer steelhead start to school around the piers and shoreline of Lake Erie in August. Anglers might even find stray steelhead nosing around river mouths all summer, usually in the early morning and at dusk.
Boat fishing for steelhead comes in really handy. You can choose to participate in a charter trip, or fish out of your own boat on days when it is not too windy.
If you do not have a boat, or even if you do, Lake Erie shorelines and piers offer anglers on foot or in a boat a chance to fish for summer steelhead. Fishing for cruising steelhead allong the shores and near river mouths can be an exciting and rewarding way to fish for Lake Erie Steelhead.
When fishing piers and shorelines for steelhead it's always best to fish where the wind is blowing the river current. For instance, if there's a south wind, you want to fish the north side. Additionally, you want to find and hit depressions and deeper holes as steelhead are not usually caught on top of a sand flat.
It is also worth noting that summer steelhead bite best in conditions of low light. It is therefore imperative to get out there as early as possible in the morning and at dusk. For the best bite of the day, I like to set up about 30 minutes before the sun will come over the horizon.
Best Methods for Summer Steelhead Fishing Ohio
Anglers fishing for steelhead along Lake Erie are using several fishing methods. One of my preferred methods when they enter the river mouths is fly fishing. Even though it is a lot more challenging than some other methods, it is fun and very effective. 
At river mouths, I have used an indicator rig or a streamer fly casted and retrieved which have been exceptionally effective as the steelhead move in and out. I discuss how I and other professional guides successfully fly-fish in Lake Erie; the different types, leaders, flies, setup and so on my page Great Lakes Style Fly Fishing For Steelhead.
Another steelhead fishing method that has proven quite effective is the float fishing. This fishing method can be employed using Centerpin reels and rods, baitcasting reels, or spinning reels and rods. When float fishing anglers can cast into the current and drift their floats way out into the lake.
If you want to learn more on how to float fish Lake Erie, you should check out my page on Float Fishing For Great Lakes Steelhead.
Also, for fun, watch this video: INSANE SUMMER STEELHEAD BOBBER DOWNS! – Tiny Creek Skamania Float Fishing
Best Bait and Lures for Summer Steelhead
Having the right set of lures and baits can make all the difference in summer steelhead fishing. Even though your fishing method will go a long way to determine your choice of bait, I generally recommend minnows, worms, and roe when float fishing. I discuss more on the best bait on my page Steelhead Baits for Great Lakes Rivers. 
Flies are also very effective for catching summer steelhead. You can check out my favorite list of flies on my page 19 Most Effective Steelhead Flies.
Steelhead will also be attracted by the fluttering and darting of lures such as crankbaits, spinners, and spoons. Spoons are great along the shoreline and at the river mouths because they can be cast very far so you cover a lot more water.
For tips and tactics on fishing lures for trout and steelhead check out my page, Lure Fishing For Trout: Tactics From A Pro River Guide
Summer Steelhead Fishing Ohio Q&A
Summer Steelhead Fishing Ohio is tough and most anglers rely on boats and fishing out in the lake but there are times when anglers on foot can catch some steelhead. For the best fishing fall and spring steelhead fishing in the rivers is the best.
If you have a question, comment or tip about Summer Steelhead Fishing Ohio let me and the readers know in the comments section below.
Tight Lines
Graham