5 Best Flies For Steelhead – An Expert Guides Advice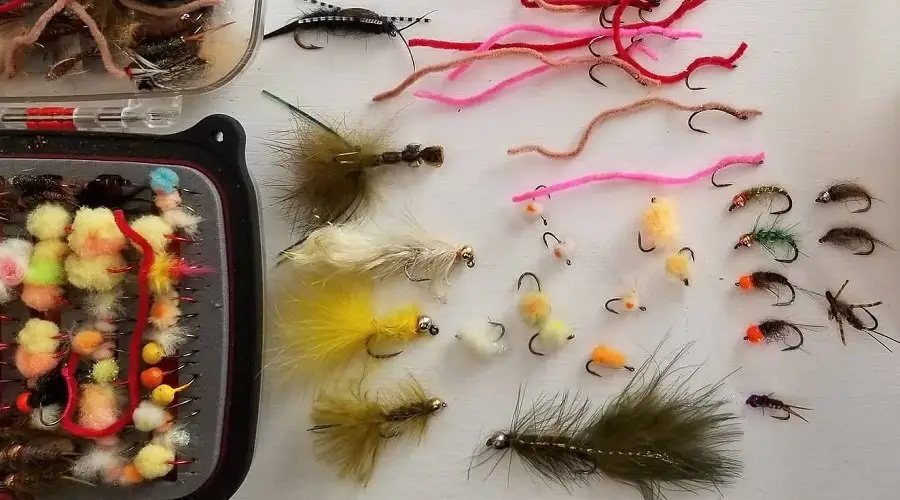 Advice From A Pro
These are some of my guide tips and advice for the 5 best flies for steelhead and how and when I fish them to catch more steelhead.
These 5 best flies for steelhead can be used with a fly rod or with a float rod or spinning rod, and I'm going to show you what's in my fly boxes.
What Are The Best Flies For Steelhead
The 5 best flies for steelhead are the Stonefly Nymph, the Prince Nymph, the San Juan worm, the yarn egg, and the woolly bugger, but I have about a dozen nymphs that work great for me when fishing for steelhead.
Under certain conditions and at certain times of the year, flies can be the best steelhead bait whether you fly fish or float fish, and flies can even outperform roe bags if you know how and when to fish them properly
The Worm Fly – The Best Fly For Steelhead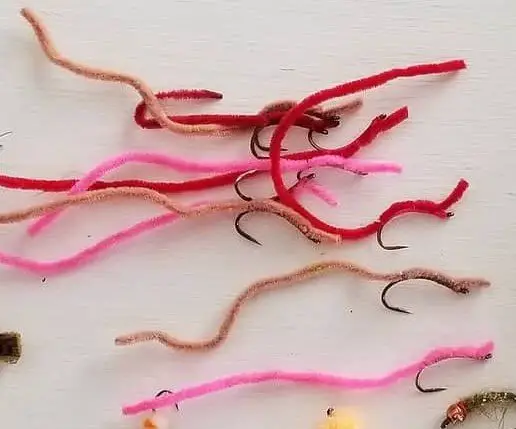 The Steelhead worm pattern is by far my most productive steelhead and trout fly most days on the water and under most conditions.
My favorite color is pink, however under super clear conditions, I do better on the natural brown color.
Red has been an excellent alternative and has caught me a lot of fish when they don't eat the pink one. Purple has been good too.
You can see in the picture that unlike many worm patterns that are tied with the hook in the middle of the fly, I tie my hook at the end of the fly and I do this for a very good reason.
Tying the fly in the middle often causes the fly to fold in half or into a "V" shape under any pulling of the line which is also known as drag, and in rivers, there is always current and always drag.
The straight tie that I use keeps the worm straighter which gives it a larger profile and gives it more wiggle action and that often means more steelhead will bite it.
The original thought to tying the hook in the middle is so the little trout don't grab the end of the fly and miss the hook in their mouths, but I will be honest with you here, I don't care about catching those little fish, and those big ones don't nibble on the ends of the fly like a little one might, the big fish suck the entire fly in like a vacuum, so missing the bigger fish is not an issue for me.
I also don't melt the ends of the fly like many fly tiers do because melting the ends of the fly only pleases the angler and not the fish because the fish don't care if it's melted or not. Melting the ends is a waste of time in my opinion.
For steelhead worm flies, I use a size 8 or 10 hooks but occasionally I will use a size 12 hook, and I prefer the worms to be around 3 inches long.
The best material to use for worm flies that won't fray is Ultra Chenille which you can get at Bass Pro Shop – HERE or at Fish USA – HERE or even at Amazon – HERE,
Another great material that has lots of action is the squirmy wormy which you can get at Amazon – HERE.
If you don't want to tie your own flies you can buy ready-to-go flies.
The Yarn Egg Fly – One Of The Best Flies For Steelhead
You may have to shop around for the best colors but you can get egg flies at Amazon – HERE, Or at Bass Pro Shops – HERE or at Fish USA – HERE. Some discount fly shops sell egg patterns on crappy hooks that may break or bend so be careful with flies meant for big fish like steelhead and salmon.
If you like to tie your own flies this is the best yarn that I use – HERE or another great material and to see my all-time most productive colors which is called Oregon Cheese, check it out HERE.
Tying the egg fly is super easy. Watch this easy to tie Egg Fly Pattern Youtube video.
The Stonefly – One Of The Best Flies For Steelhead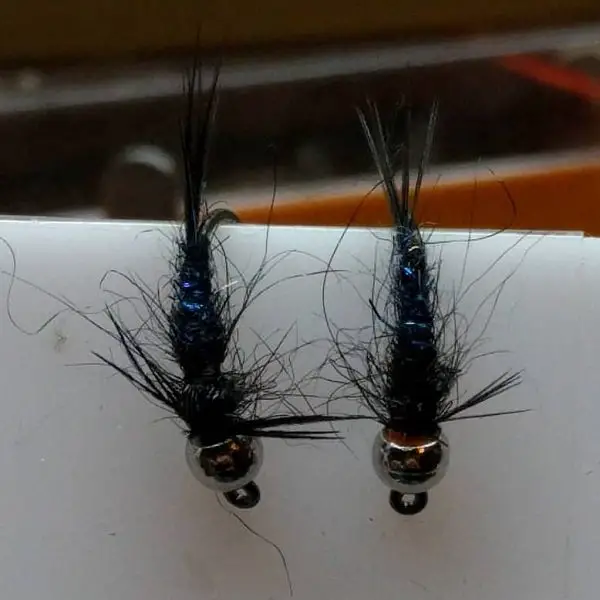 The black Stonefly not only produces a lot of fish for my clients with a fly rod but it is one of my most productive baits when float fishing or bottom bouncing.
Be careful because there are a lot of crappy stonefly variations on the market and some are just not that great for steelhead.
I tie my own stoneflies in a few patterns but the best store-bought pattern I have found is the Black Woven Stonely from Reelflies.com. It has the right profile and color that works for great lakes steelhead and is almost identical to the one I tie the most. I also use the brown color Stonefly with good success.
This black and brown pheasant tail nymph has been a good Stonefly type pattern for me as well, both with or without the gold bead.
For my stonefly nymphs, I prefer size 8, 10, and 12 except for later in the winter when there are active small size 14 and 16 stoneflies all over the snow and in the river.
If you are wondering what is better, a nymph with a bead head or one without, I will just say that 90% of my nymphs for steelhead have bead heads in gold or silver and sometimes bronze.
When the water is really low and super clear I will sometimes do better with no shinny bead.

Guide Tip: When I am fishing in an area where there is a lot of roe bag anglers I will often use stoneflies instead of roe bags.
Steelhead will sometimes get turned off by too many big roe bags and large colorful baits like worms and beads, but a small size 10 or 12 stonefly nymph is not very intrusive and it can often produce more steelhead than all other baits being used which is why I consider it one of the best flies for steelhead whether I am using a fly rod or a float rod. I highly recommend giving it a try because it has produced a lot of steelhead for me and my clients.
The Prince Nymph and Other Attractor Nymphs For Steelhead

The Prince nymph is an effective attractor nymph fly that I consider one of the best flies for steelhead. I think it's the white wing that gets their attention and makes this fly work so well.
Some days this fly will catch more steelhead than any other fly, especially in the spring.
I use this fly the same way I use the Stonefly when the steelhead are pressured by a lot of roe bag anglers or during times when there really isn't a lot of natural salmon eggs or steelhead eggs in the river.
The picture above is some of my personally tied versions for the prince nymph but the traditional version works just as well. I like bead head bead prince nymphs over non-bead head nymphs. I like size 8, 10, and 12. You can get price nymphs HERE or at Amazon HERE.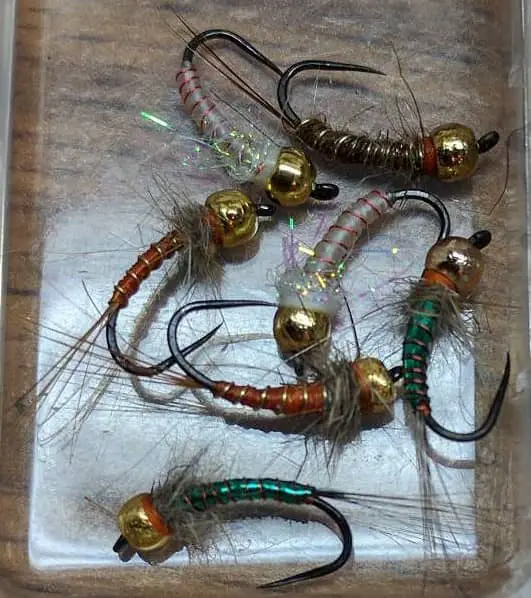 I tie a lot of other attractor type flies that can work great for me. Sometimes bright and shinny is what they want, and one of the best attractor flies is one called The Frenchie and one called the Rainbow warrior. Not only are these patterns good for steelhead but they are great for brown trout, rainbow trout, and brook trout.
At times, attractor flies like the Copper John and the Copper Bob can be very effective too.
Woolly Buggers – One Of The Best Flies For Steelhead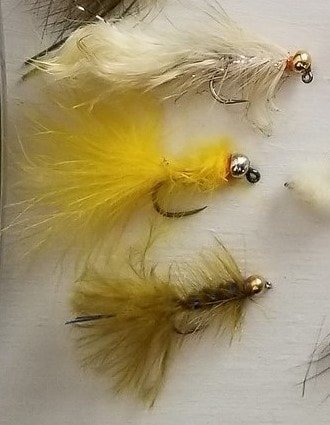 Woolly Bugger type flies are some of the best flies for steelhead. They are larger in size and have a lot of action below the surface.
Woolly Buggers can come with a bead head or without.
I like to add a little flash into my woolly bugger patterns like this one from Amazon.
My favorite colors are Black, Olive, White, but I have also done good on pink, yellow, and brown.
I usually have woolly buggers in my box from 1 inch long to 3.5 inches long.
You can get woolly buggers at Bass Pro Shops – HERE, or at Amazon – HERE. I would think that any place that sells flies will also have woolly buggers.
Other Good Flies For Steelhead
Egg Sucking Leach & Woolly Worm
Similar to a woolly bugger is the egg-sucking leach and the Woolly Worm and both can be excellent for catching steelhead. Black, olive, and white are my favorites.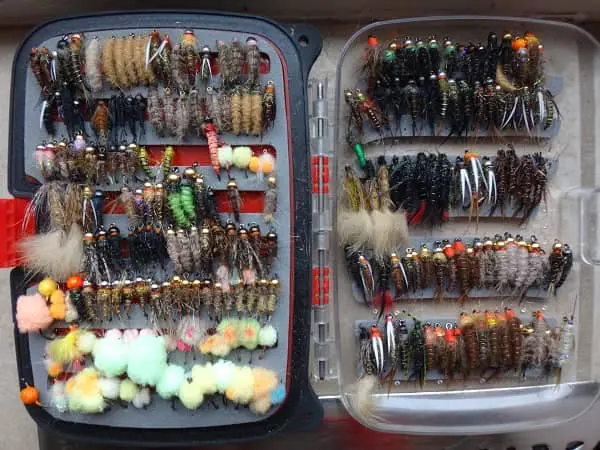 Other great flies for steelhead include:
Books With Good Fly Patterns For Steelhead
Use It Properly
It's one thing to have a good fly on, it's another thing to fish it well. First, make sure you have the right size leader. Check out my page on the best leaders for steelhead.
Also, make sure you have the proper leader setup for steelhead and that you know how to fish for them effectively. If you want to see my leader set up go to my page on How To Fly Fish For Steelhead – Coming Soon