Salmon Fishing In Ohio: Is It Good?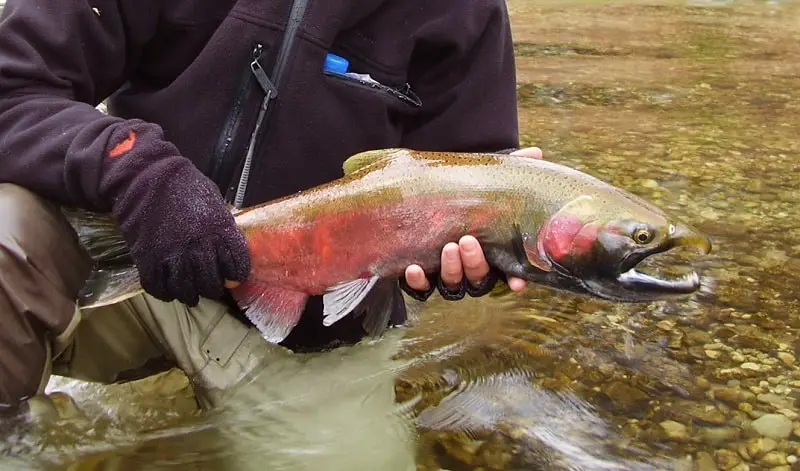 I've spent over two decades guiding for salmon on the great lakes and I've explored the art of salmon fishing extensively across the Great Lakes for over 37 years, which includes salmon fishing in Ohio.
Unlike other articles that might sugarcoat Ohio salmon fishing, I'll provide an honest perspective on salmon fishing in Ohio, while also offering a glimmer of hope for those who wish to embark on this challenging fishery.
For those new to the sport or at an intermediate level, this guide is tailored to your needs.
Whether you're on Lake Erie's shores or Ohio's rivers, my insights and proven techniques will be your companions.
About Salmon Fishing In Ohio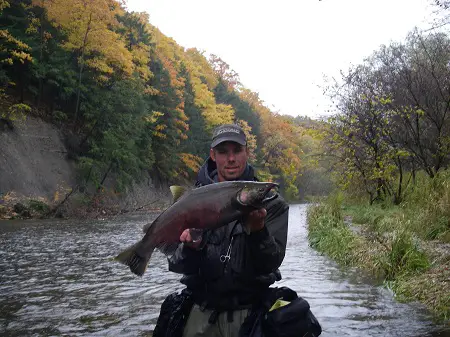 To be honest, the salmon fishery in Ohio and surrounding waters is very poor or almost nonexistent.
Much like Pennsylvania, Ohio offers opportunities to reel in the elusive Coho and Pink salmon in Lake Erie or within the state's rivers.
You might even encounter the occasional chinook salmon. However, these catches are often stray fish from Lake Huron or survivors of past stocking efforts. They are indeed a rarity.
Don't be disheartened by this information, salmon do exist in Ohio, and catching them is not impossible, though it's a true challenge.
Moreover, while pursuing salmon, you'll find steelhead in the same waters. These steelhead are often receptive to the same strategies, bait, and lures that can be effective for salmon.
Ohio's Rivers: A Hub for Fishing Enthusiasts
While Ohio may not be a salmon haven like Alaska, it boasts remarkable rivers and streams full of steelhead, in fact, great steelhead fishing can be found in Ohio, and occasionally the odd salmon is caught.
Ohio's Salmon Runs
In Ohio, some rivers may experience early salmon runs in August, while smaller runs commence after the first autumn rains in September, persisting with subsequent showers until early November. When I say runs, I mean the odd salmon will enter the rivers.
Ohio's Salmon Species
Within Ohio's waters, anglers can encounter three distinct salmon species, including:
Chinook Salmon: These colossal fish, also known as king salmon, dominate the waters. Reeling in a substantial catch within hours is not unheard of. Their powerful presence makes river fishing a thrilling experience, with multiple captures in a single day possible. The average mature chinook salmon tips the scales around 25 pounds, and many exceed 35 pounds.
Coho Salmon: Smaller in size compared to chinook salmon, Coho salmon exhibit remarkable strength and fight fiercely. Despite their average weight of 10 pounds, they put up a struggle that rivals larger opponents.
Pink Salmon: Rarely seen and often a result of previous stocking efforts, Pink salmon make sporadic appearances. The upper regions of Lake Superior, particularly those influenced by Minnesota DNR's stocking programs, reveal more about their story.
Feeding Habits of Ohio's River Salmon
Contrary to popular belief, salmon in rivers do not abandon their appetite upon entering freshwater.
Although I was once told that river-bound salmon stop eating, my own experiences and scientific studies prove otherwise. These salmon interact with lures, flies, and floats, actively engaging with fishing gear.
Studies conducted in the Salmon River in New York validate these observations, confirming that spawning salmon do indeed feed.
Ways Of Salmon Fishing In Ohio
Ohio anglers have three primary avenues to explore for salmon fishing: shoreline, boat, and river fishing.
Shoreline Fishing: Positioning yourself close to the shore during the salmon season can yield exciting results. Casting lures or bait from the shoreline can be productive. Key spots for shoreline fishing include river mouths, piers, breakwalls, warm water outflows, and harbors.
Boat Fishing: Lake Erie's vastness offers ample fishing opportunities. The boat fishing season stretches from April through the height of summer, tapering off in late fall. Employing techniques such as trolling lures, plugs, cutbaits, and flasher fly combinations, often accompanied by lead core lines or downriggers, can lead to success.
River Fishing: The heart of Ohio's salmon fishing lies in its rivers. While renowned rivers draw in the majority of anglers, even smaller creeks see salmon activity during heavy rainfall.
Prime Times for Ohio Salmon Fishing
The ideal times for salmon fishing in Ohio vary depending on the chosen fishing style.
April and May: Early spring is a prime time for salmon congregation near Lake Erie's southern end, particularly around Erie PA. This period is conducive to both shore and boat fishing.
June to August: Late June through August marks a flourishing mid-lake fishing season, where salmon can be caught by steelhead and walleye anglers, as well as charter boats. Larger salmon may venture closer to river mouths and the shoreline as August progresses.
September to November: Significant August rainfall heralds the start of the prime shore and river fishing season, extending well into mid-November. The peak time for salmon migration, particularly for fishing, spans from late September to late October.
Best Methods For River Salmon Fishing in Ohio
Landing salmon in Ohio's rivers requires mastering various techniques:
Float Fishing: Drifting bait beneath a float along the current, particularly in rivers that are at least 3 feet deep, can lead to success.
Lure Fishing: Casting spinners, spoons, and crankbaits at river mouths or within the river itself is a favored method. Further insights can be found in my Lure Fishing for Salmon article.
Centerpin Fishing: A specialized Centerpin reel enhances float fishing, optimizing bait presentation and catch potential.
Fly Fishing: Personally, I prefer fly fishing in Ohio's salmon rivers. Casting streamers, drifting nymphs under an indicator, and engaging in spey fishing yield excellent results. Vibrantly colored flies, especially egg patterns, prove enticing.
Drift Fishing and Bottom Bouncing: Utilize drift fishing in larger, deeper rivers and bottom bouncing in smaller sections and pocket waters.
Plunking for Salmon: Plunking involves casting a weight to anchor bait near the river bottom, ideal for capturing deep cruising salmon in rivers and for shoreline fishing.
Best Baits for Ohio Salmon
My bait preferences for Ohio salmon align with those suitable for the broader Great Lakes region. Spawn sacs, Skein, live or plastic worms, minnows, and artificial flies all serve as successful options.
Understanding Ohio Fishing Regulations
Before embarking on your Ohio salmon fishing adventure, familiarize yourself with the state's fishing regulations to ensure you're in compliance.
See also, PA Salmon Fishing.
Considering Alternatives: Salmon Fishing Beyond Ohio
For anglers seeking greater salmon opportunities, New York's salmon rivers flowing into Lake Ontario are worth considering and so are Michigans Salmon rivers. These rivers experience substantial runs and offer the potential to reel in salmon exceeding 20 or 30 pounds. See also, Best Salmon Fishing Destinations in The USA.
Tight Lines,
Graham