Salmon Fishing In Indiana: A Complete Guide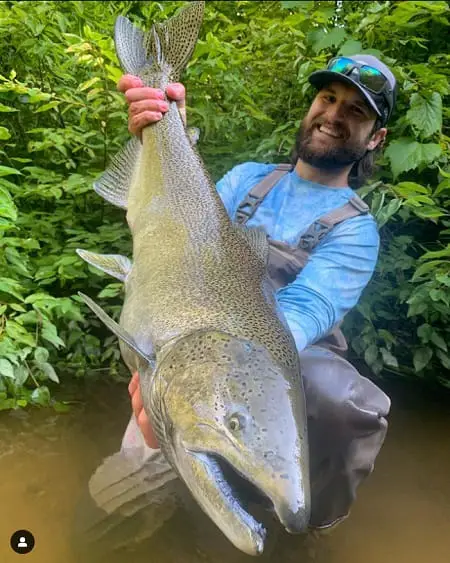 Through extensive research and over 20 years of guiding salmon around the great lakes, I bring you the most comprehensive article on salmon fishing in Indiana.
Whether you're a beginner or an intermediate angler, our river guides have compiled their best tactics, advice, and tips to ensure you have an unforgettable experience catching these magnificent fish in Indiana's waters.
Salmon Seasons in Indiana:
The salmon fishing season in Indiana runs from September to November, at least, this is when the salmon are in the rivers, but don't worry if you miss these months because Lake fishing for salmon can run year-round.
Anglers can catch salmon throughout the year in Indiana's great lake, Lake Michigan. With four types of salmon species in the lake, Indiana offers an excellent opportunity to reel in multiple salmon, some exceeding 20 pounds.
Types of Salmon Fishing in Indiana:
In Indiana, anglers can indulge in three main types of salmon fishing:
Open Lake Fishing: Trolling from boats on the open lake.
Near-Shore Lake Fishing: Targeting salmon from piers and shorelines.
River Fishing: Pursuing salmon as they enter the rivers to spawn.
Salmon Species to Target:
When you venture out for salmon fishing in Indiana, you can target two exciting salmon species:
Chinook Salmon: Also known as kings or King Salmon, they are the largest and often the first to enter the rivers. Look out for them in September and October, though some runs may start as early as July and August. Chinook salmon present an excellent challenge, sometimes accompanied by rainbow trout and great lakes brown trout. Check out How To Catch King Salmon.
Coho Salmon: Also called silver salmon or silvers, Coho salmon are renowned for their spirited fights and aggressive strikes. They begin entering the rivers in October, providing an exhilarating experience for anglers. Many rivers in Indiana witness significant Coho salmon runs, making it a must-try for fishing enthusiasts.
How Big Can Salmon Get in Indiana?
The salmon in Indiana waters can grow to impressive sizes. The Chinook salmon can reach up to 38 pounds, making them the largest, followed by Coho salmon, which can weigh up to 20 pounds. Make sure you have the right salmon net for boat, shore, and river fishing.
Lake Fishing for Indiana Salmon: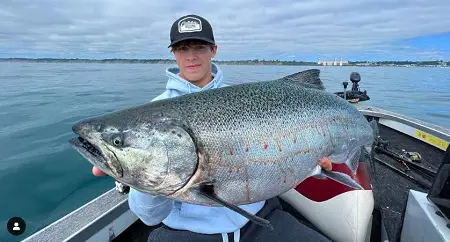 For those looking to try Indiana salmon fishing on Lake Michigan, salmon fishing charters offer fantastic opportunities to experience Indiana's lake fishing at its best.
Even if you have your boat and equipment, trolling remains a popular method for catching salmon in the open lake. Additionally, shore fishing using plunking techniques or casting lures can also yield excellent results.
There are also very good opportunities for boat and river fishing in nearby Wisconsin and Michigan states.
Fishing Guides and Charters:
Fishing guides and charter boats can significantly enhance your fishing experience on Indiana's lakes and rivers.
Apart from helping you fish more successfully, some Indiana salmon fishing guides even offer services like cleaning and wrapping your catch. Guides with larger boats ensure your safety and comfort on the great lakes' open waters, while those with smaller boats maneuver expertly in the shallow rivers.
Trolling for Salmon in Indiana:
Trolling is a favored technique for catching salmon in Indiana's Lake Michigan area.
Using shiny spoons, plugs, crankbaits, or cut baits is popular, especially when the salmon are staging around river mouths in spring and late summer. Downriggers are essential for trolling at depths greater than 60 feet during June, July and August when the salmon are usually in open water.
The salmon fishing bite is consistently strong in depths ranging from 80 to 100+ feet along most of the lakefront. However, anglers notice that the best action tends to occur near the tri-state line.
Coho salmon often dominate the catch, although some steelhead and kings will also be mixed in.
For successful catches, using spoons on downriggers and free sliders has proven to be excellent, along with dodger/flies setups, especially on wire divers.
Long lines are also successful, with 7-10 color lead core line, or 150-300 feet of copper line yielding good results.
Even in August, the cold water can be found at depths ranging from 40 to 50 feet, although it varies daily.
Anglers report that the optimal bite times for silver fish are during the early morning and late evening hours.
Shore Fishing for Salmon:
If you don't have access to a boat, shore fishing can be a great option for catching salmon in Indiana.
Depending on the season, you can find success during spring and fall months when salmon congregate near river mouths, bays, or warm water discharges.
Indiana salmon fishing also includes pier fishing and river mouths which are known hotspots, particularly from February to March and again from late August to October when salmon stage close to river mouths.
When to Fish from Shore:
Generally, the best time for shore fishing in Indiana is from February to April, with the most action occurring in March, just after the ice has melted (if there was any ice), until the water temperatures near the shore reach 48 to 50 degrees.
Cohos can be caught from January to mid-April under the right conditions. Several fishing locations are worth exploring, such as the East Chicago Marina break wall, BP Whiting Discharge, and more along the shorelines in that area.
Best Lures for Salmon Fishing:
Lure fishing is a popular technique for catching salmon in Indiana, whether on the lake, near river mouths, or within the rivers. Salmon strike lures when they are feeding out in the lake or entering the rivers. Some salmon will hit lures aggressively or instinctively, protecting their spawning territories from potential competitors.
The four most effective lure types for salmon fishing in Indiana are:
Spoons: Flutter or trolling spoons work best on boats, while casting spoons are ideal for river fishing.
Plugs and Crankbaits: Big plugs with enticing wobbles are excellent for attracting salmon near river mouths.
Spinners: Bright colors and single-line spinners work well for casting and targeting salmon in rivers.
Jigs: Jig fishing is lesser-known but effective, especially near shore at piers and river mouths.
River Fishing for Salmon in Indiana:
Indiana salmon fishing on rivers is an exciting fall event in Indiana however, rivers in Indiana are very limited compared to neighboring states.
Salmon enter the rivers in September and October, with some smaller runs happening in late August after significant rainfall. The salmon runs vary based on the river and species and the amount of rain.
Many anglers will drive north to some of the better and bigger Michigan salmon rivers, like the Kalamazoo River and the St Joseph River. The St. Joseph River flows partially in Indiana.
Salmon Rivers To Fish in Indiana:
The top two salmon rivers in Indiana include Salt Creek, Trail Creek, and the Little Calumet River which enters at the state line of Indiana and Illinois at the mouth of the Calumet River.
Both Illinois salmon anglers and Indiana anglers can fish the mouth of the Calumet River.
Salt Creek: Salt Creek, which offers excellent small-stream trout fishing and salmon fishing in the fall as salmon leave Lake Michigan and head upstream.
St Joseph River: Though mainly flowing through Michigan, the St. Joseph River also provides fishing opportunities where it crosses into Indiana.
Trail Creek:This small Creek has large runs of Skamania steelhead, Michigan strain winter steelhead, Coho, and Chinook salmon. Brown trout are also available. It is worth checking out after heavy rain in the fall for salmon.
Little Calumet River is a larger stream that gets stocked with salmon and steelhead and is worth trying in the fall.
Best Methods for Salmon Fishing in Indiana:
Various fishing methods prove successful for salmon fishing in Indiana, each with its own unique advantages. The following are the best methods to try:
Float Fishing: A highly effective and popular method using spinning reels or baitcasting reels. Anglers suspend bait below a float and drift along stretches of the river.
Centerpin Fishing: A natural presentation using a Centerpin reel or Float reel to fish baits or flies under a float.
Fly Fishing: Using nymphs or streamers, fly fishing is very effective, especially in rivers. Spey fishing is another option on bigger salmon rivers.
Casting Lures: Casting with spinning rods and reels is straightforward and effective from both shore and boat.
Drift Fishing and Bottom Bouncing: Both methods involve casting bait and allowing it to drift along the river bottom with the current.
Plunking: Plunking is a relaxing method where anglers cast bait and let it rest in a specific zone to attract salmon.
Best Baits for Salmon Fishing in Indiana:
Salmon eggs tied in colored mesh, known as spawn sacs or roe bags, are the top choice for many Indiana salmon anglers.
These eggs attract various salmon and trout species. Other effective baits include shrimp, worms, or minnows.
Fishing with Skien for salmon can also be very effective.
Fishing Regulations and Licenses:
Ensure you familiarize yourself with Indiana fishing regulations before heading out to fish in Indiana. Fishing licenses can be conveniently ordered online or obtained in person.
Stay updated with the weekly fishing report provided by the State of Indiana, which offers valuable insights on running fish and fishing locations.
Indiana Salmon Guided Trips:
Booking a guide or charter can greatly enhance your salmon fishing adventure. These professionals possess invaluable knowledge of the best fishing spots and depths for various salmon species. They can tailor trips to target specific salmon types, such as Chinook and Coho salmon.
Indiana Fishing Reports:
Stay informed with the weekly fishing report issued by the State of Indiana, keeping you up-to-date on fish migrations and the best times to fish.
Salmon Fishing in Indiana Q&A:
If you have any questions or tips regarding salmon fishing in Indiana, we encourage you to share them in the comments section below.
Tight Lines,
Graham