Salmon Fishing In Illinois: A Complete Guide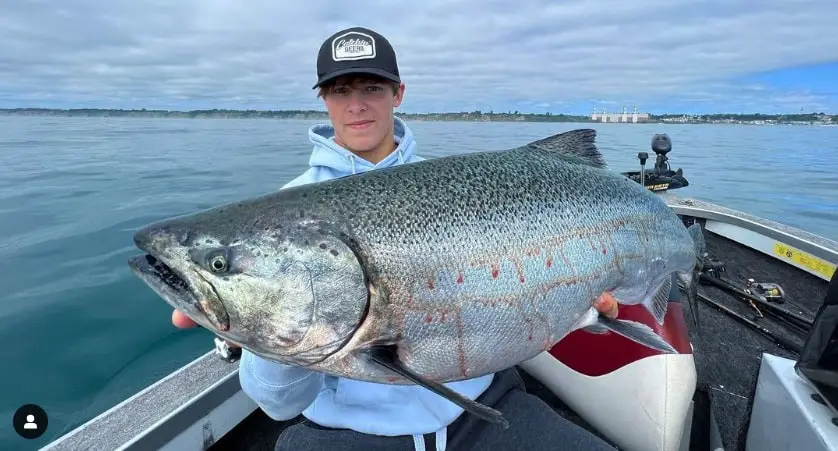 Salmon fishing in Illinois is very limited due to the short coastline of Lake Michigan and a severe lack of salmon spawning rivers. However, this does not mean salmon can't be caught in Illinois because anglers are catching some good salmon here.
As a salmon fishing guide for 20 years, these are my tips and advice to catch salmon in Illinois.
Salmon Fishing Seasons in Illinois
There is the possibility of catching salmon in Illinois 12 months of the year, however, there are certain times of the year that are best.
Salmon roam the nearby waters of Lake Michigan out from Indiana all year long, and boat anglers have the opportunity to catch them.
At times, salmon will move in closer to shore, into harbors, inlets, rivers and river mouths, and marinas where shore anglers have the opportunity to catch big salmon over 30 pounds.
Salmon Fishing In Illinois Rivers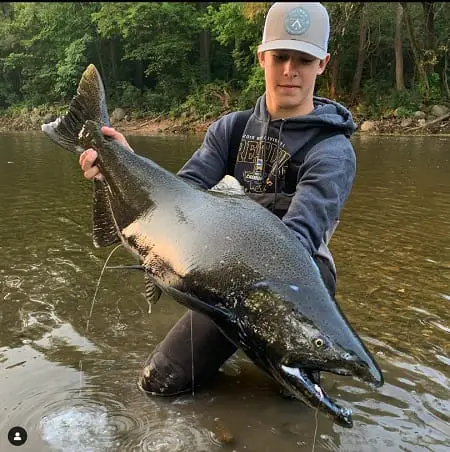 Illinois does not have many salmon rivers, in fact, there is only one river worth fishing, and it gets runs of salmon during the prime season which is from September to November.
This gives anglers an exceptional chance to reel in multiple salmon weighing over 20 pounds.
Best Salmon Rivers In Illinois
The Calumet River is the primary salmon river in Illinois and since it's on the state line at the mouth it can also be fished by Indiana Salmon anglers.
Its tributaries, the Grand Calumet River, which runs into the state of Indiana, get good runs of salmon. Indiana stocks thousands of salmon into this river.
In 2023 Lake Michigan is set to receive an additional influx of Chinook salmon, with the number of salmon stocked in Indiana increasing from 225,000 to 275,000.
The distribution of salmon stocking in Indiana is divided among three key locations: the East Chicago Marina, and the Little Calumet River.
Salmon will enter the mouth of the Calumet River and traverse all its tributaries. This makes for some good fishing at the mouth and up the river.
The Little Calumet River is the large tributary that also gets runs of salmon. Anglers can try fishing at bridges and in local parks that boarder the river.
Types of Salmon Fishing in Illinois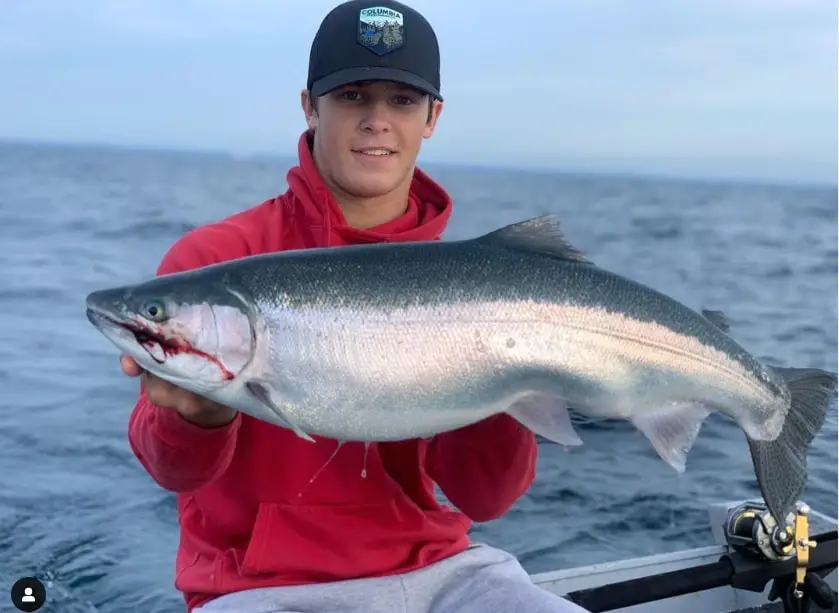 Illinois offers diverse options for salmon fishing, catering to both DIY anglers and those seeking guided experiences. Let's explore the various types:
Open Lake Fishing: Anglers can take to the waters in boats and employ trolling techniques to target salmon in open water. This method is highly effective and allows you to cover significant stretches of the lake.
Near-Shore Lake Fishing: This method involves targeting salmon from piers and shorelines, making it accessible to a wide range of anglers. Some anglers will also troll or cast near shore from a boat.
River Fishing: Once the salmon enter rivers for spawning, river fishing becomes a popular choice. This type of fishing offers exciting opportunities for anglers of all skill levels and I discuss the best methods for river fishing below.
What Salmon Species Are Caught In Illinois?
In Illinois, anglers can pursue two primary species of salmon:
Chinook Salmon: Also known as kings, these large fish are among the first to enter the rivers. They often share the waters with rainbow trout and great lakes brown trout, creating a thrilling challenge for anglers. Chinook salmon can be found in rivers from July through October, with prime months being September and October. See How To Catch King Salmon.
Coho Salmon: Also known as silver salmon, coho are renowned for their vigorous fights and striking hits. These fish are the second species to enter the rivers, making October an optimal month for targeting them. Coho salmon are found in both big rivers and smaller streams, offering a variety of fishing experiences.
There are also rare occurrences of Atlantic Salmon and Pink salmon caught in the water near Illinois.
Steelhead, migratory brown trout, and lake trout can also be caught around the harbors, rivers, shorelines, and out in the lake.
Lake Fishing Strategies for Illinois Salmon
Salmon anglers that fish Illinois on Lake Michigan have several options.
Salmon fishing charters provide an excellent way to explore the waters if you do not own a boat. However, anglers equipped with suitable boats and the right gear can also venture out independently.
Even small boats or Kayaks can be used near shore on calm days.
Trolling: Trolling is the predominant method for open lake fishing, and it's particularly effective for salmon.
Shore Fishing: Shore fishing is another productive approach, involving techniques like plunking or casting lures.
Guided Trips: Enlisting the help of fishing guides and charter boats not only enhances your fishing success but also offers valuable insights into the local waters. These experienced guides often provide services like cleaning and packaging your salmon, ensuring a convenient and enjoyable fishing trip.
If you plan to fish out in the lake or from shore on your own, be sure to check out Salmon Fishing Lake Michigan, which discusses strategies and best baits.
Trolling Techniques for Salmon Fishing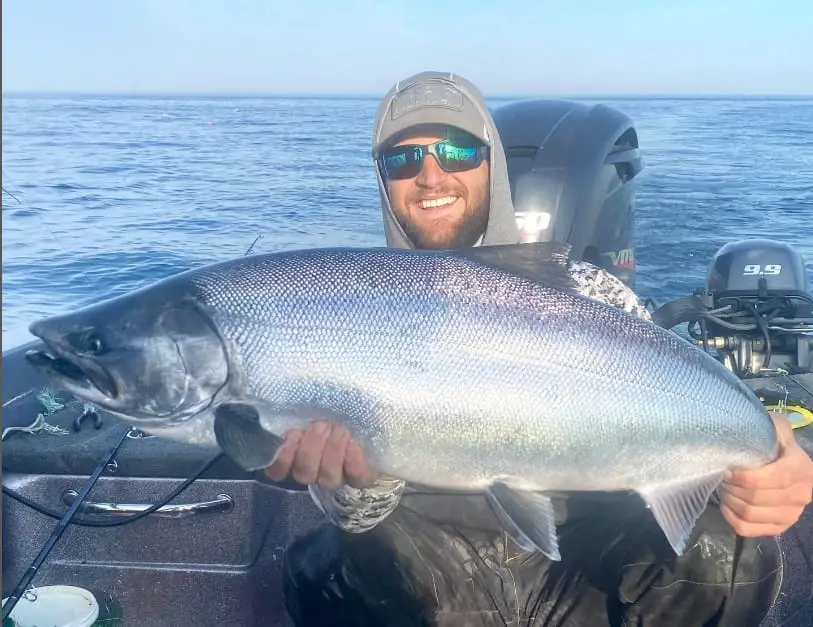 Trolling is a widely used technique for salmon fishing on Illinois Lake Michigan. When fishing for salmon on the lakes, anglers typically employ shiny spoons or cut baits, or at times crankbaits and plugs work well.
During the spring and late summer when salmon gather around river mouths, plugs and crankbaits become popular lure choices due to their enticing action.
Trolling allows you to cover a substantial amount of water out in the open lake, effectively producing more salmon hookups.
For the best results, focus closer to shore in the months of April May, June, and September to November,
July and August are when salmon are abundant further out in open water, often at depths exceeding 60 feet. Downriggers are essential during this period to achieve successful trolling.
Consistently robust salmon fishing action in the summer can be found in depths ranging from 80 to 100+ feet along most of the lakefront. However, anglers have observed that the most productive activity tends to be further out when the weather is hot.
While Chinook and Coho salmon typically dominate the catches, there's also a mix of steelhead and lake trout also caught.
Salmon fishing involves employing spoons on downriggers and free sliders, which has proven highly effective. Additionally, setups involving dodgers/flies, and divers, especially on wire lines can yield excellent results.
Long lines also yield positive outcomes, with 7-10 color lead core lines or 150-300 feet of copper line.
Even in August, the coldest water can be located at depths ranging from 50 to 80 feet, although this depth can vary on a daily basis.
Anglers consistently report that the prime bite times for catching silver fish are during the early morning and late evening hours.
If you are interested in trolling for salmon, check out my page Trolling For Salmon: Strategies and Tips.
Shore Fishing Strategies for Salmon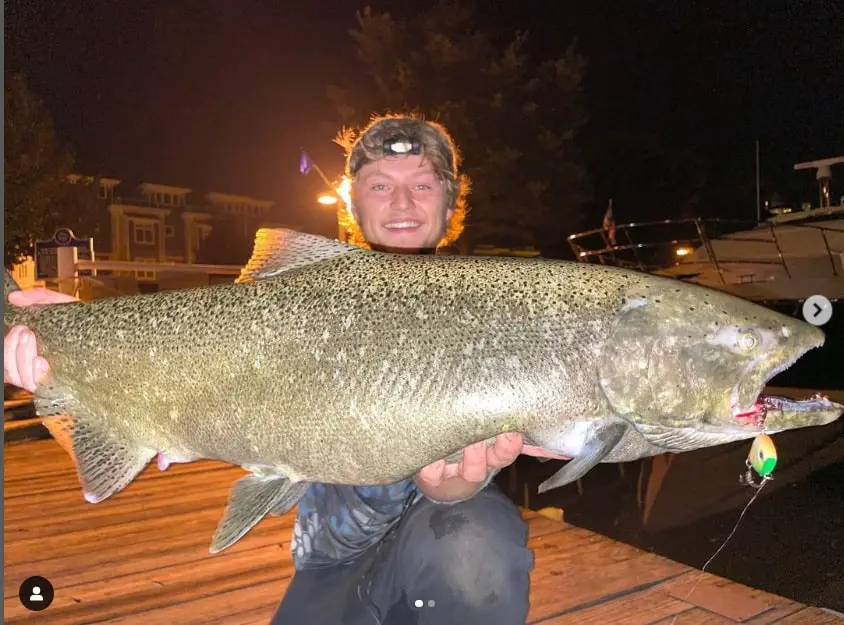 Shore fishing is a fantastic alternative for anglers without access to boats. This method proves particularly effective during the spring and fall months when salmon are closer to the water's surface and closer to shore.
Knowing the seasonal movements of salmon is crucial for successful shore fishing, and local anglers and guides can provide invaluable information on the best locations.
Pier fishing and river mouths are renowned hotspots for shore fishing in Illinois. As fall approaches, many salmon gather near river mouths, sometimes venturing into lower river sections under dark or low-light conditions.
For coho salmon, the period from April to July is optimal, while chinook salmon fishing is prime from late July through September.
Harbors and Inlets are also good spots to try for salmon that roam in looking for food or looking for their spawning river. Be sure you have a good long-handled salmon net for the piers and shores.
Popular Salmon Fishing Spots In Illinois
Anglers fishing from points, piers, and river mouths can catch salmon. These are some of the most popular fishing spots for salmon fishing in Illinois.
Calumet River and Little Calumet River – try the many parks along the river. Or launch and fish at Forest Preserve Boat Launch Parking Lot
Calumet Harbor and Pier
Rainbow Park
Jackson Harbor and pier
31st and 50th street pier
Burham Harbor
Grant Park
Navy Pier
North Ave. Pier
Diversey Harbor
Belmont Harbor
Montrose Harbor and pier
Foster Ave Pier
Bryn Mawr Ave. pier
Farwell Ave Pier
Salmon Behavior and Seasonal Patterns
Understanding the behavior and patterns of salmon is essential for planning a successful fishing trip:
Winter: During winter, coho salmon can be found near warm-water discharges and harbor mouths, seeking baitfish in areas with warmer water temperatures.
Spring: As spring arrives, coho salmon move to the southern part of Lake Michigan, drawn to its warmer waters. Between mid-April and mid-May, they migrate offshore and along the lake's east and west coasts.
Summer: Throughout the summer months, coho salmon and chinnok salmon seek cooler water temperatures below 60 degrees Fahrenheit and abundant baitfish. Their nomadic nature means they can be found at depths ranging from 60 to over 300 feet.
Fall: In late September or early October, mature chinook and coho salmon return to their natal tributaries for spawning. Immature fish of smaller size remain in the lake, feeding in deeper offshore areas.
Best Techniques for Shore Fishing
Shore anglers have a range of effective techniques at their disposal:
Float Fishing: Suspended bait below a float, this method offers a controlled drift that keeps your bait in the strike zone for extended periods.
Centerpin Fishing: Utilizing a Centerpin reel, anglers employ this technique for precise bait presentation under a float, often for steelhead and salmon.
Fly Fishing: Nymphs, streamers, and spey fishing are popular fly fishing methods for salmon, with indicator fishing being a common approach.
Casting Lures: Casting lures from the shore using spinning reels is a versatile and effective method for targeting salmon.
Drift Fishing and Bottom Bouncing: Both these methods involve casting bait and allowing it to drift along the river bottom with the current. The former is ideal for larger and deeper river sections, while the latter is great for shallower waters.
Plunking: This relaxing method involves casting bait to a specific zone and allowing it to remain in place. Plunking is particularly effective during cooler weather conditions and can yield successful catches of salmon, steelhead, and trout.
Best Baits and Flies for Illinois Salmon Fishing
When it comes to bait and flies for salmon fishing in Illinois, several options stand out:
Salmon Roe Bags: Salmon eggs tied in brightly colored mesh bags, commonly known as spawn sacs or roe bags, are highly effective and versatile baits for Illinois salmon.
Wooly Bugger: This versatile fly, particularly in black, is a go-to option for fly fishing enthusiasts targeting salmon.
Egg Sucking Leech: Leech patterns are effective, and the egg-sucking leech is a popular choice for inducing strikes from salmon.
Glo Bug and Egg Patterns: These flies imitate salmon eggs and are known to entice bites.
Streamers: Streamer flies resembling baitfish are effective for fly anglers seeking to catch salmon in Illinois waters.
Fishing Regulations and Licenses
As responsible anglers, it's essential to adhere to Illinois fishing regulations and have the appropriate licenses. Illinois fishing regulations are accessible online, and licenses can be obtained through online channels or in person. A mobile app provided by the state offers a convenient way to access regulations, maps, and other useful information.
Salmon Fishing in Illinois Q&A
We encourage engagement from our readers. If you have questions, insights, or tips related to salmon fishing in Illinois, please share them in the comments section below.
Tight Lines
Graham