How To Fish For Trout – 40 Common Questions Answered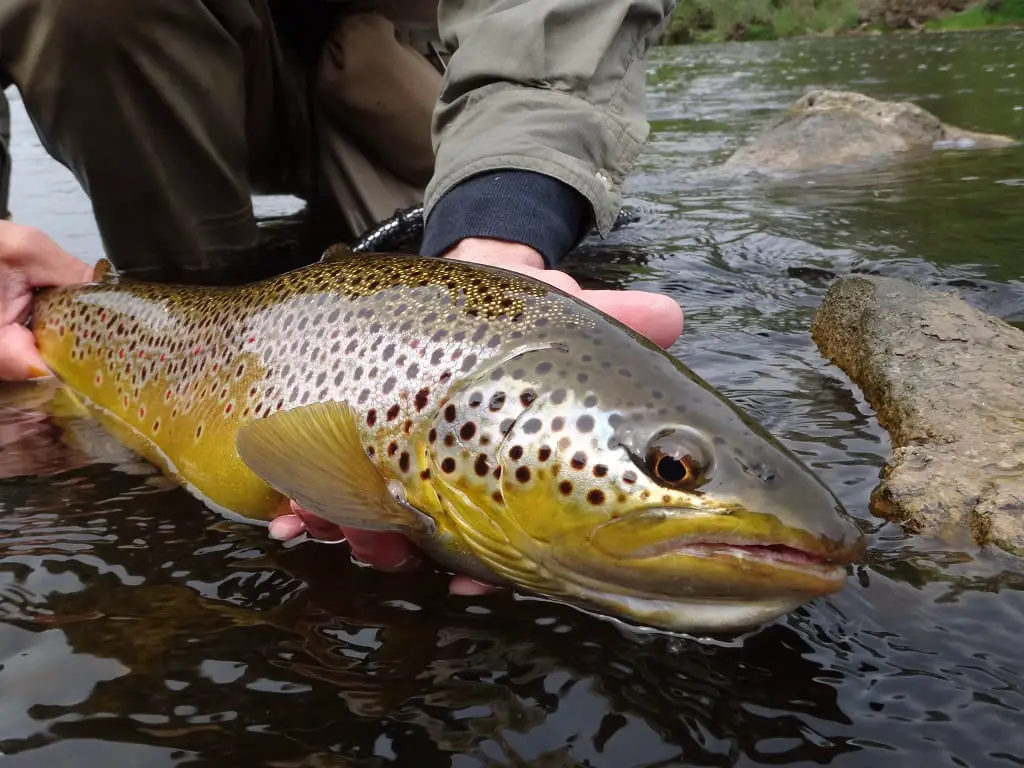 Get Your Advice From An Expert Advice
It's my job as a full-time river guide to teach people how to fish for trout, and there are things that I and other guides do different or better which is why most guides catch a lot more trout than most anglers. If you want to catch more trout, stick with us and you'll learn what I teach and tell my clients.
If you want to know how to fish for trout you need to know some of the most effective methods like bait fishing, float fishing, fly fishing, and fishing with lures. It's also very important to know what to use, where to fish, and when the best times to fish when you are fishing for trout.
I have heard all the most common questions and seen the problems that new anglers have when learning how to fish for trout on their own. Learning trout fishing can be fun but it can also be frustrating at times, with these guide tips and answers to some of the most common questions can make it easier for you.
This is part two of a series on how to fish for trout. Part one is called Trout Fishing 101: Get Started With These Guide Tips and it's all about getting started with learning to trout fish and it covers great content like:
Fishing licenses and trout tags
Rods, reels, and lines for trout fishing
Terminal tackle and other gear you need to get you started in trout fishing
The baits and lures you will need to fish for trout
How to find trout rivers near you and where to find trout in the river
Methods on how to fish for trout.
For this blog post, I consulted other top guides and I also went through 20 other website pages about how to fish for trout to make sure I didn't miss anything and to be sure I covered every single aspect of trout fishing for you.
During my research, I found all kinds of misleading and bad advice, so I discussed those things with the other guides to get their opinions and to get the right answers for you.
Trout Fishing Tips And Advice Every Angler Should Know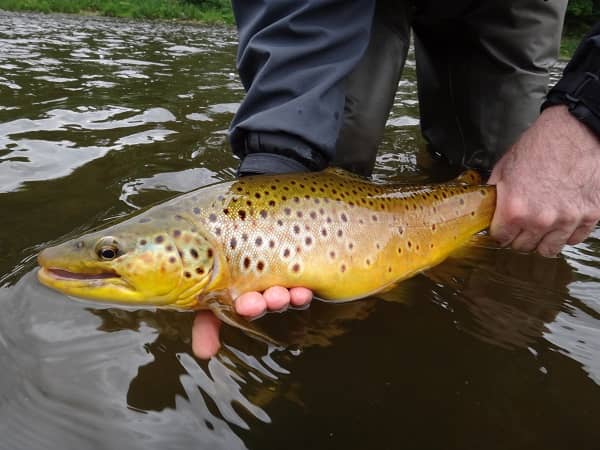 Some years I am on the water 7 days a week for over 100 days straight teaching anglers how to fish for trout and being on the water this much I have seen a lot of things about trout fishing that most anglers will never see.
The fish in this picture was caught over 12 times by me and my clients over a couple of months which provides some very valuable information that most trout anglers would never know.
Catching this fish so many times in the same spot shows me that proper handling and releasing of a trout works.
It also shows me that a big trout like this is territorial and it's predictable and will eat many different baits if I or you present them well.
Because I have caught multiple big trout, some up to 26 inches in the exact same spot it also shows me that big fish can co-exist together in such small areas as this.
When you are just learning how to fish for trout, or even if you have been fishing for trout for many years you wouldn't likely get to know this kind of stuff because you are not on the water seven days a week like river guides would be.
These tips below will be valuable to anyone learning how to fish for trout and even to more experienced trout anglers.
Catch and release works! I fish in some public areas where anglers regularly keep fish and because of that, there are very few big fish around. It's simply because the guys keep them so there's just less of them.
In other areas that are near to these same public sections and on the same river there are private property sections where nobody is allowed to fish or keep fish and because of that, there are lots of nice big trout.
This shows me that keeping fish could mean less fish for everyone and it could mean less fish in the future for you which is why I advise that all anglers practicing catch and release.
Air Kills Fish – This means if you plan to release your fish but you want a picture it's best to land them in a net and keep their heads below the water while you get the hooks out and get the camera ready. Take a quick picture and get that fish back in the water in 30 seconds or less. Fish can survive out of the water for about as long as you can survive underwater without air.
Banking A Trout Can Kill Them – Studies show that dragging fish up on the rocks or a hard bank to land them can kill them by smashing their brains off the rocks when the fish flips around, even if the trout swims away looking healthy they can still die shortly afterward.
Keep The Slime On The Fish – If you are going to release your fish, wet your hands first so you do not remove the protective slime on the trout's body. It's also not a good idea to use cloth-type gloves when handling fish because this type of glove removes a lot of the slime on the fish. Leaving the slime on the trout can prevent the fish from dying later from bacterial infections.
Use Barbless Hooks – Use barbless hooks if you are going to release your trout. The mouths of small trout are soft and barbed hooks can rip their lips off or kill the fish when you try to remove them. As long as you apply steady pressure on the fish the barbless hooks should not come out during the fight, but they should come out easily when you try to release the fish. Barbless hooks also don't get stuck in the net as bad.
Check The Water Temperature Before You Fish – If the water temperature is over 68F trout will stop feeding so you may be wasting your time. If you know the water temps are too warm in that area you can move to colder sections of the river where trout will remain active or go to another river.
Land Trout Fast In Warmer Water – When the water is at the warmer temps of 65F or above it's best to try to land the trout as fast as possible so that you do not stress them out or kill them after releasing them. This is even more important on bigger trout that get stressed out easier. When the water is really cold they are a lot more hardy and release easier.
Revive Fish Properly – Revive the fish facing into the current so the current goes into their gills in the right direction and they revive faster.
Trout Face Up River – Almost always, trout will face up the river so it makes sense to fish them accordingly. Knowing this allows you to sneak up on them better and present your bait from the top of the pool down towards them. Anglers learning how to fish from trout often spook fish before their bait even hits the water.
Trout Stay Put – Unlike trout in lakes that might swim around looking for food, trout in rivers tend to stay in one spot while they feed. I tell my clients to think of the river like a big conveyor belt of food. The trout can sit in one spot all day, all week, and even all year and just feed on food that comes to them.
Fish Fewer Spots – Anglers learning how to fish for trout will often spend more time walking and looking for fish than they do fishing. They figure if they fish 50 spots they will catch more trout than if they fish 10 spots and they often fish most of those 50 spots way too fast.
Slow it down, approach the spot slowly, and don't spook the fish before you even cast, and then cover every inch of a good pool and you may find you end up catching more fish. I don't know how many times I watch an angler fish a spot for 5 minutes, catch a couple of small fish, and then leave when there are 50 more trout in that pool that they missed. I go in after them and catch all the ones they just missed. I do it all the time!
Trout Don't Always Bite – When you are learning how to fish for trout you may have lots of days when you don't catch any trout at all. Even advanced anglers have these days from time to time because trout don't always bite.
I have had days when I fish a spot and catch nothing all day and then I go back the next morning and land 50 trout in 2 hours. Those 50 trout were all there the day before so why didn't I catch them then?
When there is an aquatic insect hatch the fishing can be great, but when there is no hatch the trout can sit dormant until the next hatch occurs or until the conditions are more suitable for feeding, and this means that even in a river full of fish sometimes they just won't bite, regardless of how good you or your bait is.
Weather patterns can also affect fish and make them not eat at times.
Trout Feed By Sight More – It is proven that trout are visual feeders so sometimes fake worms, fake eggs, fake grubs, or flies can catch as many or more trout than the reel ones do. I don't use or rely on scent to catch trout like new anglers learning how to fish for trout might.
Presentation Is The Key To Catching More Trout – The number one thing I would recommend to new anglers learning how to fish for trout is to learn how to present your bait well and you will catch more fish! Just because you have the right bait on and your setup is perfect doesn't mean you will catch lots of fish.
There's a reason why I will catch 10 trout and another angler near me will only catch 1 or 2, and it's often the way I present my bait to the fish and not the bait that I am using or the fact that I know where the fish are. If you follow this blog you will see that I have information on how to fish better and improve your presentation.
Avoid Fishing In Dirty Water – Avoid dirty water when trout fishing because if the water is too dirty the trout can not see your bait or your lure. Lures with vibrations and rattles are often best in dirty water and bigger brighter baits are also better than small ones when the water is dirty. Fish may only be able to see 6 inches in front or beside them in dirty water.
Mapping For Spots To Fish – If you are new and just started learning how to fish for trout you may not know where to fish. Google Maps can be a great way to find new spots to fish for trout. I will also give you some other tips to find out where to fish in part one of "learning To Fish For Trout".
DO NOT LITTER! – Some guys think that if they leave their litter on the side of the river some good guy will pick it up for them or it will eventually get washed away. Unfortunately, this doesn't always happen and many spots that I and other anglers used to fish are now posted as private property because the landowner just got fed up with the garbage from these a-holes.
Litter gives all anglers a bad reputation. So their ignorance and laziness not only ruins it for other anglers but it ruins it for themselves, but they're just too stupid to figure that out. So don't be one of those jerks that everyone hates and make sure you pick up your garbage. FYI – Your net is a great tool for taking litter back to the car.
Do Not Trespass – Do not trespass, it's illegal and you could get charged for it, enough said.
Hire A Guide Or Find A Mentor – If I had to learn how to fish for trout all over again, or if I wanted to learn a new sport like golf, I would hire a pro to teach me. Hiring a pro can take you from struggling to catch a trout or two each time you go fishing to catching 20 or 30 almost every time you go out, and it can happen after only 1 or two guide trips if you have the right trout fishing guide.
Be Careful Where You Get Your Trout Fishing Advice – Even though there is more information on how to fish for trout than ever before, there's also information overload, and unfortunately with that comes some bad information. You see, not all bloggers or website owners know their stuff or their information and skills are limited.
I've come across all kinds of bad or misleading advice on trout fishing from so-called experts, bloggers, websites, store employees, and from just average anglers on talk forums and fishing group boards. The sad thing is that as a new angler it's hard to tell what's the right advice and what's just bad advice which is why I started this website in the first place.
Wire Leaders For Trout – Never use a wire leader when you are fishing with bait for trout because they will see it and not eat your bait. The only time I will use a wire leader for trout is if I am fishing lures in an area that also has pike or musky, which doesn't happen often.
Snap Swivels For Trout – Never use snaps or snap swivels to attach a bait. Tie the line directly to the hook. The only time I use snap swivels is when I am fishing with some lures like spinners that may twist the line. The Snap swivel will make changing the lure easy and the swivel part will prevent some line twist.
If I do use a snap swivel for lures, I only use black swivels and not the shiny silver or gold ones. I also use good quality ones that won't break, bend, or open when fighting a big fish.
What Is The Best Time Of Day To Fish For Trout?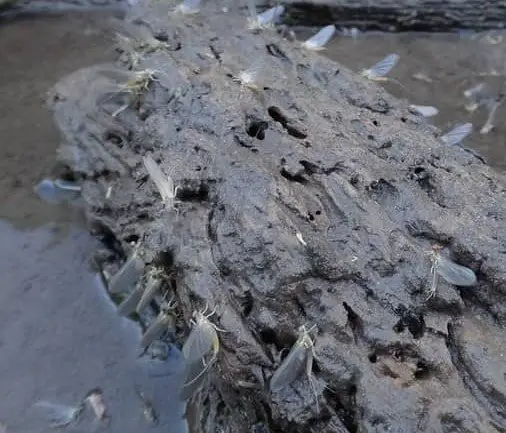 I get asked this question a lot by my clients and my normal answer is not what they expect. Most articles you read will tell you the best time of day is early in the morning or just before dark but I tell anglers the best time of the day to fish for trout is when the bugs show up.
Yes, the fishing is often best in the morning or the late afternoon but if there are no bug hatches during these times the fishing can be slow.
Sometimes there's a bug hatch a 1pm on a bright sunny day and the fish go on a feeding frenzy, Therefore 1pm on this day is the best time of the day to fish. As a guide who is on the water sometimes 7 days a week for 100+ days straight, I have seen this happen way too often.
Guide Tip: Many areas and many rivers will have what we call hatch charts which will help you determine when certain bugs will appear on the river. Hatch charts are like a calendar and because the insect hatch times are somewhat predictable experts and anglers have been able to make hatch charts that will give you a basic idea of what bugs should be around at a certain time of year.
Some bugs are so predictable you can guess the time of day they should appear and the type of weather that they like to hatch on.
I tell my clients that I can almost set my watch by the start of the Hendrickson mayfly hatch in late April because the first ones should appear around 1:30 pm, and on most days the first Hendrickson will be within 10 minutes of 1:30 pm, yes, they are that predictable sometimes.
Before you go fish a river, do a quick online search for hatch charts for your area or for the river you want to fish and see what comes up. If there is no hatch chart for your river there may be a hatch chart for a more popular river that is close by, and often rivers in the same areas will have similar or the same bug hatches and times.
Are Mornings A Good Time To Fish For Trout?
In general, the mornings are a good time to fish for trout since many trout will not feed well at night in the dark, and therefore they will be hungry in the morning.
Morning also provides the first light which helps the fish see their food better, and it's normal for the insects to become more active later in the morning and as the water warms up a bit. The morning is also cooler which may mean the river temperatures are better for trout which is most common during the very hot days of summer.
During the winter, mornings can often be the worst time to fish because the water is at its coldest and is too cold for the trout to be active – see below for more on that.
Are Evenings A Good Time To Fish For Trout?
Most of the time evening fishing is good for trout fishing. It's not uncommon for some species of aquatic insects to mate and lay their eggs and then die just before dark and into the first couple of hours into the night. We call this a spinner fall. For new trout anglers just learning how to fish for trout, this can be the time of day when trout are in a feeding frenzy and are easiest to catch.
Evening time is also a time during the summer when the water temperatures start to cool off and become more suitable after a hot day, and that can also increase fish activity.
When Is The Best Time Of Year To Fish For Trout?
One of the best times to learn how to fish for trout is in the spring because the fish are most active all day long and it's easier to catch them at this time of year.
In most areas trout fishing is best in spring and early summer which is when the most bug activity happens and when they are most active due to good water temperatures. Spring is also a time when the water temperatures, water flows, and oxygen are at their best.
Is Fall A Good Time To Fish For Trout?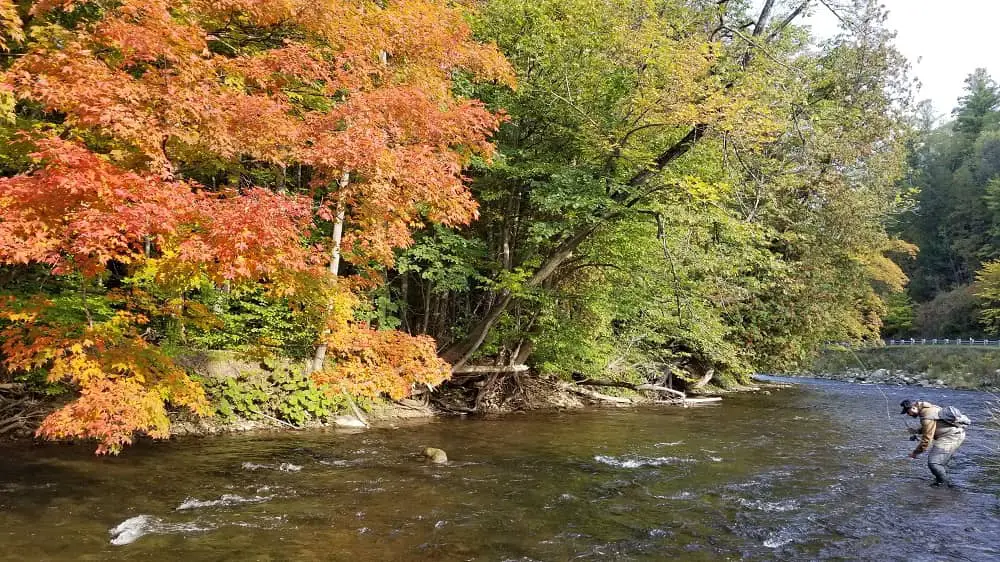 Some trout, like the brook trout and the brown trout, spawn in the fall, and they can be very aggressive before and after they spawn.
During the spawn, it's best to leave them alone and let them make more trout that you can catch in a few years.
New anglers learning how to fish for trout can often be tempted to fish for trout on the spawning beds because they can see big fish in shallow water and it's hard to pass up. But this is a big mistake because trout on the spawning beds are not interested in feeding and because the water is so shallow the fish see the angler so they go lock-jaw.
Unfortunately, these anglers waste all their time on these spawning fish, and if they are lucky they end up snagging a tired old fish that doesn't fight very well when the smart anglers are fishing the pools for pre-spawn and post-spawn fish that are hungry and aggressive and will still fight well.
The guys fishing in the pools catch 10 times more fish than the guys on the spawning beds do. It's always the new anglers and the dumb unskilled anglers that I see trying to take fish off the beds so do yourself a favor and focus on skill and catching fish that actually want to eat.
If you are not sure what spawning trout look like check out this video of spawning trout on YouTube
Once the spawn is complete trout are often hungry again and will eat anything you throw at them so target them in the pools above and below the spawning beds and leave the spawning fish alone.
Fishing in the fall can also be a good time to learn how to fish for trout because the colder rains and cooler nights will help improve water temperatures and get those sluggish summer trout active again.
Just make sure the fishing regulations permit trout fishing in the fall since I know that some states have delayed harvest rules, or no fishing rules at this time, so check before you go.
Is Winter A Good Time To Fish For Trout?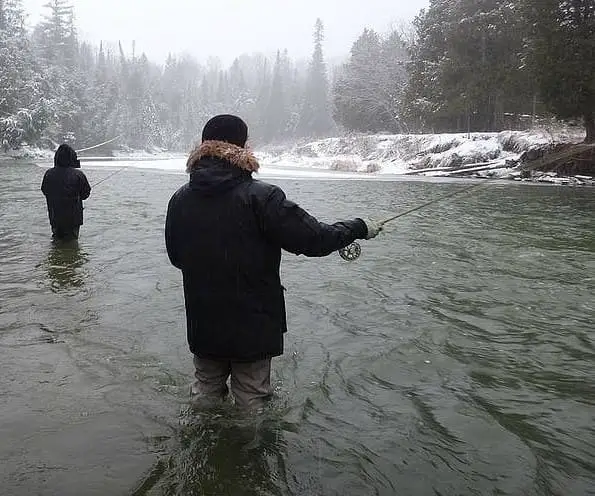 You can still learn how to fish for trout in the winter as long as you know how to stay warm and your state allows you to fish for trout at this time of year.
Some good trout fishing can happen during the winter at certain times of day but under severe cold conditions, the trout will often be less active all day and will not fight as well.
Fishing during the times between 11 am and 4 pm may be the best time during the winter.
Check out my page on Fishing In The Winter – Tips On How To Stay Warm so you can enjoy cold weather fishing without freezing.
Also using a slower presentation like a bait below a float is likely going to be better in the winter than using fast retrieved lures. Remember fish can be sluggish and less aggressive in really cold water so they may not want to chase a lure.
If you fish lures in the winter slow them down or use lures that move slower with lots of action to entice the trout into biting. You can see some great winter lures for trout on my Lure Fishing For Trout page.
When Is the Best Time Of Day To Fish For Trout In The Winter?
During the winter, mornings can be the least productive time of the day, especially in freezing temperatures.
Overnight in the wintertime, the water temps can drop fast and they can drop well below the trout's tolerance level and these fast dropping water temperatures do not allow the fish to acclimate to the cold water which can make the trout go dormant.
As the water temperatures stabilize or as they start to rise later in the morning and in the early afternoon the fish can become very active again.
Where I live in the great lakes region my most productive time during the months from late November to late March is on sunny days after the sun has warmed up the water a couple of degrees which usually occurs between 11 am and 4 pm. This is when the water is at its warmest and the fish are most active.
Do Big Trout Eat Small Flies?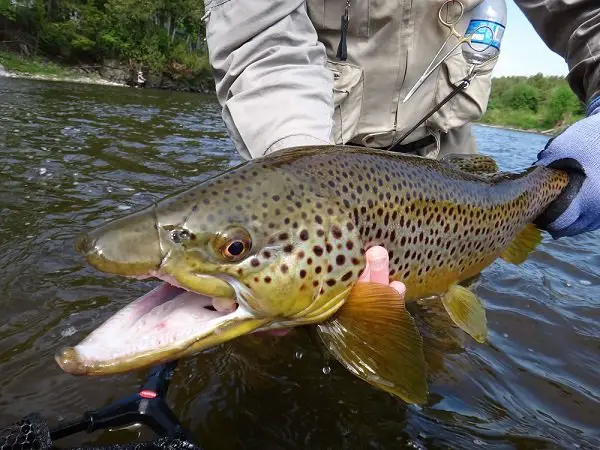 Despite what some other websites say, big trout do eat very small insects and some will eat them often.
I and my clients have caught hundreds of big brown trout and rainbows over 20 inches on flies that were less than a half-inch long.
Some big trout will even gorge all day on midges as small as a mosquito.
If there are enough small flies in the river or the area, trout like the one in this picture can get big with a diet of primarily small insects.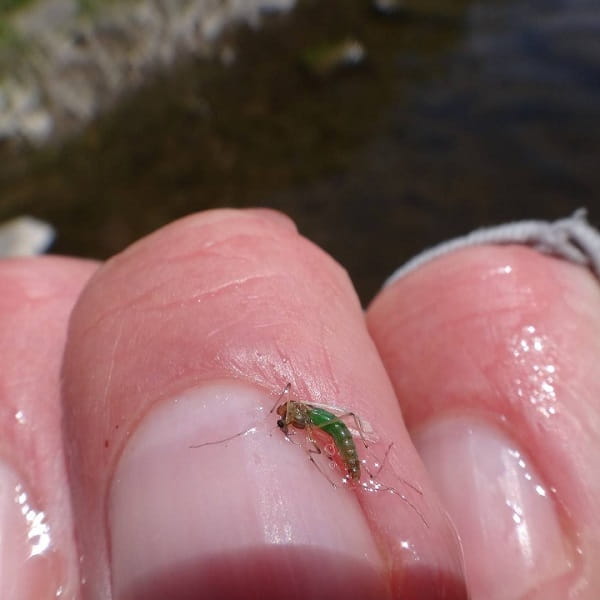 New anglers learning to fish for trout often go too big on their bait and too big on their hooks because they think the bigger the bait, the bigger the fish.
Going too big is often a mistake and I recommend starting too small and then start going bigger and bigger if the trout do not eat the smaller baits first.
Starting too big can spook the fish and make them stop eating so start with a more natural and less intrusive size and you may be surprised.
Be sure to check out the page on the Best Trout Flies.
Is Trout Fishing Good In The Rain?
The simple answer is yes, and the truth of the matter is that I and my buddies try to plan our fishing trips so that we fish on the days when it rains. We do this because we know that the big trout will often become more aggressive in the rain and after the rain and that they are easier to catch then.
For reasons why the trout get so active and tips for fishing in the rain and after the rain, check out my two pages, Trout Fishing In The Rain – Is It Better? and Trout Fishing After Rain – Expert Guide Tactics And Tips
This article is part of a series starting with our very popular article Trout Fishing: A Complete Guide.
To Be Continued . . . .
Check out part 3 of this 3 part series on how to fish for trout. Part 3 is called How To Catch Trout and it covers the remainder of the questions anglers should know including What's The Best Bait For Trout?
Tight Lines,
Graham