Fly Fishing Virginia: Where And When For More Fish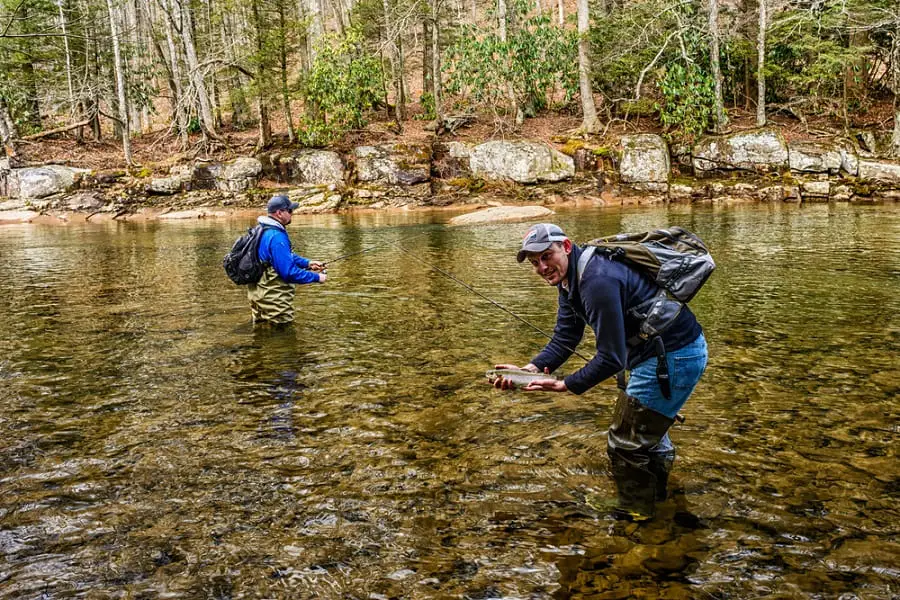 Fly fishing Virginia is good for wild rainbow trout, brown trout, and some brook trout in pristine rivers. Virginia trout fishing can also include stocked brook trout and rainbow trout which can be found in some lakes and streams and wild brown trout fishing can be excellent.
For some fly anglers, there is more than just trout fishing in spring-fed rivers, there is also lake fishing for many native fish. Let's find out more about Virginia fly fishing.
Fly Fishing Virginia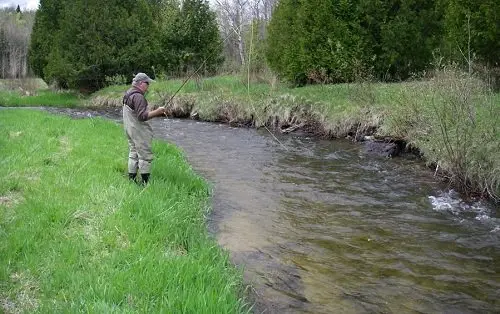 Virginia is rich in beautiful landscapes, gorgeous mountain trout streams, and plenty of great spots for fly fishing.
There are plenty of experienced anglers who think Virginia is the best part of the country for fly fishing, and they might be right.
We're certainly not going to offend any Virginians in this comprehensive guide to Virginia fly fishing.
To start, let's answer the first question anglers who are new to the area have.
Is Fly Fishing Virginia Good and Why?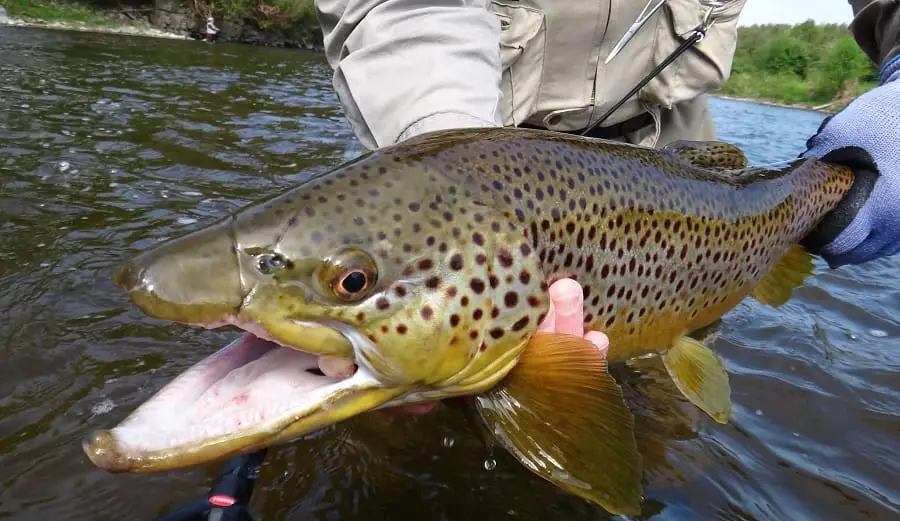 With trout streams in excess of 3,500 miles, Virginian anglers have more opportunities for quality fly fishing than anyone has a right to ask for.
That number includes more than 2,900 miles of wild streams and 600 miles where stocked trout are often released.
In addition to the wide variety of habitats woven throughout Virginia's mountainous forests, there is so much variation in the terrain that you're sure to find spots you love.
No matter what your strengths and weakness are, there's something for everyone.
While trout is likely the most abundant species of fish in the waters of this region the chance to catch wild trout is far from all there is.
Virginia has some very big trout with some over 30 inches and over 10 pounds.
As seen in the video these huge trout can be caught on flies.
Some of the trout rivers and lakes will also have other species like bass, pike, and panfish, so no matter what you're aiming for, you're likely to have a few trout in your creel as well. But that's to be expected with the wide range of habitats and massive biodiversity of the area.
So if you've got any reservations about fly fishing in Virginia, whether or not the fishing is good shouldn't be one of them.
What Species Are There When Fly Fishing Virginia?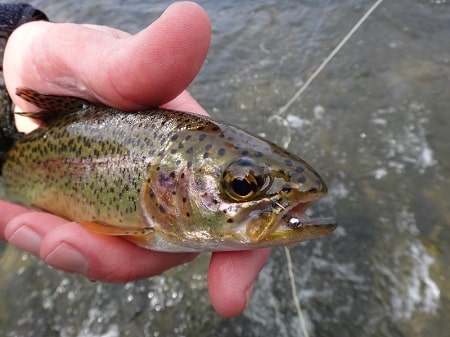 To start, we might as well mention that catching trout in Virginia is practically a sure thing.
The list of popular trout rivers and streams includes, but is not limited to:
Big Wilson Creek, ( Wilson Creek)
Smith River
Elk Creek
Dan River
Potts Creek
Cripple Creek
Roanoke River
South River
Little Reed Island Creek
Jackson River
Crooked Creek and Big Tumbling Creek
Blue Ridge
Whitetop Laurel
Fox Creek
South Fork Holston River
Other species common in Virginia include:
Black Bass: Largemouth Bass, Smallmouth Bass, Spotted Bass
Panfish: Black Crappie, White Crappie, Bluegill, Flier, Green Sunfish, Pumpkinseed, Redbreast Sunfish, Redear Sunfish, Roanoke Bass, Rock Bass, Warmouth
Striped Bass: Hybrid Striped Bass, Striped Bass, White Bass, White, Perch
Perch: Sauger, Walleye, Saugeye, Yellow Perch
Pike: Chain Pickerel, Muskellunge, Northern Pike
Catfish: Blue Catfish, Channel Catfish, Flathead Catfish, White Catfish
Shad/Herring: Alewife, American Shad, Blueback Herring, Hickory Shad
Invasive species include Snakehead and Alabama Bass.
Fly Fishing VA Seasons
Most areas are good year-round in Virginia. This is where we start validating the claim made in the first section. But, of course, some locations are going to be better than others at certain times of the year.
Further, certain lakes are stocked seasonally with trout, which is part of the reason fishing here is so perennially good. Seasonally stocked lakes include:
Lake Anna: This central Virginian location is stocked periodically and largemouth bass can be caught all year long.
Lake Moomaw: Crawfish can be found here year-round and trout can survive long hot summers by hiding in its deep depths.
Laurel Bed Lake: This 330-acre mountain lake is stocked with trout in the Fall.
John H. Kerr Reservoir: This lake which shares a border with North Carolina, has lots of boat docks and is one of the biggest and best largemouth bass fisheries in the country.
Spring Fly Fishing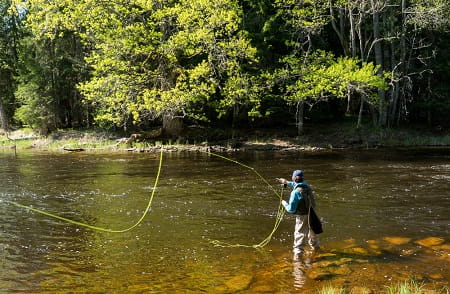 Like most things, fishing will start to come alive this time of year, particularly in March and April.
Hatches are going to start happening and the bass will begin moving into shallower waters. This is the time of year for Mountain brookie fishing.
See: Spring Trout Fishing and Best Trout Flies.
Summer Fly Fishing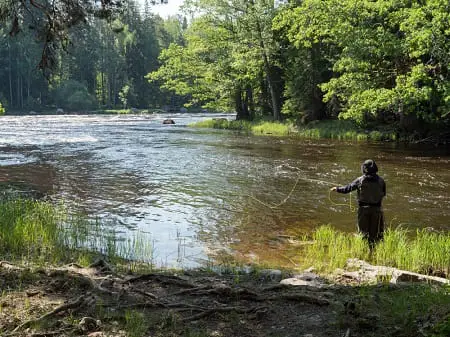 The spring-fed trout that are particular to this part of the country will be ready to catch in the summertime.
Ideally, you want to head out in July or August when it isn't too hot.
During the high heat of summer, the trout are going to be hiding in the depths. But you will still be able to catch other things, most likely.
See Summer Trout Fishing Tactics.
Fall Fly Fishing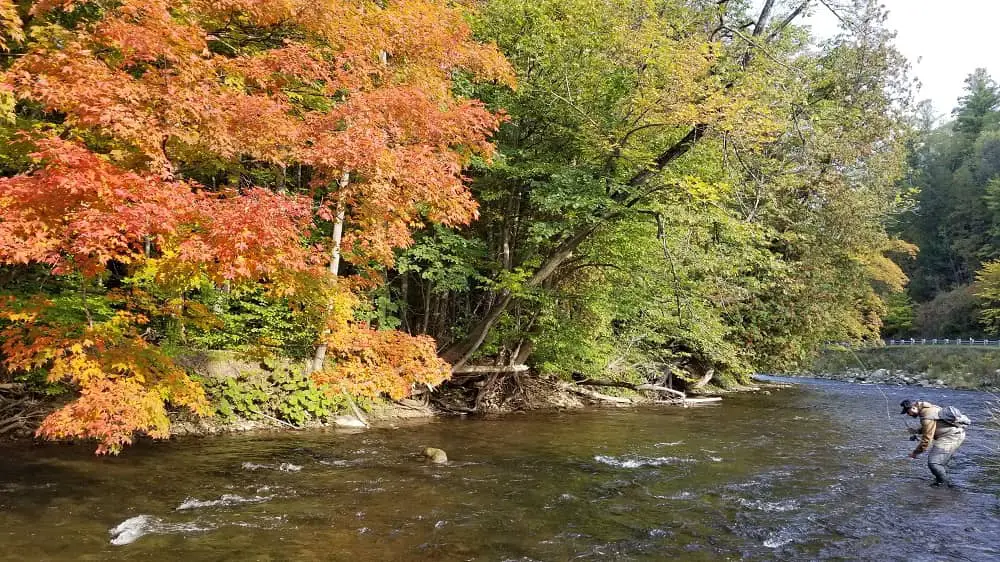 Again, the spring-fed trout rivers are going to provide some great trout fishing in the fall so this in not the time to give it up for the season.
On the lower sections of the bigger rivers, you're going to be catching bass this time of year, which is not something to complain about. They will feed quite actively before going dormant for the cold season.
Winter Fly Fishing
Wintertime is the time when the most serious Virginia anglers come out to fish. You have to pick your spots more judiciously, but there are still plenty of fish to be caught. The Shenandoah is excellent for winter fishing, as are the Blur Ridge Mountains.
Temperatures will be in the low 40s, which some anglers consider warm. But it will get colder, especially in the mornings.
Dress warmly and use these guide tips from river guides that fish ice-cold rivers. Check out Fishing In The Winter: Guide Methods For Staying Warm.
Best Virginia Rivers For Fly Fishing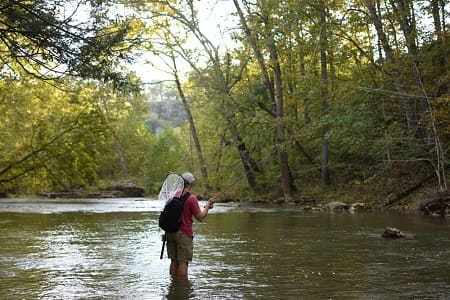 There's some debate as to whether fishing on rivers or lakes is better for fly fishing. In reality, it depends on what you're fishing for, what time of year, and where.
It also depends on what kind of scenery you like best. Certainly, rivers can feel more thrilling with the rocks, bends, moving water and more rapidly moving fish.
South River
One of many spring-fed rivers is the South River and it is considered by many to be one of the best trout streams in central Virginia. The South River near Waynesboro and downriver gets an influx of cold water and is excellent habitat for native trout and stocked rainbow and brown trout.
The South River is stocked annually.
Water temperatures will remain cold in the summer months so you will have holdover-stocked rainbows and browns that can get pretty big.
Check the fishing regulations because there are two areas where you can fish for trout which include the upper South River's "Special Regulation Area", and a "Delayed Harvest" section located in the city of Waynesboro. The South River has a fly fishing-only section.
Check the local fly shop for more information and a good fishing spot.
The New River
Ironically considered to be one of the oldest rivers on Earth, the New River is also thought to be the best fly fishing river in the state for warm waters species and it holds multiple state fish records.
Fly anglers can set their sites on almost every major game fish in VA. Panfish anglers and kids can target sunfish, Pearch, and bluegill, while trophy fly anglers can target smallmouth and Largemouth bass, striped bass, musky, and walleye.
The New River holds the state record Musky at 45 lbs 8oz, and an 8 lb 10oz. smallmouth bass state record. This is not the river you will find native brook trout or brown trout.
The Rapidan River
The Rapidan River runs through northern central Virginia and is among the cleanest native brook trout rivers on the east coast. It is known for good brook trout fishing with most brook trout 7 to 9 inches with some over 10 inches.
Good brook trout fishing starts in spring and gets better into late May which is when the water warms up enough and the brook trout will be willing to smash dry flies all day.
A popular and productive fly call the Mr. Rapidan fly was named after this river.
There is good fishing in the Rapidan wildlife management area.
Jackson River
This river is believed to be the best for trout fishing in Virginia. It is especially known for its big brown and rainbow trout. Springtime is the best season to fly fish for trout here.
Click the image to see this big Jackson River brown trout and other Virginia river fishing tips.
Big lake-run rainbow trout are caught in the late winter and spring above Lake Moomaw along with some big brown trout.
Below the dam is a tailwater fishery and excellent brown trout and rainbow trout fishing. There is also some good smallmouth bass above and below the lake but it's recommended to go further down the river where the water is a bit warmer and better for the bass.
Also, there is plenty of access is found below the dam but be sure to look for any private property signs.
Dry fly fishing using elk hair caddis, parachute Adams, and other dry flies can be effective. Late spring through to early June is best for catching rising fish on dry flies.
The 3-mile section of water above the Muddy Run swinging bridge is considered a special regulation zone so check the regulations before you go.
The Shenandoah River
Perhaps the most famous river in the state, the Shenandoah River is in the northwestern part of Virginia. It is known for trophy smallmouth bass and largemouth bass. Good hiking and scenery can be found in Shenandoah national park
Mossy Creek
Very accessible with plenty of fly fishing spots, this river is in the west part of the state and is stocked once each year with trout.
Wild trout don't do well here, but because it is full of stocked trout and anglers will generally fish them hard just after the stocking. These stocked trout readily take dry flies and nymphs.
Buffalo Creek
Similar to Mossy Creek with decent access, this is a cold water spring creek that has some good fly fishing for brown trout, rainbow trout, and brook trout.
It gets stocked annually and is a special regulation fishery so check the regs before you go.
An average trout is 10 to 14 inches but with a lot of food and cold water trophy trout over 14 inches and even over 20 inches are not that rare.
The stocked trout waters and multiple trout species mean this small creak can get busy and heavily pressured at times, especially during peak season which is late April, May, and early June.
These smaller creeks are often best fished with a fly rod in the 2 to 4-weight size.
Best Virginia Lakes For Fly Fishing
There are lots of lakes in Virginia, and the best ones for fly fishing are usually the ones attached to the best rivers for fly fishing. Although, if you want to go out with the family, a lake is usually a more agreeable spot.
Indeed, lake fly fishing is a great way to share your love of the sport with others. After all, keeping all the fun to yourself isn't very nice. Here are a few of the best spots.
Bear Creek Lake
The spectacular views of Bear Lake make it a very popular spot. It's a 40-acre lake with mooring spots for boats and amenities for campers and tourists. The park opens at 8 in the morning and you can expect to catch, largemouth bass, channel catfish, black crappie, and, red-ear sunfish.
Lake Anna
One of the largest inland freshwater lakes in the state, Lake Anna is more than 20 acres in total. There are over 30 species of fish that anglers aim for here. There are also lots of nice picnic areas, making it easier to bring the family along.
Lake Moomaw
Located in western Virginia, Lake Moomaw is huge. It encompasses more than 2,530 acres and is an excellent spot for winter fishing. It is stocked each year with bass, crappie, sunfish, trout, and catfish.
Do It Yourself Fly Fishing Trips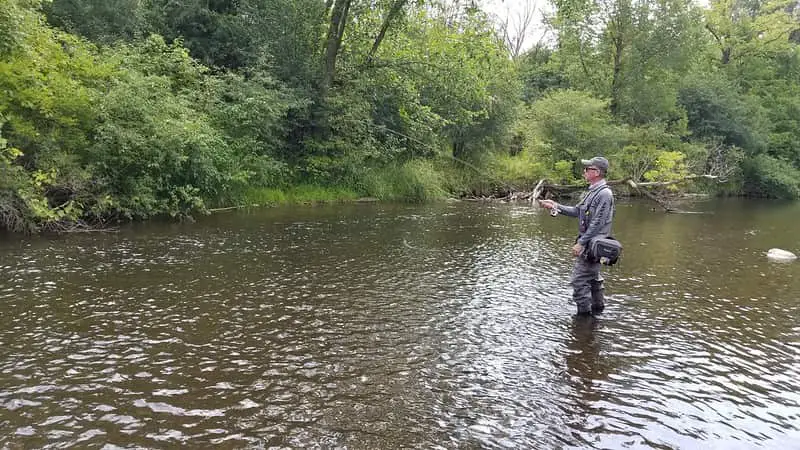 Oftentimes, the best way to reach the best spots is to take what's called a DIY Fly Fishing Trip.
These are made possible by established fishing outposts and professional pilots who can get you there.
You bring your own food and gear. Your pilot will drop you off, and you get the whole place to yourself for an agreed-on period.
Admittedly, this kind of service isn't widespread in Virginia, not like it is in the Great Lakes area. We found one reputable outfit that delivers services like these up in the Blue Ridge Mountains.
It's called Smith Mountain Lake, and according to our research, it is the best outfit of its kind in the area. You'll get access to more than 500 miles of shoreline and plenty of waterside activities are supported.
You can check out their website here.
Fly Fishing Northern Virginia
Northern Virginia is not well known for its fly fishing. Nevertheless, there is a dedicated community of anglers who treat fly fishing in that secluded part of the state as something of a sporting sacrament.
Arguably, the reason these elite fly fishers are so attached to the north corner of the state is probably the feeling of exclusivity. The state narrows down quite a bit in the north quarter, and it gives you a much better chance of getting a more solitary type of fly fishing experience.
There is one website committed to the idea and to the community. But if you go up there and tourist the place up, don't tell them we sent you. Here's the site.
Regulations and Fishing License
Naturally, the first thing you need to fish legally in Virginia is a license or permit. These can be obtained here. You can buy your license in person, if you wish, at one of the hundreds of locations, listed here.
Lifetime licenses are available and can be obtained here.
There are a lot of rules to remember and follow. Probably the best thing to do is get a printout from the nearest government installation near to where you intend to fish or bookmark this page on your mobile phone.
One example is the moratorium of holding Shad, standing at the time of this writing. You are allowed to catch them, after all, you aren't in charge of what bites are you? But you are required to throw them back ASAP.
To meet the residency requirements, you will need to:
Have lived in the state for at least six months
Have been a domiciliary resident of the state for at least two months on approval
Be a legal Virginia voter
Be a member of the armed forces
Be an unnaturalized person who owns real estate in Virginia
Or, meet one of the many exceptions
You can get your licenses online at Go Outdoors Virginia, create a new customer account, and buy.
Virginia Fly Fishing Guides
Of course, the easiest way to fish legally is to hire a fishing guide or fishing charter. Virginia has a huge number of such outfits, 92 to be exact. Any one of them will take care of most of the details, ensure you get properly licensed, and some will even help out with the vacation photos.
Here's our list of the top 10 Virginia fishing guides, ranked by their customer approval ratings on the Web:
1. Islander Sportfishin 5.0
2. Marcia B. Sportfishing 4.9
3. Marshland Expeditions 4.9
4. Sea Mee Charters 4.9
5. Four Winds Chartering 4.8
6. Payback Sportfishing LLC 4.8
7. Reel Release Sport Fishing 4.8
8. AfishinadoVB Fishing Charters 4.8
9. Prowler Fishing Charter 4.5
10. AM Services 4.4
These are all high-quality guides and charters. In general, you will pay more for the ones ranked at the top. But if you're looking for a budget experience, any of these will serve you well. If you just want to get out on the water, with no frills and no hassle, navigate to the second page of results at Fishing Booker, and enjoy!
Fly Fishing Virginia Q&A
Whether you are a new fly angler looking for stocked trout or an experienced angler looking for larger trout hidden in pristine streams coming out of the mountains, fly fishing in Virginia has it all.
If you have any questions, comments, tips, or advice about fly fishing in Virginia let me know in the comments section below.
Tight Lines
Graham