7 Best Downriggers for Salmon and Steelhead
Downriggers are important fishing gear for anyone who trolls in deep waters and wants to keep their bait or lures at the same depth as the fish they are targeting. This article covers the best downriggers for salmon and steelhead; however, these downriggers are suitable for any fish species.
Downriggers work in tandem with trolling fishing rods while using heavy-weighted downrigger balls that get your lure or bait down to the precise depths where you need it and then keep it there while trolling. It's a very simple and very effective way to catch salmon and steelhead in the deep waters.
Key Takeaways
| Consideration | Details |
| --- | --- |
| Type of Downriggers | Electric and Manual |
| Size and Arm Length | Depends on the size of the boat |
| Mounting Type | Portable or Permanent |
| Base Compatibility | Check base width and type before purchase |
| Electric Downriggers | Higher cost, easier bait/lure depth management, might have additional features, requires external power source |
| Manual Downriggers | Lower cost, mechanically simple, reliable, manual line management |
| Discover the Best Models | Dive into the article for detailed reviews on the top models for both electric and manual downriggers, each with their own unique features and capabilities. |
What to Consider in a Downrigger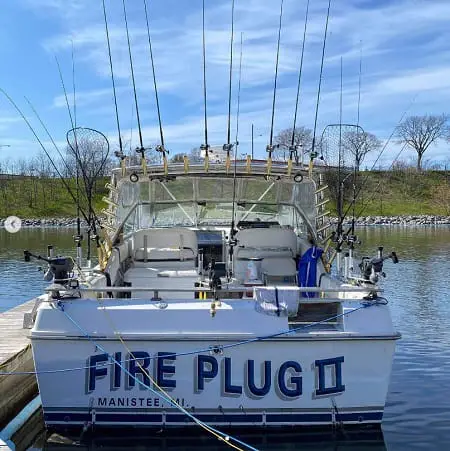 Size and Arm length: You'll need to start with the size of the boat to determine the optimal arm length for the downrigger. A small boat can use a shorter arm, while a bigger boat will need more clearance from the hull.
Cost: Downriggers can range from small lightweight portable downriggers that cost around $100 to heavy-duty electric downriggers that cost over $2000.00. It's best to choose the best model in your price range, and we will cover the best downriggers in all price categories.
Portable Or Permanent: You can get portable downriggers that you can put on and take off small boats. Permanent mounted downriggers are meant to be permanently mounted to your boat.
Downrigger Base Compatibility: You will need to determine if your boat is even capable of mounting some of the bigger electric downriggers. Before you buy, look at the base width or the type of base on each downrigger and compare it to your boat's side rail to determine if they are compatible. You may need to get a custom bracket for your boat.
Electric Or Manual: Consider whether you want an electric model or a manual one. Downrigger electric models might come with added features that make it easier to lift and drop the baits to the desired levels.
Combine them with a good Lowrance or Hummingbird fish finder to help find the fish while trolling.
Although electric downriggers are nice, the simplicity and relative affordability of a manual make them more accessible.
Pro Tip: Most anglers prefer shprt rod with softer tip so when the clip releases the spring of the rod can set the hook. See Best Trolling Rods For Salmon and Best Trolling Rods For Steelhead.
Electric Downriggers – Pros and Cons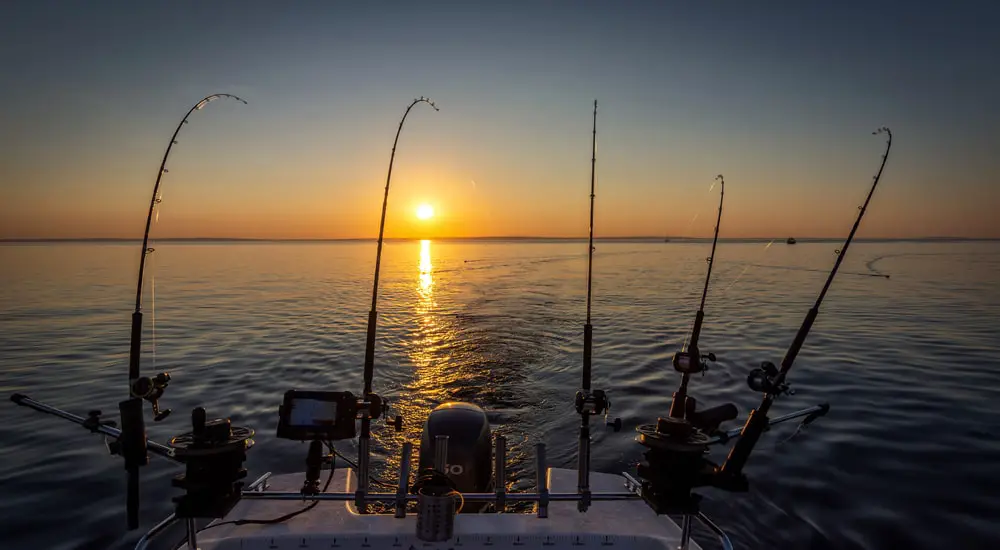 The electric type of downrigger makes it a lot easier to get your bait or lure down to the desired depth and retrieve it faster than it would with a manual model when moving from one location to another. Many are equipped with fish finders, and some can be programmed to maintain a specific depth or distance from the bottom.
The cost to obtain an electric one is significantly higher than for a manual model, and more things could go wrong that would require fixing. They also need an external battery to power them.
Pro Tip: Most angler prefer to use monofilament lines on thier downrigger reels. See Best Lines For Trolling.
Manual Downriggers – Pros and Cons
Manual downriggers are mechanically sound and easy to use, maintain, and repair when needed. One with an analog depth counter will tell you all that you need to know about the depth and how much line you have out.
The only real negative is that you have to crank the handle yourself to raise the downrigger ball and cable which can be hard with a heavy ball that's down over 200 feet.
Pro Tip: One of the most popular baits to use with donwriggers is the trolling spoons. See Most Effective Trolling Spoons For Salmon.
Price
The right downrigger will fit your available budget and provide you with good service for many years. If your budget is low, a manual is your best bet. If you don't mind spending up to a grand or more and like a lot of features, an electronic one will suit you.
Mounting to Boat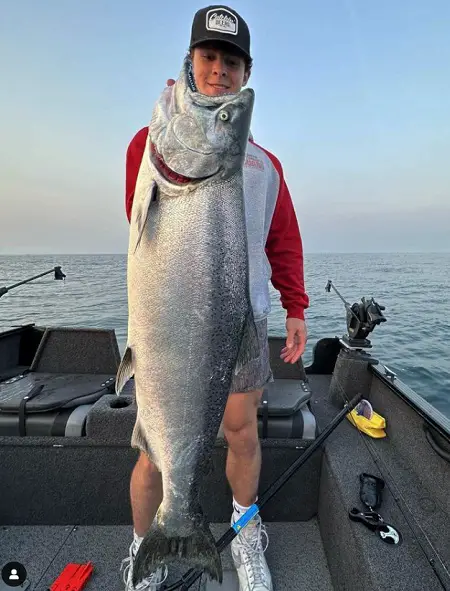 The mount needs to be solid and not loosen while you are on the water. An adjustable base that enables you to reposition the downrigger helps.
Use the screws and mounts that come with the downrigger.
If you need extra bolts or screws, be sure you use stainless steel.
Best Electric and Manual Downriggers Comparison
| Category | Model | Key Features | Additional Notes |
| --- | --- | --- | --- |
| Best Overall Electric | Cannon Optimum 10 BT | Integrated control screen, Telescopic boom 24-53 inches, 2 rod holders, Up to 250 ft/min retrieval | Adjustable angles |
| Best Under $1000 Electric | Scotty 2106 | Up to 312 ft/min retrieval, 16-position swivel pedestal mount, 3-5 ft stainless steel boom, 300 ft of 180-lb test cable | Clutch brake, digital counter |
| Best Under $500 Electric | Cannon Magnum 5 ST | 250 ft/min retrieval, 24-inch stainless steel arm, Mechanical line counter, 250 ft of 150-lb stainless steel cable | Short-stop feature, positive ion control |
| Manual Downrigger 1 | Cannon Uni-Troll 10 STX-TS | 2:1 retrieval speed, Telescopic boom 24-53 inches, Dual-axis rod holder, 200 ft of 150-lb test steel cable | 3-digit depth counter, line release |
| Manual Downrigger 2 | Cannon Uni-Troll 10 | Similar to Cannon Uni-Troll 10 STX-TS | No mounting bracket |
| Manual Downrigger 3 | Cannon Lake-Troll | 18-inch arm, Vertical spool, manual crank, Swivel-head depth counter, 100 ft of steel cable | Affordable, simple, and effective |
| Best for Small Boats | Scotty Laketroller | 100 ft of steel cable, 2-inch aluminum clamp, 5-lb weight capacity | Ideal for smaller boats, made from nylon and steel |
The Best Electric Downriggers
1. Cannon Optimum 10 BT Electric Downrigger – Best Overall
An integrated control screen on the Optimum 10 BT electric downriggers lets you change the weight, amounts of line, temperature, and display speed to precisely control your depth.
The downrigger can also track the bottom to keep your bait or lure at a specific distance from the bottom while trolling to ensure you are fishing the desired depth.
The downrigger has a telescopic boom that adjusts from a minimum of 24 inches to as much as 53 inches of arm length and has two rod holders with adjustable angles. An electric retrieval speed handles up to 250 feet per minute of line retrieval on a stainless steel spool.
2. Scotty 2106 High-Performance Electric Downrigger – Best Under $1000
The Scotty 2106 electrically powered downriggers give you the greatest retrieval rate from any electrically powered downrigger. It retrieves up to 312 feet per minute for a 10-pound weight line or 260 feet per minute with a 20-pound weight line.
A half-inch Kevlar drive belt does the heavy lifting while an illuminated and sealed digital counter tells you how much line is out.
A Swivel pedestal mount offers 16 positions for the downrigger with a single adjustable rod holder mounted rocket style. A stainless steel boom extends between 3 feet and 5 feet.
The downrigger comes with 300 feet of 180-pound-test cable and a clutch brake that has the industry's largest braking surface to provide an adjustable speed for deployment and retrieval.
3. Cannon Magnum 5 ST Electric Downrigger – Best Under $500
A line retrieval rate of 250 feet per minute makes the Magnum 5 ST one of the fastest downriggers on the market. A short-stop feature protects the boat against damage from a swinging downrigger weight when the waves are rocking and rolling the boat.
The downrigger gives you a 24-inch stainless steel downrigger arm and a fixed mounting base to keep things simple and easy to control while trolling for salmon and trolling for steelhead.
A mechanical line counter tells you how deep your fishing line is while a single dual-axis rod holder secures your fishing rod. The downrigger comes with 250 feet of 150-pound stainless steel cable and has a positive ion control that creates a fish-attracting energy field while neutralizing any negatively charged ions from the boat's hull.
Best Manual Downriggers
1. Cannon Uni-Troll 10 STX-TS Tournament Series Downrigger
Cannon's Uni-Troll 10 lets you reel in the line fast with a 2:1 retrieval speed while a clutch requires just one hand to deploy the line to exactly the depth that you want. A steel spool that supports a monofilament line while a telescopic boom gives you between 24 and 53 inches of arm length.
An end pulley stops the line from jumping, and a dual-axis rod holder gives you lots of options for positioning your fishing rod.
A mounting bracket enables you to switch from a manual unit to a base for one of Cannon's electric models. You get 200 feet of 150-pound-test steel downrigger cable, a three-digit depth counter, and a line release for rapid deployment.
2. Cannon Uni-Troll 10 Manual Downrigger
Manual Cannon downriggers like the Uni-Troll 10 are fairly standardized and generally of excellent quality. It's nearly identical to the tournament series downrigger described above but lacks the mounting bracket that enables connecting it to another downrigger's base.
3. Cannon Lake-Troll Manual Downrigger
The Lake-Troll Cannon downrigger is intended for smaller boats in inland lakes but also works well in saltwater. It is affordably priced with a design that is simple and effective, with an 18-inch long arm made of durable, a vertical spool, and a manual crank attached to the spool.
A swivel-head depth counter tells you how deep it is, while a clutch-brake system slows down its descent speed. The downrigger comes with 100 feet of steel cable, a tube-style rod holder, and a quick-mount tab-lock base. It works great on deep lakes and is saltwater-resistant for use in inlets while fishing in a small boat.
Best Downrigger for Small Boats
Scotty Laketroller Manual Downrigger with Portable Clamp Mount
Smaller aluminum boats, like V-hulls and Jon Boats, are ideal for mounting the Scotty Laketroller downrigger that enables you to go fishing deeper while maintaining a suitable trolling speed.
It holds 100 feet of steel cable on its angled and horizontally mounted spool that has a crank handle directly attached.
The downrigger is made from nylon and steel with a 2-inch aluminum clamp that secures it tightly to the hull. A short steel arm has up to a 5-pound weight capacity that will get your lures and bait deeper while trolling.
It works great when you have an additional fish finder to locate where the fish are schooled up so that you can reach them. See The Utimate Guide On The Best Fish Finders.
Best Downriggers For Salmon And Steelhead Q&A
If you have a question or comment about the best downriggers for salmon and steelhead, let us know in the comments section below.
Tight Lines
Graham
Sources:
Big Jon Sports
Cannon Downriggers
Scotty Fishing