11 Best Fish Finders: Review And Buyers Guide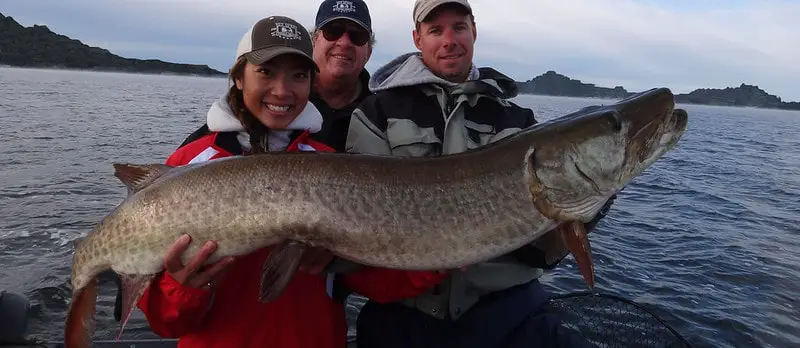 I guided out of a boat for 17 years for musky, bass, walleye, steelhead, and salmon, and I was often in treacherous waters full of rocks. I've always used the best fish finders within my budget because I knew for a fact that I would not catch half as many fish without my fish finder and GPS.
I also knew that my fish finder with the GPS kept me and my passengers safer on the water, and it even prevented expensive damages to my boat and motor. With the GPS and mapping system and boating knowledge, I didn't hit the same hidden rocks other boaters did. Instead, I fished around those rocks and caught plenty of fish.
I even told new anglers that a fish finder with a GPS was more important to me as a guide and angler than the 200HP Merc motor on the back of my boat.
Our Top Picks List
BEST OVERALL: Garmin ECHOMAP Ultra 126sv US+Canada
Best Side Imaging: Humminbird Solix 10 CHIRP Mega SI+ G3
Best Chart Plotter: Simrad GO7 XSE Chartplotter/Fishfinder
Best For The Money: Humminbird HELIX 7 CHIRP MEGA DI GPS G4 Fish Finder
Best Under $350: Humminbird HELIX 5 CHIRP GPS G3
Best For Ice Fishing: Humminbird Ice Helix 5 Chirp Sonar / GPS G3 Combo
Best Budget Fish Finder: Lowrance Hook2 GPS Bullet Fishfinder
Best for Canoe and Kayak: Garmin Striker 4
Best Fish Finders For Fishing
If you are not sure which fish finder is best for you, see below these fish finders for my tips on choosing a fish finder, what features to consider, and some common questions and answer.
1. Garmin ECHOMAP Ultra 126sv US+Canada – BEST OVERALL – $2949.00
Garmin's Echomap Ultra comes with maps of inland lakes and coastal waters that support auto-guidance technology for using a trolling motor to fish productive waters.
The ECHOMAP plus a 12-inch touchscreen that is easy to read in bright sunlight make the advanced fish finder especially effective at targeting the species that you seek.
An ultra-high definition readout based on CHIRP and side-imaging sonars enables you to clearly see fish and structure in deep waters. You can get the Echomap Ultra with a Garmin transducer or without one if your fishing vessel has a black-box sonar system. You can even control a Force trolling motor by using the touchscreen on the fish finder.
2. Humminbird Solix 10 CHIRP Mega SI+ G3 – Best Side Imaging -$2699.00
The Humminbird fish finder uses 10 CHIRP sonar and side imaging to produce a real-time view of the structure and fish below the vessel.
CHIRP is a compressed high-intensity radar pulse that delivers exceptional resolution. A 10-inch color touchscreen is easy to view and make inputs, but you have the option to use a keyboard, too.
The side imaging system supports c map contour imaging that you can use to map lake bottoms, determine their hardness, and locate vegetation that might attract fish. The unit gives you eight hours of recording time and can network with other fish finders to share data and imaging results. You also get Internal GPS and Humminbird Basemap.
This is a popular unit for salmon trolling and for steelhead in open water, but it's suitable for all species.
3. Simrad GO7 XSE Chartplotter/Fishfinder – Best Chart Plotter- $899.00
The Simrad GO7 features chart plotting with an active-imaging 3-in-1 transducer that enables a 7-inch high-resolution display to show details of shore imaging, tidal charts, and currents along coastal waters and thousands of lakes in the United States and Canada.
SIMRAD autopilot technology can monitor your boat's engine and steer the vessel when using charts that you have marked with waypoints.
The Simrad is one of the most advanced depth finders on the market and supports networking so you can share and download charts, maps, and information with others. A C-MAP Easy Routing feature makes it easier to plot your next fishing trip before you leave home.
You can update the software and get up to a year of free updates that help keep your fish finder as current as possible.
4. Humminbird HELIX 7 CHIRP MEGA DI GPS G4 Fish Finder – Best For The Money – $599.00
The Helix 7 features a high-definition 7-inch display and pre-loaded viewing options for split-screen features that let you see highly detailed wide and narrow views up to 125 beneath the water's surface.
An AutoCharge Live feature uses GPS to enable you to navigate your vessel through unfamiliar waters as well as those you fish frequently and know very well.
The fish finder shows the underwater terrain and includes charges for more than 10,000 lakes and coastal waters around the United States. You also can create maps of your favorite fishing holes in real-time and save them for future use.
Pro Tip: When trolling for salmon or steelhead or other deep water fish, use your sonar to find out where the bait and fish are holding, then use a good downrigger to get your bait just above that spot.
5. Lowrance Hook Reveal 5 SplitShot – $529.00
The Hook Reveal 5 combines down imaging with CHIRP sonar with a 50/200 transducer to locate fish in deep waters and shallow waters for near-shore fishing. FishReveal technology combines the down-imaging and CHIRP sonar systems so you can view them on the same display instead of splitting the screen among two panels.
The fish finder comes with high-resolution coastal and inland charts of more than 15,000 lakes in the United States and more than 9,400 in Canada.
6. Garmin Striker Vivid 7SV with Transducer – $519.00
The Garmin Striker Vivid is an easy-to-use fish finder with a 7-inch color display that makes it very easy to tell the fish from the structure beneath the water's surface. High-sensitivity GPS technology tells you your boat's speed and lets you create routes and plot waypoints that help you to reach your known fishing holes. The system is Wi-Fi enabled so you can connect to the activecaptain app using your cellphone.
7. Garmin Striker Plus 5cv – $324.00
The Striker Plus uses CHIRP sonar with ClearVu scanning to locate structure and fish. Quickdraw contour mapping software enables you to store maps of up to 2 million acres while GPS lets you create routes and mark waypoints to your favorite fishing holes. A 5-inch display is easy to read in sunlight and has an intuitive interface that makes it very easy to use.
8. Humminbird HELIX 5 CHIRP GPS G3 – Best Under $350 – $319.00
The Humminbird Helix is equipped with dual-spectrum CHIRP sonar that shows you the structure and fish beneath your boat and displays it on a widescreen 5-inch color monitor.
You can choose a wide or narrow view when searching for fish. The CHIRP GPS technology helps you find fish during the day or night while staying oriented so that you don't get lost or run into shallow structures.
9. Humminbird Ice Helix 5 CHIRP Sonar / GPS G3 Combo Best For Ice Fishing – $319.00
The Humminbird fish finder uses dual-spectrum CHIRP sonar to locate fish and show them on a 5-inch high-resolution display. It's one of the best portable fish finders and is especially useful for near-shore fishing through the ice or on a small boat.
The display shows the depth, sonar returns, and where the fish and structure are located in real-time.
It includes CHIRP GPS technology that gives you detailed information on the lake bottom and enables you to plot waypoints and navigate to and from your preferred fishing holes instead of spending a lot of time putting holes in the ice in hopes of finding some fish to catch.
10. Lowrance Hook2 GPS Bullet Fishfinder – Best Budget Fish Finder – $134.99
The Lowrance Hook2 uses CHIRP technology that operates twice as fast as most other fish finders to give you a wide range and an accurate image in high resolution on the 4-inch SolarMAX display.
The fish finder comes with GPS navigation and includes a bullet transducer, power cable, and transom bracket so that you can use it on any small boat, canoe, or fishing kayak.
11. Garmin Striker 4 – $129 – Best for Canoe and Kayak
Garmin Striker 4 Sonar Fish Finder and GPS Plotter
When canoeing or kayak fishing, you need a relatively light and portable way to find fish. The Striker 4 is a perfect solution that combines a GPS plotter and CHIRP sonar in a hand-sized unit with a 3.5-inch color LCD screen.
Simple pushbutton controls enable you to scroll, mark hotspots, and review data while using the kayak fish finder on lakes, rivers, or near-shore coastal waters.
The Striker 4 comes with a mounting kit that swivels and tilts the unit while a 200 kHz CHIRP transducer scans the water for schools of fish. You get a real-time view of everything down below with Garmin Striker vivid color making it very easy to see.
Its small size and powerful capability make the Garmin Striker the right fish finder for canoes and kayaks.
About Fish Finders
The fish finder has come a long way since Japan's Furuno brothers first designed a device to detect fish in 1948 and Darrell Lowrance turned the idea into a commercially viable fish finder in 1957.
Lowrance Electronics was the first commercially successful maker of the fish finder, but there are many companies making many types of fish finders today.
Types of Fish Finders
In their most basic forms, fish finders fall into one of three categories. Those are standalone, combination, and network fish finders. A standalone fish finder only scans for fish and does nothing else. They are effective, affordable, and usually have the largest imaging screens.
A combination fish finder locates fish and offers chart plotting capability via GPS technology. A network fish finder uses a variety of data sources, including GPS, Wi-Fi, and satellite radio, to provide a wide
You can also use one of 13 types of fish finders that use one of six different types of sonar. Some might offer two or more types of sonar, such as 2D, down-imaging sonar, or side-scanning sonar. Those three types are what most fish finders use to locate fish and structure.
Other types of sonar used are live, 360-imaging, and CHIRP. Each type has distinct advantages and disadvantages, but they all help to increase the odds of catching fish.
How to Choose the Best Fish Finder
Determining the best fish finder for your needs starts with determining your budget and the type of fishing that you would do with it.
If you are a charter boat captain, you could spend thousands of dollars on the best fish finder that helps you increase the odds for your passengers to catch fish. Those who mostly fish local lakes in smaller boats likely would find an entry-level fish finder with an accessible price point would work well.
You'll want to look at features like CHIRP, down-imaging, and side-imaging sonar systems for finding schools of fish. You also should consider some of the following factors to better know which fish finder would be the best overall.
Factors to Consider When Buying a Fish Finder
Examining six common factors can help you to identify the most compatible fish finders for your purposes. You should look for the following marine electronics features to find the best.
Power — Fish finders usually need an external power source from a 12-volt marine-grade battery. Some portable models might have internal rechargeable batteries or accept disposable batteries to power them.
Frequency — Low-frequency sonar systems of about 50 kHz give you a wide range of the waters below while higher-frequency sonar systems of about 200 kHz to 800 kHz are better for targeting schools of fish and acting as a depth finder.
Screen Resolution — Better resolution makes it easier to read the screen and easy to navigate shallow water while using a trolling motor with your fish finder.
Transducer — The transducer is what sends the sonar signal that makes a find finder work. It might be fixed to the boat's hull or placed in the water when using a portable fish finder.
GPS — GPS tracking enables more advanced fish-finding equipment to follow charted courses and show premade maps of the lake bottoms and coastal areas.
Networking — Networking combines multiple sources, like Wi-Fi, satellite signals, and GPS, to create virtual maps of the waters you are fishing so you can make sure you are where you need to be while fishing.
What is a Fish Finder?
Fish finders use sonar waves to locate fish and underwater structures that hold them. It's the same technology that the U.S. Navy used to help win World War II and can help you win the battle with big fish.
Active imaging will show you where they are and in which direction they are moving so you have a better chance of catching fish.
How Does a Fish Finder Work?
The majority of fish finders have two basic components that make them work and help you catch more fish. One is a transducer that you submerge to send sonar waves that locate fish. The other is an LCD screen that shows you what the fish-finding transducer has located, how deep they are, and how many are within the sonar range.
Why Do You Need a Fish Finder?
Anyone who wants to catch fish needs one of the best fish finders to find the fish and spend more time catching them than searching for them. A fish finder finds the fish and tells you how deep and about how many are down there. Some fish finders even tell you which species it has located so you can target specific ones.
Additional Considerations
The Best Fish Finders Q&A
If you have a question or comment on the best fish finders, let me know in the comments section below.
Tight Lines
Graham
Sources: