5 Best Trolling Reels For Salmon: What The Experts Use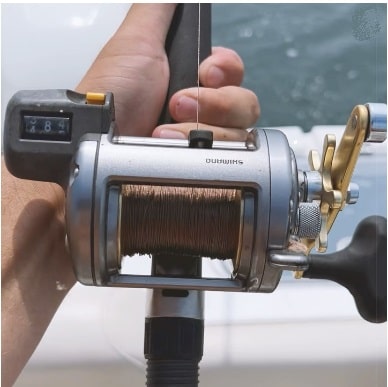 If you were to hop on to twenty different salmon charter boats and look at the trolling reels they are using, you would likely see the same few trolling reels on all their rods.
The reason for this is simple, those few reels are the best trolling reels for salmon fishing.
The best salmon trolling reels are the ones that have been tested and proven effective at doing the job. These trolling reels hold enough line, they are capable of landing huge salmon, and they are durable enough to reel in thousands of salmon for years.
This article will be short and to the point, and you will learn which trolling reels all the charter boats and expert anglers are using for salmon fishing and which salmon trolling reel sizes best suit the different trolling methods or different trolling lines that are commonly used.
I've consolidated all the reels the other websites recommend at the bottom of the article and quickly tell you why they recommend them so you get all the recommended reels in one place.
Key Takeaways
Best Reels For New Anglers and Casual Anglers – Okuma
Best Reels For Avid Anglers – Shimano and Penn
Top Reels Used By Charter Boats – Shimano
Reels Sizes For Different Methods and Lines
Reel Speed Explained: which is best
Best Salmon Trolling Reels For Different Methods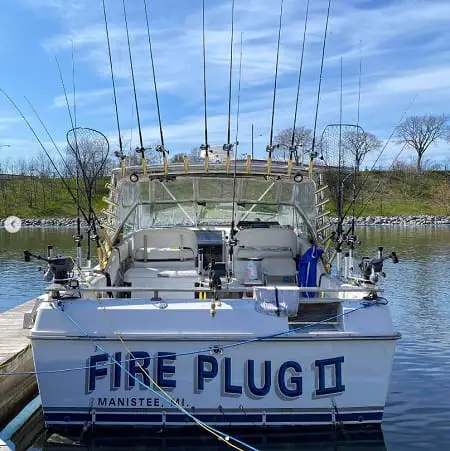 I want to give you the rundown of all the trolling reels available for Ocean fishing for salmon or for salmon fishing on the Great Lakes.
A lot of new salmon trollers don't know which reels are appropriate for what kind of rigging, and sometimes they go out and buy a couple of reels and then they realize it's not quite what they needed for the methods they want to use.
To avoid getting the wrong reel, I'm going to discuss everything you need to know about trolling reel selection for salmon based on the different methods. What are these methods?
Downrigger Fishing
Planner Boards
Dipsy Divers
Lead Core and Copper Line
Flat Lining
It's also important to have the right rod for each of these methods, which is why you should check out my article, The Best Trolling Rods For Salmon Fishing.
Okuma Reels: Most Common Salmon Trolling Reels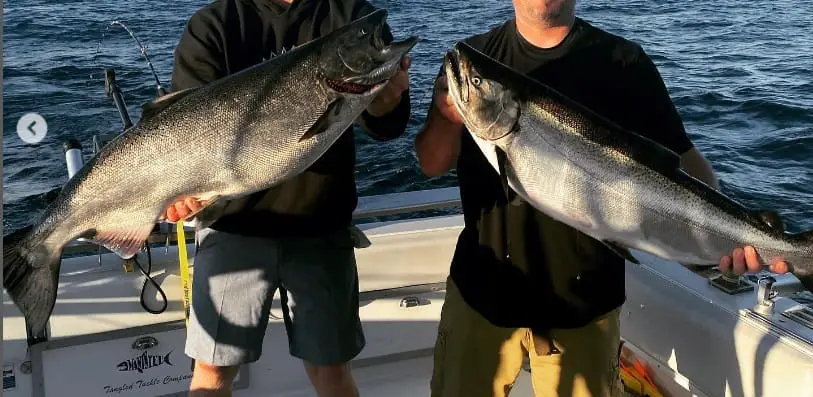 If you've been trolling for salmon long enough, you've seen Okuma reels. Okuma gives you the most options for salmon fishing with, different speeds, different sizes, line counters, no line counters, and they are relatively inexpensive. There are three Okuma reel models to consider.
Best Okuma Reels For Salmon Trolling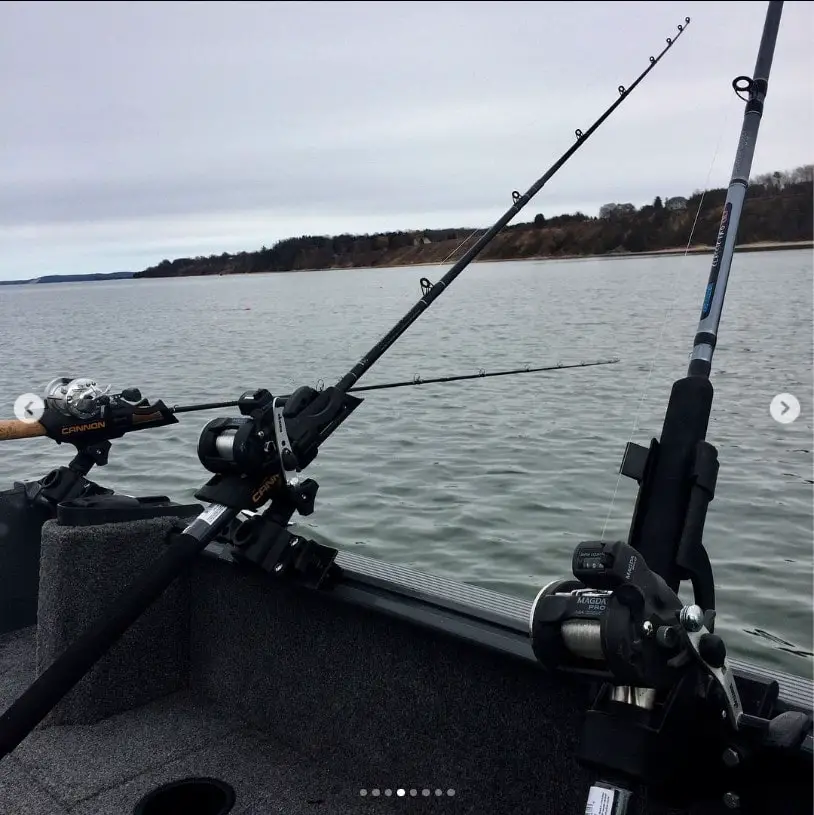 Okuma has a lot to offer the average angler or pro. It can be a little confusing regarding sizes or types of reels, but for most anglers just starting off salmon fishing, Okuma is a great option.
I've even used Okuma reels for guiding both on the open water and on the rivers. You can outfit your entire boat with Okuma gear for all methods.
Okuma Convector Line Counter Reel – This salmon trolling reel has been on novice and experts boats for over ten years, and it's fairly inexpensive and does the job. The three main sizes are the 30, 45, and 55. The Convector Reel comes in high speed and regular speed. Check Price
Okuma Cold Water Line Counter Reel – This is one of the newer trolling reel models and it is a step up from the Convector Reel. Sizes are 30, 45, and 55. Check Price
30 Size Okuma Reels
The 30 size reels, whether it's a Convector 30, or the newer Cold Water Reel, are good reels for your surface planners, short lead core lines up to three colors, Dipsy divers with braid or with wire, and they are also good for downriggers.
45 Size Okuma Reels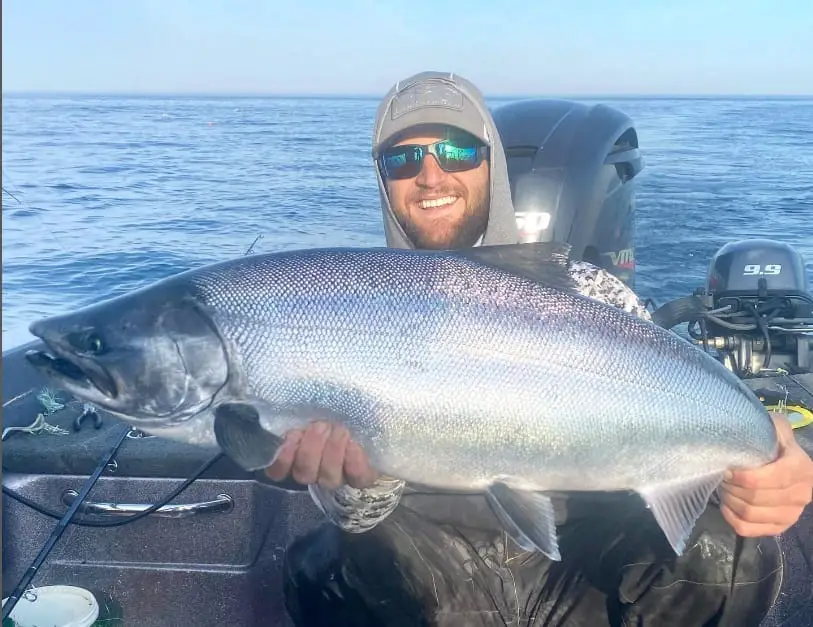 The next size reel is the 45 size. You can get these with or without a line counter, and you can get them high speed or low speed.
The bigger 45 size reel is good for longer lead cores lines up to 10 colors, and it is good for short copper lines up to 200 feet, especially if you're using braid as backing. Some guys with the line counter version will use this size for wire divers as well.
55 Size Okuma Reels
The bigger reels in the 55 size are the workhorses. Whether it's the Okuma Cold Water reel or the Okuma Convector Reel, this is for your big stuff. With the 55 size reel, you can handle long lead core lines.
If you like mono backing, this is a really good size option for your long lead core lines, and it can comfortably handle all your copper lines above or beyond 200 feet up to about 425 to 450 feet. You can squeeze on a little more line if you run a thinner braid as backing.
But I think 450 to 425 feet of copper line on a 55-size reel is really where you want to be.
Size 20 Okuma Reels
You can also get the Cold Water reel and the Convector reel in a size 20. The size 20 reel is what I would recommend for the Kayak anglers or very small boats. Just fill it up with 30-pound braid for long flat-line trolling.
Match any of these reels with good trolling rods and you are all set.
Higher End Trolling Reels For Salmon Fishing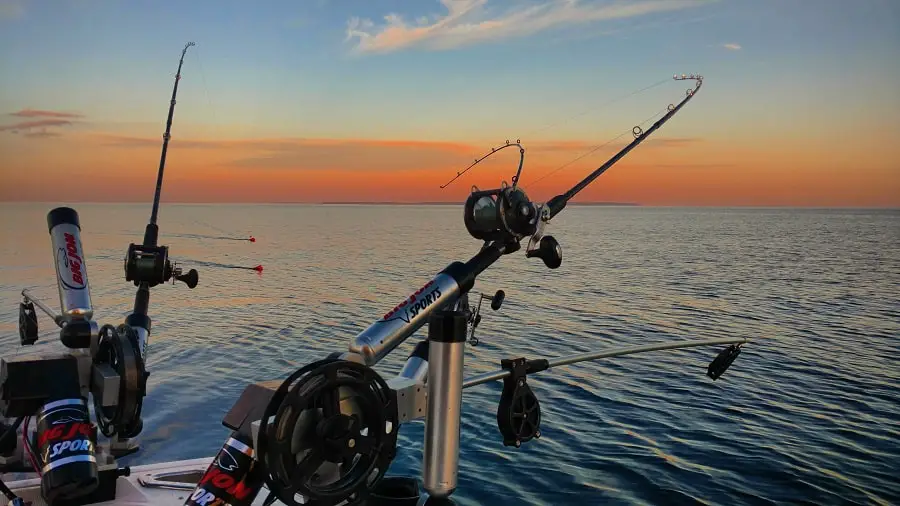 Let's Discuss the higher-end trolling reels. These are the ones you will see most often on the charter boats.
PENN Squall II Line Counter Levelwind Reel
One step up From the Okuma's and just a little more expensive is the Penn Squall 2 Line counter reel.
The Penn Squall II IN size 20 is good for surface planers with mono, downrigger fishing, and fishing divers on braid.
The size 30 is good for wire divers, and it will handle copper lines and lead core lines up to 200 feet.
The size 50 can handle longer copper lines and anything else you want to use.
The Daiwa Saltist Line Counter Reel: 40 and 50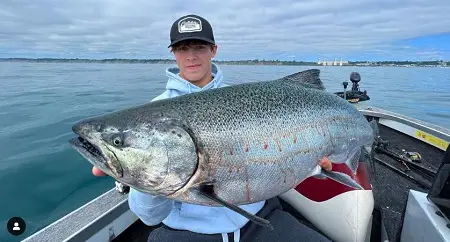 The new and improved Daiwa Saltist comes in a high speed only with an improved line
counter and a great drag system.
The size 40 and size 50 are good for divers, short lead cores, and wire lines. They don't
make a reel big enough for the longer copper lines over 200 feet.
This is one of the best trolling reels for salmon and is loved by many anglers and charter captains.
Shimano Tekota 600 and 800
The Shimano Tekota might be the most used reel on charter boats both out in the ocean or on the Great Lakes, and I would argue that this is the best trolling reel for salmon fishing.
The 600 line counter is a nice reel with one of the best drags available. The 600 reel is good for downriggers and high divers with braid or mono line and divers for spring
Chinook and Coho salmon fishing.
It's a 6.2 to 1 gear ratio with an accurate line counter.
The 800 size is a big reel that is good for all lead core line and copper line fishing.
It has a slower 3.9 to 1 gear ratio with big oversized handle and a very smooth drag.
Penn Fathom 2 Reel
The Penn Fathom is one of the best reels for trolling salmon. It comes in multiple sizes with and without line counters.
It has an accurate line counter with a little windshield wiper. The drag system is excellent.
The size 30 and 50 sizes are ideal for salmon trolling reels. The 30 size has a line counter and is great for wire divers.
The size 50 does not come with a line counter but is still good for long leader core lines and long copper line.
Reel Speed: Regular and High Speed, Which is Better?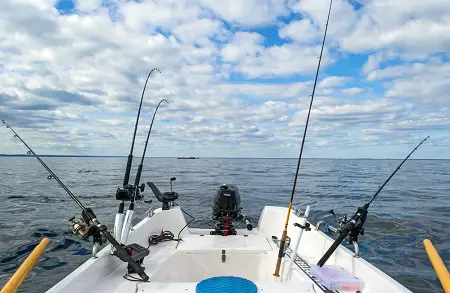 Most of these reels are either around a 4:1 ratio, which is considered regular speed, or they are around a 6:1 ratio, which is considered a high-speed reel. So which is better?
Some anglers will say the reel speed is a personal preference. But, the regular speed reels have more torque for reeling in setups with a lot or resistance and are best when fighting huge salmon.
Regular Speed Reels:
A lower gear ratio is better for Dipsy Divers, big flashers, and copper lines that have a lot of resistance, the regular speed provides a lot more torque so it will be easier to reel in.
High-Speed Reels:
A high-speed reel is great for lead core lines, cranking in smaller baits like spoons off a downrigger, flat-lining in the spring, or when fighting smaller salmon.
Other Salmon Trolling Reels To Consider
The reels above are used and recommended by experts. The salmon trolling reels below are some of the trolling reels recommended by other websites.
Check out The Okuma X-Series Trolling Rod Review.
Best Trolling Reels For Salmon Fishing
If you have a question or want to share your tips or opinions on the best trolling reels for salmon fishing, let us know in the comments section below.
Tight Lines
Graham
References: