Okuma X Series Salmon Trolling Rod Review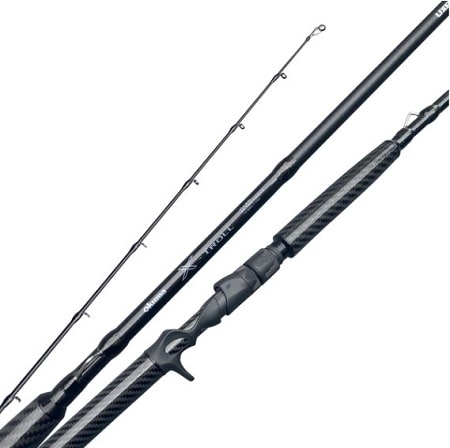 The new Okuma X series salmon trolling rod has recently been released and it looks like this will be the best salmon trolling rod in the world. It's still early for a full review and for feedback from our experts, but these are the very impressive rod details.
This rod is made specifically for targeting the Pacific Northwest salmon, but it will also work well for Great Lakes salmon fishing.
About The Okuma X-Series Rod: The new Okuma X-series salmon trolling rods have been designed in conjunction with rod designer Josh Copper.
Models and Lengths: These are 2-piece rods with currently 5 models that come in lengths from 9 foot to 10'9″, with line ratings from 12-25lbs to 20-40lbs.
Rod Blank Design: Designed to be the ultimate rod for your Pacific salmon fishing with a 24 ton carbon rod blank made with Okuma's proprietary UXR multi-directional fiber. Using a cross-fiber configuration which helps prevent the rod blank from twisting and torquing under load.
This cross-fiber construction helps keep it as round as possible since a rod blank that starts to oval loses sensitivity and strength.
High Quality Components: This salmon trolling rod used the best possible components in the handle, reel seat, and rod guides.
Reel Seat: The SeaGuide Alien reel seat uses a double locking reel seat to ensure that the reel seat doesn't loosen back up when you're trolling all day or when fighting big fish.
Rod Guides: The rod guides are all Seaguide deep press frame design and inserts for maximum hardness.
Rod Handle: The rod handle is a 3K woven carbon cone grip configuration, which adds a custom look to this rod.
Price: This is a high-end rod, so you're going to pay a high-end price. This rod looks like it will sell in most stores for around $360.00
Warranty: The X-Series salmon trolling rod is backed by
a limited lifetime warranty
For more information, see www.okumafishingusa.com.
OUR FULL REVIEW COMING IN 2024
For other great trolling rods, see my article Best Trolling Rods For Salmon Fishing and the Best Trolling Reels For Salmon Fishing.
Okuma X series salmon trolling rod Q&A and Feedback
I would love to hear your feedback on this rod. If you have questions or feedback, let use know in the comments section below.
Tight Lines
Graham