Best Baits For Pennsylvania Steelhead: What The Guides Use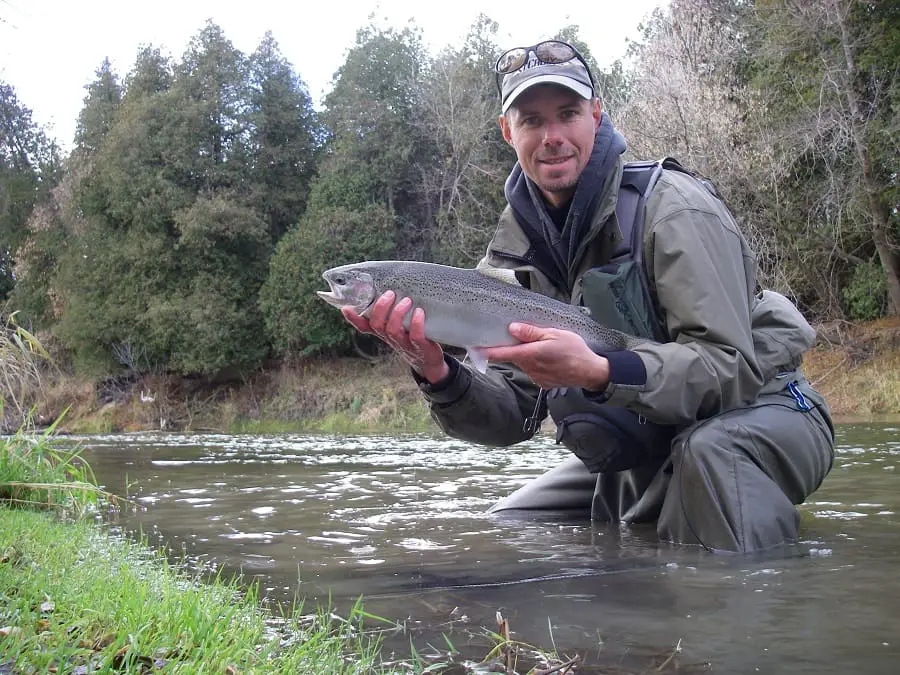 We discuss the best baits for Pennsylvania steelhead which includes baits that local river guides use for the most success. There are some guide tips and advice included that will help you determine what the best bait is on different rivers, under different conditions, and at different times of the year.
The most popular and the best baits for Pennsylvania Steelhead include live worms, plastic worms, egg baits such as spawn sacs and beads, and flies. Although these are the most popular baits, both river guides and anglers will use some other effective baits.
When determining the best baits for Pennsylvania steelhead, it's also important to know which colors and sizes work well and which baits to use under different conditions.
The Best Baits For Pennsylvania Steelhead Fishing
Before we dive into what the best baits for Pennsylvania steelhead fishing are, and what the guides use, let me just say the guides will use different baits based on the current conditions.
Guides like me are on the water sometimes 7 days a week for months, and we see how steelhead feeding behavior can change hour to hour, day to day, or based on the season and water temps, or other conditions.
As a guide, I can't just tell someone the best baits for Pennsylvania steelhead are spawn sacs because I know that one day spawn sacs can be great under good conditions, but the next day spawn sacs might be the least effective bait, and another bait might be much better.
Even hour to hour you may find that one bait outperforms another bait.
Most anglers would likely think that the best bait would be the spawn sac because that's what everyone at the river is using. However, there have been many occasions when spawn sacs will be hot for a while and then not hot at all.
As an example, first thing in the morning spawn sacs may be great when fishing for non-spooked fish that haven't seen a spawn sac in a while, but after there are 5 guys are in the pool all morning running spawn bag after spawn bag past spooked fish that are now avoiding spawn bags, I will often catch 10 times more fish on other baits.
One tip I give to clients is to watch what others around them are doing. If they are having success on small white spawn bags, then you use small white spawn bags. But, if all the guys are chucking spawn bags at the steelhead and nobody is catching any steelhead, DON'T WHAT THEY USE.
I mean, I think it's common sense, if something is not working for all the other anglers, don't use it. However, there are many days when everyone is still using spawn sacs even though no one is catching anything.
A simple bait change like a less intrusive size 14 black or brown stonefly run through the same spot that all those spawn guys have just fished hard could be the ticket to catching a bunch of steelhead, it has been for me on many occasions.
I have sat on the top of high banks and watched anglers running spawn through a pool with a half dozen steelhead in it, and from the high vantage point, I watch steelhead move out of the way and dodge the guy's spawn bags. To me, the steelhead have clearly figured out that they need to avoid spawn bags at that point.
The Best Baits For Pennsylvania Steelhead: Conditions
The other reason I can't say one bait is the best PA steelhead is simply that a small black stonefly in turbid muddy water might suck because it gets mixed in with all the other debris and isn't seen by the steelhead. But a huge chartreuse Spawn sac the size of a ping pong ball will probably be best in muddy high water.
Even though a huge spawn bag is probably the best bait for Pennsylvania steelhead in high water, 2 days later, in low clear water, that big chartreuse spawn bag won't likely work at all.
The conditions can change daily, or they can change seasonally.
As an example, in the warmer water of the fall, the aggressive fresh run steelhead might smash a large spawn bag, but when the same steelhead is holding in a deep clear cold water pool in late December, they might only eat a slowly presented single white or peach egg or very small flies.
Guides will change their baits based on their observations of the current water conditions, light conditions, fishing pressure, and fish feeding behavior. YOU SHOULD TOO.
Steelhead Worms: Best Bait For PA Steelhead?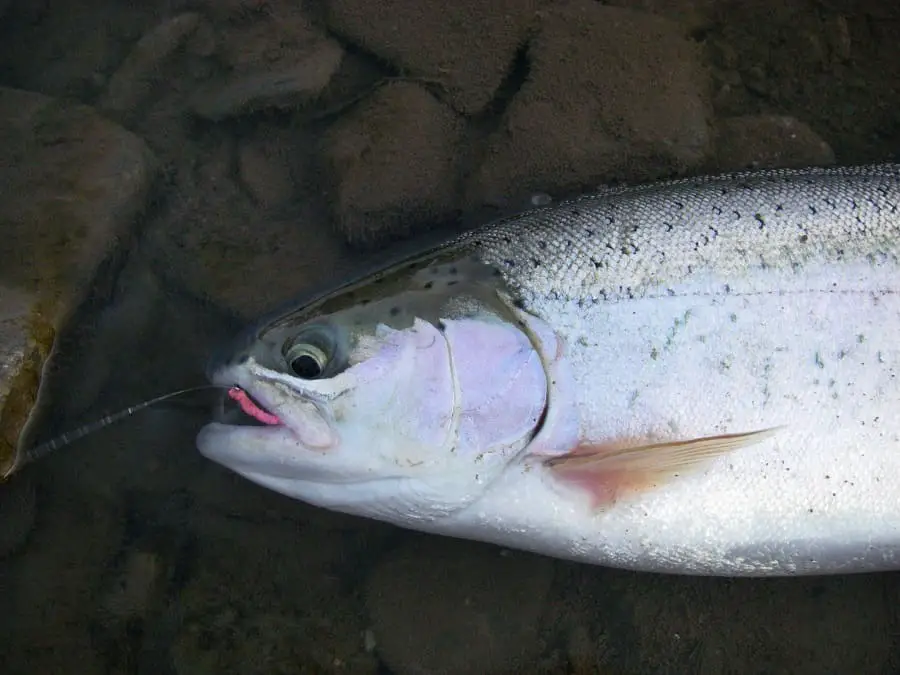 Worms are one of the best baits for Pennsylvania steelhead for several reasons. For one, they are versatile. You can use live ones or my preferred plastic steelhead worms that are available in various colors and sizes. You can use worms with different fishing methods.
Secondly, worms have a large, conspicuous profile bound to catch the steelhead's attention. Brightly-colored worms are also highly attractive in off-colored water or in fast water.
The pink worm, in particular, has proven to be highly effective on many guided fishing trips and there are days when my guides and I will determine that most of the fish caught are on worms.
In fact, there are years where I have recorded that nearly 80% of steelhead caught by my clients were caught with plastic steelhead worms.
Although pink worms are my most effective color, you may want to use natural-colored worms in low, clear waters. In 2020, my most effective color was red, I'm not sure why this is, but, red was the hot color that year and red worms are a color I will frequently try, especially if I've run other baits through the spot and I think we should have had a bite.
When choosing worms for Pennsylvania steelhead fishing, I would advise that you pick 3-4 inches worms. Natural worms average that size, so the steelhead will assume your plastic baits are the actual worms.
Sometimes, however, you may do better with gigantic, 6-10 inches dew worms. These work well when fishing in murky waters, in late spring or after the September rains.
The best hooks for worms are size 8-10 hooks. But in extremely clear waters, I often have more success with smaller worms and a size 12 hooks as they are less conspicuous.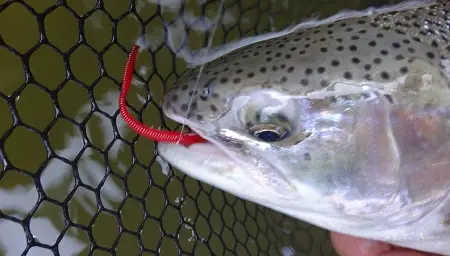 The subject of how to rig the worm sparks a heated debate among anglers. Some swear that it is best to rig the worm in the middle so that the smaller steelhead get hooked better and are less likely to miss the hook. I prefer the hook in the middle or in that fat bump on the worms body.
The other group argues that it is best to rig the worm at the end or tops and to use a Texas type rigging.
Whichever way you rig it, just don't hook the worm multiple times, so it looks like a ball of worm! I can always tell a bad angler by the ball of worm on their hook.
Rigging the worm once or twice through the hook by the end or in the middle gives it a more prominent and natural profile, hence increasing its visibility.
Finally, rigging the worms by the end or in the middle gives them great underwater action, which I believe is better at attracting the fish.
As a rule, I rarely leave a fishing spot without trying a worm since I believe that worms are one of the best baits for Pennsylvania steelhead.
Worms can even be a very effective bait on the coldest winter days. For more on the best worms, rigging, and when to use them, see: Fishing With Worms For Trout and Steelhead: 10 Guide Tips.
Flies: Used By Most River Guides For PA Steelhead

There is no question that aquatic insects, also known as flies, are some of the best baits for Pennsylvania steelhead.
The primary reason why flies work very well as a steelhead bait in Pennsylvania is that the steelhead love eating flies from when they are young to the time they leave the river.
Young steelhead learn to rely on flies for nourishment. Even full grown steelhead that returns to the river will still eat any fly they come across.
Additionally, flies naturally abound in Pennsylvania rivers throughout the year. The fish, therefore, expect to find flies under varying water conditions, whether in chilly winter weather or bright spring days.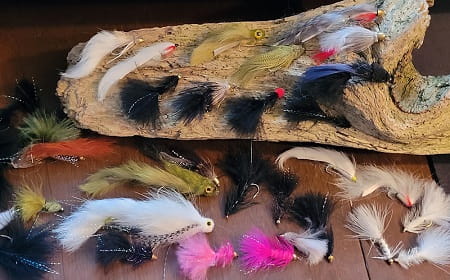 This makes flies extremely versatile as steelhead bait. And what's more, there are virtually countless ways that you can tie a fly.
Streamer flies like the ones in the image can be used nymphing, or cast out and stripped in or swung through the pool.
You can opt to use natural-looking flies like the stonefly or mayfly, or create your version of attractor flies like the Rainbow Warrior.
Additionally, you can use flies as bait for several fishing methods. Bottom bouncing, float fishing, streamer fishing, Euro-nymphing, Spey fishing, and Spin fishing are all methods where flies can be used as bait.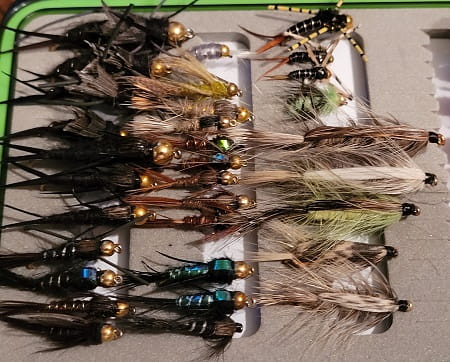 I also like using nymph flies as bait when other anglers around me are using roe as their primary bait.
The steelhead will often eat smaller flies after seeing endless roe bags.
Black and brown nymphs like the ones in my box above are very good.
I've found that nymphs with a touch of blue or flashback can also be very good. Bead head nymph are also my go-to and I will use them 90% of the time.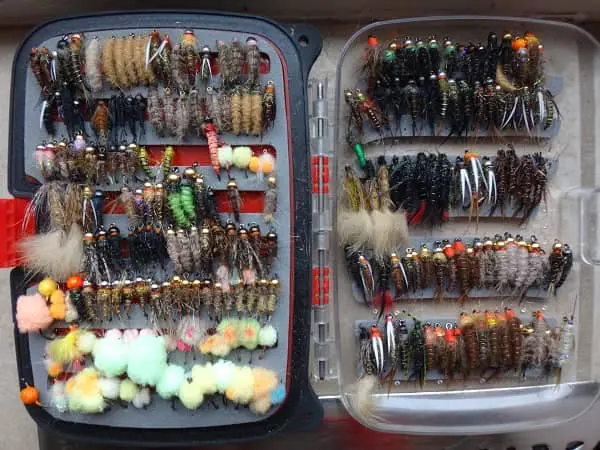 One of the best things about flies as steelhead bait is that they are straightforward to use.
You can tie most fly patterns in under five minutes. And even if you don't want to tie the flies, you can buy them at affordable prices.
One tip I offer my clients when using flies as bait is to add a brightly-colored bead to their flies. Tungsten, gold, and silver are my go-to colors for fly beads.
Beads help flies to sink faster, and they also remain in the strike zone much longer. Additionally, the bright colors shimmer underwater, attracting steelhead to the bait.
However, when you are fishing in gin-clear water, you may do better by omitting the bead. The last thing you want is for the steelhead to think that your bait is fake, because they certainly won't bite.
I also prefer to run different flies underwater until I find the particular kind that the fish are interested in. Sometimes, large, brightly colored flies are the perfect bait, and at other times smaller, natural-colored flies are more effective.
Flies can come in all sizes and shapes, from small nymphs, to egg patterns, to minnow or leech patterns. To see the most effective flies for steelhead see: 13 Best Flies For Steelhead: Most Effective Guide Flies and Winter Steelhead Flies: 11 Must Have Guide Flies
Also, keep in mind that the huge majority of steelhead guides in Pennsylvania are all fly fishing guides, which means they use flies. They must know something others using eggs and worms don't, right?
Spawn: Most Popular Bait For Pennsylvania Steelhead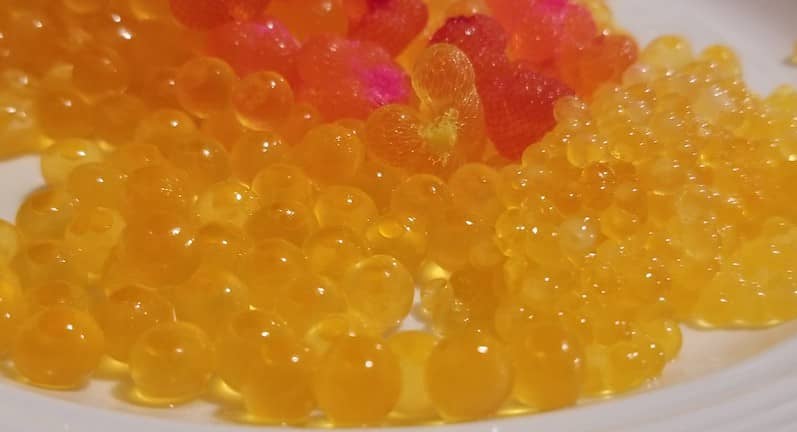 Spawn, also known as spawn bags, spawn sacs, eggs, roe, or roe bags, is another fantastic bait for Pennsylvania steelhead. It is also the most popular steelhead bait.
Some anglers believe you cannot get any decent steelhead catch unless you use roe. You will often find this category of anglers using bag after bag of roe, and they are usually hesitant to try other bait.
I find roe to be quite an effective bait, but it is not always the best bait for Pennsylvania steelhead. Sometimes, water conditions require that you use different bait for better results.
Roe refers to salmon, trout, or steelhead eggs tied together in a special mesh. Steelhead always attacks trout and salmon eggs out of predatory instincts, as they consider these species a threat.
However, the fish attack their own eggs so as not to attract predators to their territory. So, whether you use trout, steelhead, or salmon eggs, rest assured that the fish will want to bite them.
It is important to note that the fish typically bite the steelhead eggs, smash them and then spit them. As such, you must be vigilant and reel in the fish immediately after you feel them tagging at your bait.
For the best results with roe, always use freshly cured spawn as it has a strong scent. You may also want to add sugar and Krill to your roe to make it tastier.
You could also choose to use single eggs instead of roe bags. Solitary eggs come across as weak, easy prey to the fish, which is why the steelhead will always attack them.
There are ways to rig spawn bags and better hooks that guides use. To learn more about spawn sac fishing, check out Spawn Bags – Guide Secrets For More Trout And Steelhead
Beads For PA Steelhead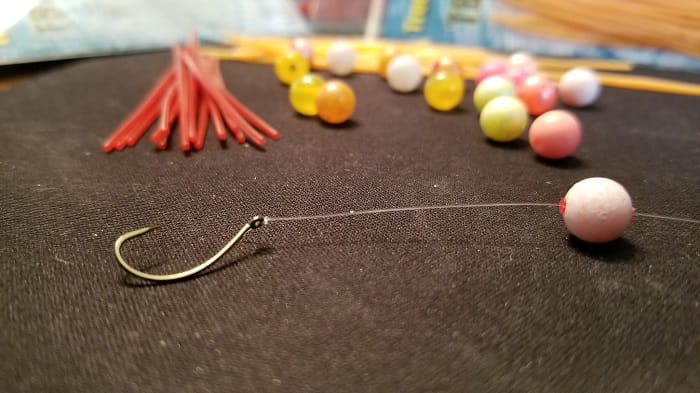 The final bait on this list of the best baits for Pennsylvania steelhead is beads. I like using beads because they are incredibly easy to use, and they always deliver.
Beads work well because they resemble single salmon and trout eggs. Steelheads are unlikely to pass up a chance to swallow vulnerable eggs.
You can choose either glass or plastic beads. I would also recommend using 8-mm beads since salmon eggs average that size.
Whether your beads will be effective depends a lot on their color. Always use brightly colored beads in murky waters to catch the fish's attention. However, local head guide Gareth from Alley Grabs Guide Service recommends you use more natural colored eggs when the waters are low and clear.
Light oranges, yellows, pinks, peach, and white are good choices.
For more info on bead fishing, best sizes, best colors, and best brands of beads, see: Fishing With Beads: 5 Guide Tips For More Fish
Other Effective Baits For PA Steelhead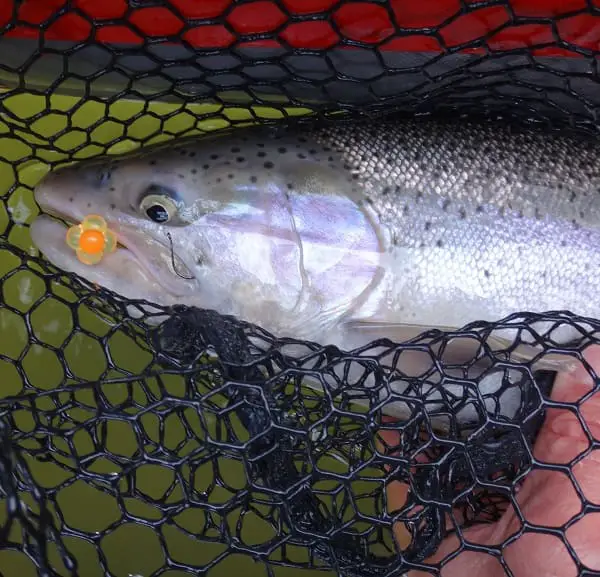 Although beads, worms, flies, and roe are the best baits for Pennsylvania steelhead, I have also had great success using leeches, jigs, and plastics like, plastic grubs or plastic eggs as bait. These three baits can be highly effective depending on the water conditions and the particular method I am using.
The Final Word on the Best Baits for Pennsylvania Steelhead Fishing
There is no doubt that flies, worms, roe, and beads are some of the best bait for Pennsylvania steelhead fishing. However, you must pay close attention to the water conditions so that you can choose the best bait.
Be sure to follow the tips on this post for better results on your next fishing trip.
If you have any questions or tips on the best bait for Pennsylvania steelhead, let me know in the comments sections below.
Tight Lines
Graham